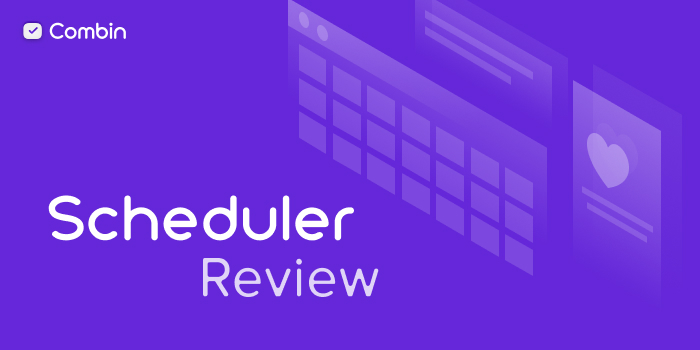 What is Combin Scheduler?
Content is the main, the foremost thing you need to produce to keep existing followers interested and attract a new audience. If everything is clear with the first, the second task can be boosted by various extra efforts. By extra measures we mean reaching the audience and letting them know about a brand, a product, and content overall. For this purpose one of the tools out there is Combin Growth. We've recently reviewed this app, but there's more - a complementary app from the same developer, Combin Scheduler. These two apps are two parts of one puzzle called Instagram promotion.
| | |
| --- | --- |
| Developer | Open Media LLC |
| Source | Official website |
| Platforms | macOS 10.13+, Windows 8+, Ubuntu 18.04+ |
| Current version | 1.6.0.815 |
| Size | 86.2 MB |
Combin Scheduler is a program for automated posts and stories publishing on Instagram. This means no more manual publishing from your phone, now it all can be automated. We used this application combined with the Growth app for a week to test and make a comprehensive review for both.
We faced some inconveniences during this period, but they are so minute against the overall result that we perceive them as minor issues. So, let's get to know Scheduler better, and show its main features, there are only three of them. Combin Scheduler is free, unlimited, without ads and limitations.
How to use Combin Scheduler
Combin Scheduler is very easy to use, but first of all, we suggest you prepare like we did while testing and reviewing both apps. We do not have to remind you of the importance of timely publishing on IG: as common practice shows, at least 1 post in a few days and a minimum of 3 stories a day to keep followers know you are active.
So we created a folder with prepared pictures. This hint will make your Instagram schedule clearer and more manageable, you can track posted content and plan next publications by merely creating folders. Combin Scheduler looks similar to your daily calendar but with some extra features.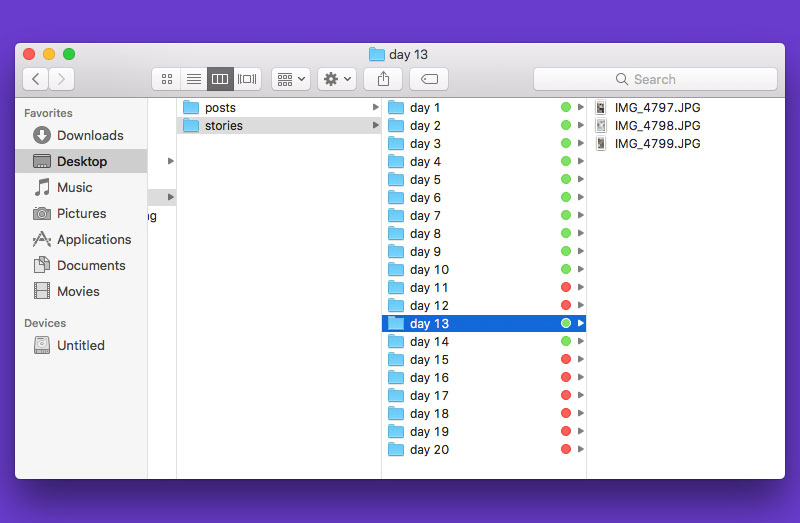 First of all, we need to decide what type of publication we want to make, either it will be a post or a story. Select one of the options on the left side of the application, and then drag a photo on any day for a post to be published, or click Add New Post at the bottom of the app, or select the exact day and click Plus to add a photo. The same Add New Post button is located on the main screen in the Combin Growth application.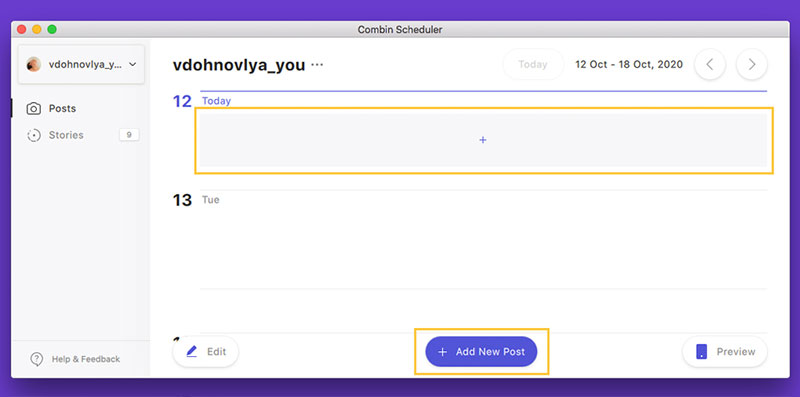 The next thing to do is to fill in all the information about our post. The most impressive thing about this app is the ability to add the same information to a post as in the original Instagram mobile app. It means you can add location, tag people, write About text with emojis. You can also paste the link in a particular field and it will appear in your IG bio when posting this photo.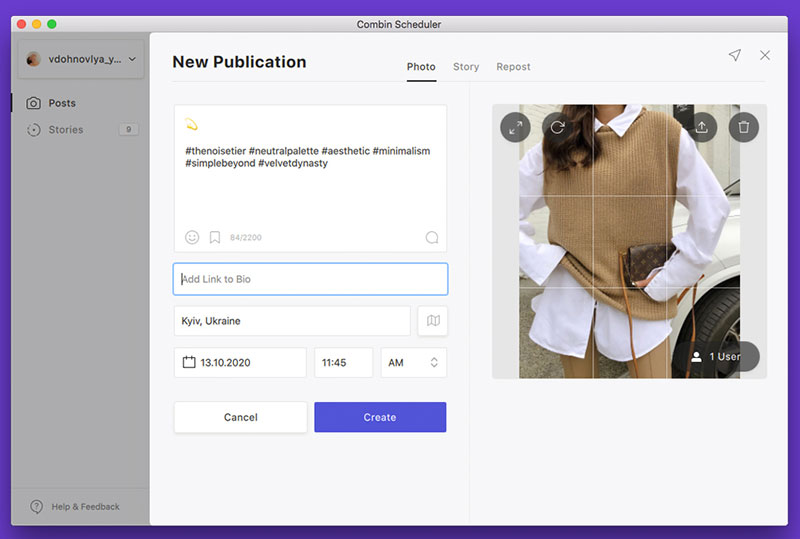 Fill all available fields, tag someone on a photo, type a couple of hashtags, and what is the most important: select the date and the time of publishing. When you are ready, click Create, add it to the schedule list. If you want to edit a publication, simply press on it. If you press and hold on a post, you can drag it to any other date.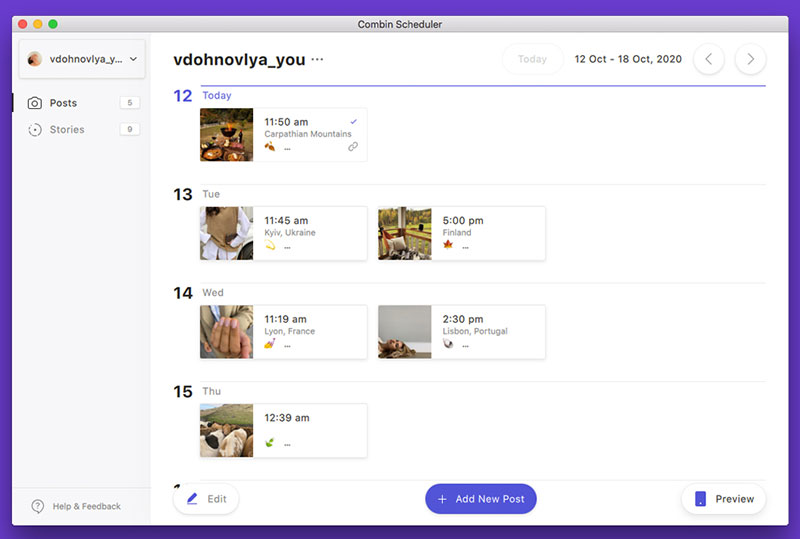 Click the Preview button in the bottom right of the screen; this will open a special window with the representation of your Instagram account in the future, with scheduled posts. This feature may be useful to someone who uniquely builds their page.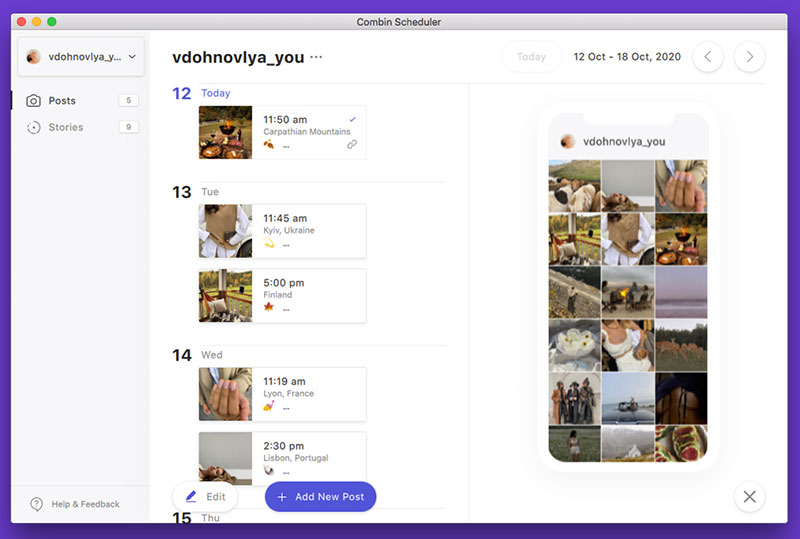 Instagram stories
Preparing stories for publishing goes through the same process as with the posts, save for one little difference - you can select up to 30 photos, which will be published in a row. Instagram allows us to share our stories more than posts, so it won't be a problem to publish several photos simultaneously.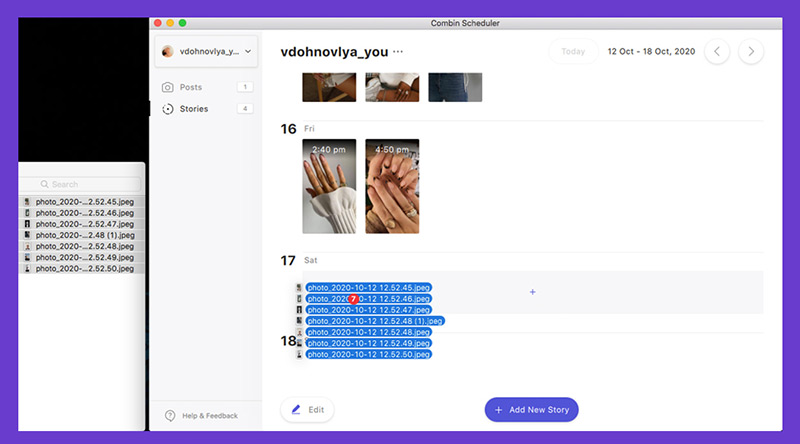 You could notice the Repost tab while creating a new post or story; this option will queue up the repost of any photo; all you need is to paste its link and set time for publishing. Unfortunately, the repost of videos is not available yet, but we know this feature will be released soon.
Summary
Combin Scheduler contains all necessary tools to make you forget about manual publishing using your phone or tablet. This practical application will save you a lot of time while managing some more important things. Set all posts and stories once and enjoy the result.
As mentioned before, we used this application in conjunction with Combin Growth. After two weeks of testing both programs, we can compare them to a snowball rolling down the hill. It is just a matter of time to get more followers, likes, comments and reactions. We can't see those apps separately, but developers made a smart decision to make two different applications.