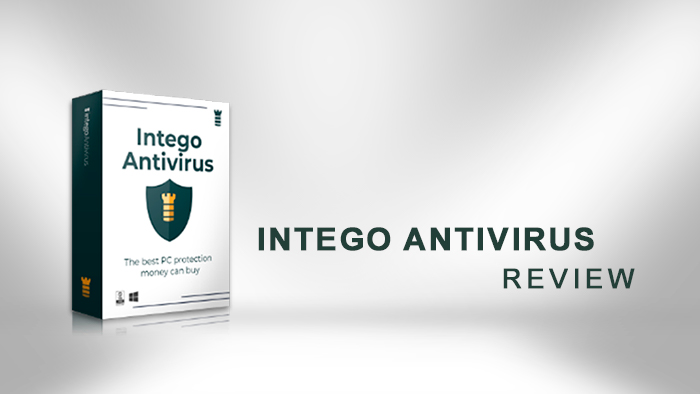 Antivirus from Intego has already found its place among many macOS users. It has proved its reliability and well-executed functionality, and thus, a positive reputation. Now it is also available on Windows OS. Let's take a closer and proper look at it.
Specifications
| | |
| --- | --- |
| | |
| Vendor | Intego |
| Newest version | v.1.0.1.4. |
| Operating systems | Windows, MacOS |
| Installer file size | 660 Kb |
| Menu languages | 3 |
| Key modules | Antivirus, web protection, cloud protection |
| Extra features | Scheduled scans, security reports, cloud protection |
| License (1 year) | 1 PC - €27, 3 PCs - €37, 5 PCs - €74 |
| System requirements | Windows 7 or newer, 500 MB drive space, 2 GB RAM, Internet connection |
Different versions of Intego antivirus are available in both Windows and MacOS. In addition to the license, it also has a free 7-day trial, after which you can either purchase upgrades or use basic features.
Installation & Interface
Download a free trial, or purchase Intego Antivirus on the vendor's official website. It is important to note right away that our review is dedicated to the Windows version, so certain aspects of the Mac version will differ, surely. The installation itself is no different from any other standard installation, so there will be no problems with this. To purchase, simply click on Buy Now and select the desired package.
Intego antivirus interface is very simple and intuitive. As in most cases, the main window presents the main features of the program, while the left side shows the categories of functionality in which they are located. These categories are: My dashboard, Scans, Quarantine, Security reports, and Settings.
My dashboard. The main window of the antivirus, it displays the protection status of your PC, when the next scan is scheduled, the status of the update, whether real-time protection is enabled, as well as the number of days you use Intego and the number of blocked threats.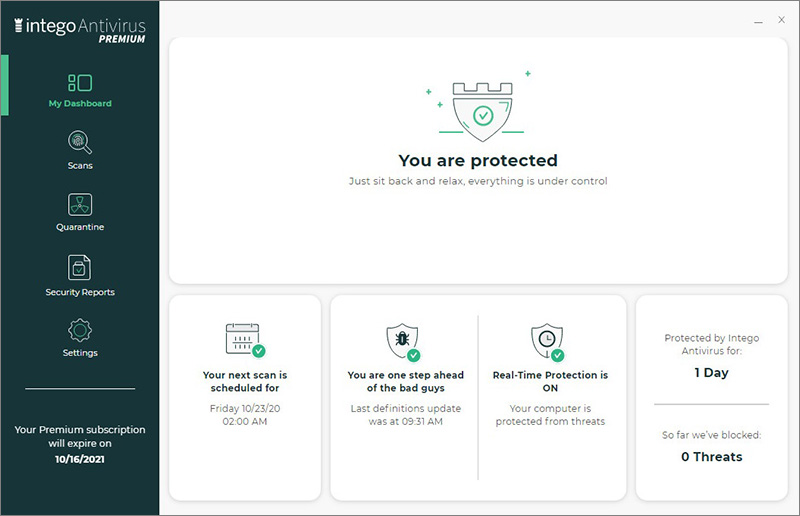 Scans. This category shows all scan options, namely Quick scan (scans common locations only), Complete virus scan, Custom scan (select a location or files to scan) and Scheduled scan (select date and time for next automatic scan).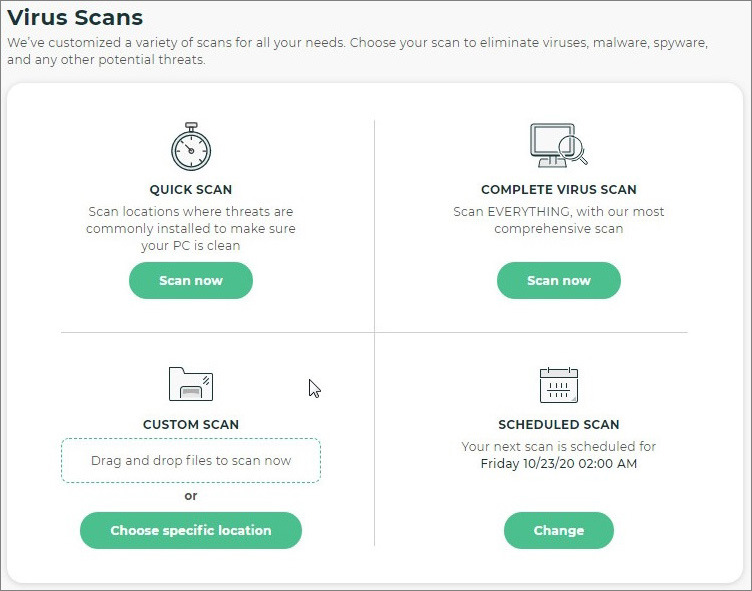 Quarantine. Hosts and displays infected files, name of threat, date of detection and its location. Security reports are all reports on errors and detections - to make it easier to find necessary files, there is a small sorting menu on the right side. Finally, let's move on to Settings:
General. In this section, users can change interface language (currently only English, German and French are available). In addition, there is a function of notifications on scanning completion.
Security. General security settings include activating or disabling real-time protection, cloud protection, enable scan from the context menu and activate or deactivate the scheduled scan. Quarantine settings allow you to specify the maximum amount of memory to quarantine files (e.g. 500 Mb), and set the auto-delete time period (e.g. 30 days).
Account contains brief information about the product, type and license key, and license expiration date. About tab is similar to the account, but there is an additional version of the program and a definitive version.
EICAR test
To check the functionality of any antivirus, we use the EICAR (European Institute for Computer Antivirus Research) test. It's a simple, fast and safe test to check antivirus. Intego immediately detects the problem and places it into the quarantine.
To double-check, we specifically enable active protection in settings and try to download another file by EICAR. As soon as we do this, Intego immediately alerts us. Therefore, we conclude that the antivirus successfully performs its primary task - real-time virus detection.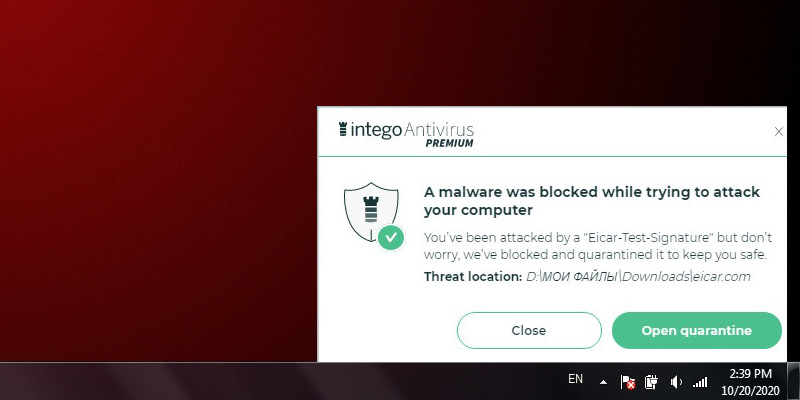 According to the developer, Intego will protect against Windows viruses, Mac viruses, Unix viruses, Microsoft Word and Excel macro viruses, Trojan horses, worms, spyware, adware, ransomware, scareware, hacking tools, dialers and keyloggers. We'll continue using Intego antivirus for a while longer and collect further information about this.
Scanning types and performance
Now let's go through all the scan types and explore how they perform.
Quick scan. Scan time - 3 minutes 30 seconds. Scanned files - 3,341. Threats - 0.
Complete virus scan. Scan time - 5 hours 42 minutes. Although this result may not seem very good, you should take into account the specifics of testing. Skype, Google Chrome with 9 tabs were on all the time. In addition, the test was performed on a PC below average power, and it scanned almost 400K. Scanned files - 399,472. Threats - 14.
Custom scan (11 GB). Scan time - 46 minutes 23 seconds. Scanned files - 40,945. Threats - 2. In addition, the ability to automatically scan (on the day and time specified by the antivirus) was tested, and the antivirus actually started scanning at the right time.
Verdict
Intego antivirus for Windows is a decent security option for PC. It successfully passed the EICAR test and found malicious files. Although its functionality is not yet as extensive as in the MacOS version, keep in mind that the version for Windows is quite new, and more upgrades are definitely upcoming in the future.
Intego alternatives
Avast Antivirus. There is a free version, password manager included.
Bitdefender Antivirus. Accurate malware blocking, effective multi-layered anti-ransomware.
Norton AntiVirus. There is a mobile version, password manager and secure VPN, parental control and cloud backup.
Kaspersky AntiVirus. Phone and chat support, scanning for privacy.