Social Networking App Development
The sparkling insights in social networking application development are common things for mobile developers. One of such sparkles was developed into the contagious social application called sparkd! for iOS and Android.
Social Networking Application Development
We willingly start the projects, that promise to bring something new to this world. Sparkd! was one of such projects. A social network full of fun is just what people are seeking now.
Partner
Marc Seick, CEO of Social Media Wave INC contacted our sales manager. At the first skype call, we have set the previous agreement on development. Less than in 2 weeks we have finished all the estimations and gathered the development team. 
We were recommended by our loyal partners. Marc made a skype call, we had a pleasant talk and voila, we signed a contract in October 2015.
Marc visited the main office of ThinkMobiles to meet the developers in person. The united team set a rock-n-roll style of work fitting our partner in the best way. And it was the powerful light beam to start the mood app sparkd!…

Challenges
In the development process, the team dealt with the next challenges:
To implement the "spark"-idea and wow-effect surprises scenario



The "spark" is a digital message enabling lightning-fast communication and awakens exciting feelings.
To create the age-categorized "Inspire feed" content
The sparkd! inspire feed must consist of content assembled basing on the personal data, geotags and shares.
To implement email authentication, security, offline mode
The sparkd! must be available at any time in preview mode with all data preserved.
To gather and process data, create statistics
The sparkd! must have an analytical block for "sparks" analytics to foretell needs, mood and wishes of users.

Goals
Social network and messenger to communicate;

Public and private sparks with Facebook/Instagram sharing possibility;

Wow-effect implemented through "choice" buttons with surprising content (GIF's, maps, videos, etc);

The smart-recommending of "sparks";

Offline mode;

Email authentication for login and registration in the sparkd! app.
In the range of apps for fun and communication, this one deserves "The most enjoying to develop" badge. Read how we reached this below.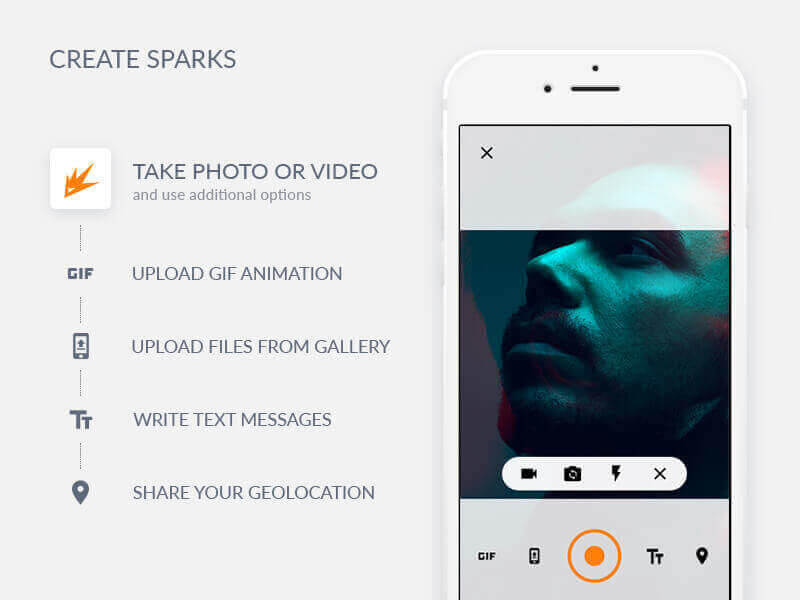 Solutions
The team used unit-tests, MVVM and data mining library for easier requested features implementations in Android development.

The team added MVC SK Recorder for video processing in iOS version development. Also, IPv4 was replaced with IPv6 because of Apple App Store's updated uploading rules.

The team connected a bunch of third party services: Google Places for geotags location, Giphy for gif uploading, Facebook for shares

.

Resources
From the partner's side:
Marc presented the appflow №1 for the team. After 2 weeks of sprints development model, the team switched to the extreme programming model. And it was the right choice for social networking application development.
The team implemented the module system for permanent implementation of ideas from partner's expert team.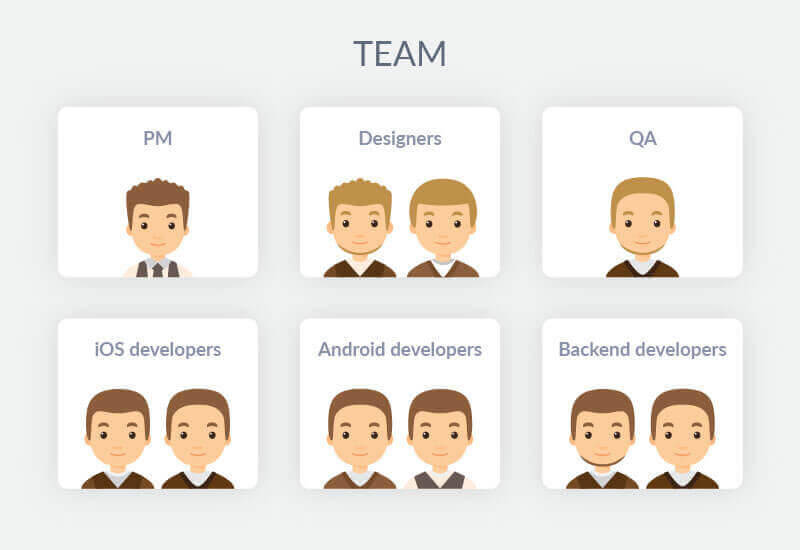 Features and Benefits
Definitely new and awesome functionality for those who care about the lifestyle, mood, and communication
"In addition to quick tutorials, love-letters, and little sweet surprises, it's possible for friends to share before-and-after images (like after the hairdresser visit), to help someone decide on which new outfit to wear, or for a group to vote for a place to go out for the evening."
Guaranteed "sparks" wow-effect of "choice" buttons
Mastered high-speed response
Protected with SSL certificate and encryption
Reached the brand new level of content presentation and editing.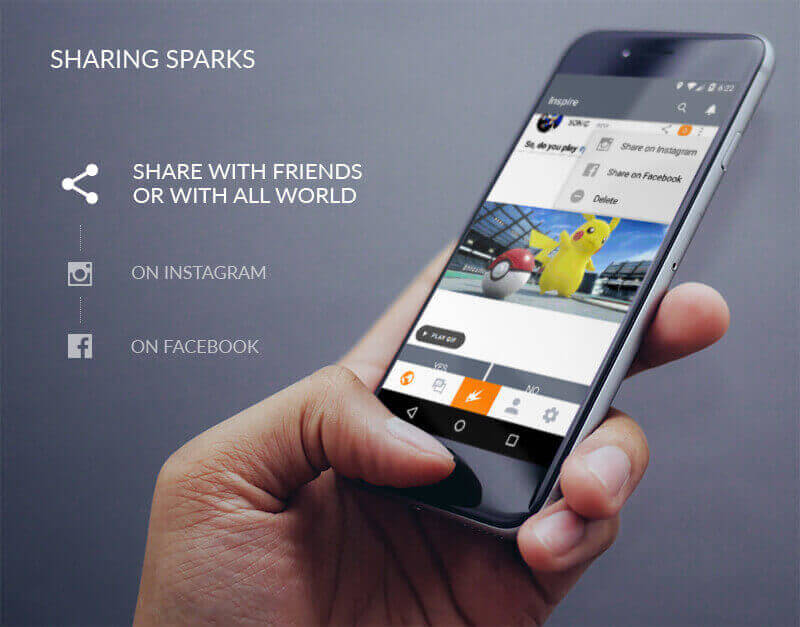 Evaluation and Summary
The final version of the sparkd! application exceeded all the expectations.
The social application for happiness spreading
Sparkd! is a lifestyle platform & messaging app that enables lightning-fast communication and awakens exciting feelings.
The perfect partner's idea implementation
Marc came to us with a brilliant idea, we have implemented the relevant app. And now he is about to prepare the next project to implement in partnership with ThinkMobiles.
Analytics, data, and content harmony
The whole app is like a robust factory of content circulation from the first "spark" to "feed" and then to "analytical report".
Want to implement your own idea of a social networking application?
Learn more
This social networking application will make your online life brighter. The app is permanently upgrading according to the feedback of users.