In this era of information technologies, when the success of your business practically depends on a high-quality Internet presence, it is important to actively manage your online resources. But finding a reliable partner who can deliver software development and digital transformation solutions that suit your preferences is not so easy, so we present you with a capital letter Company that has implemented advanced custom software solutions across 6 continents – First Line Software. About 100 million users interact with its solutions every day. Let's see what First Line Software can offer you.
Key facts about First Line Software
| | |
| --- | --- |
| Established | 2009 |
| Service lines | Custom Software Engineering, Software Enablement, Digital Transformation Advisory, WCM & E-commerce, Big Data Management, Machine Learning, Healthcare & RWE/D, Retail Digitalization |
| Employees | 600+ |
| Avg.hourly rate | Undisclosed |
| Location | Cambridge, Massachusetts, USA  |
Describing First Line Software in general terms, it should be said that the company has 10 years of experience and it offers a wide range of services including digital transformation, intellectual integration, software development, DevOps, digital media and marketing tech solutions, as well as consulting in big data engineering and digitalization. As a company with extensive experience and a highly qualified team, First Line Software cooperates with hundreds of brands including Clinic 2Cloud, Partners HealthCare, Bonnier Group, and Viastore.
Now let's consider what is hidden up the sleeve of First Line Software and why the company has earned popularity and trust. It is worth starting with the fact that the company has more than 600 employees around the world who apply their substantial expertise, technical excellence, consulting capabilities, and proven methodologies to each and every project. The team specializes in using advanced technologies and tools as .NET, Azure, .NET Core, CMS, Java, PHP, C++, Android, iOS and many more, in order to create the best web solutions.
As a leading international IT development firm First Line Software provides best-in-class software solutions for startups and global enterprises across North America, Europe, and Australia. The First Line Software has over 1000 projects in its portfolio. Quite impressive, right?
What First Line Software can do for you
Digital Transformation 
Regardless of your requirements, First Line Software aims to help clients achieve their digital transformation initiatives so they can quickly respond to industry disruption. The company applies its 10 years of technological experience, as well as consulting capabilities and innovative methodologies to transform the client's business and meet modern market requirements. Thanks to the accumulated work experience with a variety of industries, the company solves the most complex business problems, which often require non-standard capabilities.
By interacting with you, the company analyzes all your business processes in order to obtain in-depth knowledge and awareness and ensure the most efficient digitization. In order to complement the digital transformation, the company also collaborates with you after a successful project launch, to determine how to further strengthen your competitive advantage by using new products and services.

Intellectual Integration 
The company provides customized intellectual integration solutions that help solve the client's digitalization problems through critical thinking and by applying their horizontal engineering experience with various verticals and technologies. The company is not an ordinary "systems integrator" as it develops system components that include new features which function seamlessly with the existing system.
So, the company solves the challenges related to customizing a third-party solution that meets the needs of the organization, with integration, compatibility and/or data exchange between existing systems of different divisions or new system components, by expanding the capabilities of existing system components to replace obsolete technology and more.
Intellectual integration requires significant experience and expert skills. The company's team consists of business and systems analysis experts, project and process management experts, specialists in specific technologies, platforms, user experience, and programming languages, among others.
Software Development
First Line Software is not the only company which offers a wide range of software development services. But we can say with confidence that First Line Software is one of those companies that does more than apply advanced development methods, tools and platforms in order to provide you with basic software. The company's philosophy is to combine technology and partnership. The team aims to establish a partnership with the client and conduct analysis to better understand the client's requirements. The company's software development services include big data, machine learning, mobile applications, industrial Internet, embedded systems, wearable tech, and IoT.
Software Testing 
Team members understand the importance of product testing to deliver an impeccably high-quality result. The company provides two types of software testing services. First, the testing is a part of the First Line Software development project. Company testers often work as members of a development team to meet your software testing needs. Second, the company acts as a testing service provider for projects developed by your engineers. The company provides the following list of services related to software testing: defines testing strategies; selects appropriate software testing tools and methodologies; performs manual tests, automated tests, or a combination; and prepares comprehensive test plans.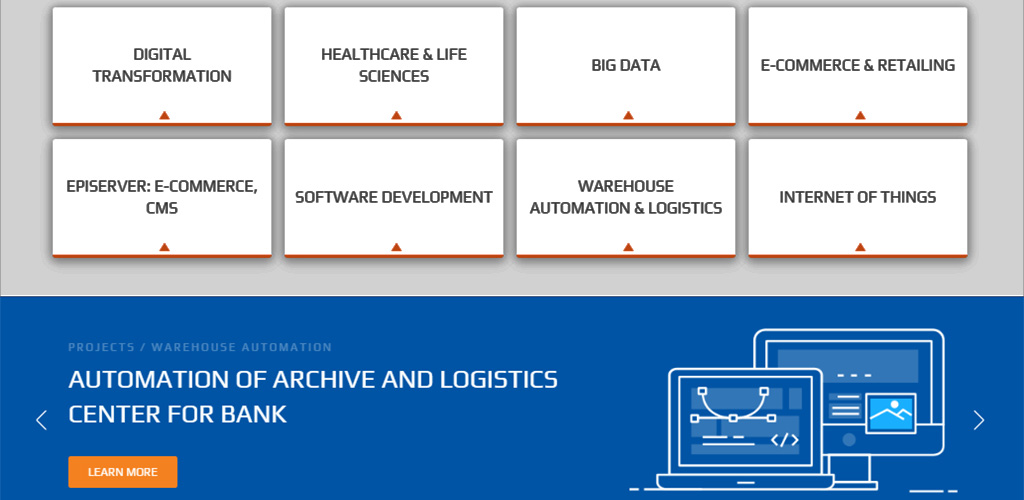 Case studies to prove value
A lot of beautiful words describing all the advantages of the company will not replace one real example of a successfully created and launched project, right? So, let's take a look at not one, but even at several projects completed by the company staff, which confirm the high level of professionalism of First Line Software.
As mentioned above, the company takes on the most complex projects, for example, a project with machine learning elements for a large industrial client. The task was to develop a visual recognition system that would record and analyze the presence or absence of mandatory protective devices (helmets or gas masks) on workers. The team faced several specific obstacles and tasks that needed to be solved. For example, the customer didn't have any existing videos demonstrating when the personnel were complying with the mandatory safety rules. These are necessary for machine learning. The system also had to be able to analyze and recognize certain sequences of motion. Finally, real-time video analysis was required. Nevertheless, the company managed to provide a machine learning solution that completely satisfied the client, reduced costs associated with personal injuries, and increased the level of safety at the enterprise.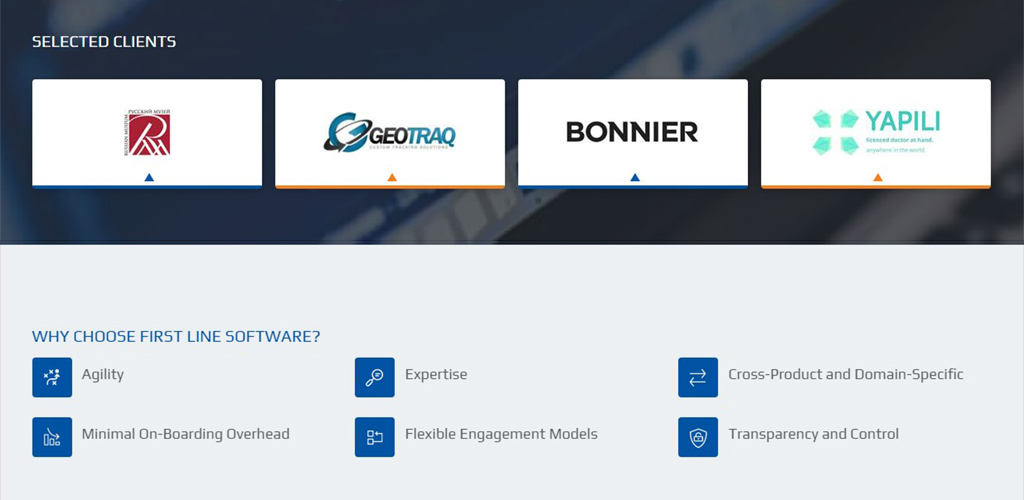 Let's take a closer look at another one of the company's completed projects, which a team of 16 professionals worked on – a content management platform for a multichannel global publisher Bonnier Group. The task was not simple, but clear: to create a unified content management platform based on Episerver that would enable the migration of Bonnier websites once Bonnier made the decision to consolidate their more than 60 online publications into a single content management system. The new platform expanded Episerver's built-in functionality and optimized the work associated with large volumes of data, as well as providing a large set of tools that allowed editors to create and publish powerful online content. The platform consists of 2 components: core functionality and web editorial. The first component is a web development platform with website architecture and data structures. The second is an environment for website editors with an easy-to-use interface and that expands the functions of the CMS. Also, the team was responsible for the quality of development, testing and user documentation for the entire platform. As a result, the new system was successfully launched and integrated, which decreased the time spent on servicing the customer's online assets by 5 times.
One more project to illustrate the company's abilities - a cloud-based Electronic Medical Records (EMR) system. This time the company was involved in the development of a cloud-based Electronic Medical Records system - Clinic2Cloud. The team had to define the project, develop a desktop and mobile version of the system, and provide testing and support services after launch. For this project designers, architects, developers, testers, and business analysts were involved. In total 20 professionals were included in the project creation team. With Clinic2Cloud, doctors can consult, view tests and manage medical records, and registrars can record appointments for patients, receive patients for appointments and more.