10Pearls, founded in 2004 by Aftab's brothers, started with a two-person team, a kitchen table, and a great idea. While Imran Aftab worked as the Head of Global Sourcing at AOL and traveled the world, he saw firsthand how much a well-paid job can change entire communities. Work is more than just getting money, it is also an opportunity for development, instilling a common culture and traditions. Good work enriches not only the lives of workers but also the lives of their families, creating a ripple effect throughout the local ecosystem.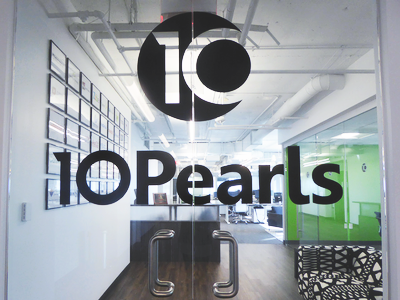 At that moment, he decided to build a company that would not only provide excellent service but also would do something good for people and makes a difference in the world. Together with their brother Zeishan, they founded 10Pearls, whose story began in their mother's kitchen as a small store. They provided software and website development services for small businesses. After 15 years, they still adhere to their human-centered philosophy, while helping customers of all sizes, and even collaborate with Fortune 500 companies.
Key facts about 10Pearls
| | |
| --- | --- |
| Established | 2004 |
| Service lines | Mobile Applications, Enterprise & Web Application Development, User Experience and Design, Cyber Security, Product Development, DevOps, Offshoring, Outsourcing, Artificial Intelligence, IT Services, Emerging Technology, Staff Augmentation, Continuous Security, Technology Partnerships, iOS, Android, Software, Website Design & Development, Software Development, Cybersecurity, IoT, DevSecOps, Technology and Process Audits |
| Avg. hourly rate | $50 - 99 / hr |
| Location | Vienna, Virginia, USA |
Having achieved significant success, 10Pearls created their own research center and university. In their research laboratories, they study current trends in technology development, test and analyze the impact of artificial intelligence. Active development in the field of AR / VR, machine learning and NLP. The impact of new technologies on software development, building business models and strategies is constantly being measured. This approach allows the company to be at the forefront of technology development, and guarantee their customers solutions using the latest technology.
And thanks to the opening of the university under the auspices of the company, they can now independently engage in the training and retraining of the necessary specialists. 10Pearls conduct workshops, training sessions, hackathons, and webinars. Thus, allowing young people to reveal their talents and find a job in a world-class company.
Thus, the company simultaneously achieves its two goals - increasing revenue and improving the well-being of society by providing decent work. This is precisely the key feature of the company, making money, it tries to help people, and they, in their turn, do everything possible for its development.
Services
Applications Development
The company owns all the necessary resources to implement your ideas. They have assembled a team of engineers, designers, researchers, and futurists who can create the digital product you need as efficiently and as quickly as possible. 10Pearls offers its customers end-to-end digital product development services. The cycle of such development includes validation (concepts, strategies), design (products based on a verified concept), development (using the Agile approach), support (24x7), and security.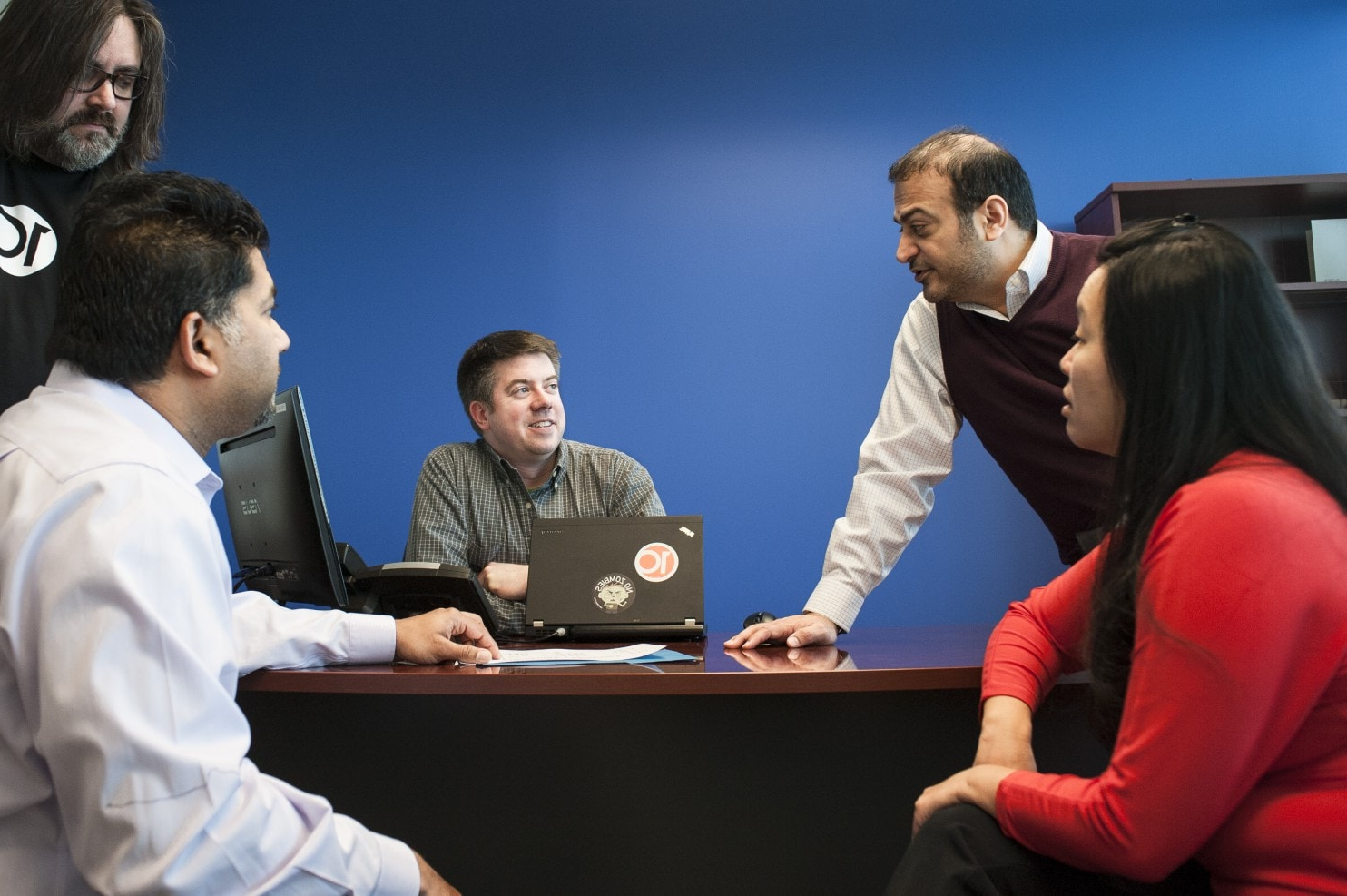 The development of solutions for mobile platforms is the main and most popular service of the company. However, they also provide development services for a fully custom software product. They create web applications, integrated analytics systems or are engaged in the implementation of artificial intelligence. Thanks to the research of advanced technologies in its laboratories, the company provides its customers with access to the latest technologies. The main sections of this area are emerging technologies in IoT, virtual and augmented reality, artificial intelligence, and machine learning.
CX & UX/UI Design
The company conducts detailed user research to create attractive designs and mesmerizing user and customer experiences for your digital products. Through the use of an iterative approach, they rationally prioritize functions, which allows your product to enter the market as quickly as possible. The 10Pearls design team provides designs for mobile apps, web apps, and custom software. Their services include the development of ideas and building strategies, user research, and the creation of human-centric design (based on the data obtained), with its subsequent deployment.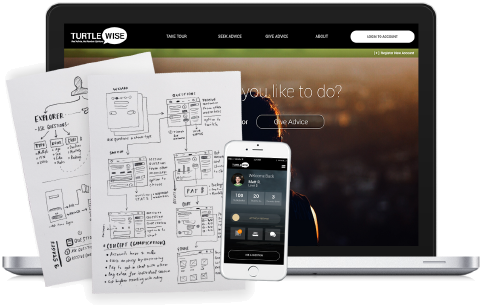 QA & Continuous Security
10Pearls offers its customers a range of QA and security services. In their understanding, quality assurance and safety are almost inextricably linked processes.
A key feature of their approach to security is the integration of security control in the development process, in contrast to the classical approach, when security is involved in the final stages. Thus, their approach allows providing security at the level of the architecture of the solution. This can significantly reduce the development time and speed up the deployment process. With staffed certified QA engineers and security experts, they will help you ensure product reliability, avoid additional development costs and minimize potential risks. The range of their QA services includes:
Prototype testing, Application testing, Load testing, API Testing, Requirements Testing, Version Control, Test Automation, Security and Penetration Testing, Usability Testing.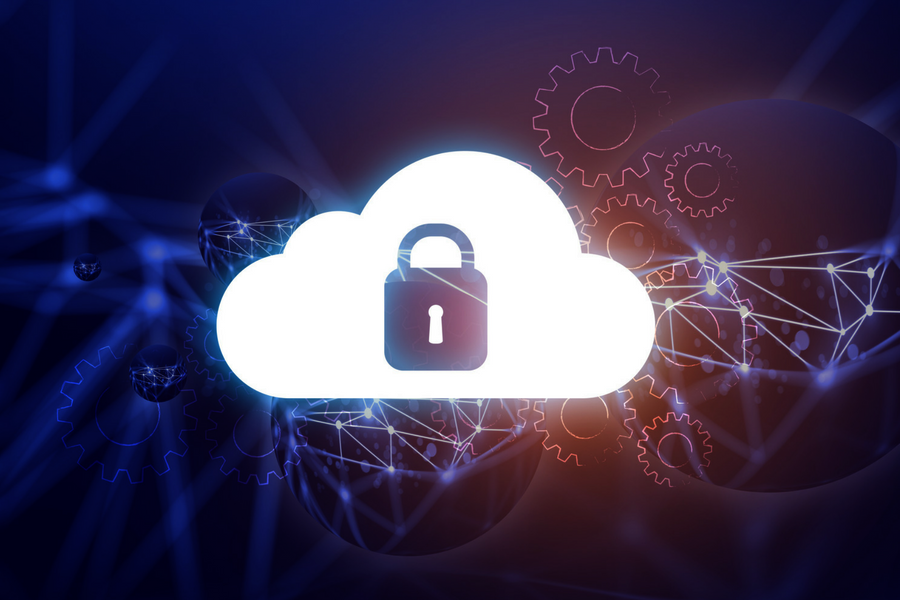 Team Augmentation & DevOps
10Pearls is ready to provide you with more highly qualified technical specialists in the areas of software and mobile application development, web development (frontend and backend), design (UX / UI), QA, cybersecurity, research, cloud engineering, and project management. With a staff of more than 400+ employees worldwide, they will easily provide you with the necessary experts. These services will allow you to significantly reduce time to market and reduce costs for your own development department.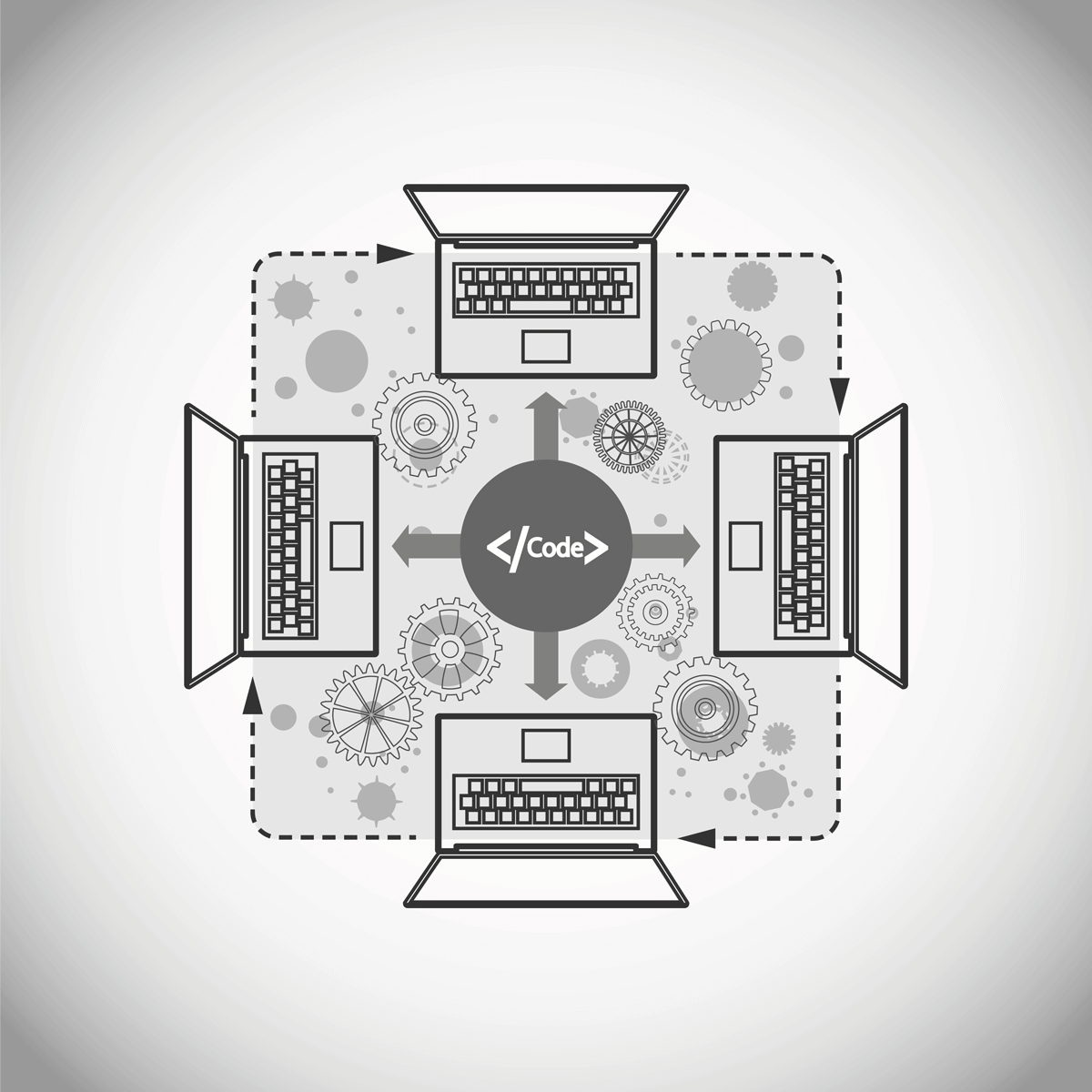 Also, you can take advantage of more than 15+ years of experience in DevOps. With the help of an external development team, you can accelerate development and deployment processes, as well as provide smoother releases and updates to your product. The company has over 100+ successful DevOps implementations and more than 200+ DevOps engineers.
Case Studies
Young companies with innovative ideas in their attempts to break into the market often seek for themselves more experienced partners, without whose help, the threshold of entry for them may be too high. One of the best candidates for this role is rightfully considered 10Pearls. Thanks to their experience, approach, and the availability of research laboratories, they can help in the implementation of any project. An example of this is the company's collaboration with the SocialRadar platform.
As the new mobile geolocation-based social platform, they were looking for a very flexible and reliable partner. This partner, thanks to the reputation of innovators, became 10Pearls.
The purpose of the collaboration was to help transfer the basic concept to the first (1.0) stable version. The rich experience of the development team in the design and creation of mobile applications has played a key role. And the undeniable experience in creating scalable enterprise-level applications allowed them to realize their plan quickly and efficiently.
After a detailed study of the existing concept and the correction of its potential shortcomings, it was tested and polished. The scalability of the future solution was provided even at the stage of creating the architecture, which significantly reduced the development time and the resources necessary for its expansion.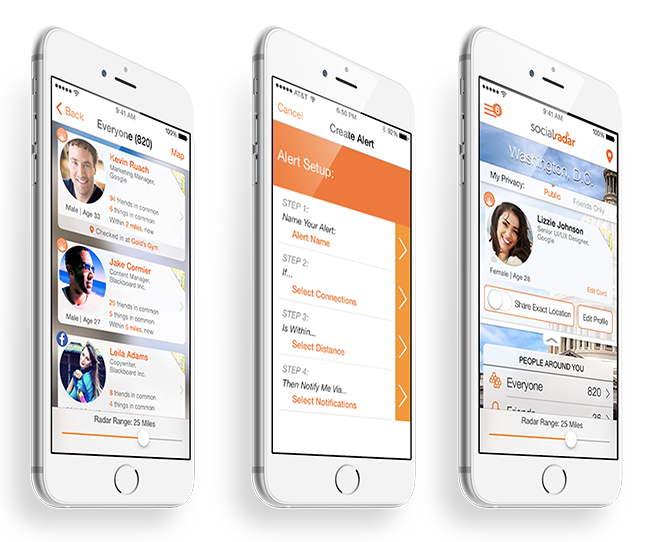 The solution developed by 10Pearls was complex, it consisted of backend development and mobile client development. A lot of effort was also put into the creation and optimization of location services. High development speed was achieved through the use of parallel commands, and a systematic, but iterative approach made it possible to work closely with the team of owners.
As a result, a full-fledged social platform was created, allowing people to find new friends nearby, share their information with the surrounding public (or remain anonymous and invisible). Thus, allowing you to find nearby people who share your interests, wherever you are.
Another, no less interesting idea that 10Pearls helped to implement was an unusual service invented by Zubie.
Zubie is a company that offers its customers a new exciting service that allows them to monitor their cars. It helps you track the location of your car, monitor its maintenance and diagnose possible problems, all this is available through the use of the ODB module.
This time, the main criteria for choosing 10Pearls was their mobile-first approach, complemented by significant experience with multi-platform mobile applications. 
The future application was supposed to support several platforms at once and work with location services, also, Zubie decided to introduce gamification elements into the application. With such reports, 10Pearls simply had no competitors, and the choice of a partner was obvious. Zubie has relied on the experience of 10Pearls and their deep knowledge in the field of geolocation and expert knowledge in the field of gamification of products.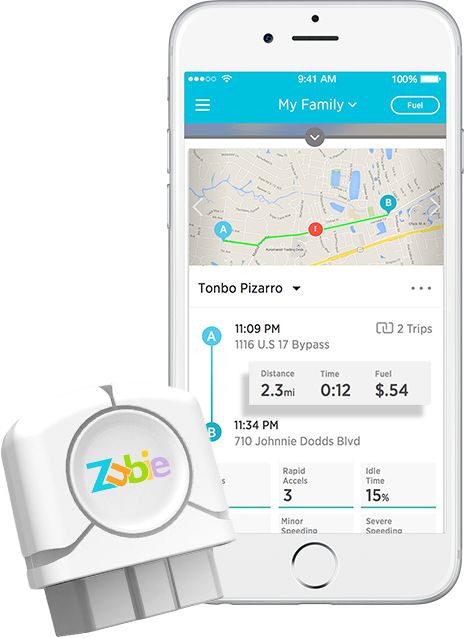 10Pearls worked closely with Zubie to develop the first stable release (1.0).
Based on clear requirements for the design, cooperation with the client's internal team and extremely fast iterations, the first release of the application for iOS received in an extremely short time.
Continuing work on improving the product, the development team worked simultaneously on the version for Android, which added even more functionality.
Each such feature set has been tested and released for a wide range of devices and OS versions. In general, work was done to build architecture, create a design and unique user experience, introduced elements of gamification, work with geolocation services, and integrated work with the module inside the car.
The created multi-platform mobile solution for Zubie allows you to monitor your cars on the map in real-time, monitor maintenance, diagnose problems and collect statistics on its use (time, distance, fuel consumption, etc.)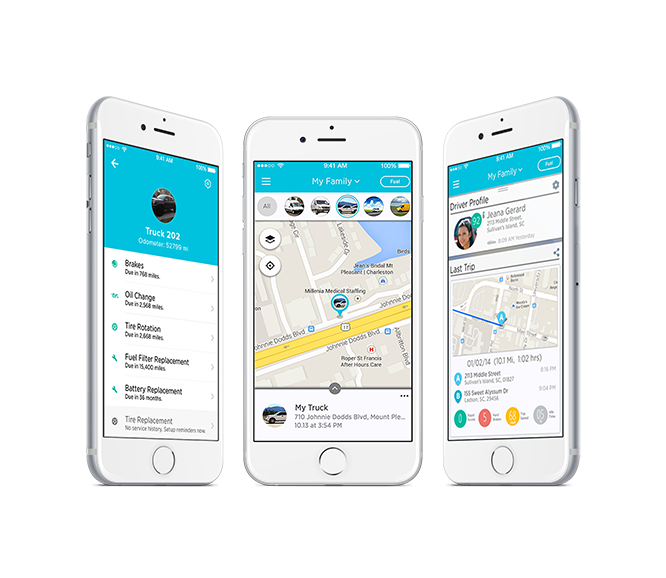 And the integrated concepts of gamification and additional functionality associated with geolocation, allows you to make your driving safer and more enjoyable.Zubie allows end-users and businesses to keep in touch with their vehicles and drivers.
Mobile applications can not only make life more interesting, or optimize some small processes, but also make it much easier for some truly complex and serious things in life. An example of this will be the development of a 10Pearls application with geolocation services and artificial intelligence for their long-term partner - Telmate.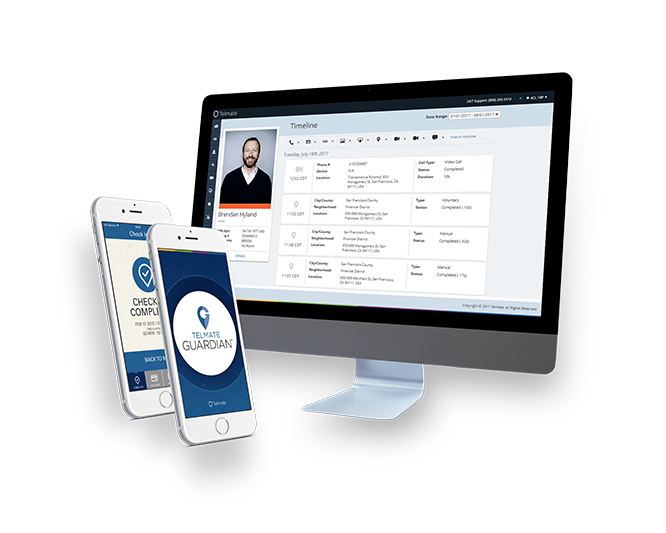 Telmate is a communications company that works with prisoners. By their order, 10Pearls has created an incredible platform that reduces the number of resources needed to monitor parole prisoners. Thanks to the use of biometric verification and the ability to track geolocation, artificial intelligence, and machine learning can completely replace the bracelets with ankles for parole. Intelligent face and voice recognition allows the app to quickly identify parole.
By tracking the location and behavior of parolees using machine learning, the application can detect anomalies in the form of unusual actions. Besides, through strategic warnings helps them avoid risky behavior and rash actions.
The application also allows managers to send automatic alerts to their wards, and also, if necessary, provides instant communication (video or voice). Using an effective management tool, the manager can easily set up alerts, set up secure movement zones and manage data. The platform also reduces the time and costs associated with supervising criminals on parole and those on probation. And thanks to the analysis conducted by artificial intelligence, managers can get a deeper understanding of the behavior of offenders.