EaseUS Data Recovery Wizard review
We've all faced data loss and it's frustrating. Whether a hard drive, a flash drive, a memory card, or a smartphone, may fail at some point, and reasons range from physical (worn components, damage), to software bugs and virus/hacker attacks. How do you recover documents, images, business data in such case? Special data recovery software comes to mind as one of the best options. One example is, of course, EaseUS Data Recovery Wizard.
The product we are going to review is provided by EaseUS, a Chinese tech company founded in 2004 and specializing in data management. It is called Data Recovery Wizard and comes with versions for Windows, Mac, iOS and Android devices. The range of possibilities, according to vendor website, is impressive: recovering deleted files, formatted data, post-partition data, as well as data damaged by OS crash or a virus attack. Let's explore.
Minimum system requirements: 128 Mb RAM, 32 Mb disk space, Windows XP or newer, MacOS 10.14 or newer. EaseUS Data Recovery Wizard specifications:
Vendor
Chengdu Yiwo Tech Development Co., Ltd (website)
Latest version
v.12.9.1 out September 2019
Operating systems
Windows, Mac, Android, iOS
Installer size
43.5 Mb
Interface languages
20
File types
Docs, media, email, other
Recovery data limit
Unlimited (*except Free)
Support
Technical support, live chat
Pricing
Trial / Subscription
License
$69.95 (1 Year, 1 PC)
$499.00 (Lifetime, 1 PC)
Installation and interface
For each OS, EaseUS offers several versions of Data Recovery Wizard, which basically are Free, Pro and Technician. Free, of course, would be the most popular user choice, as with any other software product, so let's use and test it. Installation process for Windows is familiar, simple and takes just few steps.
First, the license agreement, agree if all OK and click "Install Now". To change the default path (Program Files on drive C) and/or interface language, click Custom Install option. Additionally, agree or refuse to participate in the "Customer experience improvement program" – enabled by default. Then, hit "Install Now" and in few moments all will be ready. If you purchased Pro version, enter the license code in the field below to activate the program.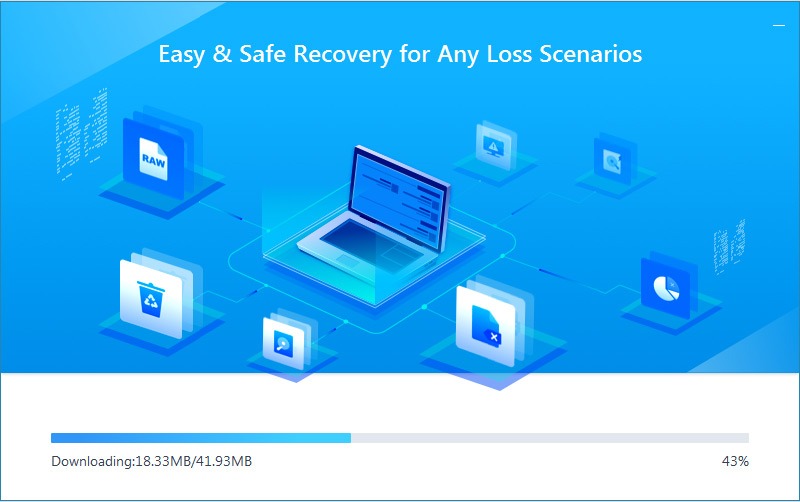 Note: when installing the app to restore lost data from a specific hard disk or memory device, we recommend to install it onto different disk, e.g. not C but D. This way one ensures proper and full data restoration without new amendments.
Interface is nice and pleasant with white-n-blue colors. No excessive options in it, in fact, the program has only 2 key windows – start and work. The start window accommodates all the detected hard drives on user's PC, popular locations for recovery (desktop, bin, folder), Scan button and access to interface settings.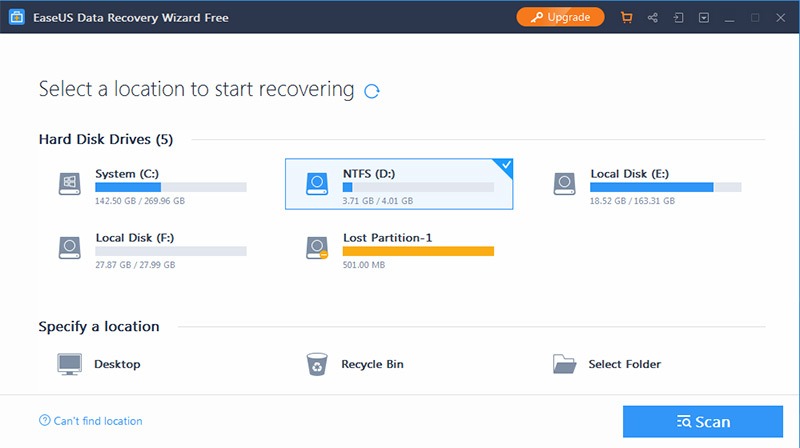 The working window appears after scanning was performed. On the left, a hierarchy of file types is displayed, distinguishing between files deleted by a user and by other programs right away. In the main area all the details are presented, i.e. name, location before deletion, type, date of deletion. For cases, when one has to deal with hundreds of files, search and filter options come quite handy, with the ability to sort over 1,000 file types for comfortable view.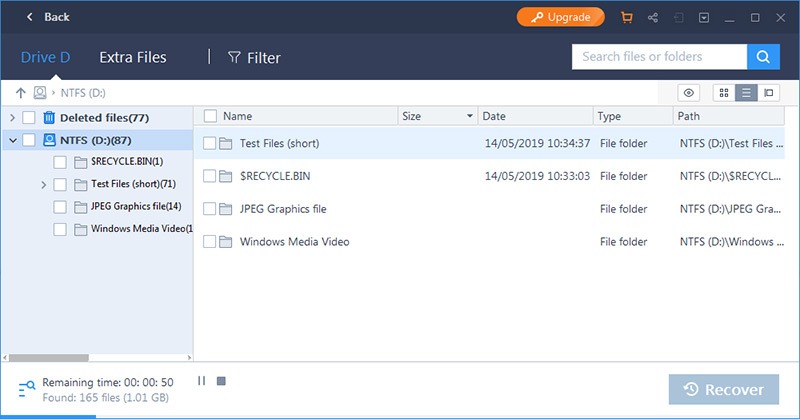 How to use Data Recovery Wizard?
The program is capable of retrieving data from PCs, laptops, hard drives, SSDs, USB drives, external disks, as well as digital cameras, camcorders, music and video players. It supports the following file systems: FAT, exFat, NTFS, NTFS5, ext2/ext3, HFS +, ReFS.
Here's a cheat sheet of the most popular file formats DRW can restore:
| | |
| --- | --- |
| Category | Extensions |
| Document | doc/docx, xls/xlsx, ppt/pptx, pdf, cwk, html/htm, indd, eps |
| Video | avi, mov, mp4, m4v, 3gp, 3g2,wmv, mkv, asf, flv, swf, mpg, rm/rmvb, mpeg |
| Email | pst, dbx, emlx |
| Image | jpg/jpeg, tiff/tif, png, bmp, gif, psd, cwr, cr2, nef, orf, sr2, mrw, dcr, wmf, raw, swf, svg, raf, dng |
| Audio | aif/aiff, m4a, mp3, wav, wma, ape, mid/midi, RealAudio, vqf, flv, mkv, mpg, m4v, rm/rmvb, ogg, aac,wmv, ape |
| Other | archives (zip, rar, sit, iso), exe, html, sitx, etc. |
EaseUS, it seems, did their best to make data recovery process as simple and apprehensive as possible to all users. Their online guides and tips help answer any potential questions. So using Data Recovery Wizard to recover lost files, essentially boils down to just 3 actions: launch, scan, recover.

Step 1: you open the program and select a location of previously lost data (and let's hope you remember it). Step 2: scan that location, pausing and resuming is possible too. Step 3: preview found files, select which ones you want to recover, and click Recover. The actual recovery typically takes few minutes, and you'll see the progress. Sounds neat.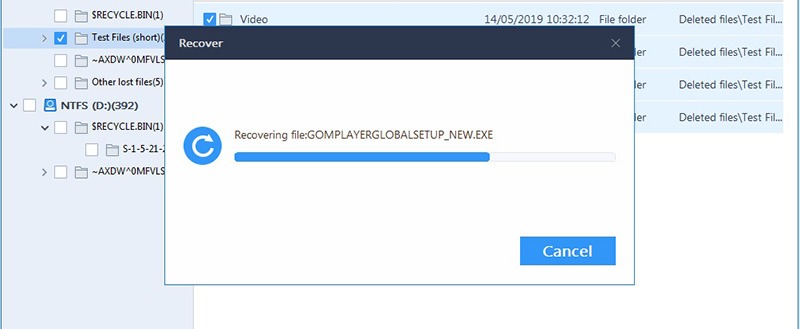 Surely, scanning may last longer, and the larger a drive, the longer it will take, but end justifies the means, right? One really positive option within Data Recovery Wizard is "save project": allowing to export scan results and thus, postpone the recovery for later with no need to repeat scanning.
There's also a great way to find exactly what you need quickly in scan results – by using the advanced filter. It can be a shortcut with 5 popular filters, including status (deleted, existing), type (Word, Excel, PDF, etc.), modification time (0-3, 4-7, 8-15, 16-30 days), size and initial letters. It looks like this: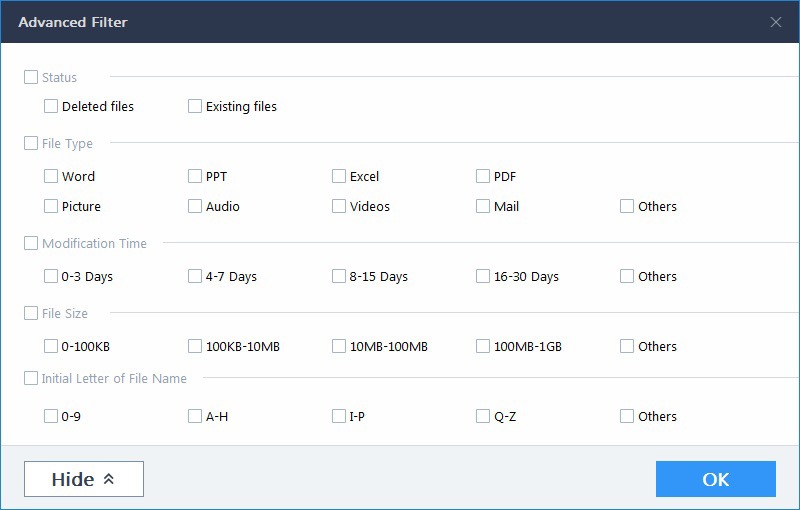 By the way, Mac users may be positively surprised with instant access to found media files and information about it, as well as the option to recover files directly to cloud storage. Overall, even inexperienced users will be able to use this utility.
Testing recovery
In order to perform unbiased and comprehensive testing of Data Recovery Wizard, we prepared special 4GB partition on drive D. As it was stored on previously used physical drive and DRW found much more and older data on it, we had to totally wipe disk space using the Gutmann method. When the D drive was empty, we copied a 245 MB test folder into it. This set of files consisted of 3 Word files, 2 Notepad files, 6 various app installers (.exe), 20 photos and 1 video. Then we conducted 3 different little tests, as follows.
Test 1. Standard deletion not using the recycle bin (Shift+Del), then launching the utility to try to bring back deleted files. Result: 100% of files recovered.
Test 2. Same files deletion but followed by additional disk space wiping with a single-pass method (to simulate even harsher scenario). Result: 100% recovery. This is evidence of high efficiency of scan algorithms, as the program was able to discover more files beyond our test pack, although those were temporary system files.
Test 3. Same files deletion, followed by a three-pass disk wiping method. At this stage, very few recovery tools would be able to detect anything at all, so we were quite surprised by the fact that DRW did. Although found files were not organized and properly attributed, we had found and restored two of .exe files, and few other files we'd identified as photos purely by size. Result: 15% files recovered.
| | | | |
| --- | --- | --- | --- |
| Test conditions | Test 1 | Test 2 | Test 3 |
| Standard deletion | + | + | + |
| One-pass wipe method | + | + | – |
| Three-pass wipe method | + | – | + |
| Recovery success rate | 100 % | 100 % | 15 % |
Thus, we can conclude that EaseUS Data Recovery Wizard is a really effective recovery program, that will most definitely restore deleted files, in case you hadn't intentionally, completely and irrevocably wiped a physical source clean. With high rate of probability it will also help restore files that were partly damaged.
Pricing
In terms of versions and price, either for Windows, Mac, iOS or Android devices. Moreover, the license for any of editions, except Technician, is single, or in other words it is a lifetime purchase for 1 device – unlike monthly/yearly subscriptions to renew.
Free
(Windows)
Pro
(Windows)
Free
(Mac)
Pro
(Mac)
Pro
(iOS)
Pro
(Android)
Amount of data
2GB
Unlimited
2GB
Unlimited
Unlimited
Unlimited
File recovery
✔️
✔️
✔️
✔️
✔️*
✔️*
Scan export/import
✔️
✔️
✔️
✔️
–
–
Lifetime technical support
–
✔️
–
✔️
✔️
✔️
Bootable media for emergency
✔️
✔️
✔️
✔️
–
–
License type
Free
Single
Free
Single
Single
Single
Price
Free
$69.95
Free
$89.95
$79.95
$39.95
* In Android and iOS editions data recovery implies contacts, photos, videos, call history, calendars, bookmarks, chat history and other files specific for smartphones and mobile devices.
In free versions, the number of scans is not limited, yet there is a cap on the amount of data to recover. It is 500 Mb in Free and 1GB in a trial, however the volume can be increased to 2GB, in case a user shares about Data Recovery Wizard on Facebook or Twitter.
Finally, a 50% discount is offered by vendor currently for EaseUS Data Recovery Wizard Pro version, please follow the link.
P.S. As an alternate route, it could also be relevant to check out Backup software.
FAQ
Q: What is the difference between logical and physical drives?
A: Take PC hard disk drive as example. 1 TB sized hard drive you want to split for system use and for movies. For this, you do the partition of disk layout, and get the system to display 2 separate disks. So, a physical disk is your 1 TB drive, and 2 disks created on it are logical disks.
Q: Why do I need logical drives?
A: Logical drives apply certain file size restrictions, thus, speeding up operations and tasks when the system has to process lesser data volumes.
Q: Standard scan VS deep scan for file recovery
A: Usual scanning only performs a read-through of drives and a file tree to detect files that have not been overwritten yet. Deep scanning performs byte-to-byte data reading of disks to detect traces of known file types. It is capable of finding files with damaged structure as well, while restoring will vary depending on damage level.
Q: What is a file system?
A: File system is the standard for OS to store and read files. Within recent decades, there have been several of them implemented and still being in use. The most popular ones are FAT and NTFS. FAT, met mostly on removable flash drives, has versions like FAT16 (files no more than 2GB), FAT32 (files no more than 4GB), exFAT (files up to 64GB). NTFS is considered a more advanced one, capable of storing files of up to 1TB in size.
Q: Can I run Data Recovery Wizard on Windows 10?
A: Yes. It supports Windows XP, Windows Vista, Windows 7, Windows 8, Windows 8.1 and Windows 10.
Q: What is the Technician edition?
A: It is distributed under a license that allows to provide services in file recovery to other users/parties, including commercially.
Q: What is the version with WinPE?
A: In this version, there's a special integrated module allowing users to run Data Recovery Wizard on devices without OS. This feature helps to recover files from systems with damaged or inaccessible OS.
Q: Is EaseUS Data Recovery Wizard safe?
A: Yes. It cannot damage existing files because it only deals with deleted or lost data.
Q: Is there any free data recovery software?
A: Luckily, EaseUS provides a free utility that can be used for restoring up to 2GB files.
Q: How do I use Data Recovery Wizard?
A: Choose the drive where files were lost, launch a scan, preview and recover - preferably to another folder this time.
Q: Can I crete boot CD/Flash with EaseUS Data Recovery Wizard?
A: Yes. You can create boot CD/Flash if you owner version with integrated WinPE.
Did you like the article?
0
Comment