Windscribe VPN review
With growing concerns over Internet security and users' privacy, VPN services are in high demand. VPN, which is a virtual private network, is a service that keeps your data and web browsing confidential while using public Wi-Fi hotspots. VPN services may help you to protect sensitive information from overly curious eyes. Even if you are not concerned about privacy, a reliable VPN service could help overcome local restrictions for video and music streaming and deal with governmental censorship. This is why we took a look at one of the top apps and wrote this Windscribe VPN review.
How does VPN work?
The best way to describe the mechanism of VPN is to compare it with a trip. Imagine while on it, you go through a tunnel. Once you enter a tunnel, it becomes difficult for other people to control your movement. Similar principle for a VPN: when you use VPN, your PC or any other digital device connects to some remote server located in the US, Thailand, Canada or whatever.
Once connected, you appear "inside the tunnel", which means that it becomes challenging for third parties to track your web browsing, request your data or control/view your Internet activity. Only a VPN provider and a website are aware of your actions on the web. So, as we see, VPN can be useful in protecting sensitive data and decreasing chances of hacker attacks.
Why Windscribe VPN?
Previously, Windscribe VPN has been an average service with no special features. In contrast to its competitors, such as ExpressVPN or NordVPN, it did not offer extra speed. However, with the recent upgrade of VPN protocols, it has become one of the fastest in the field, and now it does also provide the industry standard 256-bit AES encryption.
The service has a free and paid versions, which will meet the needs of the most demanding users. The trial version provides 10 GB of bandwidth per month, while paid alternative will offer 500 locations worldwide and a set of extra features that will make web browsing more secure and convenient.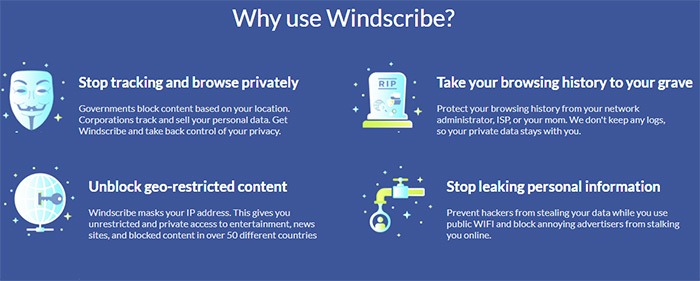 Apart from that, Windscribe VPN is a good alternative to US-based services with competitive advantages such as no data cap, or, more importantly, Windscribe – as a product of Canadian company, no American jurisdiction.
Users can operate anonymously without the risk of data being disclosed to other parties due to the fact that Windscribe does not log your sessions. Although Windscribe is a relatively new service on the market, it has already become one of the favorite VPN services among Internet users.
Its Chrome extension has been installed by 630,000 users around the world. So, is it really a cheap and user-friendly alternative to US VPN services? Let's discover together, and let's start with a summary of key parameters.
Specifications:
| | |
| --- | --- |
| Platforms | Windows, MacOS, Linux, Android, iOS |
| TV platforms | Amazon Fire TV, Nvidia Shield, KODI |
| Browser extensions | Chrome, Opera, Mozilla |
| Installer file size | 16.1 MB |
| Disk space | 48.7 MB |
| Supported languages | 25 |
| Countries (in free/paid) | 10 / 58 |
| Protocols | IKEv2, UDP, TCP, Stealth, Wstunnel, OpenVPN, SOCKS |
| Traffic (free version, no email sign up) | 2 GB /month (*only free locations) |
| Traffic (free version, email sign up) | 10 GB /month (*only free locations) |
| Pricing | $9/month, $49/year |
| Static IP | $2/month (data center), $9/month (residential) |
| Encryption | AES-256 cipher with SHA512 and 4096-bit RSA key |
| Logging | No |
| Jurisdiction | Canada |
P.S. Windscribe team has a distinct sense of humor and isn't afraid to sting users with notifications like this: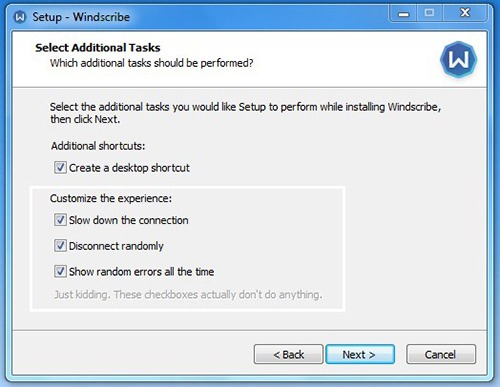 Windscribe VPN review: Features
As we mentioned before, Windscribe has two editions: free and paid versions. Obviously, a free version has a restricted set of features, but it is enough for an average user. It has data centers in over 50 countries, in free version you can choose one of ten locations to connect to a server there.
Users claim that it does not bring any discomfort as these options are enough to ensure smooth streaming and protect sensitive data. Thus, you'll be able to access any blocked content in your region. Albeit Windscribe is not that fast compared to its competitors, it provides a perfect combination of security, locations and VPN features.
Apart from a wide choice of locations, Windscribe VPN also supports all the best protocols including OpenVPN, IKEv2, SOCKS (IKEv2 was actually set by default by Windscribe while we were testing a desktop VPN), as well as less widespread protocols, like UDP, TCP, Stealth, Wstunnel.
Also, one of the reasons to choose Winscribe is its AES-256 cipher encryption for desktop applications and AES-128 GCM cipher for browser extensions. Security specialists will definitely like the latter feature as it guarantees great privacy and high level of data protection.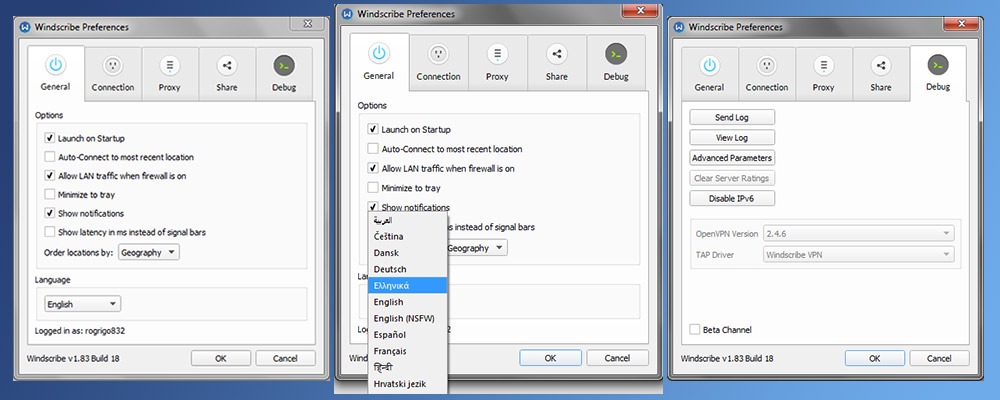 Windscribe is also easy-to-use since it supports almost all popular browsers including Opera, Mozilla and Chrome. The software also does not require much memory as its install file size equals to 47,8 MB. VPN is also available on all platforms including Android, Windows, Linux, MacOS and iOS.
On the other hand, Windscribe has traffic limitations, which depend on your membership and registration type. You have to pay $1 per location every month. If you register without email, you will have up to 2GB, which is not quite enough for an advanced user. To increase the limit, you will have to sign in with an email, which raises traffic limit to 10GB. Also, we have a little lifehack for you: you can post a Tweet about Windscribe, which will grant you additional 5GB above limit. Neat trick if you don't want to buy a Pro version.
R.O.B.E.R.T., or how to stop malware with a VPN
This is an exclusive technology from Windscribe, the acronym stands for Remote Omnidirectional Badware Eliminating Robotic Tool. It is designed for secure Internet surfing by means of filtering and blocking malicious links, banners, etc. It has 4 modes of operation: 1) disable filtering, which is appropriate if you are confident about the web content, 2) activate protection against malware, phishing sites and botnets (enabled by default), 3) blocks advertising trackers, 4) Maximum protection (all modes combined + blocking social network trackers).

Why it is useful? By blocking trackers and banners that could collect user information, R.O.B.E.R.T. contributes to protection of your privacy on the Internet.
Windflix (a.k.a. Ride the Netflix hype train)
Among other features that in most part are typical for any VPN software, Windscribe rolls out one fun thing called Windflix. Seems fine and useful feature – get access to your US/UK Netflix account from anywhere on the planet, just use one of special servers to connect: Windflix US or Windflix UK. Those two servers are available only in Premium version, of course, while with other servers you ought not to be able to stream your Netflix. Well… this feature seems to be overrated and a bit of a stretcher, to be frank.
First of all, Netflix is available for streaming in 190 countries, only China, North Korea and Syria are blocked, so it's not about unblocking restricted websites. Secondly, yes – Netflix content may vary location to location, so let's suppose you want same full access to your US-account when you're in France or elsewhere. But you can do that with regular locations available in Windscribe free version – we tested 5 connections (Atlanta – USA, Chicago – USA, Montreal – Canada, Frankfurt – Germany, Zurich – Switzerland) and we got our usual Netflix just fine.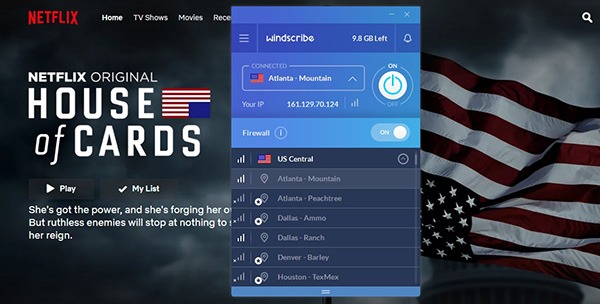 Bottom line: if a friend asks why he should use a VPN, mentioning Netflix in your answer is one way to be persuasive. So thumbs up to Windscribe marketing team, and is someone asks – yes, you can watch Netflix with Windscribe.
Other services availability via Windscribe
With Windscribe VPN, you can access BBC iPlayer anywhere in the world. Our testing has shown positive results with free servers as well.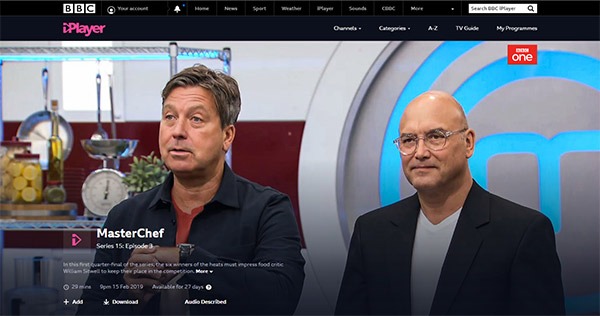 Windscribe supports P2P protocol and that's why torrent networks do not cause difficulties. Testing has even indicated high download speed in a torrent client while VPN is on. Also, it is worth noting that, ads and banners in a torrent are not displayed thanks to the R.O.B.E.R.T technology – as we can see on screenshot.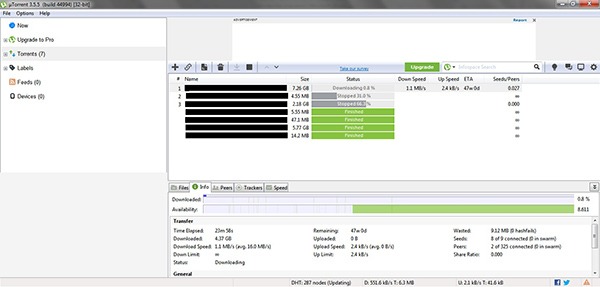 We also tested Tor browser along with VPN service – Windscribe has shown a stable connection speed without interruptions.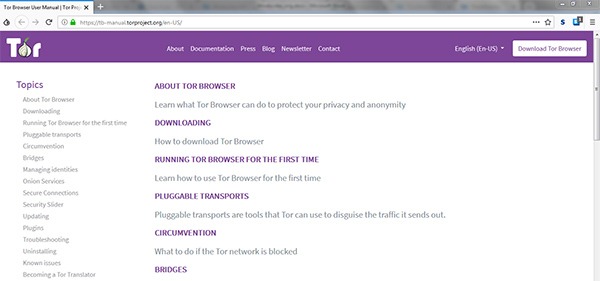 Learn about all the features in detail at Windscribe Features page.
Interface / User experience
Windows OS. Although Windscribe VPN has several strong advantages (wide choice of locations, strong security, etc.), its interface leaves a lot to be desired. Applications for PC and Mac have a small-size interface. While Mac has a "W" button that can be easily activated, the PC version has a system trail button, which is not convenient to use when you want to change the location or switch to another mode.
When you open an application, a dark-blue screen pops up with an on/off button on the right. To connect to a server, you need to switch it on and start surfing the net. The window takes only a small part of the screen, which might be inconvenient to people with bad eyesight. You can move it, but you can not enlarge it.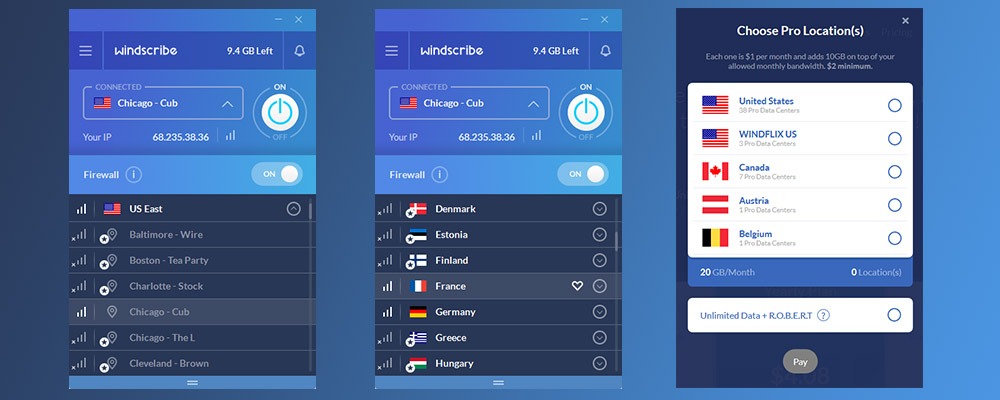 The program main window is more user-friendly as it is a bit larger, it has a world map where a user can choose location and adjust all settings. When you click on a region and select the location, the window becomes longer to show you all the connection possibilities. There are also settings to select encryption techniques and customize a VPN. If you are not tech-savvy enough to figure it all out, Windscribe team prepared detailed guides for various scenarios with VPN, e.g. setting up Windscribe for Linux Ubuntu, working with Torrent clients, routers, etc.
MacOS. The interface for Mac devices is similar to the one for for Windows. The only difference is that the program is managed through the notification line.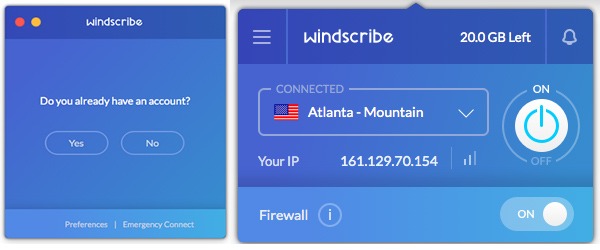 Android. Compared to MacOS and Windows clients, Windscribe Android app has several significant differences in regards to interface and functionality. Appearance is traditionally compact but in dark color scheme. The upper screen part is occupied with information fields and the Connect button. The rest is reserved for available servers list. Settings window shows that the app only works under TCP, UDP and STEALTH protocols. One  unpleasant discovery was that Android VPN app was localized only in 5 languages (English, Spanish, French, Indonesian, Turkish), in contrast to multilingual PC clients.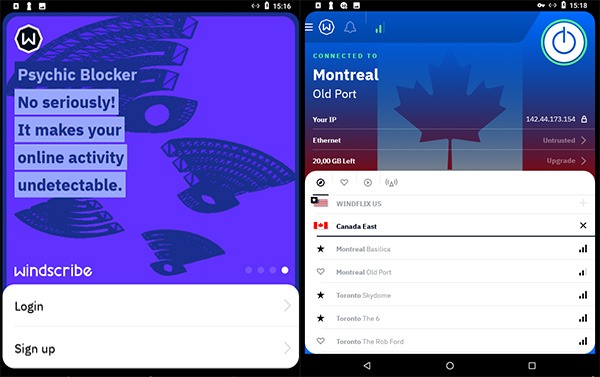 Browser extension. Windscribe recommends to use a browser extension alongside desktop application. At the moment (February 2019), extensions are available for popular browsers Google Chrome, Mozilla Firefox and Opera. Worth noting, that we found additional functionality that was not available in the client. The most interesting one was the Secure.link service that allows to create short URL addresses and scan pages for trackers. In addition, the extension helps block ads, social trackers, etc., erasing any digital traces.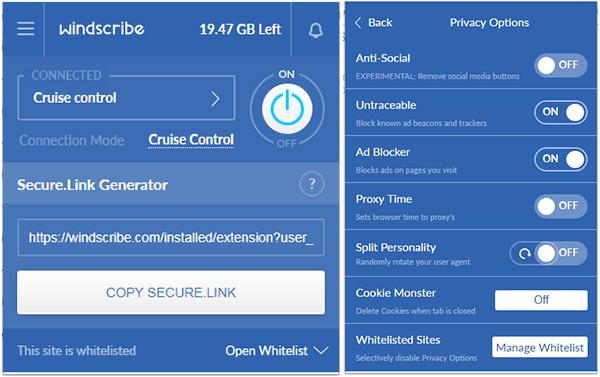 Windscribe pricing
It is convenient that Windscribe has a trial version. You can download it to any device regardless of the platform you use and enjoy all the benefits of the VPN services. However, if the features provided are not enough for you, be ready to pay $9 per month. The price is a bit above the average on the market, but this Pro version offers a wide choice of locations in 55 countries and best security protocols. We can give you a small tip: pay $49 annually and save up to $60 a year. It is much cheaper than spending $9 each month ($108 in 12 months).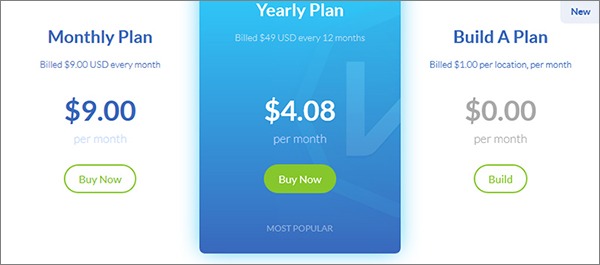 Additionally, if you buy Windscribe VPN for a team of employees (or you go halfsies with friends), you can manage team accounts through ScribeForce. A managed account has all the features of Windscribe Pro, so this option might appeal to corporate clients. Also, there's a curios special program called Mine for upgrades: basically let Windscribe mine Monero cryptocurrency on your device and get a reward of choice in return (reset bandwidth, 1 month Pro, or +10GB for month).
Please note that Windscribe return policy provides only a 3-day period after purchase for refunds, subject to the necessary conditions. Windscribe reserves the right to refuse refunds if a user violates the Terms of Service, or uses more than 10 GB of traffic. Under these conditions, Windscribe guarantees a refund without any explanation and will pay it back during 30 days. Windscribe VPN accepts various payment options, check below:
| | | | | | |
| --- | --- | --- | --- | --- | --- |
| Bitcoin | PayPal | Visa | Mastercard | American Express | Paymentwall |
| + | + | + | + | + | + |
Performance tests
Many VPN services look good but do not perform as advertised, so we are sceptical about upbeat descriptions and bright interfaces when it comes to reviews and tests. Especially with VPNs, when often under guarded connection, a device might continue using its default DNS, leaving space for third parties to track location and data. If it happens, VPN shows poor performance and fails to guarantee Internet security. We conducted 5 different tests of Windscribe VPN, which showed the following results:
dnsleaktest.com – passed. The service did not find any leak channels or user location, which is good as the primary task of VPN software is to hide the location.

browserleaks.com/ip – passed. The service identified the IP and location as selected in Windscribe. We repeated the test for 20 different locations, and 15 out of 20 passed successfully, for example for Ontario, Canada.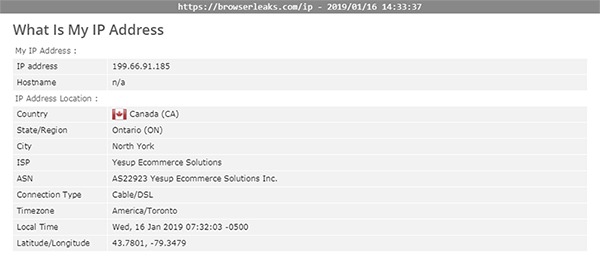 browserleaks.com/ipgeo – passed. A country as selected in VPN has been identified, for example Los Angeles, USA.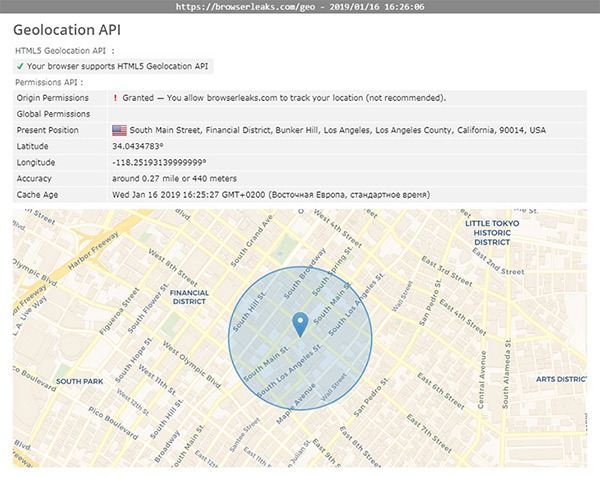 speedtest.net – positive. The average ping with 22 different servers tested equaled 1.2 seconds. The average download speed when using Windscribe was 100 Mbps. Here is one of the test results from Oslo, Norway connection.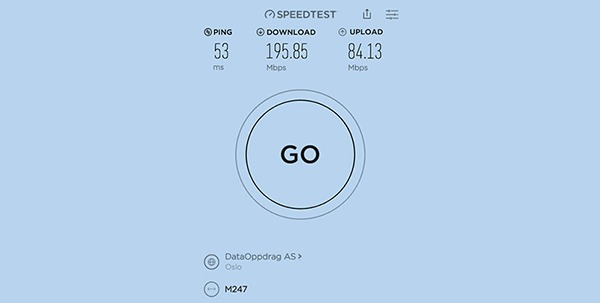 whatismyipaddress.com/blacklist-check – very good results. To identify whether IP address is listed in anti-spam databases we ran Windscribe VPN through 70 lists. With being clear in 69 on average this is 99% pass. One final test series was WebRTC leak test, which also proved positive.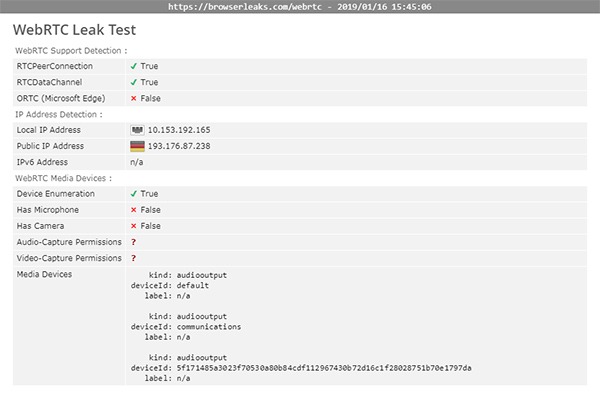 Find all the exact data for each different location test below.
Part 1.
Server name
Free
Pro
DNS
Leak Test
WebRTC
Leak Test
IP address Info
HTML5
Geo Test
No Vampires
✔
✔
Pass
Pass
Pass
Pass
Mountain
✔
✔
Pass
Pass
Pass
Pass
Ranch
✔
✔
Pass
Pass
Pass
Pass
Cub
✔
✔
Pass
Pass
Aurora, Illinois, USA
Kansas, USA
Snow
✔
✔
Pass
Pass
Pass
Pass
Vice
✔
✔
Pass
Pass
Pass
Pass
Empire
✔
✔
Pass
Pass
Pass
Pass
House
✔
✔
Pass
Pass
Pass
Kansas, USA
Dogg
✔
✔
Pass
Pass
Pass
Pass
Hendrix
✔
✔
Canada
Pass
Burnaby, Canada
Kansas, USA
Old Port
✔
✔
Pass
Pass
Pass
Saskatchewan, Canada
The Rob Ford
✔
✔
Pass
Pass
North York
Not detected
Granville
✔
✔
Pass
Pass
Calgary, Canada
Not detected
Stanley
✔
✔
Pass
Pass
Burnaby, Canada
Kansas, USA
Seine
✔
✔
Pass
Pass
Pass
Saint-Denis, France
Castle
✔
✔
Not found
Pass
Pass
Pass
Canal
✔
✔
Pass
Pass
Pass
Pass
Fjord
✔
✔
Not found
Pass
Pass
Pass
Alphorn
✔
✔
Pass
Pass
Pass
Pass
Crumpets
✔
✔
Pass
Pass
Pass
Pass
Tea
✔
✔
Pass
Pass
Pass
Kilsby, England
Victoria
✔
✔
Pass
Pass
Pass
Not detected
Part 2.
| | | | | | | |
| --- | --- | --- | --- | --- | --- | --- |
| Server name | Speedtest: Ping (ms) | Speedtest: Download (Mbps) | Speedtest: Upload (Mbps) | IP Blacklist Check | Torrent | Tor |
| No Vampires | 39 | 227,17 | 66,14 | 69 | ✔ | ✔ |
| Mountain | 129 | 183,18 | 12,68 | 68 | ✔ | ✔ |
| Ranch | 135 | 118,12 | 5,51 | 69 | ✔ | ✔ |
| Cub | 127 | 101,8 | 5,04 | 68 | ✔ | ✔ |
| Snow | 138 | 107,61 | 5,52 | 68 | ✔ | ✔ |
| Vice | 135 | 128,96 | 3,99 | 69 | ✔ | ✔ |
| Empire | 105 | 158,74 | 42,63 | 68 | ✔ | ✔ |
| House | 110 | 168,29 | 4,54 | 69 | ✔ | ✔ |
| Dogg | 175 | 154,36 | 2,53 | 68 | ✔ | ✔ |
| Hendrix | 179 | 42,76 | 5,24 | 68 | ✔ | ✔ |
| Old Port | 136 | 119,17 | 3,09 | 69 | ✔ | ✔ |
| The Rob Ford | 118 | 116,97 | 18,23 | 69 | ✔ | ✔ |
| Granville | 170 | 2,53 | 1,75 | 68 | ✔ | ✔ |
| Stanley | 243 | 93,83 | 2,75 | 70 | ✔ | ✔ |
| Seine | 50 | 87,81 | 66,7 | 69 | ✔ | ✔ |
| Castle | 35 | 157,7 | 102,49 | 69 | ✔ | ✔ |
| Canal | 45 | 83,89 | 26,49 | 69 | ✔ | ✔ |
| Fjord | 53 | 195,85 | 84,13 | 69 | ✔ | ✔ |
| Alphorn | 45 | 162,95 | 86,12 | 68 | ✔ | ✔ |
| Crumpets | 52 | 108,34 | 69,77 | 69 | ✔ | ✔ |
| Tea | 39 | 134,53 | 62,63 | 69 | ✔ | ✔ |
| Victoria | 211 | 71 | 2,11 | 67 | ✔ | ✔ |
Technical support
We tried to talk to Windscribe technical support via chat on their main page. However, it turned out to be robot named Garry, that seems to be not sophisticated enough to apprehend use questions. Eventually, after few minutes of wait, he had been inviting us to talk to human staff. So we did, but all operators were busy and since we were still in the chat, Garry suggested to send an e-mail and promised that it will be replied soon.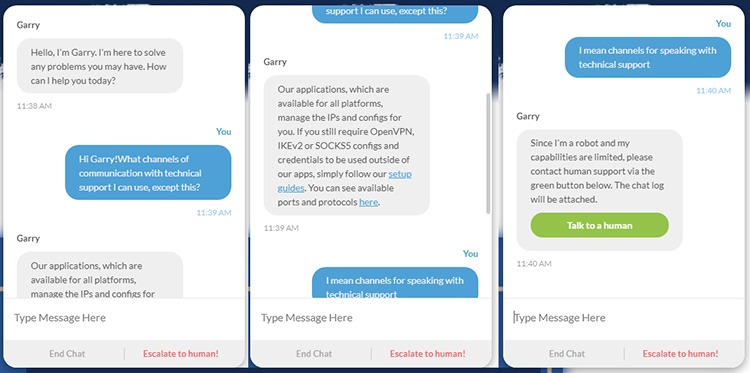 Verdict, pros and cons
After multiple tests, we concluded that Windscribe is a decent VPN product. For an average user with no extra requirements, it will most probably do well. Windscribe passed all our tests and displayed excellent performance. Pro version brings lots of extra features and protocols, that security professionals might find appealing. Overall, we saw the following benefits and disadvantages of Windscribe VPN:
Pros: free version clean and user-friendly interface on Android and iOS ScribeForce tool to manage team accounts high security and privacy standards no need to comply with US jurisdiction wide choice of locations
Cons: customer complaints about support bandwidth restrictions slower speed of connection compared to competitors
FAQ
Q: What is Windscribe?
A: It's a company that provides a virtual private network (VPN).
Q: How to use Windscribe?
A: Install application or browser extension and create user account.
Q: How to use Windscribe with torrent?
A: Windscribe supports P2P protocol and successfully works with torrent networks. You only need to start Windscribe VPN before opening torrent client.
Q: How does Windscribe work?
A: Basic VPN principles: the application (or browser extension) encrypt and route user traffic through Windscribe servers, making it difficult to track Internet activity.
Q: How to install Windscribe on Firestick?
A: You can use Windscribe with Amazon TV Firestick by installing the Windscribe app from Amazon Store, or following the manual.
Q: How to install Windscribe on Kodi?
A: Those using Kodi on Android first need to download the VPN app from Play Store. On Linux, use VPN Manager plugin to install Windscribe. For more details see official guide.
Q: How to delete Windscribe account?
A: Windscribe Privacy Policy allows to delete user account any time. Go to Windscribe site > My Account section > delete.
Q: How safe is Windscribe?
A: Windscribe VPN includes lots of features to protect user privacy (firewall, R.O.B.E.R.T., encryption, no logging policy) but don't forget it is impossible to gain full protection. Our estimate is about 90% out of 100%.
Q: What locations does Windscribe VPN offer?
A: In Pro version there's access to servers in up to 60 countries, while free version has only 9. Windscribe offers servers in USA, UK, Canada, Australia, Austria, France, Germany, Netherlands, Japan, South Korea, Japan, Argentina, Brazil and more.
Q: Where is Windscribe based?
A: Windscribe Ltd. company is based in Richmond Hill, Ontario, Canada.
Q: How many devices I can use at the same time in Windscribe?
A: WindscribeVPN has no limits for simultaneous connections.
Q: How to install Windscribe on my router?
A: You can install Windscribe on ASUS, DD-WRT and Tomato routers. Find detailed manuals here for ASUS, DD-WRT, Tomato.
Q: How to setup Windscribe for a game console (Xbox/PS)?
A: Windscribe does not support Xbox and PlayStation devices.
Q: How to stream Netflix with Windscribe?
A: Windscribe offers servers all countries where Netflix is popular. Also, Pro users may benefit from special "Windflix" servers - created for seamless Netflix streaming.
Q: How much free gigabytes Windscribe can give?
A: There's 2 GB monthly for free accounts, plus an increase to 10 GB if signing up with email. Also users can receive bonuses for tweeting or inviting friends, get rewards for helping with Monero mining.
Q: Windscribe unexpectedly stopped working. Why?
A: First, check your bandwidth limit, maybe you've reached it. Pro users should restart a device and check updates for both Windscribe and OS. If problem does not go away, reach out to Windscribe technical support.
Q: How to get Windscribe on Linux?
A: Download and install application from this official link: https://windscribe.com/guides/linux. On the website find manuals for Ubuntu, Debian, Fedora and CentrOS distributives.
Q: What is Windscribe port forwarding?
A: The ability of remote access to computer or network. Note that you need to buy a static IP to work with this feature.
Q: Which platforms does Windscribe support?
A: Desktop: Windows (including XP and Vista), Linux, MacOS. Mobile: Android, iOS, BlackBerry. TV Platforms: Amazon FireTV, Nvidia Shield, Kodi. Routers: DD-WRT, ASUS, Tomato.
Q: Can I get a trial version of Windscribe?
A: Yes, there is a free Windscribe version with bandwidth limits.
Great list of features
For a while now I have been using Winscribe VPN software and I find it to be a really amazing VPN. it has some great features that are really useful and needed by everyone daily. And there is the amazing feeling of surfing the internet knowing you are fully covered by Windscribe VPN features. The connection speed has also been very stable and I haven't come across any issues when connecting to other servers.
Tonio,
2019-07-06 05:17:51
A reliable and must-have Vpn
I also tried Windscribe Vpn software out, and after some couple months of usage, I can clearly and happily say that VPN software works flawlessly well. It has a lot of great features which support their reliable servers.
Pros:
Great features and reliability
Samuel,
2019-06-01 13:51:20
The best VPN in my opinion
It is simply a perfect VPN for daily use. The best part is that you can get it all for free, which I am currently on the trial plan as well but really considering an upgrade due to a limited data on the free plan. I think the price is fair in my opinion, especially for the services it provides which I think it's worth every penny.
Jennie,
2019-05-16 03:26:59
It is the best Vpn software for me
I have used Windscribe for a couple of months now and I must give my verdict to say it is an awesome Vpn software that is definitely worth getting! I really think Windscribe is the VPN for me. It has got great speeds connections and I have discovered that the extra features all work flawlessly.
Pros:
user-friendly features and speedy connections
Lauren,
2019-04-30 05:49:31
Undoubtably the best Vpn software around
Windscribe is clearly the hottest VPN at the moment. With great performance, great features, and very reliable connections. A lot more reliable than other VPN`s I`ve given tried, especially speed wise. Whether it`s downloading or uploading, I`m still able to do without dying and waiting in vain. The features such as ad and tracker blockers, being able to unblock US Netflix and other geo-restricted websites is a mega bonus. The security level is fantastic too. Worth every penny.
Bernard Emoso,
2019-04-02 02:04:20
A must have for travelers
So far I have really enjoyed having and using Windscribe Vpn. I have had this VPN software for close to 4 months now on my mobile phone and laptop and I really love how easy it is to use, and its speed. Another thing I like is its additional level of security, which is a plus too. If you are wondering whether it is worth it to upgrade, then I'll say yes. I will definitely recommend Windscribe to those who are always on the move.
Pros:
lightning speed VPN and user-friendly interface
I recommend to use payed version of this VPN
In comparing to the free version, payed version not only gives you more opportunity but more quality. With payed version internet isn`t braking such much but there are no speed limits. This is the only con I have found. Limitation of data volume or the quantity of countries for access I don`t consider as a cons. The system propose you to choose the server`s location for a better connection but you can choose it manually (but you can get to overloaded and brake, so its better to choose one of autodetectioned). There are good protection, by condition traffic goes through 2 servers as minimum and than information is getting transmitted to device. There are also some small pros as cookies files deleting or information from them. That`s why you won`t get any ads in direct by using VPN. There are opportunity to set the false information which browser will leave after visiting websites. By using the free version you can let loose the limitation of 10Gb - you need to invite referrals and for each of them you will get 1Gb per month. Vouchers are hand outed, you can search them in internet. They expand a traffic up to 50Gb but it can work only for a year.
Pros:
Good protection
Cookies files deleting or information from them
Opportunity to set the false information for visiting websites
Said,
2019-03-08 20:29:44
An overall best working Vpn software
After seeing some really positive reviews about Windscribe software a couple of weeks ago, I decided to download it and give it a try. I want to say that I`ve been really impressed with the way it works. Also, I am very pleased with its overall features and working server. The speeds are perfect and payment methods are great too. Thanks!
Pros:
Reliable speed and easy to use features
Rafael,
2019-02-19 04:07:07
It is good but free version consists many limits
You can use this VPN for free or pay a subscription for using full functionality. For me $89 for 2 years seems so much as $9 per month, so I`m using the free version. I have been faced with such cons: 1. The limited traffic. I`m getting 10gigs per month only, so it is suitable for internet surfing only. Watching video or downloading with torrent hasn`t any sense - lack of traffic. But other services propose even less traffic with free version. 2. The limited countries for getting access. I can use access only from 11 countries, among such popular as USA, Netherlands, UK, but no Russia. But this VPN allows you: 1) To save anonymity for internten-surfing - any logos and provider doesn`t know my visiting history; 2) To open blocked websites
Pros:
Saves anonymity
Availability to open blocked websites
Cons:
The limited traffic
The limited countries for getting access
Timothy,
2019-02-05 05:00:43
I know much better antiviruses
Despite of existing settings this vpn doesn`t go through proxy, doesn`t connect unlike classic free customer OpenVPN which is working as a clock. Plugin for browser is useless for the same reason.
Cons:
Vpn doesn`t go through proxy
Plugin for browser is useless
Mattew,
2019-01-13 07:47:34
The most complete VPN software
I am really happy with Windscribe Pro plan option because unlimited data is something I think it's the most important in my everyday use of any VPN software. However, the quality of Winscribe VPN is amazing, and I honestly say I have never for once seen any VPN software or provider that delivers a complete package like Windscribe.
Lawrence,
2018-12-24 18:18:19
Amazing VPN with easy-to-use features
I personally love how easy it is to use. Windscribe has some really amazing features with easy navigation from its chrome add-on for newbies to understand. The website contains a lot of useful information that describes what is included as well as why it is needed. This is something a lot of other VPNs don't provide. It also has a fairly good price which is based on package type. I have no issues with it so far, only positive feedbacks.
Pros:
Easily navigable for newbies
Jenny,
2018-12-17 13:49:06
Amazing VPN Software
Windscribe VPN is one of the simplest VPN software to use. It comes pack with multiple highly-secure VPN servers across a lot of countries. Personally, I use this VPN all the time and it is simply amazing!
Pros:
Higly-secured vpn servers
Yusef Aslam,
2018-12-11 18:10:34
Best overall VPN software
I have been using Winscribe now for a couple of months, and I am also using the Pro plan. This gives me unlimited access. It is amazing because since I upgraded, I haven't had any issues. I get about 1TB/week limit. My personal opinion is that Windscribe is one of the best VPN software that is worth every penny. If you are a heavy internet user, then it is worth upgrading to the pro plan.
Pros:
Pro plan is worth the price
Pamela H.,
2018-12-04 10:31:50
Windscribe is quite loyal.
This VPN service is so loyal. Unlike other vpn-services, random customer will get enough with a free version. For example, Windscribe gives you 10Gb of traffic while other services - 0.5-2Gb only. Also there are no limits for amount of connections. There are plenty servers in other countries. Compared with payed rate their amount is abbreviated, only 11 locations are available: among USA, Europe countries and Asia, so you can imitate access from whole world. Special tools as thin settings, configurator is no need for regular user. But there are anonymizer, hidden IP, access to blocked websites is supported. Traffic for surfing is enough but not for watching & downloading movies and huge files from torrent. Its easy for tuning and there are versions for computers, browser expansion, versions for iphone and android. Any device can be protected. There are no limits for amount of devices can be connected to the same account. Its differ this service from competitor`s (there are limits no more 5 devices can be connected). There are no troubles with protection, by using other networks wasn`t any problems.
Pros:
Loyal service
Enough traffic for surfing
Easy for tuning
Available for all devices
Dawid,
2018-11-30 04:56:00
Impressively amazing
I was actually surprised by Windscribe because I discovered after using it that it was way better than my expectation. After I downloaded it, I instantly signed up for the free plan, but after I checked out the features and how it performed overall, I got blown away. It has some pretty good selection of amazing features, great servers, and a great connection as well that has always been very stable. The security level is top-notch and the pro plan gives unlimited data which for heavy users is perfect. I most definitely recommend.
Pros:
Amazing features and highly-secured
Hanzei,
2018-11-28 05:58:50
In paid version there are no many huge differences from free version.
I have been using the free version for 3 months but I became bored of limits so I have bought the subscription for 2 years. Was no sense to take it for less period, coz its more expansive and I have been already convinced in the quality of service. So I have payed approximately $90. I have got all servers (approximately 50 countries) and unlimited traffic (I can download and watch everything whenever). Generally there are no any other huge differences from free version.
Paul,
2018-11-18 14:20:44
Windscribe has a great package and I would like to recommend it
It has a great package. Everything I need on a daily basis when it comes to surfing I can find with Windscribe. Great data allowances, and even better services and speeds. I've got Windscribe on my mobile and desktop and both work great.
Pros:
Good for Internet surfing
Great data allowances
Good service and speed
Justin,
2018-10-26 21:26:12
Amazing VPN Software
Windscribe VPN is one of the simplest VPN software to use. It comes pack with multiple highly-secure VPN servers across a lot of countries. Personally, I use this VPN all the time and it is simply amazing!
Pros:
Higly-secured vpn servers
Yusef Aslam,
2018-10-22 19:22:08