A critical review of PC optimization software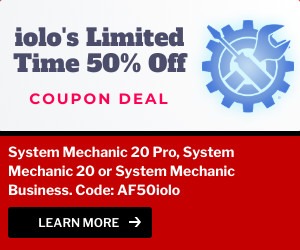 Computers, especially those running on Windows, can easily become corrupt and slow over time. Resulting in unpredictable behavior, sluggishness, incorrect files and software, etc., it gets simply annoying at some point. PC optimization software is there to help carry out usual tasks again and to clean up.
Although Windows 10 brought more advanced system maintenance tools, it is still uninsured against clutter, and may users are still enjoying Windows 7 and other older versions. Optimization tools and repair software typically detect and delete old junk files, boost RAM and boot up time, check registry issues. We took top ten tune-up utilities as suggested by Google search and put them to test. Also we create a short guide about PC optimization software in the end of our review.
Top PC optimization software
First, let's summarize main findings about each utility, with pros and cons, and then you will find performance tests table at the end. 9 out of 10 PC optimization apps have a free version or a trial period along with paid annual license to use, while one app is totally free. Whichever way, they'll help you optimize your slow PCs for faster response, quick task handling and better overall performance.
PC optimization utilities perform deep scans, find and fix problematic areas. Repair functions may include hard drive defragmentation, registry repairs, RAM and disk space freeing, junk file removal, etc. Some are basic, others are more advanced, while all of them have 'repair all/fix all' option. We tested every utility in the same repetitive manner on a 8GB RAM PC on Windows 7 Professional.
OS: Windows | Installer: 572 KB| License: Freeware |  Developer: iolo technologies, LLC.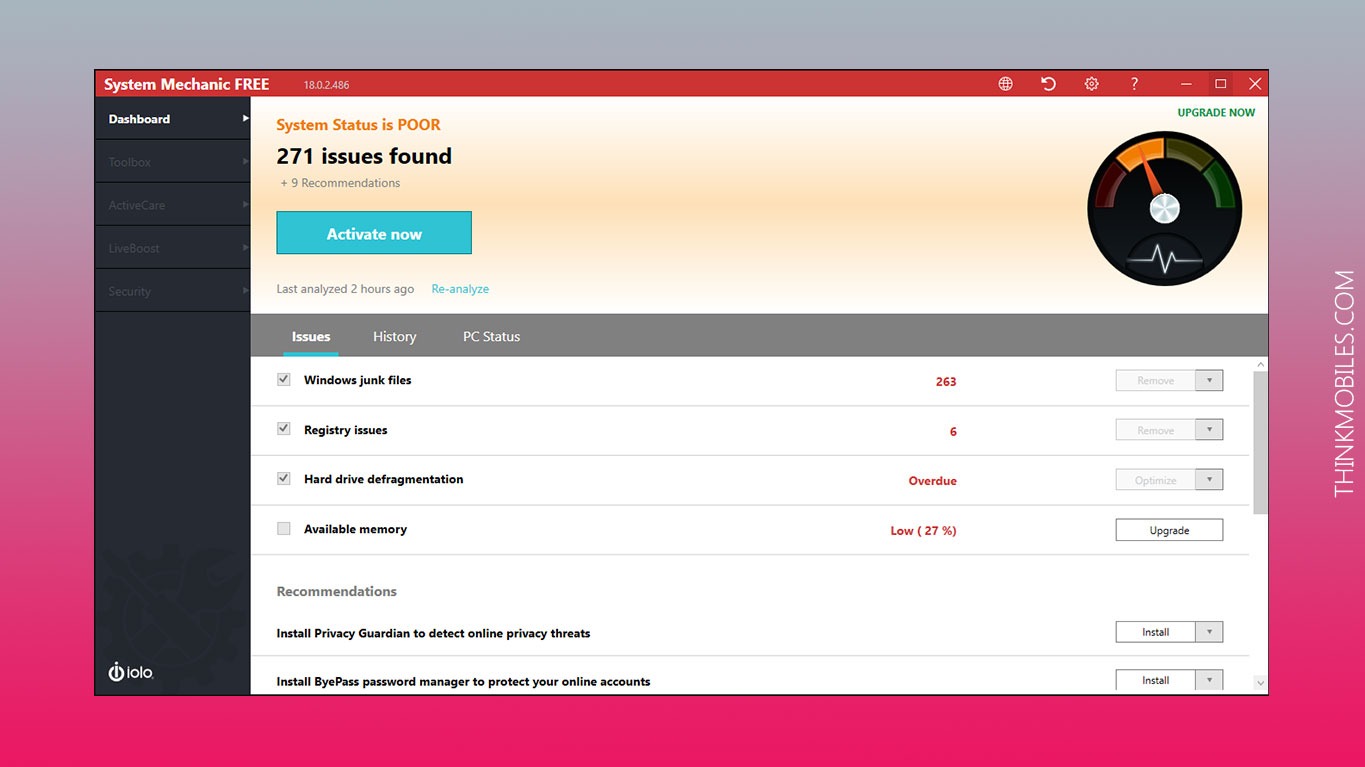 To condense features into one sentence would be naming cleanup (remove junk files), booster for Internet settings, disk defragmenter, memory mechanic (to free RAM from idle apps), Windows startup optimizer, system troubleshooter. There's more to try to impress customers, though a free version will be of better value, and there's a discount for 1-year license right now. Read full System Mechanic Pro review.
Pros: Wide array of PC optimization tools Unlimited installs, one-click cleanup Various scanning options
Cons: Uninformative reports Many features only available in Pro Customer support lacks contact options
⤓ Download System Mechanic FREE / $24.97 at iolo
OS: Windows Vista, XP | Installer: 42.4 MB | License: Freeware, Shareware | Developer: IObit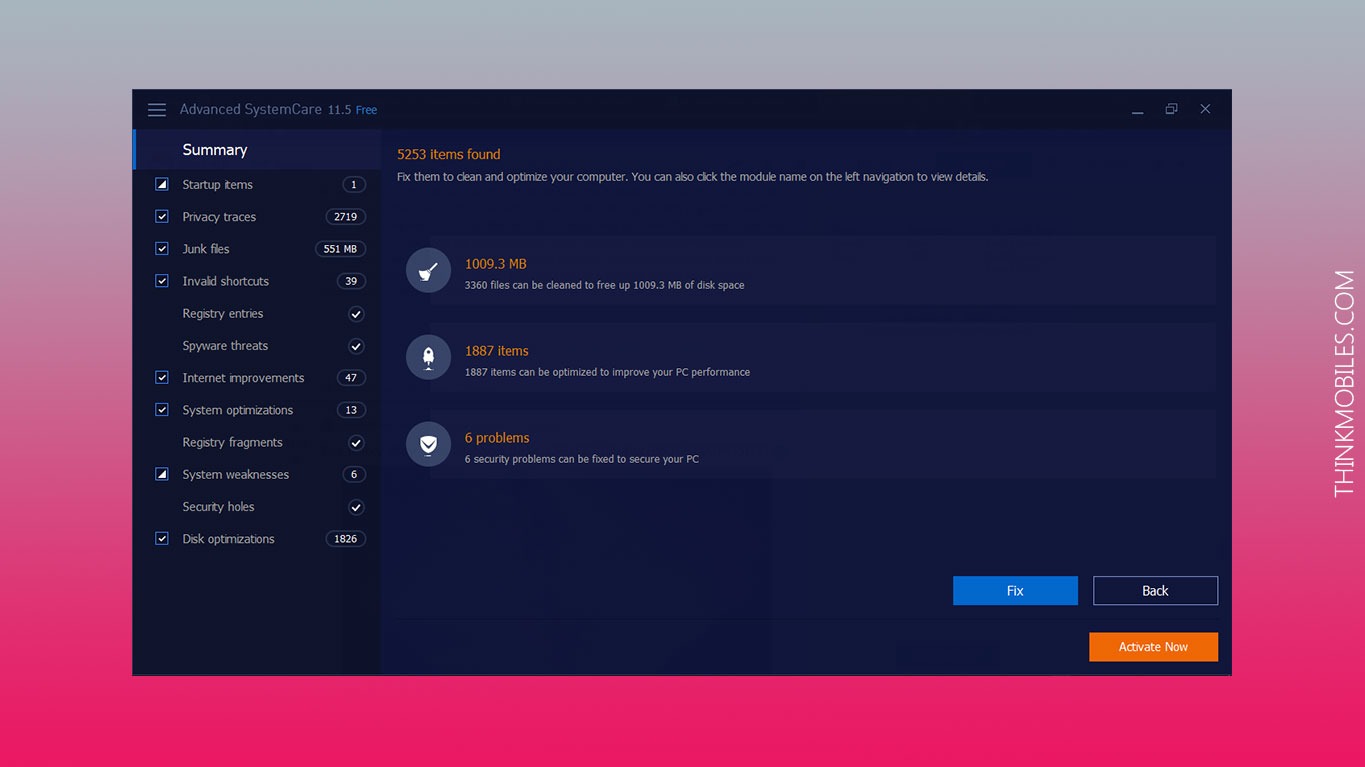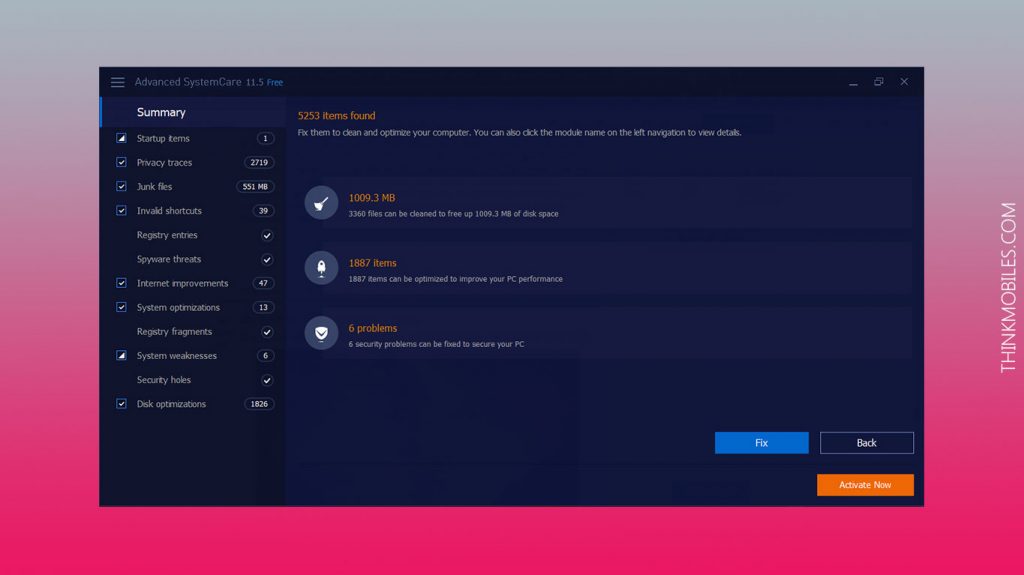 A tune-up tool from IObit with features like security diagnosing, protection against browser malware, disk cleaner, CPU and RAM performance monitoring. In terms of speeding up a PC, there are options to switch off unnecessary services, accelerate hard drives, perform basic optimization, as well as manage files and processes, recover files, etc. Read the full review of Advanced Systemcare. 
Pros: Installation process is easy and quick Lots of PC system optimization capabilities Bitdefender antivirus engine inside
Cons: Upsell offers and ads in the app Not so strong in blocking malware Average in anti-phishing tests
⤓ Download Advanced SystemCare FREE / $19.99 Pro at IObit

OS: Windows | Installer: 3.0 MB | License: Free to try | Developer: TuneUp Software GmbH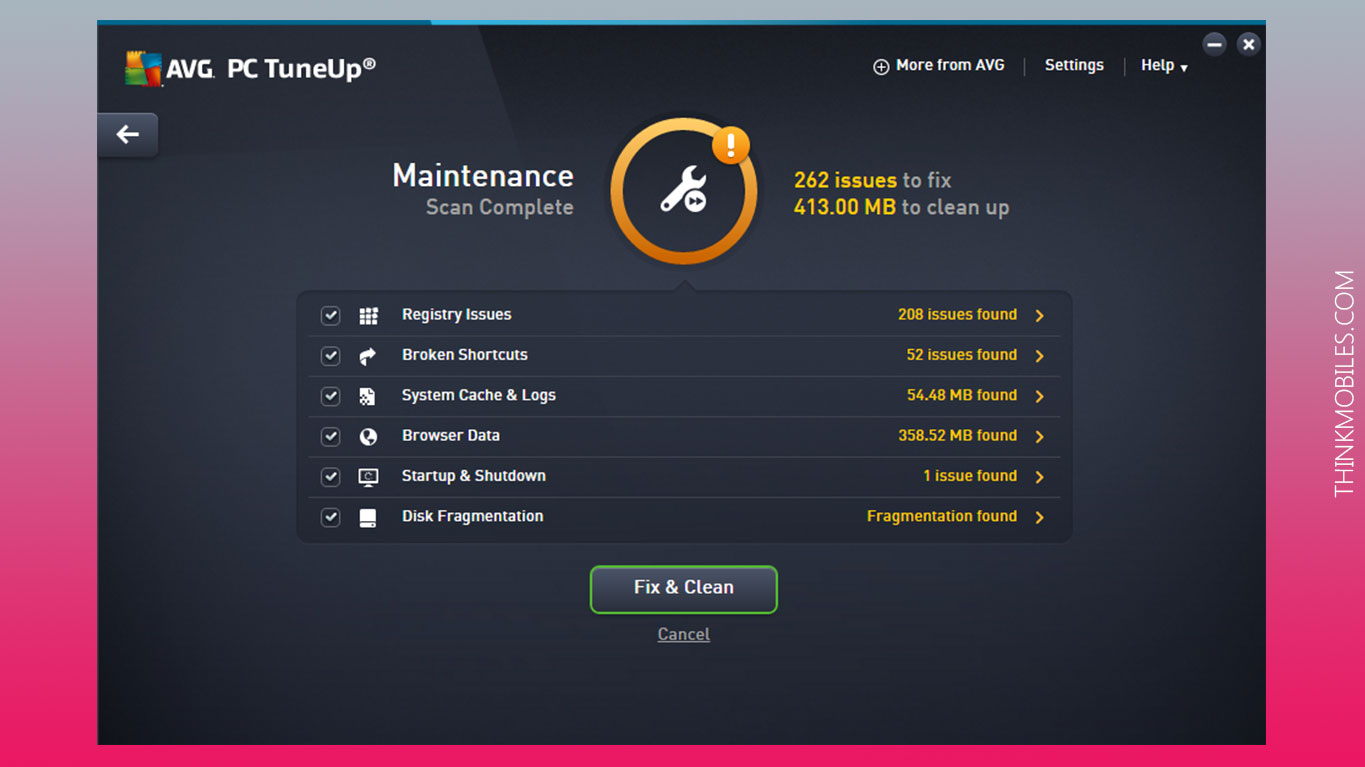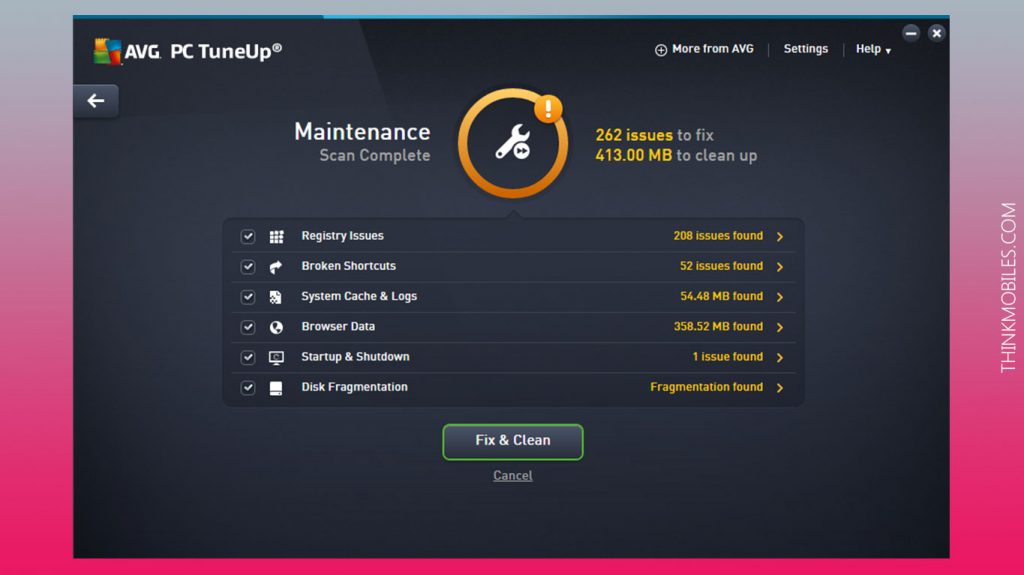 Big guns showing up at the party, pardon the saying. The most expensive PC repair tool ($49.99 year subscription) out of all ten apps, surely enough offers a free version, which is a 15-day trial. So, what's in store? One-click fix for separate modules, i.e. Maintenance, Performance Optimizer, Live Optimization. Troubleshooting, disk cleanup, duplicate finder, disabling automatic program execution – for sure. Plus possibilities like customizing Windows, 'turbo' and 'economy' modes, etc. 
Pros: Familiar and easy to use It can automate basic maintenance tasks Unlimited installs, support for Mac & Android
Cons: Installs additional unwanted apps Non-stop running, false alarms occasionally Results don't correspond with promotion
⤓ Download AVG TuneUp FREE / $49.99 at AVG
OS: Windows | Installer: 25.5 MB | License: Freeware, Shareware | Developer: Ashampoo
WinOptimizer will provide system maintenance through a cleaner tool, erasing internet trails, repairing registry, conducting pro-active defragmentation, etc. Users have possibilities in file management, system diagnosis, shutdown of system services, and even customizing Windows OS.
Pros: Powerful system scan and 1-click fix Automatic repair of invalid entries on start up Accelerate system boot with boot sector optimizer
Cons: No custom install Can erase system restore points Adds store link to desktop
⤓ Download WinOptimizer FREE / $20 at Ashampoo

OS: Windows XP, 7, 8, 10 | Installer: 5 MB | License: Subscription | Developer: Defencebyte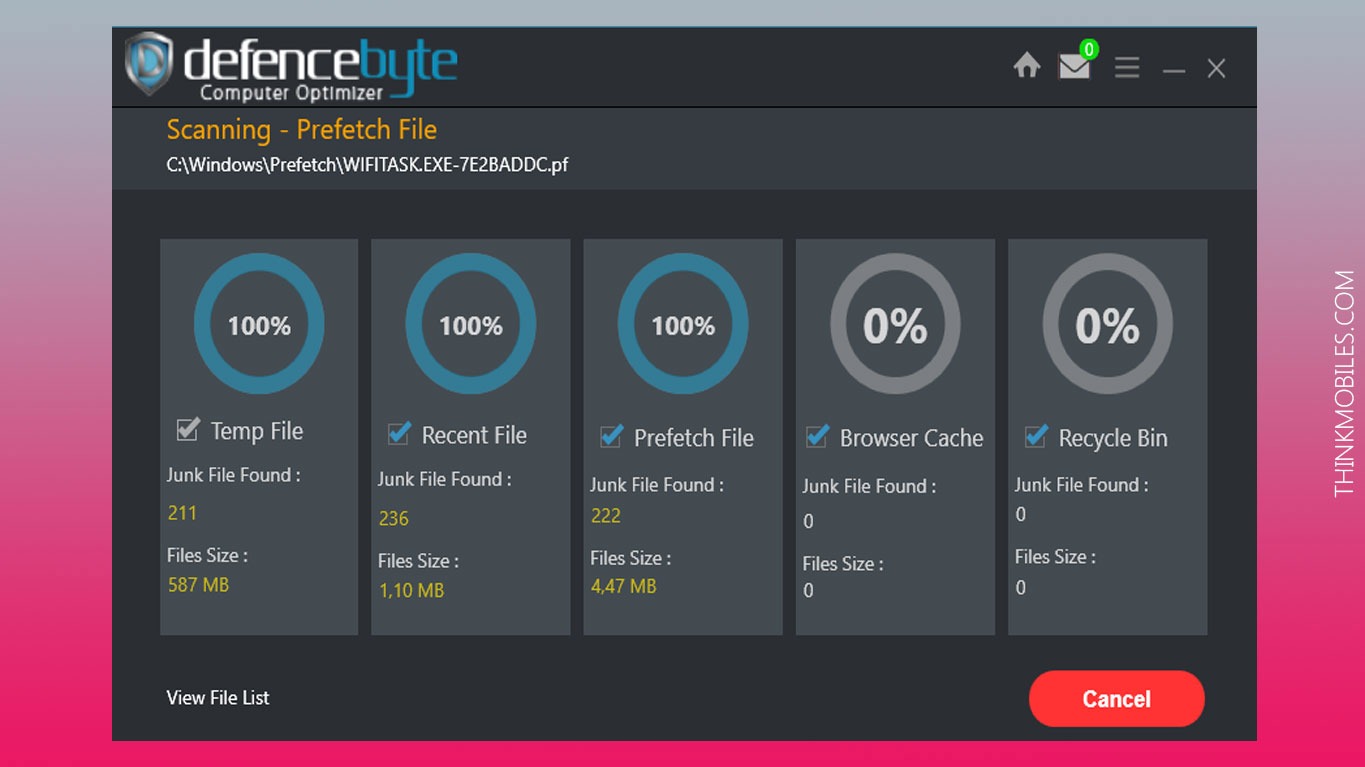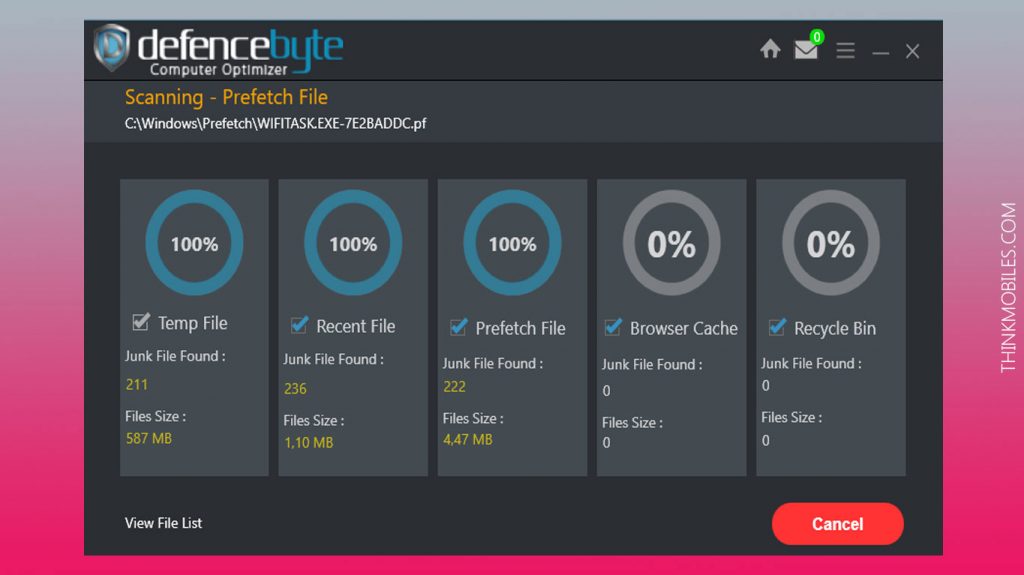 Defencebyte by an Australian software vendor, providing antivirus, security and PC optimization solutions.  Defencebyte Computer Optimizer scans a device and gets rid of unnnecessary junk. At the same time, it includes browser cleaning tool, Windows service manager tool, website block tool, registry cleaner, uninstaller tool (although some of them have issues). For one PC it costs $39 per year, and there's a 15-day trial.
Pros: Fast scanning Money-back guarantee 24/7 support via chat or phone
Cons: Not all features perform properly Hard to configure for beginners
⤓ Download Computer Optimizer TRIAL / $38.95 – 1 PC – at Defencebyte
OS: Windows | Installer: 9.4 MB | License: Freeware | Developer: WiseCleaner.com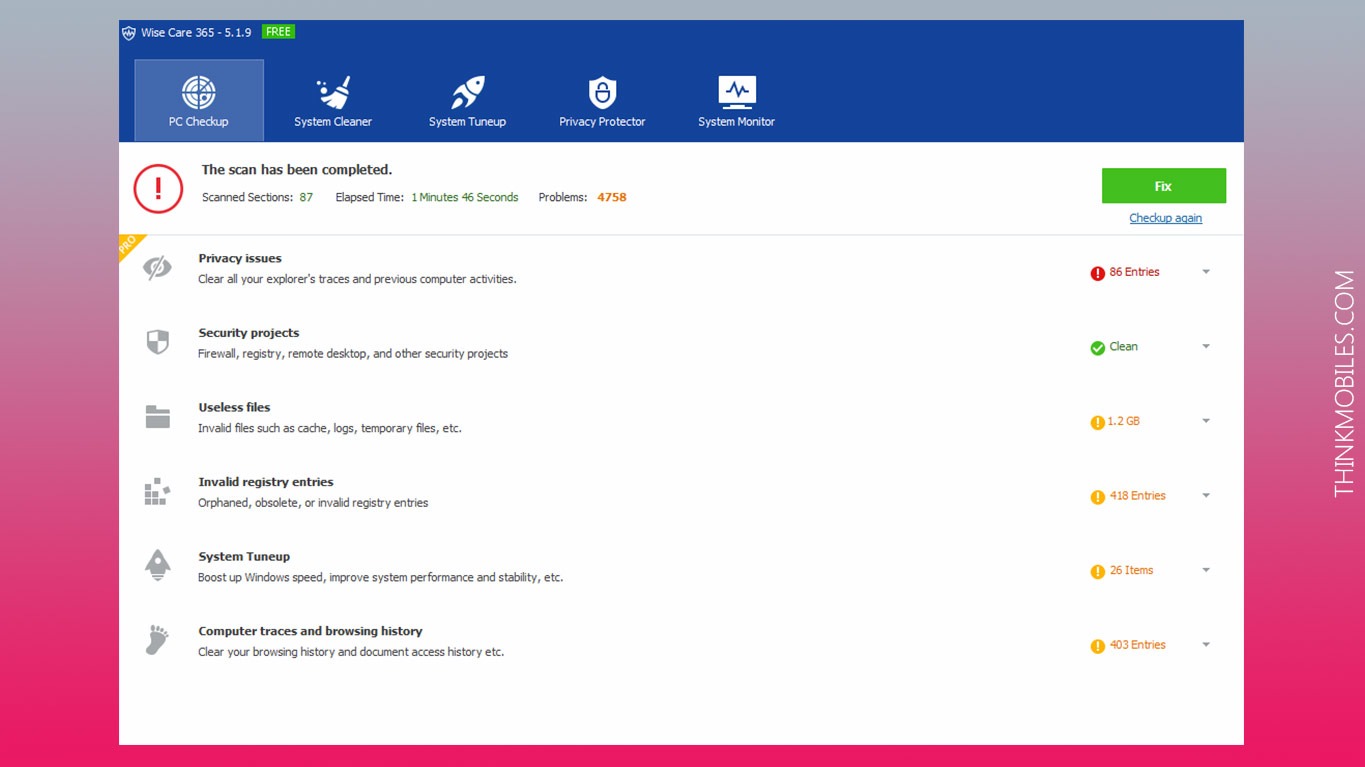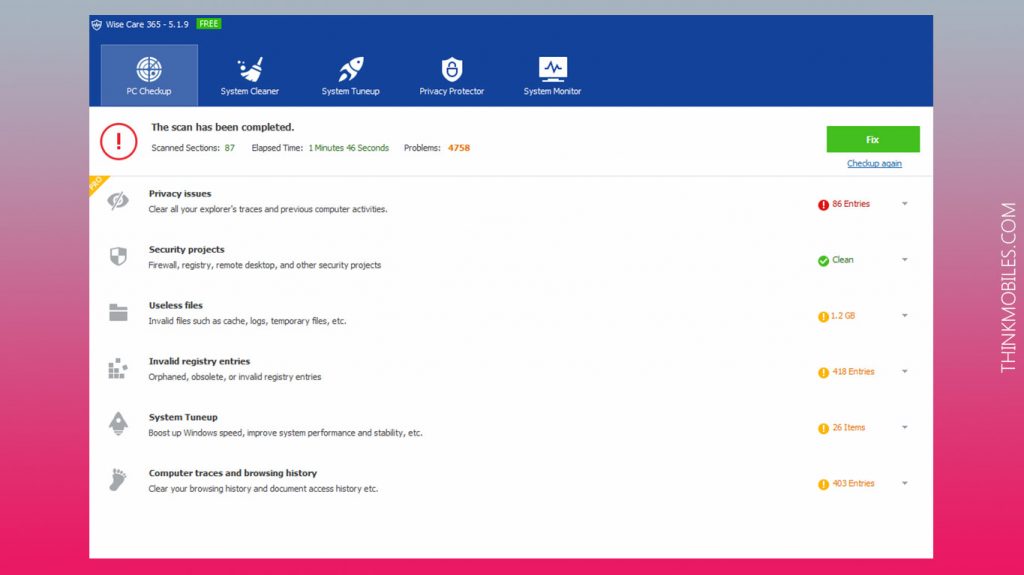 Wise Care 365 is a PC speed up utility that goes beyond a typical disk cleaner. Along with hardware overview, it will show you its temperature, as well as even local temperature in a room/office. It also hides tools such as disk eraser, password generator, data recovery, backups. Its both free and paid, supports English, French, Italian, Japanese, Spanish languages, and provides 24/7 technical support for paid customers.
Pros: Lots of extra handy tools User control over areas to clean or boost Adds tools of choice to right-click context menu Has a portable app version
Cons: Free version very limited No help in processes heavy on RAM No antivirus included Focus on older versions of Windows
⤓ Download Wise Care 365 FREE / $39.95 at WiseCare

OS: Windows | Installer: 16.4 MB | License: Shareware | Developer: Glaryutilities.com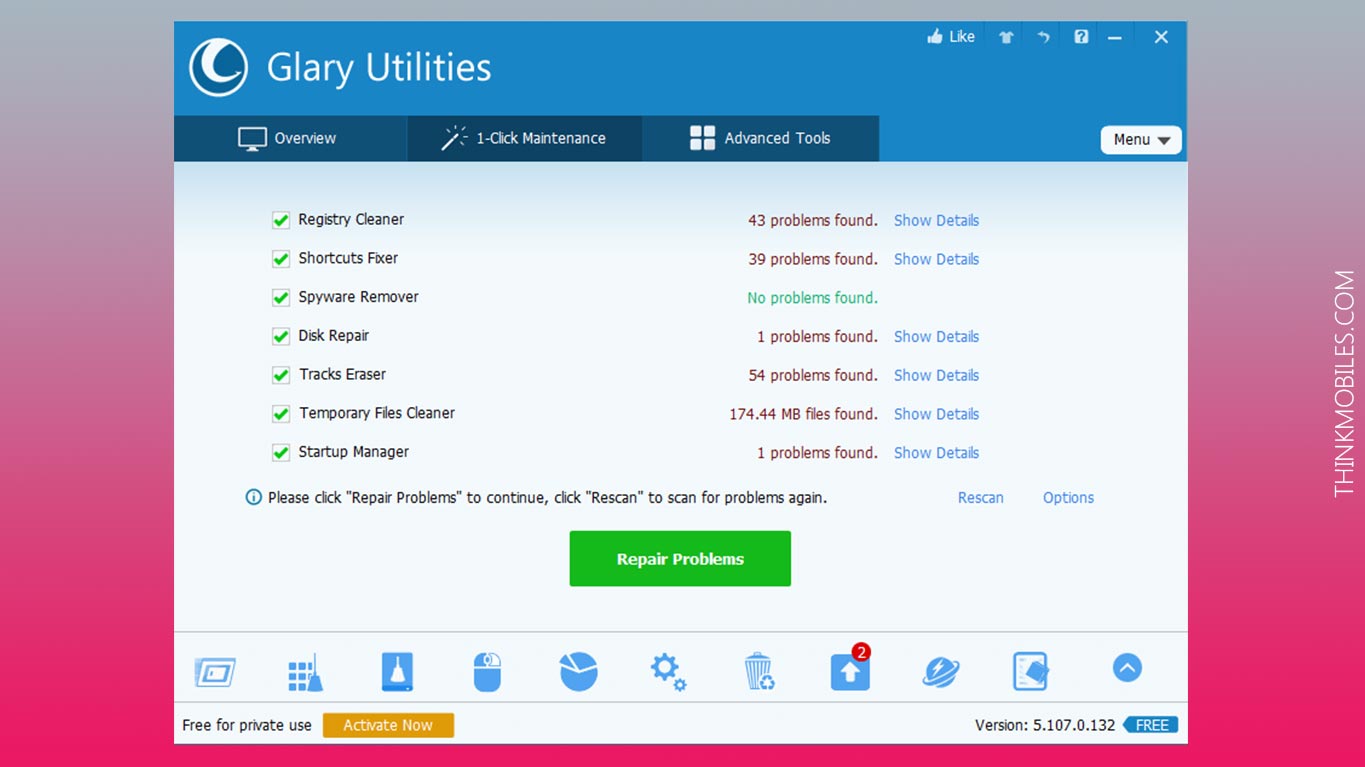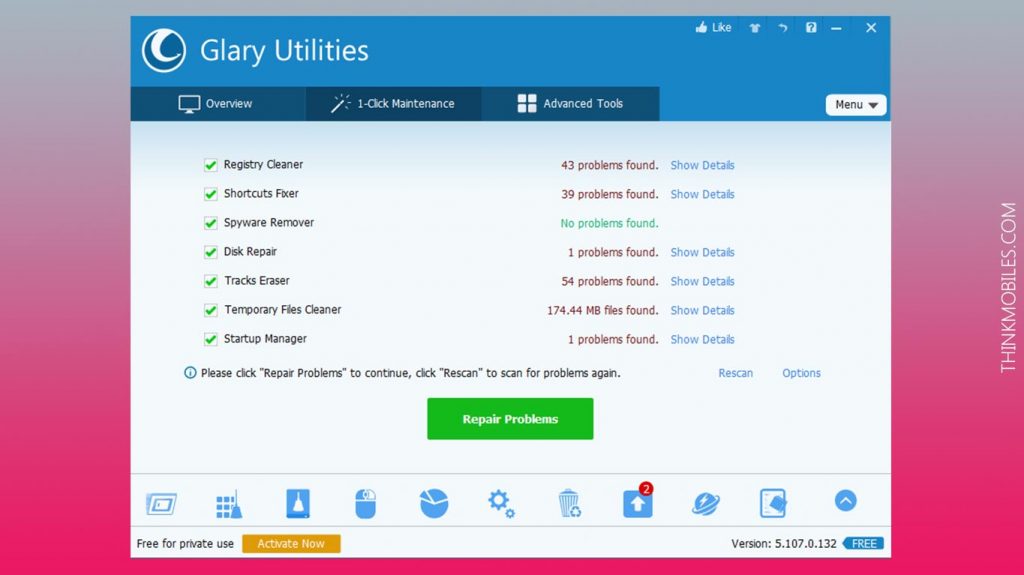 A simple and straightforward PC optimization tool with all the basic functions. It consists of modules that are responsible for different areas: Cleanup & Repair module, Optimize & Improve module, Privacy module, Files & Folders module, System Tools module. The latter one could be of great benefit, for example, when monitoring app on PC to prevent spyware, managing browser add-ons, etc.
Pros: Effective in optimization and cleanup Nice interface, easy to use Speeding and tuning up every area
Cons: Some tools are a bit slow Not the easiest or fastest to install Freeing only little disk space
⤓ Download Glary Utilities FREE / $39.95 at Glarysoft
OS: Windows | License: Trial version 15 days | Money back guarantee: 60 days | Developer: Systweak
We've seen A.S.O. in every possible list of PC optimization software, so, of course, we tested it too. What we liked was the fact that this tool can do it s job quietly in the background and not eat much resources. But the first thing that catches the eye is the interface – resembling a disk defragmentation tool on Windows XP years back. No wonder, it includes this feature too. In addition to the basics, ASO offers gaming no-interference optimization via a virtual private desktop, driver updater, encryptor, and other extra niceties.
Pros: Deep and comprehensive cleanup Additional tools in the package System backup, tools for privacy
Cons: Backup functionality quite stiff Only one backup per day allowed It flags some settings and cookies as threats
⤓ Download Advanced System Optimizer FREE / $59.95 at Systweak

OS: Windows 10/8.1/2003/7/Vista and XP | License: Free, $39.95 Onetime | Developer: Xp-tools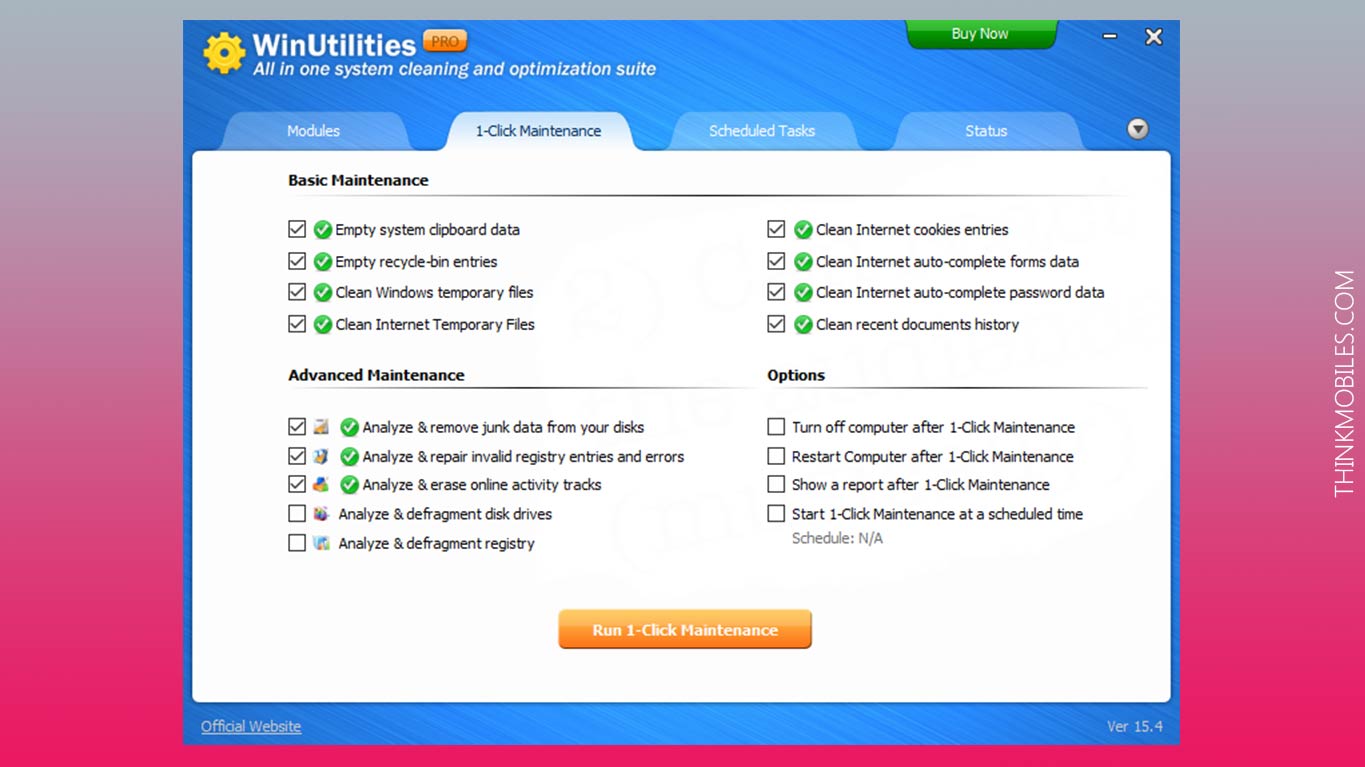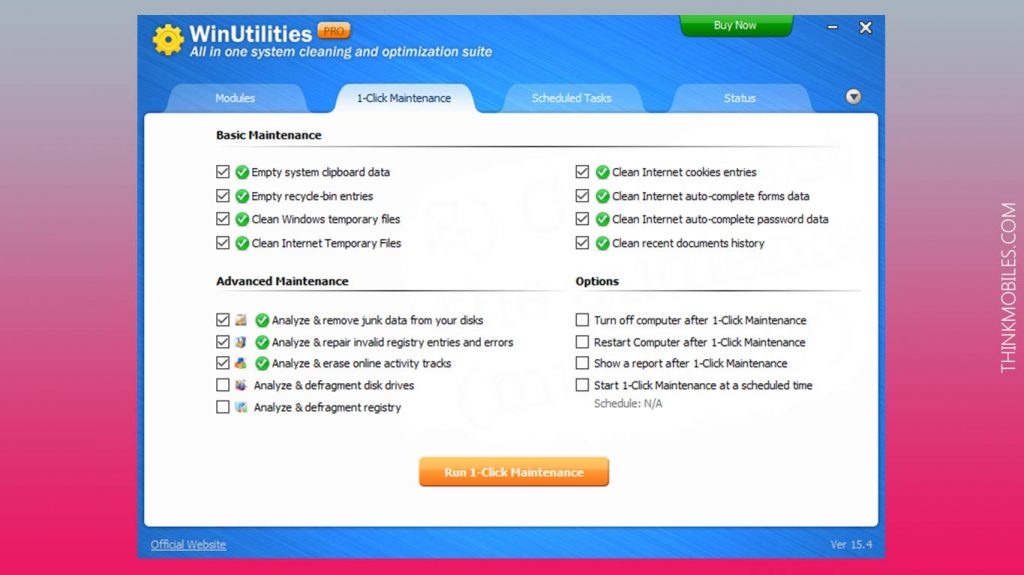 Here's a shortlist of WinUtilities functions: disk backup, file recovery for Windows, document protection, registry backups and restoring, disk analysis and defrag, duplicate file removal. For those willing to purchase Pro there are 2 fine options: $29.95 one-year license or $39.95 lifetime. Both have an additional feature for encrypting important files. On the other hand, the program isn't much sophisticated.
Pros: Works fast and smooth Multiple languages, help documentation HTML reports for different modules
Cons: Not too different from Windows utilities Very little effect on RAM boost No disk cleanup or anti-malware
⤓ Download WinUtilities FREE / $19.95 Pro at YL Computing
OS: Windows 8/10 | Installer: 2.77 MB | Annual subscription: $7.99 | Developer: WinZip Computing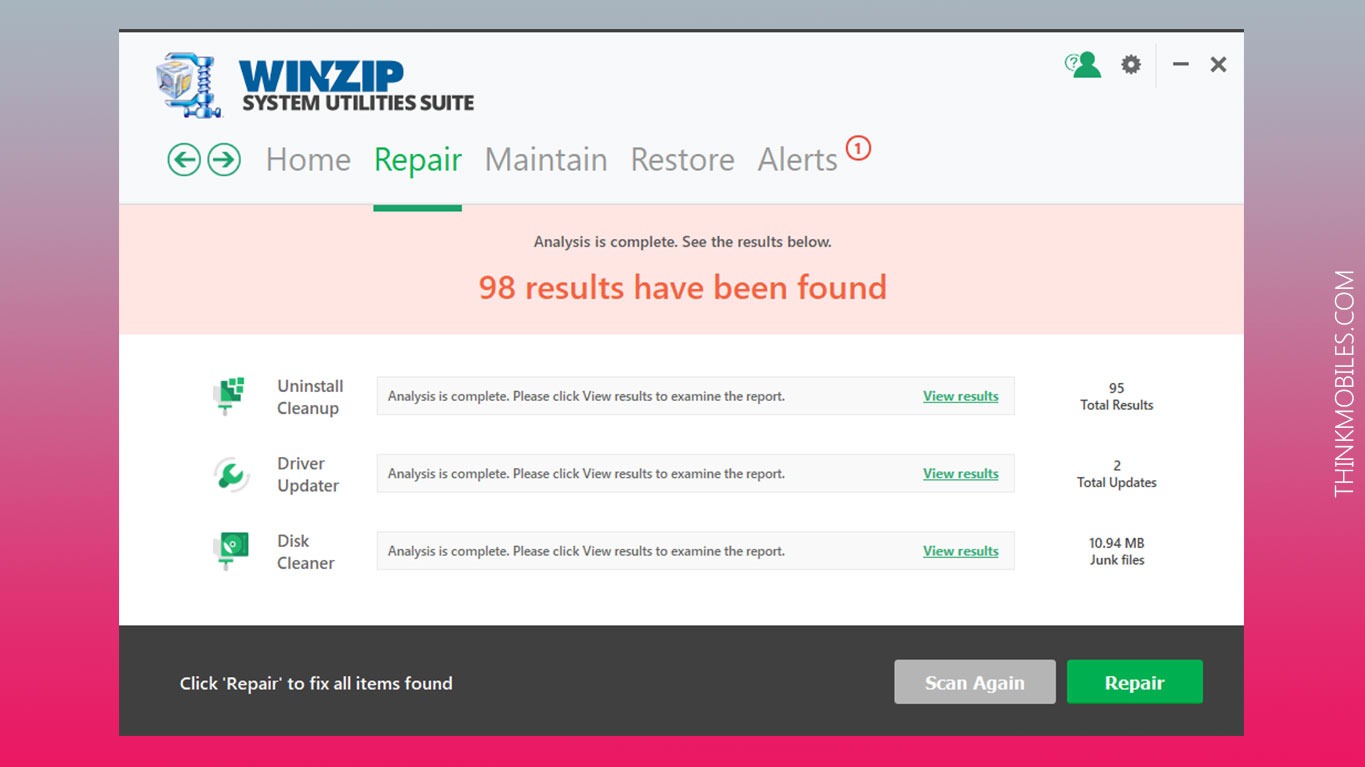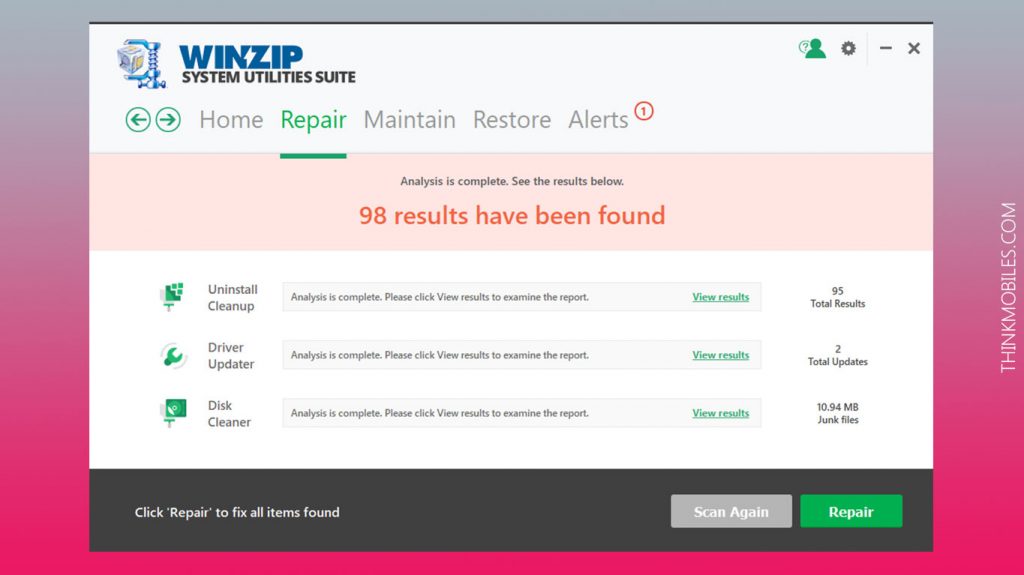 At this point, we can clearly confirm that there are plenty of actually free PC optimization software. WinZip is another example, as free version has all you need: PC diagnosis and a single click fix, registry cleaner, recovery, protection against privacy-exposing traces. Purchase full-feature product and you also get driver updater, Windows updater and hard disk explorer (to manage and improve).    
Pros: Free scan, clean UI More than 20 tools in the package Game optimizer
Cons: No Windows 8 support Duplicates Windows functionality Treats minor and major issues similarly
⤓ Download WinZip System Utilities FREE / $39.95 Suite at WinZip

OS: Windows 7/8/Vista and XP| Installer: 40.0 MB | License: Freeware | Developer: Razer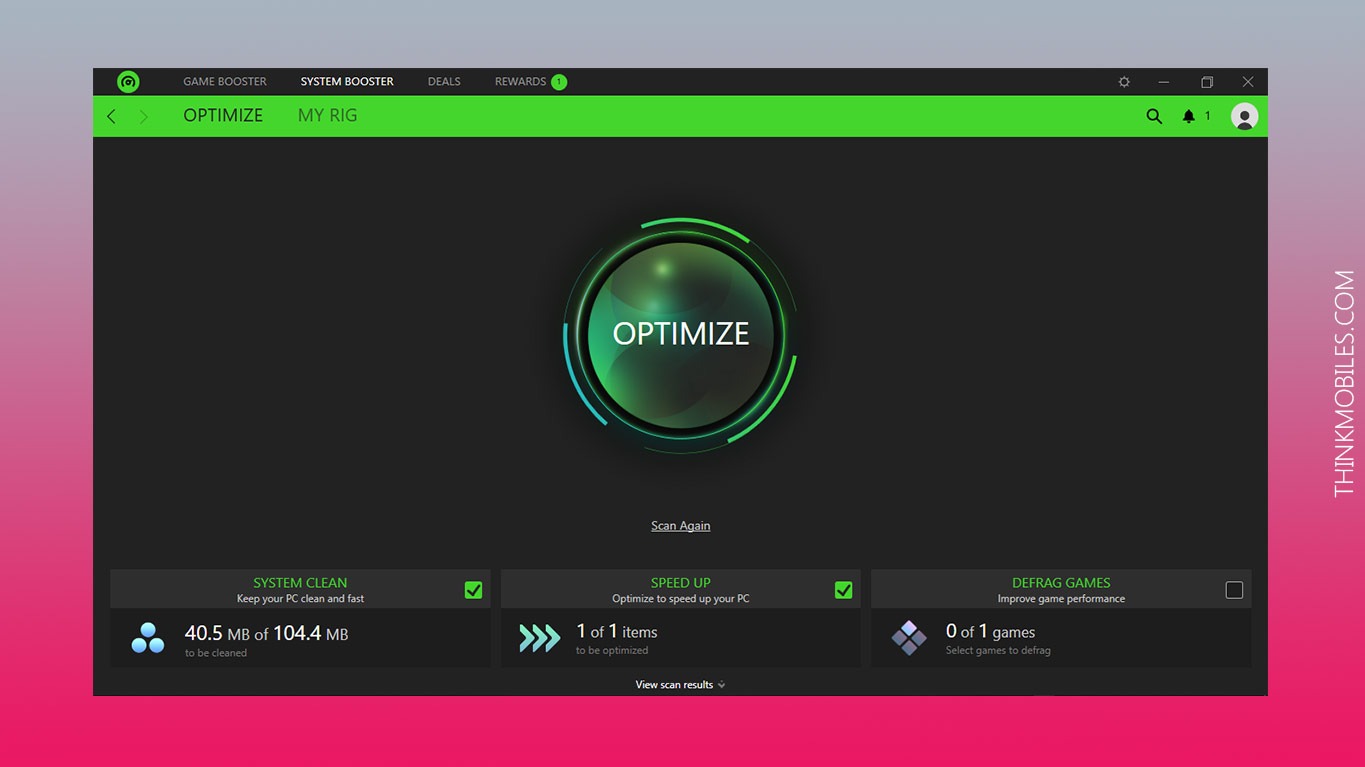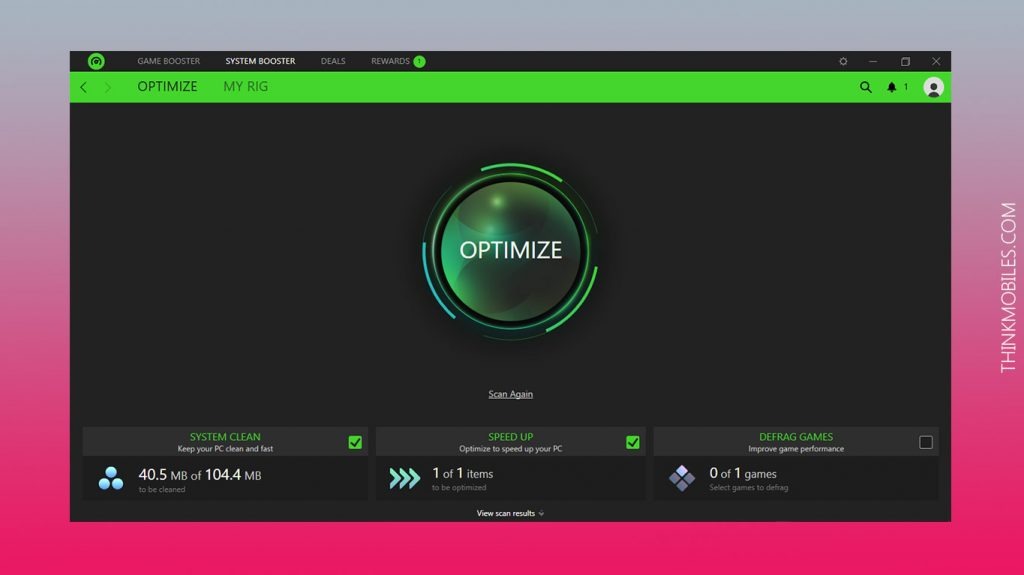 And one final and very specific utility: Game Booster by Razer Cortex. As title suggests, this PC tune-up tool is designed for gamers and comfortable gaming experience. That is hit #1. Hit #2 is a freeware model – totally free to download and use whenever and wherever. Now, how it eventually works? Game Booster launches momentarily as you start any game on your PC and shuts down program, and this frees up resources and RAM. When you finish the game, all goes back as it was before. Simple.
Pros: PC optimization for good gaming performance Able to cast gaming sessions on the web Free to use, user-friendly interface
Cons: Suspicious in terms of malware Repeated sign-ins and only online use Requires .NET framework

Performance tests
We ran each utility on the same PC, in the same environment, repetitively. We didn't count performance boost in percentage, because it would be inaccurate due to testing 10 apps in a row. In terms of performance, 2 utilities – Advanced SystemCare and Wise Care 365 – found the biggest number of issues, though its relative in a way too. Razer Cortex gave the most considerable RAM boost. But judge for yourself.
Performance tests
Software
Issues found
Junk files
Privacy issues
Registry issues
Disk optimization
RAM boost
Services stopped

1

Advanced SystemCare
5253
551 mb
6
0
1826
458 mb
9

2

WinOptimizer

157

509 mb

2
124

n/a

n/a

n/a

3

System Mechanic

271

n/a

n/a

6

n/a

n/a

n/a

4

Wise Care 365

4758

1.2 Gb

86

418

n/a

n/a

n/a

5

Glary Utilities

139

147 mb

0

43

1

388 mb

n/a

6

Advanced System Optimizer

289

n/a

1036

86

n/a

n/a

n/a

7

WinUtilities

n/a

2

n/a

1114

n/a

500 mb

n/a

8

WinZip System Utilities

95

n/a

886

64

n/a

n/a

n/a

9

AVG TuneUp

53

413 mb

n/a

208

n/a

n/a

9

10

Razer Cortex

42

1.9 Gb

n/a

n/a

n/a

885 mb

14
How to optimize PC for gaming [short manual]
Step 0: Safety. Always create a backup, before making any critical changes to the system. In Windows, you can do it by using the recovery point creation tool.
Step 1: Drivers. First, install the latest hardware drivers, as game developers typically use the most advanced technologies in graphics. So with outdated drivers you will not be able to enjoy all the visual effects and will have losses in FPS.
Step 2: Autorun. The autorun list is one of the most misunderstood reasons for slowing down your PC. Each application launched from this list at system startup consumes PC resources, and is not always necessary at the moment. Turning off unnecessary applications will allow you to free up resources for gaming.
Step 3: Cleaning. Clean up the system drive from unnecessary files with help of one of optimizer app to free up space. We also recommend optimizing the registry to speed up the access to it.
Step 4: Run applications. Terminate all applications, except antivirus solutions. We do not recommend disabling antivirus software during the game, especially if it is an online game. Instead, use the Game / No notifications modes.
Step 5: Paging (only for experts). Increasing the paging file will allow to create the necessary memory reserve in case the basic amount of RAM is not enough. This could help to avoid slowdowns during resource-intensive moments in a game.
Step 6: Reboot. After having completed previous steps, restart the system and make sure it works stably. If any errors occur, restore the system to the previous state, using recovery tools. Have a nice game!
Also we prepare a few user tips for PC optimization software:
To perform PC optimization properly there are few suggestions. Use autorun optimizer – as often slowdowns are caused by big number of processes that automatically launch at system startup, disabling unnecessary applications will definitely free up resources. Be careful with registry cleaner – always back up registry entries before cleaning it, because optimizers cannot always distinguish the correct entry from the outdated one.
Do not clean everything automatically, at least when you run this feature for the first time. Always check carefully, which files you allow to remove, or choose to clean by script. There is always a risk of deleting temp files that are needed by OS. Backup changes – most PC optimizers have built-in tools for archiving changes caused by optimization. Before the first cleaning, we recommend setting up backups (or system restore points) to prevent system crashes.

FAQ
Q: What does PC optimization mean?
A: When using a computer daily, it will get slower. The registry gets filled with junk/useless keys, as well as the hard drive. A general term "PC optimization" means manual or automatic cleaning/repair tasks aimed at improving slow PC performance.
Q: What is PC optimization software?
A: PC optimizers are a special category of software that help improve the speed of user's device. Using built-in tools, users can conduct regular maintenance of operating system to prevent slowdowns. In addition, these programs help to remove temporary and unnecessary files to increase free disk space. Also, most of optimization software can aid in system settings or elimination of common errors.
Q: Why use PC optimization software?
A: Any long-term and intense use of OS accumulates large amounts of unnecessary information, like outdated backups for instance. Windows OS is especially characterized by the accumulation of failed registry entries caused by unfit removal of software, errors in structural components. These factors reduce the speed of the system, which leads to a drop in PC performance. So optimizer tools are one kind of remedy against that.
Q: What's the best PC repair software?
A: Advanced SystemCare, System Mechanic, AVG TuneUp, Wise Care 365 are popular, but there are many other decent utilities. We recommend reading our comparison of top tools in this article to decide on your own.
Q: How do PC optimizers work? Do they clean or repair?
A: Many programs keep logs of different detail degree for monitoring and critical errors detection. In process, they produce temporary files that are not always deleted, and further accumulate in the system, occupying space. OS also remembers previously used programs and files to provide quick access just in case. All of it leads to accumulation of vast number of files that are not necessary, but stored on disk. PC optimizers search unnecessary files in known locations, then delete them.
Q: How to choose the best PC cleaner?
A: It is usually a good practice to start with a free trial for several programs of choice, as well as reading user reviews online, checking features, price plans, finding out pros and cons, etc.
Q: Is AVG PC TuneUp good?
A: During our in-house tests, it performed well: it found 53 PC issues and 208 registry issues, it cleaned off 400 Mb of junk files, stopped 9 unnecessary processes. It is familiar, has Mac and Android versions as well. The cost is $49 per year. So we can say it is quite a decent product.
Q: How to optimize PC performance?
A: There are several tips: delete programs you don't use, limit programs that auto-run on startup, review the registry, clean the hard drive, update OS/drivers/etc., run fewer programs at the same time, use PC repair software.
Q: How to optimize my PC for gaming?
A: General recommendations are: update graphics drivers from time to time, switch from HDD to SDD, defrag the hard disk, disable Windows Update, adjust power plan on a laptop, disable visual effects.
Q: Is PC optimization needed for Windows 10?
A: Less than for older Windows OS version, but it can also end up running slowly. In such case, read recommendations and FAQs above.
Q: Is PC optimization needed for Mac OS?
A: Mac computers surely fall prey to slowdowns and errors much more seldom than Windows devices. But still Macs can get cluttered too, especially when several years in service.
Q: Active monitoring vs Scheduling
A: Active monitoring tools, built in optimizers, perform real-time monitoring of the system state. Users can set up conditions and requirements for monitoring and consecutive cleanup. Scheduling option allows to run a checkup and optimization upon specified time periods.
Q: What is defragmentation?
A: This is an operation of structuring data on a disk. HDD store information in special cells - clusters of small size. Files are recorded in these cells, sometimes resulting in a situation where one file can be dispersed in cells. And if those cells are located at a great distance one from another, it could cause system crash when accessing a file. Defragmentation organizes data in clusters, so that files will no longer be scattered afar.
Q: File optimization
A: This is a set of tools for one of aspects of PC optimization: File explorer - utilities with it provide reports about file sizes and disk space, Duplicate finder - detects duplicate files located in different directories, File undelete/restore - to recover accidentally deleted files, File shredder - to delete files permanently, without the possibility of restoration.
Q: Is registry optimization relevant?
A: Windows operating system uses registry as the key logbook of global and small system settings. To understand how the registry works, imagine that you need to pay one paper bill every day, but before paying, you must check all previous bills and always carry them with you. Over time, this procedure will require more and more time - so will accessing a registry entry, with many unnecessary keys.
Q: Do smartphones also need tuneup/boost?
A: Yes, Android OS, in particular, seems to lack in resource management and ends up slow often. In addition, apps, notifications, media files, web browsing etc. tend to eat-up phone's RAM and power.
Q: Are there free PC repair tools?
A: Yes, please check our Tuneup software directory to find out which ones are free. 
Q: How to optimize PC fan speed?
A: We do not recommend changing hardware settings, because this may be grounds for warranty cancellation. The high speed of cooling fans indicates high temperature of heating components, the processor in particular. To cool it, try optimizing PC and reducing overloads. If the issue persists, contact service center and request system unit dust cleaning.
Q: PC optimizer suggests deleting files from system folder/disk. Is it safe?
A: It is safe, but always use tools for archiving beforehand. We also recommend to make a full backup of the system using Backup Software or Disk Imaging software, at least once a month.
Q: I deleted junk files, but PC optimizer found them again
A: This means that files are still in use by OS and therefore not available for deletion. Try to remove them after restarting the PC.
Did you like the article?
0
Comment