PC drivers represent essential software components that are used by devices to interact with computer operating systems. Drivers are the files which the operating system and hardware devices use to send or receive data.
Top free driver updater tools
For the following reviews we used Acer Aspire laptop, with Windows 7 64-bit system, 3 GB RAM. Tests were performed during August-September. Now, the list of free driver updater in random order.
Let's begin from short comparison of driver updaters key charasteristics:
| | | | | | | |
| --- | --- | --- | --- | --- | --- | --- |
| Product | Menu languages | Drivers database | Installer file size | Disk space require | Pro version | Tray app |
| Driver Booster | 49 | 3.000.000 | 24 MB | 111 MB | $22.95 | ✔ |
| Driver Easy | 14 | 8.000.000 | 14 MB | 15 MB | $29.95 | ✘ |
| DriverFix | 18 | 18.000.000 | 1 MB | 28 MB | $19.95 | ✔ |
| Driver Finder | 1 | 1.000.000 | 1 MB | 14 MB | $29.95 | ✔ |
| Bit Driver Updater | 41 | N/A | 8 MB | 27 MB | $24.95 | ✔ |
| DriverMax | 17 | 2.300.000 | 6 MB | 15 MB | $10.39 | ✔ |
| Avast Driver Updater | 13 | 500.000 | 2 MB | 136 MB | $39.99 | ✔ |
| Snappy Driver Installer | 41 | N/A | 27 MB | 27 MB | ✘ | ✘ |
| Driver Talent | 16 | 500.000 | 23 MB | 71 MB | $19.95 | ✔ |
| Device Doctor | 1 | 1.100.000 | 6 MB | 24 MB | ✘ | ✘ |
| WinZip Driver Updater | 16 | N/A | 18 MB | 46 MB | $29.95 | ✔ |
| Smart Driver Care | 2 | 1.200.000 | 6 MB | 23 MB | $39.95 | ✔ |
| Driver Genius | 6 | 1.500.000 | 24 MB | 66 MB | $22.95 | ✔ |
| DriverDoc | 1 | 16.000.000 | 6 MB | 18 MB | $39.95 | ✔ |
| Carambis Driver Updater | 16 | 230.000 | 2 MB | 24 MB | $9.95 | ✘ |
| Driver Reviver | 15 | 1.000.000 | 18 MB | 45 MB | $29.99 | ✔ |
| Advanced Driver Reviver | 14 | N/A | 10 MB | 22 MB | $39.95 | ✔ |
| Ashampoo Driver Updater | 25 | N/A | 14 MB | 25 MB | $19.00 | ✔ |
| Auslogics Driver Updater | 7 | N/A | 13 MB | 43 MB | $33.96 | ✔ |
| AVG Driver Updater | 13 | 500.000 | 45 MB | 138 MB | $39.99 | ✔ |
| Driver Magician | 13 | N/A | 5 MB | 8 MB | $29.95 | ✘ |
| Driver Fusion | 42 | 10.000.000 | 34 MB | 29 MB | $19.99 | ✔ |
| DriverHub | 25 | N/A | 2 MB | 59 MB | ✘ | ✔ |
| DriverPack Solution | 52 | N/A | 6 MB | 16 MB | ✘ | ✔ |
| DriversCloud | 7 | N/A | 9 MB | 23 MB | ✘ | ✘ |
| DUMo | 15 | N/A | 4 MB | 9 MB | $14.99 | ✘ |
| Slimware DriveUpdate | 5 | N/A | 1 MB | 41 MB | $19.97 | ✔ |
| UpdateStar Drivers | 1 | 1.746.000 | 1 MB | 14 MB | $29.95 | ✔ |
| Outbyte Driver Updater | 7 | N/A | 13 MB | 52 MB | $29.95 | ✔ |
| DriverToolkit | 2 | N/A | 3 MB | 7 MB | $29.90 | ✔ |
Driver Booster free version searches and updates drivers for Windows Operating System. For a free version, we find this driver updating software impressive as it picks up vital updates. Unlike the paid version which automatically updates all drivers, the free version can only indicate and you will have to make multiple clicks updating the drivers one-by-one.
Key functions:
Scans for outdated drivers
Performs a silent installation of drivers
Manages a significant number of device drivers which include Samsung, Dell, Intel, Radeon, etc.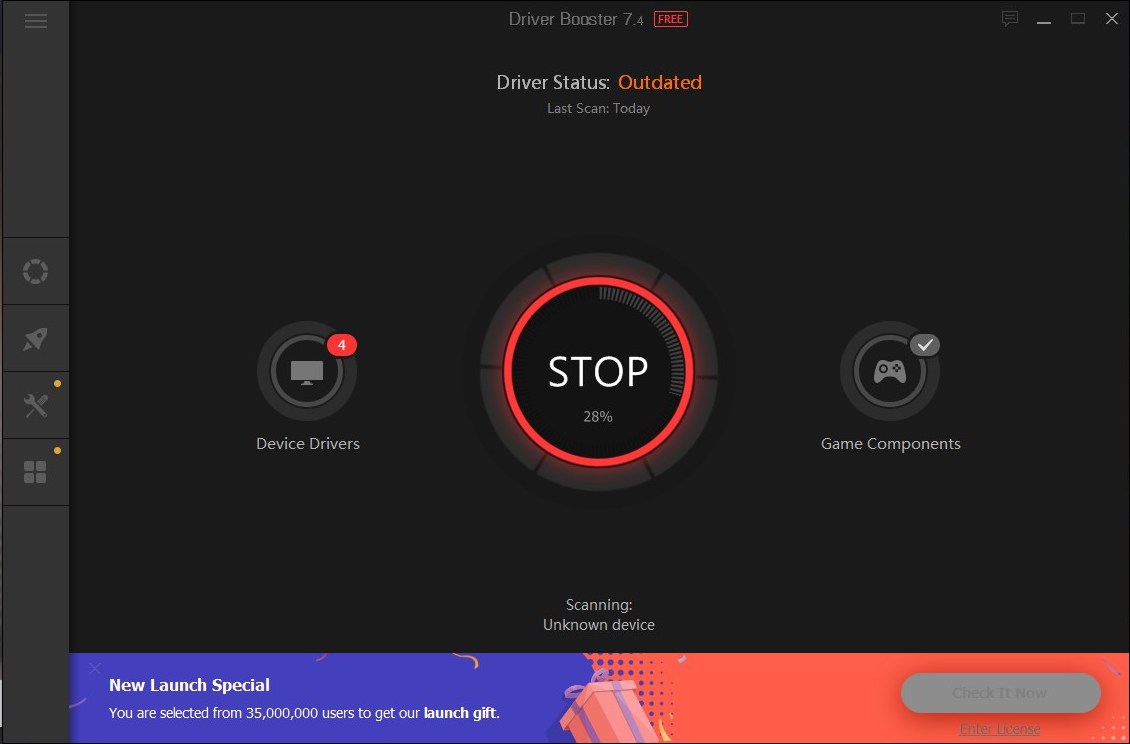 Tips. Always check the size, date of release, as well as the version number of the driver that needs to be updated to know the best time to perform an update. Also, when installing, select custom installation to avoid unwanted apps and extensions like Yandex.
Verdict. There is not much difference between the free and paid version of Driver Booster. If you have got time, then, it should not be a problem to manually update every single driver indicated. After all, you only need to click and it will install the selected ones on your command.
Read the full Driver Booster review.
Driver Easy is a powerful software that can be used at personal as well as commercial level. The program is compatible with Windows Operating Systems. It scans for issues within the computer drivers components and fixes related problems.
Key functions:
Pre-set daily to monthly scan schedule
Displays hardware information
Silently downloads drivers without the use of an external browser
Hide a device to not show in future scans
Displays full system info
Tips. Use the company's website FAQs as well as knowledge base forums to troubleshoot or gain insights about this particular driver updater tool.
Verdict. Driver Easy should not be a miss if you are looking for a performing free driver updater software. Although, in our test it missed a significant number of drivers, the essential ones were detected. A good free tool to conduct dirty work bt scanning for broken, outdated, and missing drivers.

DriverFix has one of the largest driver databases with 18,000,000 titles. It can be used to improve or fix interactions between computer hardware and external devices such as monitors, keyboards, printers and devices. The full Pro version provides accelerated download, full driver database, driver one-click installation, as well as regular checks for updates in the background mode.
Key functions:
Speeds up interaction with devices connected to the PC

Self-loading and installing drivers

Notifications about driver update release
Tips. In DriverFix it is possible to export drivers to the ZIP format, which is particularly useful for backups. To make an archived backup, tick drivers and click the shield icon on the right.
Verdict. DriverFix is a quick way to get a summary of the drivers in your OS. In the full version, drivers download can be configured by priority or automated in the settings.
Driver Finder by DeskToolsSoft selects a driver for the PC, based on and its models. Using unique identifiers for the equipment, the program selects a 100% compatible driver for the system. Programs for devices that were previously connected to a PC and have problems with compatibility / installation of servers. Driver Finder has own small client which will be located in the tray, and provide quick access to the main window of the interface.
Key functions:
Low system requirements

3 levels of drivers check

Found drivers for removable devices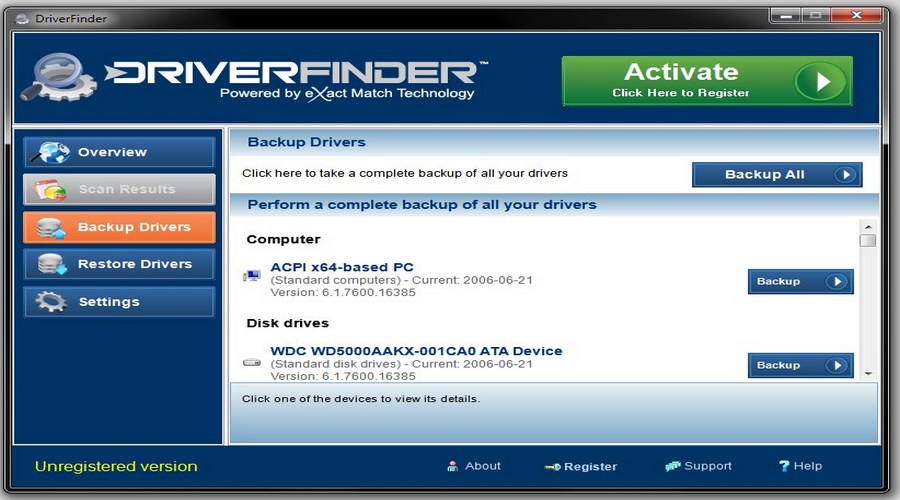 Tips. Strange or not, but Driver Finder blocks file downloads in certain countries. So in case of such error, install a VPN and reconnect from a different location.
Verdict. Driver Finder has an excellent driver backup system. Full and customized device drivers backups are available. In the Free version, search and driver update functions are very limited, and on-demand scanning is blocked. In the Pro version, all functionality is available, including increased driver download speed and some other features.
Bit Driver Updater is a relatively new product from Germany that is rapidly gaining users all over the world. Its main traits are simplicity and functionality. Easy-to-use menu contains all important features of driver updater software, conveniently grouped in tabs. Thanks to this, even inexperienced users need only a few minutes to start using it. It has a huge database of actual updates, proving to be of high efficiency. Also it has a built-in tool for rolling back to previous versions of drivers and creating their local backups.
Key functions:
Flexible

scheduler

Sound notifications

Detailed driver info

Restore points

Full and custom driver backups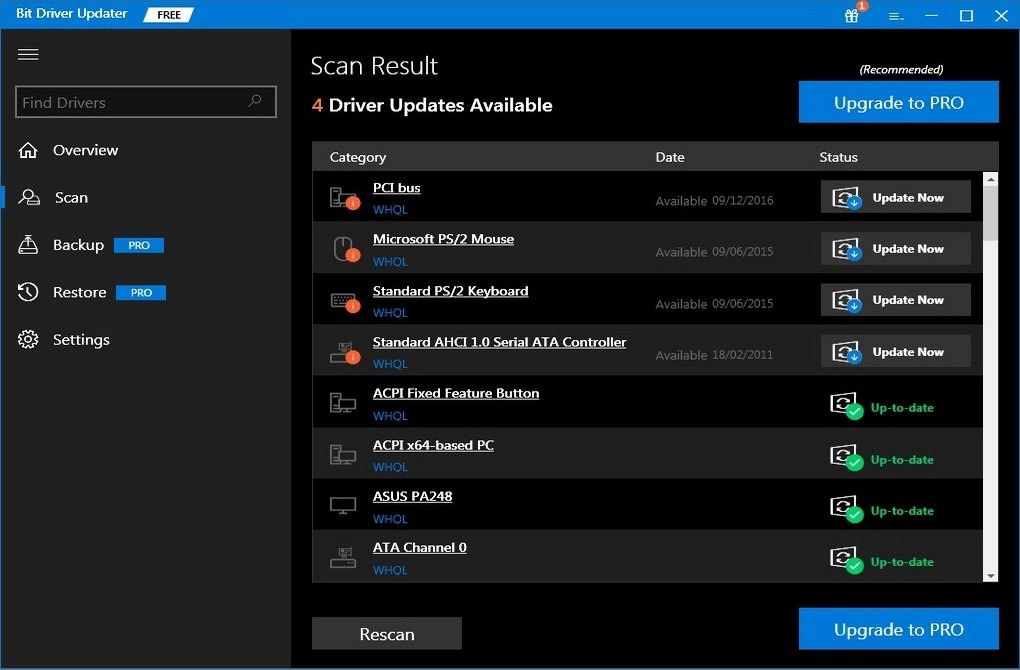 Tips. Scheduler in Bit Driver Updater supports four modes of checking for updates: one-time, daily, weekly, and Off. In cyclic modes, you can also set the start date, but note that the scheduler can work only in one mode at the same time.
Verdict. Bit Driver Updater is the perfect solution for anyone looking for a simple and convenient driver updater app. There aren't unnecessary functions, only the crucial ones to search and install driver updates.

Driver Genius by Driver-Soft Inc., a vendor that produces driver utility software exclusively (Drivers Restore, Drivers Backup, Drivers Cleanup, System Transfer Assistant, SSD Speeder), detects, installs and backs up device drivers. With a huge database, comprising of motherboard drivers,  sound card drivers, video card drivers, network drivers, mouse drivers, scanner/printer drivers, etc., users may fix any issues in one click. A cool feature to package all drivers into one executable auto installer.
Key functions:
System CleanUp
SSD Speeder
1-click update for all drivers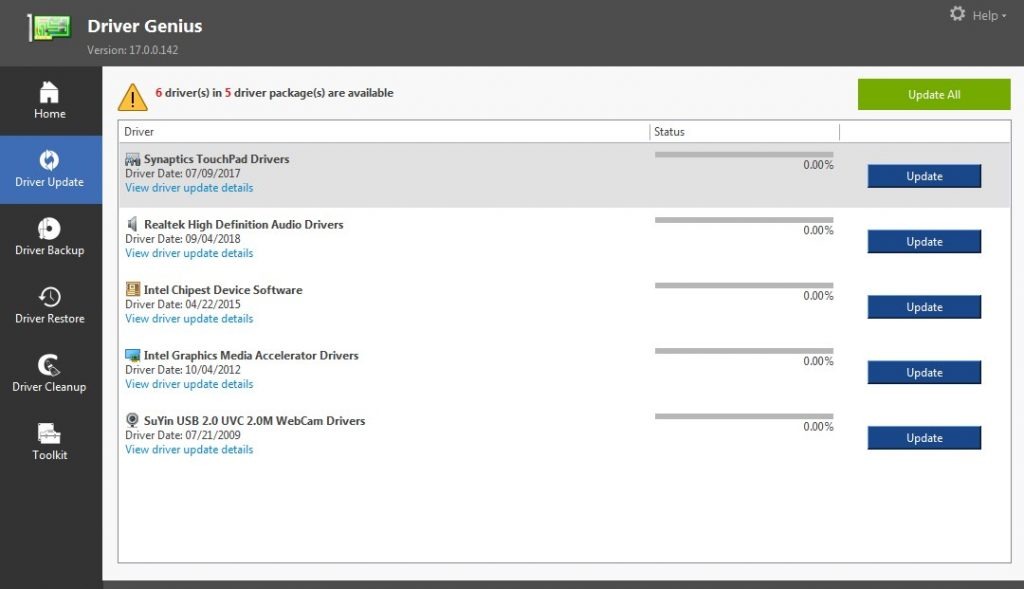 Tips. Driver Genius has a very flexible unwanted changes rollback system. Users can roll back system state to the last recovery point (if the changes were global), or undo last driver installations only, thus restoring the original state without changing system parameters.
Verdict. Driver Genius free edition allows you to search and install updates for drivers with a limited download speed. The Pro version contains additional features (System CleanUp, SSD Speeder, System Booster) aimed at entire PC optimization.
DriverMax free driver updater version is outstanding compared to other apps as it performs automated installations. It also can be pre-set to execute scheduled scans. The features we found in this driver updating software were impressive for a free version.
With that said, the major turnoff is in the limited number of drivers that the user is allowed to download per day or month. The limitation is so extreme such that only 2 drivers can be downloaded per day.
Key functions:
Compatible to recent Windows versions
Automatically scans and detect device drivers that need update or issues fixed
Performs scheduled scans
Lists all drivers with issues and without issues
Can back up your system drivers prior to installing updates
Tips. If you download 2 drivers per day for the next 5 days, you will not be able to execute any downloads for that particular month as you would have reached the maximum number of allocated monthly downloads.
Verdict. A system runs on many drivers as it has a lot of devices to communicate for smooth operation. Although DriverMax has cool impressive features, the limitation is too extreme to keep your PC in good shape.
However, with most of free driver updater software yet unable to keep users away from digging driver links, DriverMax does it all with a single click. The limitations inflicted can be pushed to the side if you perform a full system update before installing DriverMax. This will allow you to spread incoming updates over a long period.

Avast Driver Updater is a small simple software to update drivers on a Windows PC. It is light, operates fast and smoothly, finds missing, corrupt or drivers that require an update. All you have to do is to press a big green Start Scan button and get results in a matter of seconds, literally. All the features one would need in a driver updater tool are implemented in it, the only issue with Avast Driver Updater is that it's only partially free – you can scan for free, but to install updates you have to pay $49,99 for one-year subscription.
Key functions:
Scans PCs for erroneous and outdated drivers

Checks for drivers updates in the background automatically

Creates restore points upon each update

Targets audio, video, graphics, printers, keyboards
Tips. Use this Avast tool to scan for updates or errors, if you need a quick check-up of your device. When using a paid version, check or uncheck a box in Options to set a "reboot PC upon updates" feature. Also, take your time with other settings, which could be handy.  
Verdict. Driver Updater is a nice little addition to the diverse Avast family of security and utility software. Our tests showed that is works faster when comparing to other tools, although we did not test update times available in subscription only, to be frank.
Snappy Driver Installer is an impressive freeware tool for updating multiple drivers at a go. The software detects devices that are in critical conditions in terms of outdated, broken or missing drivers. It then downloads the essential files needed for updates and gives the user access to set up the updates.
Key functions:
Can install drivers online as well as offline
Does not need installation as it can be used in an external hard drive
Displays system information
Filter feature to help the user find the best matching drivers to install
Downloads in driver packs
Compatible with Windows XP and above
Tips. First, check whether your PC operates on 64 or 34 bit Windows version to download the correct .exe Snappy Driver Installer file.
Verdict. Snappy Driver Installer gave an ambivalent impression. It has a lot of expert features, however, an average PC user will find it hard to manoeuvre the app. Lack of scheduled scans also makes it hard to turn a blind eye to the shortfalls of the software. All in all, the offline use and bulk download of drivers makes it a worthy mention.

Formerly known as DriveTheLife, Driver Talent scans for outdated or missing drivers and installs them automatically. In addition to updating drivers, this software also fixes corrupt drivers. Driver Talent has a built-in evaluation system that allows users to quickly identify driver versions that may cause problems. Also, it automatically detects USB devices and printers, including those only available as network devices.
Key functions:
Backup system drivers

Driver packages to use on another computer

Game Repair tool

Hardware Detection utility
Tips. You must import a hardware profile before you can create a driver package for another computer
Verdict. The functionality of this free driver updater is sufficient to quickly fix broken or obsolete drivers. On the other hand, useful tools such as Backup / Restore and others, are  available in Pro version only.

Driver Doctor presents an easy to use interface which can be credited to the fact that there is not much packed into the software. The program focuses on scanning for outdated, broken and missing drivers. Its database continues to grow and upon using the software, you will be required to keep on updating the software.
Key functions:
Scans the computer from an external hard drive
Supports Windows XP and later versions
No installation is required to scan for out of date drivers
Tips. Since Driver Doctor lets you download one driver per day, it is best to use it as a backup driver updating tool just in case the computer cannot automatically update drivers due to some problem by storing it in a flash drive.
Verdict. Driver Doctor gave us mixed feelings but the major turn off were ads and just 1 driver per day download restriction. Otherwise, it is a great software for updating drivers which have got an extra portable version that does not require an installation.
This Driver Updater is a part of the WinZip optimization tools suite, a Microsoft partner developer. The functionality is very laconic, making it super easy to use. A tray application grants quick access to vital functions, and monitors driver status in the background quietly and permanently. Additional features include creating and restoring driver backups. We should note that both modes support batch (all by 1 click) driver processing, which significantly speeds up the process. To ignore unwanted updates use the Exclusions list.
Key functions:
Drivers monitioring
Driver recovery from a backup
Regular updates
Repairs driver-related errors
Automatically creates restore points
Tips. To create a copy of a specific driver go to the Backup tab and select this option. Check the list of driver categories that WinZip Driver Updater recognizes for backups. All backups then can be found at the Restore tab, sorted by data.
Verdict. This simple utility is useful for users who don't have time to regularly revise drivers. At the same time, skilled guys will certainly appreciate detailed reports for updates, helping to avoid incompatible drivers.

Smart Driver Care is a universal solution for those who want to keep their drivers up to date. Among such programs, it shows a serious approach to system security. The built-in backup tool allows users to create full and partial copies of drivers, and Smart Driver Care automatically sort them by the creation time. And in improved system restore points feature now include creating and managing it directly in menu.
Key functions:
Recovery drivers from backups
Silence mode
Shows summary about installed drivers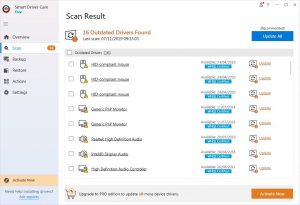 Tips. Use this tool for fast search outdated drivers in your system. You can do it manually from time to time, or automatically with built-in scheduler. It  support 4 modes: "Run Once", "Every day", "Every week", "Only on some days of week".
Verdict. Smart Driver Care functional has everything what are needed for regular and manual driver updates. The modern interface provides user to backup and recovery tabs just in click. Driver database includes many hardware types, including, motherboard controllers, Bluetooth-based equipment or even keyboards. The disadvantages are the low download speed (in comparison with the paid version) and partially blocked backup tool in free version.
DriverDoc safely downloads and updates PC drivers for all Windows OS back to XP. Note that scanning begins automatically each time a program starts, and even right after installation. This is to save precious time, as well scanning hardware and updating drivers in the correct order, so that a user doesn't have to do it manually. DriverDoc delivers the largest driver database of any products – 16 million and counting. Plus, it claims to reduce the risk of downloading malware drivers by deep-scanning driver source websites.
Key functions:
Can work in background
Toolbox – features for PC optimizing
Live support
Tips. It's important to have a stable Internet connection for DriverDoc's first launch. This will allow the application to recognize installed devices correctly and will save traffic on next searches for drivers updates.
Verdict. The main disadvantage of DriverDoc is high (compared to analogues) price. It does its job very well, but for this money one would anticipate extra features or at least an integrated technical support module.

Carambis Driver Updater is an automatic driver installer/updater working on Windows 10, Windows 8/8.1, Windows 7, Vista, or XP. First, it finds  the device's hardware ID and offers more precise drivers than a user can do manually. It can be set to download, install and update all drivers automatically. In addition, this driver updater has a nice design and costs cheaper than other similar apps.
Key functions:
Detect drivers for disconnected devices
150.000 drivers in database
Integration with other Carambis software
Tips. Carambis Driver Updater can be integrated with Carambis Cleaner as a one whole software suite. If so, extra features like PC optimization, duplicates remover, will become available.
Verdict. Carambis Driver Updater has a nice interface, yet it looks like it was published at a 80% readiness stage. Some functions typical of driver updaters (like full devices list) are not available, and only a few functions can be configured. A feature called "Search for drivers for disconnected devices" can be useful in some cases. It also has the cheapest Pro version. Great potential that is not revealed fully yet.
Driver Reviver was created to search, download, and install drivers for PCs with Windows OS on the board. At the first start, the Driver Reviver will connect to its huge database and check the actuality for all drivers which are installed in the system. Using the scheduler, you can schedule regular inspections once a day or weekly. For unstable or unwanted driver versions, an Exclusions list is available. Users can choose for interface any from 15 languages, including English, Dutch, Russian and Chinese.
Key functions:
Ignore list
Scheduler
Deliver drivers for hardware and removable devices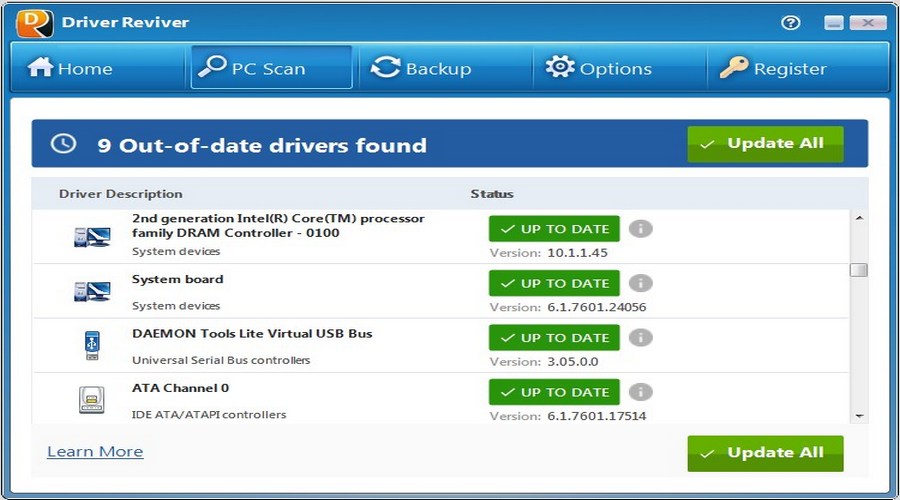 Tips. A peculiar Driver Reviver issue is a forcefully disabled Cancel button during installation. An alert at the last step of installation is displayed, so perform it carefully.
Verdict. Driver Reviver is flexible in customization, most of its features (like new devices monitoring or automatic updates) can be disabled. The backup tool unfortunately supports only creating full (for all devices) driver copies. Nevertheless, thanks to its simple menu, it is a good solution for casual users.

Advanced Driver Updater finds updates for printers, peripherals, input devices, etc. The vendor is constantly improving the drivers database and now it includes thousands of devices with different versions. For each device, the most suitable driver will be offered. It will be selected according to the user's system parameters. The Pro version also offers automatic backups before updating.
Key functions:
Regular checks for updates

Full and partial backups

Old and new driver versions comparison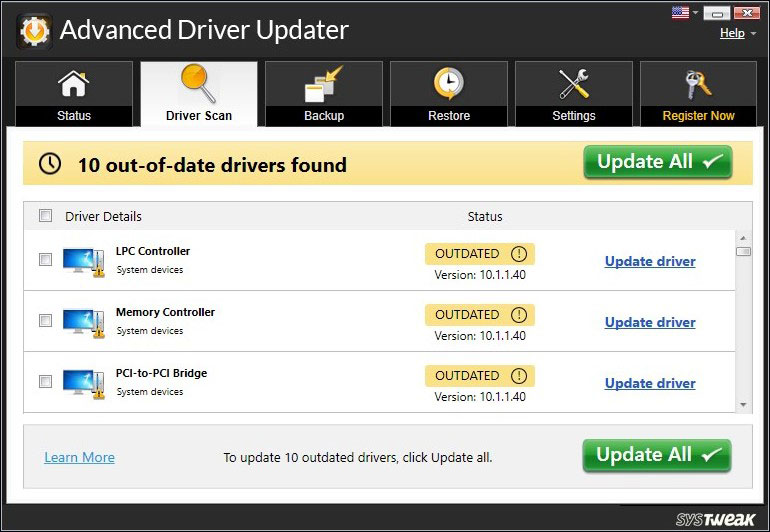 Tips. You can change the default folder for downloading updates, as well as for driver backups. Go to Settings – Select Location.
Verdict. Advanced Driver Updater will be useful for those who need fast updates for 1-2 drivers on their device, thanks to their liberal free version policy. At the same time, it can be used for monitoring of drivers as it supports work in background mode.
This app was introduced by a vendor with 20+ years of experience in PC maintenance software developing. Ashampoo Driver Updater helps troubleshoot problems caused by outdated drivers. It regularly searches for new driver versions on official manufacturers' websites in order to keep their database relevant. All drivers are being saved on a local disk, which makes it possible to use them even if Internet connection is unavailable.
Key functions:
One-click driver repairs

Fix incorrect and broken drivers

Creates restore points upon each update
Tips. The scheduler feature supports one-time and regular scans. To create a regular event define the conditions, time and date. In the lower left corner you can always see the current scheduled task.
Verdict.With Ashampoo Driver Updater you can quickly update drivers for your home PC hardware and peripheral devices. This software will be a good solution for Family license users. With the Basic license you can use it on 3 different devices without limits. 

Auslogics is certified as a Silver Microsoft Partner, which means that their products are highly compatible with Windows OS tools. In Auslogics Driver Updater free version all the basic features are at hand, but with some limitations. For example, only 1 free update for 4 hours. The Pro version has better download speed, entire driver library, regular (scheduled) scanning and of course no restrictions.
Key functions:
Prevents installation of unsigned drivers

"Prefer most stable driver version" feature

Tray app can be disabled
Tips. To exclude a certain driver from the recommended updates list, click on it and select Ignore. To undo, go to Settings – Ignore list, tick a driver and press Remove.
Verdict. The app is absolutely safe for users who haven't worked with similar programs before. Backups and restore points in manual and automatic modes are a fine option.
This utility uses high-speed cloud servers to optimize updates delivery. AVG Driver Updater has an extensive database of 500.000 divers for more than 100 brands of vendors of audio and video cards, networking and printing equipment etc. 
Key functions:
Developed by one of the leaders in antivirus industry

Automatic checks for updates in background mode

Fixes hardware errors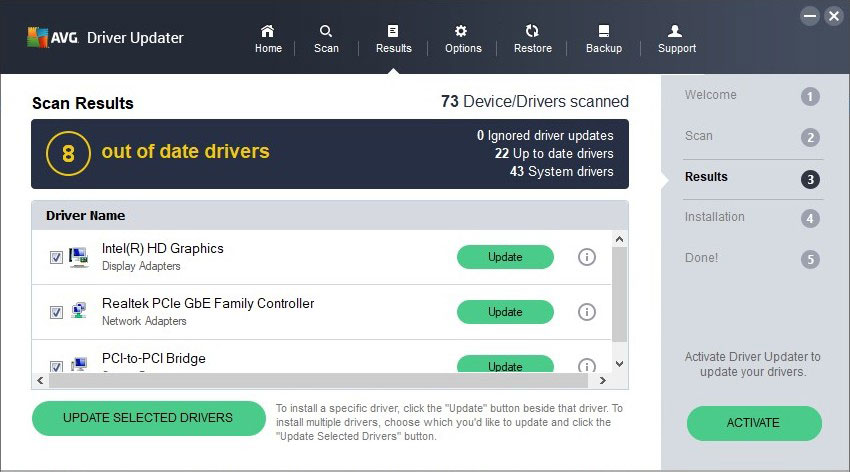 Tips. Use menu tabs carefully, it doesn't save scan results. If you switch from the scanning tab to any other while a scan is under way, you'll have to start over.
Verdict. The Pro version allows you to quickly find and install updates. In the Free version, only a fraction of all features are available, yet unlimited in amount of use. In general, AVG Driver Updater is a decent free driver updater, optimal for restoring driver backups.

A bit antiquated design of Driver Magician covers a powerful and functional software. One of the exclusive features is the ability to create 4 different types of backups: "as is" to a folder, zip archive, self-extracting app and self-installing app. The last one type is the most interesting, with it users don't need to search for location and special software to reinstall drivers. Also it supports recovery from all types of backups and unknown devices detection.
Key functions:
Detects unknown hardware

Creates drivers auto-setup packages (.exe)
Tips. By default, driver search is disabled in Driver Magician. To see all available drivers select the "Search all drivers" feature on the Driver Backup tab.
Verdict. Driver Magician doesn't have a Free version, only a 15-days trial. Overall, the app efficiently searches new drivers versions and has several unique features which deserve attention. The disadvantage is inability to work in background mode.
Driver Fusion is a "Swiss knife" type of program, capable of much more than just keeping system drivers in shape. It has a proprietary algorithm that includes: searching for updates, creating backups, removing unnecessary drivers and exporting information about drivers in TXT format. All these features can be used as part of automatic maintenance, separate actions, or as one-click maintenance.
Key functions:
Deletes unwanted drivers

Can install drivers from local storage

Multi-layered driver health checks

Real-time hardware monitor
Tips. Driver Fusion has a special feature called Desktop. It creates backup of current shortcuts and their locations. Later, you can use it to restore the previous Desktop state from backup.
Verdict. Driver Fusion is great for PC diagnosis and management thanks to a variety of features. At the same time, it stays an easy-to-use driver updater with an extensive database.

DriverHub provides one of the largest driver databases among similar programs. It has a bit of a utilitarian menu in a dark theme, which also makes it easy to master. After completing the initial scan, DriverHub selects the most suitable drivers for the system. Yet, unlike other driver updaters, there are always available alternative driver versions, if current version is incompatible or unwanted. 
Key functions:
Several driver versions to choose from

Driver database available online via DriverHub website

Saves all data in Download history
Tips. In the Useful Utilities tab there are fast-access links to most popular sections in system settings like Control Panel, Display Settings and others.
Verdict. DriverHub is a fairly new product amond driver updaters. It has collected one of the biggest driver databases, remaining a completely free product. It's especially worth noting that on their website they have a search by driver name.
Driver Pack Solution started a few years ago as a startup, and today is one of the popular driver updaters. It has a lot of advantages, e.g. it is absolutely free, is suitable for any computer, in addition to drivers it contains a geographically tailored list of recommended software from top vendors (Avast, Opera, Microsoft etc). 
Key functions:
DriverPack Notifier – a real-time driver status monitor

Software recommendations

BSoD analyzer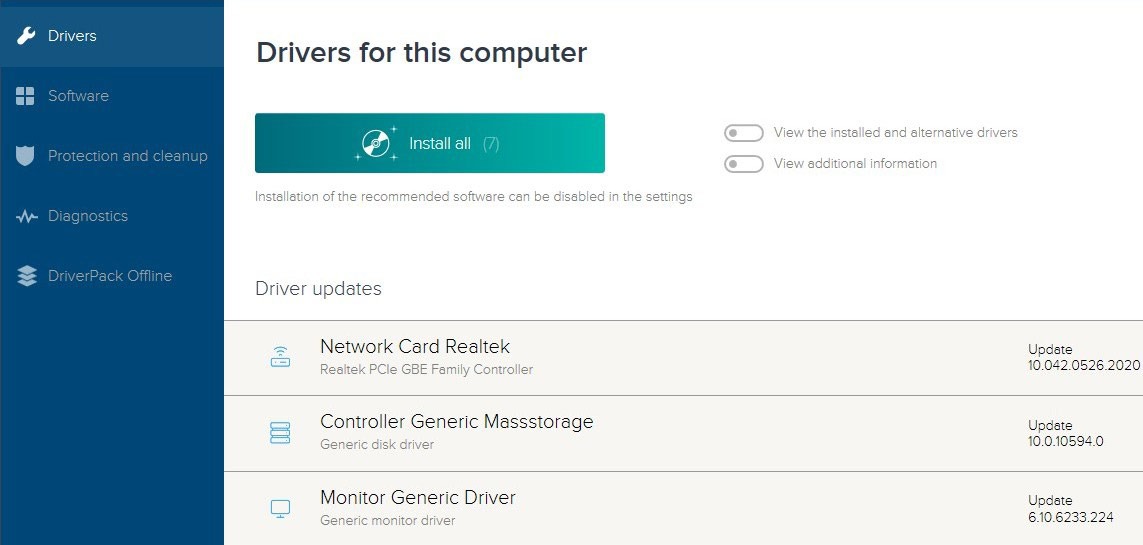 Tips. After the first launch, DPS may offer "automatic maintenance", which also includes silent software installation. To avoid this, tick Run in Expert Mode at the start window, and click Cancel when the initial diagnostic will be finished.
Verdict. Driver Pack allows you to install the most appropriate driver updates just in 1-2 clicks. It has a very flexible customization menu in Expert mode. Additional options include: software updater, protection technology, and ability to download offline driver database (22 GB).

DriversCloud has its own exclusive algorithm for finding and updating drivers. Scan results are available online only, but users can export it. Also there is a possibility to create a profile on the DriversCloud website to save and track changes in scan reports, as well as to share scan results and create GIF signatures with current PC configuration.
Key functions:
Partially SaaS

BSoD crashes analytic tool

Manual driver download from website

Hardware report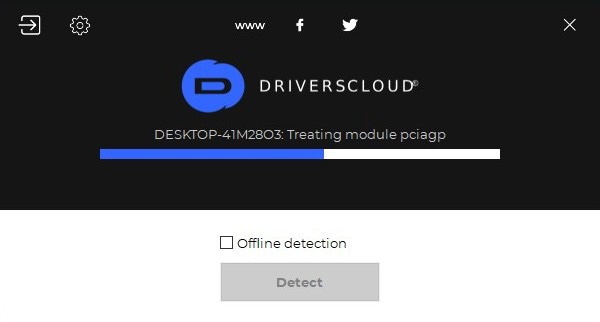 Tips. After a scan, DriversCloud always opens the web report page in the hardware section only. To navigate to detected driver updates, scroll down the page and select "Find the drivers".
Verdict. In basic mode DriversCloud automatically generates and opens a report in the browser. It keeps the online version available via link for some time so it is good for remote analysis. To use all features, one has to create an account.
Driver Update Monitor (DUMo) is small in size but fast and handy There are two lists for unwanted updates. The first one for those who will be ignored, as in the traditional ignore list, and the second list to postpone the notifications about updates for a while. It will be very useful for those who prefer to use only stable drivers.
Key functions:
Skip updates for some time

Drivers list export

Group updates by priority

2 driver sources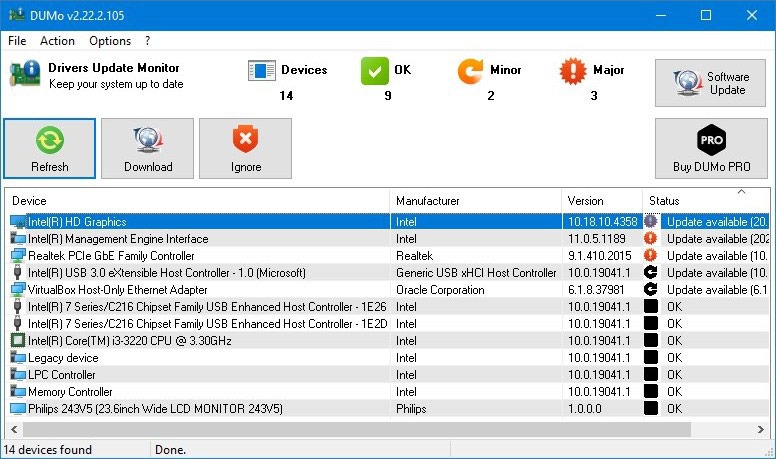 Tips. DUMo can work in the background as a tray app. To enable this feature tick "Minimize in system tray" in Options tab. 
Verdict. It's a lightweight and fast app. The cheap price was achieved by cutting out non-critical modules, therefore DUMo will be a good match for casual users who just want to update their drivers from time to time.

Slimware is known as a software vendor for PC maintenance and optimization which also includes their proprietary DriverUpdate. It can search, download and backup drivers. Its main advantage is sorting drivers into 4 different categories, which greatly simplifies their management. In the Pro version a search for updates for installed software is also available.
Key functions:
Manual selection of drivers to download

Automatic checks for updates

Can search software and Windows updates
Tips. DriverUpdate automatically saves all backups in its own directory. To save free space, this feature can be disabled on the Backup tab in settings.
Verdict. Slimware full version allows you to search and download driver updates for any device types. It can also look for updates for certain kinds of third-party software and check for Windows updates. Unfortunately, the free version only provides a scan.
UpdateStar has amassed 12+ years of experience in developing software and UpdateStar Drivers is their main product. Its advantage is an optimized delivery system that downloads drivers from official vendors websites directly in the program. Also users can create driver backup before installing updates.
Key functions:
Full devices list

Gets optimal drivers based on user's PC configuration

Detect unplugged USB devices
Tips. There is no visible button for adding a driver to ignore list. To do this, right-click on a concrete driver and choose that option.
Verdict. UpdateStar free plan can be used only for checking drivers current versions. However, the full version offers access to the driver database for devices such as motherboards, printers, CPUs, modems, keyboards.

Outbyte Driver Updater has a huge drivers database for various devices. This list includes network equipment, Bluetooth devices, monitors, CPUs and others. It scans longer than other similar apps because this process also includes hardware performance tests. According to the developer, Windows tweak tool will be added to the interface soon.
Key functions:
Automatic

search for most stable drivers

Built-in CPU, RAM and memory performance tests

All updates are divided into device categories
Tips. If you are tired of ads and discount pop-ups, turn off notifications in settings.  
Verdict. Outbyte Driver Updater improves overall PC efficiency. It ensures timely driver updates. For users safety, there are restrictions on unsigned drivers and automatic backups.
The Superlink Driver Match Technology team has been collecting and publishing drivers from official sources for quite some time. Then, for a convenient use of their database, they created DriverToolkit. When installed, it automatically finds and fixes outdated drivers on your PC. Besides, there is a tool for safe removal of unused drivers.
Key functions:
Driver uninstaller

Access to drivers' experimental and beta versions

Scans hardware devices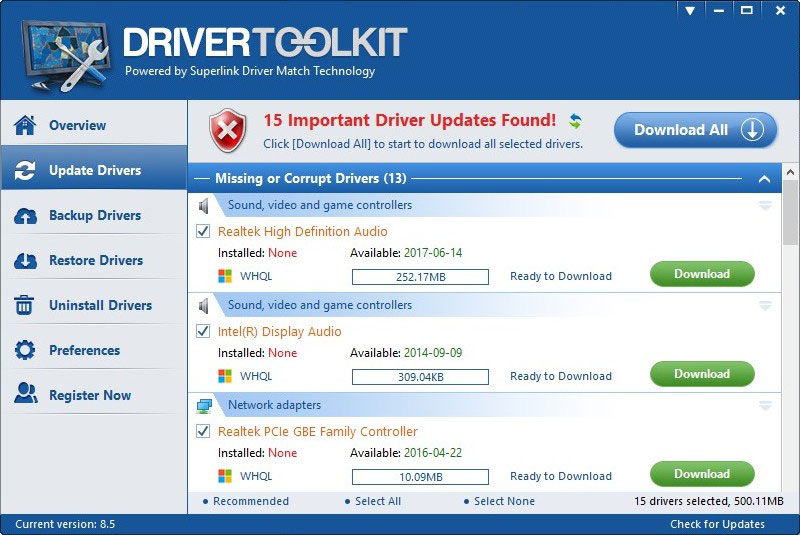 Tips. Changes in performance take effect after system restart. Therefore we recommend to restart the system after removing and/or installing drivers.
Verdict. DriverToolKit is a powerful software for managing system drivers. In the Free version, you can only check installed drivers status. The Pro version provides regular drivers download and installation from trusted sources.

Summary
Based on all aforementioned information, we've compiled the key features summary tables as a kind of comparison of all 15 driver updater tools. We included crucial parameters such as one-click fix, back up, OS compatibility, file size, design, etc., as well as performance metrics – scanning time, number of drivers/issues found, installation.
I. Performance tests
| | | | | | |
| --- | --- | --- | --- | --- | --- |
| Product | Driver Updates | Software Updates | Scan time (mm:ss:ms) | Driver Restore | Driver Backup |
| Driver Booster | 13 | 13 | 0:06:67 | Pro | Pro |
| Driver Easy | 10 | 0 | 0:11:84 | Pro | Pro |
| DriverFix | 10 | 0 | 0:16:21 | ✘ | ✘ |
| Driver Finder | 3 | 0 | 0:08:17 | ✔ | ✔ |
| Bit Driver Updater | 10 | 0 | 0:25:17 | Pro | Pro |
| DriverMax | 14 | 4 | 0:19:96 | ✔ | ✔ |
| Avast Driver Updater | 8 | 0 | 0:04:37 | ✔ | ✔ |
| Snappy Driver Installer | 10 | 0 | 0:14:91 | ✔ | ✔ |
| Driver Talent | 4 | 1 | 0:13:52 | ✔ | ✔ |
| Device Doctor | 14 | 0 | 0:33:54 | Pro | Pro |
| WinZip Driver Updater | 11 | 0 | 0:06:37 | ✔ | ✔ |
| Smart Driver Care | 12 | 0 | 0:11:83 | Pro | Pro |
| Driver Genius | 14 | 0 | 0:23:22 | Pro | Pro |
| DriverDoc | 14 | 0 | 0:35:18 | ✔ | ✘ |
| Carambis Driver Updater | 15 | 0 | 0:08:22 | ✘ | ✔ |
| Driver Reviver | 11 | 0 | 0:07:46 | ✔ | ✔ |
| Advanced Driver Updater | 11 | 0 | 0:19:72 | ✔ | ✔ |
| Ashampoo Driver Updater | 10 | 0 | 0:25:53 | ✔ | ✔ |
| Auslogics Driver Updater | 13 | 0 | 0:37:78 | ✔ | ✔ |
| AVG Driver Updater | 8 | 0 | 0:07:31 | ✔ | ✔ |
| Driver Magician | 7 | 0 | 0:28:18 | ✔ | ✔ |
| Driver Fusion | 10 | 0 | 0:09:43 | ✔ | ✔ |
| DriverHub | 14 | 0 | 0:09:36 | ✘ | ✔ |
| DriverPack Solution | 5 | 2 | 03:52:45 | ✔ | ✔ |
| DriversCloud | 2 | 0 | 0:10:28 | ✘ | ✘ |
| DUMo | 5 | 0 | 0:03:62 | ✘ | ✘ |
| Slimware DriverUpdate | 1 | 0 | 0:06:14 | ✔ | ✔ |
| UpdateStar Drivers | 4 | 0 | 0:19:66 | ✔ | ✔ |
| Outbyte Driver Updater | 8 | 0 | 0:39:13 | ✔ | ✔ |
| DriverToolkit | 15 | 0 | 0:03:31 | ✔ | ✔ |
II.  Additional features
| | | | | | | |
| --- | --- | --- | --- | --- | --- | --- |
| Product | Actual updates for free | One-click fix | Driver Info | Driver versions | Devices list | Ignore list |
| Driver Booster | ✔ | Pro | ✔ | ✔ | ✔ | ✔ |
| Driver Easy | ✔ | Pro | ✔ | ✔ | ✔ | ✔ |
| DriverFix | Pro | Pro | ✔ | ✘ | ✔ | ✘ |
| Driver Finder | ✘ | Pro | ✔ | Pro | ✔ | Pro |
| Bit Driver Updater | ✔ | ✔ | ✔ | ✔ | ✔ | ✔ |
| DriverMax | ✔ | Pro | ✔ | ✘ | ✔ | ✔ |
| Avast Driver Updater | ✘ | Pro | ✔ | ✘ | ✔ | ✘ |
| Snappy Driver Installer | ✔ | ✔ | ✔ | ✘ | ✘ | ✘ |
| Driver Talent | ✔ | Pro | ✔ | ✘ | Pro | Pro |
| Device Doctor | ✔ | ✔ | ✔ | ✘ | ✘ | ✘ |
| WinZip Driver Updater | ✔ | Pro | ✔ | ✘ | ✔ | ✔ |
| Smart Driver Care | ✔ | Pro | ✔ | ✔ | ✔ | ✔ |
| Driver Genius | ✔ | Pro | ✔ | Pro | ✔ | Pro |
| DriverDoc | ✔ | ✔ | ✔ | ✘ | ✘ | ✘ |
| Carambis Driver Updater | ✔ | Pro | ✔ | ✔ | ✘ | ✘ |
| Driver Reviver | ✔ | Pro | ✔ | ✔ | ✔ | ✔ |
| Advanced Driver Updater | ✔ | Pro | ✔ | ✘ | ✘ | ✔ |
| Ashampoo Driver Updater | ✔ | Pro | ✔ | ✘ | ✔ | ✔ |
| Auslogics Driver Updater | ✔ | Pro | ✔ | ✘ | ✔ | ✔ |
| AVG Driver Updater | ✘ | Pro | ✔ | ✘ | ✔ | ✘ |
| Driver Magician | ✔ | ✘ | ✘ | ✘ | ✔ | ✘ |
| Driver Fusion | ✘ | Pro | ✔ | ✘ | ✔ | ✔ |
| DriverHub | ✔ | ✔ | ✔ | ✔ | ✘ | ✘ |
| DriverPack Solution | ✔ | ✔ | ✔ | ✔ | ✔ | ✔ |
| DriversCloud | ✔ | ✘ | ✔ | ✔ | ✔ | ✘ |
| DUMo | ✘ | Pro | ✘ | Pro | ✘ | ✔ |
| Slimware DriverUpdate | ✘ | Pro | ✔ | ✘ | ✔ | Pro |
| UpdateStar Drivers | Pro | Pro | ✔ | ✘ | ✔ | ✔ |
| Outbyte Driver Updater | ✔ | Pro | ✔ | ✘ | ✔ | ✔ |
| DriverToolkit | Pro | Pro | ✔ | ✘ | ✘ | ✔ |
III. Drivers scan modes
| | | | |
| --- | --- | --- | --- |
| Product | Auto (regular) | Scheduled | By demand |
| Driver Booster | ✔ | ✔ | ✔ |
| Driver Easy | ✘ | ✔ | ✔ |
| DriverFix | ✔ | ✘ | ✔ |
| Driver Finder | ✔ | ✔ | ✔ |
| Bit Driver Updater | ✔ | ✔ | ✔ |
| DriverMax | ✔ | ✔ | ✔ |
| Avast Driver Updater | ✔ | ✔ | ✔ |
| Snappy Driver Installer | ✘ | ✘ | ✔ |
| Driver Talent | ✔ | ✔ | ✔ |
| Device Doctor | ✘ | ✔ | ✔ |
| WinZip Driver Updater | ✔ | Pro | ✔ |
| Smart Driver Care | ✔ | ✔ | ✔ |
| Driver Genius | ✔ | Pro | ✔ |
| DriverDoc | ✘ | Pro | ✔ |
| Carambis Driver Updater | ✘ | ✘ | ✔ |
| Driver Reviver | ✔ | ✔ | ✔ |
| Advanced Driver Updater | ✔ | ✔ | ✔ |
| Ashampoo Driver Updater | ✔ | ✔ | ✔ |
| Auslogics Driver Updater | Pro | ✔ | ✔ |
| AVG Driver Updater | Pro | ✔ | ✔ |
| Driver Magician | ✔ | ✘ | ✔ |
| Driver Fusion | ✘ | ✔ | ✔ |
| DriverHub | ✘ | ✘ | ✔ |
| DriverPack Solution | ✔ | ✔ | ✔ |
| DriversCloud | ✘ | ✘ | ✔ |
| DUMo | Pro | ✘ | ✔ |
| Slimware DriverUpdate | ✔ | ✔ | ✔ |
| UpdateStar Drivers | ✔ | ✘ | ✔ |
| Outbyte Driver Updater | ✔ | ✔ | ✔ |
| DriverToolkit | ✘ | ✔ | ✔ |

FAQ
Q: Why is it important to update drivers?
A: In a world full of cyber criminals, keeping the computer drivers updated is essential as it may reduce chances of cyber-attacks. Keeping your drivers up to date will also help boost your PC performance as well as take advantage of new features upon release. A PC full of outdated drivers will likely be destabilized and slow, therefore, making it difficult to run the latest programs as well as have an amazing gaming experience.
Q: What does a driver update do?
A: A proper driver update could ensure overall PC stability, no errors with connected hardware, enhance gaming experience, improve data security, increase graphic card performance. Basically, a driver update is getting the newest possible version of specific computer drivers, or finding and installing new drivers required for certain apps or hardware.
Q: How often should you update drivers?
A: Drivers are like a user-manual, by keeping them up to date all the time, hardware software will function smoothly and at their best capability. Logically, it would make more sense for one to update their drivers whenever a chance arises. Good thing is that driver update software can scan and indicate drivers that need an update. Thus, you do not need to go through a painful period of searching for an update in each of your PC devices.
Q: What is a driver updater?
A: Driver updater / driver update software / driver update tool - is a special software that monitors, finds, updates and installs drivers on a user PC. Top examples of such tools are reviewed in detail above in this current article.
Q: Is it safe to use a driver updater?
A: Since driver update software has access to vital computer programs, the safety of certain a driver updater can be measured by the vendor reputation. Also, to be safe, it is good to check whether or not the driver finder gives information about where they get their drivers. In most cases, reputable driver update software gives full details or guarantee that the drivers are obtained from Original Equipment Manufacturer (OEM) sources.
Q: What is the best driver updater for free?
A: Start from the top of this article to explore apps like Driver Booster, DriverMax, Driver Easy, Avast Driver Updater, Snappy, Device Doctor, TweakBit and more. Learn all the pros and cons, see how they perform in action and choose accordingly.
Q: What drivers do I need to update?
A: Keyboard drivers, webcam drivers, modem drivers, motherboard drivers, video/audio/graphics drivers, network drivers, USB drivers, mouse drivers, printer/scanner drivers are particularly important. That is not the full list though.
Q: Do I have to update drivers on Windows 10?
A: Driver updates for Windows 10 happen by default and in the background via Windows Update, when activated. You can also manually update or install driver too, of course.
Q: How do you update drivers in Windows 7?
A: Please, find the article called How to update drivers on our blog.
Q: How to know if drivers are up to date?
A: Go to Control Panel - Hardware and Sound - Device Drivers. Select a device you want to check, then - Action - Update Driver Software. Then it will be scanned and display whether a new driver version is available.
Q: How to choose the best driver update tool?
A: Pricing, functionality, efficiency, speed, driver database, stability and security, vendor reputation, design/UX, specific features might come into play. Selection depends on user's preferences.
Q: How to update drivers on Mac?
A: Find the Apple icon in the top left corner, click it, then select "Software Update". Available updates , if any, will be listed and ready for a download. When installing drivers manually, please make sure to download the Mac version.
Q: How to update drivers on iPad?
A: According to Apple support, you have to click and hold the Start button, then go to Device Manager. Locate a connected device (iPhone in this case), right-click it and select Update driver. Then select Search Automatically for Updated Driver Software option.
Q: How to install/update drivers on Ubuntu?
A: Navigate to Software Settings - Additional Drivers tab. Install the drivers and restart a computer.
Q: How to install hardware drivers on Linux?
A: Most of hardware drivers are integrated into Linux already. Unlike with Windows, you do not need to find manufacturer drivers, Linux system should automatically detect hardware and apply proper drivers. However, if one needs to do this, it depends on distribution, e.g. in Ubuntu-based distributions there is an Additional Drivers tab in Settings.
Q: How do I check my drivers?
A: You can check the driver version on the manufacturer website. Or use driver updater software, which automatically checks the relevance for all drivers installed in the system.
Q: Do I have to pay for driver updates?
A: No, all major manufacturers provide drivers on their sites as part of customer service. But driver updater software is standalone software that may be paid.
Q: How do I find missing drivers?
A: Go to the Control panel and open Device Manager. All hardware with errors will be displayed and marked with a yellow triangle. Also here you can check the current version for each driver.