Most probably, you have heard of cyber-crime and you may also have lost important data because of corrupted files and experienced the frustration of data recovery process. In extremely unfortunate cases, others may have been victims of hacked accounts on Facebook and Instagram. Either way, the results of data loss or viral attacks were not pleasant.
The culprit behind this is malware, which, thankfully, can be fixed. In this article, we seek to unravel various forms of malware, and how free anti-malware tools can help rid of such menace. Below you'll find a selection of top free anti-malware software.

Malwarebytes
14-day trial
Detects & removes malware in real-time
$60/year subscription

HitmanPro
30-day trial
Behavior-based scan techniques
$25/year subscription

Zemana
30-day trial
Leaves no footprints on PC
$15/year subscription
Best free anti-malware tools
So, now we move on to reviewing free anti-malware software and malware removal tools. Here is the taste of which programs are included. Also, we should note for all tests we used a typical laptop on Windows 7 64-bit system. And finally, you will find another table with a summary of performance metrics in the end of this article.
Pro trial
period (d)
Menu


languages

Real-time


protection

Scheduling

Quarantine

Malwarebytes

14

26

yes

yes

yes

HitmanPro

30

20

yes

yes

yes

Emsisoft

30

19

yes

no

yes

AVG

30

22

yes

yes

yes

Spybot

N/A

7

no

yes

yes

Windows MSRT

N/A

25

no

no

no

RansomFree

N/A

1

yes

no

no

Zemana

30

41

yes

yes

yes

Comodo

N/A

27

yes

no

yes

Avast

60

1

yes

yes

yes
OS: Windows (XP to 10), Mac, Android, iOS | Installer: 77.3 MB | Trial: 14 days, Pro: $60/year | Money back guarantee: 60 days | Custom scan: yes | Country: USA
Developed to offer a multi-layered security level to PCs by cleaning and keeping at bay all forms of malware currently known. Malwarebytes free version also easily gets rid of spyware by identifying and removing any suspicious files. Malwarebytes is an anti malware software that detects and cleans up infected computer drives. The free version is actually a 14-day trial.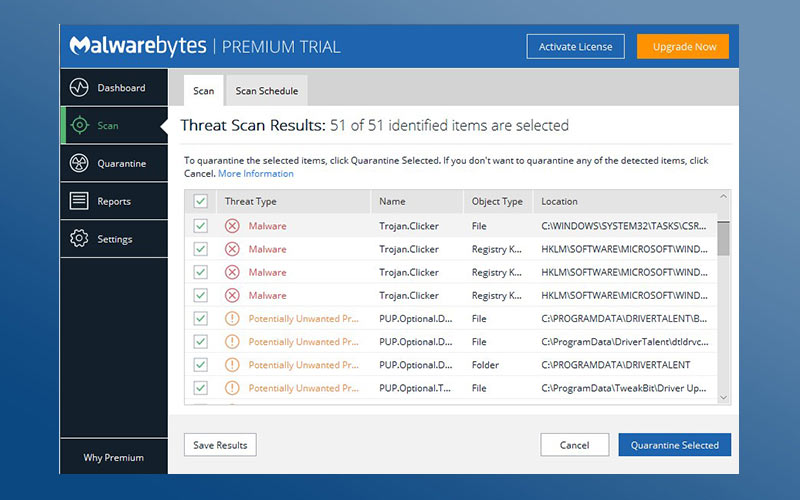 Pros:
It detects and removes spyware, botnets, Trojan horses and other infections
Very easy to use and has straightforward instructions that can be easily followed
Enhances real-time protection against infection when used with antivirus
Prevents against phishing and spamming attempts by malicious emails and websites
Unlike another antivirus, it operates more swiftly to remove unwanted programs without leaving any footprints
Cons:
Does not operate singly and needs reinforcement from antivirus software
Cannot be automatically scheduled to carry out malware scanning
Most of the features quickly expire prompting you to update to the paid version
Tips: In case you love having a backup on the go, this anti-malware can be carried on a USB and run it on USB. Take advantage of the highly flexible Command Line Interface (CLI). Web browsing feels really safe with real-time protection like this: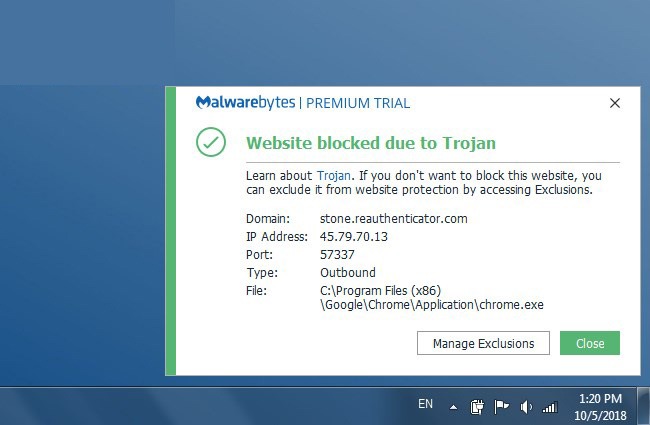 Additionally, Malwarebytes defends against all kinds of online threats and takes one more step further by educating users about it. For example, it covers:
Malware – malicious programs or codes that aim to invade and damage computers/devices, i.e. viruses, worms, trojans, cryptomining, keyloggers, rootkits, explouts, etc.
Ransomware – a type of malware that blocks users from system or personal files, demanding payment to regain access.
Spyware – malicious programs that infect a PC/phone to collect user information, browsing habits, etc., i.e. password stealers, banking trojans, keyloggers.
Adware – programs that aim to display ads on a screen or in a browser, a.k.a. PUPs – potentially unwanted programs.
Cryptojacking – a newly emerging threat, programs that hide on devices and use it to mine cryptocurrencies.
Phishing – the most direct and blatant form of hacking in form of deceiving users into sharing sensitive data, like passwords or credit card numbers. Malwarebytes Premium detects such suspicious sites and warns you from going there.
Verdict: Malwarebytes effectively 'bites off' any popup ads that can easily spawn your computer. With this program, Potentially Unwanted Programs (PUPs) are instantly deleted and removed from the system. While running Malwarebytes, we didn't notice any PUPs, it brings a professional feel to the way one uses their PC.
OS: Windows (XP to 10) | Installer: 12 MB | Trial: 30 days, Plus: $25/year | Money back guarantee: no | Custom scan: no | Country: USA
HitmanPro by Sophos offers a fast and targeted malware scanning, and it can run alongside other antivirus software. The US vendor also claims to be applying special "behavior-based techniques", unlike virus signatures in typical tools, that help identify brand new malware files even if they seem innocent.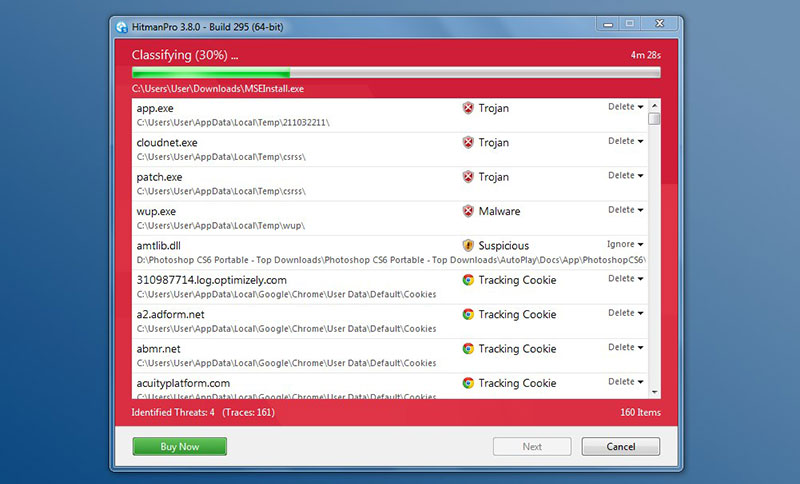 Pros:
No installation required – starts scanning immediately

Signals in big red interface color if it detects threats
Removal of PUA – potentially unwanted applications, included
Save log feature
Database of threats plus cloud technology scanning
Creates a restore point upon every scan
Cons:
Only trial for 30-days free

Available only for Windows
Collects all PC performance issues rather than focusing on malware
Tips. Take advantage of the powerful 30-day trial version to find malware and suspicious programs. It can also run from any PC, flash drive or other storage/device.
Verdict. HitmanPro is a small easy tool, that is effective in detecting and removing malicious software. In our test it found the biggest number of issues, even beyond malware/adware, e.g. old cookies, outdated drivers, trails of past programs, etc.
OS: Windows (7 to 10) | Installer: 330 MB | Trial: 30 days, Pro: $99/year | Money back guarantee: 30 days | Custom scan: yes | Country: New Zealand
This kit is useful for scanning, detecting and cleaning harmful viruses, spyware, keyloggers, adware and other malware on your PC. Comes with a portable version, meaning it can be carried on a device like a USB drive. Has a relatively faster speed when compared to other anti-malware tools of the same scope.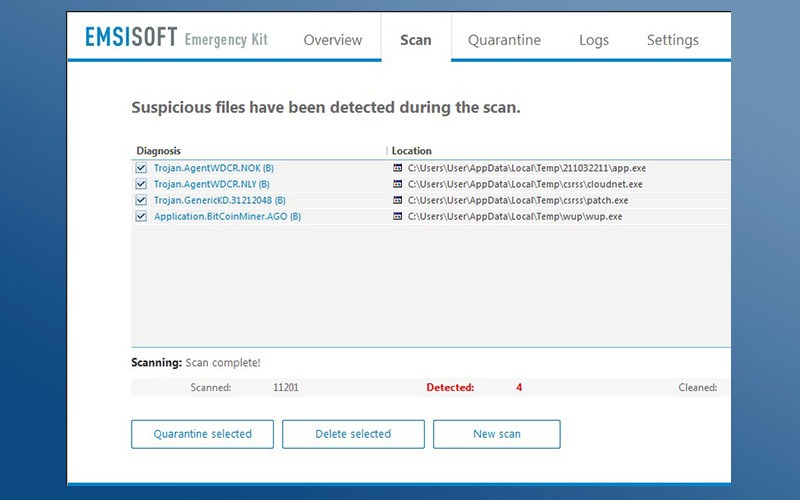 Pros:
Very effective in destroying malware with a 90% success rate and a claim from the developers that the scan engine arrests and removes each and every malware.
The monthly release of newer versions of Emsisoft Emergency kit ensures that it is not easy to modify or replicate it thereby making it more secure
It is compatible with all Windows versions
Emsisoft's BlitzBlank enables the engine to scan your PC, detect and destroy malware before the virus can actually load
Easily carried by hardware resources
Cons:
Not useful as a protection tool against infection, it is rather effective as a counteractive tool against malware

Not actually free – only 30-day trial available

Heavy installer file – 330 MB
Tips. Users can take advantage of the custom scan feature to decide what or what not to remove, in case you're a noob, you can opt for default scan settings that will automatically carry out a full scan according to the engine's capabilities.
Verdict. We ran Emsisoft and initially had time to select the files and programs to be scanned. The scan engine works quietly in the background. Later, we shifted to manual selection – which still works but takes a lot of time and proved to be taxing. Thus, when using Emsisoft, it would be best to use manual side. The anti-malware scores highly in malware detection and cleaning out malware from a PC.
OS: Windows (XP to 10), Mac, Android | Installer: 7.2 MB | Trial: 30 days, Pro: $80/year | Money back guarantee: 30 days | Custom scan: yes | Country: Czech Republic
AVG is a subsidiary of Avast and has been in operation since the 90s. It is well known for strong antivirus software programs. AVG malware removal must be fully installed on the machine to use the services and as an anti-malware tool. AVG employs cloud technologies to scan the attachments and computer drives for malware.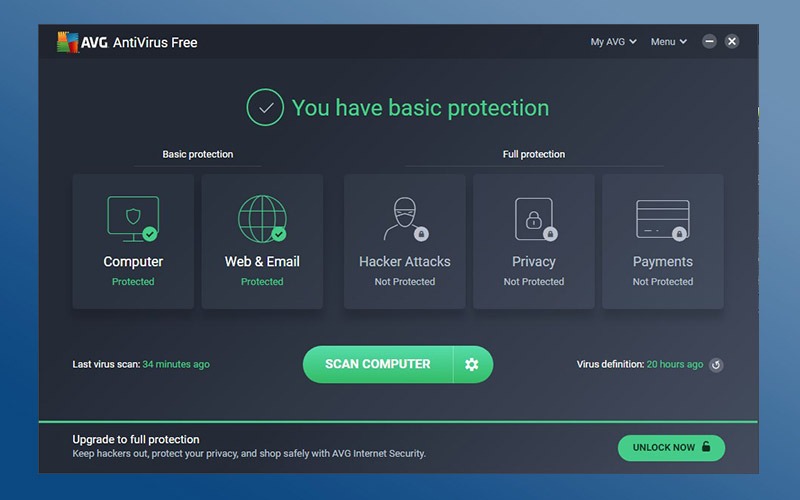 Pros:
According to the AVG statistics, the tool works to block an average of 4-million threats on any single day
Provides real-time protection and works unnoticed on the background
It is compatible with most systems like Windows, Mac and Android
Easy to install and use and utilizes Artificial Intelligence (AI) to warn users of threats as soon as they picked up
Very effective as a malware protection tool against several types of malware, spyware, ransomware, Trojan and others
Cons:
Not very effective for anti-phishing purposes
The user has to manually monitor the tool to keep it updated as it does not have an automatic ability for this function
Tips. First, use AVG's real-time protection feature for cloud scanning to get an early warning on threats. Second, if you are looking to find a report log after scanning, you're in bad luck. In fact, AVG support team acknowledges that their anti-malware tool does not have scan results in user interface. Instead, we can find it in C:\ProgramData\AVG\Antivirus\report – in Windows. Overall, AVG not only protects your system but also covers internet activity, thus AVG detects various malware and ransomware in real-time.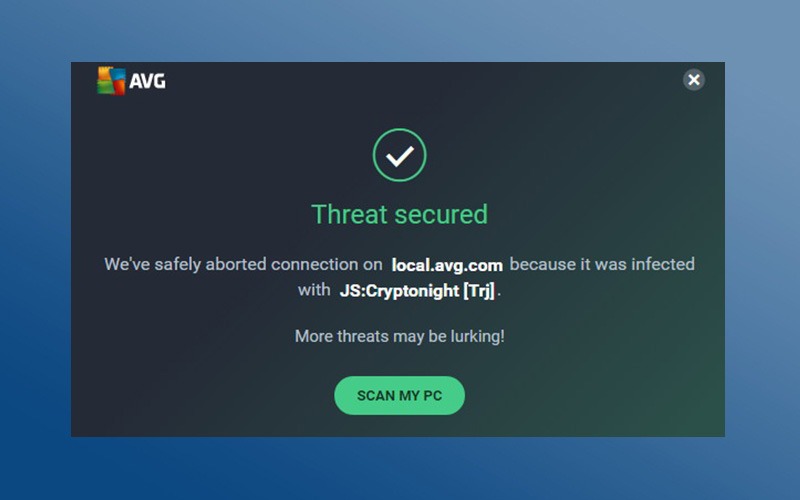 Verdict. The effectiveness of AVG scans and repair coupled with the ease of use makes it a popular antivirus, as well as malware removal tool. Although, don't forget this is a free version, and even with "Deep Scan" feature to find spyware, limitations apply. Overall, AVG is worth trying out for basic protection.
OS: Windows (XP to 10) | Installer: 66.7 MB | Trial: no, Pro: $25/year | Money back guarantee: no | Custom scan: no | Country: Ireland
Spybot offers a counteractive solution to spyware and adware by detecting and removing malware from a Windows system. Spybot introduced the first adware in the industry by picking it out soon after establishment in 2000. It additionally acts as a guard against future attacks by malicious software. Mostly understood by professionals and advanced users who have an excellent understanding of malware.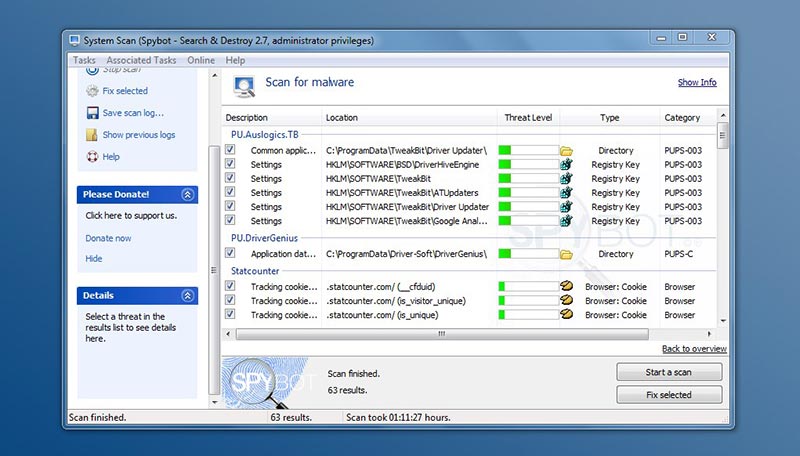 That said, Spybot automatically detects adware networks and their attempts at redirection, registry modifications, changes in browser configuration (Internet Explorer and Firefox). Free edition includes features like anti-spyware, anti-adware, ad removal, program cleaner, cookie cleaner.
Pros:
The full version is relatively cheaper in comparison to other antivirus packages available, hence when you finally decide to upgrade to paid version, the cost won't leave a big dent in your pocket
Easy to use with a single click action enough to get rid of malware, spyware and ransomware
Offers immunisation against future malware attacks – i.e. works as a system protector.
Cons:
The Spybot free version does not scan for viruses
It is slow in scanning (over 1 hour) and updating
Somewhat tricky interface and workflow
Tips. It is best to use Spybot together with an antivirus for the best results. Also be on the lookout to avoid the fake versions in circulation. To download SpyBot free edition, click Donate in products section to name your price, or visit here. Also, save scan log in .txt is available.
Verdict. Spybot Search & Destroy anti-malware did an above satisfactory job in identifying and fixing malware, spyware and adware on our system. We discovered that it worked more as a system repair tool as opposed to the protection feature we expected. Thus, Spybot is not the number one recommendation for system protection.
OS: Windows (7 to 10), Windows Server | Installer: 46 MB | Trial/Pro: free forever | Money back guarantee: not required | Custom scan: no | Country: USA
This is a malware protection tool developed for the Windows operating system and has been in operation since 2005. A new version is released monthly as an update. The tool must be used together with a trusted antivirus program as advised by the developers, Windows Defender Antivirus first of all. Using MSRT is most relevant when one turns off automatic updates for Windows, which would also runs the tool in the background.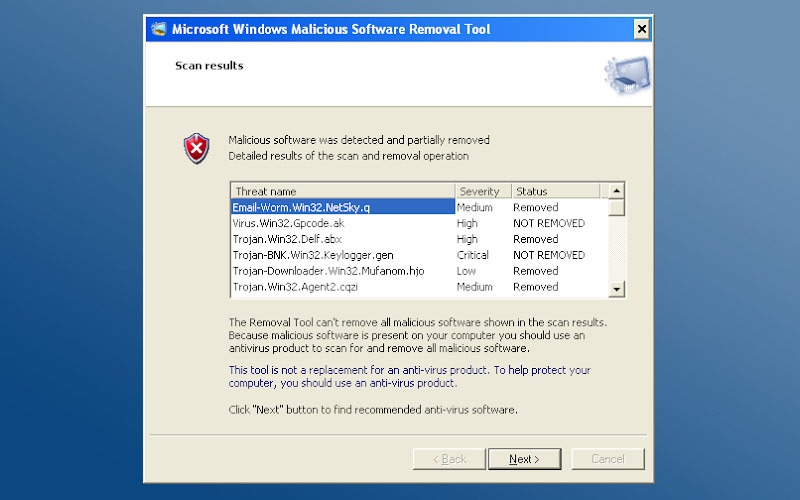 Pros:
Works to check for an extensive list of the different types of malware and removes them from the system
If there is no malware detected, the malware removal tool works silently in the background
It is portable and can be downloaded and stored on a USB Flash for use whenever needed
Can perform 3 types of scans, that is; quick scan, full scan and customized scan
Cons:
Cumbersome to use since the machine must be restarted in order to fix any detected malware
Does not offer real-time protection since it does not stay running all the time
Tips. Should best be used in conjunction with other antivirus tools because it does not stay running in the background and need to be manually started. The program automatically removes any active malicious software detected with just a click of the restart button.
Verdict. It is effective for malware detection and cleaning up but cannot guarantee total protection if used alone – most effective if used together with another antivirus. This is a major concern though because one can never fully rely on Windows Malicious Software Removal Tool for a thorough job protecting their system. Hence, the program has a low rating/score based on failure to offer solid stand-alone protection in real time.
OS: Windows (7 to 10), Windows Server 2008/2012 | Installer: 4.0 MB | Trial: N/A, Pro: N/A | Money back guarantee: not required | Custom scan: no | Country: USA
An easy-to-install free anti-malware tool developed to combat the activities of ransomware for all users. A low-profile product that has been introduced by former US military cybersecurity experts. This software operates by detecting and destroying malicious ransomware aimed at sabotaging your sensitive data in Windows systems and servers. And it's totally free to use.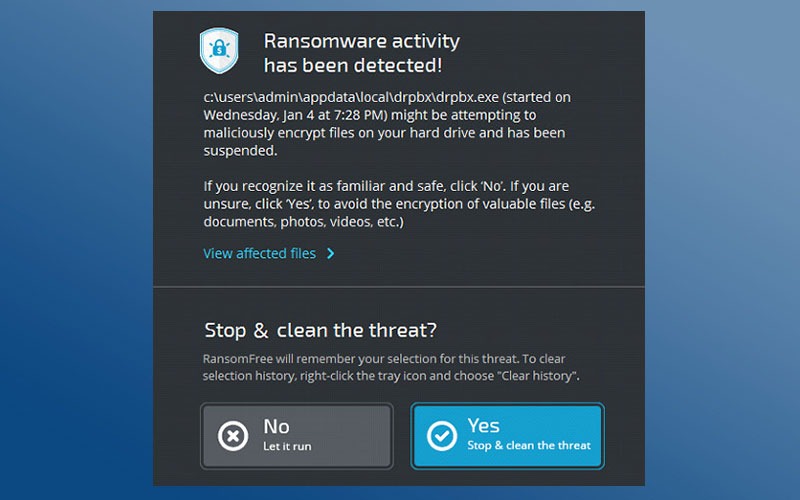 Pros:
A free highly-tailored to combat ransomware files professional software
Specifically targets ransomware worms like WannaCry, WannaCrypt0r, Petya, NotPetya, Bad Rabbit
Easy-to-install features that enable detection and prevention in real time.
Cons:
Cannot be automatically updated
No custom or manual scan, no scheduling
Runs only on Windows devices
Tips. Can be used to bypass the ransomware that would otherwise be missed by traditional antivirus software tools. It sits quietly on your PC watching out for malicious files and warns you when detecting such. You may also pause RansomFree for 1 hour at any time.
Verdict. We installed this software and in less than 3 minutes it had conducted an initial scan and displayed a welcome screen. Cybereason is an effective tool for protection against ransomware invasion. Finally, we were pleasantly surprised of how effective the tool is given that it is not highly exposed in the industry.
OS: Windows (XP to 10) | Installer: 6.3 MB | Trial: 30 days, Premium: $15/year | Money back guarantee: 30 days | Custom scan: yes | Country: Bosnia and Herzegovina
Developed to run a full scan upon prompting, Zemana works by detecting and storing file fingerprints on a cloud server after deleting them from your computer. This free anti-malware program uses negligible hard drive space and can be used together with other similar tools.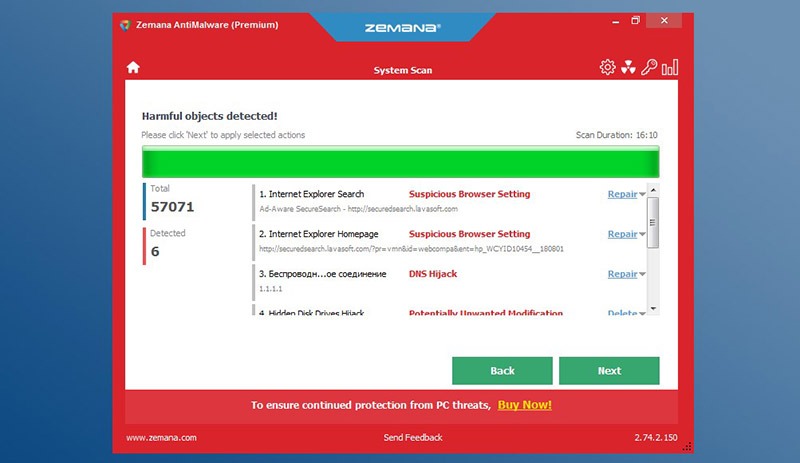 Pros:
Highly optimized and lightweight and works without leaving any footprints on your PC
Quick and easy-to-install with straightforward features for use
Offers real-time protection against malware infection
Scans and cleans up pesky add-ons and extensions on your browser while also detecting and destroying Trojans
Cons:
Does not have a free version, therefore, one needs to pay for annual usage for after the trial
It hadn't detected plenty of malware files as other tools had
Quite long scanning times
Tips. Drop specific files or folders (see main dashboard) for a deep scan. For best results, it should be used alongside another antivirus as an additional security tool. It has a built-in scheduler that one can program to run every time the PC is booted, daily, weekly or at set times.
Verdict. Zemana utilizes few resources and yet conducts full scans. Since it was never developed to be the first line of defense this anti-malware is very effective to compliment other antivirus software. We think its helpful in the sense that it seamlessly works with our other antivirus tools and lives to fulfill their claims.
OS: Windows (7 to 10) | Installer: 5.3 MB | Trial: N/A, Pro: N/A | Money back guarantee: not required | Custom scan: no | Country: Romania
Lightly coined as the best virus removal tool currently available, Comodo antivirus combines the functionality of antivirus plus free anti-malware. The tool is the product of the Comodo Company, which has been in operation since 2001. It is compatible with most operating systems and detects different types of malware.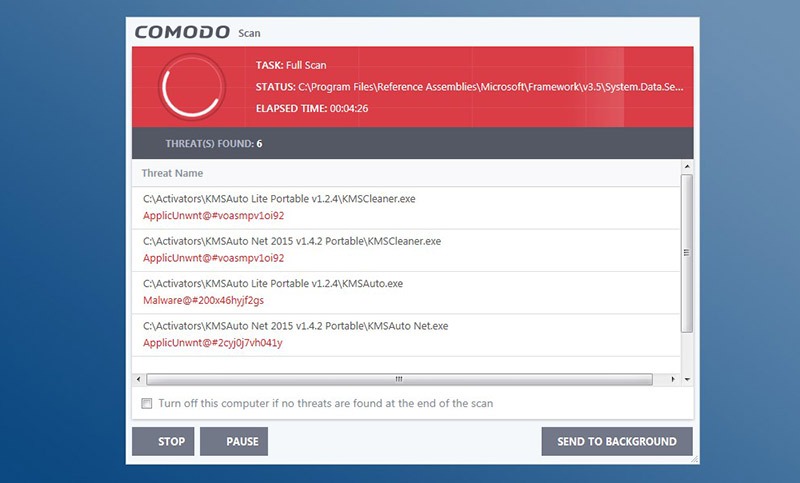 Pros:
Scores highly in AV tests for virus and malware detection
Has proof of capabilities in the form of battle-tested and proven technology
Comodo has one of the best technology against complicated threats
Pause/Stop button during scans
Cons:
Automatic operation sometimes interferes with legitimate programs
Use of implied protection can block outbound files wrongly identified as malware by the tool
Long installation which also prompts a user to install browsers extensions and Comodo default browser
Installs additional files even if a user chose not to
Tips. The Comodo Antivirus package can be used in its entirety to successfully identify and get rid of the constantly changing cybersecurity threats. The anti-malware software comes with the malware removal services, this can help in getting used to and trusting one brand for a thorough job. In addition, here's the useful overview on how to use Comodo:
Verdict. Comodo provides users with a mature, full package. Quick basic scan took us about 10 minutes and found 1 threat, while full scan lasted over an hour and resulted in 55 threats. Overall, testing Comodo was fine because of its straighforwardness, advanced operation features. When looking for a serious and effective tool for malware detection and protection, Comodo free antivirus is sure set to deliver.
OS: Windows (XP to 10), Mac, Android | Installer: 7.1 MB | Trial: 60 days, Premium: $70/year | Money back guarantee: 30 days | Custom scan: yes | Country: Czech Republic
Avast is an antivirus designed to offer real-time protection against malware threats by scanning and detecting potential threats on your system. At the same time this tool is relatively lightweight and usually displays its ransom findings before files can be encrypted. Furthermore, Avast free antivirus comes with the rare and highly-sought after intelligent threat-detection feature.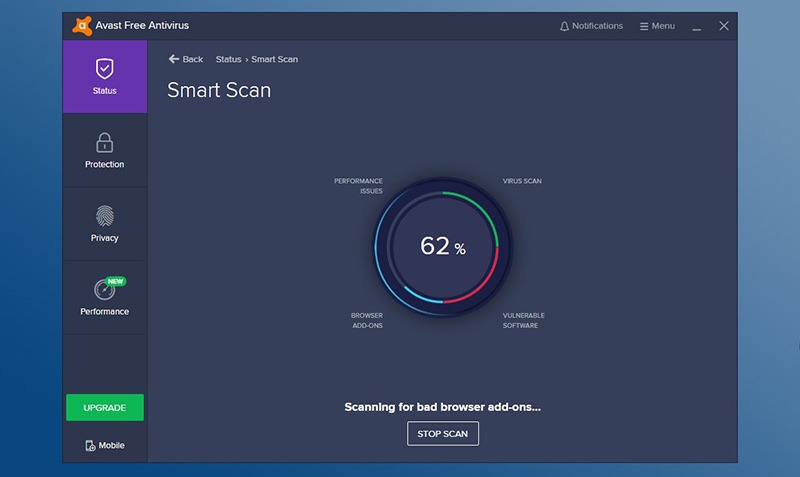 Pros:
Scores highly in malware detection
Easy-to-install and use, and most importantly is lightweight and easily optimized
Compatible with most operating systems including Android for smartphones
Cons:
Comes with many ads and pop-ups which can be distracting and time-consuming.
Tips. Can be used in combination with another tool for example Malwarebytes. If you find it difficult to find a quarantine in Avast, not they just call it Virus Chest. Or, another way to find scanning logs is to go this route (C:\ProgramData\AVAST Software\Avast\log) on your PC.
Also, there is a brand new feature that has been added mid-2018 – Ransomware shield. Though, it is available now in Avast Premier and Avast Internet Security, it's great in a way that it secures personal documents, photos, files from ransomware attacks. With it, users may specify which folders to protect specifically.
Verdict. Actually, Avast came with a host of security-related tools as well as handy utilities (which we found surprising since this was a free version on trial). At the end of the day, it was easy to understand that the ease of installation and usage, as well as the added real-time protection features, make Avast popular among basic users including gamers.
Test summary & comparison
For analysis and review of those best free anti malware software we used a typical user laptop: Acer Aspire with Windows 7 Professional 64-bit system, 3 GB RAM, under 3.5 MB/s Internet speed. We tested and measured the following aspects:
installation time
disk space on PC/device
full scan time
total files scanned
threats and/or issues detected
With each tool we ran a full scan to see what and how many issues it finds. Afterwards, we didn't delete and malware, so we would be scanning the same system with same vulnerabilities and check how other anti-malware tools perform. Below is the final comparison of top ten free antimalware software performance.  
Product

Installation t

ime

Disk 

space

Full scan 

time

Files


scanned

Threats


detected

Malwarebytes

1 min

193 MB

6 min 45 sec

216,762

51

HitmanPro

N/A

11 MB

6 min 30 sec

301,544

5

Emsisoft

3 min

707 MB

4 min 35 sec

11,201

4

AVG

2 min

760 MB

9 min 10 sec

N/A

1

Spybot

1 min

221 MB

72 min

N/A

63

Windows MSRT

1 min

46 MB

5 min 10 sec

9,334

3

RansomFree

3 min

5 MB

N/A

N/A

1

Zemana

0.5 min

17 MB

16 min 10 sec

57,701

4

Comodo

1 min

116 MB

75 min 30 sec

N/A

55

Avast

4 min

903 MB

7 min 20 sec

N/A

2
What is malware, types of malware
Malware is short for malicious software. It is software designed by cyber criminals aimed at discreetly gaining unauthorized access to data stored in a network, server or computer. Cyber-criminals then use the data for their own gains or to destroy the recipient's system or eliminate access to it.
To operate, malware is introduced into the target host in the form of codes, scripts, phishing emails, etc. Moreover, it can sit in USB sticks, as well as CDs, and starts on whenever the storage device is immersed into the target. Types of malware include:
Trojan horse code: It is among the easiest to execute and most commonly known malware. It gains entry into the target while disguised as a necessary download or update. It then captures, modifies or destroys the intended data – like system passwords.
Spyware: These codes get into the host system for spying on the user's computer or web activity. It can be used as a parental control tool to spy on children's web browsing history, by political opponents or employers to monitor their employees' computer activity.
Ransomware: Intended to gain access to sensitive data which cyber-criminals demand payment not to publish or to destroy if not paid a ransom for the data.
Adware: Disguised in the form of annoying advertisement pop-ups that the computer user needs to click to get rid of them. Often redirects the user into more clicking to get rid of the repetitive pop-ups.
Botnets: Intended to corrupt a network of machines globally or in an intended target organisation to perform a number of functions such as steal data or block certain keywords/articles/content from being visible on search engines.
Wiper malware: It is intended to delete or completely wipe out the intended target's sensitive data so that the user cannot gain access.
Other malware/codes include computer worms, scareware, cryptocurrency mining malware and computer viruses.
Malware prevention measures
Any device that can access the internet is susceptible to malware infection. One should exercise caution while using the internet by the following:
Not opening suspicious email or links as this could lead to phishing and data harvesting, by cyber attackers;
Regularly updating the Windows operating system and other software;
Investing in strong antivirus programs;
Taking appropriate action on suspected threats as advised by an antivirus;
Using firewalls, a secure web browser;
Not installing unknown or illegally downloaded software.
Protecting your system from malware is vital in safeguarding your data. However, investing in a stable antivirus or antimalware tools is also important because often times malware will still find ways to infiltrate your system despite caution.