Video editing software is essentially a program in which one creates and/or manipulates videos. There are several types digital video editors of variable complexity and technical capabilities, and user's choice would depend on budget and goals. Whether you want to create and upload short clips to YouTube, corporate/marketing promos, produce professional TV shows or films, etc. – there's a suitable editor.   
If you want to dip your toes into video production as beginner, you may look for and find free video editors. Providing options to edit, trim, add effects, audio or graphics, such programs should also offer certain tools to qualify as video editing software. Those include uploading, manipulating, saving and exporting files. In addition to previous best video converters, we'd like to review a bunch of video editors, and here's a sneak peek into our top-12.
Nowadays, when every smartphone is basically a video camera, with the right software anyone can create an interesting short movie or a dynamic colorful clip for a song. We've chosen 25 tools out of Google top results, and by running each we then narrowed the list down to 12. Then we've tested them one by one to present our reviews – we'll get into ways and methods of testing a bit later.
If you're unhappy with our selection, luckily there are dozens of other tools, and in case it is up to you, as the end user, to decide with is the best, not us. We suggest these ten video editing apps because: a) they will pretty much cover the most common user goals, b) they are free or offer a free trial, and c) have performed well during testing.   
The emphasis will be made on comparative tables most of all, grouped by various parameters, as well as on performance tests. There will also be descriptions of each program, with features that stand out, pros and cons, links, etc. Let's begin with the summary of general starting point information on 10 video editing software programs.
Basic parameters
Software
Version
Website
Vendor
License
Basic plan
License offers
Editor rating

1

Adobe Premiere Pro CC

14.0.4

Website

Adobe

7-day trial

$240

100GB of cloud storage, Adobe Fonts, premium features

10

2

AVS Video Editor

9.3

Website

Online Media Technologies

Trial

$39

No watermark, tech support, upgrades

9

3

Corel VideoStudio Pro

2020

Website

Corel

30-day trial

$85

Full functionality, effects library, mask instrument

7

4

CyberLink PowerDirector

18.0

Website

CyberLink

30-day trial

$130

Full functionality, premium features

8

5

EaseUS Video Editor

1.5.7.28

Website

EaseUS

Trial

$30

All materials, 1080p video, No watermark

8

6

MAGIX Movie Edit Pro

19.0.1.23

Website

MAGIX

30-day trial

$70

900 effects & audio files, films on DVD & Blu-ray

5

7

Movavi Video Suite

20.3.0

Website

Movavi Software

7-day trial

$80

Media pack, Unlimited instruments, Export in high quality

9

8

OpenShot Video Editor

2.5.1

Website

OpenShot

Free

Free

Full functionality

7

9

Pinnacle Studio Ultimate

1.0.0.155

Website

Corel

30-day trial

$85

4K videos, unlimited audio tracks, no watermark

8

10

VideoPad

8.35

Website

NCH Software

Trial

$35

No limits for amount of tasks

6

11

VSDC Free Video Editor

6.4.2

Website

Flash-Integro

Free

Free

Full functionality

7

12

Wondershare Filmora

9.3.5

Website

Wondershare

Free

$40

No watermark, tech support, full features

7
A: Languages
As you've probably noticed, we are not ranking editors from best to worst, or nothing like that yet. Nor are we geared towards recommending the one over another (that's for later), we simply put them all in alphabetical order. So in this review of video editing software there are Adobe Premiere, AVS, Corel, CyberLink EaseUS VIdeo Editor, PowerDirector, MAGIX, Movavi, OpenShot, Pinnacle, VideoPad, VSDC and, finally, Wondershare Filmora.

To navigate a quite complex interface with all the sections, configurations and tasks one would certainly prefer a menu in native or local language. Surely enough, all 12 video editors support English, and as we see, French, German and Italian as well. Some of them support more languages than in this table, but we wanted to highlight the most popular. So you can see that Japanese and Spanish also hit close with 9 out of 10, while if you need Greek – there's only Filmora, or only Adobe Premiere for Arabic.
Interface languages
Software
Arabic
Chinese
English
French
German
Greek
Italian
Japanese
Russian
Spanish

1

Adobe Premiere Pro CC

✔️

✔️

✔️

✔️

✔️

–

✔️

✔️

✔️

–

2

AVS Video Editor

–

–

✔️

✔️

✔️

–

✔️

✔️

✔️

✔️

3

Corel VideoStudio Pro

–

✔️

✔️

✔️

✔️

–

✔️

✔️

–

✔️

4

C

yberLink PowerDirector

–

✔️

✔️

✔️

✔️

–

✔️

✔️

–

✔️

5

EaseUS Video Editor

–

✔️

✔️

✔️

✔️

–

✔️

✔️

–

✔️

6

MAGIX Movie Edit Pro

–

–

✔️

✔️

✔️

–

✔️

–

–

✔️

7

Movavi Video Suite

–

✔️

✔️

✔️

✔️

–

✔️

✔️

✔️

✔️

8

OpenShot Video Editor

–

✔️

✔️

✔️

✔️

–

✔️

✔️

✔️

✔️

9

Pinnacle Studio Ultimate

–

–

✔️

✔️

✔️

–

✔️

✔️

✔️

✔️

10

VideoPad

–

–

✔️

✔️

✔️

–

✔️

✔️

✔️

✔️

11

VSDC Free Video Editor

–

✔️

✔️

✔️

✔️

–

✔️

✔️

✔️

✔️

12

Wondershare Filmora

–

✔️

✔️

✔️

✔️

✔️

✔️

✔️

–

✔️

B: Minimal system requirements
Firstly, all of these tools are video editing software for Windows (7, 8, 10 versions), while four of them also support MacOS, and OpenShot editor also works on Linux. In terms of processing power, most programs require typical CPUs like Intel and AMD, with minimum clock speed of 2 to 3 Gigahertz, but note that Adobe and OpenShot demand more advanced multi-core processor. You can check yours by right-clicking on PC icon and going to Properties.
As to amount of operating memory, the standard recommended RAM for lag-free smooth work is 8GB, although the very minimum for most video editors for beginners is 2 or 4GB. What's more crucial is VRAM – video memory that is a mediator between CPU and display.

256MB would do, for most tools, and by the way, to check it on Windows 7 go to Control Panel > Appearance and Personalization > Display > Screen resolution > Advanced settings. There, in Adapter tab you will see total available memory on your device, and Dedicated video memory – that's the number. For Windows 10, go to Display settings > Advanced display settings > Display adapter properties.  
Bottom line: with the exception of VideoPad, PC or laptop should be up-to-date and quite powerful for professional video production. Check system requirements summary below.
System requirements for video software
Software
Windows
Linux
MacOS
CPU
Video card
RAM
Installer size
Min.disk space

1

Adobe Premiere Pro CC

Win 7/8/10

N/A

v.10.11 or up

Multicore processor

1280×800, VRAM: 256 MB, DirectX support

8 GB

1.4 GB

2.7 GB

2

AVS

Win 7/8/10

N/A

N/A

AMD or Intel Core 2/3 GHz

Windows

compatible, DirectX 9.0c

2 GB

160 MB

215 MB

3

VideoStudio

Win 7/8/10

N/A

N/A

Intel Core i3 or AMD A4, 3 GHz

1024×768, VRAM: 256 MB, DirectX support

4 GB

1.16 GB

3.54 GB

4

PowerDirector

Win 7/8/10

N/A

N/A

Intel Core i-series or AMD Phenom

1024×768, VRAM: 128 MB, DirectX 11 support

2 GB

519.2 MB

1.06 MB

5

EaseUS Video Editor

Win 7/8/10

N/A

v.10.10 or up

500 Mhz

Windows compatible, VRAM: 128 MB

2 GB

56.3 MB

128 MB

6

MAGIX Movie Edit

Win 7/8/10

N/A

N/A

2.4 GHz

1268×768, VRAM: 512 MB, OpenGL 3.3

2 GB

517 MB

518 GB

7

Movavi Video Suite

Win 7/8/10

N/A

N/A

Intel or AMD dual-core processor with 1.5 Ghz

Nvidia GeForce 8 or Intel HD Graphics 2000 or AMD Radeon R600 or newest

2 GB

120 MB

2.8 GB

8

OpenShot

Win 7/8/10

Yes

v.10.9 or up

Multicore processor

N/A

4 GB

131 MB

431 MB

9

Pinnacle Studio Plus

Win 7/8/10

N/A

N/A

Intel Core i3 or AMD A4, 3 GHz

1024×768, VRAM: 256 MB, DirectX support

4 GB

1.8 GB

3.5 GB

10

VideoPad

Win 7/8/10

N/A

v.10.5 or up

No special requirements

No special requirements

n/a

2.8 MB

17.8 MB

11

VSDC Video Editor

Win 7/8/10

N/A

N/A

Intel/AMD, 1.5 GHz

1024×768, VRAM: 256 MB, DirectX support

256 MB

76.5 MB

219 MB

12

Wondershare Filmora

Win 7/8/10

N/A

v.10.6 or up

Intel i3 or up, 2GHz

1366×768, VRAM: n/a

3 GB

229 MB

541 MB
C: Video tools
Adding titles, subtitles, converting or saving in specific formats, stitching clips into one file is the ground zero for any video editor. Montage options, e.g. cropping, trimming, rotating, resizing, etc., is there as well. So how can we compare capabilities of our top-ten video editing software in regards to messing around with video/imagery?  
Every video editor for PC offers a certain set and amount of presets, effects, transitions, filters or plugins. For instance, color presets/filters are usually things like black-and-white, blue, sepia, gradient etc. For change from one video/image in a sequence of scenes, there's a wide selection of transitions – the most popular being fade in/out, light flash, scene jump, frame fall.

As for effects, there are literally thousands in store and you know it all already even if you haven't applied it yourself – from old movie, slow motion, luma fade to split screens and dissolve. Each editor here claims to offer thousands of effects and presets, but we've decided to compare how many do they provide in a free/trial version. So, which free video editor is best is up to you to tell then.
Essential video editing tools
Software
Effects
Transitions
Color presets
Montage
360-video
Add title
Add subtitles
Convert
Plugins
Image formats
Video formats
Audio formats

1

Adobe Premiere Pro CC

120

46

12

✔️

✔️

✔️

✔️

✔️

✔️

19

39

5

2

AVS Video Editor

72

148

1

✔️

–

✔️

✔️

✔️

–

–

58

–

3

Corel VideoStudio Pro

63

122

1

✔️

✔️

✔️

✔️

✔️

✔️

41

24

14

4

C

yberLink PowerDirector

110

124

1

✔️

✔️

✔️

✔️

✔️

✔️

4

22

3

5

EaseUS Video Editor

49

59

1

✔️

–

✔️

✔️

✔️

✔️

6

5

10

6

MAGIX Movie Edit Pro

21

4

1

✔️

–

✔️

✔️

✔️

✔️

7
10
5

7

Movavi Video Suite

123

113

36

✔️

✔️

✔️

✔️

✔️

✔️

15
33
14

8

OpenShot Video Editor

14

408

1

✔️

–

✔️

✔️

✔️

–

18

26

22

9

Pinnacle Studio Ultimate

261

296

12

✔️

✔️

✔️

✔️

✔️

✔️

9
28
7

10

VideoPad

60

46

3

✔️

✔️

✔️

✔️

✔️

✔️

5
11
13

11

VSDC Free Video Editor

64

7

1

✔️

–

✔️

✔️

✔️

–

6
7
9

12

Wondershare Filmora

149

178

45

✔️

✔️

✔️

✔️

✔️

✔️

6
18
6
Oh, and one more thing to mention therein is 360-video capability, i.e. the so called VR videos. 360 video editing software is capable of producing immersive content, adding music and effects, previewing in VR-mode, rearranging, etc. It has become trendy since 2017, and for many users might be a deal-breaking factor.   
D: Audio tools
From video tools to audio, now we look at what kind of audio editing one can do with these video software. This is an integral part of production, of course, with exception of vintage silent movies. Every modern video editor software enables users to add audio and to edit audio tracks inside a program. With 10 of 12 tools from our list one can also merge multiple tracks. In other words, get certain audio mixing options – for instance, if there's music in the background while people are talking. That's useful.

Some editors also have advanced features, such as Record – allowing a user to narrate a video or record live sounds with additional equipment, or Text-to-speech generator. Video editing apps support typical audio formats like MP3, AAC, WAV, M4A, WMA, MOV, MPG, etc.  
Audio editing tools
Software
Add audio
Edit audio
Record audio
Text to speech
Merge audio tracks

1

Adobe Premiere Pro CC

✔️

✔️

✔️

✔️

✔️

2

AVS Video Editor

✔️

✔️

✔️

–

✔️

3

Corel VideoStudio Pro

✔️

✔️

–

–

✔️

4

C

yberLink PowerDirector

✔️

✔️

✔️

✔️

✔️

5

EaseUS Video Editor

✔️

✔️

✔️

✔️

✔️

6

MAGIX Movie Edit Pro

✔️

✔️

–

–

–

7

Movavi Video Suite

✔️

✔️

✔️

✔️

✔️

8

OpenShot Video Editor

✔️

✔️

–

–

–

9

Pinnacle Studio Ultimate

✔️

✔️

✔️

–

✔️

10

VideoPad

✔️

✔️

✔️

✔️

✔️

11

VSDC Free Video Editor

✔️

✔️

✔️

–

✔️

12

Wondershare Filmora

✔️

✔️

–

–

✔️

E: Export features
Export is the final step when you are done with work and ready to save or share your videos. Surely, the main thing one needs is the ability to select video format (MPEG, AVI, MOV, WMV, etc.) and save a file to a hard drive. This goes without saying for every tool.

But in addition, our 'contenders' provide certain store and publish tools as well. For example, exporting videos straight to DVDs or USB sticks, or sharing them to social networks. Most people nowadays want to make YouTube videos, thus it's no surprise that video making software had to adapt and include 'Publish to YouTube' feature. Same with Facebook and Vimeo. 
Export features
Software
DVD
Blu-ray
Portable
Cloud
YouTube
Vimeo
Facebook

1

Adobe Premiere Pro CC

✔️

✔️

✔️

✔️

✔️

✔️

✔️

2

AVS Video Editor

✔️

✔️

✔️

✔️

✔️

✔️

✔️

3

Corel VideoStudio Pro

✔️

✔️

✔️

–

✔️

✔️

✔️

4

C

yberLink PowerDirector

✔️

✔️

✔️

–

✔️

✔️

–

5

EaseUS Video Editor

✔️

✔️

✔️

✔️

✔️

✔️

✔️

6

MAGIX Movie Edit Pro

✔️

–

–

–

✔️

✔️

✔️

7

Movavi Video Suite

✔️

✔️

✔️

✔️

✔️

✔️

–

8

OpenShot Video Editor

✔️

✔️

✔️

–

–

✔️

✔️

9

Pinnacle Studio Ultimate

–

–

✔️

✔️

✔️

✔️

✔️

10

VideoPad

✔️

✔️

✔️

✔️

✔️

✔️

✔️

11

VSDC Free Video Editor

✔️

–

✔️

–

✔️

–

✔️

12

Wondershare Filmora

✔️

–

✔️

–

✔️

✔️

–
F: Extra features
And, the bonus – extra features comparison. Here are collected most popular features, used for professional effects creating. It's a chroma key which allow to set virtual background over the main scene, and Picture-in-Picture feature and some other from "Hollywood effects" list.  Also,  we checked which video editor can be used as converter and can adapt video for mobile devices.
Exptra features
Software
Chroma key
PiP
Hardware acceleration
Screen recording
Presets for mobile
Media player
Full HD support

1

Adobe Premiere

✔️

✔️

✔️

✔️

✔️

✔️

✔️

2

AVS

✔️

✔️

✔️

✔️

–

✔️

✔️

3

Corel

✔️

✔️

✔️

✔️

–

✔️

✔️

4

C

yberLink

✔️

✔️

✔️

–
–

✔️

✔️

5

EaseUS

✔️

✔️

✔️

✔️

✔️

✔️

✔️

6

Magix

✔️

✔️

✔️

✔️

✔️

✔️

✔️

7

Movavi

✔️

✔️

✔️

✔️

✔️

✔️

✔️

8

OpenShot

✔️

✔️

✔️

–
–

✔️

✔️

9

Pinnacle

✔️

✔️

✔️

✔️

–

✔️

✔️

10

VideoPad

✔️

✔️

✔️

✔️

–

✔️

✔️

11

VSDC

✔️

✔️

✔️

✔️

–

✔️

✔️

12

Filmora

✔️

✔️

✔️

✔️

✔️

✔️

✔️
Now that we've covered the basics, we may proceed to sharing few thoughts on each of those tools. For those searching video editor free tools specifically, we should remind that only OpenShot and VSDC from our top list are totally free, and Filmora has a free but limited version. Most programs offer a free trial for 30 days only.  
Platforms: Windows, MacOS
Minimum RAM: 8GB
Price: Free (trial), $53/month
If you ask your regular buddies to recommend some video editor software, in most cases you'll hear "that thing by Adobe, Windows video maker", or Final Cut at best. That's quite alright, and 'that thing' is Adobe Premiere, and it has firm ground to be popular. It looks already familiar because users have definitely used some other apps by Adobe – Photoshop, Reader, Illustrator, Fireworks, etc. It is the whole ecosystem that could easily spark creativity – via images, animations, sounds, effects.
Now, about the editor itself. To try it out for free we can only use the 7-day trial, and to access it one has to sign in – either with Adobe account or Facebook/Google. A somewhat irritating procedure and then the installation all takes around 15 minutes. The interface is familiar dark-grey, divided into panels. A sample project helps to see and comprehend editing stages. There are 4 core panels for project, source files, preview and timeline.    
To start off, we import media (clips) and drag them to the timeline to be able to edit. If we drag several files into one track, it will create a sequence. Both video and audio files can be put into sequence, where we can move them around, navigate with + and – to zoom in/out, or same together with Ctrl to enlarge or reduce the view. When timeline is active we can use Space bar on the keyboard to play/stop the sequence.   
In terms of editing, there are all possible options. From trimming, applying effects, audio mixer to color, graphics, markers, metadata, transitions, libraries and so on. Essentially, lots and lots of features to play around with. Adobe Premiere is fit for professional video production as it comes with numerous audio/video effects, transitions, presets, e.g. including cinematic, 3D motion, color correction, lumetri…and too many other things to list.   
To export work results, click Ctrl+M in the active timeline, or just go to File > Export > Export media. This opens export settings window, where you choose the output format, destination, bitrate, etc. and click Export. We can generate media clips that way, or export audio/video/effects separately, plus there's a Publish option, allowing to post your work directly to Behance, Adobe Creative Cloud, Facebook, Twitter, Vimeo, YouTube, or even FTP.    
During the whole trial use by our team this Adobe video editor performed well, although it should be said that for optimal work Premiere Pro requires a PC with 8GB of RAM. It is a program taking much of computer's resources, it would be hard for beginners to learn everything (Learning section with interactive guides is handy), and overall is a pro-level video maker.
Platforms: Windows
Minimum RAM: 2GB
Price: Free (trial), $69/year

If you want things going quickly with setup and editing, AVS Video Editor (8.1 version as of December 2018) is a good choice. It is really easy and if you're already familiar with video production basics, there will be no trouble at all. Installation takes about 2 minutes, and there's a bright  interface easy to comprehend. All the elements, features and controls are conventional, so one can start putting videos together right away.
First off, there are three key visible ways to use this program. Import and work with media files to compile a clip is one, capture video from user's camera and edit it is two, and capture screen recording is three. Together with vast selection of effects and transitions, this makes AVS a pretty versatile video editor that one can use for free or at a reasonable price.
There are 3 core sections on the screen: project files, preview player on the right, and the timeline for files and editing options below. Adding effects, transitions or text is simple – click a corresponding icon, select an effect, drag it into timeline below a video file, and preview how it sits.
Everything in AVS is robust and straightforward: import media, trim, rotate, apply effects, add/edit audio, adjust colors, etc… every feature does what it is supposed to do. To better guide users on specific tasks, e.g. fade in/out, fast or slow motion effect, pan and zoom, there're many help videos by the vendor.    
To prevent any mishaps, there are Undo and Redo options, plus many little things to tweak, adjust and fool around with videos in many ways. For instance, one cool feature is the Speed tab – allowing to slow down (up to 0.05x) or speed up videos up to 12x. This way, one can produce slow motions, timelapse, or just liven up interviews that may seem a bit boring. There's also the Text tab – to add titles, subtitles, animated text, or to add effects to text (credits, Star Wars, balloons, etc.), or to set a font, size, alignment, and so on.
  The timeline, where one will actually do the most tasks, consists of separate lines for video, video effects, video overlays, texts, audio mix and voice recording track. Some users point out that only a single track for video is there and they lack multitrack editing as they get in other video  software. This is true, AVS provides only one video track, but on the other hand, you can put as many videos as you wish in a sequence on that track, or add overlays. Surely, for professional production this won't do, but for home basic-level editing AVS is clearly enough.
When it gets to exporting/compiling videos AVS proves to be flexible too. When ready with editing, hit Produce, select one of four options – create a playback file (standard), create a CD/DVD, etc., create device-specific content (e.g.iPad, Sony PSP, Android), or create a web-ready file for YouTube, Vimeo, etc., then click Next. There, choose the desired output format, file profile (e.g.HD video:MPEG-4, 720p, 4500 kbps, audio 192 kbps), go to Advanced to set video codes, frame size, frame rate, bitrate, audio codec, etc. Then click Create.     
At this final stage, if it is a free 'non-activated' version, comes a bitter pill. It reminds a user that there will be a AVS4YOU logo in the center of a video throughout the whole duration. For no logo and no other limitations, you have to register and purchase a full version. That's a common business mode, so there it is. On their website, one may also check other tools like Video Converter, Audio Maker or Audio Converter, or even contemplate buying a 5-in-1 package at discount rate.

Platforms: Windows
Minimum RAM: 4GB
Price: Free (trial), $80/lifetime

VideoStudio by Corel has all the basics similar to other video editing applications, but is rather not so versatile as some others. To use a trial, get it and open it, enter name and surname, then email address twice – you can't copy-paste. Check or uncheck to receive offers and news, and start the installation.
Then we see that 3.54GB space is required on PC, the download of 1.16GB file starts (time depends on user's connection speed). After that, installation process takes ~6 minutes, plus it also installs an additional desktop app – Live Screen Capture. Here is a short guide on features from Corel.
Basically, one can perform the following tasks in VideoStudio:
trim the length of clips to leave only what he needs;

crop images or videos to remove unnecessary parts;

scale media files up/down proportionally;

rotate horizontally, vertically, clockwise, counter-clockwise;

place text, frames, effects onto certain parts or whole file;

add transitions between clips;

enhance the looks with tone/hue/saturation/brightness etc.;

apply filters and effects, that are also adjustable;

apply pan or zoom for clips – from presets;

edit audio tracks with fade in/outs, volume, etc.
On the start we get a blank white interface and a vendor page with guide materials opens up in browser at the same time. Three tabs in the centre top – Capture, Edit, Share, to record a video, edit a project and export, respectively. Edit tab is, of course, where all the editing work takes place.
By opening it, we see a typical video editing interface, with only difference from others in preview screen located left not right. 2 modes – storyboard (good for a single clip project) and timeline. Simple drag-and-drop into the timeline, similarly as in other editors, though it becomes a hassle with multiple clips due to a single video track.
720×480 is the frame size by default, but when we drop a clip of different rate, the program will ask whether to change frame or adjust. Add effects by selecting one and dragging it onto a video track. Corel has been upgrading the program with new features regularly, therefore we may utilize things such as motion tracker, multi-camera, mask creator, time remapping, subtitles, etc. In addition to hundreds of filters and transitions, there's also a library with lots of audio files in music library free to use. However, in the audio mixer all we can do is just to bring volume of tracks up or down.
Time remapping tool is nice for fast or slow motion effect, frame freeze or even reverse scenes. Another useful feature we liked is the subtitle editor. It opens a separate window, where we can input text line by line, specifying start and end times down to a millisecond (or we can simply import a .txt file). Add the first line of text, type in a text and set start and end times. To continue adding new lines of text, place a marker in preview on the next spot in the timeline, then click +, enter text and repeat. We can also edit text size, font, color, alignment, etc.
When done with editing, go to Share tab. Select file format, properties, name, location, press Start and rendering process starts displaying progress. Summing up this tool overview, we view free Corel VideoStudio as suitable for 'friends-and-family' short movie production, while for large projects you'd better seek a more powerful software. Lastly, we should note, that previews and rendering in Corel caused few slowdowns on our test PC (Intel Celeron G550 CPU, 2.6 Ghz, 8GB RAM).
Platforms: Windows
Minimum RAM: 2GB
Price: Free (trial), $130/lifetime license

For a turn, we've got something more professional and advanced here. Cyberlink PowerDirector 17 Ultimate packs so many functions and details that we will need to prepare a whole separate review article for it. It has everything (well, except for trial) and alongside a powerful rendering engine this is what makes it the best video editor for many users, while media experts name it 'the best of the rest'.
Various suites offer certain packages: Director Suite with far beyond video editing and color grading, Ultimate is the most relevant for a median user with all the core stuff in it, and Ultra is the same but without some extra features. Here is a brief introduction.  
As usual, it all starts at installation. Get a trial file, run it and it will start downloading a 390 MB file, then it will install everything. Click Launch and get a popup window telling you have to sign up for an account… well, ok. Input all info, activate account via email message, run an application again, type email and password, a-a-and you can't enter because it says 'your account is not activated yet'. Let's wait few more minutes, try again and here it is. And even before we managed to open the program, there were ads popping up on screen already. Congratulations, CyberLink, very (quote) user-friendly (unquote).
But let's focus on video creation, shall we. Start by choosing the aspect ratio (16:9, 4:3, 9:16), and project type – timeline mode, storyboard mode, slideshow creator. Below, there are also Auto mode and 360 Editor in smaller lettering. So we wanted to check out what is that Auto  mode. A window called Magic Movie Wizard opens up with 4 tabs – Source, Style, Preview, Production.
So we dropped 2 clips, added audio (strangely in Style tab in settings), then some effect – which is only one there (buy more), and thus the program was analyzing for about 2 minutes, and offered a pre-ready project. So it is kind of of a preset one can use to compile videos quickly with little effort. A good option, for sure. Click Produce and it redirects to the main interface > Export settings, where we set all details and hit Start.
Export options are flexible: standard 2D, 3D, device-specific, online, and this latter one includes channels such as YouTube, DailyMotion, Vimeo, Youku, Niconico Douga – with respective profile types for each. As we came about the main interface of PowerDirector, we see 3 main big sections – project files, preview, timeline. At the top, we select either Capture or Edit menu.
In Edit tab one can import media, select plugins, files to view (media content, color boards, background images or music, etc.), and on the left vertical section there are icons to enter different menus – effects, transitions, text, overlays, audio mixing, voice-over recording.
The timeline provides 2 video tracks, as well as tracks for Fx, texts, music and voice-over for narration. Adding effects is easy: go to Fx, select one, drop it under a video clip, and set its duration. There are over one hundred effects in trial and more in paid version, plus libraries with transitions and overlays.
One unconventional feature as for video editing software is Chapters. It has 3 kinds of settings to add chapters to a video: at the start of each video track, at fixed intervals, or insert evenly depending on number of chapters.
Note, that if you only look for free video software and are using this trial, on every output video of yours there will be a watermark 'Edited by PowerDirector' in the bottom right corner.  
In regards to other helpful functions, there's a Capture tab to record from a webcam, a microphone, an external device, or a desktop screen. Another great thing that many of video editors lack, is audio editing possibilities which were expanded by the vendor with newest updates. So now, users may manipulate audio files via compression, distortion, vocal transformer, equalizer, reverb, etc. Last but not least, 'Best matched profile' feature automatically suggests the best video output format and resolution based on source materials.

Platforms: Windows
Minimum RAM: 2GB
Price: Free (trial), $80/lifetime license

EaseUS is primarily known for its data management and recovery software. The company also authors a video editor software with a straightforward name – EaseUS Video Editor. Trial version doesn't have a time limitation, which is a definite plus. At the same time, only a limited effects library is available in it, and what is most inconvenient – the length of video clips to export is limited to 3 minutes. Time restrictions do not affect projects though. This means when a user upgrades to the full version, projects can be rendered without restrictions.
On the vendor webpage, only a subscription to the Pro version is available for $17.97 per month. A full list of offers will be available after clicking on Buy Now and it includes 2 additional tariffs. 1-year subscription for $29.97 and a lifetime subscription for $79.95, both identical in terms of functionality, full library of samples and effects, export capabilities.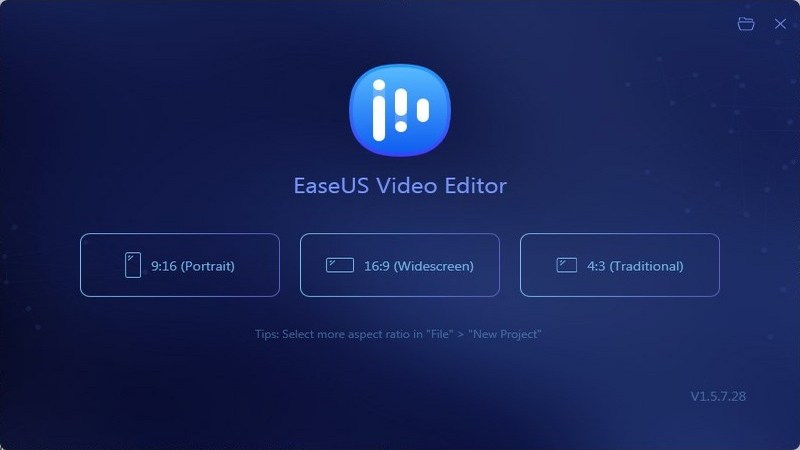 The program installation doesn't provide any additional settings except changing the language (21 are available) and the installation folder (we recommend not to change it). A nuance of the EaseUS Video Editor is its start window in which you must select one of the three proposed aspect ratios for further work. However, if necessary, they can be changed later in the main window.
To start working with EaseUS Video Editor you need to add original video or audio, which will be edited. This is a simple operation, because the menu supports drag-and-drop, and if necessary, you can use the import of one or more files from a folder using the Import button at the top of the screen.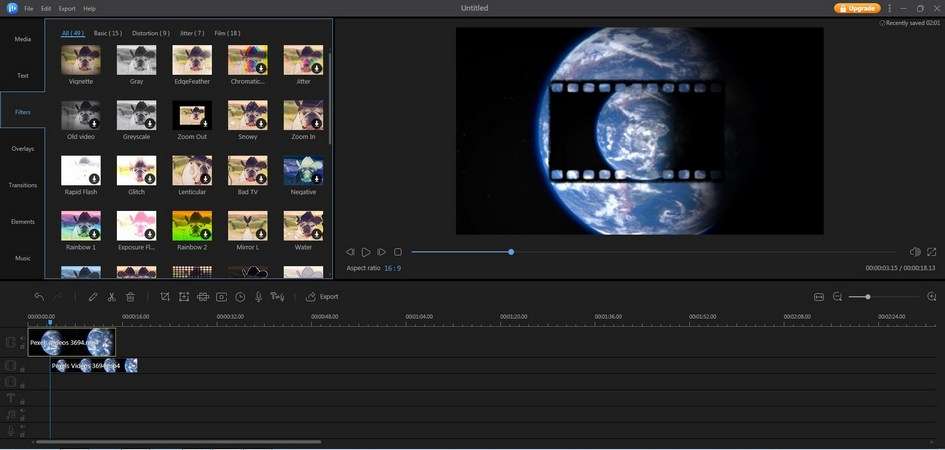 Added files must be dragged from the project tree to the timeline. This is the timeline at the bottom of the screen. Keep in mind that it uses separate channels for video, audio, subtitles and voice recording. The number of channels can be changed by adding or removing, yet this feature is not available in the trial version, as well as PiP and Chroma Key.
Despite the fact that the trial version trims the main features down, a bunch of file export options are still available. In addition to standard audio and video formats, export to online sources and social networks such as: RecCloud, Bilibili, Youku, WeiBo, TikTok, YouTube, Vimeo, Facebook, and clouds such as Google Drive and Dropbox is also available. Extra features, e.g. burning DVD/Blu-ray discs, export to Full HD, video converter with presets, are available only in the Pro version.
Although the EaseUS Video Editor is very easy to use, it has extensive online help and video tutorials for novice users. The trial version is essentially free, but without professional video editing features. The full version, thanks to its large sample library, trim, split, merge, text-to-speech, and other professional features, puts it on par with leading video editing software
Platforms: Windows
Minimum RAM: 2GB
Price: Free (trial), $70/lifetime license

Formerly Sony Vegas which was very popular video making application few years back, and has its roots in 1999. From broadcasters, Youtubers to TV shows like Daytime, Sharks 3D and films like Paranormal Activity, Deuce of Spades, etc. have used this video editing software. Why? According to Wikipedia page, reasons are ease of use, low price, professional tools. We agree with all thee.
Magix Movie Edit works on Windows and offers a 30-day trial – with 3-minute video length limit. Starting with installation issues seems to become a theme already in our current reviews. So, it will load a 712 Mb movie editor and 862 Mb music maker (optional), and install everything.
Trial registration is confusing – it requires a key, which is supposed to be sent to user's email, but it isn't. After searching for the solution online and finding out we were not alone, we found out that you just have to start the app over again, and this actually worked and we got the key. Overall, pretty tiresome procedure as of 2019. However, abundance of features and further actual usability of Magix counterweight all the negatives.
Upon first launch, a popup window emerges to set up a project: name, movie settings – aspect ratio, resolution, frames per second ratio (fps), audio sample rate, project folder. Typical interface, five main tabs – Import, Effects, Templates, Audio, Store. In the bottom part there's the timeline which consists of 32 tracks – no other video editor even comes close in this regard. And this is one of examples that sets Magix editor apart.
A selected track will be highlighted in yellow color, which is helpful when working with multiple media files. Besides basic effects such as rotations, resizing, positioning, cropping, zooming, mirroring, 3D distortion, Movie Edit Pro has lots of extras. In Store, there's a variety of transitions, title templates, free audio sounds (jet passing, applause, alarm, glass break, bicycle bell, etc.). Some of them are marked as free, but when we wanted to use it, a notification appeared asking to purchase full version.
There are also animated title templates, color correction (brightness/contrast, chroma key, blur, glow…), speed adjustment (-0.25x to 4x), 360-degree video editing (scene rotation, stitching, stabilizing), audio effects (volume, panorama (left/right/center), echo/reverb, time stretch, distortion). Generally, too many things to mention, so all the tutorials on Magix YouTube channel would be the best way to learn.
To export content, go to File > Export movie > select format, set all the typical settings and mixing begins. All in all, this is definitely of the best media software tools, with variously priced packages to choose from: standard Movie Edit Pro – $70, Plus – $100, and Premium – $426, that also happen to have seasonal discounts. Verdict: we highly recommend it. There's only one thing left for a fair play, pros and cons.

Platforms: Windows, , MacOS (from June, 2020)
Minimum RAM: 2GB
Price: Free (trial), $70/lifetime license

Movavi is a well-known company to those who work with video content. Their products include software for editing video, recording video, creating slideshows. Movavi Video Suite is a professional video editing product. It allows you to independently perform the entire editing cycle, from re-sounding to adding special effects, and create both ordinary videos and professional clips.
There is no free version, but a fully functional trial lasts 7 days. Movavi pricing is affordable: basic subscription for 1 year costs $30 per device. The version for commercial use will cost $70 as a lifetime license. For MacOS, the expected cost will be about $100, since it is scheduled for release in June 2020. Those who pre-order will receive a guaranteed discount of 30%.
Installing on a disk will require about 3 GB of free space, since just an offline installer takes about 1.2 GB. Options for language, folder, autorun for Screen Recorder module are there from the start. Note, that the trial version does not include media libraries with audio and video samples. Also, for proper work, the system must have the OpenGL driver. If it is not there, at startup Video Suite will offer help in downloading them.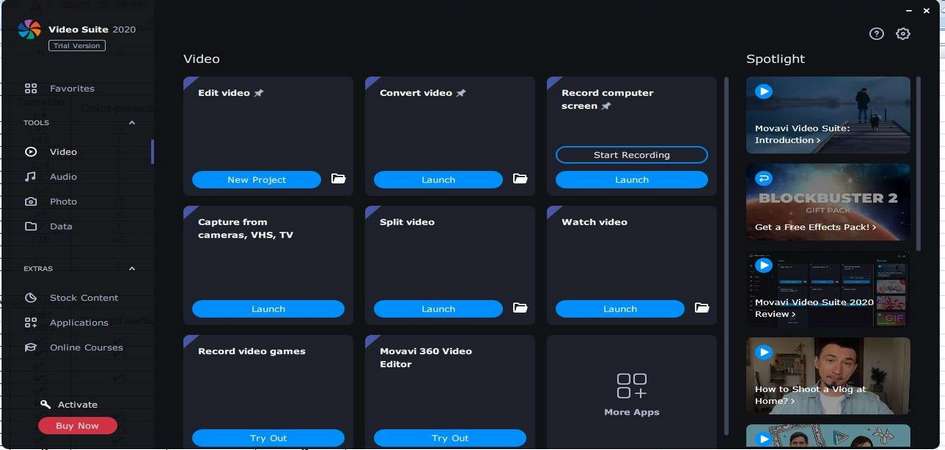 The start window can confuse an unprepared user, but in fact everything is simple. On the right side we see Movavi tutorials, which we recommend going through. On the left we have sections with operations for files of various types (audio / video / photo, etc.). When you select any, quick access buttons for frequent tasks are displayed. If  large-scale work is ahead, it is better to create a new project and save all settings and files in it.
After selecting the operation, the editor will open, yet the window with possible  operations remains open, which, in our opinion, is redundant. The interface complies with industry standards: timeline, player, instruments and effects. A portion of features is dispersed in tabs above the timeline. To get started, you need to import a file into the project folder or simply drag it to the work area.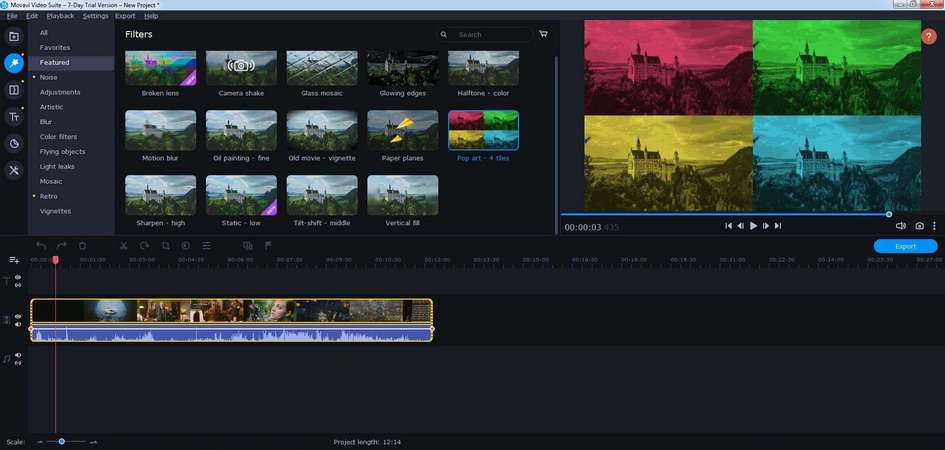 The interface is user friendly, if necessary, you can change the number of channels in the timeline, use drag-and-drop to add stickers and effects, or cancel actions via Ctrl+Z undo function. The list of tools is impressive: in addition to conventional crop/trim/rotate, there are professional tools, i.e. an equalizer and noise suppressor for audio, slow motion, Chroma Key, color adjustment, video stabilization, speed c​orrection, etc.
Movavi Video Suite is a tool for those who want to perform professional video editing. At the same time, it is friendly to beginners who can quickly master basic tasks thanks to free video lessons.
Platforms: Windows, MacOS, Linux
Minimum RAM: 4GB
Price: Free (donate if you wish)

'O Sancta Simplicitas' – meaning that simplicity and being straight-to-the-point is what makes OpenShot one of the best video editors, no doubt. Besides, it is totally free with no hidden payments or whatever, and it works on Windows, Linux and MacOS, taking 406 MB on hard drive. Outstanding. Moreover, in this very nice step-by-step tutorial in 2 parts everything is covered.
It really couldn't get any easier than OpenShot for basic video editing and creation. The program is stripped down to the very core features: import files, preview screen, timeline, effects and export. Nothing more, so anyone, even your grandmother, will be able to produce some videos. Here's the basic sequence, in case she will ask you to explain: import your images/clips/music, arrange it in the timeline, choose effect or transition in between, preview and export.
Another tip would be to start with setting the project profile – for aspect ratio, resolution, etc. because the default profile is HD 720p 24fps, and you might need another one. Then drop files into the timeline one by one, or select all files in the project window, then right-click on it and choose 'Add to timeline'. In a popup window you may re-position, or just click OK and all the clips will be added into one track, side by side in that order.
For the simplest transition between clips there's even no need to go to effects, just drag one clip onto another and this generates a fading transition between files. And of course, there's a huge variety of transitions and effects in the library. To convert all media files from the project when the job is done, click a round red button that looks like a record button, or go to File > Export video.

Platforms: Windows
Minimum RAM: 4GB
Price: Free (trial), $110/lifetime

How about another app from Corel in the list? We've only noticed this fact a bit later after having started testing Pinnacle Studio and found out that Corel has lines of very similar products in the same area: VideoStudio, Pinnacle and Roxio for video editing, CorelDRAW, AfterShot, PaintShop for image editing, and even WinZip. Well, a peculiar business model, but Corel guys must have their reasons. Let's see what this Pinnacle Studio can do.
From 3 packages – Pinnacle Studio 22, $50, Pinnacle Studio 22 Plus, $84, and Pinnacle Studio 22 Ultimate, $110 – the last one offers the fullest pack of newest features. Starting with trial is logical, and this one is active for 30 days. On promo videos and feature descriptions on vendor website it all sounds and looks dynamic, innovative and easy-peasy, but sadly, that's not how we've experienced it with Pinnacle trial.
To install the program, you'd require 2.24GB free space on hard drive, and if internet connection is slow, this will take quite long. Inside, there are 3 main buttons to navigate the editor: Import, Edit, Export – pretty self-explanatory. Although, it gets tricky from the start, as one has to conduct a little investigation on how to get media files into the project.
Also, when dragging clips into the timeline, one has to wait till its fully processed – a small green progress line above the clip is running. We didn't find these kind of basics in tutorials, though it should be made known as many such details are different from other video editors. For another example, if user needs to add more tracks in the timeline, how do he do that? A tiny icon with + sign sits camouflaged above tracks in a tiny area. There are no undo/redo buttons, so we have to use Ctrl-Z shortcode, which has a fun surprise – it doesn't work.
On the positive side, audio options are good. Upon pressing the Audio mixer icon, each track's left menu gets expanded, where one can adjust the master volume of tracks or the volume at current position of a clip. Plus, there's also the surround/stereo panner allowing to 'move' sounds, adjust to 5.1 systems, etc. Special in/out markers are useful to select a specific portion of project to export, with 'Clear mark' option to deselect the area in one click.
But then we again stumble into confusion. The 'SmartMovie' button in the centre (promoted as fast automated movie tool)  opens a new section in the bottom screen. As we dropped media files there, it started analyzing and took forever for a 2 minutes clip and a song. So maybe it works in a full version, but who knows. Same story with split screen effect – first, we couldn't get it to load clips from PC, and secondly, as we drew some lines on a single clip, preview lagged and didn't get going, though 8GB of RAM on our test PC.
Bottom line is that if a user needs a simple application for home videos or slideshows with music, Pinnacle Studio would be good.
Platforms: Windows, MacOS, Kindle
Minimum RAM: N/A
Price: Free (trial), $60/year

Similar to OpenShot, VideoPad editor is a good choice when looking for a neat interface that won't make your brain hurt. Along with paid versions for various platforms, e.g. MacOS, there are free trials for each. While, a full version supports multiple output formats, CD/DVD burning, social uploading, trial is limited to WMV and AVI, plus certain features are available only for 2 weeks period.
As we see, the interface is laid out in dark grey color, with the first top line hosting Home, Sequence, Clips, Audio, Export tabs. In the toolbar below it there are buttons for almost all actions: adding files, video effects, audio effects, adding titles, recording from a webcam or screen, undo/redo, preview, subtitles, export video. Project files section is divided into sequences, video files, audio files and images.
Working in  VideoPad is somewhat different from other programs due to the fact that one can edit (trim, split, link files,etc.) on the Preview screen on the right, which can be switched between Clip and Sequence preview. In terms of performance, VideoPad is slower than other high-end programs. It took almost 1 hour in our test setting to render file that included a 15-minute clip, 1 effect on it and 1 audio track.
There are good aspects of this video editing tool, i.e. familiar workflow nice storyboard mode, unlimited amount of tracks, frame stabilization, 360-degree effects, options to customize the interface. On the other hand, it lacks in presets, performance, audio editing tools. if we'd have to rate VideoPad on a 5-star scale, we'd give it 3.5.          

Platforms: Windows
Minimum RAM: 256MB
Price: Free, $20/Pro version

VSDC is a free video editing software, which is lightweight and designed to run on less powerful computers. A simpler program compared to others but it costs nothing and has it all: post-production effects, screen + webcam capture, editing tools, file converter, publishing to social networks. Here's how the vendor is introducing it:  
Many other video tutorials and guides can be found on their website as well. For example, how to create a 'text in video' mask, how to reduce audio noise, remove background, etc., which is pretty impressive as for a free editor, we should say. But let's not jump things and go about it as usual.
And to that matter, there's one key differentiator for VSDC – it is non-linear, i.e. clips/scenes/objects are not placed one after another in linear sequence on the timeline. Here, you can place scenes and objects in any position in time, in any order, even different resolution. On one hand, this allows unconventional editing and may inspire, though, on the other hand, may slow things down as one would have to adjust to a different workflow.
The interface is not in usual "import-edit-preview" layout, but in a slightly different arrangement. On top is a status bar and a quick access toolbar with Projects, Scenes, Edit, View, Editor, Export project. Projects tab is for starting, opening and saving projects, with the explorer-type left tree-menu. Edit and Editor tabs may be confusing too, so one has to explore and see that Edit is for basic actions like cut, copy, paste, select all, while Editor is the tab where all the actual video editing/production happens.
Such layout, being different from other video editing softwares, will cause some more time to spend to learn the flow. For instance, import function is not in plain sight – it is not 'Load new scene' in Scenes tab, as we initially thought. Its in Editor > Add object > and then scroll down and select image, video or audio. In the same tab, there also sit effects and editing tools.
Other than that, VSDC provides all typical features, such as visual/audio FX, color adjustments, transitions, filters, 4K and HD support, video stabilization, device-specific formats, etc. You can cut, crop, merge, record, edit videos, create slideshows, capture screen. In free edition there's no watermark or time limits – but some features (e.g. hardware acceleration) are available only in Pro, which you may choose to skip in a project without upgrading, if you wish so. Or buy a full version with a set of advanced settings.
There aren't many filters and transitions, although all the basic and most popular ones are there, as well as typical video production arsenal and robust performance. Some would say, there's even more than usual for free, with things like audio effects (amplify, fade, flanger, chorus, delay, reverb, time stretch, etc.), subtitles, lines and shapes. What's also nice is export settings, with presets for PC, web, DVD players,  iPad/iPhone, smartphones, Sony PSP, PlayStation, Xbox, BlackBerry, iRiver, etc.
VSDC video editor supports numerous output formats for video (AVI, VCD/SVCD, MPEG, MP4, M4V, MOV, 3GP, WMV, MKV, FLV, SWF, etc.), audio (MP3, M4A, AAC, OGG, AMR, WAV) and images (BMP, JPEG, PNG, GIF). Bottom line: a decent, flexible and creative video maker for free, if you don't mind spending some time adjusting to.
Platforms: Windows, MacOS
Minimum RAM: 3GB
Price: Free, $60/lifetime license

Filmora by Wondershare is geared toward casual users in a way that practically everyone can learn it. We should also warn right away that free trial version puts a watermark on videos, which is a bummer, though quite understandable. Upon start, Filmora has 2 options: easy mode or full feature mode. With Easy you just import files, select a theme and music, and get a generated video in few minutes time. Full mode is a regular video editor with all the elements and controls. For start, let's take a look on how to make videos in Filmora:
So, basically we start with setting the aspect ratio and launching the program. Then we can switch from dark grey interface to light – white and green – in the upper right corner tab, and we actually prefer this light one. Now we see, that Filmora editor interface is well-organized, everything in files, preview and timeline fits nice, the space is not crammed – unlike with many other software. Though, if ads were not popping up, it would be even better.
Interface parts are adjustable in size, and editing options are listed above the timeline. It is really simple to work in Filmora: import media files, drag them down, go to Effects/Filter/Overlays/Text, select your effect and drop it below the video, add audio. By the way, along with standard import, there are additional options: to download media from Facebook, Instagram or Flickr, as well as to record from a webcam, screen or  voiceover.
Even in trial there's plenty of stuff to enjoy:
50 music tracks royalty-free

178 transitions (incl. ripple, fade, dissolve, 3D, speed blur, slideshow, etc.)

137 text effects, titles, credits (incl. hand-drawn, badges, web, pets, shapes, etc.)

149 filters (incl.shake, faux film, night, background blur, B/W, sepia, distortion, etc.)

87 overlays (incl. frames, bokeh blurs, lens flares, TV static, light leaks, etc.)

127 elements, shapes,emojis

20 types of split screen
Split-screen editor is much nicer and easier than in other programs – open it, select a preset, drop scenes inside respective boxes, drag scenes to position as you like, select border color, preview, and press OK. Twenty split-screen types of various shapes and forms are more than enough. Also, Wondershare keeps in pace with time and trends, constantly adding new creative elements.  
In terms of limitations, Filmora does not offer big amount of tracks like few other editors, there's no duplicate option, no time stretch option for video tracks. Watermark and ads were already mentioned. Also, in rendering videos it performs pooper than most competitors in the field, but it is not something critically unbearable. Overall, a decent and easy video editing application, with a nice interface and basic features. Paid license versions enlist $39 annual, $59 lifetime and $99 annual unlimited.

Performance tests
And the final part of our review: performance (or speed, if you will) comparison. As mentioned earlier, we used a PC running Windows 10 Pro 64-bit, 2.6 GHz Intel processor, 8GB of RAM and 256MB of dedicated video memory, screen resolution 1920×1080. In regards to all 10 video editing software apps, we used free or free trial versions only.
Source files – free stock videos from the Internet, for single-video tests we took this "Tears of steel.mov" from Blender (quality: 1920x1080p, HD, duration: 00:12), for 2-videos merge test we took "Earth.mp4" from Pexels (quality:1920x1080p, full HD, 29 fps, duration 00:15).
We applied few basic effects and editing actions and then timed how long it took for each program to render a video. To be perfectly clear, while we ran Adobe Premiere, for instance, we imported our "Tears of steel" clip, put a black-n-white filter on it, and measured the time to create such new video, now in MPEG-2 format, which was 30 minutes and 7 seconds. Then we tried another effect, and so on, for every editor out of 10. We also tested and timed a simple conversion to other output format, without any editing.  
Software
Add filter:
b/w,render
Add effect:
text,render
Merge 2
videos,render
Add effect: flip horizontal, render
Save in .avi
Save in .mp4

1

Adobe Premiere Pro CC

00:30:07

00:11:48

00:12:26

00:13:23

01:36:14

00:26:08

2

AVS

00:33:19

00:11:00

00:14:14

00:15:53

00:32:27

00:21:33

3

Corel VideoStudio

00:31:02

00:24:02

00:44:05

00:31:26

00:27:47*

00:29:56

4

CyberLink

00:17:34

00:15:16

00:12:03

00:17:29

00:08:10*


N/A in trial

5

EaseUS

00:20:35

00:21:07

00:13:45

00:12:24

00:31:49

00:20:58

6

MAGIX

00:18:36

00:08:30

00:08:49

00:09:54

00:09:17

N/A in trial

7

Movavi

00:26:59

00:24:03

00:15:42

00:14:27

00:38:06

00:36:13

8

OpenShot

01:16:19

00:48:37

00:38:46

N/A in trial

00:52:30

00:57:08

9

Pinnacle

00:20:01

00:29:04

00:30:59

00:27:38

N/A in trial

N/A in trial

10

VideoPad

00:53:41

00:53:48

00:31:29

00:24:50

01:25:35

00:56:08

11

VSDC

00:19:44

00:13:16

00:12:11

00:14:12

00:24:39

N/A in trial

12

Wondershare

00:30:37

00:22:15

00:19:47

00:20:47

00:31:42

00:34:29

Output
format

MPEG-2

MPEG-2

MPEG-2

MPEG-2

AVI

MP4
* (only 720×480)
Final thoughts
There's no winner in our review, and there can not be a winner in best video editing software comparison. Simply because what suits one's goals and technical resources, would be irrelevant for others. Every situation is different, therefore OpenShot won't do for dynamic professional video production, and Magix would be an overkill for home slideshows. One thing is sure: you need a modern and powerful PC/laptop, preferably with 8GB RAM, but better 16GB.
Free programs and trial versions are only good to get familiar with the workflow and capabilities, for actual production it won't be enough. Nobody wants watermarks, time limits, one-track timelines or other restrictions, so you'll end up buying some video editor anyway. We are not saying there are just these ten applications, neither we are recommending one over another. Know your goals clearly, explore and try various editors, check new software periodically.
Those who are only entering this area of video editing software, should be ready to sit and learn a lot. And those who are skilled and experienced in video making, should share their tips and thoughts in comments section. Peace.  

FAQ
Q: Is video editing legal?
A: Only if you do not use copyrighted content.
Q: How to edit video on my computer?
A: Find video editor software and install it. Almost all of them have video tutorials to help along the process.
Q: How to edit video on my smartphone?
A: Some models have built-in lightweight video editors, but there are professional mobile video editors: Adobe Premiere Rush CC (iOS, Android), Vizmato (iOS, Android), Cyberlink Power Director (Android).
Q: What are the minimal requirements for video editing?
A: Take Adobe Premiere as an example: Intel 6th generation (or equivalent AMD) CPU, 8 GB RAM and 2 GB GPU RAM.
Q: Is there video software with Hollywood effects?
A: Adobe Premiere, Avid Pro Tools, Final Cut Pro are just a few examples.
Q: What video editor is good for beginners?
A: In this situation, the less features are there the better. Yet none of the apps will be easy to master right away, so you should look up tutorials and guides, then roll up the sleeves.
Q: Which is the best video editor?
A: There is no true answer to this, as this issue has hundreds of nuances. Adobe Premiere is very popular, though. Find more in the review above.
Q: Are there online video editors?
A: Yes. For instance, Clipchamp, Magisto, Adobe Spark (it also has a mobile version).
Q: How video editing software works?
A: As a rule, it goes like this: 1) Add files to a project, 2) Fix time limits, 3) Correct audio tracks, 4) Set up after effects, e.g. subtitles or transitions, 5) Render a video.
Q: Which video editor is best for YouTube?
A: You can use any video editor which supports Youtube video format specifications. Check at: https://support.google.com/youtube/answer/4603579?hl=en
Q: How to edit video for free?
A: Use free video editors: Wondershare Filmora, OpenShot Video Editor, VSDC Free Video Editor.
Q: How to edit video on iPhone?
A: Install one of the following apps: iMovie VideoGrade, Filmmaker Pro or Adobe Premiere Rush CC.
Q: How to choose video editing software?
A: Define which effects you need. For family videos a lightweight editor, like VideoPad, will suit. Go with Cyberlink Powerdirector, Corel VideoStudio, or similar level software for more professional videos.
Q: How to get video editing software for free?
A: OpenShot Video Editor, Wondershare Filmora, VSDC Free Video Editor are free tools.
Q: How much RAM is enough for video editing?
A: Minimal RAM for video editing is 8GB, and surely, 16 GB or more is highly recommended.
Q: How to learn video editing?
A: Go to video editing software website for manuals, or find (literally) thousands of tutorials on YouTube.