The Internet is a mammoth advertising channel, that's indisputable. The number of ad types is growing: contextual ads, pop-ups, videos, social networks, teasers, mobile ads, pay-per-click ads, affiliate links, and the list goes on and on. Often it's getting up to the neck on the web. Pop-ups, video inserts on YouTube and banners can be especially irritating. What's more, personal data is at risk too – nobody wants spyware, rootkits, and data collection. Thus, we'd like to examine top ad blockers for Chrome, as the most popular web browser. 
In fact, software for ad-free web surfing has been around since the 90-ies. The first blocker was created by PrivNet in 1996, and in 1998-2004 came plugins by Cybersitter, AtGuard, SAB, Henrik Sorensen (ad blocker for Firefox 1.0), Adblock Plus.
Although, a real variety and sophistication has emerged in recent years. With this in mind, we've set aside a dozen Chrome extensions and put them to test. You will find info on key functionality and capabilities, a series of tests (speed, traffic, memory), constructive conclusions with pros and cons.
Top-12 ad blockers for Chrome in 2020
AdGuard is a cross-platform utility that hit the market in 2009 and has been improving since. It is definitely one of the best ad blockers for Chrome, you may find the full review here. 
| | | | |
| --- | --- | --- | --- |
| Version for Chrome | Size | License | User downloads |
| 3.3.8 (January 2020) | 5.27 Mb | Free | ~ 6,720,000 |
The main tab (Action), along with Enable/Disable switch, has and a number of navigation buttons:
Block ads on this website (creating a custom filter);

Open filtering log;

Submit a complaint about this website (inability to block advertising residues, presence of anti-blocking on the site, incorrect display after blocking ads, etc.);

Website security report.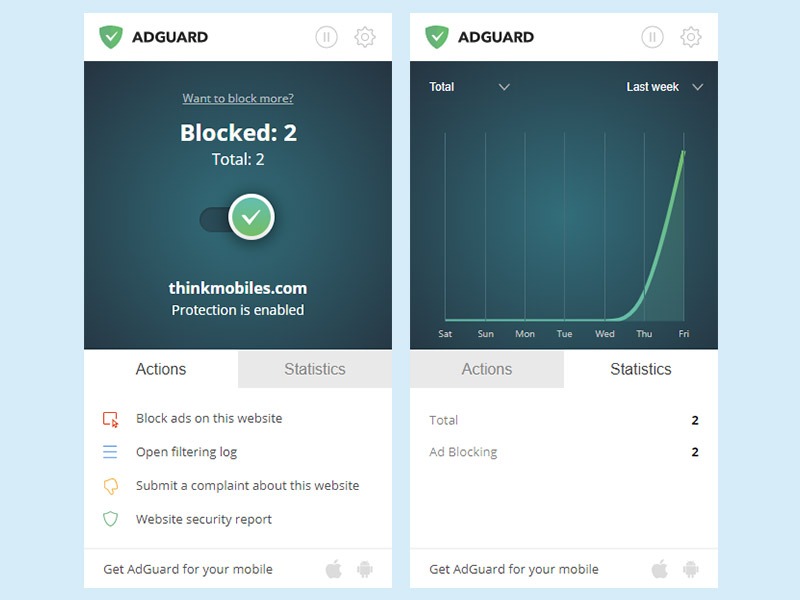 The Statistics tab is self-evident: a graph is displayed for the selected period of time (day, week, month and year), which shows the number of blocked ads. Advanced settings occur in a new browser tab and contain a bunch of handy options. We recommend the following settings:
Activate "

Protection against phishing and malware

" in the general settings (

AdGuard guide

);

Activate additional filters, set up custom filters;

Activate hidden mode to avoid data leakage of your search queries.
Testing. Firstly, RAM consumption of the AdGuard Chrome extension ranges from 80-130 Mb. Secondly, during our use AdGuard has been successfully blocking all ads, yet some elements, such as a video pop-ups were displaying nevertheless. It also led to excessive traffic consumption.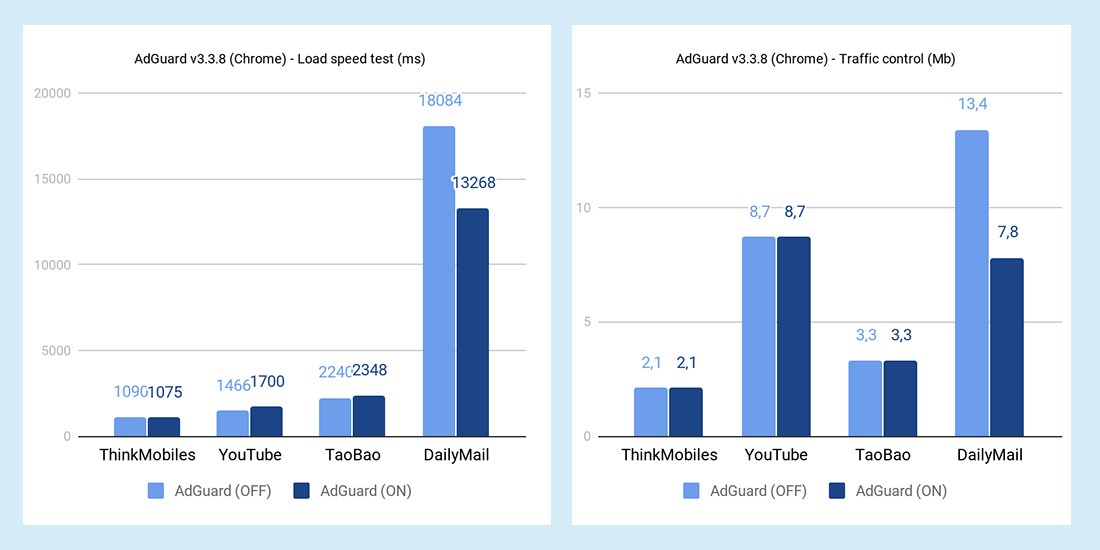 We can take care of this drawback by setting a filter for specific elements and/or specific websites, however traffic is still being consumed as video files load in the background anyway. A third test is page loading speed, which does not decrease significantly with AdGuard.
In conclusion. AdGuard properly copes with the main task of blocking ads and applying cosmetic page filters. Additionally, we were pleased with the number of settings, as well as the UX interaction of features. AdGuard for Google Chrome deserves our virtual "Best Choice" nomination.  
Pros
Free

A variety of configuration options

Custom filters, hidden mode, etc.
Read next: 10 ad blockers that actually work.
uBlock Origin, a free and open source software, cross-browser extension, has a strong spot among top ad blockers for Chrome. The goal of uBlock Origin is to provide users with content filtering options. Developed and supported by the founder and lead developer Raymond Hill.
| | | | |
| --- | --- | --- | --- |
| Version for Chrome | Size | License | User downloads |
| 1.24.4 (February 2020) | 2.53 Mb | Free | ~ 10,000,000+ |
The interface is functional and at the same plain and simple. It has two modes: normal and advanced (change the mode in settings). In normal mode, 25% of the visible area is a blue button of enabling or disabling traffic filtering on a given website. Along with it go options such as items overwrite mode, item selection mode, open logger, settings.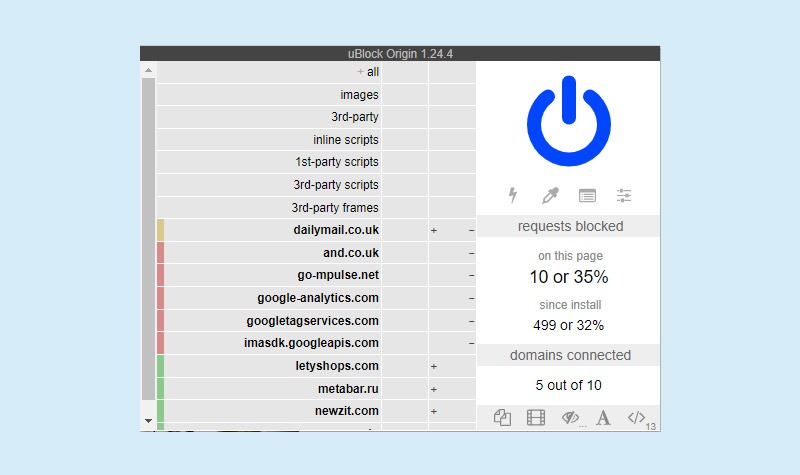 Next, the statistics of uBlock performance, both general and on a current page. This adblocker allows to choose from: block all pop-ups, large media items, disabling cosmetic filters, block deleted fonts, JS scripts. In the advanced mode there are dynamic filtering and network filtering.
Testing. RAM consumption by uBlock Origin extension fluctuates around ~55 Mb, which is the best result among  competitors. Unlike most ad blockers, uBlock successfully blocks all possible advertisements and media blocks, as well as bypasses all types of anti-blockers. Also we haven't observed traffic or data leakage via WebRTC. As for the page loading speed, uBlock is at its best on ad-rich websites, like DailyMail.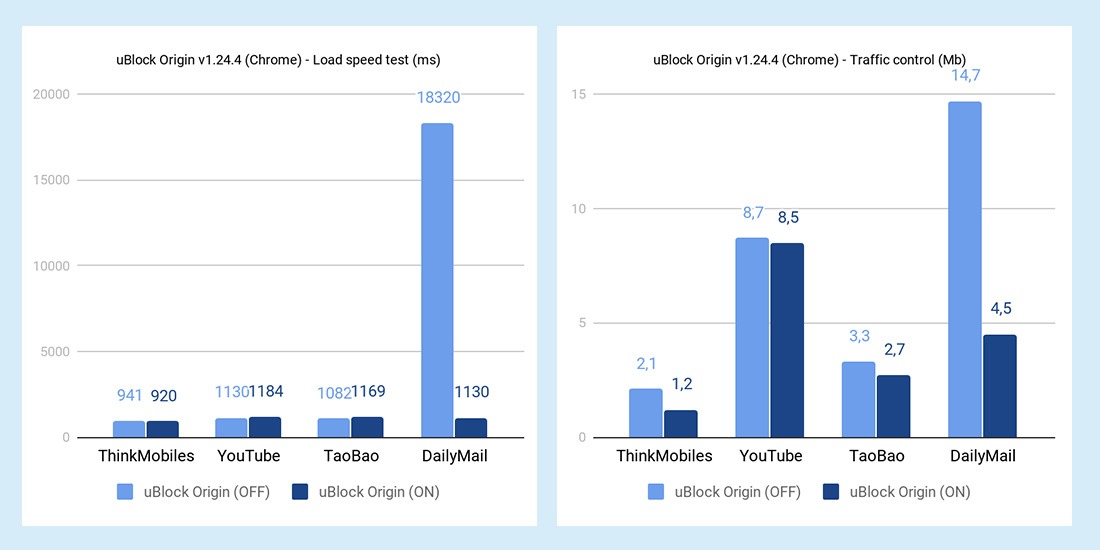 In conclusion. uBlock Origin is a steamroller of the ad blocker market segment. Despite multiple features, it does not practically consume system resources, unlike similar Chrome extensions. uBlock is the winner in "The Best feature set" and "The Best Performance" categories. 
Pros
Free

Lots of options, filters, settings

Minimal resource consumption
Read next: Best free anti-spyware.

Ghostery offers a free browser extension and mobile browser for clean, fast and safe online experience. Ghostery detects and blocks tracking tools present on websites, thus speeding up loading, eliminating clutter and protecting user privacy. It also informs which companies are tracking you, and provides tools to configure ad stopping preferences. Full Ghostery review is available too.
| | | | |
| --- | --- | --- | --- |
| Version for Chrome | Size | License | User downloads |
| 8.4.6 (December 2019) | 5.9 Mb | Free | ~ 2,647,000 |
The main menu has two display modes: a) Simple – half the space is stats (blocked items, requests, load speed) with options like Trust the site (turn on all trackers), Restrict the site and Pause Ghostery (on/off, 30 min, 1 hour, 24 hours); b) Detailed – all the features in the left column in a compact form, with trackers on the right.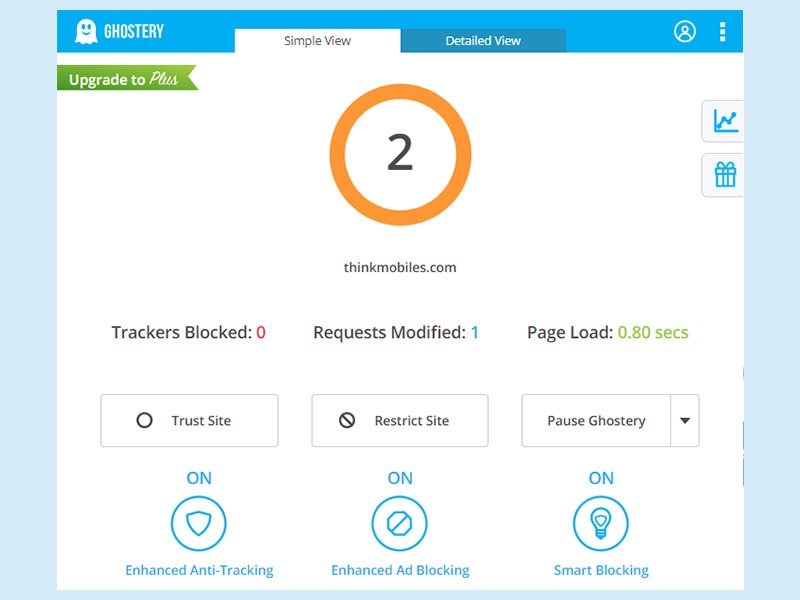 Ghostery Plus for $2 per month only offers the following functions: change color scheme, historical statistics, priority support. Configuring Ghostery is easy, in global settings you can turn on/off filters, which are divided into categories. Unfortunately, it's impossible to connect custom filters or add a rule.
Testing. RAM consumption by Ghostery ranges between 75 and 150 Mb, which is very good. Loading speed fluctuates within the error margin for most websites, so Ghostery will not make a significant impact herein. But as for the traffic, Ghostery developers clearly did their best, because despite inability to apply custom filters, the plugin hides all ads without consuming additional traffic. Ghostery allows WebRTC data leakage, but there is no traffic leak.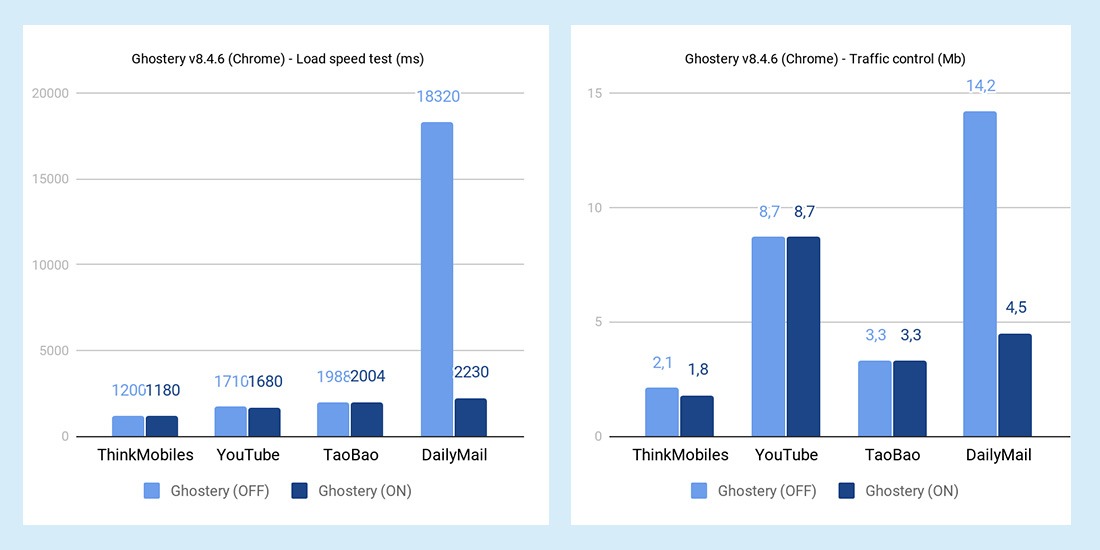 In conclusion. Ghostery gets its place among ad blockers for Chrome due to moderate use of system resources and outstanding work as an adblock. UX is pleasant overall, configuring does not require opening a separate tab.
Pros
Free plugin

Qualitative performance

Traffic saver
Cons
Lack of custom filters

WebRTC data leaks
Read next: Best anti-malware programs.
Ad Remover blocks online ads and activity tracking. On the other hand, if you are seeking a free ad blocker, it won't do – it only got a trial version, which is limited. Subscription costs $9.99 per month or $39.99 per year. 
| | | | |
| --- | --- | --- | --- |
| Version for Chrome | Size | License | User downloads |
| 2.394 (January 2020) | 5.31 Mb | Trial 7-days / Subscription | ~ 627,000 |
To configure the extension you'd require an activation key. Though, if you click on its icon in the browser and select the Options item, a tab with settings will open. There, it is possible to open the logger or set up  user filters. Well, on/off option, user rules, stats, and a real-time logger, is not bad for a trial. Especially, considering positive test results you will find below.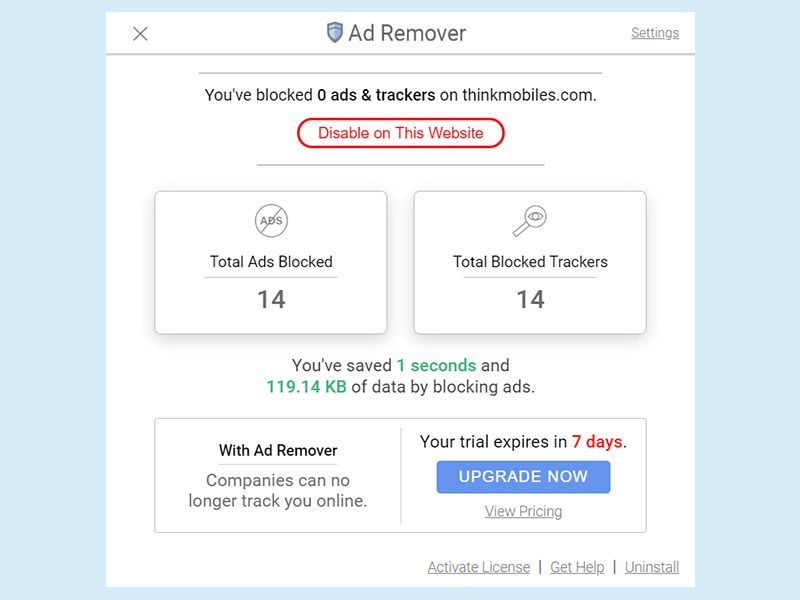 Testing. Ad Remover Chrome plugin uses 65-75 Mb of browser RAM on average. Website loading speed, in most cases, remains without much change. At the same time, of all the ad blockers for Chrome we've tested, this one demonstrated the record loading speed for TaoBao website, a retail top player. 
In regards to traffic, figures are good too. Ad Remover potently blocks the (in)famous video block on DailyMail and does not leak traffic. Cosmetic filters work as it should. WebRTC leak is present, however all trackers are  blocked.
In conclusion. Ad Remover is not free ($39.99 per year for 5 devices). Trial version is hard to configure to be able to see the full potential. Nevertheless, Ad Remover showed slashing results in blocking online ads and  loading speed increase. One final user tip would be this – if you want to purchase Ad Remover, but the price is keeping you, discontinue the trial and you get a special offer for $19.99.
Pros
Blocks all ads

Download speed increase

Easy to use
Cons
Paid product

WebRTC leakage
Read next: 15 free multiplayer browser games.

Here we have AdBlock, which will allow sponsored ads, marking it "acceptable" and display it. But let's start on another note. It is a highly popular Chrome extension, and also is not affiliated with Adblock Plus. AdBlock developer Michael Gandlach claims he was inspired by the Adblock Plus extension for Firefox. Also, they have been using the source code of Adblock Plus since 2016.
| | | | |
| --- | --- | --- | --- |
| Version for Chrome | Size | License | User downloads |
| 4.5.0 (February 2020) | 3.36 Mb | Free | ~ 10,000,000+ |
AdBlock has a simple and functional interface, and by acquiring a Premium subscription one gets extended customization options. The menu has 5 functional buttons: Pause on this site, Pause on all sites, Block an ad on this page, Do not run on this page, Do not run on pages, as well as the settings button (gear icon). Default theme is grey, and you can choose either dark or purple.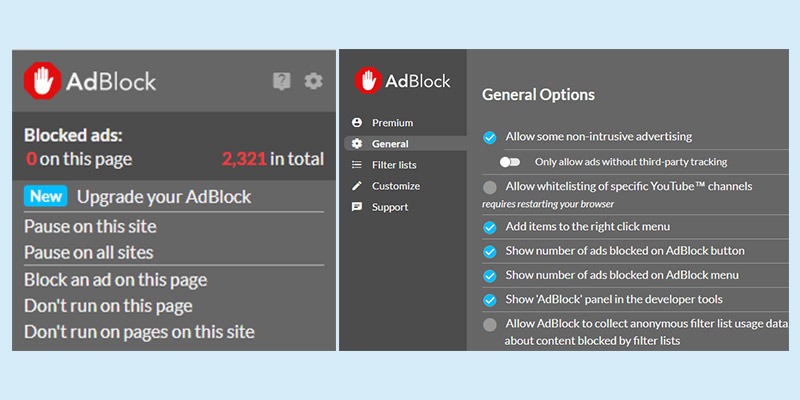 In Premium one funny tool is replacing ads with images of cats, dogs and nature. Also you can synchronize Adblock settings across multiple devices, although this is where the capabilities of paid AdBlock end. One more nuance is that you should disable so-called "unobtrusive ads" right away if you desire a fully clean surfing. 
There is also a general setting item that asks to "allow AdBlock to collect anonymous statistics about the use of filters and the contents". It will include: filters in use, ads blocked, visited websites, browser  language, site tags. Note that all such data is anonymous. In terms of filters, the publisher recommends to use only a few, since each slows down the extension.
Testing. RAM consumption by AdBlock is in the 160-235 Mb range. As for page speed, we did not observe a real slowdown or any acceleration. On the ad-blocking side of things, everything is quite well. Except on DailyMail video still loads up, even though several filters are applied, and manually adding an item to the blacklist does nothing.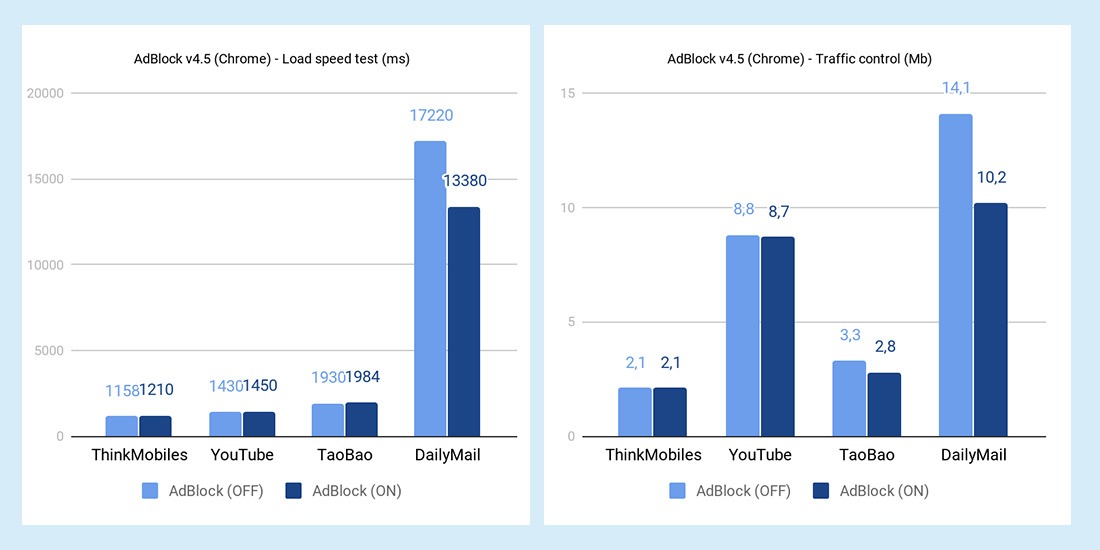 In regards to data, even after turning on all security and anonymity filters, a leak occurs. And yes, we've even reloaded the browser and cleared cache, but WebRTC leak is still happening. When retesting AdBlock a few days later, DailyMail detected it and asked to disable it.
In conclusion. AdBlock extension is used by tens of millions of users, and not only for Chrome. The name itself was strikingly and blatantly right for such a product (kudos to the marketing team). Despite this, we are surprised to experience issues like high memory use, user data collection, and possible cooperation with advertisers. As for Adblock Premium, here you rather pay for the support, than better functionality. On the other hand, it effectively blocks ads, is simple to use and configure.
Pros
Free

User-friendly interface

All functions are described

Knowledge base
Cons
Consumes a lot of RAM

Does not block certain items, even manually

WebRTC data leaks

Ad blocker detection
Read next: 10 ad blockers that actually work.
AdBlock Plus is next in our selection of top ad blockers for Chrome, with quite similar name to the previous one, but not to confuse with, for sure. Among many awards, which we do not like to name usually, there's "The best open source extension". ABP blocks HTTP requests and can suspend various page elements, e.g. images, iframes, scripts, Flash and Java objects, and so on. It also uses style sheets to hide elements  rather than block them, so, all in all, ABP is a standout.
| | | | |
| --- | --- | --- | --- |
| Version for Chrome | Size | License | User downloads |
| 3.7 (December 2019) | 1.21 Mb | Free | ~ 10,000,000+ |
As with most ad blockers for Google Chrome, ABP has a main pop-up menu, with options to stop ads totally or on a specific page only. Below are the stats for page and general. Underneath, there are two function keys: Report an error (a new tab opens to fill in a form) and Highlight the item to block (user filter).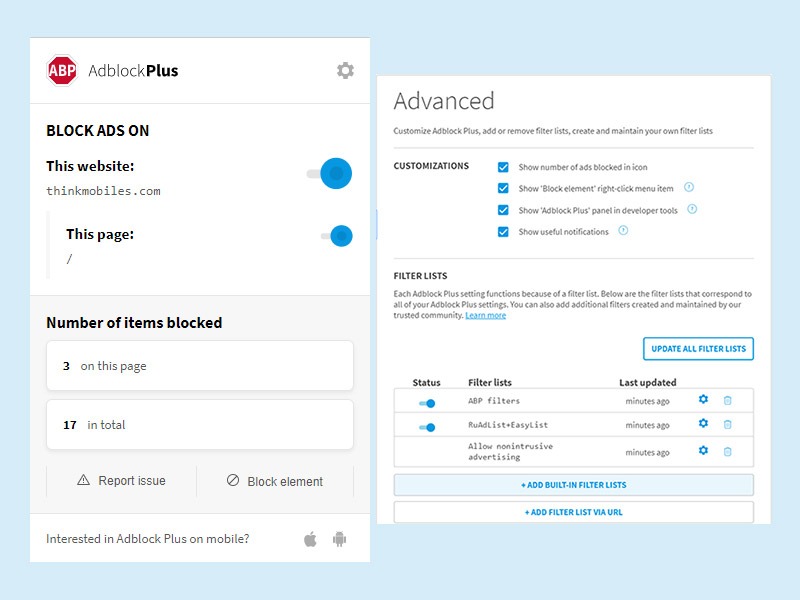 Surely, you'd need anonymity and data collection forbiddance, thus go to settings. The number of available filters is over 20, including language filters, which is a great extra.  
Testing. ABP consumes about 200-235 Mb of Google Chrome memory, on a typical day. Page loading speed is not much affected by ABP, it is rather efficient in traffic reduction. On tightly-packed with ads DailyMail we've been entertaining ourselves, ending up manually adding 8 rules to finally be able to stop all media displays. Also, when retesting, the website detects ABP and asks to turn it off. 
In conclusion. AdBlock Plus is one of the most popular extensions for Chrome browser. It is perfect for those who need just basic functionality: on/off, regional filter, element blocking rules. Though, if you do not have much RAM, or worry about anonymity, it would be better to find an alternative.
Pros
Free ad blocker

Custom filters

Minimalist interface
Cons
High RAM consumption

Data leak and potential traffic leak

Detection

This extension by Adaware blocks ads on websites, pop-ups, video ads, and increases browsing speed. It also has a built-in phishing protection against malicious sites that try to steal user information. Security and privacy settings are available in one click in the browser.
| | | | |
| --- | --- | --- | --- |
| Version for Chrome | Size | License | User downloads |
| 2.0.3.7 (June 2018) | 2.79 Mb | Free | 246,500 |
Basic are in place: settings, on/off switch, on/off for pop-ups, on/off for dangerous sites, statistics, block elements on a site. There are practically no configuration options besides website white list, user feedback form, creating own filters in automatic or manual mode.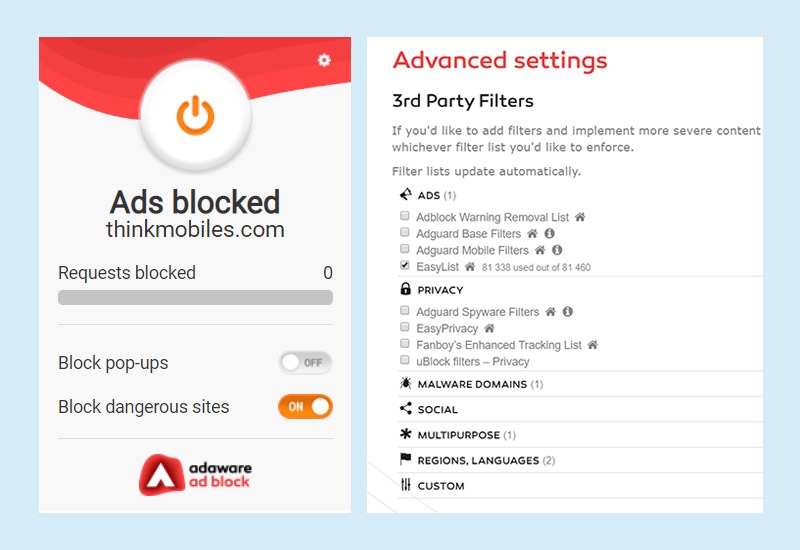 Testing. RAM consumption by Adaware Ad Block extension ranges between 100-130 Mb, which is quite high. Web page load speed remains unchanged in most cases. As for network anonymity, while it blocks trackers, a digital trace in the form of WebRTC remains.
Saving traffic on sites with lots of advertising when using Adaware is real, yet compared to competitors, not that  significant. In addition, we managed to hide the media block on DailyMail website only after applying a custom filter, but there was still a traffic leak. When returning to the site, it detects the extension.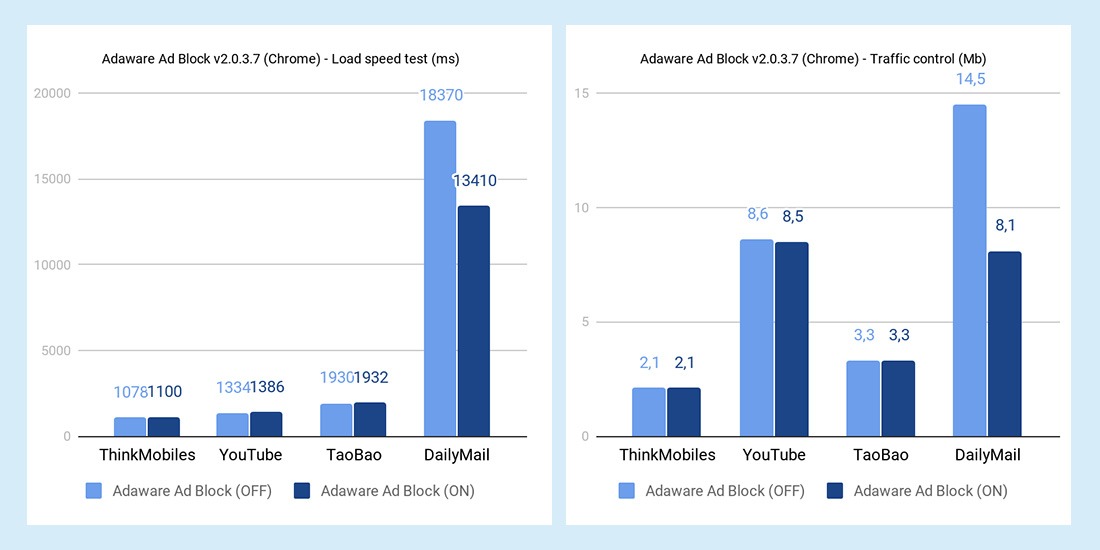 In conclusion. Adaware Ad Block is a product with potential, but requires a number of improvements. Video ads may still slip through it. In general, if you do not consider other ad blockers for Chrome, then Adaware is pretty decent. However, no update since 2018 casts a shadow over it.
Pros
Free to use

Possible to apply custom filters
Cons
WebRTC and traffic leakage

No updates since 2018

Detection
Adblock Fast is an open source ad blocker. Its distinction among other extensions is minimalism. While websites are full of ads, ad blockers get slow due to filters and features, and both stuff computer memory,  Adblock Fast is simpler. It only has 7 filtering rules and consumes less resources manyfold. Plus, there's even no interface. 
| | | | |
| --- | --- | --- | --- |
| Version for Chrome | Size | License | User downloads |
| 1.6.0 (November 2019) | 312 Kb | Free | ~ 9,599 |
The main difference from any ad blockers on the market is the complete lack of interface and no configuration options. Only the status is reflected in a browser, which is one of four:
Block ads, no ads were found.

Block ads, ads were found.

Don't block ads, no ads were found.

Don't block ads, ads were found.
Testing. RAM consumption is really low, as stated: within 45-55 Mb, which is the lowest among all tested extensions. Loading speed, though, shows not much sign of impact. It is worth noting that Adblock Fast does not offer cosmetic filters, so there is simply a blank background instead of advertising. There are no custom filters. Also, websites with ad block detection tools will see it.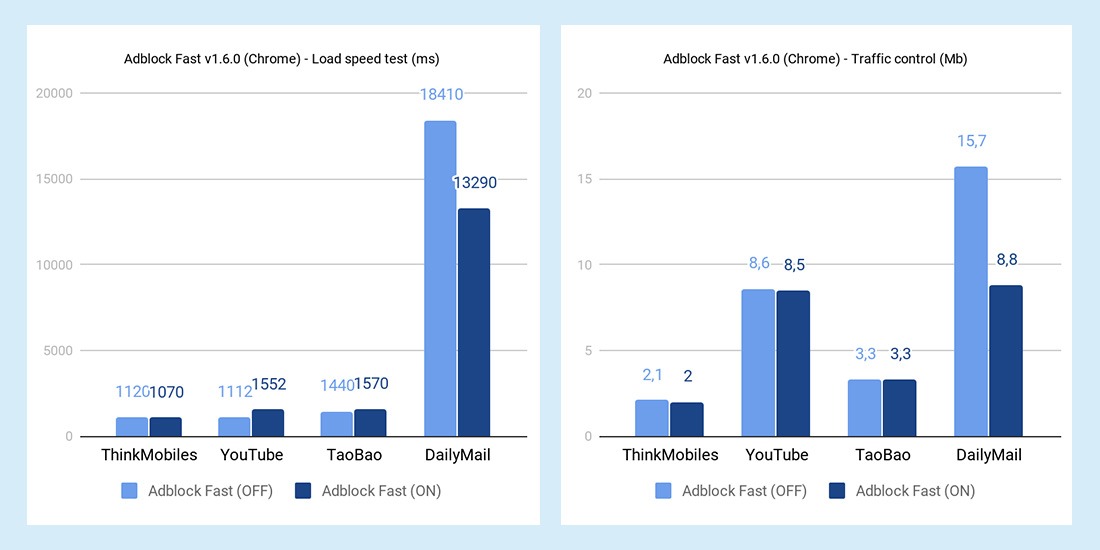 In conclusion. Adblock Fast is the most minimalist ad blocker one could find, and also with the least RAM consumption for Google Chrome. Yet, several major drawbacks outweigh the good – lack of cosmetic filters, no  custom rules, no stats, data leaks via WebRTC.
Pros
Free

The most minimalist tool

Lowest RAM consumption
Cons
No cosmetic filters

Traffic leakage

Detection

AdBlocker Ultimate is designed for the sole purpose of removing adverts so that users are able to focus on content. It is a free add-on that halts ads, malicious domains, redistributable programs, and user tracking. It has several multifunctional filters. Unlike other tools, there is no white list for websites, advertisers or ad networks.
| | | | |
| --- | --- | --- | --- |
| Version for Chrome | Size | License | User downloads |
| 2.394 (January 2020) | 4.04 Mb | Free | ~ 897,500 |
Social network buttons are not links to profiles, as one might expect, but presets to publish a post with a link to Adblock Ultimate on a user's page. Anyhow, two key buttons are "Block element" (create new blocking rule by hovering over a desired element) and "Options". The latter takes place in a new browser tab with options: filter list, user filters, etc.
Testing. Although RAM load is at 60-80 Mb (the average among ad blockers for Chrome), we've not been anticipating bad results in page loading speed. Yet Adblock Ultimate got a surprise in store for us. Literally in all tests for 4 sample websites, repeated dozens of times each (find info on our testing methodology in the summary below), we got longer loads with the extension enabled. For instance, TaoBao loads fully in 20 seconds, while with ad block on – 23 seconds. Or DailyMail, which takes 15 seconds as is, and 16 seconds when hiding ads.  
Regarding the traffic, Adblock Ultimate shows variable results depending on a website. Like most extensions on the list, it skips the media block on DailyMail, and requires 9 manual rule setups to be able to hide it. WebRTC data leakage was detected too.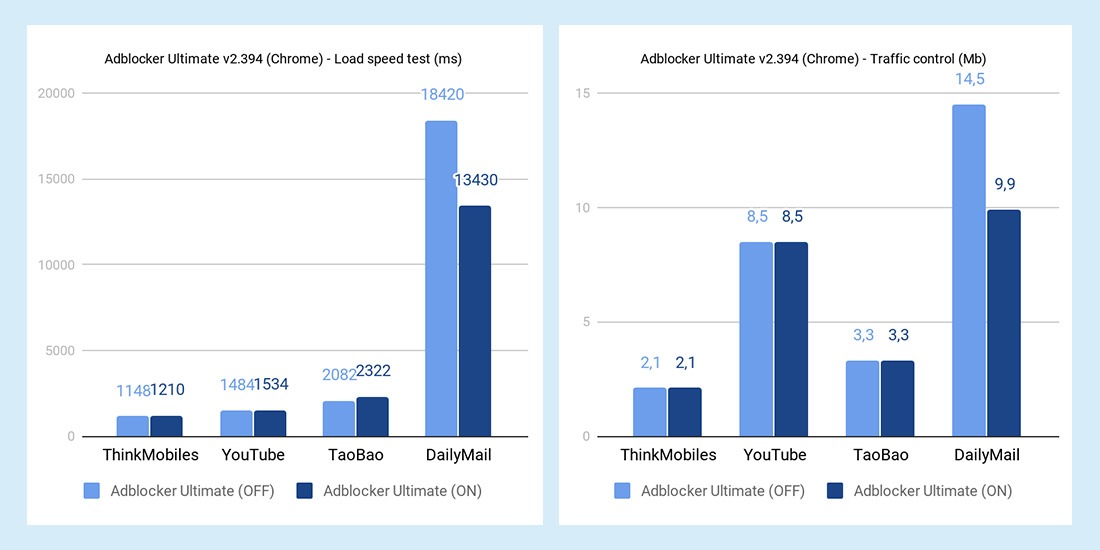 In conclusion. Despite constant updates, Adblock Ultimate still lacks some useful features, for example, filter by URL and a quality cosmetic filter. At the same time, light resources use and custom rules are encouraging. In part, we've added it to our top of ad blockers for Chrome, since its developers are assuring they won't ever have "acceptable" ads or advertisers unknown to users. 
Pros
Free

Moderate RAM consumption
Cons
No cosmetic filters

Traffic and data leaks

Detection
Completely free, AdLock neutralizes anti-blocking scripts, which is a handy feature, we've been eagerly looking for among Chrome plugins. Thumbs up. A basic interface with a minimum functions – statistics, enable/disable, settings, local/global switch – add to the charm.
| | | | |
| --- | --- | --- | --- |
| Version for Chrome | Size | License | User downloads |
| 0.1.24 (January 2020) | 1.35 Mb | Free | ~ 26,000 |
Configuration is down to filters and white list. Connecting additional filters is possible by URL only, and there's no ability to hide separate site elements. So, let's skip straight to performance tests.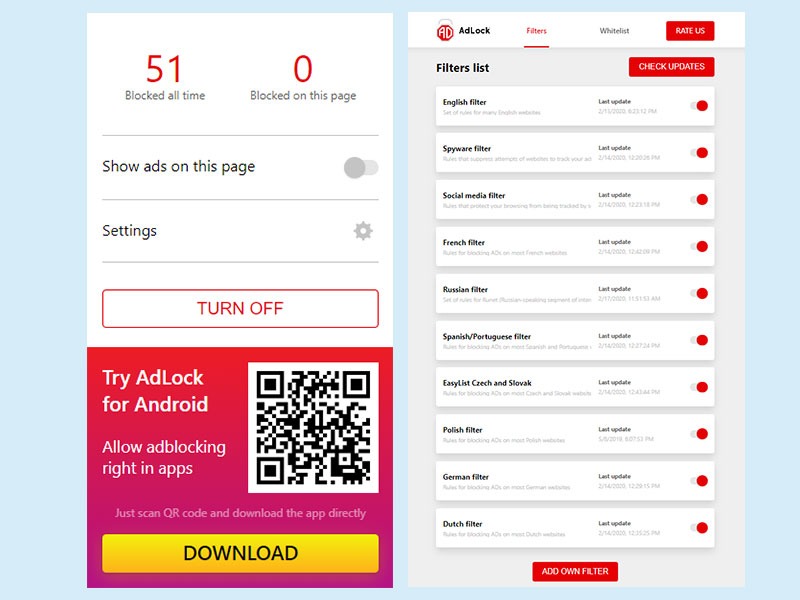 Testing. Memory consumption is quite high at ~115 Mb. AdLock removed all ads on DailyMail, but no ads were found on other sites, strangely. Impact on traffic is visible on conventional web pages, yet not on YouTube. Of course, no ability to block individual elements could be a setback for some users.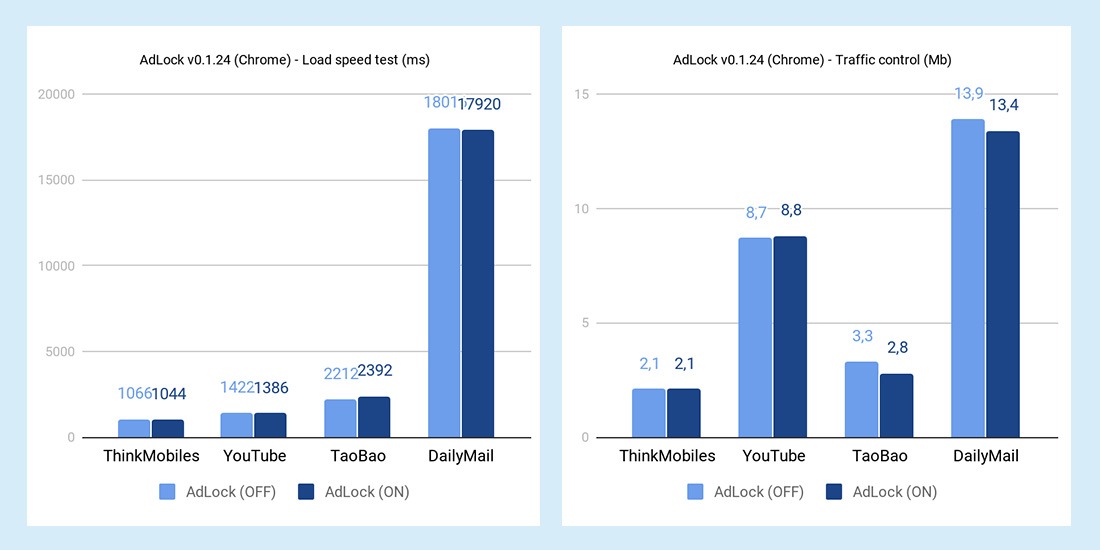 In conclusion. AdLock is a good tool, taking care of most advertising and applying cosmetic filters well. On the other hand, rather high consumption of RAM and leaking data both through DNS and WebRTC are disheartening.
Pros
Free to download

Supports custom filters
Cons
No Hide mode

Weak configuration options

Skips some ads
Read next: 10 ad blockers that actually work.

To diversify our list, we have 2 more extensions falling under the VPN + Ad blocker category.
Windscribe is a VPN/proxy browser extension that stops ads, trackers, grants access to restricted content and protects user data. To use it, one has to create an account, entering a real and valid mail address to unlock 10 GB of monthly traffic. Otherwise, it will only be 2 Gb.
| | | | |
| --- | --- | --- | --- |
| Version for Chrome | Size | License | User downloads |
| 3.1.4 (January 2020) | 3.1 Mb | Trial 7-days / Subscription | ~ 1,100,000 |
Windscribe is a decent VPN, yet it also offers ad removal options, so it is a curious combination. Starting with WebRTC Slayer function, which should be relevant in both cases, but the news was not good. It seems not to work in Chrome, as data is leaking (as checked via Browserleaks) even when enabling the VPN, clearing the cache and restarting the browser.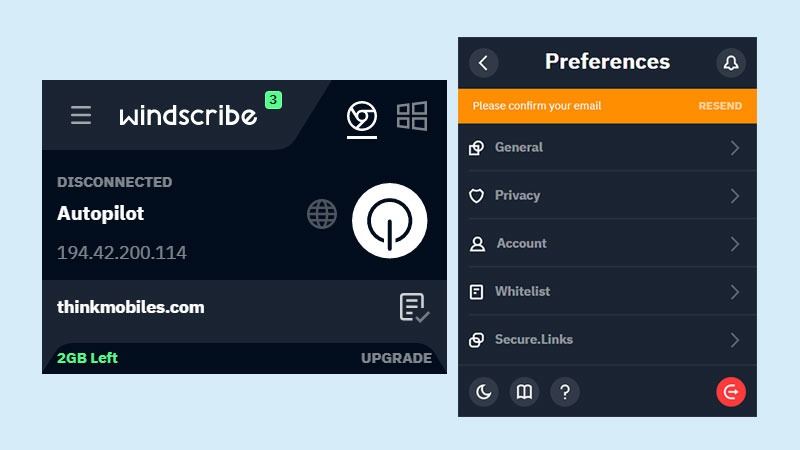 Ad for ad blocking capabilities, Windscribe allows to add rules by highlighting an object to block. To do this, right-click on it, and select "Block element …", while visiting a specific website. A nice thing is that one can use Windscribe as an ad block without activating VPN. 
Testing. RAM consumption is approximately 70-90 Mb. When VPN is disabled, the ad blocker feature does not affect page loading speed. With VPN on, it decreases in most cases, but not by much. Same with traffic, which is of a slight change only. Also, we've had one peculiar glitch (white blank background without anything), yet it fixed itself after reinstalling the extension.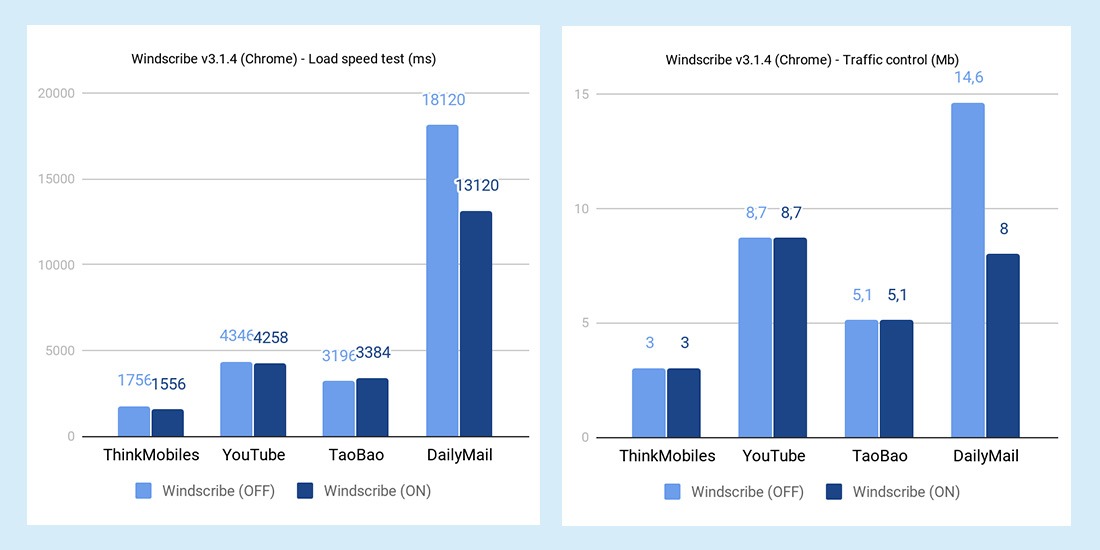 The biggest drawback of Windscribe as an ad blocker is its detection by website scripts.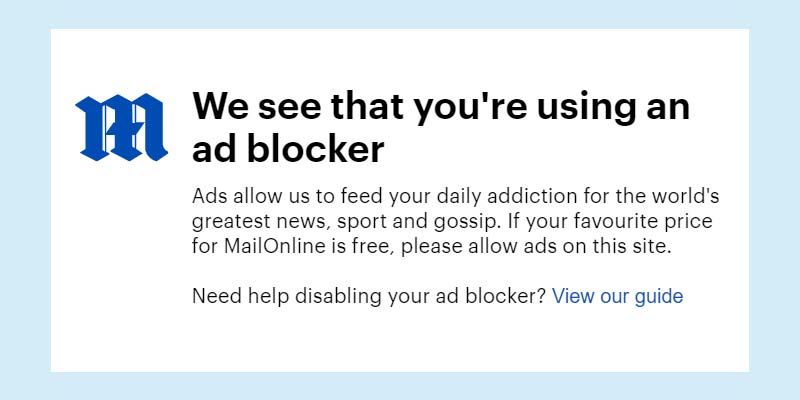 In conclusion. Windscribe is a good 2-in-1 product, which is often in demand. Despite issues, such as ad blocker detection, data and real IP leaks, and not being the best Chrome ads blocker, it is still a contender for a top free and universal two-for-the-price-of-one extension. 
Pros
Free

VPN included

Moderate RAM consumption
Cons
Not dealing with detection

WebRTC data leakage
Read next: Windscribe VPN review.
NordVPN is the leading Chrome VPN extension for privacy and security. It fiercely blocks suspicious domains and intrusive ads to prevent malware infections. As a VPN, it proudly provides high bandwidth connection, but we are rather interested in CyberSec (ad blocking function) for now.
| | | | |
| --- | --- | --- | --- |
| Version for Chrome | Size | License | User downloads |
| 2.15.2 (December 2019) | 775 Kb | Subscription (from $3.49 monthly) | 400,000+ |
To start off, one has to purchase a subscription and unfortunately there is no trial, only return funds policy for 30 days. After signing up, find settings by clicking the gear icon in the upper right corner.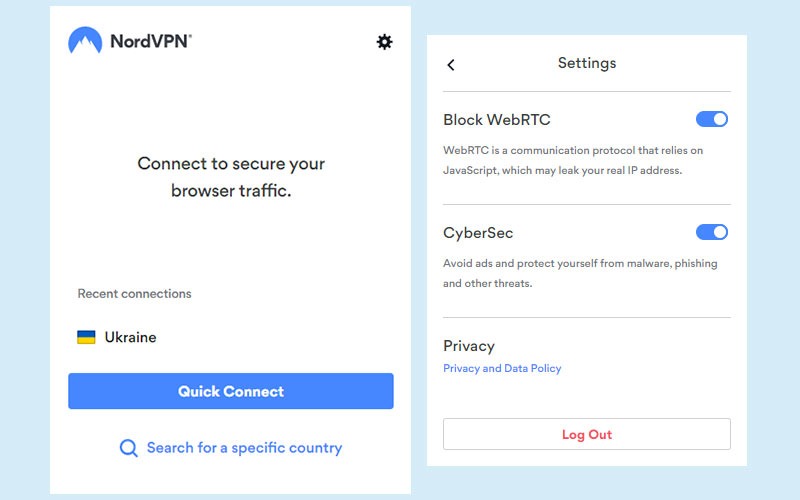 By default, the WebRTC blocking function is on, but CyberSec, which is responsible for blocking ads, is not active, so activate it. For ad blocker to work, we need to connect to a VPN server of choice or the nearest server.
Testing. Memory consumption is approximately 20-25 Mb, which is low and good. Remember, that ad blocking does not occur without VPN enabled. For some users this may be a drawback, but results via Speedtest Ookla are pretty impressive: 14 ms ping, 200 Mbps download speed and 400 Mbps upload speed. In other words, 4K videos are not the problem.
During testing, we encountered an issue with the TaoBao portal. With VPN, it did not load styles, regardless of the server (USA, Japan, Germany, etc.). As a result, after more than 30 seconds, unstyled text was displayed, without images, etc. Also, on DailyMail cosmetic filters did not work and the media block was loaded.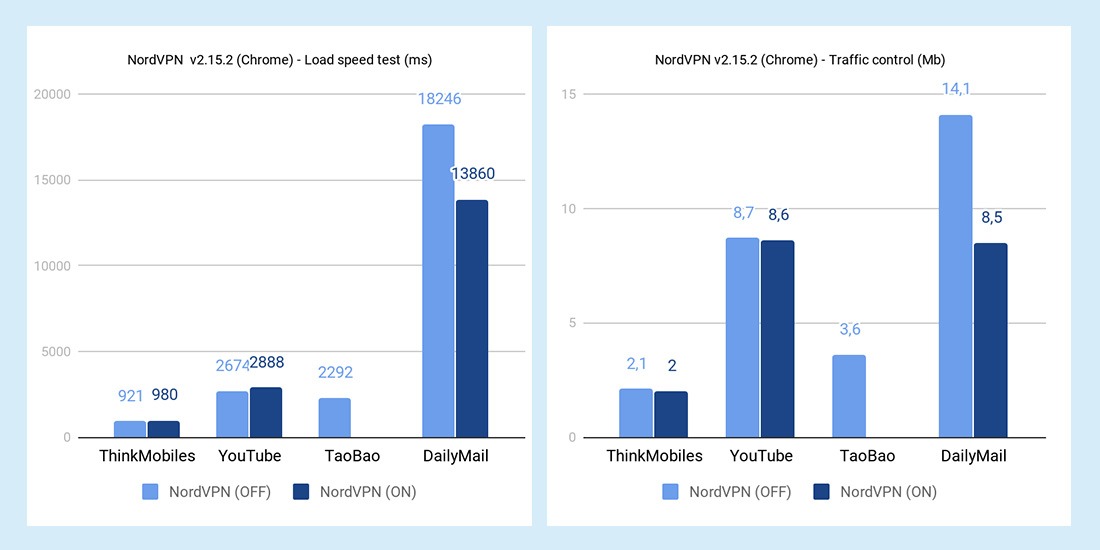 In conclusion. NordVPN turns out to be a worthy extension. The main objective is to establish VPN tunnels with high bandwidth. An excellent bonus is blocking ads and hiding user data. NordVPN may not be the best ad blocker for Chrome, yet a fine VPN with ad removing capability it is.
Pros
VPN features

No WebRTC data leak

Hides ads, bypasses anti ad blockers
Cons
Subscription

Missing cosmetic filters

Summary
Summarizing all the work, we can conclude the following:
All publishers claim up to 80% better page loading speed, but it has not been the case on practice. Objectively, a given ad blocker speeds up the page load time, but not its content. Contents load the same way, with only exceptions when an extension

caches data or uses a VPN tunnel, yet then loading time is higher.
Many ad blocker do not remove 100% of online advertisement. Some do it on purpose, on favorable terms with advertisers, possibly. Others due to poorer functionality or lack of support. In other words, no blocker would fully satisfy user preferences.
Ad blockers evolve and incorporate many additional features. Some programs provide ad blocking features as supplementary to functionality.
Not all extensions ensure anonymity and data security.
Testing methodology. All tests were done using the Google Chrome browser in version 80.0.3987.122 for 64-bit computers. Test results were measured and calculated on the following basis:
Page loading speed and the amount of consumed traffic were taken out of Google Chrome Inspector (F12) and Network tab (

more

). Values: "Recurse load by the page" – traffic consumption, "Finish" – loading speed (from the start to final display).

To form the final value, presented in all graphs, we've repeated the measurements for every website 5 times, and then derived the average value.

Memory consumption figures were taken out of Google Chrome task manager (Shift+Esc).
So, here is the summary table with all the measurements for our ad blockers for Chrome list (*speed and traffic saving columns are from DailyMail page):
| | | | | | |
| --- | --- | --- | --- | --- | --- |
| Extension | Version | Size | Memory use | Page load speed | Web traffic |
| AdGuard | 3.3.8 | 5.27 Mb | ~100 Mb | -27% | -42% |
| uBlock Origin | 1.24.4 | 2.53 Mb | ~55 Mb | -94% | -69% |
| Ghostery | 8.4.6 | 5.9 Mb | ~100 Mb | -88% | -68% |
| Ad Remover | 2.394 | 5.31 Mb | ~75 Mb | -90% | -67% |
| AdBlock | 4.5.0 | 3.36 Mb | ~200 Mb | -22% | -28% |
| AdBlock Plus | 3.7 | 1.21 Mb | ~200 Mb | -24% | -41% |
| Adaware | 2.0.3.7 | 2.79 Mb | ~100 Mb | -27% | -44% |
| Adblock Fast | 1.6.0 | 312 Kb | ~50 Mb | -28% | -44% |
| Adblock Ultimate | 2.394 | 4.04 Mb | ~75 Mb | -27% | -32% |
| AdLock | 0.1.24 | 1.35 Mb | ~100 Mb | -0.5% | -4% |
| Windscribe | 3.1.4 | 3.1 Mb | ~75 Mb | -28% | -45% |
| NordVPN | 2.15.2 | 775 Kb | ~25 Mb | -24% | -40% |
Read next: 10 ad blockers that actually work.

FAQ
Q: What is the best ad blocker for Google Chrome?
A: There is no best blocker, it all depends on user needs. Some users find anonymity the most important, others look for low resource consumption, quality blocking, traffic saving, etc.
Q: Which adblock is good for a weak PC?
A: From extensions for Google Chrome, we recommend to pay attention to Adaware Ad Block, Adblock Ultimate, Adaware Ad Block, Ad Remover, NordVPN or our favorite uBlock Origin.
Q: Which blocker is the most secure and anonymous?
A: Of the ones we tested, we advise you to take a closer look at AdGuard, uBlock Origin or NordVPN.
Q: How to install ad blocker in Chrome?
A: Installing any extension for Google Chrome starts at the Chrome webstore. Open the page with the extension and just click the Add to Chrome button.
Q: How to block ads in applications?
A: Browser extensions cannot block ads in applications. It is better to use separate software for this, for example AdGuard.
Q: How to update ad blocker?
A: For browser extensions, updates are automatic and do not require user interaction.
Q: How to add a custom filter?
A: It depends on the tool you use, and not each has the function of custom filters, so look it up on the publisher's website.
Q: Which ad blocker saves traffic?
A: AdGuard, uBlock Origin and Ad Remover are the best options when you need maximum traffic saving.
Q: How to remove ad blocker from Chrome?
A: All extensions in most cases display an icon next to the address bar. Right click on the icon and select Remove from Chrome, then confirm. Or go to the address chrome://extensions/. This tab is for managing all extensions, each has a Remove button.
Q: What if the ad blocker doesn't block ads?
A: It may be necessary to apply custom filters or consider changing to another plugin.
Q: What should I do if a website asks me to disable ad blocker?
A: This indicates the absence of an anti-detection feature in the ad blocker. In this case, disable the blocker on the site or use a different extension.
Q: Are ad blockers legal?
A: Users have the right to decide what content they want to see. Some companies have tried to challenge the software rights to hide advertisements due to actual losses incurred, but so far to no avail. For example, Adblock Plus won a lawsuit in the German court and proved that their services are legal.
Q: How to detect an ad blocker?
A: JavaScript and some widgets, WordPress plugins can help.
Q: How to bypass an ad blocker?
A: It is possible to trick browser extensions with ad detection rules. For example, banners of a slightly different size than usual, or headings that do not contain the words "advertising", "banner".
Q: Is ad blocker free?
A: Most ad blockers are free, but there are also paid options.
Q: How to create your own ad blocker?
A: To build a blocker, you can use the open-source codes, although you need programming skills anyway.