5 Ways‌ ‌to‌ ‌Improve‌ ‌SEO‌ ‌on‌ ‌Your‌ ‌DIVI‌ ‌Website‌ ‌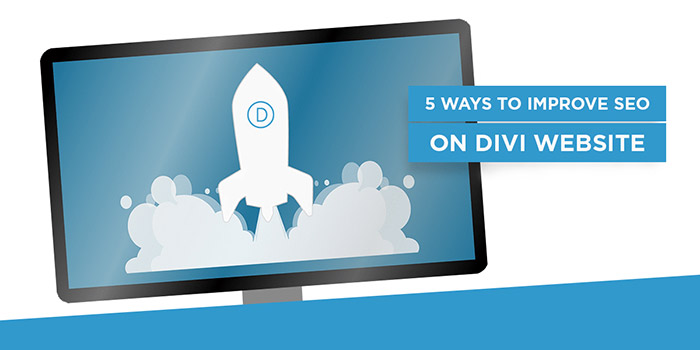 DIVI is a visual page builder for WordPress-powered sites. It uses pre-made modules — such as contact forms, sliders, and columns — that you can combine together for creating a unique site layout without having to dig into the code. 
However, some SEO experts think that DIVI-based websites aren't compatible with good SEO. Which is, of course, a false claim. This article will introduce you to five ways to improve SEO on your DIVI website. 
Spoiler: these guidelines are not that different from other WordPress-themed tips, however, quite valuable for expanding your professional horizons!
#1 Fill Your Website With Quality Content
The content is the core of your website. When a user searches for something, he or she will spend more time on your website if you give them information that solves their query. So, what do you need to do to increase your content quality and relevance?
Make your keywords sound organic. Remember that you write for people, not for search engines. Google can easily filter out the junk and lower your rating in the SERP if your content doesn't seem coherent or relevant; that's why you should concentrate on the content quality first. 

Format your text. A text without heading, lists, and quote boxes look monotonous and difficult to get through. Be sure to make it scannable so that an average user can easily look through it and find the information he or she needs.

Add interactive elements to your content where appropriate. Animated visuals, videos, clickable infographics, polls, and other elements may increase the time spent on your website and make your content more interesting. 
Another way to boost up your ranks on the SERP is link building. The more trusted sites link to your page, the better. You can build the traffic on your website by yourself, or delegate this job to professionals in marketing, such as Adsy, for example. The team of professionals can easily collect the link mass for you and boost your website traffic in no time.
#2 Improve on-Page SEO
On-page SEO is the number of practices that help you optimize certain pages to make them more relevant to a user's queue and increase the ranking on the SERP. On-page SEO affects mainly content and HTML code of the given page.
Since we've already touched upon the content a bit, here's a quick SEO 101 for your Divi page HTML:
Make your website crawlable. Google crawler helps the search engine to index your page and rank it in the results. To make the website more crawlable, you need to update your content regularly, interlink pages (especially the new ones with already existing), create a sitemap, and robots.txt file. You can also use SEO crawlers, such as OnCrawl, to see how Google robots view your website and polish minor issues.

Optimize your images. Site crawlers can read images, so make sure they're crawler-friendly by using tags, alt text, descriptive image names, and suitable format, such as JPEG. You may also want to optimize the image size, as larger images decrease crawler rate.

Use a good server. Ideally, your website hosting shouldn't have downtime or disconnections that can slow down the crawler's rate. Also, choose a server with good bandwidth, backup services, and security to prevent random attacks and user's data leaks.
#3 Don't Forget About Mobile Devices
Many users today browse the Web from mobile devices: smartphones and tablets. Ignoring the compatibility with these devices will hide you from many potential visitors and may lower your ranks on the SERP.
Thankfully, DIVI has all the tools to make your website design more responsible. Each element on the site can be adjusted to fit different screens in the DIVI setting panel. So be sure to use this option to make your pages more compatible with different mobile devices.
Also, there's a lot of online courses that can teach you how to improve your Divi design and make it lightweight and user-friendly.
#4 Use WordPress SEO Plugins
If you already find yourself confused with what you should start with and where are you supposed to get proper analytics data - an SEO plugin is a sure way to expand options you have with a default WordPress tool. Plugins will help you create a more detailed website structure and will notify Google robots if there's been an update so that they will crawl through and index new content more quickly.
So, let's see what SEO plugins for the WordPress website you can use. Normally, you'd only need one or two of them, but it's always advisable to check several most popular plugins and find out what works best for you.
Yoast SEO. This plugin is probably the most well-known among all WordPress users. It includes lots of tools targeted to make your website more friendly to search robots, as well as more readable for a regular user. Yoast helps you make consistent URLs, revise your meta tags and descriptions, and manage SEO via teamwork by allowing you to set roles for your team and unlock the specific options of the plugin. The premium version has even more features, such as suggesting relevant internal links when you create a new page and giving synonyms for your focus keyword phrase to make your text look more natural.

Rank Math. A completely free plugin (as of now). It looks like Rank Math has been stepping on the toes of Yoast, offering almost the same package of tools as the latter one, however, for free. Rank Math attracts more and more users with a user-friendly interface, simple setup process, and great support. Our opinion is that you should definitely give this relatively new plugin a try.

SEOPress. Another popular option for WordPress users, SEOPress concentrates on such factors as building custom XML Sitemaps, improving internal linking and social media sharing, and creating scannable metadata. Premium version includes 404 monitoring and the ability to export and import metadata from CSV files.

Squirrly. Squirrly is an AI-based SEO consultant that works for WordPress and WooCommerce and has useful tools for those who prefer to write their content by themselves. This plugin, along with providing some default functions, can also seamlessly integrate your content in social media and provide you with a detailed analysis of content and keyword rankings.

All in One SEO Pack. This plugin works perfectly for complete beginners and advanced SEO users. One of its greatest features is that you can let it run in tray mode and do all the job for you automatically. However, if you want to toggle the plugin to your preferences, the All in One SEO Pack will let you do that. The plugin automatically creates meta tags, optimizes page titles, and is compatible with other SEO tools and PHP 7. Want to know the best part? It's also one of the few absolutely free plugins out there, so it is a good option to start with.
Basically, you can choose what works best for you or organize your own setup with specialized Divi plugins that will suit your needs.
#5 Toggle the Website Speed and Performance
Page loading speed matters for both search engines and regular users. That's why you have to make sure that your website pages are loading swiftly. Unfortunately, DIVI, as most of the third-party site builders, can be resource-hogging. However, you still can optimize your website performance with these simple tips:
Minimize redirect cycles. Each redirect creates an additional HTTP request-response cycle that slows down your overall loading speed. To prevent this, make your website more responsive and compatible with different devices so that it won't have to create a redirect page each time.

Control browser caching. Typically, when a user enters your website, their browser caches a lot of information such as CSS style sheets, JavaScript elements, images, etc. This optimization will improve the pages' loading speed, without having to reload the whole page each time the user clicks on an internal link or returns to your website once in a while. Unless you change your website design frequently, you can set the 'expiration date' on your cache with the help of different tools, such as YSlow. 

Compress images. Images can take up to 90% of the page size. You can compress them using WordPress plugins, such as WPSmush, which can reduce animage size by ~15% without making it look blurry. Or, you can export your graphic content into more web-friendly formats, such as BMP, optimized JPEG, or PNG.
As you can see, making your DIVI-based website more SEO-friendly is no rocket science! You may need to learn about using specific Divi-related practices or customizing your theme to make it more responsive and lightweight but most things remain the same - as with any other site builder. 
Find your target audience, check the keywords, concentrate on quality content, link internal pages, and provide relevant external links to support your data. Also, don't forget about tags, formatting, and making your website accessible for people. 
These simple tips will help you with a proper start, and you will see your ranks growing in no time!
Marie Barnes is Marketing Communication Manager at Adsy and a writer for GearYoda. She is an enthusiastic blogger interested in writing about technology, social media, work, travel, lifestyle, and current affairs.
Top comments
Loved the piece of content. Really helpful and informative content here.

Pyramidion Solutions is one of the best mobile app development companies in Chennai, offering interactive and reliable apps with a

I like this app. And, what are you doing with comments? You look like hackers.... 😎

Develop your own cryptocurrency. We deliver the best cryptocurrency exchange software with latest features like Margin Trading, Le...
Popular posts
Recent discussions