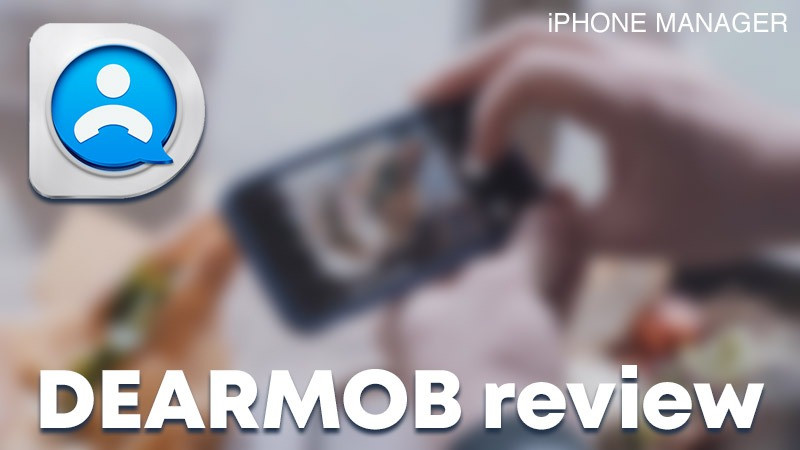 Apple is regularly updating its services, including those for iPhone backups. Sometimes these updates may not be actually working, or Internet connection is unstable, when you need free space on iOS device right now. DearMob iPhone Manager app is designed to simplify file management on iPhone. It can create backups of all content or separate parts from any iOS device to local drive on PC. Also, it helps to recover accidentally deleted files and contacts.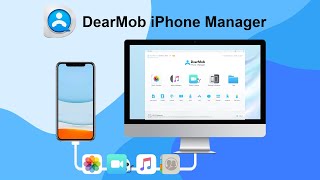 Specifications
| | |
| --- | --- |
| Vendor | Digiarty, visit site |
| Newest version | DearMob v.4.2 out November 2019 |
| Operating systems | Windows / Mac |
| Installer file size | 50 MB |
| Menu languages | 5 |
| Features | Full backup, encrypting, duplicates removal |
| Pricing – Free version | |
| Pricing – Full version | $29.95 DearMob (1 year 1 PC) |
Getting started
DearMob installation doesn't require special knowledge, programs, or drivers. Just click Install at startup and Launch at the end of installation. However, the installer still allows you to change a folder, configure shortcuts and read the User License Agreement. To access any of these options, click Custom Installation. The installed program takes only 152 MB on the hard drive.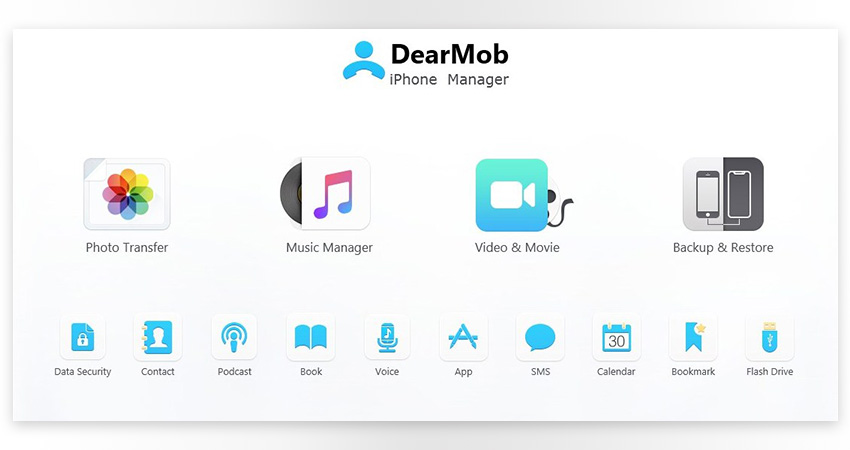 The main window allows you to immediately select one of 4 main or 10 additional backup modes. We recommend that you first connect your iPhone (or any other iOS) device to your PC using the USB data cable. Then the program activates a selected mode, otherwise, a connection troubleshooting guide appears. After connecting via USB, you should click "Trust this PC" on iPhone to allow reading data.
Tip. Click on the battery icon in the upper left corner to see a battery status report.


Main features
In total, DearMob iPhone Manager has 14 different modes and several utilities, but let's start from the 4 most important ones.
Full Backup / Restore
In this mode, DearMob creates a full copy of iPhone data. It includes: pictures, videos, audio, podcasts, books, calendar events, SMS, contacts. A created copy can be encrypted with a password, but there are 4 important rules that you should know before doing so:
A first-time password will become a default password for backups, even in iTunes and iCloud.
With an existing password, to get a new one you'll have to reset the old one in Tunes.
If you forgot the password, in iOS 11 and newer you can delete it by resetting iPhone (only settings, not factory reset).
It is impossible to restore backup if it was created in an older version of iOS.
The main feature of this mode is the creation and restoration of data in one click. Due to OS restrictions, the password for decrypting backup cannot be restored on iOS versions prior to 11.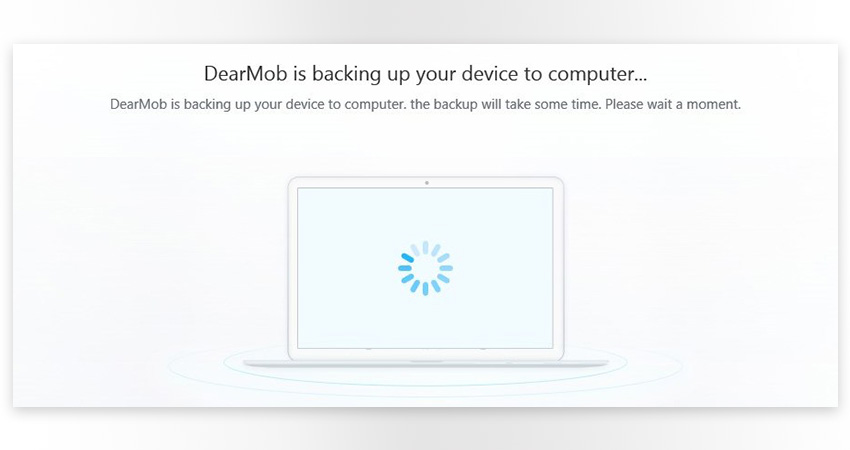 Tip. If you are bad with remembering passwords, use partial backups with encryption.
Photo Transfer
High-resolution photos very often take up significant space on iPhones. Photo Transfer mode provides access to all images in device memory. In particular, standard catalogs with photos, screenshots and Recently Deleted will be loaded automatically. Users can also create catalogs as collections. Multiple files can be selected, grouped by date, and display mode can be adjusted. For pictures there are 3 operations:
Add - add new photos to device from local drive.
Delete - selective or complete deletion of images in selected directory.
Export - save images to local disk. Export mode with password is available.
Tip. After completing each task in this and other modes, it is necessary to launch synchronization to apply changes on a device.
Music Manager
This is more than just an audio file manager. Like Photo Transfer, it works with various directories or playlists stored on the device. Audio files can be added, exported, encrypted, and deleted. The interface displays file format, duration and recording quality. For large audio libraries, there is a built-in search and 3 types of sorting (by artist, by album, alphabetical list).
The most interesting part in Music Manager is a utility for creating ringtones using music files. To work with it, a user must select a file from iPhone and activate the editor mode. Using brackets, the desired length should be set, but no longer than 40 seconds. Files shorter than 25 seconds can also be used as alarms.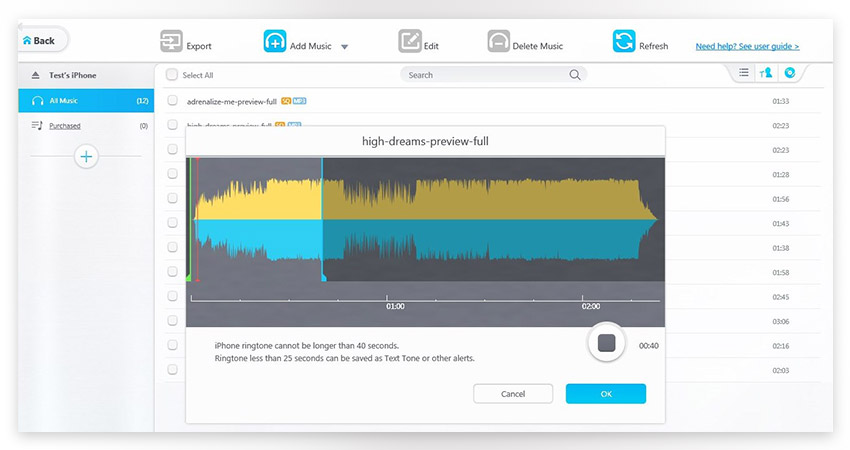 Tip. In DearMob there's also a built-in metadata editor, which can be used for fixing incorrect descriptions of songs.
Video & Movie
Due to iOS platform limitations, catalogs for recorded videos and downloaded movies have limited functionality. For other video files, DearMob offers basic operations, including search by name. Yet, the main feature of this mode is automatic detection of videos not supported, or not optimized for iPhones, and alerting about such issues. To perform video optimization, click Convert on a file thumbnail.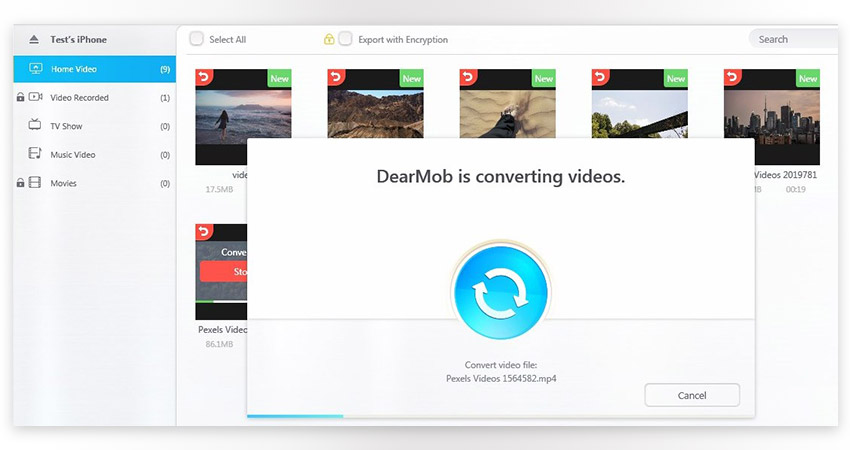 Tip. In the lower left corner the amount of free space on device and total size of video files is displayed.


Additional features
Data Security 
Secures files with a password. It can be both for files and folders on PC drive. It creates encrypted files with its own extension (.DEARMOB) in a separate folder without changing the original files. This is the only feature of DearMob not requiring a connected iPhone.
Tip. To decrypt files, add them to the Files Decryption tab and enter a password.
Contact 
It provides contacts manager and backup tool at the same time. All fields can be edited. Contacts can be exported to .VCF, .TXT, .HTML, .PDF formats, both the whole contact book or selected contacts. Import is available from .VCF files only.
The Merge Contact button in the right corner activates the utility for searching duplicates in phonebook entries. But keep in mind that it performs a search only by phone numbers, other parameters like name or email are ignored. While merging, users can select Master Record to which other records will be attached.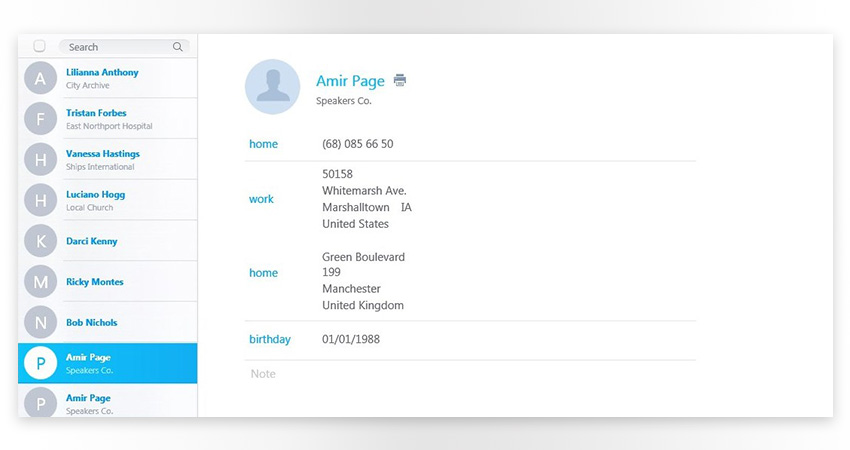 Apps management
This mode solves the problem of creating backup of favorite apps from iPhone. DearMob can install the application using a local copy of the file (.ipo extension) or uninstall it from the device. But this applies only to applications from third-party developers, standard applications are not supported due to iOS limitations. Also, for apps with built-in file storages (e.g. VLC player), it is possible to edit attached files using the Shared File feature.
Tip. To save sensitive application data (cache, credentials), it is better to perform a full backup of the device.
Calendar
DearMob provides backups for calendar events. For each record there are name, date, frequency and alarm signal, which, coupled with the possibility of multiple choice, makes event management even easier. Like regular files, all records can be exported and restored from a backup file.
Tip. If a device has changed the file structure or it is not displayed correctly, click Refresh.
Flash Drive
Another small backup mode, which makes it incredibly easy to work with iPhone. Unlike iTunes, in DearMob you can use device memory directly, turning it into a kind of flash drive. Files can be added, deleted, modified (depending on the file) and sorted. Though only files and folders added by a user are supported, system files are not accessible for reading and modification.
Tip. To avoid potential errors, do not copy read-only files to the device.
Data Management 
DearMob also can work with each type of content separately, so the backup modes of Podcast, Voice Memos, Books, Bookmarks, SMS are identical in functionality. They allow you to create, delete, export and encrypt the corresponding types of content.


Testing
For tests, we used an iPhone 5 after factory reset. Stock multimedia files and manually created entries were uploaded to it. Test file structure:
| | | |
| --- | --- | --- |
| Audio | 12 | Loaded from stock |
| Movies | 8 | Loaded from stock |
| Video | 1 | Made by iPhone |
| Podcast | 1 | Loaded from stock |
| Images | 50 | Loaded from stock |
| Photos | 10 | Made by iPhone |
| Screenshots | 10 | Made by iPhone |
| Books | 2 | Loaded from stock |
| Contacts | 11 | Made by iPhone |
| Calendar events | 5 | Made by iPhone |
| SMS | 2 | Made by iPhone |
| Apps | 3 | Loaded from stock |
Using this file pack, we tested each backup mode for errors in creating or restoring backups. All tests were successfully completed. Tested modes were as such:
| | | |
| --- | --- | --- |
| | Backup | Restore |
| Images and photos | Pass | Pass |
| Videos and movies | Pass | Pass |
| Audio files | Pass | Pass |
| Bookmarks in Safari | Pass | Pass |
| Apps Install/Uninstall | Pass | Pass |
| SMS | Pass | Pass |
| Events in calendar | Pass | Pass |
| Contacts | Pass | Pass |
| Full backup | Pass | Pass |
| Full backup (with encryption) | Pass | Pass |
During our tests, the maximum operation time for several types of content did not exceed 20 seconds. A full backup (total file size 499 Mb) was completed in 2 minutes 13 seconds, and adding encryption to the same operation pushed it to 4 minutes 54 seconds. This is quite fast. In terms of recovery, as the opposite side of backups, non-encrypted archive took 3 minutes 27 seconds to recover, while encrypted backup recovery lasted 7 minutes 12 seconds.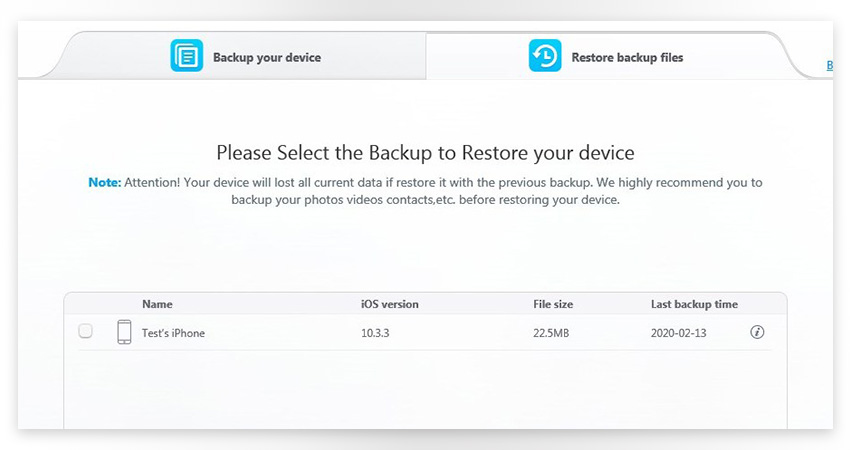 Pricing
DearMob has a free trial version and it has interesting terms of use. Every day, the program provides users 100 credit points, and then each task costs a certain amount of these points. Thus, users would not use DearMob very often can bypass the trial version, performing backups only from time to time. Here is the cost of some operations:
Photo transfer: 2-4 points per file
Backup iDevice: 50 points per time
Manage ringtone: 5-10 points per file
Manage app: 15-30 points per file
When working with a large number of files, we recommend purchasing the full version. DearMob iPhone Manager has a classic pricing structure, with the ability to subscribe or buy lifetime license for one or more devices. It is worth noting that the prices for Windows and Mac versions are the same:
$39.95 - 1 year subscription for 1 PC/Mac. Free updates.
$47.95 - Lifetime for 2 PCs. Unlimited downloads, updates and tutorials.
$69.95 - Lifetime for 3-5 PCs/Macs. Also includes HD Video Converter.
DearMob alternatives
EaseUS MobiMover ($29.95 1 year, 1 Mac) - a file manager for iPhone, with video downloader (by URL), synchronization between iOS devices. The free version is limited by 30 files per day. CopyTrans is free and only for Windows. The free version can only work with audio files, and the full package costs $29.99. MusicBee is a free application for Windows that has a wide range of tools for managing a media library, audio player and converter.


Conclusion
DearMob can work with any files (except system files) on iOS devices without restrictions. It can perform full or partial backups for all types of content. Important files can be encrypted, as well as full backups, which can be used as another layer of protection from intruders who aim to steal files. Built-in utilities, such as file manager for multimedia files, editor for contacts and calendar events, add much value. In addition, the ability to copy to root folder allows to use iPhone as a flash drive, which is impossible with iTunes.