Essential Personal Information Manager (EssentialPIM) - a cross platform application for Windows, Android and iOS. EssentialPIM is an electronic tasks manager which can synchronize data between different devices and services. All stored data can be exported, backed up or protected with AES data encryption. The extended version supports data sharing so it can be used for business process management.
Interface
The interface looks a little bit outdated. Although the dashboard was created to solve specific problems, most features were added at the request of users. If you ignore the visuals, it is easy to use and concise. The menu is available in 33 languages. EssentialPIM has only 3 toolbars: menu, sections and a working area. The most commonly used in the section panel on the left - to navigate through different types of data stored in the program (Contacts, Tasks, etc.). There is also a mini-calendar that displays events scheduled for the current month.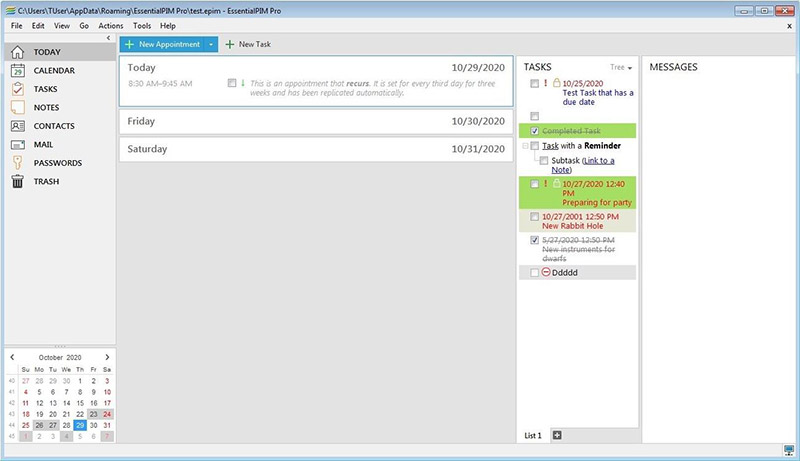 The main part of the frame is allocated for the workspace. This is a dynamic window, in the default state, it displays the Today section about upcoming meetings and tasks. In order to edit it or add new ones, you need to go to the appropriate subcategory. The last panel is located at the top and is well known to Windows users. These are the traditional tabs File, Edit, Tools, Help, etc. There are also shortcuts to Password Generator, Attachment Manager, PGP and EssentialPIM global settings as an application.
Tip. Dark and light interface themes are available in EssentialPIM. They can be activated after the first launch or in Settings.
Main features
Calendar
There are 4 traditional for calendar display modes: Day, Week, Month, Year. In accordance with the selected mode, events scheduled for this period will be displayed. The events of the day are displayed on an hour scale, in 30 minute increments. Job labels dynamically resize to fit the duration. This means that several events can be scheduled for the same time, some of which start earlier than the main one. This rule is also relevant for other display modes adjusted for the duration of the event. For example, a task lasting three days will occupy the entire field in the Day mode and only a small part in the Month.

Also in Calendar there are 2 additional display modes: Week Agenda and Table. The first shows a grid of days of the week and a list of scheduled tasks for each day. Unlike the usual Week, the hour scale is not displayed here, but more information about each task is available in a compact form. In the Table mode, it shows only a list of scheduled tasks with fields: Start time, End time, Duration and some part description.
In general, the Calendar as a feature is closely integrated with Tasks and Notes, so it can be used as planner of work (or personal) time. The advantage of this symbiosis is that you can quickly manage your time, taking into account the description of current and future tasks.
Tip. You can create events and appointments in Calendar. To do this, double-click on the required time (day, month), enter and fill out the task card.
Tasks
The main part of EssentialPIM is the ability to create tasks. It can be used to create plans for the future single tasks, schedule appointments, or initialize a regular to-do list. Thanks to integration with calendar, a user is able to schedule tasks execution in accordance with priority or suitable conditions. Tasks creating and editing is realized through a special editor, which has a separate program window frame. For custom text description there are the following options: different types of highlighting (color, underline), numbered lists, bullet lists, hyperlinks.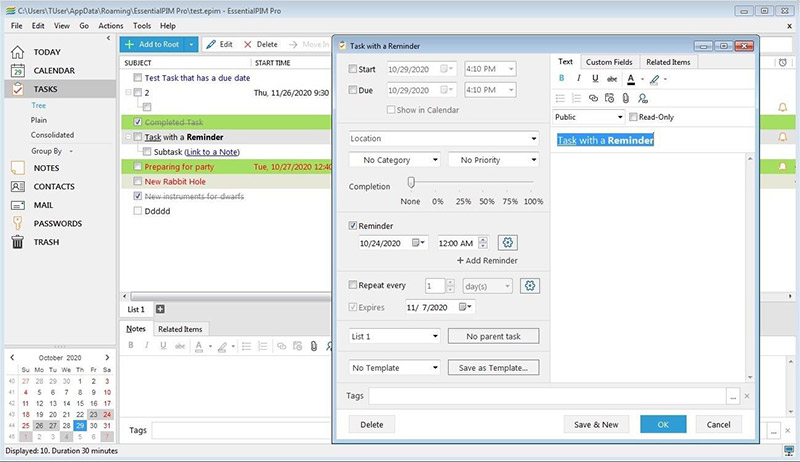 For each task, you can set a number of properties which affect its viewing. Also in EssentialPIM, you can create recurring tasks and special reminders. For frequently used tasks, templates and parent tasks (one main task can include several additional ones). All tasks can be marked by custom tags, categories and priority levels. Progress tracking uses the built-in scale with 25% increments.
This module can be viewed as a Tree, Plain or Consolidated list. They differ in the principles of records grouping and in which parts of the descriptions will be displayed. It is also possible to group the list items by the task's start/end dates. Among the additional options, it is also worth noting the built-in search, a filter for the general list and data table fields customization. All EssentialPIM modules are mutually integrated, but this is most noticeable thanks to the task items manager. When you create any task, you can associate it with a file attachment, date, password, or email (if it has been synced).
Notes
Unlike Tasks, Notes has a fully functional text editor, which is a significant advantage of EssentialPIM among programs for personal notes management. As in other modules, the main part of the work area is occupied by the editor itself, but there is one peculiarity. On the left, there is a list of all already created notes, which displays them in a hierarchical data tree.
By default, all notes are saved at the root of this list, called Root note. But if necessary, users can create folders and subfolders with files inside it. It allows us to build our own notes storage structure. The second advantage of this system is in the unlimited number of root folders for notes. Thanks to this system, EssentialPIM is convenient to store notes about several projects at the same time.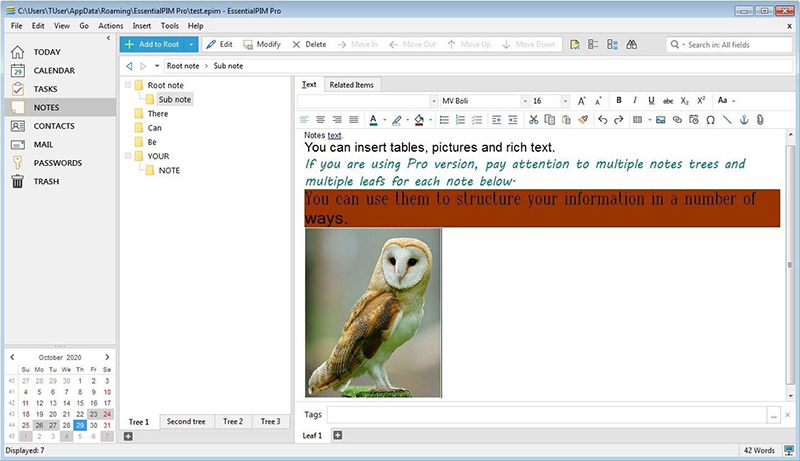 To create and edit notes, a separate (from Tasks) text editor with 150+ different fonts is available. With the help of special tools, you can edit its style, align, colour, indent, etc. The built-in editor supports the creation of 3 types of lists, subscript / superscript, and different types of text selection. Also in it you can create hyperlinks and anchors, add tables, pictures, files.
There is a feature in Notes that deserves special mention - Sticky Notes. It is very similar to the Sticky Notes widget that first appeared in Windows 7. In EssentialPIM, they display the text part of the favourite note and can be used as separated from the main frame. Fast editing, colour change and timer of hiding are available for them. But it's worth mentioning that they are available only if the EssentialPIM main window is running.
Tip. As in Tasks, for each note, users can manage the files and attachments associated with it, complete search by 4 parameters and search with replace.
Contacts
As in other modules, it allows to structure data to user preference. It is not possible to create separate lists, but contacts can be divided into groups, which can be multi-levelled contact lists. Navigation by contacts is available in two ways: by group list or by data table. To add a contact to the list, the user must create his business card. Standard fields such as: First / Last name, Photo, Numbers, Address, Email are available for filling.
Another benefit of EssentialPIM is that all of these fields can be deleted, renamed or replaced with others. Their number is unlimited, so users can create different contact cards templates. For example, it can be field with name or link in social networks. As in other sections users can add file attachments to cards and build links with other types of data stored in EssentialPIM.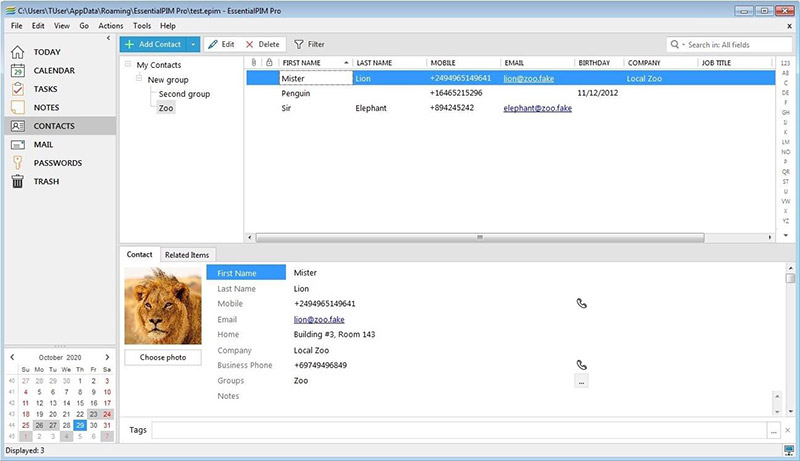 As a rule, only a name and a small description can be set for contacts groups. In EssentialPIM, users can create a detailed description for groups that includes contacts, address, files, and related data. The main contacts list and possibility to create hierarchical group structures, can be used for creating multi-level groups with subgroups of contacts.
Extra features
In addition to the main modules in EssentialPIM, there are many little features which greatly simplify the data using and management. Here are 10 of the most interesting and popular ones:
Sync – it supports many scenarios for data synchronization: between program modules, with Google services (Drive, Calendar, Notes), mail providers (Gmail), cloud services (iCloud, Dropbox). In the Business version, synchronization is also possible by an internal server.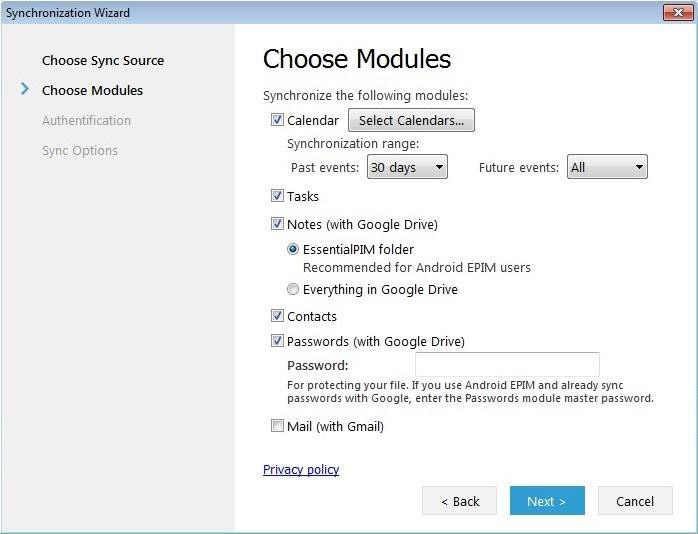 Sharing - features for teamwork which are available only in the Business version. Their deployment doesn't require special knowledge, because all are already included in the package. System can synchronize user's changes between devices automatically in real-time or on demand.
Export / import – export to the cloud (Dropbox, iCloud, Google Drive, etc.) is possible as online synchronization. Also, for each separate section of the program, at least 2 types of files for export / import of data are available. EssentialPIM supports the following file formats depending on the data selected: CSV, HTML, ICS, TXT, VCF, EML, PDF.
Auto save - In Options, you can enable program state autosave (not backup) every X minutes or if the work window was minimized.
Post client – EssentialPIM can sync mail from email providers. To enable this, log into them and allow access to the content reading. After this, all emails will become part of the EssentialPIM file system and can be searched, edited and linked to other data. Key sensitive emails can be additionally protected by PGP.
Passwords storage – same functionality as in Notes. Fields can be customized, and records can be grouped. EssentialPIM also provides a password generator which creates random passwords from letters (both cases), numbers and symbols up to 200 characters long.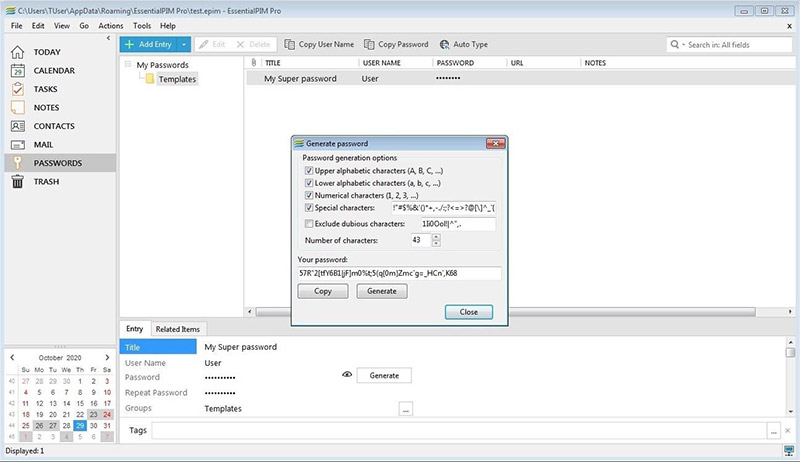 Trash – stores all types of data that have been deleted from the EssentialPIM. If necessary, it can be cleared to reduce the application database total size.
Data Protection - owner can set different access rules for folders and files. Also, for better security in all versions of Essential PIM, external connections use only the SSL and TLS protocols, and data can be protected by password and AES encryption.
Reminder – built-in subprocess which shows notifications about scheduled tasks. It can also be configured to warn users earlier than task start time. The text message and sound signal can be customized, also it can run EXE applications.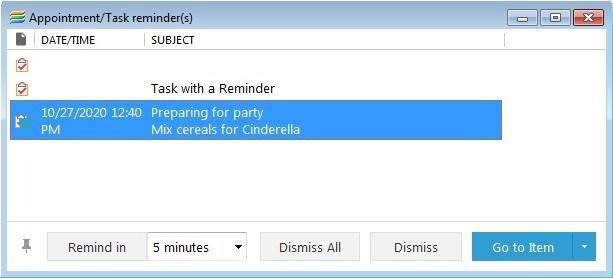 Backups – automatized database backup creation with an interval from 1 hour to 10 days. A system of control and automatic removal of old versions of backups is included.
Tip. Also for all EssentialPIM clients there are free additional tools – EPIM Synchronizer, EPIM Archiver and EPIM Outlook Sync which can be downloaded separately.
Pricing
EssentialPIM is available for three platforms: Windows, Android and iOS. Their tariff grid is a bit complicated, because they have several types of licenses, with different features packages and conditions for discount. But for Pro and Business versions there is an unlimited 30-day trial. We researched the entire structure of EssentialPIM pricing and here they are:
Free – free version available for all platforms. It is suitable for organizing personal storage of different types of data. It's completely free and full-functional for iOS, Windows and Android versions don't include some features, especially: some types of sync, Sticky Notes, custom fields creation and text formatting.
Pro – the most popular version, which provides access to almost all features. Pro version for $39.95 can be installed on 2 Desktop devices, and provides access to all new updates throughout the year. The purchasing a lifetime Pro license, gives unlimited access to new versions and product upgrades.
Business – the whole set of Pro features, plus tools for teamwork. In particular, it enables managing access to different database levels and launching public servers. Basic license for $59.95 per device. Lifetime access to new versions and updates is available for $99.95.
Pro for Android – it costs only $3.99 per lifetime. Purchasing the Pro version will unlock notifications, widgets and some sync functions unavailable in the Free Android version.
EssentialPIM gives a free Pro license to those who help with creating localizations for new languages. There are also 3 types of discounts available: 1) Volume discount – if users buy 6+ Pro licenses, their total cost will be reduced by 10%. 2) Educational discount - 30% discount on the Pro version for students and educational institutions. 3) Competitive discount - 30% for those who use the program from competitors and want to upgrade to EssentialPIM Pro.
Tip. Purchasing any license includes lifetime technical support and a 30-day money back guarantee.
Conclusion
EssentialPIM is one of the oldest and best solutions for managing your data and tasks. Built-in editors and its own database make it autonomous and independent of third-party solutions, so data inside it is always available. This has a high level of customization of the workspace, which allows it to be embedded in decision-making chains of varying complexity.
In maximal configuration, it can be used as a virtual back office, thanks to the built-in online information sharing capabilities. EssentialPIM official user forum is filled out with topics where the curators helped (and still help) solve problems with the application using or accepting requests for new features. This makes EssentialPIM highly reliable in everyday use.