In our latest guide to Bitcoin, we outlined what is necessary to know about blockchain as the basis for cryptocurrencies. Let's move on to getting some coins and see how to buy and sell cryptocurrency. There are two things you should be familiar with. One, crypto-exchange platforms and, two, cryptocurrency wallets. Exchanges are the places where you would exchange, buy, sell bitcoins and altcoins. The latter is a tool to store your digital coins. To better understand cryptocurrency transactions, we've decided to review two biggest exchange platforms.
Coinbase exchange
Currently the biggest and most popular cryptocurrency exchange platform, available in 32 countries. It allows trading Bitcoin, Bitcoin Cash, Ethereum, and Litecoin. To over 20 million users it offers a friendly interface, few levels of protection and both desktop and mobile (Google Play and App Store) versions.
You have options to create a private or a business account. In case of second, the service will offer to redirect you to the subsidiary products – GDAX, a trading platform for investors, and Coinbase Commerce API, for accepting cryptocurrencies as payments for goods and services.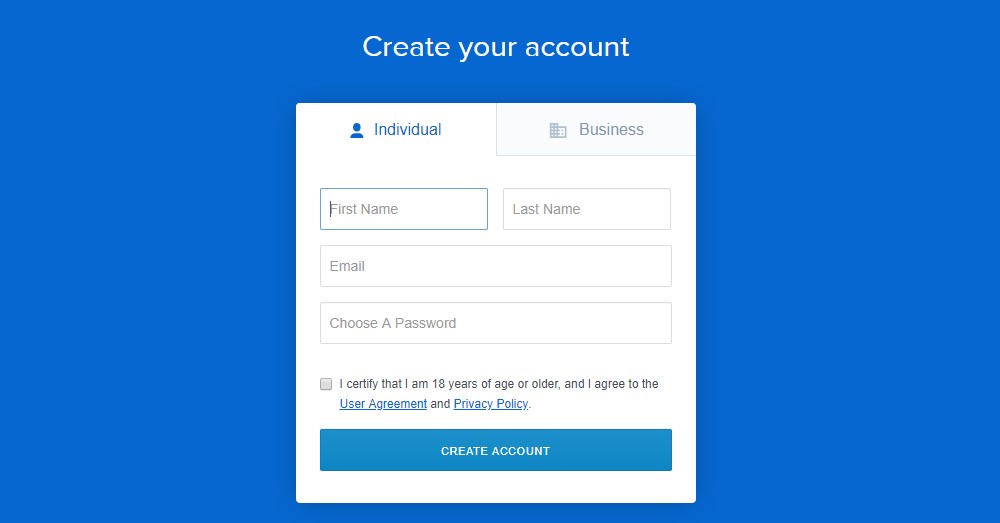 Further registration forms will require personal information like bank account, credit/debit card, address, ID and its verification. The more data you give, the higher your buying options will be. The daily maximum cash transactions for the U.S. is $50,000, for Europe – €30,000. As soon as you create an account, it is time to choose the means of protection. The service persistently advises the 2-factor authentication. 2FA or 2-step verification, besides the passwords, there's a 2FA code. The code is generated on your phone by such methods like TOTP (time-based one-time password), Google Authenticator or similar apps, SMS/text codes (less secure).
Coinbase supports three payment methods: banking account, debit/credit card and wire transfer (PayPal). Depending on a country, available options can vary, the same as the conversion fees and exchange rate. Take into account, that in countries like Australia, Canada, Singapore, both variable and fixed fee are used. But in general, for the fastest transactions you will have to pay more:
| | | | | | | | |
| --- | --- | --- | --- | --- | --- | --- | --- |
| | Best for | Buy | Sell | Deposit | Withdraw | Speed | Fee (USA) |
| Bank account | Large and small investments | + | + | + | + | 4-5 business days | 1.49% |
| Debit/Credit card | Small investment | + | – | – | – | Instant | 3.99% |
| Wire Transfer | Large investment | – | – | + | + | 1-3 business days | 3.99% (PayPal) |
Local currency wallet is another useful feature. A consumer can place the funds in USD, Euro or other national currency, and later use it to buy the coins.
As mentioned earlier, Coinbase has an easy-to-use interface, so, learning how to buy and sell cryptocurrency won't take a lot of time. Currently, the service supports following digital currencies: Bitcoin, Bitcoin Cash, Ethereum and Litecoin. Coinbase provides rates statistics by each coin (hourly, daily, weekly, yearly, all time), so the consumers can easily plan their actions based on given information. Mobile app version gives the opportunity to set  alerts – to stay notified about price fluctuations.
On Coinbase you can easily switch between Buy and Sell options. In both cases, the system works the same: you choose a type of coin, a wallet and a payment method. However, due to high rates, rather than buying the whole bitcoins, the most common option is buying/selling by fractions. You need to input the amount of money you are ready to spend, and the system immediately displays the amount of coins you get:

For reverse transaction, a consumer has to write down the number of coins he/she wants to obtain – the money sum  column will appear:

To sell, a consumer is choosing from what place to take the coins (BTC, LTC or ETH wallets) and where to send funds (USD Wallet, PayPal, or bank account). The rest of it is the same procedure as with buying – select the amount of coins to sell and/or your rate.
Kraken exchange
The second biggest cryptocurrency exchange, according to experts and users. Kraken is available in the European Union, Canada, Japan, and the USA. Unlike Coinbase, it works with both trading schemes: cryptocurrency to cryptocurrency, and cryptocurrency to fiat currency. The service supports 17 digital coins such as Bitcoin, Bitcoin Cash, EOS, Gnosis, Tether, Ethereum, Litecoin, etc. Combined with local currency (USD, EUR, GBP, Yen), it creates tradable pairs – XBT/USD, BCH/USD, EOS/EUR, etc. The service also provides statistics of fluctuations and trade rates for each pair.
After signing up, a user has to pass verification. The more advanced account you want, the more requirements it will have:
Tier 0 – the basic level with only interface exploration;
Tier 1 – requires full name, date of birth, country, phone number and has the option to deposit and withdraw only digital currency;
Tier 2 – requires a physical address, and allows depositing, withdrawing and trading in digital and fiat currency;
Tier 3 – requires ID verification, but provides much higher buying/selling limits;
Tier 4 – requires a signed application form, ensures higher daily and monthly limits than Tier 3.
For advanced security, Kraken offers the already known two-factor authentication (2FA) combined with a master key – as the option to recover account access. 2FA is provided by authentication app (6-8 digits one-time passcodes), Yubikey (hardware device) and static password.
Unlike Coinbase, where you can pay directly from your bank account or credit card, on Kraken you have to deposit some funds first. Choose the fiat currency (Euro, USD, etc.) and select one of the deposit methods: bank account or wire transfer (SWIFT, SEPA). For future, use the same instruction to withdraw your funds.

It is free of charge to deposit funds and there are no limits on amounts. This can not be said about the currency movement inside the service and its withdrawal. Fees vary and mainly depend on volume, and also on the popularity of exchange pair. The charge for withdrawals of digital assets vary from ฿0.0005 (Bitcoin) to Ł0.001 (Litecoin) and to Ξ0.005 (Ether).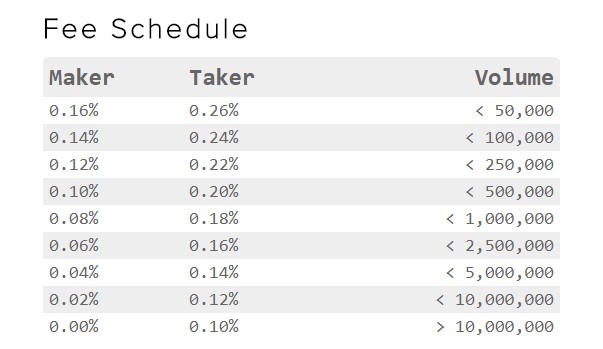 Similarly to Coinbase or other cryptocurrency exchanges, Kraken has its daily buying/selling limits. Amounts depend on the user account status (tier). While buying/selling you can switch between two operations, select currency and its amount. Pay attention, that each cryptocurrency has its minimum order quantity. The reverse rate, like on Coinbase,  is not available. For better trading, Kraken has also launched Cryptowatch, that provides "real-time cryptocurrency market data, charting and trading services".
Cryptocurrency wallets
Besides coin trading, there's the question of funds storage. Cryptocurrency wallets are digital tools, that aren't quite as wallets in a conventional sense. They contain encrypted passwords (private and public keys) to unlock funds. Even though most of the cryptocurrency exchanges, like Coinbase, Kraken or Bittrex, provide its own wallets, blockchain experts recommend using more than one wallet. This is especially relevant considering the rise in popularity and thus, more security threats.
Most of today's coins have its official wallets (Bitcoin Core Wallet, Litecoin Core, Ethereum Wallet, etc). Though you can also choose between multi-coins or single-coin wallet. And yet, there is no wallet which can support all currencies. To unify all available cryptocurrency wallets, we'll get 3 groups: software, hardware and paper wallets. 
Software wallets can store the private key on your PC/laptop, mobile app or on web (cloud server). If you are going to be an active buyer/seller, probably, this is the best choice for you. However, consider pros and cons first.
Pros
Cons

easy to access

perfect for the small amount of coins and day-to-day use

quick transaction time

easy to hack

computer/phone can contain malware and viruses

desktop wallet may require technical updates of OS
One fine example of such service is Armory wallet, check the demo.
Hardware wallet, or a physical wallet, is the most secure way to store any amount of digital currency. The offline hardware device is easy to connect to the internet, often may have a screen, which is an additional safety feature, used to verify the owner.   
Pros:
immune to computer viruses

cannot be hacked

can store multiple currencies
Cons:
doesn't suit the day-to-day trading
Trezor wallet is just one example.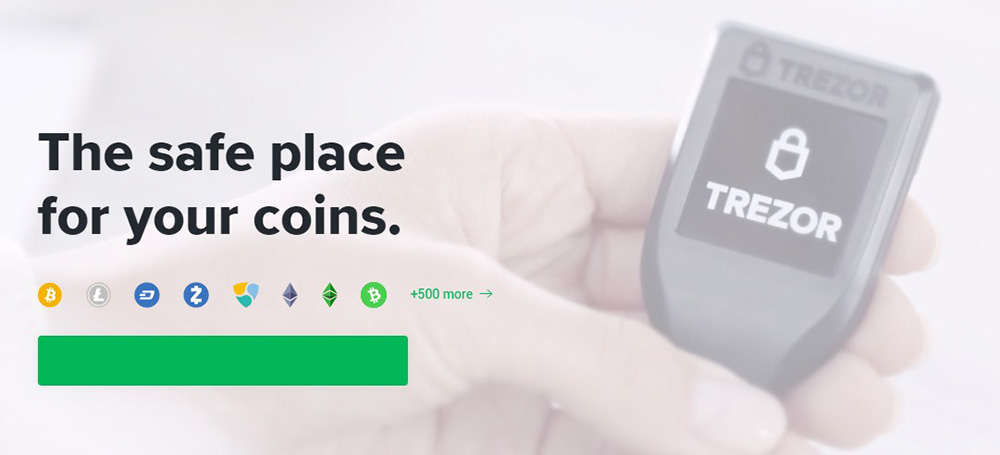 Paper wallet seems less technical than other variants. But everything isn't so unambiguous. Special software programs (BitAddress, Bitcoin Paper Wallet) generate the private and public keys and then the information is printed, most often like QR-code.
Pros:
full immunity to hacker attacks, malware, viruses

is not stored on any device
Cons:
a piece of paper can be lost/stolen
Check out Bitcoin Paper Wallet Generator if you want to know more about it.
Tips how to buy and sell cryptocurrency
Even though the whole idea of Blockchain is independency, security and decentralization, it does not mean all risks are demolished. Yes, your funds of bitcoins and altcoins are better protected than in typical banking system. But many fraudulent schemes have already entered the blockchain environment.
Thus, tip #1: use more than one exchange. Lower fees, user-friendly interface, the variety of payment methods, advanced account protection are main factors, you should consider.
#2 is do not rush to exchange coins into the fiat currency and then withdraw to your bank account. More and more stores and companies accept bitcoins and some other altcoins.
#3, as a beginner, trust the market flow. Choose the most popular exchanges, trading platforms and coins. What is good for the majority, will not hurt your interests. Later, with some experience gained, you will be competent enough to make relevant decisions depending on your selling/buying plans.  
And finally, #4 – never forget to make a backup of your private/public keys.
Let's Build Your App
Provide us with your contact details and we will contact you today
Featured image source: Bitcoin.com