25 best blockchain development companies in 2018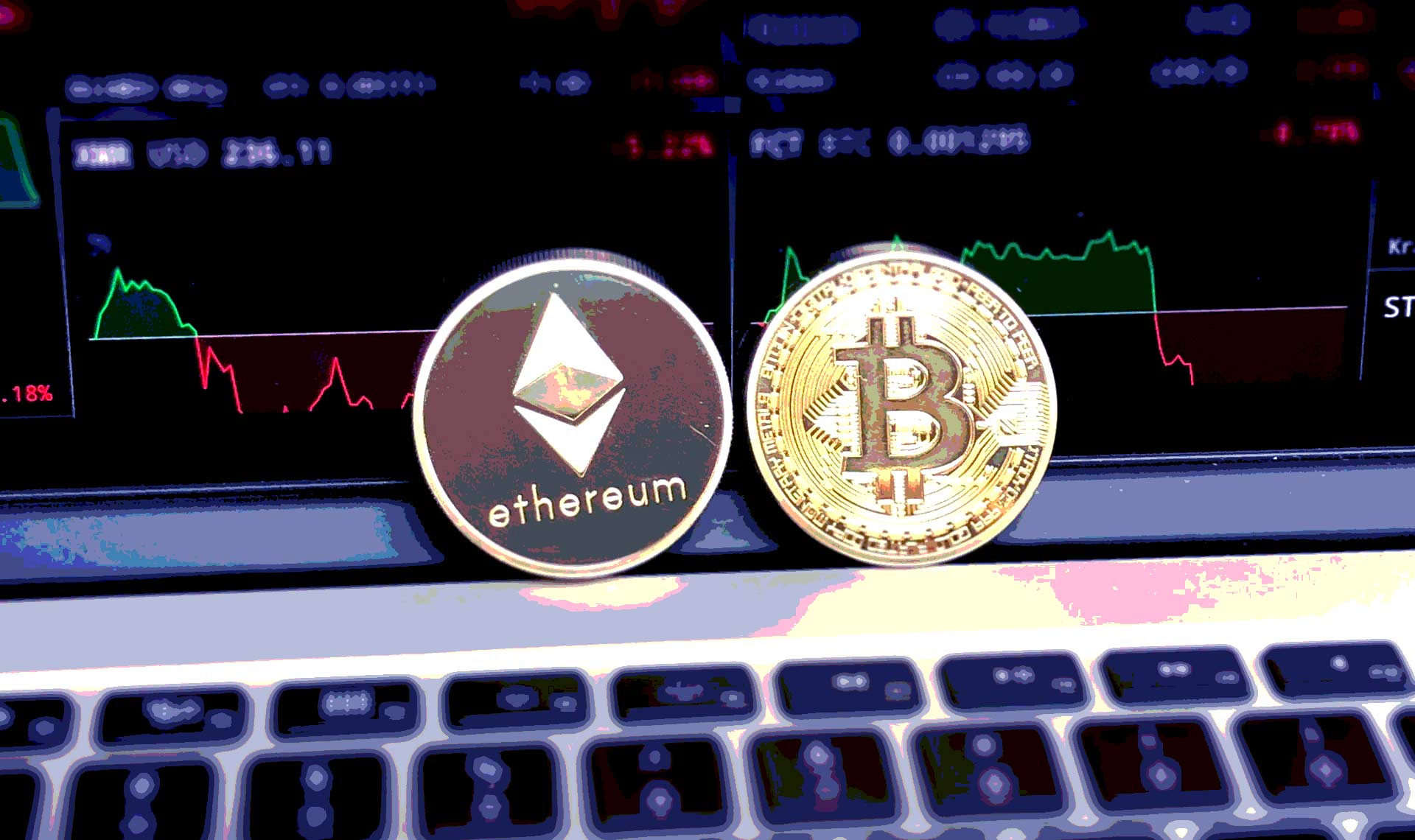 Looking for best blockchain companies to hire or to invest into? Well, as for business owner or chief technology officer in today's highly digitised world, this could be a proper strategy. Bitcoin and blockchain technology remain the red hot topic and a brand new phenomena with potential to change financial sector for years to come.
To explain blockchain we would have to a whole separate article or two, and our purpose here is to list top blockchain developers. Though, to jam it in briefly, Blockchain is a software platform for digital financial assets, where you can store, send and receive cryptocurrencies, like Bitcoin. It all started with Bitcoin.
Blockchain is the high-end technology that verifies digital transactions. Learn more on Wikipedia.
In technical terms, blockchain is a series of records/data (blocks), linked in a chronological order and encrypted. This way, data inside is secure, decentralized and impossible to modify. In other words, online security and resistance to changes are two pillars of blockchain. Every transaction has a key, thus any efforts to alter a transaction sound an alarm by default. Mining is the process of verification and adding new transactions.
With concerns about security, fraud prevention and faster transactions, companies across various industries are reviewing and evaluating blockchain. Besides efficient money transfers, it could prove positive for peer-to-peer payments, crowdfunding, intellectual property, non-governmental organizations, and even banks.  
Clutch currently lists 194 blockchain companies and blockchain startups, but surely there are much more out there. A blockchain developer is typically someone who is a software programmer, first, with knowledge of data structures and architectures, plus some of the blockchain tools, like Ethereum, Hyper Ledger, etc. To help you out and save you time, we've prepared a list of best blockchain companies as of 2018.
Before we get going, here is a little cheat sheet for you, sort of TL;DR shortlist.
What are the best blockchain development companies?
LeewayHertz
Treehouse Technology Group
openGeeksLab
Altoros
Appinventiv
Applicature
…but of course, there's more.
Now, let's get to business, here are 25 top blockchain development agencies.
LeewayHertz has worked on multiple blockchain platforms for industries like Global Supply Chain, Identity Solution, and utility bill generation. They have deployed Smart Contracts on both public and private blockchain using languages Solidity, node.js and Go. LeewayHertz is working on distributed ledger technology including Hyperledger, Ethereum, R3Corda, and Hashgraph. LeewayHertz has ten years of experience building over 100 enterprise-grade digital platforms that are being used by millions of users across the world.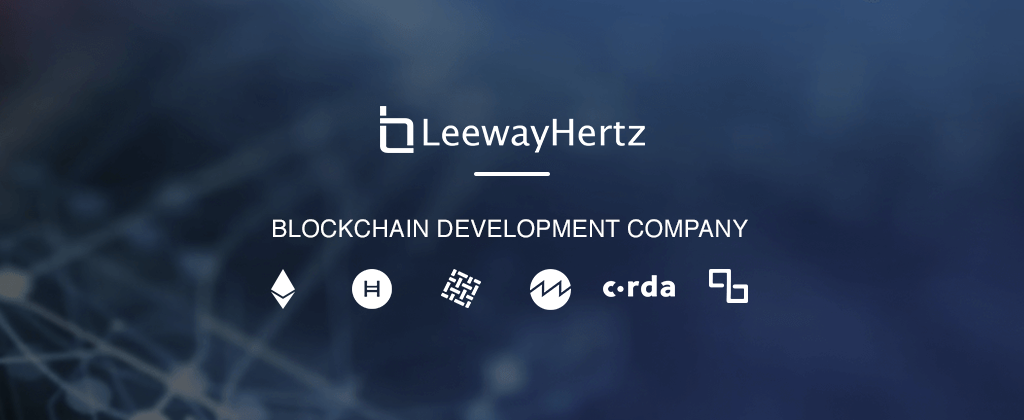 Specialities: Blockchain Development, Smart Contracts, dApps
Treehouse Technology Group's (TTG)'s world class Blockchain services team is at the forefront of this revolutionary technology poised to transform the world of business. TTG leverages it's years of enterprise-wide data and application development that supports thousands of users from start-up's to Fortune 500 companies by developing highly secure and reliable Smart Contracts using Solidity, Ethereum and Proof of Stake Algorithm.
TTG also offers comprehensive token services for companies at any stage of development. They work with clients on the development of white papers for ICOs, offering robust knowledge on the underlying technology that supports the service's capabilities. TTG specializes in the architectural planning of tokens, from building out a plan and conducting a technical feasibility study to feature set documentation and best practice implementation.
TTG's security, auditing and consultation services provide clients with unit testing and code review to ensure alignment with best practices and compliance with ERC-20 token standards. They also create test cases, run automated and manual tests, and document results.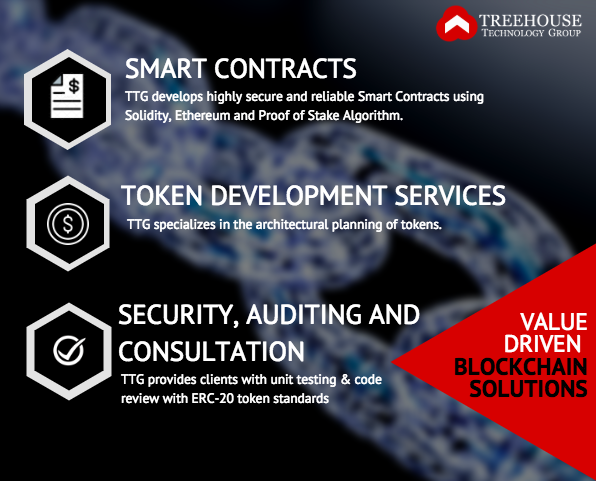 Choosing openGeeksLab, you get a reliable blockchain development team. The company delivers a full range of ICO development services for various areas. With these guys, you can be sure in a successful launch of your ICO campaign—from token design and smart contract to funding infrastructure for ICO campaigns, ICO platform hosting, and landing page design.

The creators cooperate with startups and businesses of any size, so they build the secure product that fits best your goals, needs, and budget. They experts provide technical solutions for such areas as fintech, e-commerce, enterprise management, entertainment, healthcare, sport, etc.
Specialty / Expertise: Blockchain development, Solidity, smart contracts, ICO development services, crypto wallets, Hyperledger Fabric, full-stack mobile and web app development, UX/UI design, quality assurance, deployment
Headquarters: Zaporizhzhia, Ukraine / Founded: 2015 / Employees: 50 / Contact: +380633621804, +380931030142
Website: http://blockchain.opengeekslab.com/
#4 Altoros
A high-end professional global IT-consultancy company from the heart of Silicon Valley (plus offices in UK, Norway, Denmark, Switzerland, Belarus) with over 300 employees. Altoros works for enterprises by deploying software and cloud solutions of the Cloud Foundry ecosystem – an open source platform-as-a-service. Major areas of company expertise are cloud consulting, big data, AI and blockchain technology.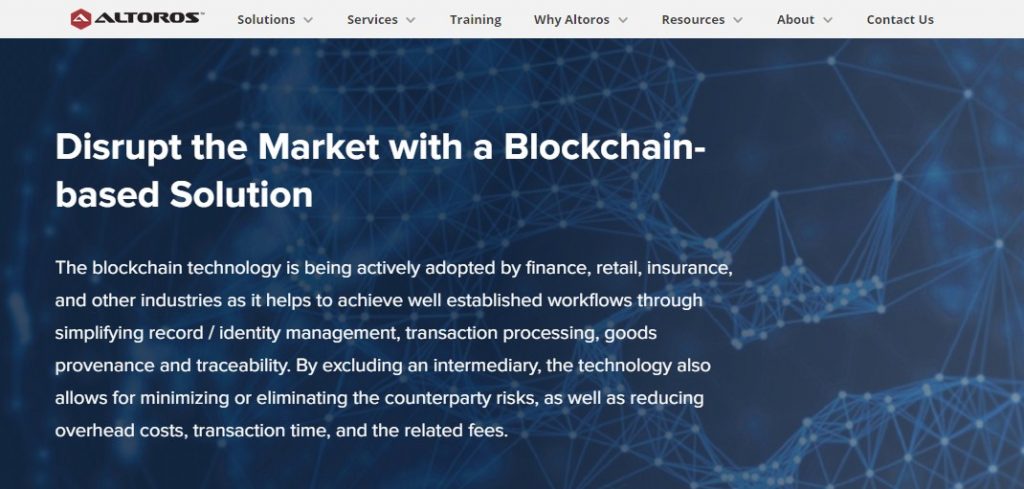 Altoros often serves to evaluates what kind of blockchain solution is best for their clients, as well as aids to generate revenues from it. They offer methodology, training, customer analytics, machine learning tools. In terms of blockchain and cryptocurrencies, projects by Altoros include decentralized insurance platform, big data infrastructure for ecommerce, a budget management app, a personal financial app, etc. Minimal project cost is stated at $25,000.  
Specialty / Expertise: blockchain development, Cloud Foundry, PaaS, cloud solutions, AI, big data, TensorFlow, Hadoop, MongoDB.
Headquarters: Sunnyvale, CA, USA / Founded: 2001 / Employees: 354 / Contact: +16502652266.
Website: https://altoros.com
#5 Appinventiv
Young and ambitious company from US, known for mobile app and web development, also offering quite wide range of blockchain services. Besides core expertise in iPhone/iPad, Android, HTML5, UI/UX, Appinventiv delve into initial coin offering (ICO), smart contracts, cryptocurrencies, Bitcoin, Ethereum, tech audit, and even IoT in blockchain.

Their main areas of focus are: a) security – developing smart computer protocols for safe transactions, b) Hyperledger – using an open source umbrella project to build new age dApps based on blockchain technology, c) wallets – creating online crypto-wallet for all kinds of digital currencies, d) cryptographic exchange – to buy and sell cryptocurrencies via Android and iOS devices, e)  ICO services, f) Ethereum apps.
Specialty / Expertise: blockchain, smart contracts & audit, Hyperledger, e-wallets, crypto-exchange, ICO, Ethereum, mobile/web app development.
Headquarters: New York, USA / Founded: 2014 / Employees: 318 / Contact: +16465850501.
Website: https://appinventiv.com/
#6 Applicature
A quite sophisticated blockchain development agency, as it seems from the portfolio of Applicature, founded in 2010 and located around the USA (LA, D.C., Silicon Valley) and Ukraine. Their works involves smart contracts, research and deployment, consultancy, tokens and ICOs. The latter, in particular, with full-cycle cryptocurrency creation and support for client's ICO, as well as other crucial elements like token concepts and design, ICO cabinets and  marketing campaigns.

Their outstanding focus remains on financial and banking sector, having introduced next-generation apps such as "Smart bank framework". The aim is to assist conventional banking industry get on board with blockchain by providing transparent digital records, faster operations, smart contract protocols, Ethereum private networks, distributed ledgers, etc. Another great achievement by Applicature team is blockchain for supply chain management – which adds a fresh breath into this area with decentralized app (Dapp) and transparent data transactions.  
Specialty / Expertise: blockchain, Ethereum, ICO services, payment systems, DApps, smart bank systems.
Headquarters: Redwood City, CA, USA / Founded: 2010 / Employees: 32 / Contact: [email protected]
Website: https://applicature.com/
#7 ArcTouch
This mobile app development agency with a decade of successful experience and hundreds of apps released, started a so called Blockfirst team. The purpose behind it is to make clients embrace a "blockchain first" approach instead of "mobile first", as CEO Eric Shapiro mentions. Indeed, they even state that ArcTouch is becoming a DApp development company, believing this is the future of mobile apps.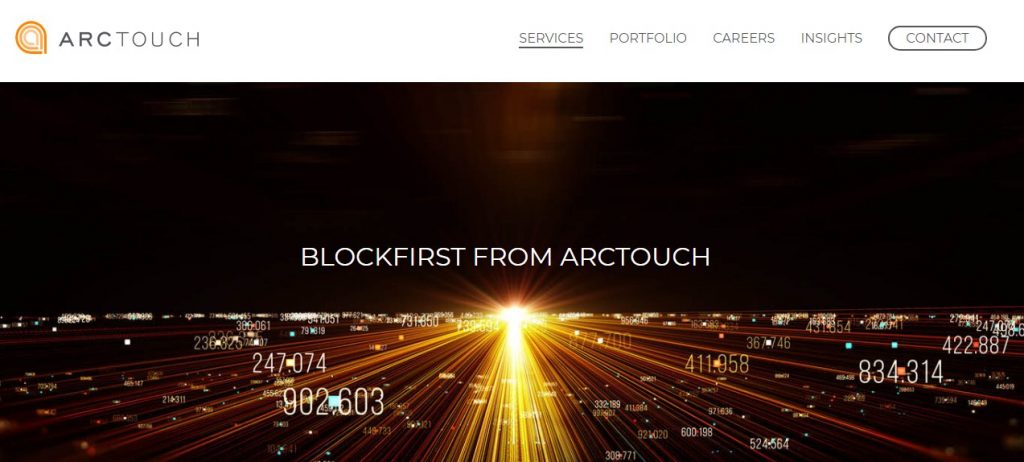 Providing blockchain services on stages of planning, strategy, architecture and implementation, ArcTouch experts develop proof-of-concept decentralized apps for leading platforms like Ethereum and Hyperledger. Other capabilities include evaluating private blockchain networks, building smart contracts, blockchain-as-a-service (BaaS) platforms, blockchain apps, etc. Among biggest clients are Yahoo, NBC, Salesforce, Skyjet, Audi, while examples of projects are mobile apps for supply chain, UI app design for cyber security platforms.
Specialty / Expertise: blockchain strategy and development, blockchain design, decentralised applications (Dapps), Ethereum, Hyperledger, BigChain, Stellar.
Headquarters: San Francisco, USA / Founded: 2008 / Employees: 155 / Contact: +14159442000.
Website: https://arctouch.com/
#8 Blockchangers AS
100% blockchain-devoted company from Norway, helping other businesses comprehend and use the technology, with "the Nordic" approach. What does it mean? In short, while blockchain emerged out of Bitcoins in Silicon Valley with the aim of removing governmental control and regulation, Scandinavians do believe in a functioning state apparatus and, in fact, await the regulations to be put in place by governments.

The team of Blockchangers works to promote blockchain and cooperates with private and public institutions to define the future ideology of it. So, according to such strategy, they provide advisory, lectures and workshops (Oslo blockchain day), as well as development services to clients. Those are DNB Bank, Lyse, Datatilsynet, Trigger, Kantega, and more.
Specialty / Expertise: blockchain development, Ethereum, Truffle, banking software, Vue.js front-end services, DApps.
Headquarters: Oslo, Norway / Founded: 2015 / Employees: 6 / Contact: +4740870027.
Website: https://www.blockchangers.com/
#9 Chain
Chain is a US-based blockchain development company creating cryptographic ledger systems for financial sector specifically. They have pretty solid support from strategic partners like Capital One, Citigroup, Nasdaq, and clients such as Visa, Orange, Fiserv, RRE Ventures, as well numerous startups. And they have things to be proud to showcase, for instance, Sequence ledger-as-a-service for secure tokens transactions. It works both for private ledgers and public networks, and it is currently used for mobile wallets, a crypto exchange platform, a ride sharing app. Another example is a virtual transaction machine called TxVM – also a blockchain ledger service aimed at eligible state changes throughout different blockchains.

Specialty / Expertise: blockchain development, distributed systems, cryptography, payment systems, ledger technology.
Headquarters: San Francisco, USA / Founded: 2014 / Employees: 40 / Contact: not specified.
Website: https://www.chain.com
#10 Chromaway
ChromaWay, started in 2014 with headquarters in Stockholm houses blockchain experts working with financial institutions, real estate companies, governmental agencies to provide smart contract solutions. Abiding by their motto is "the era of digital government is here" Chromaway's main focus is blockchain as a database. Thus, they introduced Postchain – a consortium database which is a distributed database management tool with distributed control.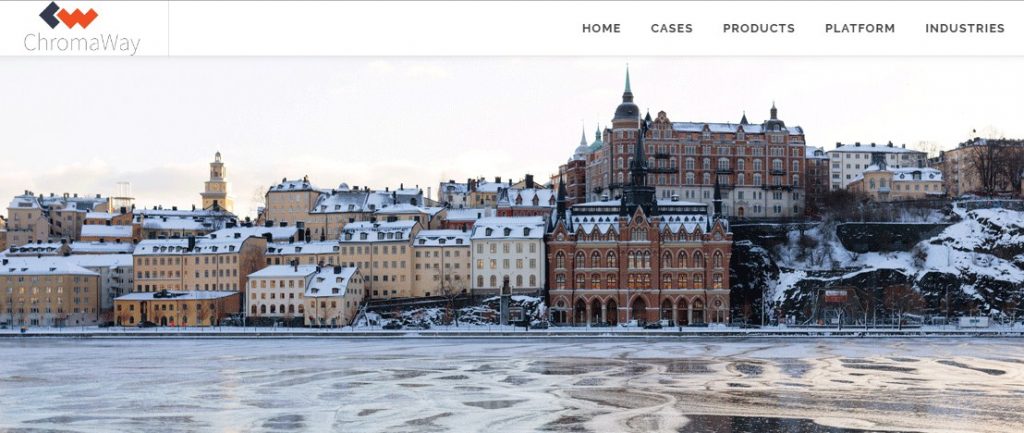 But that's not all, as those guys are really creative and skilled. Other great work includes E-Krona – a brand new e-currency (project by the Swedish Central Bank), SofiWay – a blockchain network for immediate and direct payments between individuals, the Universal Identity Hub – a project for gender equality and safety, Green Assets Wallet – a platform for "green"  investors to improve deals on the Paris Climate Agreement, via verification and validation infrastructure, in particular.
Specialty / Expertise: blockchain development, tokenization, digital currencies, wallets, consortium databases, .
Headquarters: Stockholm, Sweden / Founded: 2014 / Employees: 13 / Contact: +460850636338.
Website: https://chromaway.com/
#11 Coinfabrik
Calling themselves a "full stack blockchain development company", Coinfabrik team from Brazil comes with wide expertise in Bitcoin, Ethereum, ledgers, etc. They've been on board with blockchain from the early days and are working on various solutions for financial sector. Services cover everything: from smart contracts audit and development, cryptocurrency exchanges, to cryptographic data storages, private blockchains on Hyperledger. Also, traditional custom software development, design, UI/UX, QA, deployment to a cloud and support. Speaking of achievements, Coinfabrik can boast of works like multi-cryptocurrency wallets, merge-mining, identity verification systems, peep-to-peer lending, anti-fraud signature wallets.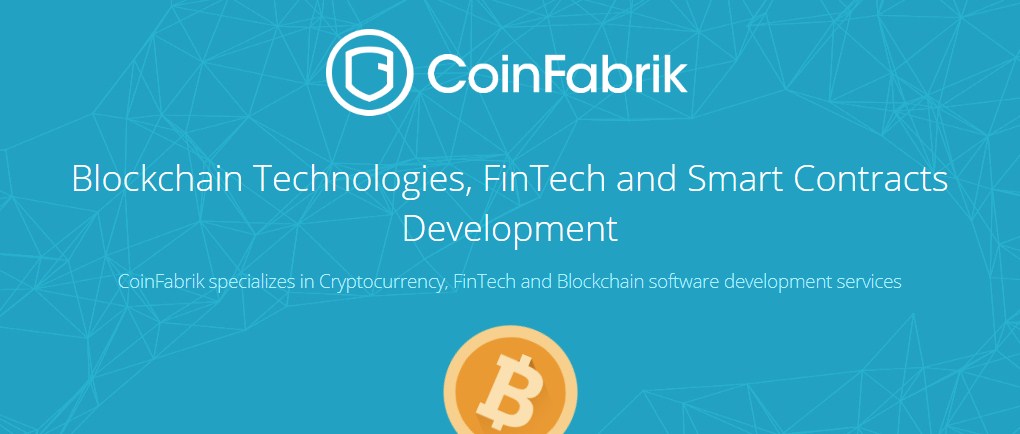 Specialty / Expertise: cryptocurrencies, tokens, public blockchain, private blockchain, Bitcoin, Ethereum, crypto-economy, standard software development.
Headquarters: Buenos Aires, Brazil / Founded: 2014 / Employees: 16 / Contact: not specified.
Website: https://www.coinfabrik.com/
#12 LimeChain
LimeChain is a blockchain development and consulting studio based in Sofia (Bulgaria) with extensive experience in building blockchain solutions for startups and corporate clients. The company is founded by four friends, who are driven by the philosophy that results speak for themselves. LimeChain is determined to help pioneer the development of blockchain technology not only locally but also on a global level.
 Despite being in the market for less than a year (Founded November 2017), LimeChain already has established a solid client base with a portfolio of companies which include Propy, LockTrip, Iris.Ai, Arxum, Vautltitude and more.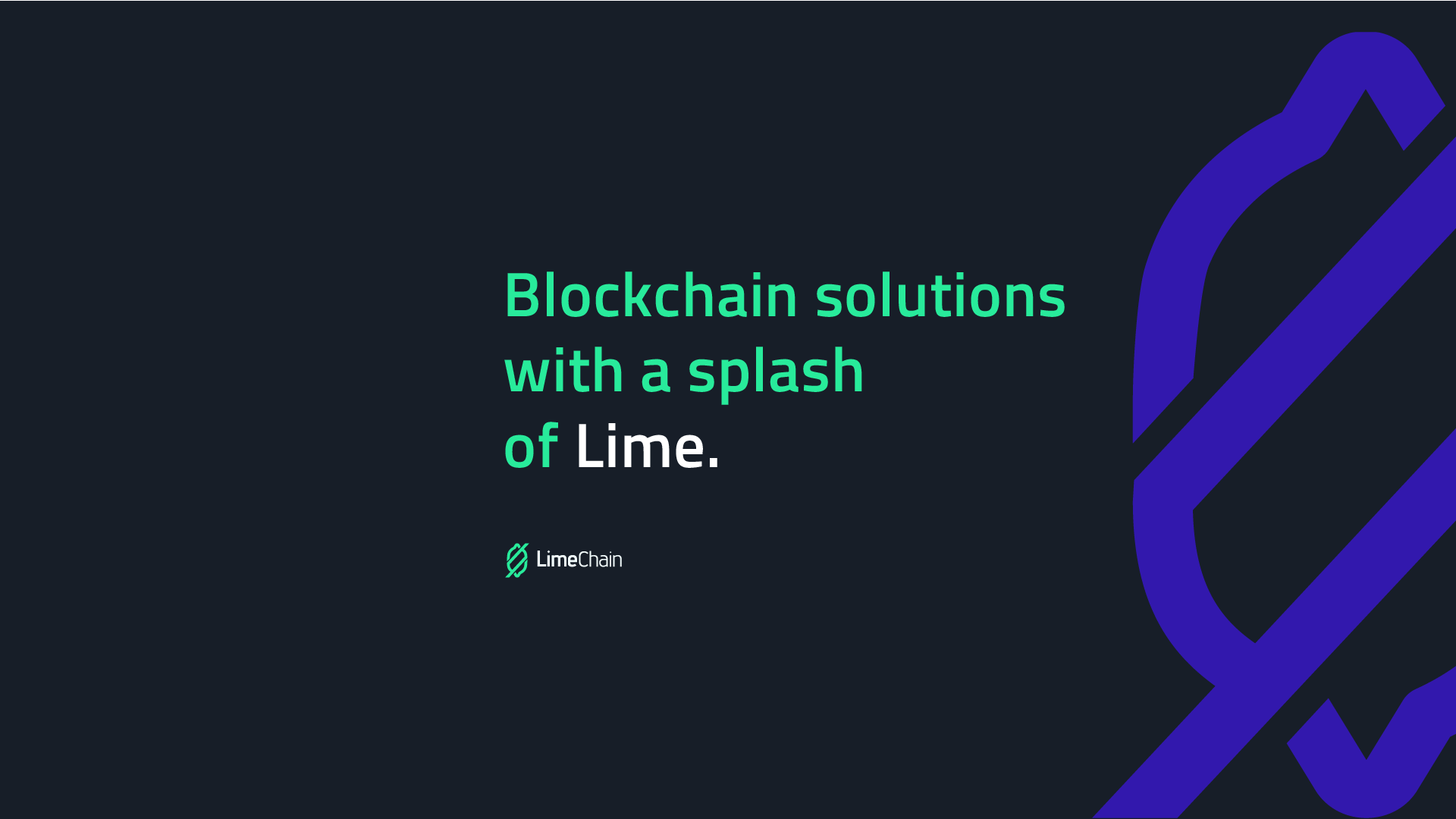 Specialty / Expertise:  blockchain consulting, decentralized application development, public & private blockchain development, smart contract development & audits, ICO and crowd sale..
Headquarters: Sofia, Bulgaria  Founded: 2017 / Employees: 18 / Contact:  [email protected]
Website: https://limechain.tech/
#13 Dotsquares
One of the largest software companies, literally – with over eight hundred people and offices around the globe, Dotsquares' work includes mobile apps, websites, CRMs, blockchain, digital marketing, big data, etc. They service to industries such as automotive, retail and ecommerce, financial sector, healthcare, media, manufacturing, logistics. As a proof of high-quality work, they have certifications from Google, Microsoft, Salesforce, ISO 9001, Association of outsourcing professionals, Agile Alliance.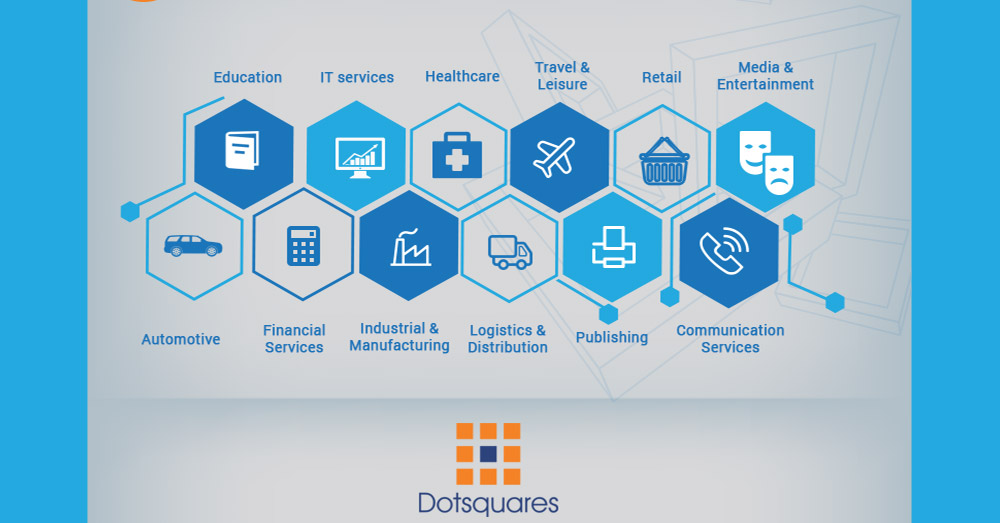 Concerning blockchain, it is now company's second top priority field after mobile apps. They have jumped into a fast-moving wagon, realizing a huge potential in today's trending tech like IoT, Augmented Reality and Virtual Reality, and blockchain. Their experts are also trying to solve an issue with supply chain automation with the use of blockchain technology. So let's give them a benefit of trust to be included into the list of top blockchain developers. For now 🙂  
Specialty / Expertise: mobile apps, IoT, web development, marketing, supply chain management solutions, blockchain, e-commerce, wearable devices, Java, Flash, PHP.  
Headquarters: Albourne, UK / Founded: 2002 / Employees: 834 / Contact: +441273575190.
Website: https://www.dotsquares.com/
#14 Empirica Software
Since 2010 Empirica team from Poland works in the field of investment software, blockchain, AI and machine learning. As of 2018 their three major areas of focus are blockchain, fintech  frameworks and machine learning algorithms. Company develops distributed systems for financial industry, banking and investment sector, for example multi-signature wallets, exchanges, crowdfunding platforms, auctions, trading back-end systems.

And their approach is clearly sophisticated – they utilize blockchain for highly specific services. Those include trading of assets, internal accounting, product tracking, lending transactions, claims processing, asset rehypothecation (a.k.a. secondary trading), compliance automation, P2P systems, exchange and derivative exchange systems. Among their clients Warsaw Stock Exchange, Crédit Agricole, Bank of Environmental Protection, SwissBorg.
Specialty / Expertise: blockchain, ICO, crypto exchanges, algorithmic trading, AI, machine learning, financial software development.
Headquarters: Podwale, Poland / Founded: 2010 / Employees: 10-30 / Contact: +48600825279.
Website: http://empirica-software.com/
#15 Espeo Software
Coming out of Finland initially, Espeo Software grew to a widely respected development agency with offices in USA, Poland and, of course, Helsinki in Finland. What makes it one of the best blockchain companies? With innovative and creative vision, the company has dived into blockchain and has gotten a dozen of solid projects in distributed applications and launching ICOs under its belt.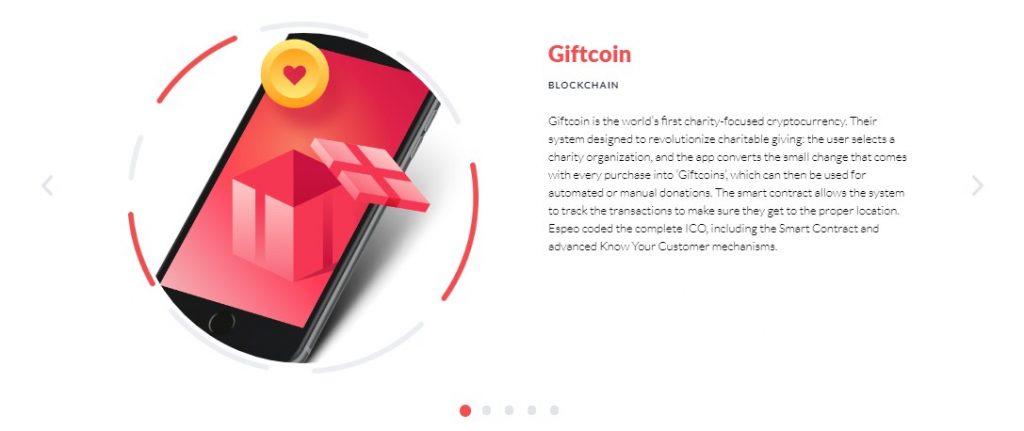 They've got blockchain developers ready to build you a product or consult. Especially if you're into cryptocurrencies: Espeo can create ICO whitepapers, build Ethereum tokens, devise Ethereum smart contracts, conduct technical audits and KYC compliance studies. They work with technologies like Ethereum, Truffle framework, Solidity programming language (blockchain-specific), Open Zeppelin framework. Also a positive aspect is competitive pricing – minimum project cost on average starts just at $10,000 at Espeo.  
Specialty / Expertise: blockchain, ICO, Ethereum, Truffle, Solidity, web development, React, iOS, Android, JavaScript, Symfony framework, custom software, outsourcing.
Headquarters: San Francisco, USA / Founded: 2008 / Employees: 61 / Contact: +48618480065.
Website: https://espeo.eu/
#16 FreshWorks Studio
30% of all efforts and work devoted to blockchain – that's quite impressive focus along with developing and designing mobile apps and web solutions. FreshWorks Studio from Canada (Victoria and Vancouver) claim to be enthusiastically working in areas of blockchain development and artificial intelligence (AI). So they try to incorporate a decentralised app approach into software products, helping clients implement up-to-speed smart technologies. Those clients mostly are local Canadian institutions like CGI, City of Victoria, Livecare, Quartech, Ministry of forests and lands.


Specialty / Expertise: mobile/web development, UX/UI design, blockchain development, Bitcoin, Ethereum, Google Apps, Zoho, ecommerce.
Headquarters: Victoria, Canada / Founded: 2014 / Employees: 42 / Contact: +2504123470.
Website: https://freshworks.io/
#17 Innovecs
A global-scale company with teams in San Francisco, New York, London, Frankfurt, Tel-Aviv, and with research-and-development facilities in Ukraine. Innovecs specializes in advertising, financial technology, gaming, e-commerce, telecom, healthcare, HR. They've started working with blockchain as well after the disruption Bitcoin currency brought. Their engineers can build blockchain apps and architecture, integrate 3rd party software, create software for P2P transactions, money transfers, digital currencies, etc. They mostly partner with clients in financial sector, retail, ecommerce, and healthcare.

Specialty / Expertise: blockchain financial services, ICO, application development, gaming, fintech, big data, AI, visual production, software outsourcing.
Headquarters: Kyiv, Ukraine / Founded: 2011 / Employees: 358 / Contact: not specified.
Website: https://www.innovecs.com
#18 Intellectsoft
Mobile development, design, IoT, cloud computing, AI, Augmented Reality and, clearly, blockchain – all these innovative areas of work definitely make IntellectSoft one of the top blockchain companies as of 2018. They employ blockchain experts to help clients build secure business tech products via 'ledger distribution' technologies of blockchain and smart contract protocols.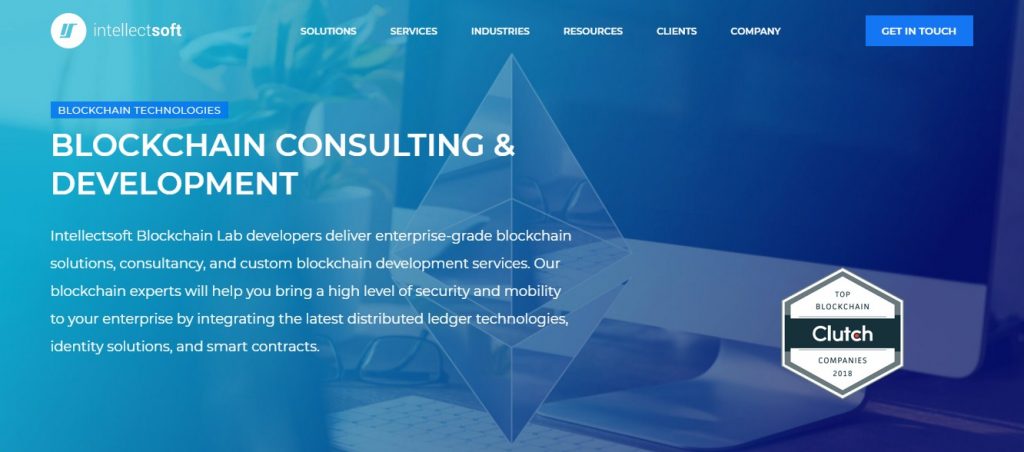 They works in both private and public blockchain development, as well as create decentralised applications, smart contracts, ecommerce solutions, cryptocurrencies. Tools of choice are Hyperledger, Ethereum, Parity, Exonum, NXT, MultiChain. For instance, they've successfully developed apps such as "Virtual Currency" (blockchain-based virtual currency), "Cryptocurrency Wallet" (peer-to-peer payments platform for Ethereum and Bitcoin), "Online E-Commerce Marketplace", a blockchain online marketplace.
Specialty / Expertise: blockchain consulting, public and private blockchain development, dApps, smart contracts, blockchain audit, KYC compliance, digital wallets, cryptocurrency hard forks.
Headquarters: Palo Alto, USA / Founded: 2007 / Employees: 255 / Contact: +16503004335.
Website: https://www.intellectsoft.net/
#19 JatApp
HQ in Miami, Florida, USA and development office in Kyiv, Ukraine… well, it's a curious way to promote a company, but that's ok, whatever works good. What matters more is their eagerness and admiration for blockchain development. JatApp is a small software development agency with the aim to assist startups with mobile, web and blockchain solutions, along with backend and design.

In terms ob blockchain, JatApp experts offer skills in main three fields: ledgers, wallets and smart contracts. Blockchain data ledgers serve the purpose of improving safety of business operations, protecting critical data, reducing fraud risks. It works well in finances, supply chain management, crowdfunding, etc. Company's services also include smart contracts, tokens, audit, digital wallets and apps, P2P transactions, virtual currencies, payment systems.
Specialty / Expertise: blockchain, smart contracts, wallets, exchange transactions, DApps, payment systems.
Headquarters: Miami, USA / Founded: 2010 / Employees: 29 / Contact: +14159931555.
Website: https://jatapp.com/
#20 AgileLab
Agile Lab has offices in Singapore and Vietnam with an extraordinary team that never stops innovating. Well known in Singapore for helping startups launch their MVPs and developing customized applications for organisations, they believe a decentralized world with blockchain and it's similar technologies is the inevitable. Agile Lab are specialists in developing custom web and mobile applications, blockchain solutions through their Agile thinking, coding and design craftsmanship. They are craftsmen, creators, partners, consultants and sometimes saviors to clients.

Speciality / Expertise: blockchain development, Solidity, smart contracts, Agile development, startups, ICO, customized web & mobile solutions.
Headquarters: Singapore / Founded: 2005 / Employees: 15 / Contact: +6582991344.
Website: https://agilelab.sg
#21 Neoteric
With ten years of field experience in software development, Neoteric from Poland has started embracing blockchain technology in recent years. In fact, they state it takes about one third of all company efforts, along with custom software and artificial intelligence/machine learning tools. Though technologies like blockchain, Bitcoin and cryptocurrencies are listed as company's core competencies, we didn't find any blockchain-related projects in their portfolio. Maybe it's time to showcase your blockchain, Neoteric?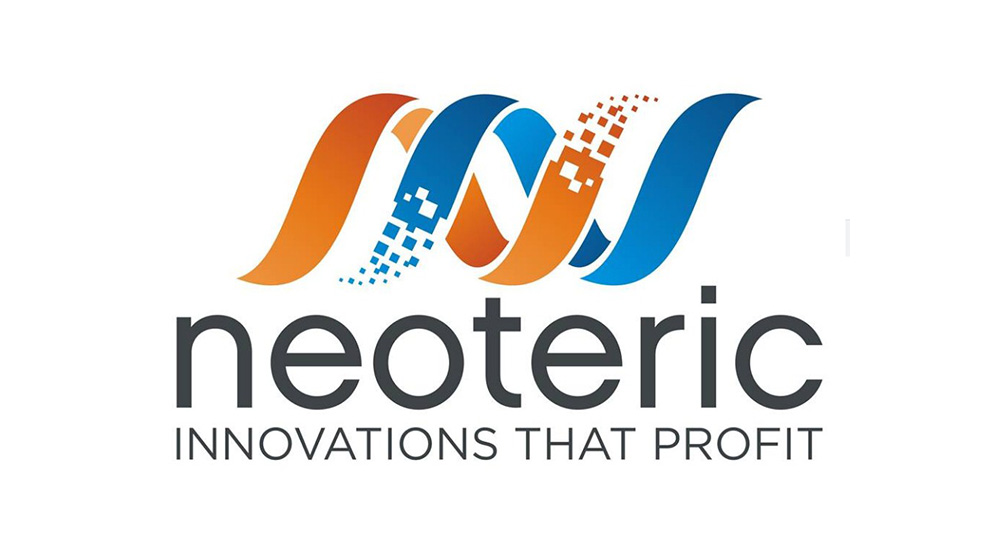 Specialty / Expertise: blockchain, AI, big data, custom software development, Java, JavaScript, Hadoop, MongoDB, cognitive computing, SaaS.
Headquarters: Gdansk, Poland / Founded: 2005 / Employees: 72 / Contact: +9571072374.
Website: https://neoteric.eu/
#22 Oodles Technologies
An offshore software development company with a focus on high-end technologies that include blockchain, of course, AI, enterprise resource planning programs, live video streaming, etc. But their prime focus is cryptocurrency and all things related. This ranges from ICO development and campaigns, cryptographic apps to escrow services, tokens, secured networks. Industry focus is clearly fintech – working on secure communication, authentication and financial transactions.

Specialty / Expertise: Bitcoin development, SaaS, Groovy Grails, Node.js, jQuery, Apache Hadoop, Mahout, MongoDB, video streaming services, ERP.
Headquarters: Gurgaon, India / Founded: 2009 / Employees: 250 / Contact: +911244368395.
Website: http://www.oodlestechnologies.com/
#23 Sphere Software
Believing in open-source technologies, this US agency adopt agile methodology and work on blockchain software solutions, as part of so called "hybrid software development model". They can be proud of 12 years of market experience, team of over 100 certified developers, and inclusion into the Fortune 500 list. Based on successful projects in 10 key industries, Sphere Software provides end-to-end blockchain solutions. Buzzfeed, Tumblr, Nokia, Sears, Groupon, ING Bank, Chicago Stock Exchange and many more entrusted projects to this company.

Five major services you can expect from this blockchain company are as follows. First, typical blockchain development – consulting, building and maintaining. Second, Hyperledger consulting, advising on best practices of blockchain tools and especially the one aforementioned, its capabilities, features, advantages. Third, tokens – numbers generated by special algorithms to protect your company from fraud. How to substitute sensitive data with tokens, how to transmit it online, etc. Fourth, creating cryptocurrencies, and fifth, smart contracts – to implement agreements with Ethereum protocol.
Specialty / Expertise: blockchain, tokenization, hyperledger consulting, Agile mobile apps, web apps, Atlassian support, cloud solutions, big data, chatbots.
Headquarters: Chicago, USA / Founded: 2005 / Employees: 101 / Contact: +8886774373.
Website: https://sphereinc.com/
#24 Sybite Technologies
Truly one of the best blockchain companies and one of the most devoted to this modern technology. In addition to mobile app development, Sybite engineering team is tightly focused on blockchain, initial coin offering, smart contract, and all other related services. They work both for enterprises and startups – for which they apply a special dedicated team, they call it "incubation cell". What is also impressive, is that Sybite claims 100% performance guarantee and offers 12 months free support period. Key clients are and were Pfizer, Reebok, World Countryside, JCI.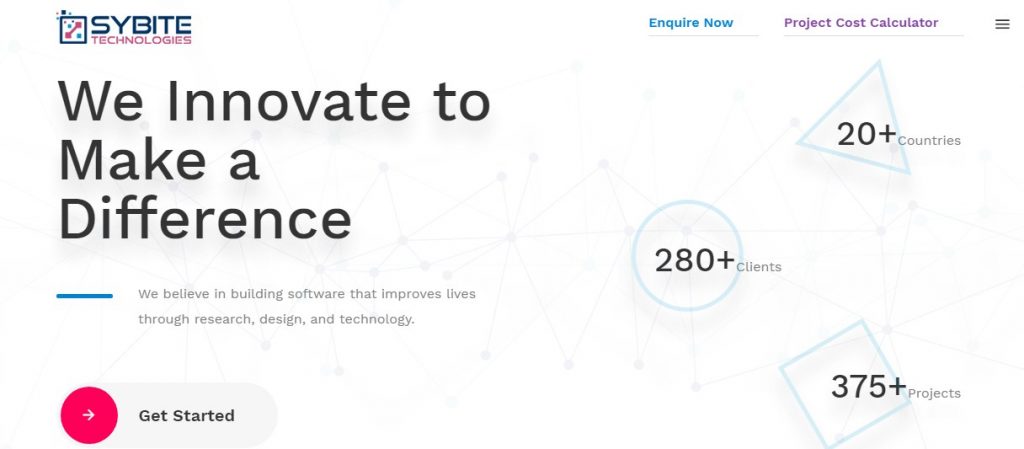 Specialty / Expertise: blockchain technologies, smart contracts, ICO, Solidity, e-wallets, crypto-exchange, smart tokens.
Headquarters: Bristol, UK / Founded: 2010 / Employees: 25 / Contact: +442081232329.
Website: http://www.sybite.com/
#25 Unicsoft
Unicsoft, based in United Kingdom and USA, is a blockchain development company, though they predominantly hire experts from Eastern European countries. With 12 years of experience and hundreds of projects, the company offers a wide range of services related to blockchain and digital currencies. They've worked for industries like automotive, ecommerce, fitness/healthcare, entertainment, games, marketing. If you're looking to hire a competent agency to implement blockchain, they've got all you need: from ICO consultation, tokens, digital wallets, smart contracts to tools like Hyperledger, Parity, Solidity, MultiChain, Ethereum.


Specialty / Expertise: ICO consulting, blockchain, smart contracts, AI, machine learning, tokens, cryptocurrencies, web/mobile app development.
Headquarters: Edinburgh, UK / Founded: 2005 / Employees: 54 / Contact: +16504511106.
Website: https://unicsoft.net/
P.S.
The list is neither ultimate nor objectively accurate. Each company is different and evolving, its 100% up to you to choose the best blockchain company according to your exact business requirements. One additional place to look at is Blockchain companies category where we list top IT-companies.
Feel free to contact us via [email protected] if you want to place your company here.
Read more about companies