IObit Malware Fighter review

IObit Malware Fighter is the antivirus program for Windows OS, designed specifically to fence off harmful activities, to protect personal data, ensure safe web browsing. If you're familiar with what WannaCry and Petya are, this IObit product might be what you need. And this Malware Fighter review will help you uncover all there is about it.
It is capable of blocking programs without digital certificates, detecting and removing trojans, keyloggers, bots, worms, spyware, adware, and other malware, as well as protecting a home page and a default search engine against suspicious plugins, URLs and download files.
There are 2 versions: IObit Malware Fighter Free and Malware Fighter Pro, free and paid respectively. Free version has basic features for PC scanning and safe browsing, while Pro is extended with things like real-time mode, web camera protection, separate file storage, 24/7 support and more. It costs $20 per 1 year and 1 PC. We'll look closer into differences of both versions later on. IMF offers 33 languages of menu to choose from.

Specifications
| | |
| --- | --- |
| Vendor | IObit (website) |
| Newest version (for Windows) | v.6.6.1.5153 out April 2019 |
| Operating systems | Windows 7/8/8.1/10 |
| Installer file size | 39.2 MB |
| Menu languages | 32 |
| Key modules | Anti-malware, Anti-ransomware, Anti-mining |
| Extra features | BitDefender engine, Protected Storage, Webcam Protection |
| License | Free / Subscription |
| Pricing | $25.99 Pro (1 Year, 1 PC) |
Malware Fighter review: Free vs Pro
The first beta version 1.0 was released in 2010. The application had several tools to guard system modules and files. Since then, IObit has been upgrading the product adding more features, say for example, the anti-ransomware engine by Bitdefender or webcam protection. Current Malware Fighter 6 version, released in 2018, comes with lots more.
For smooth running of this anti-malware program, the following systems requirements are recommended:
OS: Windows XP/Vista/7/8/8.1/10
Processor: 1 Ghz or higher
Memory (RAM): 1 GB
Disk space: 1 GB
Screen resolution: 1024*768 or above
Let's now compare Free and Pro versions and highlight key capabilities of IMF.
| | | |
| --- | --- | --- |
| | Free | Pro |
| Price (1-year subscription, 1 PC) | $0 | $19,95 |
| Protection against malicious files | ✓ | ✓ |
| Advanced protection by BitDefender engine | – | ✓ |
| Database of ransomware | – | ✓ |
| Separate file storage with reinforced defense | – | ✓ |
| Basic real-time protection | ✓ | ✓ |
| Complex real-time protection for maximum PC protection | – | ✓ |
| Anti-ransomware check at system boot | – | ✓ |
| Camera protection | – | ✓ |
| USB-drive virus protection | – | ✓ |
| Detection of files/processes impacting RAM negatively | – | ✓ |
| Automatic removal of web activity traces | – | ✓ |
| Anti-mining, pop-ups blocking | ✓ | ✓ |
| Home page and DNS protection | ✓ | ✓ |
| Automatic upgrades | – | ✓ |
| 24/7 technical support | – | ✓ |
Installation & activation
To start off, go to IObit website, Products tab and from there click Protection to find Malware Fighter, free or Pro. There, click the green Download button, get the installer file and run it. On "custom install" pop-up window select a folder to place the program, check/uncheck "create desktop icon" and hit Install. In a matter of seconds, users are offered a newsletter subscription, which is optional, and then the process is complete.

Moments after, a new browser window is opened prompting you to buy a subscription. You can just skip that if you want to try out a Malware Fighter free first. If you're ready for purchase as is, then click Buy Now on IObit Malware Fighter PRO page, select additional options if you like, specify payment option (PayPal, credit card, bank transfer), enter email and confirm the purchase. You'll get the license key sent over email. Afterwards, start the app and navigate to Enter Code link in the bottom right part, click it and enter the key to use IMF Pro.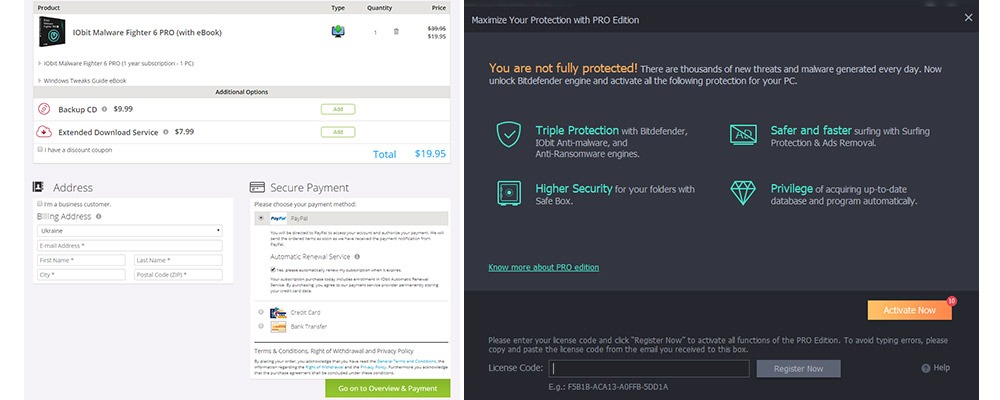 Scanning types, features, interface
"Your PC has never been scanned" is the first greeting message in Malware Fighter. And you can run smart (fast) scanning right away – click the Scan Now button. To initiate protection, turn on/off 2 guard modes: Anti-ransomware Engine and Bitdefender Engine at the bottom of the screen. Both are available in Pro version only. For settings, go to Options in the upper right corner.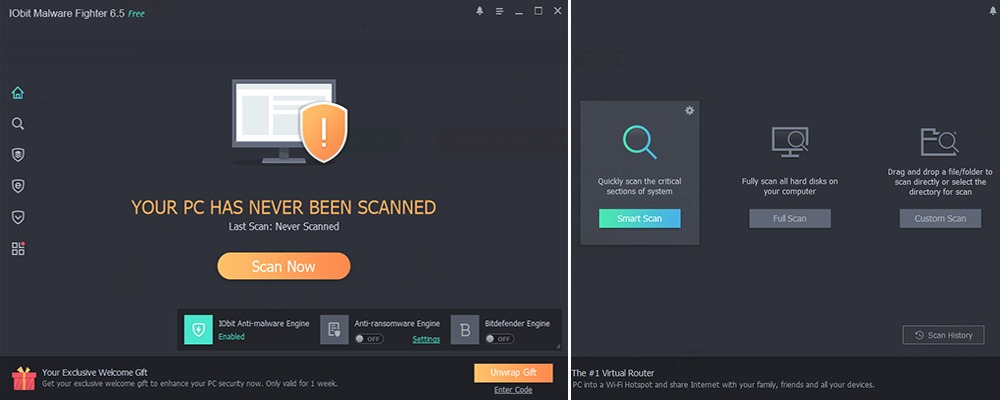 After all set up, head to Scan tab in the left menu and select one of three scanning types: Smart Scan, Full Scan, or Custom Scan. Smart scan is for quick system check aimed to detect virus files and errors. Full scan implies holistic, deep and precise system scanning and it will usually take quite some time. A third one, Custom scan is a selective check – choose certain system areas to scan separately.
We'll see how all of those scan types perform in few moments, but now let's see what else is under the hood. IObit Malware Fighter Pro review wouldn't be full, if we hadn't talked about its real-time protection tool. So, Real-time protection mode is in place to monitor startup programs, browser activities, web pages and files a user opens. If we take a jab at famous US police slogan "To serve and protect", IMF's motto would then be "To detect and remove".
Anti-ransomware aspect adds up to that purpose, detecting spyware / malware / adware. Surfing protection is the next tool in line aiming to prevent access to malicious or suspicious URLs. Key tools here are anti-tracking, download guard, DNS protection, plugin/toolbar cleaner, ad block. Malware Fighter v.6.5.0 contains the ever growing database of identified threats and sources, counting over 2 million.
By heading to Ransomware Guard tab, you have access to anti-ransomware engine and Safe Box modes – both available only in Pro. Safe Box is the special option/tool to protect certain folders from unauthorized access.

Next up, we have the Security Guard tab, to monitor several types of activities on user's PC or laptop:
Network Guard – blocks web pages that may contain threats.
MBR Guard – against cryptographic attacks targeting MBR (master boot record), e.g. GoldenEye or Petya malware.
File Guard – scans incoming unknown files.
Camera Guard – protects camera from unauthorized access.
Startup Guard – against unauthorized programs trying to run at startup (only in Pro).
USB Disk Guard – scans USB drives for viruses.
Process Guard – detects malicious processes impacting RAM.
Malicious Action – analyzes and identifies malicious actions.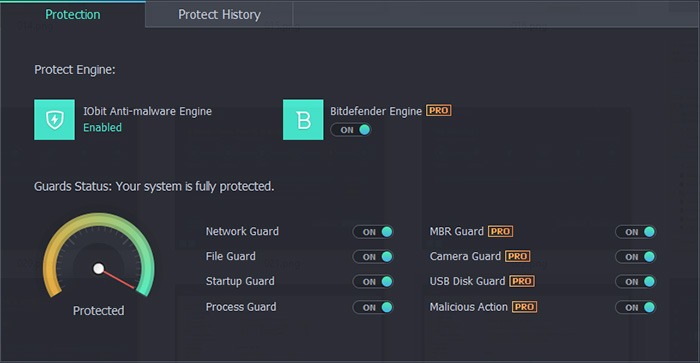 The last Action Center tab focuses on system optimization, including tools like defragmentation, backups, uninstaller, etc. Overall, the interface of Malware Fighter Pro is up to date, visually appealing and easy to navigate. It has a dark background with red and green elements – distinguishing areas that are protected from those that are not. All features and tools are divided into different tabs.
How to uninstall Malware Fighter
To uninstall IMF on Windows 8 or earlier versions:
Open Start menu and select Control Panel
Click Uninstall a program
Locate IObit Malware Fighter 6 and select Uninstall
Follow on-screen prompts
Restart PC to complete program removal
To uninstall IMF on Windows 10:
Open Start menu and click on Settings
Select System or Apps in Settings, select "Programs and Features" or "Apps and Features" from the left panel
Locate IObit Malware Fighter 6 and select Uninstall
Follow on-screen prompts
Restart PC to complete program removal
Performance tests
We tested Malware Fighter on a standard Windows 10 PC with 16GB RAM. First, we ran all three scans. With Smart scanning that lasted about 5 minutes, the program found 3 threats – all identified as "trojan generic" type. Number of objects checked: 73,570.

Full scanning took 1 hour and 21 minutes, went through 781,807 files, and identified 6 threats, again all Trojan type. We should note, all of those threats were related to Adobe products, which is somewhat strange.

For Custom scanning we chose the 1 TB hard drive with 40,000 files in it. It found 3 threats (a screenshot making app along with Adobe, again), but more strikingly the process lasted 49 seconds – which we can neither explain nor apprehend.
Nevertheless, we also checked the impact on PC resources. With few programs running (Chrome, IMF, Windows Explorer, Adobe Acrobat, Task manager), CPU load was at 51%. Out of that, Malware Fighter's part was 23,8% and 115 MB of memory. Is it a lot or not – it depends.

Finally, during our 5-day use of this anti-malware program by IObit, we've also got some mixed signals regarding real-time protection capabilities. On one hand, it successfully detected some malware files (see the left part of screen below), while on the other hand, it wasn't much efficient against malware-hosting URLs – it did not prevent access to those, instead marking them as safe (see the right part of screen below).

Pricing, (no) trial and free version
IObit offers a free version of Malware Fighter, however, it is limited in functionality. Modules like Anti-tracking, Camera Guard, USB Disk Guard, Auto scan, etc. are available in Pro version only. You can buy the program for $19.95 as a one-year subscription for one PC. Curiously enough, there is no trial of full-featured version, so users have to rely on a free Malware Fighter version, but good news is there's a 60-day money-back assurance from the vendor. Although, be sure to read Refund policy carefully, if you want to count on that.

Pros: Three scan modes Free version with basic features Rich functionality in Pro version User-friendly interface, many languages Regular database updates
Cons: Free version offers very little Ads of other products by IObit Only 1-year pricing that has to be renewed later No mobile app
Summing up
IMF performs well, not loading a PC too much even while scanning. It offers lots of tools to safeguard your web activity, as well as protect against ransomware. There's also a scheduling feature in Pro version. It does not cut across with other antivirus software, yet we wouldn't bet on it as your main antivirus/antimalware protection. There are goods and bads, as in any other case, e.g. fast scan omits hard drives save for the one that hosts user's operating system, yet there are various useful tools overall. So we leave to customers to decide, and we'll also name few alternatives to be aware of.
Malware Fighter alternatives
FAQ
Q: What does Malware Fighter protect from?
A: It blocks all types of malware surely, but there's also web surfing protection, ads removal, protection against phishing websites, cryptomining, ransomware.
Q: Is Malware Fighter a scanner?
A: It has various scan modes, but it is rather a real-time protection software than a passive scanner.
Q: Can I use Malware Fighter for web surfing?
A: Sure, it offers powerful browser protection options for homepages, search, downloads, DNS, phishing sites, toolbars, plugins, ad removal, as well as anti-tracking.
Q: What is the difference between Free and Pro versions?
A: Free version offers basic protection (incl.real-time, anti-mining, homepage, DNS). Malware Fighter Pro also provides Bitdefender engine, anti-ransomware, anti-tracking and more features.
Q: Is Malware Fighter Free any good?
A: It provides decent protection, while not forcing users to purchase Pro version.
Q: Can Malware Fighter guard private data?
A: Yes, there is the Safe box feature, that allows to protect files by password.
Q: Can Malware Fighter protect a webcam?
A: Yes, it can safeguard camera against unauthorized access, among its other capabilities.
Q: Does Malware Fighter update its database automatically?
A: It does not update in a free version, only manual option. However, Malware Fighter Pro provides such feature.
Q: Is IObit Malware Fighter safe?
A: Yes. It contains 2 antivirus engines to minimize false alarms.
IObit Malware Fighter reviews
26
It is a very efficient protection software.
Hello guys. I like this anti malware/ antivirus software. It is a very efficient product. I like its quality of scanning and detection. Malware Fighter has a simple and friendly user interface. You will never have problems with such an interface. Also, I like its detection engine, which is powerful and fast.
Pros:
Great quality of scanning and detection
Friendly user interface
Fast detection engine.
Apps From The Box,
2019-10-11 01:33:19
The program has improved significantly in recent years
Hello to everyone. I have a few words to tell you. They are based on my experience. I started using IOBit Malware Fighter a long time ago and I could watch how it developed. So now, I have to say that the program has improved significantly in recent years. They (developers) have added a lot of much needed features. And I think it will be interesting to keep track of future progress and evolution.
Pros:
Many needed features
Free.
Mark,
2019-08-15 05:35:22
It did not bring me happiness
I am a buyer of IOBit Malware Fighter. And it did not bring me happiness. I gave my money for the product, but there are still more products to purchase for better protection. I think... No, I am sure I will not renew the license when it expired. Now I understand why Malwarebytes perceives Malware Fighter as crapware. I will easily find a program that does not require updating parts of the program you have purchased.
Cons:
The bought version requires to buy upgrading for better protection
Peter Andrews,
2019-08-13 03:15:25
it is a powerful antivirus
I very like IOBit Malware Fighter. Because it is a powerful antivirus that can identify any threats and issues in computers. This program has various features thanks to which computer works stable and smoothly. I wanna say "Thank you very much" to developers for this great program. Even its free version is powerful and offers the well protection.
Pros:
Various features for protection
Free version
High level of protection.
Sankaran Baluauna571,
2019-08-11 13:02:19
Offers lots of tools to safeguard your web activity, as well as protect against ransomware
Worth a try.. Low on resources. I haven't found it intrusive, nor overly aggressive. It has a nice interface that keeps things simple for the average user. What I'd like to see are some believable, objective test results, by a reputable lab, to see its detection rate and efficacy to both prevent and remove unwanted and malignant software.
Pros:
User-friendly interface, many languages
Cons:
Only 1-year pricing that has to be renewed later
Sergey Dorogov,
2019-04-22 22:58:34
Excellent tool for getting rid of spyware and malwares. It secures my internet banking log ins and online payments.
I am very pleased with all of the IObit Suite's Softwares, I find IObit Malware Fighter to be the top of the line for Catching Malware & Viruses that MalwareBytes failed to catch. The interface is simple, Easy to navigate. The app is fast and uses very few system resources. I have gotten my close relatives and friends to try the app, Including most of them switching to IObit malware fighter as their main Anti-Virus service. Fablous job Iobit.
Pros:
Rich functionality in Pro version
Winter Frost,
2019-03-23 15:20:14
I can honestly say that it is one of IObits best software
The most advanced malware program for windows to protect your pc against almost any kind of malware attacks and attempts. I definitely recommend it
Pros:
Saves me to format my pc which was very very slow due to a very hard vulnerable malware
Cons:
Slow background and bad UI
Anonymous,
2019-03-12 18:22:11
A great protection against Malware
Firstly i'd like to say how nice and clean it looks, i love the minimalistic look of the new version, it is easy to understand, and almost does everything for you! it feels a lot nicer, with new protections like MBR guard, fighting against the latest malware which i love as need to be protected against the latest viruses. Thankyou for keeping the bitdefender engine, i do like the option to have it. My only bad reaction would be that from a consumer view it does look very similar to version 5 which might make the new update seem redundant to some users.
Cons:
Doesn't allow users to tweak more settings
Guardian,
2019-03-10 00:17:09
Fast Download and Good Malware Cleaner
I use Advanced System Care on 5 PCs and 3 Android platforms. Part of that is the Malware fighter and the Driver Booster as well as an Uninstaller and a Defrag tool. All are excellent and I have been sharing my appreciation with all my friends, many of whom have adopted the software. Even the free version works very well and should be tried.
Cons:
Real-time detection issues
TONY13610,
2019-02-28 20:40:57
Strong removal tool
I used it to remove a program that nothing else could remove it, I have an A+ certification in computer, and I cloned a SSD but the original hard drive had a un-removable program that I just wouldn't move and didn't appear in the registry and I really didn't want to do a clean install. The 10 Bit Malware remove it in a matter of minutes. I have another Malware fighter on board and so far they don't seem to be fighting each other, it's been a few weeks now. It cleans everything on your computer, start ups defrags, unused programs, un-needed histories. It does everything I use to do manually.
Pros:
Effective anti-ransomware shield
Cons:
No scores from the major testing labs
KINGLION2162,
2019-02-26 22:19:10
Very efficient antivirus tool
I was surprised at how this software is actually better than Malwarebytes. To be honest, I've read quite a handful of bad reviews against IObit Malware Fighter but I still thought of giving it a try. And, I must say that I am not regretting my decision as this software gives an efficient detection rate and it carefully prevents and remove unwanted and destructive software.
Pros:
Powerful detecting engine
Cons:
Ransomware protection not fully effective
Leila Almasi,
2019-02-23 12:28:17
Best program of its kind that I have used
Worth a try ... Low on resources. I haven't found it intrusive, nor overly aggressive. It has a nice user interface that keeps things simple for the average user. What I'd like to see are some believable, objective test results, by a reputable lab, to see its detection rate and efficacy to both prevent and remove unwanted and malignant software.
Cons:
No "Advanced Options" setting
Anonymous,
2019-02-15 09:32:21
Total simplicity in use for the novice user or the long term PC Geek
A very good anti-malware and antivirus software that is free. IObit Malware Fighter perfectly works with my Windows 10 OS. It gives my pc total protection against ransomware and more!. I especially love how clean and minimalistic IObit malware fighter 5 looks like. Its update is definitely one of the best!
Cons:
Adds other programs on your system
Janine Burke,
2019-02-05 12:54:47
Great download software to fight malware on your computer
I have down load thus app at no cost and I am very satisfied with the product. It's doing an excellent job in my computer now my device has a the right anti virus, plus keep me apdate my computer it's working fasten than before. I do recommend this app.
Cons:
No test results from independent labs
Mildred Rodriguez,
2019-01-26 21:12:35
Better & More Extensive Malware Protection
Finds Malware hidden all over your computer, I know a lot about computers and this programme really surprized me, its worth the download and getting the pro key for that little bit extra. Well worth the download, saves a lot of time and is an excellent programme for people only starting to update their computer or learning.
Pros:
Safer Surfing with Anti-cryptocurrency Mining
Cons:
Difficult to uninstall all your files
Anonymous,
2019-01-14 20:02:12
Best virus detector by far in my experience
I'll never pay for it. It's good for removing tracking cookies and it's really good at detecting programs sneakily setting themselves on autostart, like my browser does every couple of days. I believe you get the latter function on the free version.
Cons:
Randomly display adverts for their other products
conceptualclarity,
2019-01-10 13:29:19
It is good malware program and it is free
I've been using IObit software for years, and only paid because I wanted to. Most importantly, IObit NEVER requires payment for their products to work. The free versions are free, and work just fine without a subscription. Yes, you will be prompted to buy a subscription when executing the software, but only need to 'x out' of the offer to run the scanner(s). Secondly, I have never had IObit Malware Fighter behave like malware. I do think that when I updated ASC recently it did install an online backup software, but all I had to do was uninstall it. Easy as that. Let me be clear, this was legitimate backup software, and was not malicious.
Pros:
Easy to use and intuitive
Cons:
Full scanning is quite lengthy
Stephanie,
2019-01-08 06:38:09
Malware Fighter removed my antivirus during installation
I have installed Fighter because want to try it and there are features I like about it. In my opinion, the interface is too minimalistic. Also, I wanted to compare Malware Fighter with Malwarebytes (I started using Malwarebytes a few years ago). And I couldn`t do that. After installing IObit I can`t find Malwarebytes ... As I understand it, Malware Fighter removed my antivirus during installation. I wonder who else had this problem?
Cons:
Too minimalistic interface
Wendy Joint,
2018-12-22 10:27:27
Good antivirus, worth getting the product key to activate it
Words can't perfectly describe how good this product is. In fact, I actually bought the iobit malware fighter pro because I am beyond satisfied with the protection it gives to my computer system. Surely, worthy to buy! Although, the free basic anti-malware function is enough to give your pc a protection against malicious behavior but if you need a more advanced and improved protection, iobit malware fighter pro version is the key!
Amit Kummar,
2018-12-17 10:25:13
IObit creates system utilities and security software for superior PC performance.
It's a free utility for malware and spyware detection and removal that`s both reliable and easy to use at the same time. IObit Malware Fighter`s anti-malware engine is able to quickly detect even the most complex and hidden malware and thoroughly clean your computer from infections. Also real-time protection is enabled against all types of malicious behavior.
Cons:
Free version offers very little
Anonymous,
2018-12-04 09:43:37
Great download software to fight malware on your computer
I am thoroughly impressed with this tool. I have tried a lot of so called free malware fighters only to learn you get a piece of junk that causes more problems than it fixes or it contains a hoard of advertising and other tool bars that take over you PC. This on the other hand is FREE and is FREE of any of the a for mentioned issues. The gimmick is that they want you to upgrade to their professional version which isn't too much but if you were to buy all of the other componets of the IObit Software family you will spend a lot.
semgar,
2018-11-25 09:36:49
IObit Malware Fighter Pro looks good and offers a host of security features
As a local houston it tech i work on local computers here, residential and businesses. I clean a lot of malware fix computers with bugs as my bread and butter. So i've tried a lot of programs and i see a lot of malicious programming. i also frequently research programs and companies. MF can clean some stuff! The ransomware protection engine performs well, & in theory its Pro engine should do well too, its licensed from Bitdefender, a highly rated company. the free version only used IOBIT's own antivirus engine which isn't saying much. this could be a con actually. Clean new interface thats somewhat simple and easy to navigate thru.
Pros:
Free version download available
Cons:
Questionable real-time detection
JAMES TRUAX,
2018-11-02 15:57:13
Safer PC with Real-time Protection
I have been using this software ever since it first came out and I can honestly say that it is one of IObits best software. It's very user-friendly and offers strong security protection. For me I use the full package which when used with ASC you can feel really secure as it gets rid of all the junk that all the other programs miss! :-)
Pros:
Additional browser and homepage tools and plugins
Cons:
Static size interface that covers most of the screen
FASTJACK44,
2018-10-30 03:25:10
I recommend it to fight malware and easy to use, works as intended
This Malware and Virus Fighter Software is awesome. I'm loving it! Works as intended. I recommend it to fight malware and it's easy to use. I have been using IObit Malware Fighter for some time now. Must say it has improved a lot over the years with the addition of much-needed features.
Cons:
Many features are only in the Pro version
Albert V. Peri,
2018-10-29 15:34:19
IOBit Malware fighter process. Completely safe if original.
The file is from Iobit malware fighter v4.4 It ask me to change my browser settings. I think the file is legit/real and that it install some kind of protection in my browser and not harmfull, but I have a little doubt if this free malware security is spying on me. ( who knows there is a reason it is free right) - I dont know what to belive, it is quite common free software example monitor your surfing on internet to show commmercials.
Pros:
Free version with basic features
Cons:
Ads of other products by IObit
peder,
2018-10-29 00:10:47
I am disappointed with version 5.
It very disappointed me! No, not the program in general, but just the latest version (v.5). The previous version worked very well, but the new... I upgraded Malware Fighter to the new version and got a performance slowdown on my computer. In addition, it can sometimes increase CPU usage by up to 100%. I have this issue with v.5 only and never had with older versions. After that, I decided to do a clean install, cleared leftover files and the registry. But nothing could help me. So, I have installed previous version and wait for a new updated release. I have these problems in my two Windows.
Cons:
Performance slowdown with a v.5
100% CPU usage
Kitty714,
2018-10-22 12:57:26