How On-Demand Mobile Apps Boost Your Business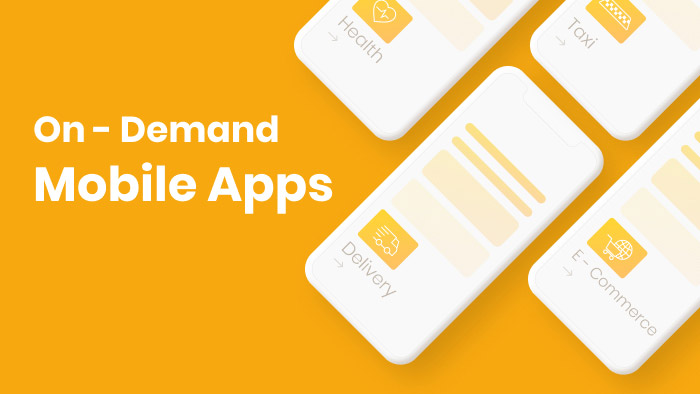 On-demand apps are one of the best ways to leverage the potential of digital technology in boosting the prospects of your business today. 
Revenue generated via on-demand apps has risen tremendously in recent years. According to the Harvard Business Report, on-demand apps have generated $57.6 billion in revenue and were used by 22.4 million consumers in 2019 alone. This data shows how businesses are using apps as a new channel for expanding sales and growing their business. 
The impact of on-demand service is not limited to metropolitans only. These apps are getting popular among common users equally. Demographics of the users who use on-demand apps shows that 39% of people using on-demand services are reported to be from small towns and rural areas. 
Below, you will see a few figures, reflecting the attributes of on-demand app users.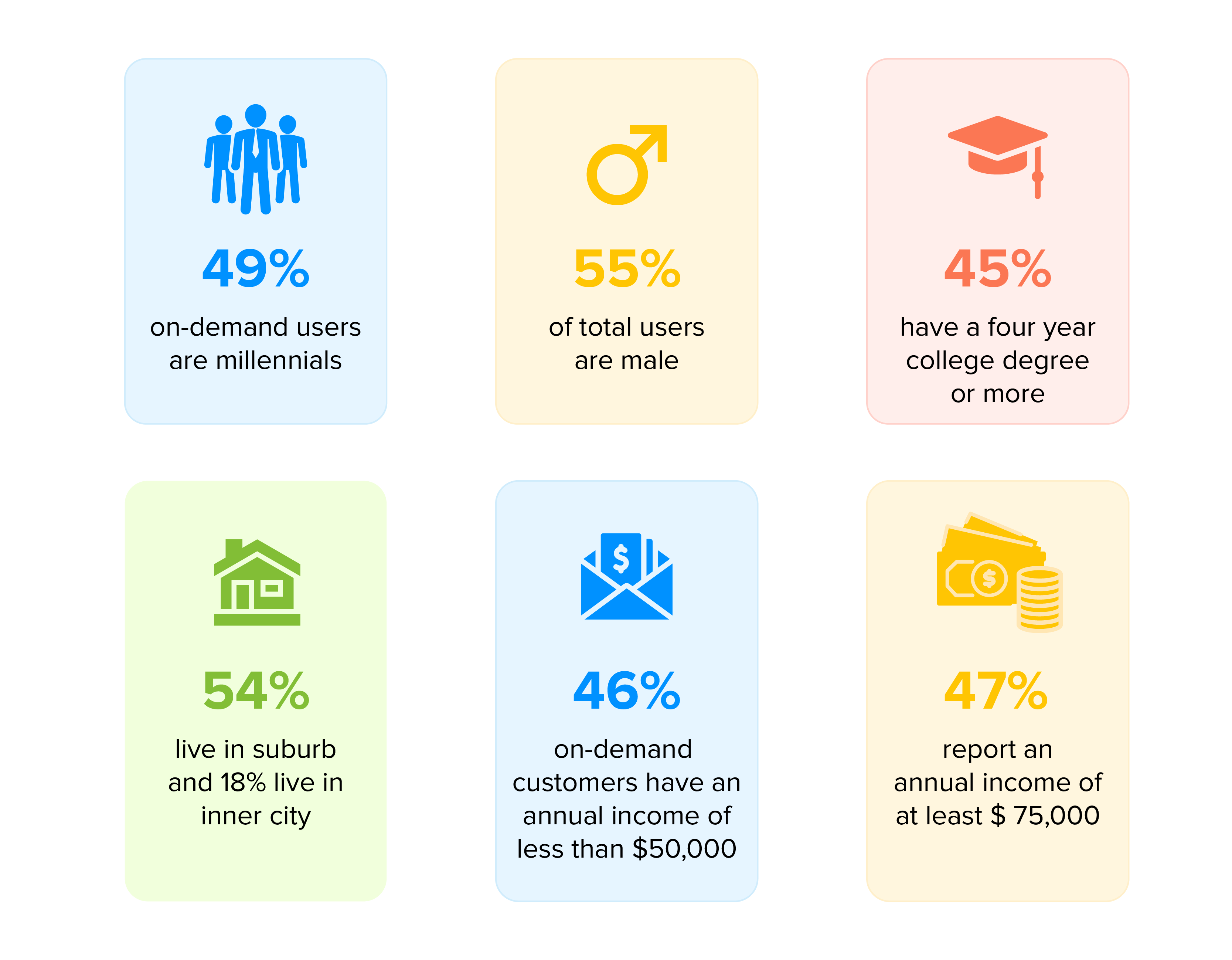 So, if you are looking for ways to grow your business, on-demand apps can be one of the best ways to do it. Having a good app will have both short and long term benefits, many of them are discussed ahead. But first, let's make clear what are on-demand apps?
What are On-Demand Apps?
On-demand apps connect business with consumers and vice-versa, where consumers can request access to a service and the business can facilitate it directly without any further intervention from any party. Apps used for ordering food, booking restaurants, booking movie tickets, travel tickets, cab... you get the picture, all are on-demand apps and have proven their worth in multiple industries. 
Netflix, Bookmyshow, Uber, Fiver, UrbanClap - the list of successful on-demand app business models, is endless. Here are some industries which have been witnessing a constant rise in on-demand use cases.
Popular sectors with a higher scope for on-demand apps:
Online Marketplaces
On-demand apps can be the ideal market place you want to create for your users. Flipkart, Amazon, OLX and many more have made it very clear for the future developers. Online marketplaces hold the biggest share in terms of generated revenue.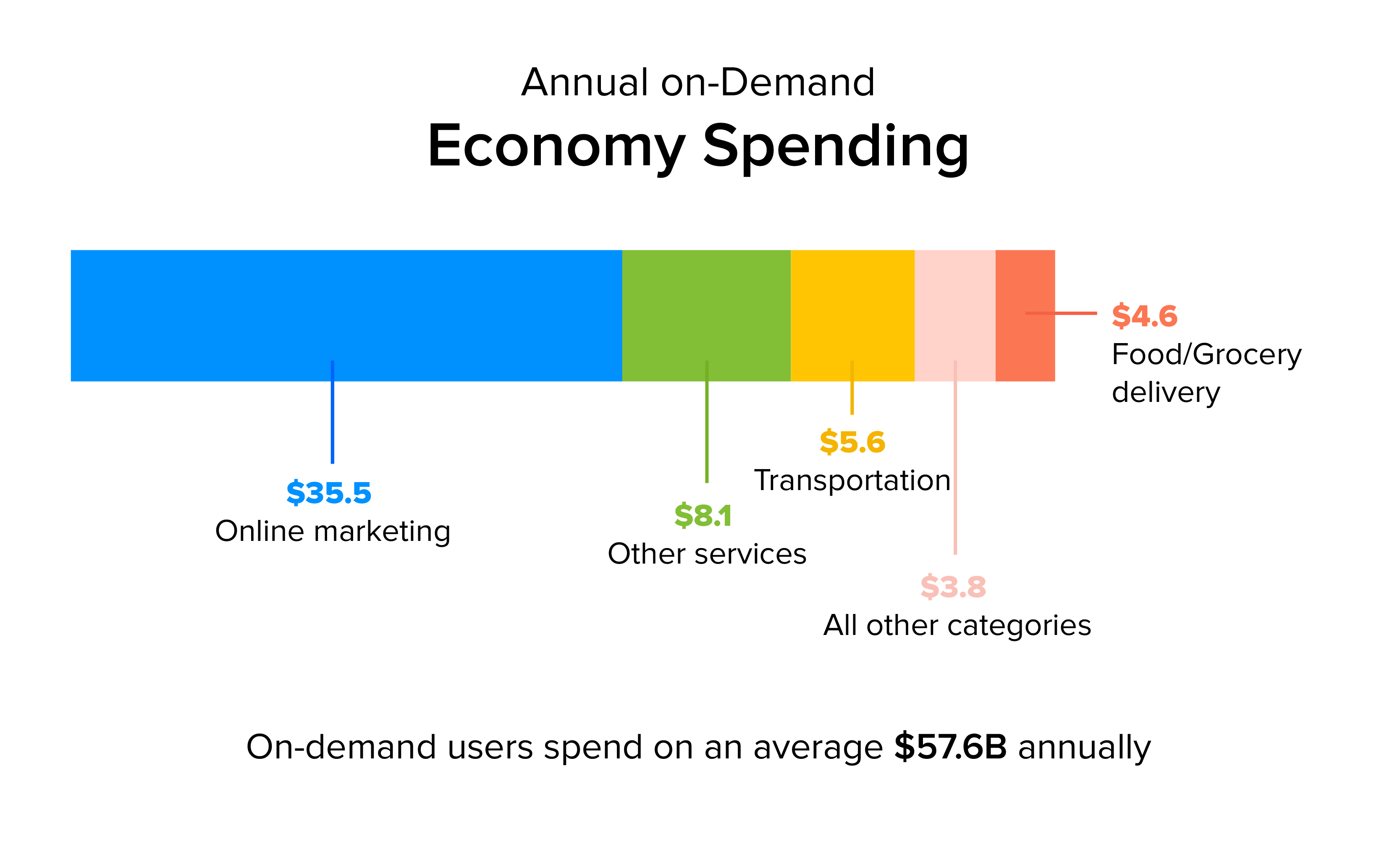 Hospitality 
FMCG industry, restaurants, on-demand delivery apps, hotels bookings, movie theatres, holiday resorts, etc. so many businesses are getting benefited by on-demand apps. Here is an image for your reference. 
Healthcare and Fitness 
On-demand healthcare apps, fitness apps and personal care apps are in the trend. Especially after the COVID-19 pandemic, healthcare apps have shown way more growth than anticipated. 
Transportation 
Apps like Uber, Ola, Transit, Lyft, Parkopedia and Honk are great examples for transportation apps delivering amazing value to the consumers. 
Education and training 
Social distancing and fast-paced life, both have resulted in a rise of apps offering on-demand educational services. BYJU's, Unacademy, Tutree and Flipclass are only a few of many successful models.
Still unsure if your business needs an on-demand app or not? Ask yourself these questions and see what answers do you get: Does your target audience use on-demand mobile apps? Do your competitors have on-demand apps in their offerings? Will opting for an on-demand app will solve your customers' problem? If you get two or more yes as the answers to those questions, you should consider investing in an on-demand mobile app. 
How can on-demand apps boost your business?
Here are a few benefits of having an on-demand mobile app.
Connecting with customers 
It will connect you directly to your consumers via their smartphones. You can resolve their queries, gather feedback, collect data and publish information easily. 
Expanding brand awareness 
You can also use your app as a promotion platform to spread brand awareness and let your users know about all your achievements and developments. Food for thought, Google says that 89% of customers will recommend a brand if they like its mobile app experience.
Sales generation 
On-demand apps offer unprecedented ease to users and can be linked with any promotional material for direct download, leading to higher sales figures. Creating an app also gives rise to a shopping frequency to regular users of your services.
Improves efficiency of business 
By creating a smooth channel for sales, fast payment methods and collecting exact statistics, on-demand apps enhance the ease of doing business. Using apps also reduces the scope of human errors which are unavoidable when processes are done manually. Apps also reduce the need for complex paperwork and save time while carrying out transactions. You will also see a reduction in overhead expenses like printers, electricity, transport, man-hours which adds up to a considerable amount when you switch to digital.
Customer retention 
Great services, efficient communication and swift response are among top things a customer expects from a service provider. By creating a good on-demand app you can excel in all these aspects and strengthen the connection between you and your customers. Mobile apps also help you in creating a "community" for your brand which you can leverage to improve your brand presence and retain customers. Create special plans for veteran customers, promote events and festive offers, the options are endless.
App store earnings
Last, but not least, you can't forget the extra earnings made through App stores. In-app purchase, subscription and sponsorship, there are many ways you can generate revenue via your mobile app. 
Tips for creating a great app for business
It will be naive to assume that on-demand apps are like any other app and can lead you to success easily. There are many aspects of it we need to be sure of before you can get benefited by it. Here are some of the tips to make your on-demand business success.
Take an agile approach
You should be flexible and available 24*7 to make your on-demand app a success. You should be able to optimize your on-demand app's performance according to your scale and plans.
Technology integration 
Simple designs and ease of operations are necessary for an app's success. You can do so by engaging with the latest technology such as Artificial Intelligence, chat bots, blockchain, etc. to make the user experience better and safer.
Research your market 
This goes for any business model, you need to be aware of your competitors, their strategies, you consumers, their expectations and every other parameter which affects the market. Make sure you have a self-sustaining business app model which can generate enough revenue for future maintenance.
Use email marketing 
Use the email address you get through your app for effective marketing campaigns with your direct customers. Give them reasons to visit your app and share it with their friends.
Keep your value demos short and simple
Remember, you are as good as your business and people are not expecting more than what they pay for. So keep your communication with your customers interesting, short and to the point.
Follow-up on customers
Following up on your customer is the best thing you can do for your business in the longer run. Make sure the plights of the consumers are heard and responded ASAP. A responsive communication channel indicates that the company is serious about its services and serving their customers.
Find your niche 
One of the most used words but true as well, finally find your niche. Are you working for fitness and health, providing skill-based services, find where you fit and make strategies accordingly. 
What does it cost to make an on-demand app?
It is really difficult to put the number to the cost of developing an app. It boils down to the services you are offering, the functionality is you adding and people using your app. The hourly cost of app development varies between $25/hour to $150 per hour and can take between 300 hours -1500 hours depending on the complexity of the app. The image below will help you get an idea of app development rates in different countries.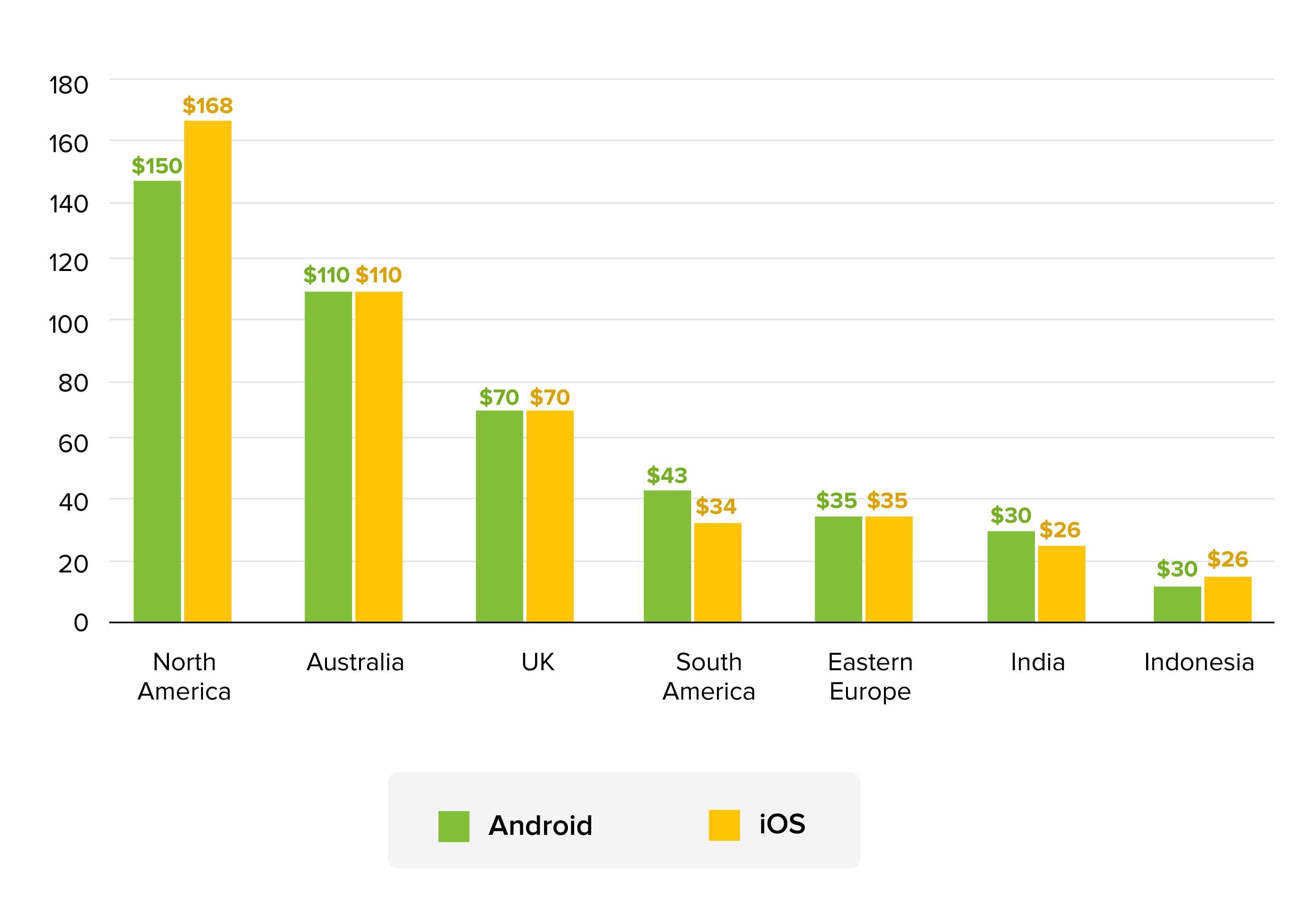 Expected features from great on-demand apps:
User-friendly interface

Tracking, operations, and delivery management

Payment gateway

Daily reports

Security features

Entertainment features (Blogs, quizzes, etc.)

Scalability features
Summary
All in all the real question is not whether you need an on-demand app or not. The real question is when are you going to act on it, because chances are, if not now then a few years later you will realize the opportunities you are missing. The point I am trying to make is on-demand apps have already become a potential channel to expand your business in multiple ways, and consumers have already accepted them and now, they are cherishing them. It is up to you when you adapt to this new technology and decide to get leveraged by it.
On-demand apps are an easy, fast, reliable, safe and open way to scale your business to new heights and expand it as an overall brand. So if you are looking for ways to grow your business and beat this worldwide slow down, getting an on-demand app can be a great way to do that. Just make sure you invest time and efforts in research and find great app development partners for creating your on-demand mobile app. For more updates, stay in touch.
About the author: Smith Johnes is a writer and active contributor with priority to cover up new technologies and techniques for his audience.
Top comments
@Jimscircularfile, Hi, this is Adam from Digiarty. May I have your order number so that we can investigate? Most of the time, the

Loved the piece of content. Really helpful and informative content here.

Pyramidion Solutions is one of the best mobile app development companies in Chennai, offering interactive and reliable apps with a

Great Post! I am Really Enjoy to Visit In the Post. I have too been generated Clipping Path/Cutout image Service to a long time. K
Popular posts
Recent discussions