Windows 10 has an automatic installation and drivers update by default, but this service can be disabled by user or other software. As for the older versions of Windows OS, it is often necessary for a user to download and install drivers by himself or to use driver updater software for automatic installation of updates.
DriverMax is a product of Innovative Solutions. The company was founded in 1997 and is engaged in development and system utilities support, VPN, security software and Windows optimizers. In addition to affordable, well-known products, Innovative Solutions also provides custom software and web development services for customers all over the world.


Vendor description
DriverMax is your right hand when it comes to updating your computer's drivers. It's the tool you need in order to keep your computer updated by doing all the work for you. It searches and downloads the drivers you need to install on your PC and it can even roll back to a previous version of them.
DriverMax supports automated installs, scheduled scans, and full device driver backups. It can be set to check for driver updates and download them for you at any time of any day, week, or month. You can find driver updates for 32-bit and 64-bit versions of Windows 10, Windows 8.1, Windows 8, Windows 7, Windows Vista, and Windows XP.
Specifications:
| | |
| --- | --- |
| Vendor | |
| Newest version | v11.12.0.13 |
| Operating systems | Windows XP/Vista/7/8/8.1/10 |
| Installation file size | 5.59 MB |
| Menu languages | 17 |
| Driver database | 2,300,000 |
| Extra features | one-click update, backup |
| Pricing | Free / Pro |
| License | $8.66 per 1 Year subscription$29.80 per Lifetime subscription + Free gift |
Setting up DriverMax
Windows 10 needs driver update tools very rarely, while XP, Vista and Win 7 are already outdated and rarely used. Thus, Windows 10 seems to be the most relevant operating system, which has surpassed Windows 7 since April 2017 and as of August 2019 is 54.2%, according to w3schools.
We use a laptop with a 64-bit version of Windows 10, an ASUS laptop with 12 GB of RAM, an Intel Core I3-4005U processor with a clock frequency of 1.70 GHz, a SATA SSD of 254 GB and a screen resolution of 1366x768.

Since in our review we take into account the drivers download time, the connection speed through the SpeedTest service is D: 324 MB / UP: 160 MB


Installation
Everything is very simple and clear here: download the installation file from the site (5.59 MB) for free. Save and run it, the process of unpacking the installation archive will begin. Agree with the license agreement, choose the installation path, mark the creation of the DriverMax icon on the desktop and the installation process begins.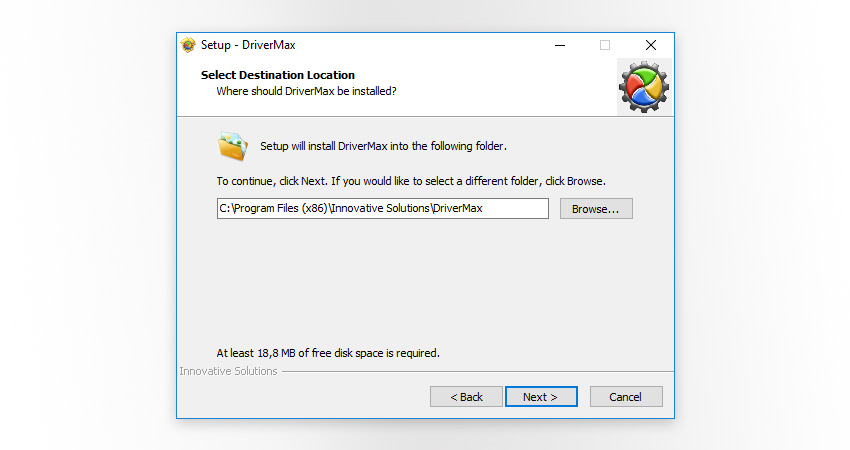 Upon completion of the installation, the application will automatically start and offer a choice of one among 17 available languages.
Installation time: 6.5 seconds.


Interface and main window
DriverMax has five tabs: Home, Driver updates, Backup, Restore and Settings. Also you can go to the technical support web page and purchase the PRO version from the application, it will open by any default browser. However, the Facebook / Google Plus buttons also open the default browser.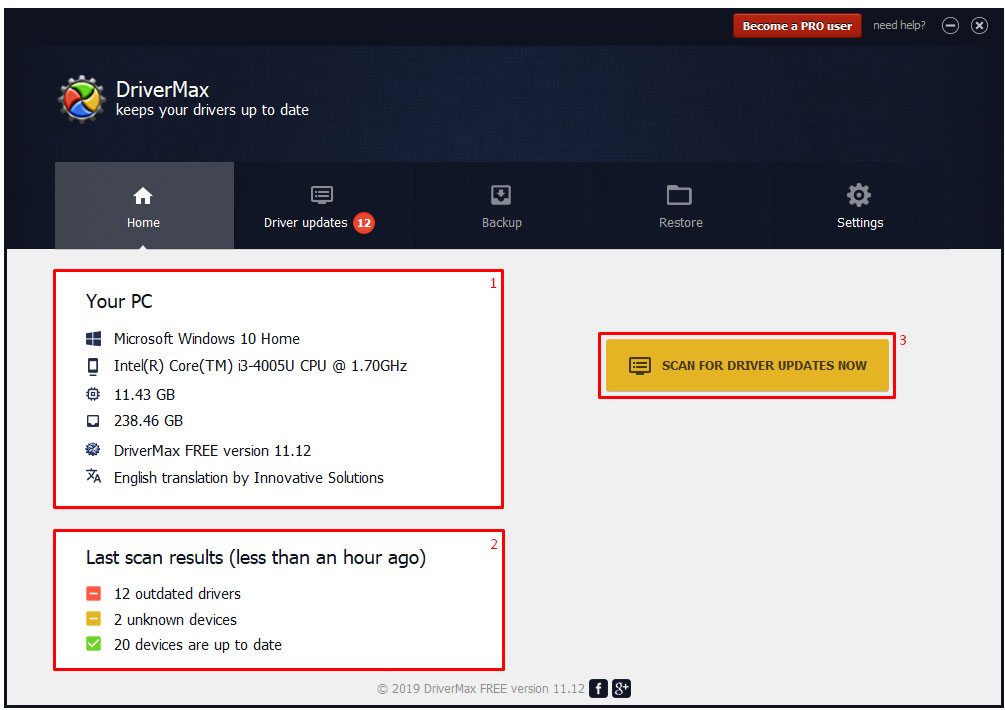 The Home tab displays general information about your PC (1), scan results (2) and the "SCAN FOR DRIVER UPDATES NOW" button (3) when you click on it, DriverMax opens the Driver updates tab and the scanning process starts automatically.


Diagnostics / Scan
The application scans for updates not only for drivers, but also for important Windows OS components, such as: OpenAL, .NET Framework, Microsoft Silverlight, MSV C++ Runtime, Oracle Java and others.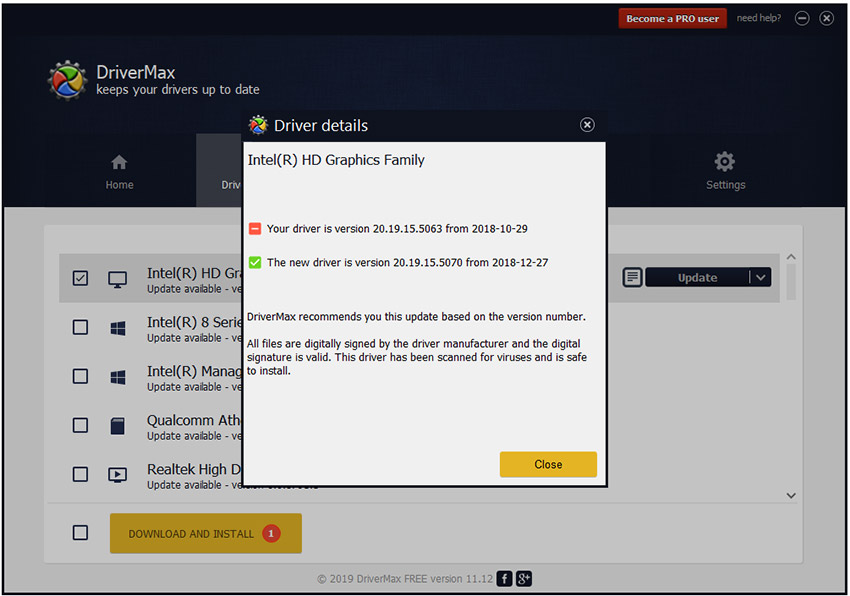 The user is given a choice of automatic update of all drivers and components, as well as manual ones (selective / optional), and there is also the opportunity to add devices and components to the ignore list.
Scanning time: 39 seconds.


Repair
For example, we have updated the driver Intel (R) HD Graphics Family, the download process took 2 minutes 55 seconds (file size ~ 195 MB). That is, the average download speed from DriveMAX servers is approximately 9 Mbps.
(!) Please note that in FREE version there is a restriction in updating, two drivers per day, to overcome this restriction you have to purchase Pro subscription.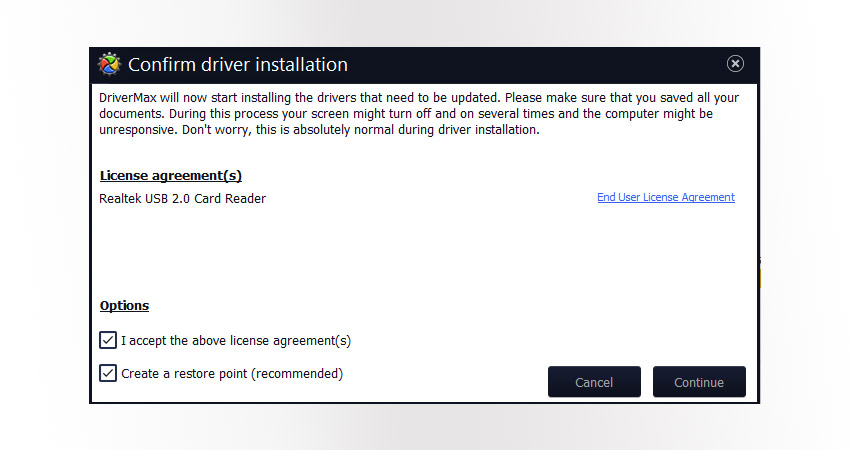 While updating drivers and software, you have to read the warning about the need to save all important documents, etc., as well as to accept the license agreement and it is recommended to create a recovery point (checked by default).
The restore point occurs through the components of the Windows operating system by default, but the Backup DriverMax tab also has its own functionality for creating a backup copy, so you can make a method for backing up the system that is convenient for you in advance, and drop the standard methods proposed. Upon completion of a successful installation, the user is notified about the update successful completion.


Extra features
All this works well, except for the download speed, a simple working interface does not cause difficulties in use. In addition to updating drivers, the application integrates the functionality of creating backup copies and restores of both the system as a whole, and the drivers individually.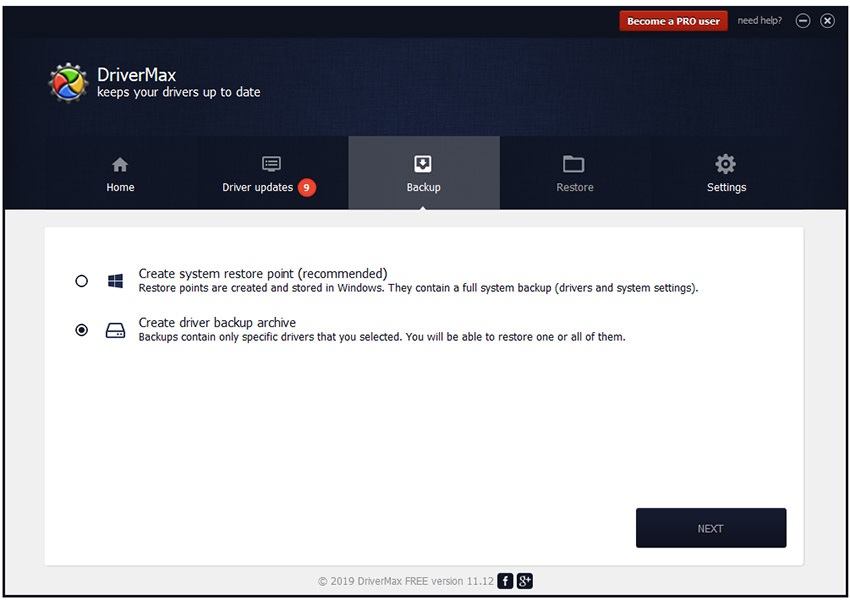 In the Backup tab, the user is provided with two options for creating a backup:
Create system restore point (recommended) - Restore points are created and stored in Windows. They contain a full system backup (driver and system settings)
Create driver backup archive - Backups contain only specific drivers that you selected. You will be able to restore one or all of them.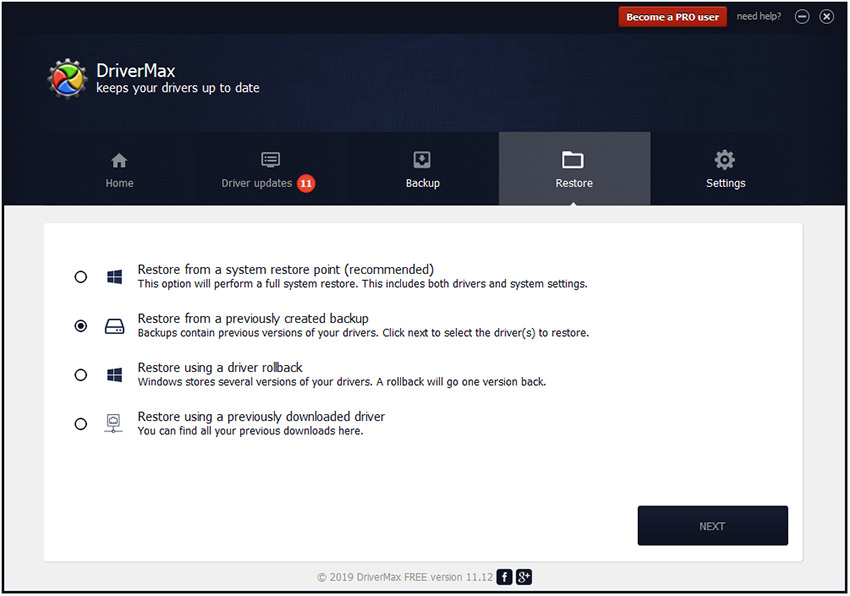 The Restore tab offers the user four modes:
Restore from a system restore point (recommended) - this option will perform a full system restore. It includes both drivers and system settings.
Restore from a previously created backup - Backup contains your previous drivers. Click next to select driver(s) to restore.
Restore using a driver rollback - Windows stores several versions of you drivers. A rollback will go one version back.
Restore using a previously download driver - you can find all your previous downloads here.


Settings, support
DriverMax settings are limited by the basic functionality that allows you to activate the automatic check for the presence and downloading of new drivers on a schedule, as well as changing the language of the application interface and resetting the default settings.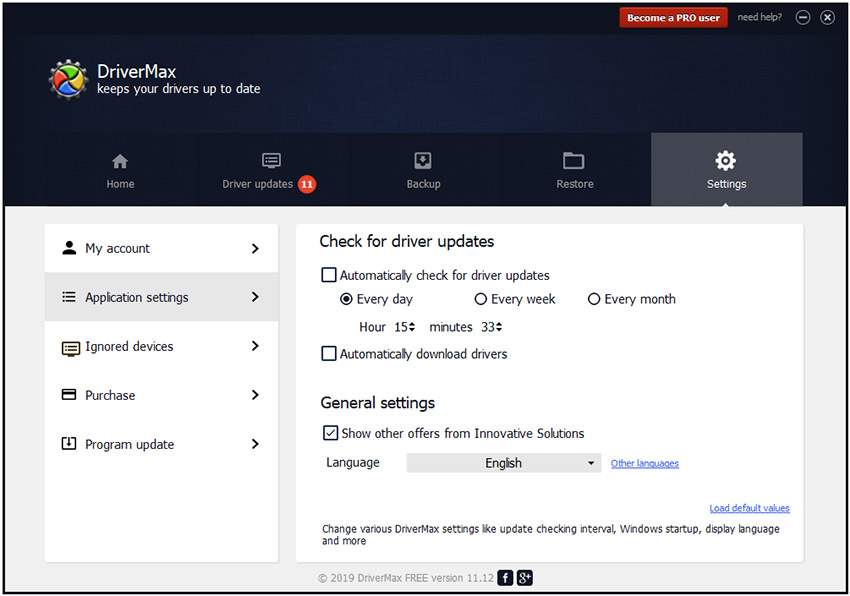 Other settings tabs allow you to log in for users with a subscription, update the DriverMax version, see the current cost of the subscription, remove the device from the driver update checklist.
User support occurs through the feedback form on the manufacturer's website with the ticket system. While sending a message you must fill out the standard forms and select your license type, after sending the message you will receive your ticket number, as well as a message in the mail about a message received and a button with a direct link to your ticket.
To check the response speed of the support service, we chose the optimal time for most time zones, like a support request was created on 08:30 AM Tuesday, September 10, 2019 (GMT-4). After 22 hours we get an answer, thanks Ane Mari Tache.


Performance summary
If you need software for updating drivers without special additional functionality, consuming few resources of your system, then DriverMax should satisfy your needs.
System resources used:
| | | |
| --- | --- | --- |
| | CPU | RAM |
| Background | 0% | 18 MB |
| Scanning | 30% | 30 MB |
It is also important to note that in the Free version a window pops up over your windows with an offer to purchase a subscription. This does not happen very often (for about three times for the whole day), unfortunately it was not possible to calculate the intensity or connection, but nevertheless it is inconvenient and distracting.
(!) Updating a maximum of two drivers per day is available in the Free tariff plan, this is sufficient, provided that you already have the latest drivers installed in advance and you will use DriverMax to always support the latest drivers and Windows components in the system.


Benefits, pros and cons
DriverMax is an easy-to-use driver update program with a minimal basic functionality to perform the updating drivers purposeful task without installing unwanted software, various optimizers, and more. It creates recovery points of various types and recovery using both Windows tools and its own algorithms.


Pro vs Free
| | | |
| --- | --- | --- |
| | Free | Pro |
| Unlimited driver downloads | No | Yes |
| Instant download start | No | Yes |
| Hourly driver check | No | Yes |
| Download priority | No | Yes |
| Signed driver updates only | No | Yes |
| Customer support | No | Yes |
| Simultaneous driver downloads | No | Yes |
| Automated driver installation | No | Yes |
| Driver and system restore points | Yes | Yes |
| Rollback to a previous version | Yes | Yes |
| Unknown device identification | Yes | Yes |