Avast Internet Security is one of the most popular free antivirus solutions worldwide. It is compatible with all Windows OS group - XP, SP3, Vista, Win 7, 8/8.1, 10. Avast antivirus is designed as a complex protection suite from common threats, which could be identified based on behavioral characteristics.
Like competitors, Avast protects system files and user data, but also offers variety of security modes for data protection. Usually, Avast enters Passive Mode after installation in Windows due to Microsoft's built-in Windows Defender anti-malware service. Therefore, it is recommended to disable active protection by Defender and turn on Avast Internet Security. 
Specifications:
| | |
| --- | --- |
| Vendor | Avast Software s.r.o. (website) |
| Newest version (for Windows) | v.19.7.4674.0 out September 2019 |
| Operating systems | Windows 7/8/8.1/10 |
| Installer file size | 345 MB |
| Menu languages | 46 |
| Key modules | Antivirus, Firewall, Payments Protection |
| Extra features | CyberCapture, Sandbox, Secure Browser |
| License | Trial / Subscription |
| Pricing | $79.99 (1 Year, 10 Devices)$239.99 (1 Year, 10 Devices) |
Avast Internet Security features
To start off, install Avast antivirus, make sure it works in Active Mode, and run a Smart Scan to identify potential vulnerabilities. To make things smoother, Avast proposes to download Avast Browser along with antivirus and run it in Bank Mode. Add extension to Google Chrome if you wish to apply additional protection for social media accounts and passwords. 
Virus scans. The main feature and key purpose of Avast is scanning, of course. Internet Security performs full or targeted signature-based scans to detect viruses, malware and rootkits on hard disks or drives, as well as portable external devices. Left-side menu lets access Smart Scan option, Protection, Privacy and Performance modules. Protection is the one responsible for detecting viruses. To perform a full scan, go to Custom Scan to initiate. To gain more out of it, specify requirements for archives, file extensions, etc. A quick Smart Scan can detect and eliminate network and software vulnerabilities, unwanted browser add-ons, PC optimization issues, Windows update problems.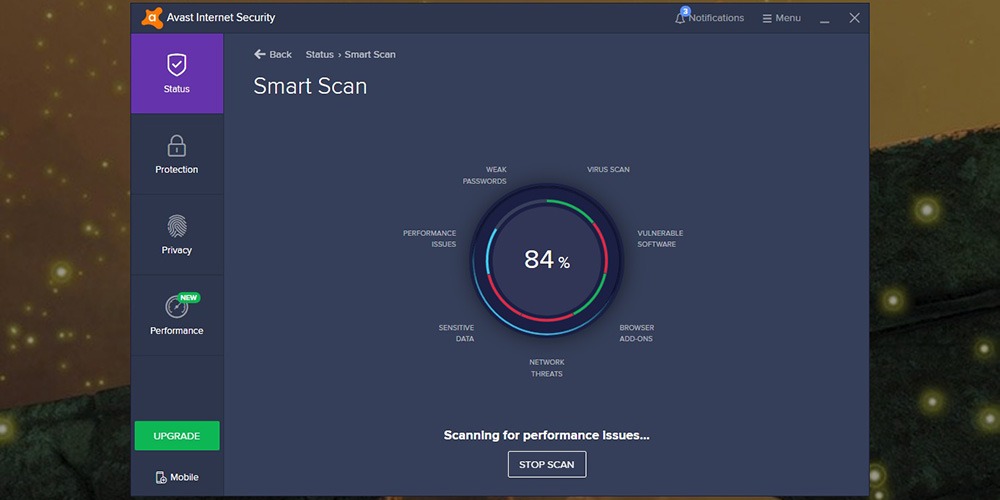 Core Shield = real-time protection. In "active mode" Avast provides real-time protection, checking open and incoming files and applications for malware and other threats. Web Shield, for instance, is responsible for securing web browsing activity.
By the way, to speed up browsing, users may download Avast Secure Browser which is as fast as Google Chrome. It it specially designed for safety purposes, thus tools like the sandbox are integrated. If using Chrome, Avast may add extensions, for example, Bank Mode to guard cash flow online. Also, if Microsoft Outlook is your default email client, Avast browser can block suspicious email attachments via Mail Shield module. System requirements aren't high: Windows 10/87 and 400 MB on disk, find out more in the promo: 
Ransomware Shield. Anti-ransomware tool is included in Avast Internet Security and Avast Premium, unlike Avast free antivirus. AIS has two modes - Strict and Smart. In Strict mode a user/administrator gives permission to move or amend files and folders if there is such attempt. This mode has separate folders to specify files to protect: archive files (7z, rar, zip), audio (m3u, mp3, wav, etc.), database (sqlit, sqlit3), disc files (iso, img, etc.), documents, pictures, videos. Smart Mode, as you might have guessed, is for complete all-round protection of all files on PC if you don't have much time.
Other features include: 
Wi-Fi Inspector. To prevent network vulnerabilities and data loss.   
Real Site. Scans websites to protect your user data and system files, encrypts connection between a browser and DNS server.
Virus Chest. After scanning infected files are placed into Virus Chest, i.e. quarantine. Files are isolated and can do no more harm. 
Sandbox. A safe virtual environment for suspicious applications to test their behavior.
Passwords. Additional optional password guard for $0,99 a month, as a browser extension.
Sensitive Data Shield. Protects personal data, documents a user deems highly sensitive. 
SecureLine VPN. A protection module for Internet connection, lets you select a country, browse anonymously without disclosing real IP-address.
Software Updater. Checks if all apps have the latest versions. 
Do Not Disturb Mode. To protect working process or gaming from interruptions outside. 
Mobile Security. For Android and iPhone users, Avast in the form of a mobile app.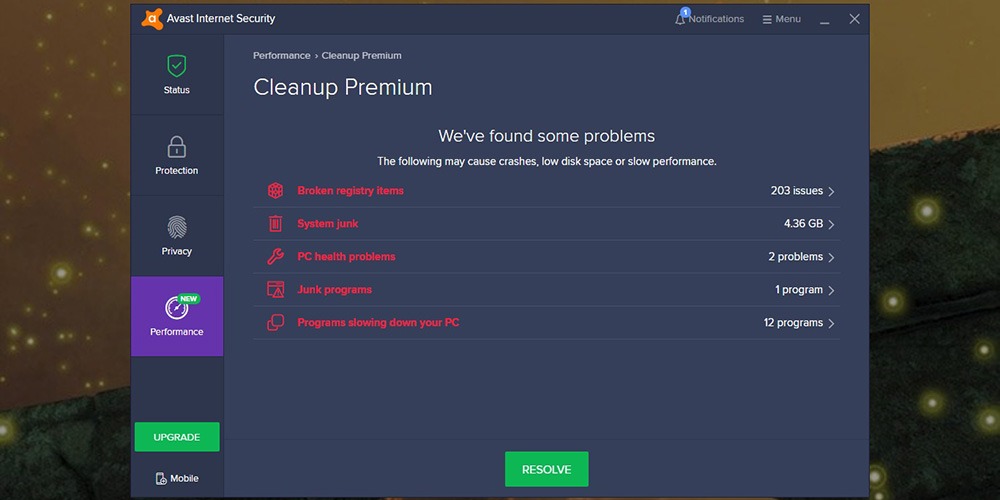 Trial and limitations. A 60-days free trial, and 30-days money back guarantee. No real-time protection in trial. 
N.B. There's also a nice little treat from Avast for social media users: a bonus program to get the antivirus for free. Share information about Avast and get a  free version for 6 months, get 5 recommendations and Avast Internet Security is yours, same for Avast Premium but you got to reach 10 proven personal recommendations. 
Performance test
For virus scanning we used a typical 4GB RAM PC running on 64-bit Windows 10 Pro. It took 1.5 hour to conduct a Full Scan. As there were no viruses on our PC, we downloaded EICAR test virus, designed to examine antivirus software effectiveness. We then tried to execute it but Avast successfully blocked it. Thumbs up. We also ran a Smart Scan that aims at finding performance issues, weak passwords, browser add-ons etc. Interestingly, that this process slowed down our PC quite substantially.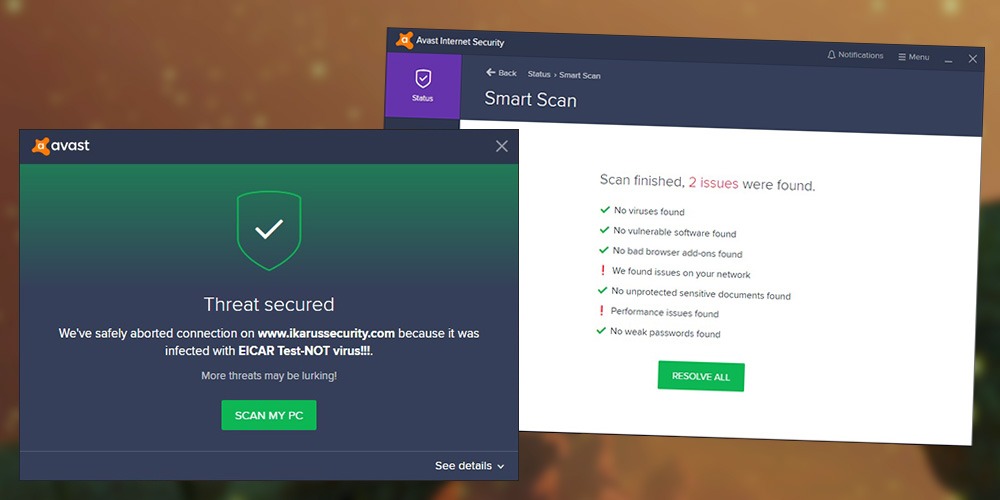 Verdict
Weighing in all the capabilities of Avast Internet Security from our angle, we assume this antivirus software is best suitable for users who are active on social media and/or involved in regular gaming. AIS is devoted to securing personal data on the basic consumer level. It offers both real-time protection and scanning/quarantine, as well as diverse set of tools, e.g. sandbox, password manager, secure browser, bank mode, email client protection. On the other hand, it lacks concise and informative threat analysis and protection against WebRTC leaks in browsers.
Avast Mobile Security - Android app
A free antivirus for Android, with over 100 million of installs - Mobile Security. It detects viruses, secure wifi spots, boosts RAM, as well as provides plenty additional features. Avast also provides Avast Cleanup & Boost, Phone Cleaner, Optimizer for Android devices. This software is primarily used to enhance mobile phone performance by deleting junk files, enhancing power usage, and boosting memory. 
By clicking on Get started, you agree to the license agreement and privacy policy. Once you click on Get started, you'll have to choose between a free version or a premium and ad-free version which has extra features. As you click Continue with ads, the application now runs optimally.
The service provides many high-level security features for Android devices:
Smart Scan: Searches for any vulnerabilities in your mobile phone.
RAM Boosting: Kills any background running apps that are not used but taking up space in the device RAM.
Clean Junk: Gets rid of the system junk files that slow down the device and degrade its performance.
Wi-Fi Security: Scans the Wi-Fi connection to detect any suspicious activity within the network.
Wi-Fi Speed: Estimates the network uploading and downloading speeds.
Photo Vault: Saves important photos in a secret place with special access.
Anti-Theft: Has security procedures to enable you to recover your mobile in case it is stolen.
App Permissions: Analyzes apps installed on your mobile and their priorities and permissions.
App Locking: Sets a lock on specific apps to prevent any unauthorized persons using them.
Call Blocker: Puts some numbers into a black list that blocks the calls and SMS messages.
Last Known Location: information about the last location of the mobile phone before it was turned off.
SIM Security: Assists lost phone recovery. If the device was stolen or lost and the thief tries to change the SIM card, the phone will be registered as lost.
Camera Trap: Takes a photo of the thief once the phone is registered as stolen.
Power Saver: Manages power usage to provide longer life for the mobile battery.
Firewall: secures your mobile phone against hacking attempts (requires rooting permissions).
Data Usage Manager: sets the limit for your mobile data usage to enable you to manage your mobile credit.
To sum up Avast Mobile Security has both pros (free, reasonable Pro price, helpful services, control over the settings) and cons (annoying ads in the free version, scanning process can slow down the device, some reviewers reported that call blocker does not work properly for them).