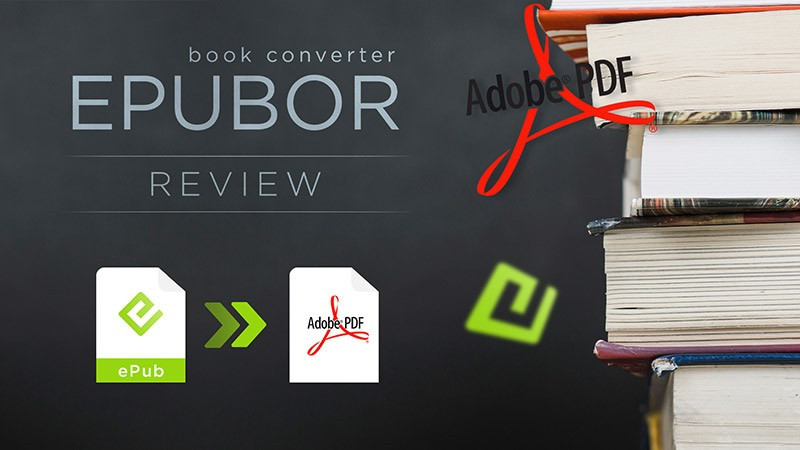 If you buy or download for free a large amount of electronic books and read them on different devices, then you often need to convert the book to a format suitable for a particular gadget. Also, sometimes it becomes necessary to remove DRM (Digital Rights Management - a digital footprint that protects any content from piracy). A number of programs have a set of similar functions and Epubor Ultimate is one of them. Let's see if it is as good, as the developers say, and is it worth buying a paid version after the trial?
Specs & Pricing
Let's start with Epubor Ultimate specifications:
Supported platforms: Windows Vista/7/8/10, Mac OS 10.8/10.11 and later. Tested version: 3.0.12.207. Installer size: for Windows - 30 MB, for Mac - 125 MB. License conditions: paid / trial (limited functionality). Refund: possible without explanation within 30 days. User support: 24/7, live chat 12/6.
How much does it cost? There are three payment formats: one-year, life, and "family." Windows version prices are slightly lower than for MacOS. A lifetime license implies access to all new versions of the program as long as the company supports it. Family license will allow you to get a lifetime license for 2-5 computers. This is beneficial if you buy the program for a company (it is not necessary to be relatives). As a result, you get 5 lifetime licenses for Windows for $20, instead of one for a year for $25. Basic 1-year license for Windows costs $25. 
Can I check the paid version functionality for free? Yes. There are two ways:
Purchase a paid one-year subscription, then, up to 30 days, ask for a refund if something does not suit you. This is not entirely free, you will be charged a commission for the payment and for its return. As a result, you will be returned less than the amount paid. You can also (but we didn't tell you that) download all the books you want to read for the next 2-3 years and convert them to all possible formats. Yes, you will not be able to read the new ones and expand this list after such a trick, but you will get the opportunity to provide yourself with reading material for several years for almost free. And this does not contradict the policy of the Epubor manufacturer.
Send one book (only one) to support in order to check the functionality of the program. In the letter enclose a folder with the name .Epubor_Keys under the name of the user and a digital key to the book file.
How else can you get the program for free? As you can see, the developers have provided 4 ways of exchange with those who wish to receive a program without a cash equivalent. This is also not free, you will spend time on it, but for some this option is suitable.
Make a detailed review of the program and post it on your resource;
Make a review of the program in video format and upload it to the Youtube;
Help the developers with the translation of the program interface;
Help the developers to translate one article about the program.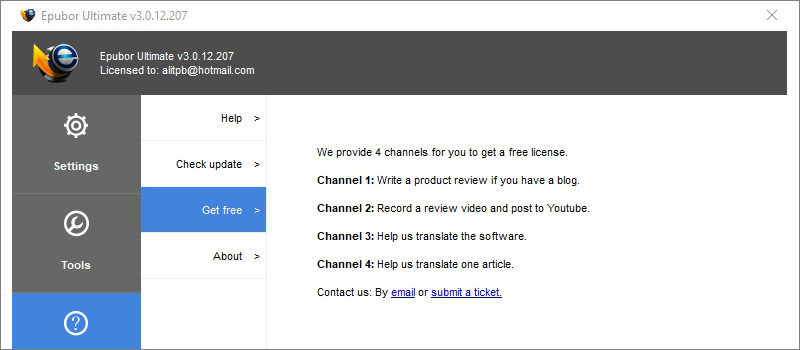 Trial limitations. Trial-version converts only 20% of the book text and only in TXT format.
Features
Epubor ebook converter t can decode and convert (with preservation of illustrations and layout) books of the following formats: ePUB, Mobi, PDF, Azw3, txt (only text can be transferred to this format). 
It can decrypt and convert books from services and stores such as Amazon, Sony, Nook, Kobo, Google eBook. 
Creates a library of all the books you bought from major global stores. When you connect your reader to a PC via a cable, it automatically "pulls" all your content into the library if you have a PC version of the software for the reader installed.
Allows you to remove DRM protection to convert to another format (only if you purchased the book officially).
All converted books are located in the Output folder, which can be synchronized with service libraries. That is, you (roughly speaking) can read a book purchased at Google on a Kindle, etc.
PDF format for printing any size brochure. This is an undeclared (except for the official program guide jungle) functionality, which, however, is useful to print the text in the desired format on a storage device. It will be useful primarily to those who use the elements of books in design.
Allows you to edit Metadata - information about the book. To do this, right-click on the book file in Epubor and select Edit Meta or click on the pencil. Both options are highlighted in red in the screenshot.
Note on DRM removal function. From the first glance one might think that Epubor developers encourage piracy, but this is not true. The fact is that you can remove DRM only from the book that you had bought and to which you have a license key. Without it, removing a DRM license is not possible. 
At the same time, we all understand that the program could be used to create pirate content. After all, it's enough to remove DRM once to sell an unlocked copy of a book. Then any publisher has the right to file a complaint for ownership rights. So the developers do not directly violate any copyrights, but, in some way, have also created a tool to help get around the law.
eBook formats
Epubor Ultimate supports the following ebook formats for conversion.
AZW3 is the latest version of the AZW format, in which the books on Amazon services are encoded. This is the same as KF8 - Kindle Format 8. AZW differs from the old format in the support of the HTML5 hypertext markup language and CSS3 style sheets. In fact, this is a regular ePub, which has DRM protection from Amazon and the ability to use layout and web styles. Books for the latest versions of Kindle readers are published in this format.
ePub is an e-book format developed and implemented at the 2007 World Publishing Forum (IDPF). For some time it lasted as a generally accepted format. Technically, it is similar to .zip files and is an archive that uses HTML and XML for markup. Designed to limit the use of such a file by a license agreement, ePub, with some modifications, is used in Kindle (Amazon), Nook, etc. Allows you to set DRM protection. 
PDF (Portable Document Format), developed by Adobe. Since 2004, supports 3D images. In fact, it is a document that in the form of an image can equally be displayed on all media, systems and platforms, while allowing the use of fonts, hyperlinks, markup, etc. Based on this format, DRM protection was first created.
Mobi was created in 2000 by Mobipocket. Used on Windows Mobile, Blackberry, Palms, Kindle, etc. Bought by Amazon and evolved into AZW3. No new content is currently being released in this format, but it's often necessary for the owners of obsolete gadgets, that support this format, to convert into it.
TXT - bare text format with almost no markup, recording only text in the corresponding encoding. First of all, it is interesting because it allows you to store files in a minimum size and download them even with a very weak Internet signal.
Epubor for Windows
The program has a very simple, minimalistic interface. In the main window, you can simply drag and drop files of any supported format and start working with them. Or use the +Add button in the center of the main window. It allows you to add books from a specific folder.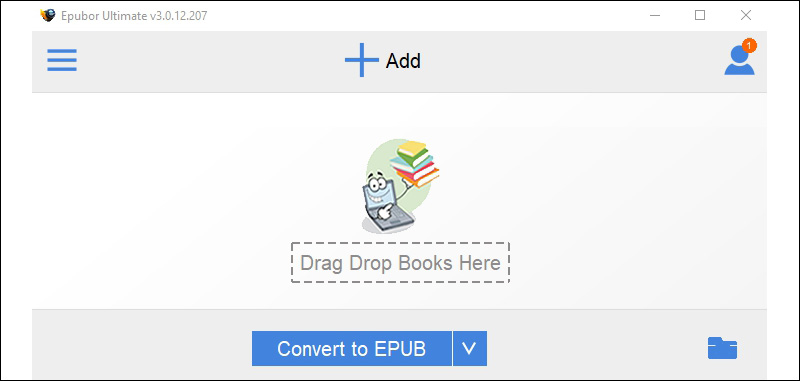 In the upper right corner is the User Center button, which provides access to the settings menu. In the upper left corner is the Book Library button - responsible for the library and the list of books in the Output folder (all files are converted to it by default). Down in the center is the Convert to button, which allows you to select one of the 5 supported formats that can be converted back and forth with the exception of txt.
There are only four tabs in User Center: settings, tools, help and system messages. In the Settings tab you will find the following:
Language. A choice of 11 available (in fact 10, because of Spanish/Catalan). 
Output. Select and set the default folder into which your books will be converted.
Kindle. Set the folder for the Kindle library. To start the synchronization, you need the serial number of your reader or PID.
ADE. Set the folder for the Adobe Digital Edition libraries.
Favorite. Set the folder for the Favorites library. In fact, it is the only working folder, if you do not have licensed content.
Tools tab contains:
Epub Fix Tool. The tool for fixing ePub files that are not full zip archives.
License Manager. If you want to receive a refund, then you need to click the De-Register button to start the refund process.
Generate Keys. The tool for removing DRM protection, requires a license key for the file. If you cannot remove the protection, there is an option to send the folder with the book and the key to the developers (in the trial version you can send only one book).
PDF Plugin. If you agreed to install it during installation, or if you installed it with some Adobe package earlier, you will see this plugin.
Help tab contains links to the FAQ, support, tutorial, check for updates, About section, as well as instructions on how to obtain a license for barter. 
Batch conversion
Everything is clear with the conversion of single files, no problems. Drag-n-drop, select a format, wait a couple of seconds (or more if there are a lot of illustrations and a complicated formatting in the file). How much does it take to convert packages?
Let's check all the possible options using the example of a 20-books package. We purposely tested Epubor batch conversion on an average laptop, with 4-core AMD A6 6310 processor, 1.8 Ghz, and 8 GB RAM. Here are the results for 16 popular combinations:
| | | | |
| --- | --- | --- | --- |
| ePub > PDF | 07:12 | PDF > ePub | 04:23 |
| ePub > Azw3 | 00:12 | PDF > Azw3 | 08:17 |
| ePub > Mobi | 00:15 | PDF > Mobi | 07:28 |
| ePub > Txt | 00:07 | PDF > Txt | 03:45 |
| Azw3 > ePub | 00:13 | Mobi > ePub | 00:16 |
| Azw3 > PDF | 16:05 | Mobi > PDF | 08:39 |
| Azw3 > Mobi | 00:11 | Mobi > Azw3 | 00:13 |
| Azw3 > Txt | 00:10 | Mobi > txt | 00:10 |
In the process of measurements, one can note an obvious issue with PDF as output format, since it is the heaviest. All other formats are converted quite quickly. The conversion progress is displayed on the bottom panel, the number of books that remain to be converted is displayed there.

Also, a small bug was revealed. After you convert the same files several times to different formats, ePubor simply refuses to convert them further and displays a Fail error. Though, it is easy to fix - just restart the program.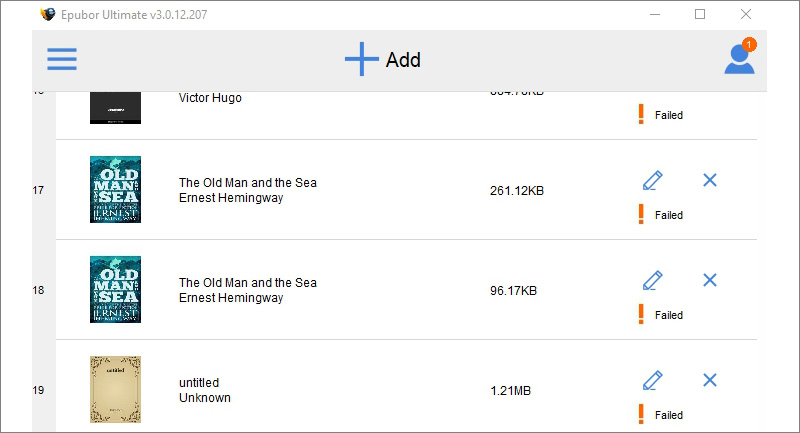 For tests, we used free books with free DRM files. If you start batch conversion of purchased books, then you will have to enter the keys manually. Also, when you convert books of different formats at the same time, those books that already are of the same format as the chosen output, are not converted.  
Library synchronization
Kindle and Epubor Ultimate. To download books from a Kindle reader, you need to install the Kindle program for PC. In fact, the library in Epubor is synchronized not with the connected device itself, but with the Kindle for PC. But the account on the reader and in the software must be the same. 
Importantly, synchronization is only possible with a program downloaded from the official Amazon website. Alsos note, that you will have to downgrade the program to the version that Epubor will offer itself, usually it is 1-2 versions lower than the last one. Just follow the instructions of the program.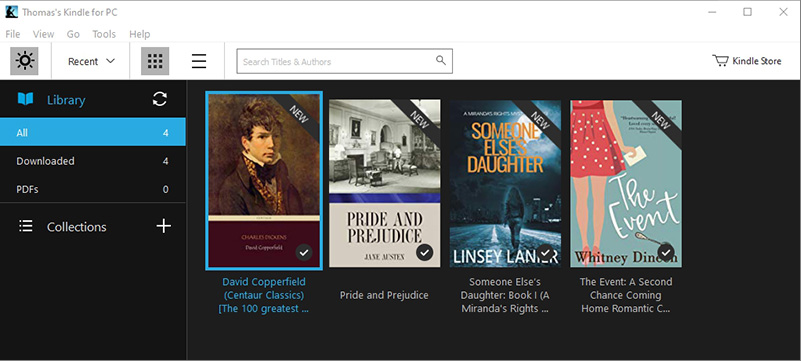 If synchronization with Epubor does not happen, just check the folder path, it should be something like this C:\Users\Username\Documents\My Kindle Content. If the storage path to the Kindle for PC file folder is different, you will need to enter this path in the settings (User  Control - Settings - Kindle).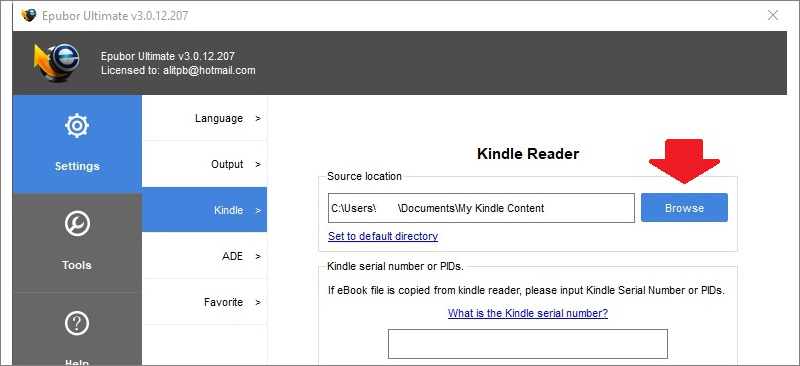 It may happen that you have a book on a Kindle reader that is not in your PC account. In this case, in the Kindle settings window, you can enter the PID-identifier of this book or the serial number of the device and the program will remove DRM protection for this data.

Kobo Books and Epubor Ultimate. For books purchased on Rakuten.com, there is also a special PC application that can be downloaded on the official website. After installing and at least one book appearing in your account library, synchronization happens automatically. We have added 4 books to the account and they were automatically synced. Kobo Desktop does not have the option of selecting a folder for saving books, so Epubor pulls them automatically.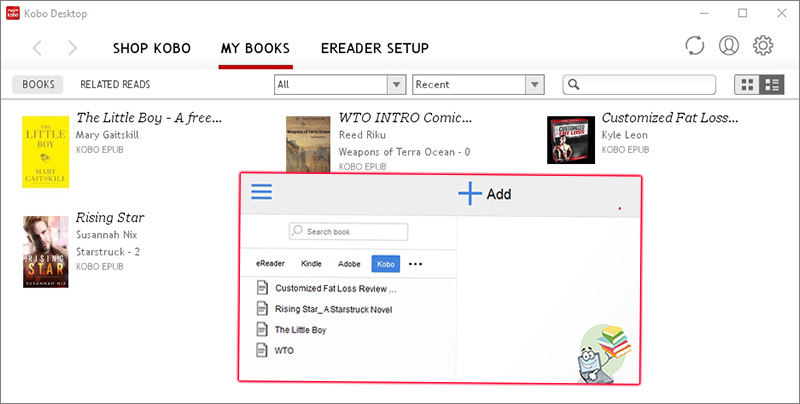 Adobe DRM files and Epubor. Protected PDFs can be synced via Adobe Digital Editions (it is free). If you don't have it, you must install it, though. In order to synchronize the Epubor library with Adobe Digital Editions, you must specify the path to the folder containing book files. To do this, go to User Control - Settings - ADE, and put down the path to the desired folder there.

Nook Books and Epubor. The latest available version of Nook Books for PC is available only for Windows 8.1, and the store company Barnes & Noble officially announced that the Windows PC version is no longer supported. Therefore, if you have Win 8.1, you can use an outdated program, it will work. The current PC version is available only for MacOS.
Epubor for MacOS
Epubor converter interface on MacOS is no different, so we've installed the trial version to find out what 20% of conversion means. As you can see in the trial version, in the upper right corner, there is an additional key icon, by clicking on which we can see a recommendation to purchase a license.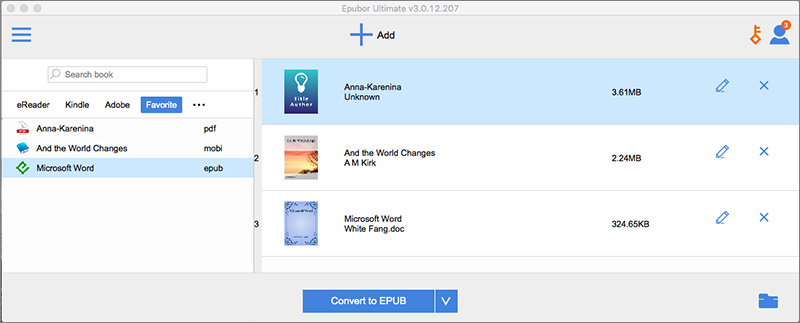 Files are in different formats, yet the program recognizes all of it. We've converted the Anna Karenina file to TXT. As you can see, in the middle of the text the book simply breaks off and this is approximately the 180th page out of 900.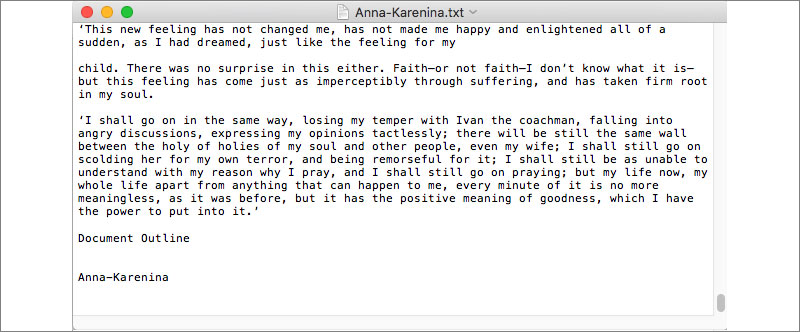 Conclusion
Epubor Ultimate is a great tool to organize an ebook library. You can convert any free downloaded and purchased books of popular formats to be able to read it on any gadget - reader, tablet, laptop. The functionality is basic, yet those who really need it, will like it. All the flaws are insignificant. One could say that the price for the converter program is high. However, a convenient app for those who read a lot on digital gadgets is not such a big expense.
Name of product Pros
Intuitive interface, minimum settings

Low cost for the lifetime license

A trial version to check the functionality

Syncs with different store libraries

Removes DRM protection for purchased books
Name of product Cons
Trial version is quite limited

11 interface languages, support only in English

Several minor bugs

Sync with readers requires desktop app versions

Does not support FB2 format
Read next: Best reading mobile apps.