Malwarebytes review: from installation to FAQ

Malwarebytes is a cybersecurity anti-malware program. Anti-malware is a vital software today providing protection against malicious files and infected sites. It detects and removes adware, worms, trojans, rootkits, dialers, spyware, and ransomware. Malwarebytes review is due because this security app has a unique set of  features that many antivirus packages lack. Also, it provides a bit different kind of protection, it is not recommended as a replacement for antivirus. The best option is to combine Malwarebytes and antivirus and thus, apply layered security.
Malwarebytes versions and hardware requirements
Malwarebytes is available for Microsoft Windows, macOS, Android, and iOS. Current product version is 3.6.1.2711. There are Personal and Business packages. You can install Free edition for personal use on Windows. Premium edition provides not only remediation but also protection, for instance, against dangerous links. There are four Business packages:
Malwarebytes Endpoint Protection & Response
Malwarebytes Endpoint Protection
Malwarebytes Endpoint Security
Malwarebytes Incident Response
Hardware requirements for Windows:
CPU: 800 Mhz or faster, with SSE2 technology
RAM: 2 GGB (64-bit OS), 1 GB (32-bit OS, except 512 MB for Windows XP)
250 MB of free hard disk space
1024×768 or higher screen resolution
Active Internet connection for updates
You can choose a version appropriate for business: standalone or managed. The standalone solution is perfect for teams and small offices; it implies no central management. Malwarebytes Endpoint Security is a perfect choice for business and enterprise. It combines protection and remediation technologies for multi-layer defense. Each version has separate technical specifications, which can be configured by the Management Console.
Management Console hardware requirements:
CPU: 2 GHz (dual-core 2.6 GHZ or higher)
RAM: 2 GB (4 GB recommended)
Disk space: 10 GB (20 GB recommended)
Screen resolution: 1024×768 or higher
Active internet connection
Mac Remediation hardware requirements:
Any Apple Mac device with Mac OS X version 10.8 or later
Active Internet connection for updates
What does Malwarebytes do
Detects and removes malware via anti-rootkit, anti-malware, and anti-spyware technology;
Offers a choice of scan types/modes for user needs – Threat scan, Custom scan, Hyper scan;
Proactively shields files, blocking any ransomware;
Prevents connection with infected websites, downloads of malware, and hacking attempts;
Blocks phishing sites, protects sensitive personal/business data, e.g. banking account credentials;
Stops so-called crypto jacking (secretly installing software to mine cryptocurrencies).
Here is Malwarebytes in action: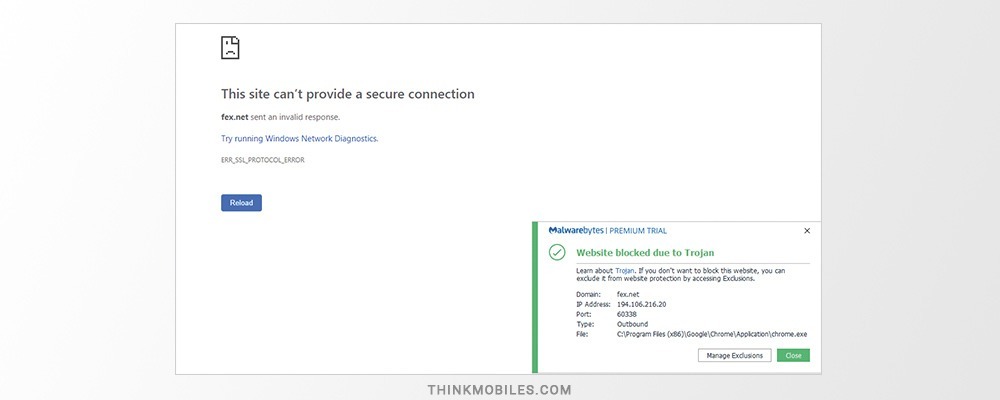 Interface / User experience
This popular anti-malware product surely has an intuitive interface. Dashboard section displays all information of current importance: the date of last and next (scheduled) scan, real-time protection settings, available malware database updates. Scan section serves to review the results of last scan and scheduling check-ups. We'll describe scan options below. In this tab, you can also export scanning summary. Quarantine section shows all the files and folders placed by Malwarebytes in an isolated folder where they can cause no harm.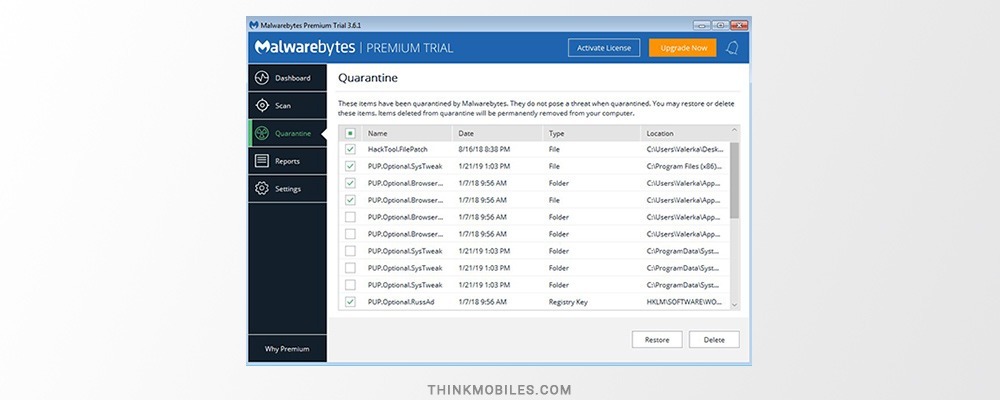 Reports section stores data about recent activities. Settings section contains several tabs. In the Application tab, you can select update options, display language, manage notifications, enable Proxy Server, collect event log data, etc. You can also schedule a scan in the appropriate tab of the Settings section. You can choose scan priority – at high priority scanning will take minimum time but may affect other tasks. With lower scan priority it will take longer to scan everything.
Protection tab contains all necessary settings for real-time protection, scans, and potential threat protection (including unwanted programs and modifications), quarantine and startup options. Also, you can add or remove applications for shielding in a Manage Protected Applications option.
In the Exclusions tab of Settings, you can exclude items from detection: files, folders, websites, apps or exploits (previously detected attacks). Later on, you can manage or remove exclusions in the same tab. In Settings users can view information about the product and your account details too. Notifications about blocked attacks sometimes appear on the screen and  scanning speed is pleasant – it really does not slow down a device.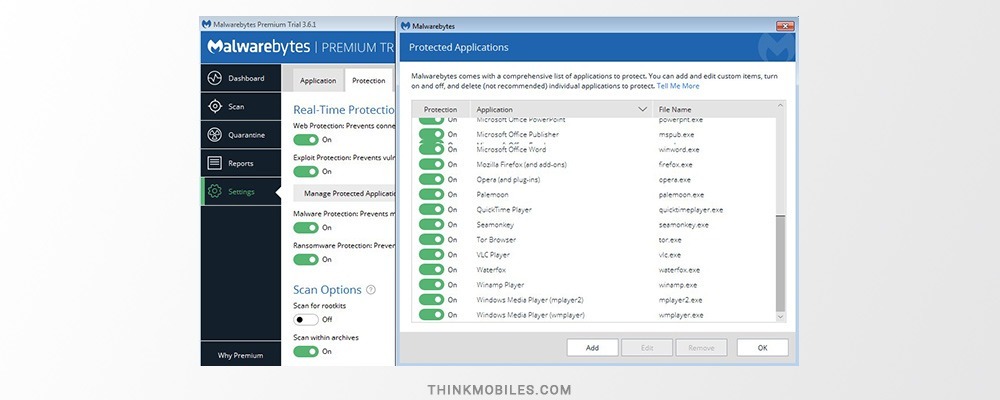 Trial, pricing
For first 14 days Malwarebytes free version offers real-time protection and a full set of Premium services. After that period, if a user does not buy a license, it downgrades to a limited version that can only clear your computer after an attack.
Paid plans pricing depend on the number of devices and subscription terms. Personal edition costs $39.99 for 12 months/1 device, $69.98 for 24 months/ 1 device. For 2 devices: 1 year subscription costs $49.99 and 2 year subscription is $87.48. For 10 devices: 1 year subscription is $129.99, 2 year subscription costs $227.48.
| | | | |
| --- | --- | --- | --- |
| Business package | 2 devices | 5 devices | 10 devices |
| 1 year subscription | $84 | $169 | $425 |
| 2 year subscription | $144 | $288 | $720 |
| 3 year subscription | $190 | $382 | $955 |
For Enterprise edition one has to contact a sales manager and request a quote.
Types of scans
Malwarebytes offers three types of scanning: Threat Scan, Custom Scan, Hyper Scan. Threat Scan is launched daily by default. It takes the longest but checks a computer most thoroughly. This scanning method detects a majority of threats. It doesn't scan literally every file on a PC but checks the locations where typically malware attacks happen:
startup objects: executable files initiated at computer startup;
memory objects: memory allocated by drivers, operating system processes, other applications;
registry objects: changes made to Windows registry;
file system objects: files on local drives.
With Custom Scan a user can choose what and where you want Malwarebytes for Windows to scan. To customize a scan, click the Custom Scan option, then click Configure Scan. With this option, you can choose areas to scan. In addition to memory objects, startup and registry objects, users can scan the following items:
Archive files (ZIP, 7Z, RAR, CAB, and MSI) ignored during the usual scan. They can be tested up to two levels deep, except for the password-protected encrypted files.
Rootkits which are invisible to the operating system though they are stored on the local disc and may influence system behavior.
Potentially unwanted programs (PUP/PUA), modifications.
Custom scan also allows to choose a particular folder or a file, as well as exclude items from scanning.
Hyper Scan mode is for instant detection of active threats and their removal. It in Malwarebytes app searches for threats in memory and startup objects. It is fast but not that thorough. Only Premium users have access to this service. If Hyper Scan catches any immediate threats, it is a good idea to run additional Threat Scan.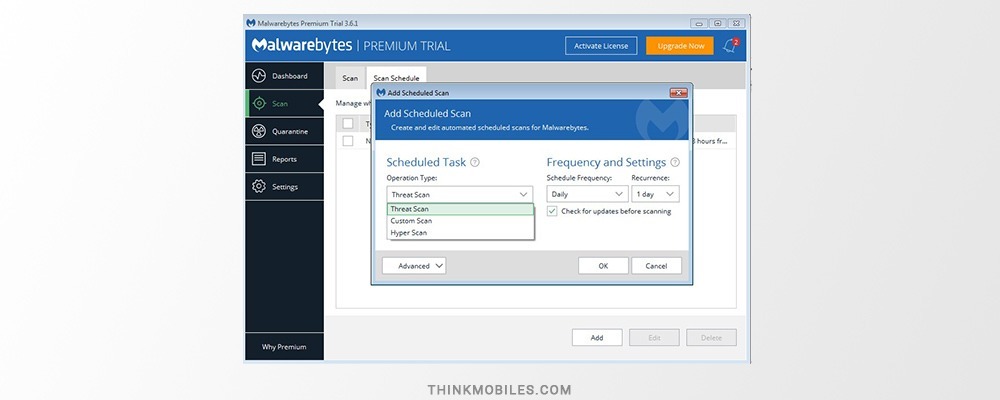 Scan schedule
If you are a Premium edition user, you can schedule a scan, edit its details or remove it. To add the schedule, go to Scan schedule tab and press Add. Then, choose the scan type, date and time, frequency and recurrence. You can choose to quarantine all threats automatically or to receive a notification each time a new threat is detected, and decide on the action Malwarebytes should take.
We should mention that sometimes a legitimate file can be categorized as malicious and in this case automated quarantine might have unexpected implications. Select whether a computer will immediately restart after removing a threat or manually. Also, there's an option to scan for rootkits and within archives, which makes the process longer but more comprehensive.
User tips
Malwarebytes is an extremely convenient malware removal software. You just install it and let it do its job. It has one complete scan scheduled daily by default and it protects from malicious websites and all sorts of attacks. Malwarebytes allows to download a free 14-day trial. But note, that after it expires, it is still very useful. It downgrades to a free version which provides remediation (or sanitation) of threats but no real-time protection. It still works great.
For users who are not too tech savvy, we'd advise not to try custom scan option, as well as automatic restart option – not to lose your work in other programs. Although, a restart after a scan is recommended to complete the malware removal process.
Though, we recommend upgrading to Premium. It is worth it, as real-time protection really makes a difference. Two great features are also available for Premium users: anti-ransomware and anti-exploit. Besides, scan scheduling has more options and is more flexible. A great way to use Malwarebytes is to have it in combination with an antivirus. Malwarebytes labs regularly test most popular antiviruses for compatibility and update the list of software which runs well alongside, for private and business use. For example, Avast and Kaspersky will do just fine.
Activation. To activate Malwarebytes you should be logged into Windows as administrator. Select a Malwarebytes version you want to buy, order, and a license key will be delivered in  order confirmation email. Download and install the program if you have not done it yet. Run it and find "Activate License" in the upper right part of the window. Enter a license key (if you got it with ID, check the appropriate box and enter the ID number). Click Activate License.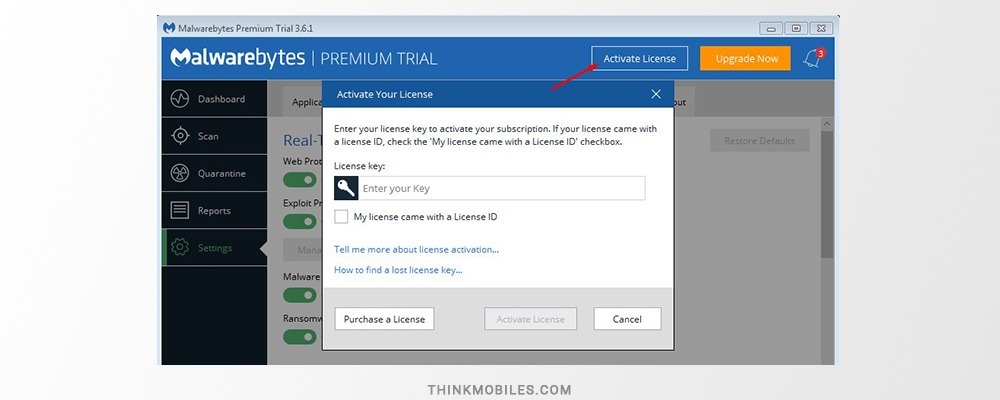 Quarantine. During the scans, files or programs categorized as threats are removed from the location where they were found and placed in quarantine. They are modified to eliminate the possibility of causing damage to computer. You can view the list of these files in the Quarantine tab, where you also can choose to delete or restore items. Also, be aware that sometimes Malwarebytes categorizes files as malicious incorrectly, so be attentive to what you delete from quarantine.
Application Logs. In previous Malwarebytes version 2, there is access to logs in a History tab, to read, copy and export them. In recent version, find them in the Reports section. A list of real-time protection detections is also displayed there, click twice on the log or select it and click "View report". You also can export that information.
Malwarebytes review: performance test
We ran the recommended –  the most thorough – Threat Scan which lasted 27 minutes. While it was running, we continued working on PC: editing pictures in Photoshop and searching for some information on the Internet. We didn't notice any slow downs in performance. In result, Malwarebytes found 38 threats among 30,3827 scanned objects, most of them – PUPs.
We studied the list of items – there were no misplaced files and we even found remains of a malware which we have been trying to eliminate for months before and were unable to. Everything worked very fine. Also, earlier, Google was constantly warning about suspicious traffic from the computer – now we do not encounter this problem anymore.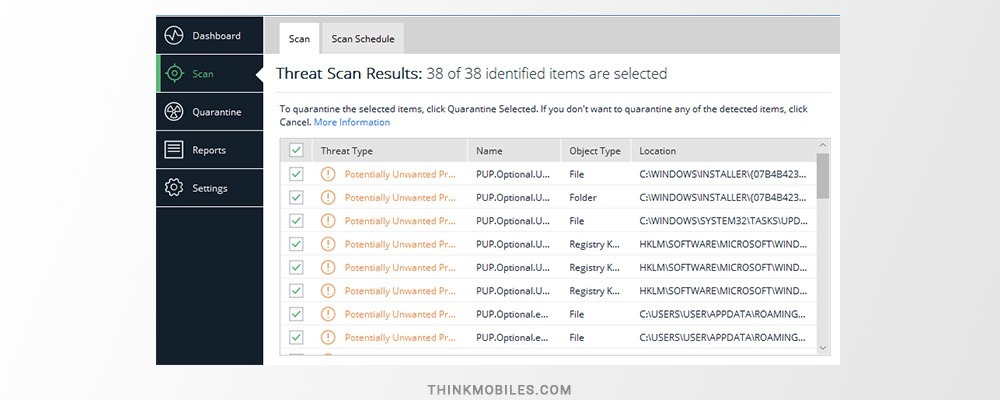 AdwCleaner tool
Adware can download or display advertisements on the infected device, collect marketing behavior data, and even affect user's search requests. AdwCleaner by Malwarebytes is a separate app to download and it targets adware, spyware and potentially unwanted programs.
Also, it removes unnecessary browser toolbars which you can't remember installing because it was bundled with other software and imposed without permission. Impact on memory and processor power is insignificant. AdwCleaner scans everything in a couple of minutes and delivers results which a user can check in logs and observe in improved computer performance.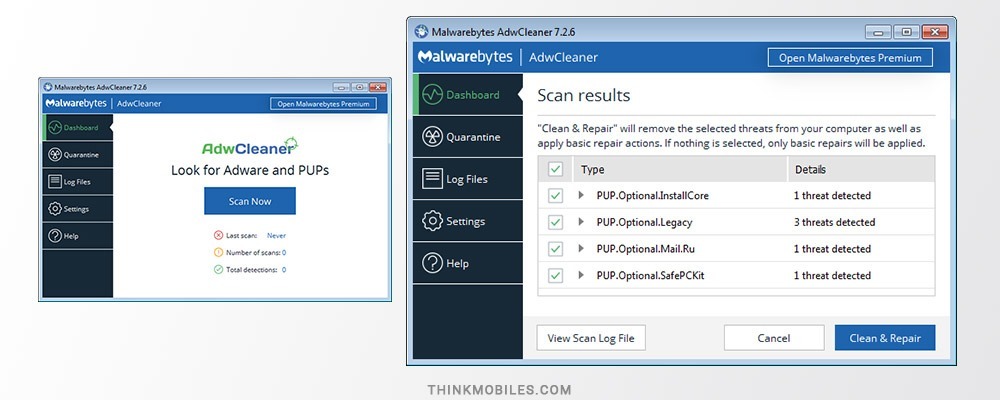 Verdict, pros/cons
Malwarebytes is a must today. It is certainly dominant over most of other anti-malware software that ain't got as many features and often cause issues, e.g. slowing a computer, long-time scanning, incompatibility with antiviruses, etc. The paid version is not cheap but it is worth if one wishes to effectively protect a device and not worry about attacks, vulnerabilities exploits, ransoms. Malwarebytes is generally easy to use. Advanced features may take longer to understand, and for unsophisticated users, it might be difficult to deal with files improperly marked as malicious. But there's a support service to help anytime.
Pros: A free version is available Compatible with most antiviruses Simple and friendly interface Noticeable and fast results Exceptionally quick scans Real-time protection
Cons: In the free version, one has to check for updates manually Pop-up prompting to update a free version to a paid one is annoying Ransomware Protection is not available for Windows XP or Vista.
FAQ
Q: What is MalwareBytes?
A: MalwareBytes is a cybersecurity program aimed at PC protection against threats.
Q: How to disable / turn off MalwareBytes?
A: Right-click the program icon, choose the desired protection shield and turn it off. Or quit MalwareBytes at all.
Q: What does MalwareBytes do?
A: It detects and blocks malware in real-time mode, protects a web browser and other programs from ransomware, infected websites.
Q: MalwareBytes Free vs Premium
A: Free version provides scan and clean features only. For real-time protection and other useful features users should purchase Premium.
Q: How to stop MalwareBytes popups?
A: The only mode without notifications and ads is Game mode. Overall, there's no way to disable pop-ups and internal ads.
Q: Does MalwareBytes provide cloud scan?
A: It does not.
Q: Does MalwareBytes protect passwords?
A: It does not have such feature.
Q: Does MalwareBytes have money-back guarantee?
A: After the purchase, during the 60 days users may apply for a refund, if not satisfied.
Q: Does MalwareBytes have a scheduler?
A: Yes, go to Scan tab -> Scan Schedule and specify a time period.
One of the best malware scanner I have ever used!
This software for several years saves my PC. It has removed a lot of browser's toolbars and malware that can be installed together with some games or programs. That is good that it is free and I can download it at any time. I'm used to maximum performance of my computer and therefore try to remove unnecessary software that can affect the performance of my PC. I periodically download the latest version and install it. Then I run the scan and remove found issues. After these operations I uninstall MalwareBytes. It does not have much impact on the performance of my computer, but in any case, I never leave it installed. Definitely recommend and even shopping!
Pros:
Perfectly copes with its job.
Scan Schedule.
Max Konan,
2019-10-08 11:35:54
New vesion does not run.
I had been using Malwarebytes for many years, but now I cannot. I really loved the old versions of Malwarebytes in contradistinction to new (last version): it does not want to work! I cannot run it: I try, but nothing happens. I cannot normally connect with support (by phone): they send me emails with instructions. I have already received many such letters! I follow the instruction, but they do nothing!
Pros:
Good AV, but not the new version
CC = Curious Cat,
2019-09-27 13:48:12
Troubles after the trial period expiring
I have only two words for it: lags and baggy. I have installed it on my two pc: gaming pc and working pc. The first - with installed Windows 10, the second - Windows 7. And both computers have a lot of problems (with Malwarebytes). It is often turned off, and real-time protection is constantly switched off, no auto-updates (doesn`t work) and a lot of annoying notifications. I have purchased a full paid lifetime membership and the program does not do what it should. Did I give my money for lags? I reinstalled it many times to fix the bug (I used Cleaner they offer). The gaming pc has two Malwarebytes now: new and old because it keeps starting up. About another pc: I really don`t know if it ever worked. Oh, almost forgot, the last update is toxic because it filled up all my RAM. So, it can work as a good scanner, but you should not use it as a single antivirus. Because it buggy, unreliable, functions work incorrectly (or do not work). Do not waste your time and money. I hate it for this.
Pros:
It cleared a unwanted program
Cons:
After the trial I can`t click "Like" and comment.
KELTOID22,
2019-09-05 04:08:29
Endless pop up notifications about too old definitions
I installed the free trial because I wanted to try Premium, but the trial ended and they stopped protecting. After that, the program started showing antivirus database pop-up messages that they were too old and needed updating. Messages were displayed frequently. Once, I had to show a presentation to my client. It was a fifteen minutes presentation. There were five pop up notifications during the presentation: every three minutes! I have disabled all notification settings in Settings, downgraded to the free version (that has not real-time protection). Nothing helped me. Then I tried the last option and it stopped the notification. I removed Malwarebytes. I think there should be a way to turn off notifications, but where is it?
Cons:
Cannot turn off pop-up notifications
IRC162,
2019-08-26 22:09:36
This can block you from the internet
Their description is too good for their work. Where does it say that the ad removal process can make your PC half as comfortable? You may lose access to the Internet after the removal is complete. Then you have to go to their forum and lost your days posting logs to their support (you will also learn a lot about their etiquette). One post in the wrong place and you will be banned there. Very nice bunch, isn`t it?
Cons:
Bad help
Blocks internet access.
LANZALACO,
2019-07-24 01:04:37
It keeps turning itself off
He has a powerful enough scanner that should find most threats. also, it is a lightweight program, has small system requirements. But there is one issue and it is not insignificant: it keeps turning itself off. The web-protection mostly is turned off. I noticed that this happens especially after updating Windows. Since I use Windows 10, this happens very often. I have to reinstall Malwarebytes after every update.
Pros:
A powerful enough scanner
Lightweight program
Cons:
Often disables protection
PTOUR59B,
2019-07-21 15:16:22
I cannot evaluate the quality of protection provided by this software, because it provides constant issues. There is one problem that has existed since version 3 was released. I`m talking about constantly disabling "security modules". If they turn off, I can`t turn them back on. How to fix this? They advise you to reinstall the application (Malwarebytes) and they have released "Uninstall tool" to facilitate this process. Oddly enough, I always thought it was better to fix the program, but not to make tools for easy reinstallation. But the developers have a different opinion. Maybe, if this wasn`t a frequent issue it would be a good solution, but this happens at least weekly... It seems they are unable or unwilling to fix it. Why am I still using it? Because I have bought it... That`s why I`m forced to keep it on my pc and hope they fix the issues. But I think it`s a vain hope and I have vainly wasted my money... I have to run other antiviruses together with Malwarebytes.
BBBBBBRETT,
2019-06-18 14:06:28
Great support and protection
I have been using Malwarebytes for a long time and I do not regret it. This is very fast (doesn`t need all day for scanning) and careful. In addition, the interface is absolutely intuitive and simple. They also have great support. One day, I received an email and Malwarebytes said it was ransomware. I wrote this to its support. They answered quickly, advised to do a full scan.They did not disconnect after the advice, they remained in touch until the end of the scan to make sure there was no malware. The support is great. The program (and support service) is worth the money paid. I recommend Malwarebytes to everyone as a regular antivirus.
Pros:
Fast
Creful
The intuitive and simple interface
Great support.
JOHN21A,
2019-05-27 11:08:23
Malwarebytes is the best anti-malware.
Malwarebytes is the best anti-malware. These words are based on years of experience (I have a small computer company). It has one disadvantage: the price continues to go up. I usually pay $30 for 3 PCs license and think that Malwarebytes is more inexpensive, than other antiviruses.
Cons:
the price continues to go up
Get Rich,
2019-05-27 07:22:04
It every day finds the same issues.
I Malwarebytes every day scans and finds the same 130 issues. And every day I choose to ignore or delete. Why I have to do the same every day??? I use Premium. I contacted to customer service and they transferred me (after endless questions) to a technician. He wanted access to my computer! I do not like this. And I do not like when someone has no respect for my time.
Kathleen,
2019-04-16 04:19:49
Malware has become poor quality
Malware has become poor quality. It seems to have gone downhill. Is it the decline and fall of the program? I used the free version for a long time as a scanner until version 3. It had so many bags and I removed it. I now use the Emsisoft Emergency Kit (as a scanner) and never looked back.
Cons:
The new version is too baggy.
Eva Woolridge,
2019-04-07 19:21:12
It takes up little system resources and prevents many types of threats
I like that Malwarebytes takes up little system resources not just for the protection in the background but also for scanning. I can work comfortably at my computer while full scanning is active. I do not have to stop my work. It protects against many types of threats. Among them are the following: worms, rootkits, rogues, spyware vulnerabilities and other malware. But there is one imperfection: the free version hasn`t real-time protection, it`s just a scanner.
Pros:
Small system requirements
Powerfull multi-type protection
Free full scanner
Cons:
Free version version hasn`t any real-time protection
FREE-BARCODE.COM,
2019-03-31 22:34:06
It makes your system fast and secure.
It works perfectly and allows to clean your pc (delete the things that slow down your computer). As a result, you have a faster and safer system. These processes take place in the background. There is one minus: they don`t offer the free version with real-time protection, but anything that works well is usually not free.
Cons:
The free version hasn`t real-time protection,
gazelle357,
2019-03-03 12:37:42
Offers excellent protection
That`s a great program and I have used it for years. I really don`t wanna use other antimalware, even If it is free for me. And I have Webroot, because it was installed on my new pc when I bought it. I use Malwarebytes and Trackoff and this duo gives me excellent protection
Brownie45,
2019-02-16 03:32:05
Good idia and lot of lags
I have only two words for it: lags and baggy. I have installed it on my two pc: gaming pc and working pc. The first - with installed Windows 10, the second - Windows 7. And both computers have a lot of problems (with Malwarebytes). It is often turned off, and real-time protection is constantly switched off, no auto-updates (doesn`t work) and a lot of annoying notifications. I have purchased a full paid lifetime membership and the program does not do what it should. Did I give my money for lags? I reinstalled it many times to fix the bug (I used Cleaner they offer). The gaming pc has two Malwarebytes now: new and old because it keeps starting up. About another pc: I really don`t know if it ever worked. Oh, almost forgot, the last update is toxic because it filled up all my RAM. So, it can work as a good scanner, but you should not use it as a single antivirus. Because it buggy, unreliable, functions work incorrectly (or do not work). Do not waste your time and money. I hate it for this.
BKN6006L,
2019-02-11 22:43:30
I lost admin permission after installation
Why did I download it? After installing the program I have got a big problem with my computer! I have lost administrator permission! How that is possible? Is this the best protection when you do not have access to make changes to the system? No, the best when computer is off!
Cons:
This disabled my admin permission.
Bernie H,
2019-02-10 06:36:19
Before it was a simple product, but not now. They have terrible support. It does not solve activation problems, there is no English speaking staff or if somebody speaks then the level of speaking is nasty. Also, there is no phone support, only email support. But they often do not answer. I still wait for answer to my issues (about activation on a 2 year 3 pc license).
J. Franks,
2019-01-28 19:42:25
I feel a high level of protection.
My mother and the computer are far apart. Once she clicked on something on Internet and the computer has got a lot of bugs and troubles... She could not work on her computer to do without popups. Her cursor became rebellious: it could randomly jump to any place on the screen. I used Malwarebytes Free to scan the system. It found 645 threats and issues. So, I decided to buy it for my mother`s computer. I very liked it works quietly in the background. I decided to install Malwarebytes on my laptop because it can be installed on up to 3 PCs with one subscription. I configured two scans per day and feel a high level of protection. I use it as additional protection with a different antivirus program.
Pros:
Easy interface
It works quietly
3PCs in 1 license
Andrea Polk,
2019-01-23 23:53:02
Malwarebytes has removed viruses that Norton could not!
I like I can install it on 3 PCs with one license. It offer additional protection (at least, it`s my opinion). I use Malwarebytes with Norton and it founded some Malware on my PC`s. In addition, there are several viruses, Norton found them, but they could not deleted. Malwarebytes found and removed them! I like it works smoothly.
Pros:
It works smoothly
Good protection
Compatible with other antivirus
Mr. Moto,
2019-01-16 06:35:02
Not possible to read "End User License Agreement"
I recently tried this product with the trial period and I get popup ads to purchase Premium. Maybe I would have bought it but I want to read "End User License Agreement" and cannot do. Because it does not respond when I click on it. I have to know what I`m signing up for! So I`ll continue to use free software until they fix the problem.
Cons:
Pop up ads after trial
Can`t read "End User License Agreement"
Joe Higareda,
2019-01-13 23:09:21
They have an excellent support.
It had interested and intrigued me. That is why I wanted to try this guard. It was a good decision:i liked its protection and that it is a light-weight program. So the next step was the purchase. And I have done that. Also, they have an exceptional excellent support team.
Pros:
Support
A light-weight program
Good protection engine.
UpwrdMblty,
2019-01-13 12:10:11
Removes what other antiviruses can`t
Some times ago I worked as a sysadmin in one company. And that company was using McAfee AntiVirus. There were often times when McAfee could not eliminate the infection (remove malware) and then Malwarebytes did it. And did perfectly. We used free Malwarebytes as a scanner. At the time, there was a joke that other anti-virus companies were recommending Malwarebytes as the best tool to combat malware
TheMagnificentZoltar,
2019-01-01 17:07:08
It is the strongest antivirus software
I like Malwarebytes very much and think this is the strongest antivirus software (you can believe me or not but I really think so). I had over 120 malware that infected my notebook. I used Windows Defender for protection but it did not detect any of them. I thought I would have to reinstall the OS because the notebook was almost dead, but I was lucky to install it (it was difficult because the laptop had a lot of freezing). Malwarebytes have deleted them and I am writing this comment on my laptop.
A kr,
2018-12-22 04:03:36
It stopped all the annoying pop-ups
Wow! I had a big lot of the popups when I was using the internet. It was so awful and made my web surf unbearable. It`s so cool that I have found Malwarebytes. I ran the scan and it immediately stopped all of the popups.
Linda Woods,
2018-12-12 14:40:05
It made a snail out of my pc
What can I say about this program? Nothing positive and don`t install it! Maybe Malwarebytes is a great program that provides perfect anti-malware protection, but I cannot check that. Why? Because it very slowed down my computer after the installation. It worked at a snail`s pace. I spent a lot of time removing it: that was really hard. Removal helped my computer: it flies.
Pros:
I had no possibility for finding
Cons:
Very slowed down the computer
WILLIAM J. JONES, JR,
2018-12-03 16:51:10
It runs fast and quickly scans.
Malwarebytes launches quickly and has a high scanning speed. I do not use this as anti-virus software (for permanent protection), I have another completely free program for this. But I use Malwarebytes as a scanner (periodically scan my system for threats) because it has an excellent detection module.
Pros:
A high scanning speed
excellent detection module
Work as scanner
Bobby Albert,
2018-11-18 17:54:00
Malwarebytes is one of the gold standard AM scanners
In my opinion, Malwarebytes was before and still is on the list of the best antivirus/ anti-malware scanners. This is one of the gold standards. Once, it found 5100 different threats on the PC. But it was elderly gentleman`s computer... I still use it for scanning.
Walker,
2018-10-23 12:53:31
Very good easy to use anti-malware software.
This is a very nice and simple anti-malware software that provides protection not only against malware but also against viruses. It doesn`t require a lot of system resources (is lightweight) and has a user-friendly interface. Really, Malwarebytes is very easy to use. And, in my opinion, there are no disadvantages.
Pros:
Easy to use
Small system requriments
user-friendly interface
Protect against malware and viruses.
TOM10000,
2018-10-22 22:40:10