PureVPN was created by GZ Systems Ltd., a Hong Kong-based tech company, with the sole motive of keeping users' online privacy intact and full freedom in Internet activities. Feedback we've seen is mixed: from appreciation to criticism of inconsistent speeds, being unable to access Netflix, etc. So we have to see for ourselves and also conduct several specific tests, so you too will be able to judge for yourself in this PureVPN review.
Vendor
GZ Systems Limited (website)
Newest version (for Windows)
v.7.0.5.0 out September 2019
Operating systems
Windows, MacOS, Android, iOS and other
Installer file size
38.6 MB
Menu languages
9
Countries
140
Extra features
Split Tunneling, Killswitch, Support P2P
License
Subscription
Pricing
$10.95 (1 Month, 5 Devices)
$70.92 (1 Year, 5 Devices)
Price, account, installation
Pricing is pretty flexible, with choice of monthly or yearly purchase, discounts, multiple payment methods. Basic and most popular option of 1-year subscription billed month by month costs $3,33. It equals roughly to $40 per year. If you buy a 2-year plan, the price is even less. Choose "billed annually" option and PureVPN cost will be: $25 for 3 months, $60 for 1 year, and $60 for 2 years. Extras include: port forwarding ($1,99/m), dedicated IP ($1,99/m), dedicated IP with DDos protection ($2,99/m).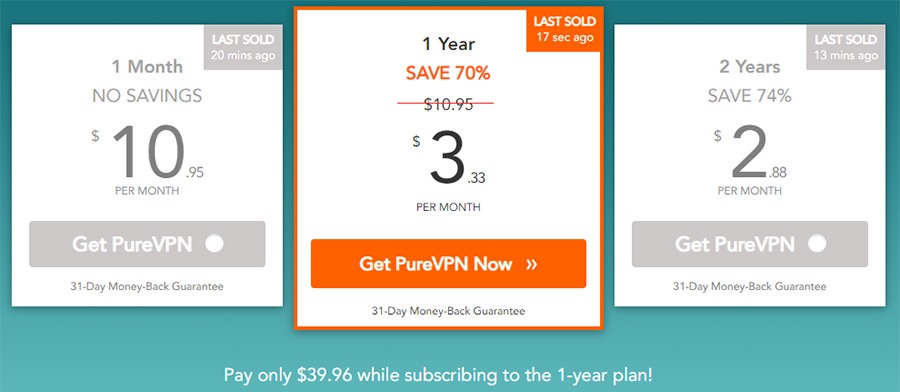 Account details, subscription type, and other settings such as VPN password, are accessible in the Member Area of PureVPN online. Their "Get started" section will easily guide you through setup and installation, which may include connecting up to 5 devices to VPN, set up online streaming, selecting a device (Mac, Windows, Android TV, Chrome extension, Firefox extension, etc.), overcoming geo-restrictions, and so on.
As for installation, let's see how it works on popular devices. For Windows, first download this installation file 37,2 Mb in size from Amazon server, and run it. No viruses in it, as checked by Virustotal:

In the first welcoming window, select the language, register a user account, login and enjoy – a typical procedure.
For Linux (Ubuntu), download this *.deb file 30.3 Mb in size, while being aware of one ad file in it, detected by Virustotal. This is not a virus. Run and install a file, then open the terminal and enter "purevpn -v" command, and VPN will be installed and ready to go.

For Android devices, go to Play Store, find the product and install it, as you usually do with any other mobile apps. Here are 3 key download links as shortcuts:
PureVPN for Windows
As you launch the VPN for the first time as administrator, the service prompts to select 1 of 5 modes which will most suitable for further use. Stream, Internet freedom, Security/Privacy, File sharing or Dedicated IP have corresponding settings, for example Streaming is good for videos and games, yet has lower security measures. See more details here.
Let's find out more on each of those modes. First is Stream. It shows favorite user locations, popular websites with streaming content to choose from, and also the list of VPN servers that are most fitting for the task. Users may assign favorite sites and/or servers as well, marking it with a little star icon. After VPN establishes a connection, you may enjoy the content.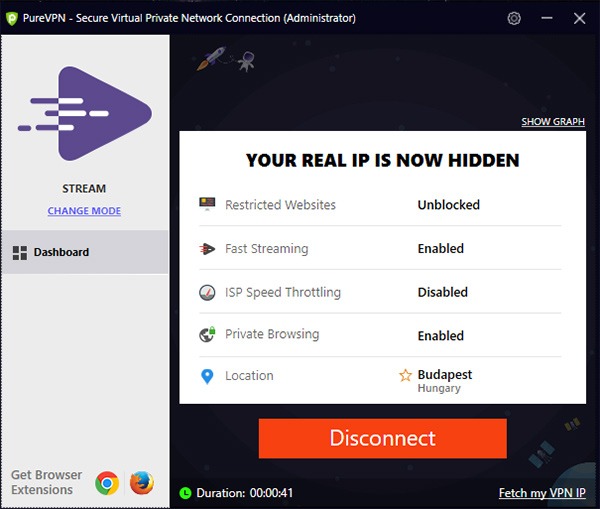 Second one, the Internet Freedom mode implies high anonymity and security, yet lower speeds. Options include private browsing, register content, encrypting. In third, Security / Privacy, aimed at comprehensive protection against cyber threats, connection is secured, private browsing enabled by default. File-sharing mode is kind of reverse: fast speeds but lower security. Finally, Dedicated IP mode, is for country-specific content, and is eventually a separate add-on one has to buy as extra. All modes have 3 clickable buttons for Show Graph – displaying in/out VPN traffic, Disconnect and Fetch My IP.
To go to Preferences, click a "gear" icon and navigate to one of sections, as follows:
app settings (launch on startup, redial automatically, select language, etc.)
select mode (5 modes described previously)
select network type (auto, NAT, non-NAT)
advanced options (Internet kill switch, multiport, IPv6 leak protection, etc.)
VPN hotspot (enable, select protocol, set password)
beta features (if you wish to contribute)
port forwarding (add-on, additional cost)
updates
help & feedback (About + FAQ)
support ticket (24/7 support team)
logout
PureVPN for Linux
As we know, Linux is "one of a kind" specific OS, so even a simple task like login requires initiating the command line and entering "purevpn –login", and then password and login. But Linux users know the whole deal well.

Similarly, to see VPN server list – type "purevpn -l", to establish VPN connection – "purevpn -c SERVER" (e.g. "purevpn -c Poland"), to check connection status – type "purevpn -s". Tip: type in "purevpn -h" to view all possible commands for PureVPN.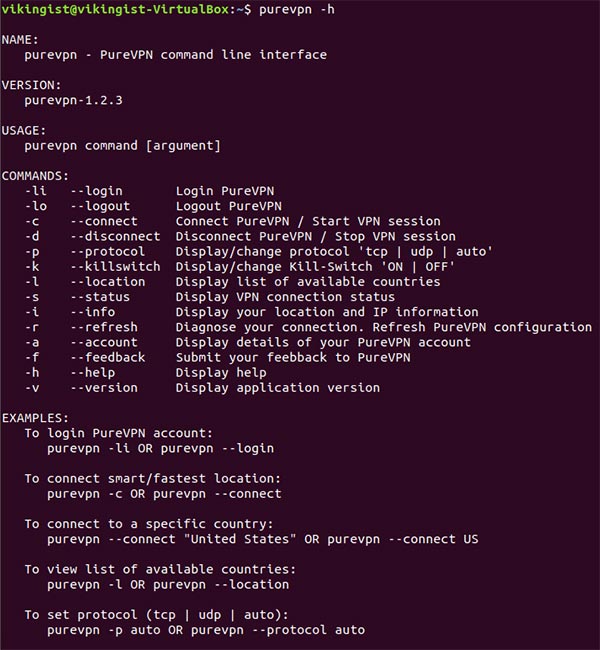 PureVPN for Android
For first authorization on Android phones/devices, click "Login", enter user login+password and click "Done". After that you'll see the homepage of PureVPN with 4 modes to select: Stream, Internet freedom, Security / privacy, File-sharing.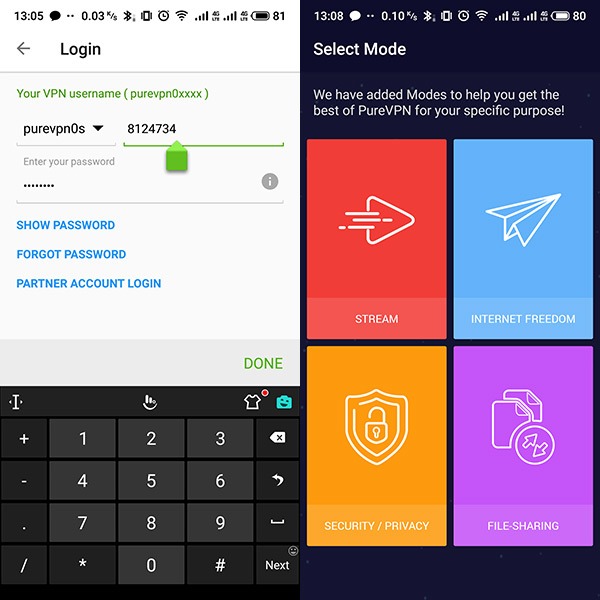 Stream mode has 3 tabs: Quick connection, Countries and Popular websites. Other modes are similar: Quick Connect, Countries, Cities. Other functions include call navigation, execute ping test, search, favorite list.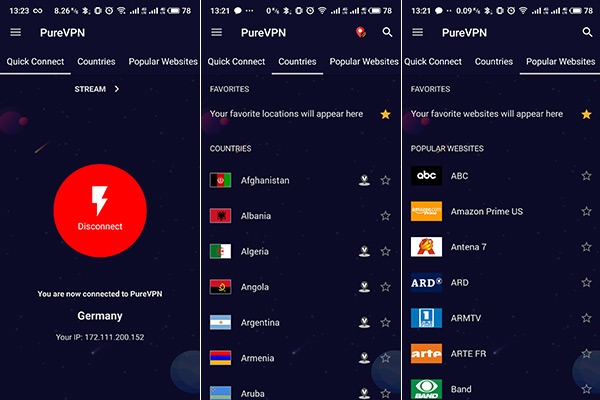 Settings aren't any less than those of desktop version: profile, select protocol, auto-connect, network type, split tunneling, Internet kill switch, secure wifi, multi port, change theme (default/white), support center, etc.
Speed, DNS leak and other tests
Now, for the most crucial part of PureVPN review, we used the following device: ASUS F555LJ-XO944T laptop, CPU Intel Core i3-4005U, NVIDIA GeForce 920M 2Gb, RAM 12Gb (4+8), SSD 254GB. And first things first, to be able to evaluate the "before-after" effect of using PureVPN, we made several speed tests without a VPN, with the following results:
| | | | |
| --- | --- | --- | --- |
| | Download  | Upload | Ping |
| Optimal location | 454 Mbps | 84 Mbps | 1 ms |
| Tokyo | 156 Mbps | 7 Mbps | 245 ms |
| New York | 126 Mbps | 8 Mbps | 105 ms |
| Chur, Barnardo.fm | 166 Mbps | 39 Mbps | 35 ms |
Then, with PureVPN on, we conducted several tests, such as speed test, DNS leak test, traffic encryption, blacklist IP check, torrent availability, etc., for 5 different locations. The results were as follows.
Test 1: Stream mode, Russia, P2P.
With same 4 locations via Speedtest.net, the average ping was 140.5 ms, 12 Mbps download speed, and 13 Mbps upload speed. When using Torrent, the average speed was 9 Mbps, while peaking at 12,1 Mbps maximum.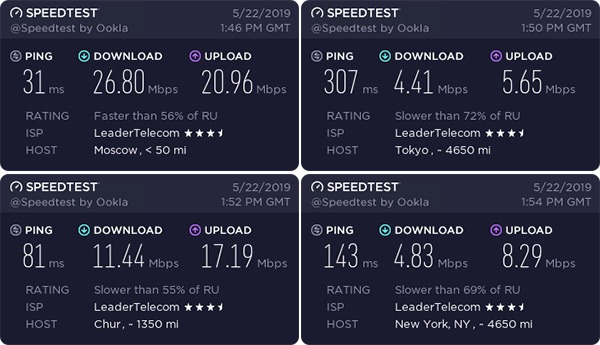 Other tests:
| | |
| --- | --- |
| Traffic encryption | Pass |
| DNS leak test | Pass |
| Browserleaks GEO | Pass |
| IP blacklist check | Pass (2 of 70 addresses blacklisted) |
Browserleaks GEO: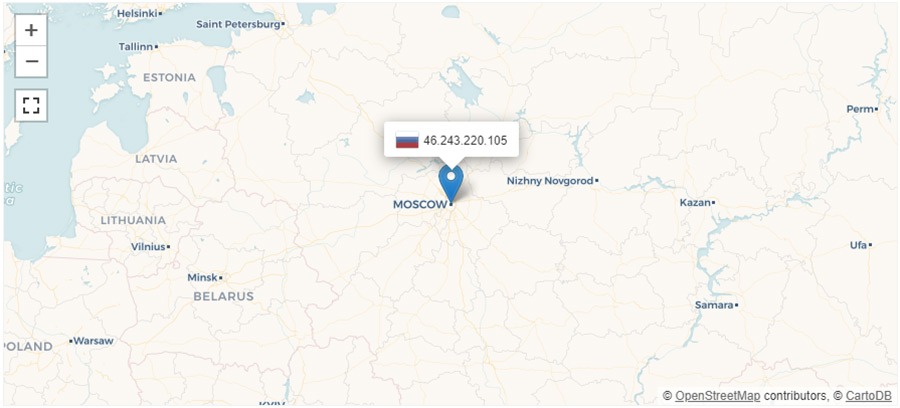 Test 2: Stream mode, Singapore:
| | |
| --- | --- |
| Optimal server speed | download 68.5 Mbps / upload 6 Mbps / ping 172 ms |
| Torrent | P2P not working |
| Darknet .onion | not working |
| Social networks | Pass |
| DNS leak test | Pass |
| Browserleaks GEO | Pass |
| IP blacklist check | Pass (1 of 70 addresses blacklisted) |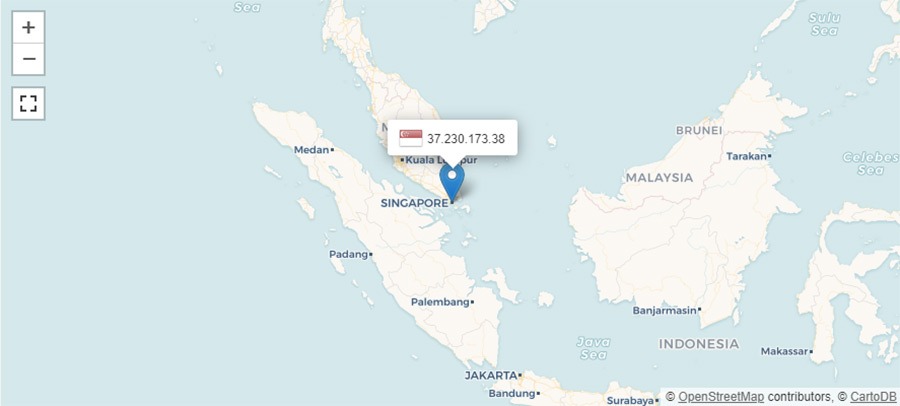 Test 3: Internet freedom mode, Hungary:
| | |
| --- | --- |
| Optimal server speed | download 76 Mbps / upload 18 Mbps / ping 51 ms |
| Torrent | P2P not working |
| Social networks | Pass |
| DNS leak test | Pass |
| Browserleaks GEO | Pass |
| IP blacklist check | Pass (0 of 70 addresses blacklisted) |
When using Torrent, PureVPN had disconnected 5 times in 5 minutes, however, bare in mind that the publisher does not state support for P2P on this server.
Test 4: Security / Privacy mode, Turkey, P2P:
| | |
| --- | --- |
| Optimal server speed | download 48.6 Mbps / upload 16 Mbps / ping 77 ms |
| Torrent | avg speed 10.6 Mbps, 2 interruptions |
| Online games | stable ping 140-160 ms |
| WebRTC leak test | Pass |
| DNS leak test | Pass |
| Browserleaks GEO | Pass |
| IP blacklist check | Pass (1 of 70 addresses blacklisted) |
WebRTC Leak test: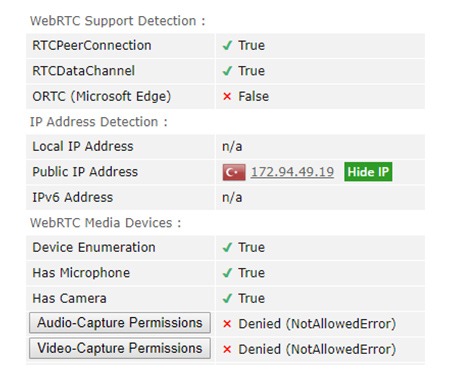 Test 5: Stream mode / Popular websites / Netflix:
| | |
| --- | --- |
| Initial server/location | Netflix unavailable. Fail. |
| USA server connection | Pass |
So, here you might encounter some issues depending on your location, yet if connecting via USA its all fine and Netflix works. 1080p / 60fps is the maximum for viewing without buffering.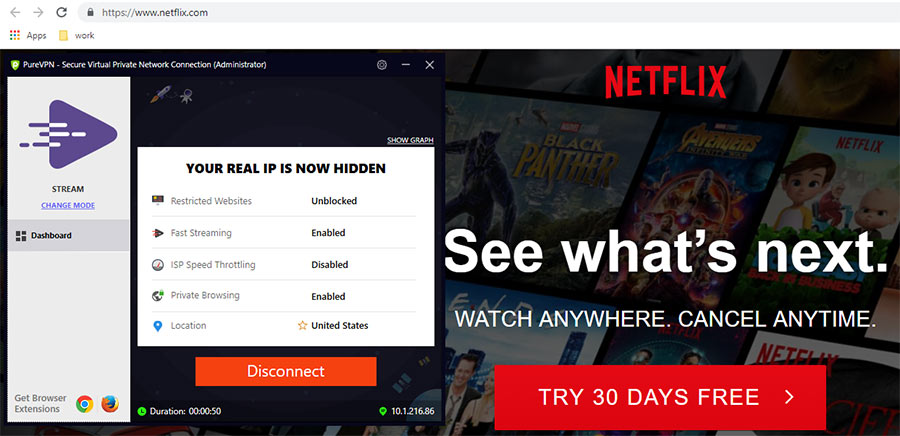 P.S. In the process, we've noticed 2 minor design bugs: a) in Update notification window, the button is clipped and partially behind the screen; b) on the download page as you choose Linux, the list appears outside the container (div).
PureVPN review summary: pros & cons
PureVPN tries to offer the best VPN product possible, and has been noticeably improving. This is a fine and well-designed VPN for Windows OS and mobile devices, with wide range of features. Decent security measures, such as 256-bit encryption, live chat support, and let's not forget about competitive pricing! For first-time user pricing policy may seem a bit confusing, but soon you figure out that it is sound to buy and use for 1 or 2 months, and then to extend for a 2-year subscription and save money.
On the other hand, we've seen multiple user complaints on money-back guarantee, though we have no information either to confirm or deny. There were few other issues as well, e.g. partial logging of user data (time and which server a user connects to), which is unlike "golden standard" of VPNs – no logging. VPN hotspot did not work for reasons unknown, however technical support team turned out to be helpful and solved the issue. There is no access to .onion domains (a.k.a. "darknet"), but using PureVPN with TOR browser works out fine.
Pros
Pleasing interface

Top performance & set of features

Multiplatform use

Technical support result-driven

Flexible pricing
Cons
Median speeds

Issues with reliability and stability

Number of servers
In regards to reliability, we've experienced crashes of servers with P2P support for torrenting, particularly when torrents files were downloading. Many servers were just too slow. There were also problems with accessing Netflix, which we then resolved by manually selecting more suitable locations.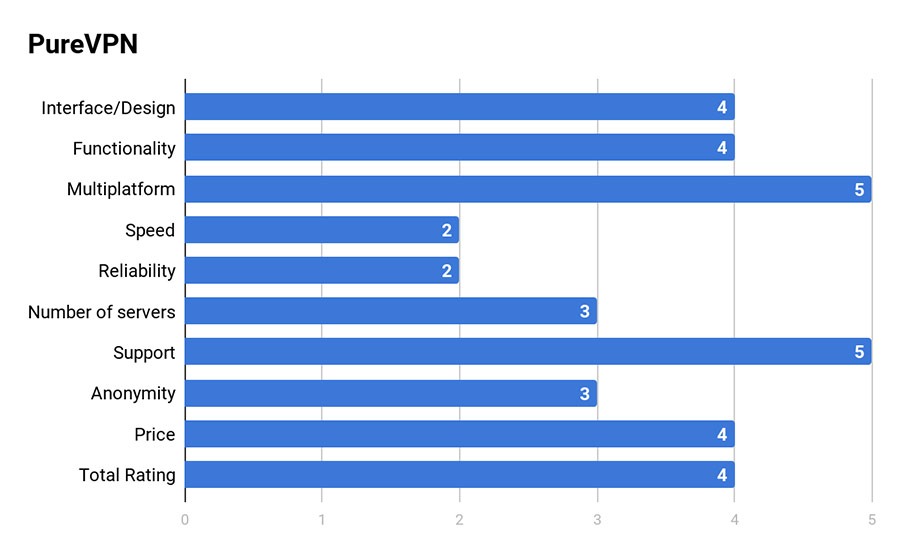 To sum up, we like everything about PureVPN, except issues with servers. After rating all the aspects on a 0-to-5 scale, as seen above, we shall state our editorial total rating for PureVPN as 4 / 5.
P.S. Find more VPNs in our Best free VPN post.
FAQ
Q: How do I set up PureVPN?
A: Please refer to the Tutorials page.
Q: Can I use P2P applications with PureVPN?
A: Yes you can, use the File Sharing mode.
Q: What is a Kill Switch and how does it work?
A: A kill switch feature disables the immediate system-wide Internet access when VPN connection is lost.
Q: How many devices can I use with PureVPN account?
A: PureVPN supports simultaneous connection of 5 devices.
Q: How to enable Multi port on PureVPN Windows?
A: Please refer to the Tutorials page.
Q: How to use Dedicated IP mode in PureVPN?
A: Please refer to the Tutorials page.
Q: What is SOCKS?
A: Socket secure (or "SOCKS") is a protocol for handling traffic through a proxy server. SOCKS proxies cannot interpret user data, so it makes connection secure.
Q: What is a DNS leak?
A: Domain Name System (DNS) translates domain names, such as Nordvpn.com, into IP addresses to connect to. As you connect to a website, Internet contacts a DNS server and requests that IP. When trying to keep online activities anonymous via a VPN service, those DNS requests should be hidden as well. If this fails, you get a DNS leak - allowing to track down which websites you visit.
Q: What is an IP address?
A: IP address is basically user's personal ID online, assigned by ISP (Internet service provider). Thanks to IP addresses data can reach its destination back and forth between devices.
Q: How to use Auto Connect in PureVPN?
A: Please refer to the Tutorials page.