Productive Ideas for On-Demand Food Delivery App Development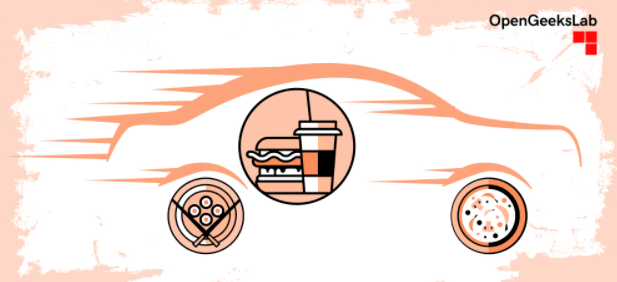 The novel COVID-19 pandemic has triggered restaurants to move online. Those restaurateurs who ignore switching to mobile food delivery apps, face the risk of losing up to 70% of their business.
As of today, food ordering has already been shaping the market. But it reached the top of popularity during the virus outbreak. So far, Uber Eats, Grubhub, Postmates, DoorDash are food delivery industry leaders. Still, promising startups are continually appearing, provoking fierce competition by offering convenience, time-economy, a wide range of cuisine, and customization options.
If you are about tapping into the online food delivery niche, then you have to go through many preparations. To ease your task, OpenGeeksLab will unlock the critical insights for on-demand food delivery app development and advise on how to create a service that will take off.
Food Delivery Market State
As of 2021, the number of consumers who order food online will amount to 2.14 billion compared to 1.66 billion in 2016.
This year, the total revenue has already reached $122.739 million.
By the end of 2024, food delivery industry is predicted to bring about $164.002 million.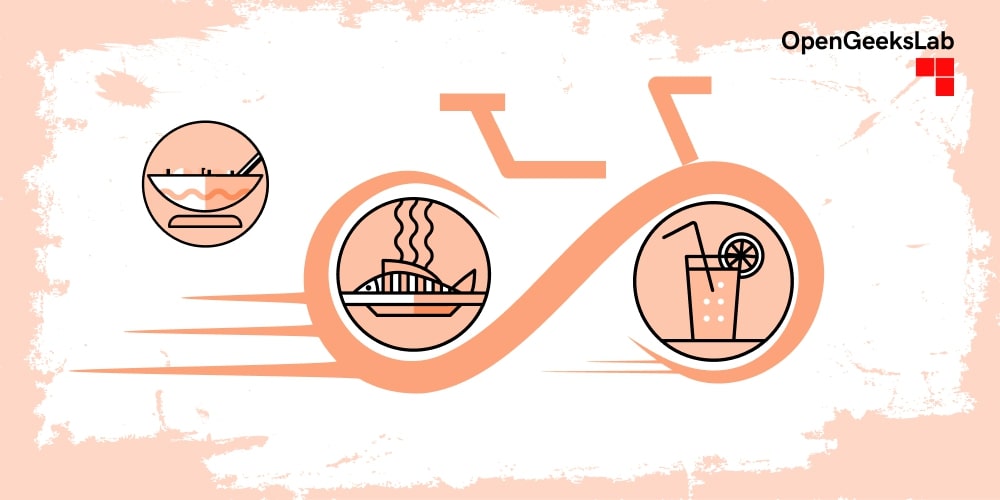 Mobile Food Delivery Apps Models
On-demand food delivery apps fall into two basic types:
1. Restaurant-To-Consumer Food Delivery Platforms
The Restaurant-to-consumer model presupposes individuals getting their food from a particular restaurant/restaurant chain via its own online platform eliminating delivery provided by third-party services.
Renowned market players: Starbucks, Domino's Pizza, Jimmy John's.
2. Platform-To-Consumer Delivery (Food Aggregator Apps)
The Platform-to-consumer model unites several restaurants/restaurant chains in the area. Foodies can observe menus and make orders from different places on one platform. Food aggregator apps also provide courier services.
Renowned market players: Uber Eats, Grubhub, DoorDash, Postmates, Deliveroo.
On-Demand Food Delivery App Development KPIs
Before developing a mobile food delivery app, restaurateurs should dive into the food delivery market:
1. Strategic Plan
A restaurant owner should choose a respective mobile food delivery app model, analyze the target audience, decide on cuisines, check current/upcoming trends (virtual assistance, smartwatch/smart TV support, etc).
2. Strong User Base
Engaging people via ads is only half-way to success, so a business runner must design a proper loyalty system, feedback, referral programs, support services to build a strong clientele and retain users. 
3. Logistics System
The more tuned your logistics is, the more satisfied clients are. Settling courier staff is no less critical.
4. UI/UX Design 
A good mobile food delivery app should bet on minimalism, plain colors, and a highly interactive interface without distracting details. 
5. Hire App Development Team
When choosing a proper development team, focus attention on their portfolio, and proven full-stack food delivery service expertise so that they can cover your business requirements and ensure your service success.
Functional Scope
The functionality of a good food delivery platform must cover three distinct user groups: consumers, restaurants, and couriers. Let's uncover each one.
1. Consumer Version
Here are features a consumer version must have:
When signing in, a restaurateur must ensure proper data protection for users so that they do not worry about possible personal data disclosure or theft. Here is when two-factor authorization comes into play.
Persons should be able to customize account settings, store personal data, set food preferences/mark favorites, and quickly check out.
Advanced filters are a must as they allow consumers to range facilities on name, popularity, size, cuisine, menu pricing, location, special offers, and more.
Food delivery providers must offer popular dish options that meet various eating habits, allergic to some products, or digestion problems.
Order Placement & Checkout
Adding or removing orders from the cart before paying allows sparing consumers' time and patience. Even more, one can reorder/preorder options, along with setting delivery time instead of "as soon as possible." 
With order history, persons can easily reorder favorite items without searching for them again.
Users may save items they have liked but do not order for now.
Consider credit card, PayPal, Stripe, Apple Pay, and other in-built payment options. To hit a wider user base, leave cash option available too.
Setting Location/Order Tracking
Setting up a drop-off spot is a must-have, though you can simplify orders receiving via enabling consumers to store and auto-fill frequently used locations like home/office/places of rest. Tracking the courier route allows observing delivery progress on the go.
Mobile food delivery apps should individually calculate delivery time via algorithms given cooking preparations, distance, route, road congestion.
Clients receive push notifications about current orders, delivery details, or emergency cases. What's more, a business runner can inform users on service updates and special offers.
Rates/reviews help consumers decide what restaurants are better to pick, while showing food delivery providers their weak places.
To encourage newbies to switch into regular customers, mobile food delivery apps should provide coupons, special offers, discounts.
Binding in-app user account to their profile in social media networks is a great way to promote your product and engage new audience.
Customer-Restaurant/Driver Communication Channel
Reaching out to restaurants/drivers is vital in emergency cases.
2.Courier Version 
Here is a functional scope for courier crew:
As it is for consumers, the courier version requires registering with a username/password with confirmation through email/phone number or signing in via social media networks.
A courier's account usually contains general information: name, contacts, photo, working hours, card number, extra details. A person can edit profile on the go.
Order Status and Management 
Couriers can monitor order details to decide whether to pick it up or reject. Additionally, they adjust the order status to keep consumers updated.
Navigation and Route Optimization
The faster customers get their food, the more likely they would come back to you. Navigation and route optimization allows finding the shortest possible way considering vehicle type, distance, and road congestion.
Couriers can check out accepted/rejected deliveries, income, fees, and leave notes on peculiarities. Orders/earnings history can be split into daily/monthly reports.
Couriers receive notifications about ready orders to pick up and then inform end-users about delivery is on the way or completed.
Contact End-User/Restaurant
In an emergency case, courier stuff can reach out directly to end-users or restaurants.
To encourage workers for good job and make them loyal, a restaurateur should provide a loyalty/rewards program and bonuses.
3.Restaurant Version
That's what a restaurant owner should have at hand:
A dashboard ensures access to varied controlling and managing options regarding orders, queries, crew, customers, income, billings, public data, and many more.
Business runners create restaurant accounts to be displayed while in-app search.
Managers edit restaurant details: contacts, open hours, menus, media files, etc.
Admins track and manage order flow and notify customers/couriers on order status.
Restaurants process transaction flow: billing, invoicing, referrals, discounts, bonuses, fees.
Revenue Strategies
So far, there exist three revenue models for food delivery business:
1. Delivery Fees
Usually, a fixed rate is based on delivery time, distance covered, and services ordered.
2. Commissions for Restaurants
Charging restaurant fees guarantees a stable revenue source where both parties benefit, as order flow is equal to rates charged. Apart from it, percent may depend on the restaurant's size and popularity.
3. Marketing/Promotion Fees
Starting, newbies need to increase online presence so that they can enlarge the customer base. This way, they pay a platform for promotion to be shown up in the first in-app search results.
Seize the Day!
Yet food delivery industry is overcrowded with food delivery biggies, there is always a place for newcomers. Dive into the market research, consider your strengths, pick a relevant strategy, and hit the niche with your new food delivery app. To ease your task, reach out to us without hesitation. We are here to help you roll out the best food delivery app that will take off!
Popular posts
Recent discussions