Local SEO Tips To Boost Your Business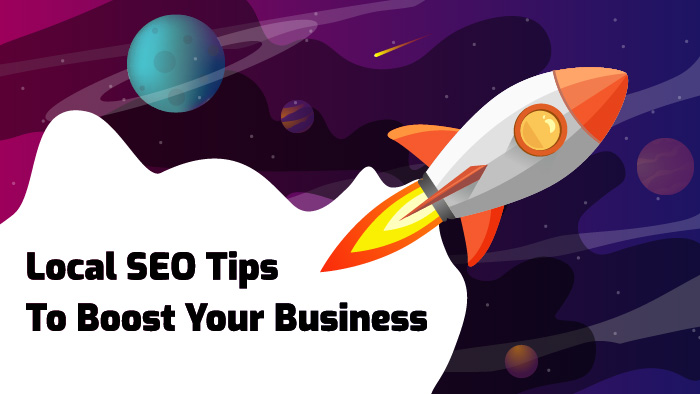 Every business owner knows that having a website is essential for their business. Having a website with the right keywords, and SEO is a necessity to get your business in front of new customers. Keywords with high difficulty can be extremely difficult to rank, and many business owners overlook the power of local keywords. 
35% of all search traffic is local according to an estimate in a 2017 ReviewTrackers' study. By using local SEO and keywords can pull your website to the top of search results. Local keywords can be the sweet spot for your site to start ranking. With high search and lower difficulty, these keywords can easily be incorporated into your SEO strategy. 
Use these Local SEO Tips to boost your business and keyword rankings!
Use Google My Business
If you want to rank locally, you need to have a Google My business page. A (free) Google My Business account is the most effective way to rank locally. A Google My Business profile is a necessity to create a google map listing and directory. After you create your account, you can easily link your website, number, and hours to better help local customers know your availability. That's not all. You will also receive free insights and tips to improve your listing. 
Make sure to complete your profiles and add your hours, services, business hours, photos. You can quickly incorporate local keywords, to help improve your rankings. With your google my business account complete, you can now begin to rank for local searches in your area! 
Get Reviews
[ EXTERNAL IMAGES NOT ALLOWED DOWNLOAD IT MANUALLY INSTEAD ]
Reviews have a lot of power for online shoppers. In fact, 48% of people visit a company's website after reading positive reviews. Many first time customers look to reviews to understand how you do business. Having good reviews isn't just good for local SEO, but your business! The more reviews your site has, the higher rank your site may receive. More customers coming to your site and your business can make you more money.
Google will also use your review ranking to determine your site rank on important keywords. Businesses with higher review ratings will often rank higher than others! Your overall review positioning could improve CTR - one of Google's important ranking signals.
So after you have made your google my business account you should reach out to past clients for a review. You should also make sure to respond to ALL the reviews your business receives and be timely with your responses. Google my business page and reviews can dramatically increase your local SEO. To start ranking high for these keywords, you need to find the best local keywords for your site. 
Find Local Keywords
Local keywords will drive traffic to your business. These local keywords are easier to find than you would think. A simple peek into your own browsing history can give you inspiration for some keywords for your business. 
Start simple for your local keywords. Simply combining your products and services with phrases like near me, can generate dozens of potential keywords. To have an effective local SEO strategy, you will need some keyword tools. 
For keywords ideas, Answer the public will give you suggestions for a base keyword. Uber Suggest is a free keyword tool that makes it easy to see the number of monthly searches and the difficulty to rank for local keywords. Using these two together can give you a comprehensive list of possible keywords. 
When looking for keywords it is important to look at these two metrics, search volume, and difficulty. Search volume will tell you the number of monthly searches for a keyword. The difficulty will tell you how hard it will be to rank in the top ten for a keyword. These keywords can help you find easy keywords, with good traffic for your business. Once you have your ideal local keywords, it is time to implement them for your business! 
How To Use Local Keywords On Your Site
To rank for local keywords, you need to use local keywords on your site. Thankfully there are many places you can incorporate these keywords into your business! You should have a small list of local and non-local keywords for your site. 
[ EXTERNAL IMAGES NOT ALLOWED DOWNLOAD IT MANUALLY INSTEAD ]
A quick note on keywords: Never keyword stuff your website. Not only will it make it harder for your site to rank for the right keywords, but it will also turn away potential customers. Make your text easy for clients to read, and use keywords throughout. Clear and concise writing will always perform better than stuffed pages. 
Where to use your keywords: 
Use Local Keywords in the text, headlines, and description of your site. 

Use Local Keywords on your google my business page

Writing content for your website
Your website tells search engines what keywords are the most important. Therefore using keywords in multiple places on your site tells them what keywords your site should rank for. Each page should have a set keyword to focus on and have variations of these words sprinkled throughout. Keywords should be in your headlines, copy, and alt text (for images) on your site. 
You should also use local keywords on your google my business page. Your business description, services, and about us pages are all great areas to include keywords. Additionally, you can also use keywords in your posts, updates, and photos for your google my business page. You can also respond to reviews with keywords as well.
Lastly, make sure you use keywords in the content for your website. Using local content in blogs is a great way to rank for local keywords. You can blog about local events, activities, or other content that can relate to your keywords. A blog is a great way to provide valuable information to clients, show expertise, or even give ideas on how to use your business!
Summary
Local keywords make it easy to boost your traffic and ranking for your business. With a smart local SEO keyword strategy, you can see traffic from local clients! With lower difficulty keywords, and traffic keywords using local keywords is a must for any small business. 
The Best Local SEO Tips To Boost Your Business:
Use Google My Business

Get Reviews

Find Local Keywords

Use Local Keywords On Your Site and Google My Business
Are you using local keywords for your SEO?
About the Author: Catherine Way graduated from Michigan State University with a Bachelor's in Advertising. A freelance content marketer for industries such as photography, mortgage, and real estate. She has written for Silver Doctors, The Paper Source, Active Rain, and Progressing Income. She currently writes and reports for Prime Plus Mortgages.
Popular posts
Recent discussions