Most Common Causes for Customer Returns from Online Orders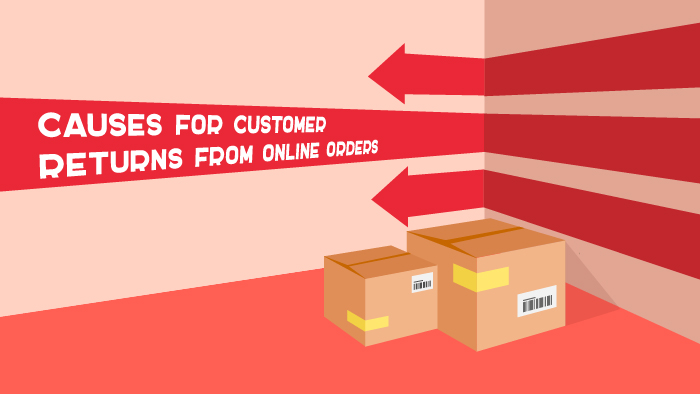 These days, retailers of all kinds are looking down into the abyss of sales drops. There are the harsh economic realities putting downward pressure on spending. There is also the reality that so many physical storefronts around the world either remain shuttered from earlier lockdowns or are closing yet again in a second outbreak of the coronavirus. 
And then, right when that deep chasm of hardship comes into focus and a retailer's knees start to shake, yet another factor comes up from behind…customer returns. 
Handling returns requires an artful balance between the customer experience and the needs and requirements of the business. And in the face of more ecommerce sales than ever, these returns are not just more complex, but more frequent. 
According to CNBC, 17% of merchandise across both in-store and online sales is returned on average. Looking just at ecommerce, returns for online purchases are almost double that at 30%. And the difference makes sense. If consumers aren't able to try an article of clothing on before purchase, for example, there are bound to be more returns. 
Returns from online sales, however, are even more expensive for sellers than in-person returns. And this point is an important one for the future of retail. According to Statista, return delivery costs alone were around $350 Billion in 2017. That number is predicted to reach $550 billion by the end of this year.
So, what's a brand to do? We believe that understanding the "why" behind returns is the lynchpin to do something about it. Keep reading to see the most common reasons for customer returns, along with what you can do to prevent as many returns as possible.
Bracketing 
There's an old practice that's become newly more popular than ever. Bracketing, or buying multiple articles of clothing in different sizes or colors with the intention to keep the favorite and return the rest, is a "must" in the eyes of shoppers buying clothes online. In fact, Digital Commerce says that the practice has grown to include nearly half of U.S. shoppers. And for sellers, this means a shift to a lot more returns. 
This trend won't be the case for many other kinds of products sold online. Clothing, however, deserves a special mention—and a little more understanding on sellers' part. Bracketing and more frequent returns of clothes bought online is the result of very real limitations on consumers' shopping options when buying online. And a seller who understands this will see the natural solution: offer realistic return windows. 
Of course, that's easier said than done. On the consumer-facing side, the change is simple, and customers will appreciate it so much that sellers with adjusted return policies see an immediate spike in sales. But behind that, those same sellers need to focus on cost-effective options to ensure the return process doesn't end up being more expensive than it has to be, or it won't be sustainable. 
A friction-free return experience for consumers will be good for your brand. Recognize that returns aren't just a thing in clothing sales, either, but with all online purchases. Embrace it! It's going to be OK. Give your customers the confidence to buy from you knowing that you'll do right by them. According to the same Invespcro article cited above, 92% of consumers say they "will buy" from a seller again if the return process was easy. So a return today positions you better for repeat clients tomorrow. 
The moral of the story? Even when returns feel like you've taken two steps forward just to take one step back, the positive customer experience you provide—with the greater likelihood of repeat business—moves you one big step forward again! Whether it's clothing or any other type of merchandise, get creative with your return process to offer the most generous return window and policy you can.
 A Lack of Overall Ecommerce Strategy
For some retailers, online shopping has been the only way their companies have held on during the coronavirus pandemic. And for others, online shopping has been the best thing that ever happened to their businesses. Either way, ecommerce has shifted to the forefront as some consumers' preference. For some industries, there's no going back to the way things were.
But…what's the difference between those businesses that have "barely held on" and those that have thrived?
One word: strategy.
Businesses who were already dabbling in or active on ecommerce marketplaces pre-COVID had the advantage of looking at online shopping with a calmer and more collected eye. In contrast, the businesses that jumped in with urgency can now be lumped into two groups:
Those who worked out the "why" and "how" to everything from optimized listings to return policies to which platforms to be on before launching;

And those that launched into ecommerce on the most popular marketplace(s) as soon as possible at the cost of optimized product data and internal procedures.
A lack of strategy in place before diving into ecommerce has resulted in bad product information for countless brands that have subsequently seen a hike in returns. Displeased customers feel that products were misrepresented, and in most cases, they're right. For other businesses, a lack of strategy ultimately meant hiccups in the fulfillment process that, in turn, also caused more returns. 
When it comes down to it, lack of strategy is the culprit for a lot of returns in today's online sales. And without a strategy in place, it's hard to even determine what missing piece of the strategy puzzle is to blame for return rates suddenly going through the roof. A lack of strategy also means a lack of KPIs, too, which later means a lack of analysis. 
Don't be lacking! 
The solution? If you've already jumped the gun and are flying by the seat of your pants sans-strategy, get a strategy in place now. One by one, as you figure out the pieces of that strategy, correct what you have on ecommerce marketplaces. If you update your returns policy first, then get that updated everywhere you're selling. And as you clean up and optimize your product listings, update those immediately, too.
Slow Shipping
Another one of the biggest reasons consumers cite for returning products purchased online is that the item is "no longer needed." And that's on them, right? There couldn't have been any way you could have prevented those consumers suddenly realizing that they didn't need what they bought?
Except, there is.
It is a challenge to anticipate or prevent customer returns for this reason, but the one proactive thing you can do is ensure the fastest feasible delivery times. If an item comes quickly, there's a far greater chance that the consumers will put it into use right away with the same momentum that got them to buy it in the first place. But when time passes, and they move onto something else, the later arrival of a purchase can trigger regret and that "no longer needed" sensation.
You can also get a process in place to work more closely with customers who cite this reason for a return. Try offering a purchase credit if the item is exchanged instead of returned. Or be prepared to highlight features that make that item better than whatever they feel is "good enough" at home.
Bad Product Descriptions
No, we don't mean "bad" as in the stuff that ends on Santa's "Naughty List." We mean bad as in inaccurate or incomplete. Products that don't meet consumers' expectations are returned—big surprise! And, in most cases, you can't blame the customer that the wrong item was purchased, because the real culprit is the inadequate product listing.
Organizing and enriching your product data to reflect the most accurate descriptions is the keystone of avoiding inflated sales destined to be punctured later by returns. You can still use all your favorite marketing techniques to make a product look its best, but the item must still be described accurately no matter which way you look at it. 
Of course, managing all that product data and avoiding product listing pitfalls can be a beast to manage, especially if you're selling on multiple ecommerce platforms. And that's exactly why brands use specially-designed Product Information Management (PIM) software solutions to do it.
Damage Due to Bad Packaging or Handling 
It's also pretty understandable if a customer expects a refund if an item arrives damaged or defective. The solution here is simple: have a system in place to not only ship items carefully but double-check the quality of products before anything goes out. Here's how:
Set standards for careful packaging and keep staff accountable

Only partner with the most reputable shipping companies

Get the darn shipping insurance 
The Light at the End of the Tunnel 
There's a solution to every one of the items listed above. Each one of these has been a major cause for returns, now more than ever, and returns from online purchases continue rising hand-in-hand with this unprecedented boom in ecommerce. 
Solutions for these causes doesn't lead to eradicating returns altogether. Instead, it means rebuilding parts of your strategy and business practices to be better prepared. 
Consumers have adapted remarkably fast to the "new normal" of online shopping, and you can, too. The coronavirus really only accelerated a shift that was already happening away from physical retail, and happy customers need happy returns. Start today to ensure you have both!
Alex Borzo, a content contributor at Amber Engine, a software company passionate about eCommerce.
Top comments
Develop your own cryptocurrency. We deliver the best cryptocurrency exchange software with latest features like Margin Trading, Le...

Great Post! I am Really Enjoy to Visit In the Post. I have too been generated Clipping Path/Cutout image Services to a long time.

Best cleaned i've seen so far

@Jimscircularfile, Hi, this is Adam from Digiarty. May I have your order number so that we can investigate? Most of the time, the
Popular posts
Recent discussions