Avast Free Antivirus is an application that provides protection for your PC against viruses, spyware and other forms of malevolent software. The application protects user's PCs by analyzing unknown files, in real time, before they are utilized or executed, alerting the user to threats which have been caught. In this Avast Free Antivirus review we're going to get through all the benefits it brings you.
Technology magazine PCMag.com considers it "an excellent choice for free antivirus protection". A number of renowned antivirus testing labs too rank the software suite highly among its competitors. The application comes complete with numerous features, some new, others that have become standard over its numerous iterations.
With each version, Avast seeks to produce a more streamlined, more powerful and ultimately more protective antivirus application. Today, we'll take a closer look at each of the features available in the latest 2018 release.
#1 Free Forever
Complete protection at zero cost. There's not much more I can say about this that isn't already obvious. Avast provides effective consumer-level antivirus protection for free! With no hidden fees nor further obligations. While this version does not possess some of the more advanced features of it's more expensive counterparts (Internet Security, Premier and Ultimate), it still provides valuable services that are worth far more than the $0 price tag.
#2 User Friendly Design
An interface that a newbie could use. The user interface is excellent. It's very spacious. There is no crowding of text nor endless rows and columns of arbitrary icons. The color theme is maintained throughout the interface, and contrasting colors are coordinated to bring the users attention where it is needed.
For an application as feature-rich as this, the user interface is appreciably sparse. There is no extensive user manual nor introductory tutorial (although support is available at support.avast.com) as the interface is fairly intuitive and easy to navigate.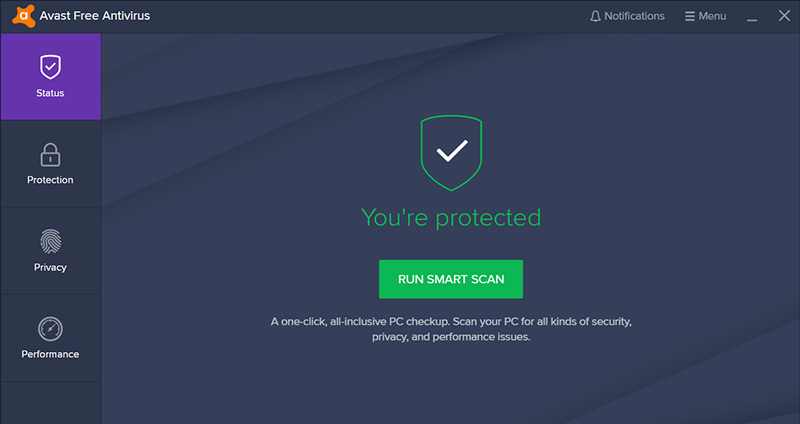 #3 Simple Installation
Easy to setup. Easy to use. Before you begin installing, ensure that the following conditions are met:
you have Administrator privileges
there is no other antivirus installed
If you do have another program installed, make sure to uninstall it first. Merely disabling it may cause issues once the computer is restarted because both antivirus programs will be operating simultaneously, causing further issues.
To carry out the regular installation:
Download the installation program – available from www.Avast.com/free-antivirus-download.
Navigate to the folder containing the installation file and double-click it. You will be presented with the Avast Free Installation window.
Optional Step: If you want a different language from the default, click the language field in the top right hand corner and select the language of your choice.
Click Install. Once the installation completes, the program will be actively protecting your computer. We recommend restarting your computer after installation to resolve any registry changes.
The regular installation loads all features by default. To install it with only the features you want requires the custom install:
Download the installation program.
Navigate to the folder containing the installation file and double-click it.
Optional Step: Click the language field in the top right hand corner and select the language of your choice.
Click Customise (located below the green Install button). This will open the custom installation window.
Select or deselect features which you would like to include or exclude from your installation. Less features results in a smaller application footprint, requiring less system resources.
Click Install. Once the installation completes, the program will be loaded with only the features you selected and it will be actively protecting your computer. We do recommend restarting your computer after installation to resolve any registry changes.
#4 Virus Protection
Block viruses automatically for a clean and healthy PC. According to the Independent IT Security Institute's website, Avast Free has a 5.5 protection score out of 6. The Institute tests antivirus applications in a number of real-world situations and consumer-level environments, benchmarking them for a number of characteristics and metrics.
Avast's file shield was tested for its protection against malware infections such as viruses, worms and trojans. Tests were conducted of performance against "0-day malware attacks, inclusive of web and email threats" and measured the application's "(d)etection of widespread and prevalent malware discovered in the last four weeks" (as of April, 2018). This Avast Free Antivirus review scored within 99-100%.
#5 Low System Requirements
It works on even the most low-tier budget computers, with minimal system resource usage. During scans the program flushes its memory every ten seconds. This keeps it's memory usage low. According to tests, resource usage during idle states is also quite low, usually within 4 to 9 megabyte range. Of all consumer-level antivirus programs currently on the market, it been ranked No.1 for memory usage.
#6 CyberCapture
In this ever changing world we need to be vigilant. CyberCapture basically acts as another layer of real-time protection for your PC. While the threat-detection engine looks for known threats that match certain virus signatures, CyberCapture finds those files which seem a bit suspicious, isolates them and uploads them to Avast Threat Labs for further analysis.
When the analysis is complete, you are notified of the results. Meanwhile, continuous collection and analysis of these anomalous files leads to early detection of threats before they become prevalent. It also allows Avast to expand its library of virus signatures and other points of identification for threats.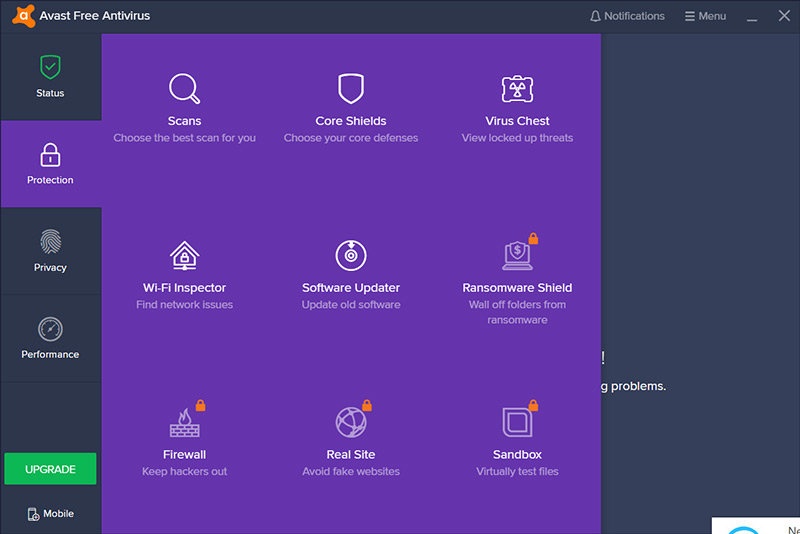 Other functions and features are grouped in several sections in its navigation. There are three main categories of functions, the 3 P's: Protection, Privacy and Performance. Each category contains functions which are available for Avast Free, and also include locked options. Protection features include Scans, Core Shields, the Virus Chest, Wifi Inspector and Software Updater.
#7 Scans
Scan your PC in different ways with one click without any complicated steps. This antivirus has several scanning options available. The main option – Full Virus Scan, uses Avast's threat detection engine for real-time scanning of all files on your computer. Files are scanned and assessed for their threat potential, with immediate threats being quarantined and suspicious files flagged.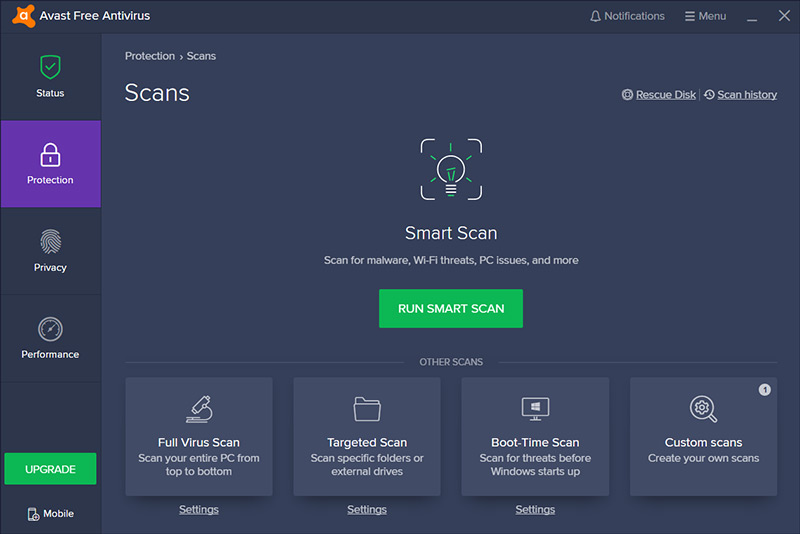 Apart from its highly effective Smart Scan, several other scanning for extended protection are there too:
Targeted scan. If you're curious about a particular program you've just installed or you're wondering if anything you've recently downloaded might be the culprit re issues you've been having but you don't have the time nor patience for a full scan then you can simply select to scan the suspected application's folder or your download folder. This takes significantly less time and you may be less worried about getting rid of whatever is found.
Boot time scan. This scan allows you to nip issues in the bud before, allowing Avast to look out for problematic executables if they are sneaking in during boot-up.
Custom scans. For power users or security pros custom scans are ideal. Avast allows you to create different scans that may be used for a number of specific purposes in various scenarios. You can adjust parameters for nearly even metric from Sensitivity and Actions to Exclusions and Scheduling. Of the five top antivirus testing labs, Avast appears in the top ten results of all labs, with the performance of it's threat-detection engine rated among the best in the industry.
#8 Shields
Free Avast protects it's users from a variety of threats. This is done on demand via it's scans and in real time via its Shields. As there are a wide variety of threats, there are shields dedicated to these respective threats. As we mentioned before, the program provides protection  from viruses and malware via its File Shield.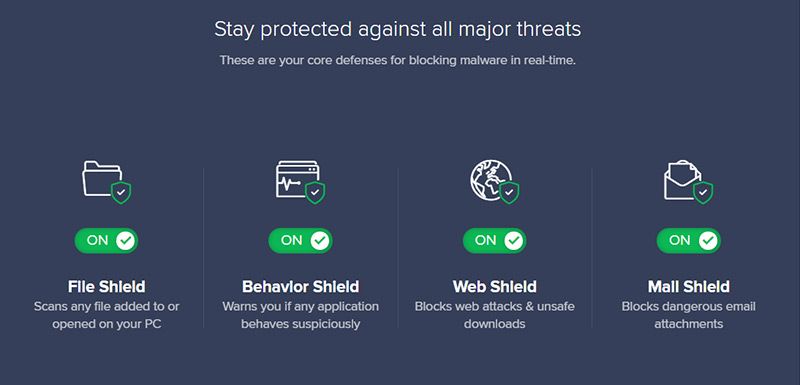 Behavior Shield. Behavior Shield is their newest bit of technology. It is a behavior analysis tool that protects users from zero-second threats and ransomware. It observes the activity of your applications, keeping an eye out for any activity that looks suspicious, even if those applications have passed initial checks. Once there's a suspicious or dangerous activity, the program stops it and notifies the user.
Web Shield. Using the internet involves exchanging data between your computer and numerous servers on the internet. Web Shield analyses the data traffic going to and from your computer, looking for malware and other vectors of infection and stopping them before they have a chance of infecting your computer.
Mail Shield. Spam is annoying, it takes up space on your email server, and and it can be a vector for viruses and other malware. Mail Shield feature scans your incoming and outgoing mail for malware and observes the behavior of attachments for any malicious intent or suspicious activity, protecting your from infection.
#9 Virus Containment
During operation of File Shield it halts dangerous and suspicious files, and flags them. Then, it moves these files to a safe location on your computer, managed by the Virus Chest. These files are kept there, inaccessible and inoperable, where users may choose to review them, submit them to Threat Labs, restore them (only recommended for power users and essential files) or delete them.
#10 Discover Wifi Issues
Even if your wi-fi is under encryption and with a passkey accessed, vulnerabilities may still exist that you are unaware of. It is such instances that hackers attempt to exploit. In order to provide your wi-fi network with protection against hackers Avast has provided WiFi Inspector.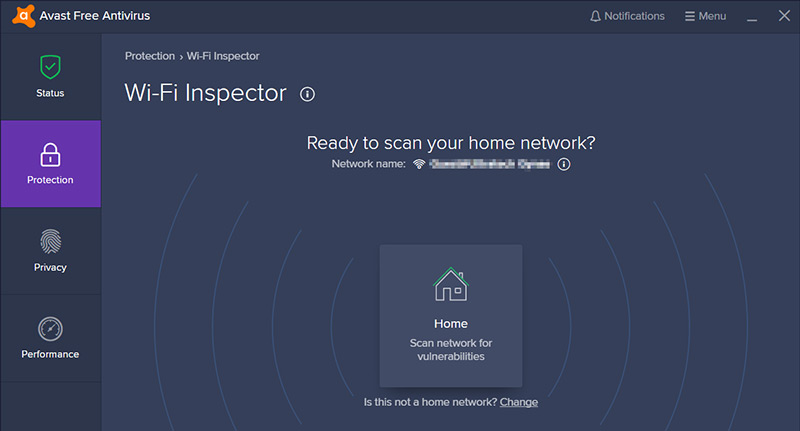 WiFi Inspector benefits you by providing the following benefits:
weak or default passwords (for router administration)
router firmware vulnerabilities due to obsolete firmware
any open network ports
any unsecured, non-encrypted wireless networks
instances of DNS hacking
Unfortunately, WiFi Inspector will not automatically fix the vulnerability issues. However, it will suggest methods of securing the devices and even provide step by step instructions, in some cases.
#11 Automatic Software Updater
Most PCs usually have several out-of-date pieces of software. With digital threats constantly evolving these obsolete applications may possess vulnerabilities. Automatic Software Updater (ASU) solves this issue.
The ASU scans your computer for installed software modules, sees what version it is and scans the internet for the latest versions of those applications. Where later versions of the apps are, ASU proceeds to update them to these latest versions.
This single feature has the cumulative effect of improving system performance by updating all applications to take advantage of the latest improvements, and hardening the system by resolving all known security vulnerabilities.
The Privacy features include Passwords and SecureLine VPN.
#12 Password Management
Secure your passwords for a safer online experience with Password Manager function. It protects private profiles and websites, and maintains the security and privacy of your login information. A few of these features are:
Automatic password saving
Login form filler
Strong Password Generator
Synchronization across devices (passwords will be available on other devices running Avast apps)
Import passwords from browsers (a highly recommended action as most web browser's native password utilities are less than safe)
Save encrypted notes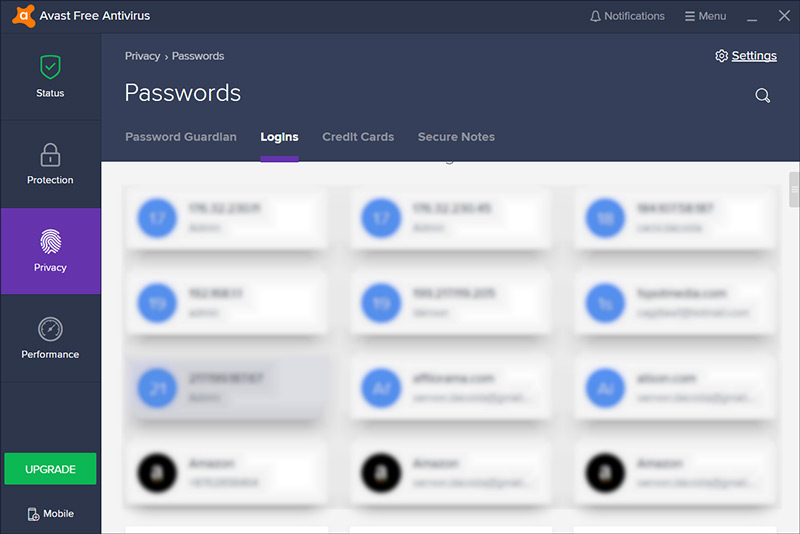 #13 Private Networking
A virtual private network facility with its SecureLineVPN. The feature encrypts your communication across the public internet, protecting your transmitted data from extraction or monitoring by unauthorized persons. You also gain from the added benefit of being able to circumvent certain content blocks. The Performance features include Cleanup Premium and Game Mode.
#14 Computer Cleanup
Cleanup Premium is an optimization and performance booster tool built to make your computer run faster and perform more efficiently. This feature, which is also available as a standalone application, is a replacement for Avast's Grimefighter app, which has since been discontinued.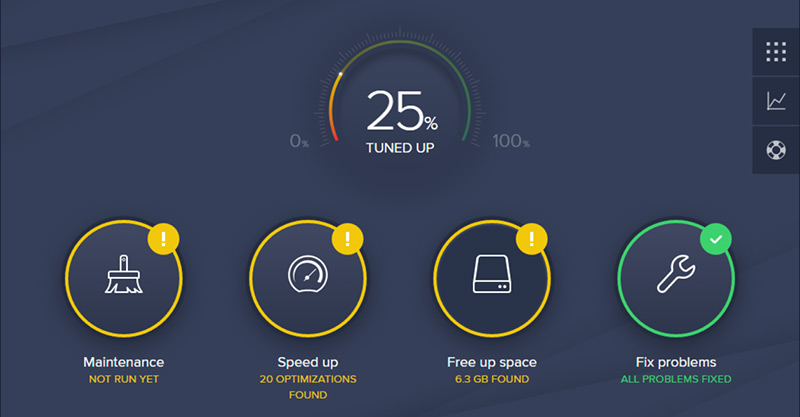 #15 Game Mode
…because games should be enjoyable. Most modern games are heavily taxing on consumer PC systems. As a result, competition with other applications for scarce resources usually results in performance deterioration within the game. This appears as lags or glitches within the game play, which disrupts the gaming experience.
Game Mode feature allows users to play their games while still under protection against online threats. Game Mode, when activated, does this in three ways:
Muting of all notifications
Pausing all updates
Avast free prioritizes CPU focus on the game itself
The game receives the necessary share of system resources while still allowing real-time threat detection engine to monitor the system for problems and intrusions in real time.
#16 Secure Browser
Antivirus now comes with the Safe Browser. With focus on efficient use of system resources and data protection as the rest of products, but with a few additional features:
blocked ads and pop ups
faster page loads
less screen clutter due to ads removal
Security and Privacy Center allows you to customize the browser
download video and audio from streaming websites
Advanced Protection. Should you wish to have access to more robust and powerful features there are three additional versions with a fee, each containing the features of it's lower-tier counterparts and more:
allows for safer shopping
allows you to safely run suspicious applications
blocks spam
installs an optional layer of protection against ransomware
blocks webcam spying
permanently shreds sensitive files
automatically updates all your applications
Avast Ultimate comes complete with all features listed above and the following additional applications:
Cleanup Premium
Avast Passwords Premium