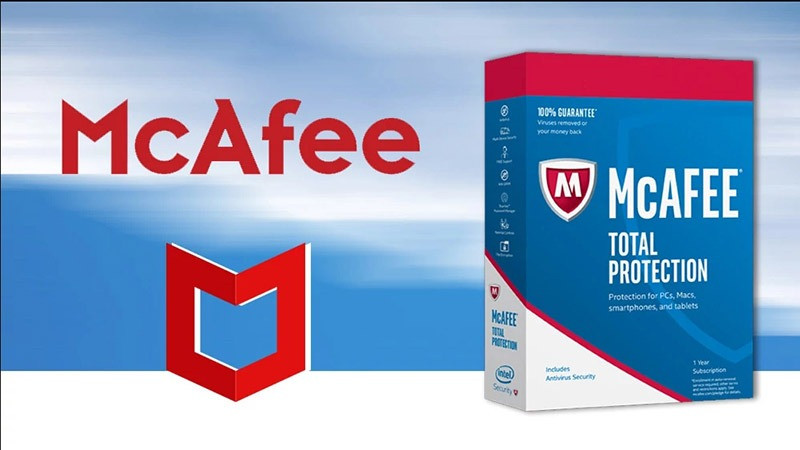 McAfee antivirus was founded in 1987 by Scottish-American programmer John McAfee, which makes this antivirus a pioneer in its industry. During its history McAfee has experienced rebranding several times due to mergers. At the moment, since 2016, the antivirus belongs to TPG by 51% and Intel by 49%.
According to OPSWAT research due October 2014, McAfee was one of the five largest manufacturers of antiviruses, accounting for 5.7% of the global market. McAfee has award-winning Internet security and is considered a reliable product. According to McAfee, more than 500 million people use their software.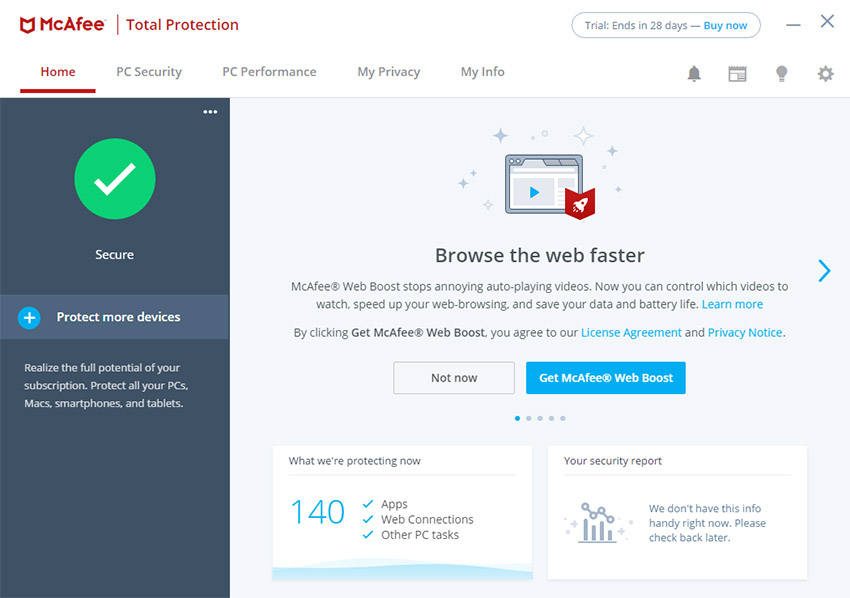 System requirements
The version we have tested, McAfee Total Protection 16.0 R20, supports:
Microsoft Windows 10, 8.1, 8, and 7 SP1 (32- and 64-bit)
Mac OS X 10.12 or later
Google Android smartphones and tablets 4.1 or higher
Apple iOS 10 or later
For devices running Windows or Mac, you need at least 500 MB of disk space, 2 GB RAM or more and a processor of 1 GHz or faster are recommended.
Specifications:
| | |
| --- | --- |
| Vendor | McAfee LLC (Website) |
| Newest version (for Windows) | 16.0 |
| Operating systems | Windows 7/8/8.1/10 |
| Installer file size | 5.44 MB |
| Languages | Depends on Windows language |
| Key features | Firewall, WebAdvisor, Cleaner, Anti-Spam |
| Extra features | APP Booster, Web Booster, Shredder, True Key, File Locker, Safe Family |
| License | Trial / Subscription |
Feature overview
The Trial version has all the features that are provided in the licensed subscription itself. In addition to real-time protection and malware removal, McAfee Total Protection includes Firewall, WebAdvisor (browser extension), Safe Connect, Safe Family, Anti-Spam, as well as APP Boost, WEB Boost, File Locker, Cleaner, Shredder, TrueKey and other features additionally.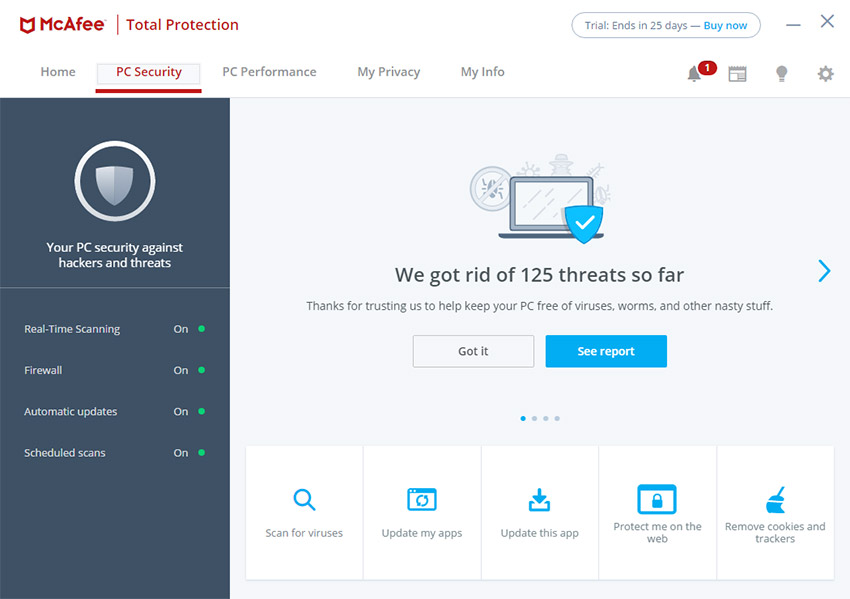 All the most important McAfee functionality is in the "PC Security" tab, it shows the protection status of all components, there is a possibility to run a system scan, update outdated applications on your device (in our case, nothing was found) or update McAfee itself, which in our case was of the latest version.
Protect me on the web (McAfee WebAdvisor) is a plug-in for browsers, in the case of a Chrome browser (plug-in source), the plug-in uses more than 10 million users, the plug-in is actively updating and should be an integral part for every McAfee Total Protection user, since without this add-on, the probability to download the virus and run it is quite high. More details about protection will be described later in the tests.
Remove cookies and trackers is a useful feature that eliminates the need to use third-party software or to search for the needed clean up functionality in the browsers themselves.
The PC Performance tab allows the user to download and install App Booster and Web Booster, the installation is very convenient, going in the automatic mode with a couple of clicks in McAfee Total Protection itself. Regarding the benefits of these add-ons, they are very doubtful, having experience with similar software, but please note that the Boosters testing by McAfee wasn't made by us.
My Privacy is another tab with a set of additional software for the user's safety.
Shred unwanted files - deletes files from your device, from the usual files deletion to deletion without the ability to recover.
Manager passwords (Meet True Key) - the simple, secure password solution now included in your McAfee package (extension for browsers).
Protect against identity theft - the subscription costs additional funds. It includes cyber monitoring, data theft insurance*, 1-Bureau Credit Monitoring*, Social Security Number (SSN) Trace, 24/7/365 Dedicated Agents. *Valid in the US, except of NYstate.
Protect my kids (Safe family) - allows you to set control over your child in the form of scheduled Internet access, physical location, history of what your child does, what applications it uses, etc.
Lock private files - creates an encrypted partition in the system, where the user can store private data with a password.
Another feature that is interesting to some users is the McAfee Total Protection news feed from McAfee Blog.
Testing
McAfee testing and the user experience is the most important and crucial part, since it gives the impression of a software product. Further we will try to cover everything regarding the performance of McAfee's Total Protection software product.
Test stand: virtual OS on the base of Oracle VM VirtualBox v6.0, Windows 10 Pro X64 Image (Update 1903), CPU I7-3612QM (4 core 2.1 GHz), 6 GB RAM, SSDNow A400.
1. Performance Test
| | | | |
| --- | --- | --- | --- |
| Scanning type | Time | Scanned files quantity | Load CPU (avg) |
| Fast | 5 minutes | 3277 | 40-50% |
| Full | 1 hour 10 minutes | 106440 | 98-100% |
The load on the drive was no more than 5% in both cases of testing, RAM less than 3GB.
Output:
"Quick" scan allows you to surf the Internet and perform everyday simple tasks on the device.
"Full scan" loads the CPU to the limit, which makes it almost impossible to use the device.
Tip: For sufficient security, it is recommended to perform a full system scan once a week, for this use the task scheduler to scan when you do not need the computer.
2. Virus Protection Test
Just back in 2013, Eicar test virus was created, but this kind of testing can be considered insufficient for a full-fledged experience.
To test protection, we'll do some tests and take a couple of the latest viruses from vxvault and see the result, as well as run archives with thousands of different viruses and see the result (WARNING: Do not think that these are jokes and simple viruses.
There are some of them that even the antivirus will not respond, and they will do what is programmed in them to the system. So if you're not sure of your actions, we don't recommend trying to download viruses from such portals or doing such tests by yourself).
| | | |
| --- | --- | --- |
| Virus name | MD5 Hash | Virustotal |
| 5.exe | d24f5633755ee85407c6a460dbd55448 | |
| 2c.jpg | C65C495D5B6C6141F9075F333376577A | |
Notes to the table. Test file was launched, forced scanning of the file found the file. The next day the virus was added to the McAfee virus database. However, we managed to download the second file and McAfee did not react in any way.
McAfee perfectly detected the testing of archives containing viruses, but Real-time protection does not work at all, including the presence of the test virus Eicar was not detected until we asked to scan the file through RMB - Scan. Without additional plug-ins and other components, McAfee Total Protection alone is useful only if you manually check the files and the system as a whole.
In our case, one of the viruses of the pandora's box infected the system and even a full scan of the system does not detect it. Thus our CPU loads an unknown process by 80-95%, all the space on the local drive C is occupied, the start doesn't work and maybe a lot of other errors occurred, but McAfee is doing fine.
3. Firewall
We were unable to perform a full-fledged Firewall test since there is no way to disable Firewall at the network equipment level, all ports are closed by default. Nevertheless, when using a VPN, McAfee blocks some packages, so we can assume that McAfee copes with network security tasks successfully.
Interface and UX
McAfee interface and its functionality is made for users who need everything in one box. After all, there really are a lot of opportunities, but each of them has limited capabilities, unlike highly specialized software. It's not difficult to use McAfee as a whole, but if you need to fine-tune a specific module, it can be difficult to find the required parameter, or it even can be absent.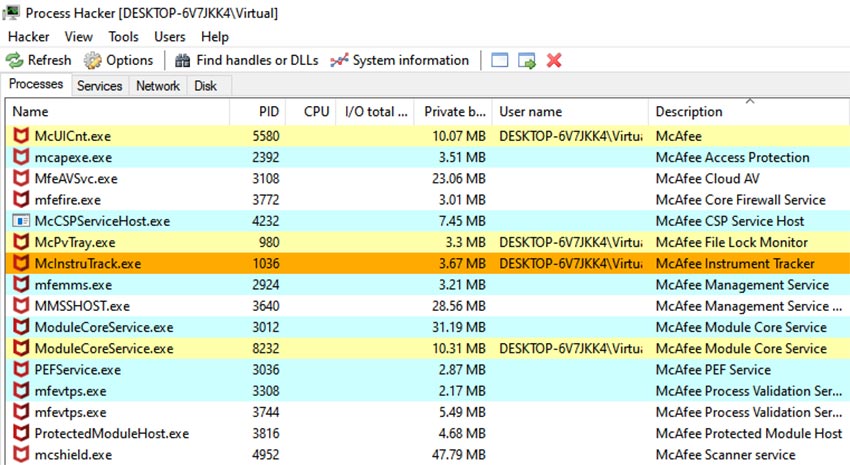 We were disappointed with real-time file monitoring, you can accidentally download a virus and even start it and infect your system, and you can only find out about it if you scan the system completely. Besides, McAfee creates a large number of background processes in the system that consistently consume a certain amount of your device resources and what they do besides network protection (firewall) is not clear.
We were also upset by the process of McAfee Total Protection installation on Windows 7 Ultimate x64 SP1 - we were not able to install McAfee for more than 4 hours! It all started with an error: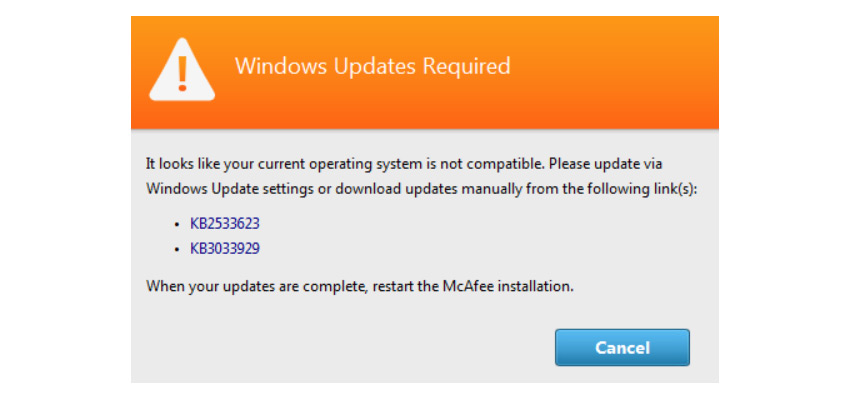 Unfortunately, the updates on the link offered by McAfee are no longer available, so we found them on the Microsoft website for you if necessary:
Update for Windows 7 for x86-based Systems (KB2533623)Update for Windows 7 for x64-based Systems (KB2533623)
Update for Windows 7 for x86-based Systems (KB3033929)Update for Windows 7 for x64-based Systems (KB3033929)
Download and install updates depending on the bit depth of your OS. In our case, when installing the component update, error 0x8024800c occurred, therefore we provided instructions on how to fix it below.
Having fixed error 0x8024800c, McAfee began to freeze during the installation process. After restarting the OS, the automatic McAfee removal procedure began and this process was cyclic, as a result, we demolished Windows 7 without further investigation on the error and started testing on Windows 10.
Fixing 0x8024800c error
Option 1:
Use the Run window to start Services (all Windows versions) Press the Win + R keys on your keyboard, to open the Run window. Then, type "services.msc" and hit Enter or press OK.
Find the "Windows Update" service, stop it and disable it.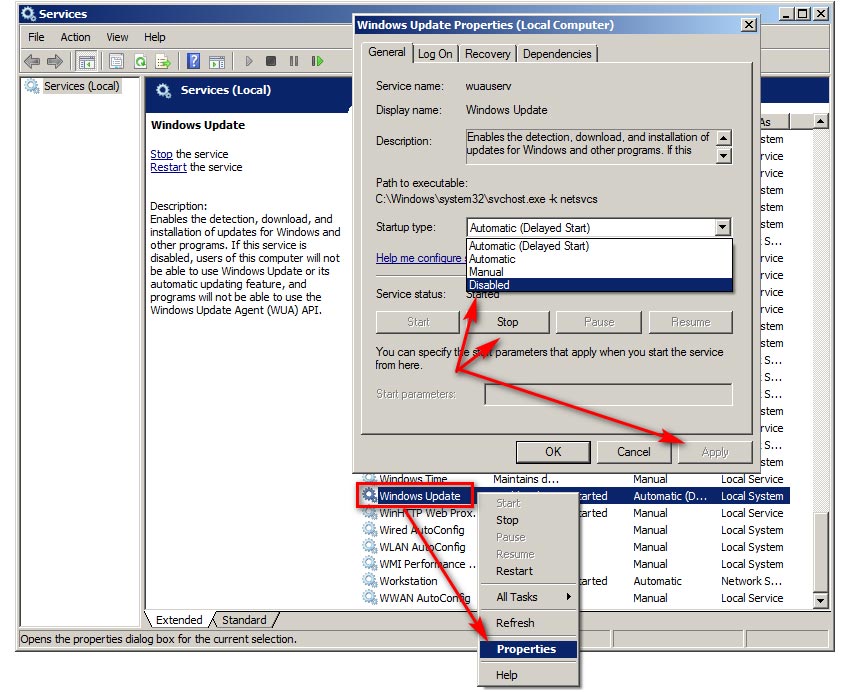 Delete the directory C: \ Windows \ SoftwareDistribution \;
Start the service by repeating the first two steps.
Option 2:
Run Command Prompt as administrator.
Type "net stop wuauserv" and hit Enter.
Type "ren c:\windows\SoftwareDistribution softwaredistribution.old" and hit Enter.
Type "net start wuauserv" and hit Enter.
Verdict
Considering that McAfee claims to have "Real-time scanning", we were not able to detect it, scanning only happens if the user sets the scan in manual mode or in the task scheduler.
McAfee Total Protection has a large number of functions for most users, half are unnecessary, and the second half is limited in functionality. Some components are integrated directly into the Total Protection environment, while others work as a separate component. In the case of "Protect against identity theft" you also have to pay extra.
The most important part is that the anti-virus protection works, the database is large, but as tests showed with database update delays, unlike competitors, a combination of circumstances is possible. Also, if the virus has already infected your system, McAfee does not see any threats, at least this happened in our test with the virus. Perhaps, in general, scanning through VirusTotal would be more effective.
Technical support does not have the ability to contact by mail or chat, you must use a database of previously created material with possible questions and solutions to problems. McAfee automated bot will help you with this on the site, and in extreme cases, you can get in touch by talking on the phone, which is not very convenient for most countries.