Avast Internet Security review

Avast is one of the most popular free antivirus solutions worldwide. It is compatible with all Windows OS group – XP, SP3, Vista, Win 7, 8/8.1, 10. Avast antivirus is designed as a complex protection suite from common threats, which could be identified based on behavioral characteristics. To find out more is the goal of our Avast Internet Security review.
Like competitors, Avast protects system files and user data, but also offers variety of security modes for data protection. Usually, Avast enters Passive Mode after installation in Windows due to Microsoft's built-in Windows Defender anti-malware service. Therefore, it is recommended to disable active protection by Defender and turn on Avast Internet Security.
Avast antivirus specifications
Vendor
Avast Software s.r.o. (website)
Newest version (for Windows)
v.19.7.4674.0 out September 2019
Operating systems
Windows 7/8/8.1/10
Installer file size
345 MB
Menu languages
46
Key modules
Antivirus, Firewall, Payments Protection
Extra features
CyberCapture, Sandbox, Secure Browser
License
Trial / Subscription
Pricing
$59.99 (1 Year, 1 Device)
$159.99 (3 Year, 1 Device)
Features
To start off, install Avast antivirus, make sure it works in Active Mode, and run a Smart Scan to identify potential vulnerabilities. To make things smoother, Avast proposes to download Avast Browser along with antivirus and run it in Bank Mode. Add extension to Google Chrome if you wish to apply additional protection for social media accounts and passwords.
The main feature and key purpose of Avast is scanning, of course. Internet Security performs full or targeted signature-based scans to detect viruses, malware and rootkits on hard disks or drives, as well as portable external devices. Left-side menu lets access Smart Scan option, Protection, Privacy and Performance modules. Protection is the one responsible for detecting viruses. To perform a full scan, go to Custom Scan to initiate. To gain more out of it, specify requirements for archives, file extensions, etc. A quick Smart Scan can detect and eliminate network and software vulnerabilities, unwanted browser add-ons, PC optimization issues, Windows update problems.
In "active mode" Avast provides real-time protection, checking open and incoming files and applications for malware and other threats. Web Shield, for instance, is responsible for securing web browsing activity.
By the way, to speed up browsing, users may download Avast Secure Browser which is as fast as Google Chrome. It it specially designed for safety purposes, thus tools like the sandbox are integrated. If using Chrome, Avast may add extensions, for example, Bank Mode to guard cash flow online. Also, if Microsoft Outlook is your default email client, Avast browser can block suspicious email attachments via Mail Shield module. System requirements aren't high: Windows 10/87 and 400 MB on disk, find out more in the promo: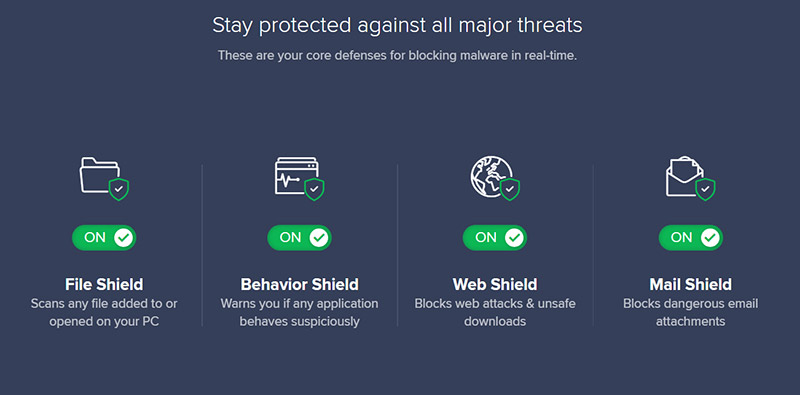 Avast Internet Security lets you know the core defenses used to block viruses in real-time. You have the liberty to turn some of them off. However, for maximum protection it is in your best interest to turn all of them on.
Anti-ransomware tool is included in Avast Internet Security and Avast Premium, unlike Avast free antivirus. AIS has two modes – Strict and Smart. In Strict mode a user/administrator gives permission to move or amend files and folders if there is such attempt. This mode has separate folders to specify files to protect: archive files (7z, rar, zip), audio (m3u, mp3, wav, etc.), database (sqlit, sqlit3), disc files (iso, img, etc.), documents, pictures, videos. Smart Mode, as you might have guessed, is for complete all-round protection of all files on PC if you don't have much time.
Instead of deleting entirely the threats found on your computer, Avast Internet Security moves and keeps them in a secure chest. You can view this chest at any time, and it will not risk your computer. You can also add files to this chest manually. This is where Avast Internet Security keeps threats found. The quarantined files are kept in this chest and you can opt to delete them. You can also add a certain file into the chest by clicking ADD FILE button.
This feature searches for loopholes in your network. It also identifies the type of network you are using and fixes issues. It will also help you identify password issues as well as programs that might slow your connectivity.
This feature's behavior was somehow strange, and it led us to believe that it just needs you to pay for it. It is included but it only showed us up-to-date programs, and when we tried to run it, we were prompted to purchase a premier. So, we can say it is as good as useless in Avast Internet Security.
Provides an added layer to mask your computer from unwanted access through private as well as public networks. It works as a border patrol to your machine as it checks incoming and outgoing traffic, therefore, making it difficult for hackers to steal your data.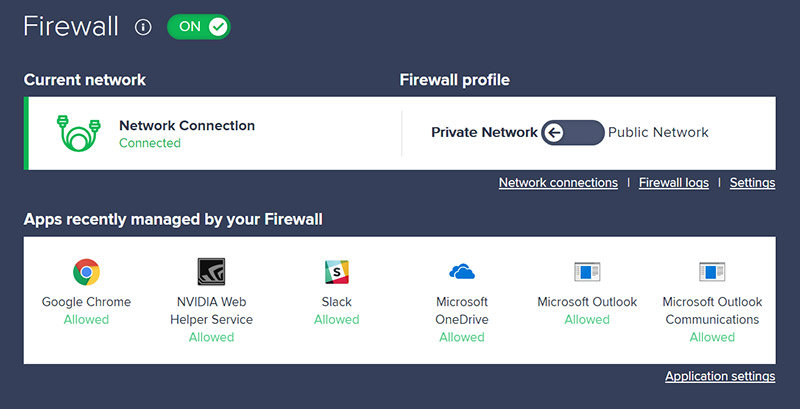 Avast Internet Security Firewall screen displays apps that have been managed by Firewall. You can also choose to customize Firewall application and network settings. Firewall automatically detects the type of network you are connected to. However, you can change your network type by moving the arrow from Private Network to Public Network.
Checks the authenticity of the site you are about to visit to avoid fake websites. Hackers clone sites to steal your banking details, and this feature prevents that from happening.
A cool feature where you can test a suspicious application before installing it. It provides you with a virtual space where you can run a file, and it will be isolated from your computer meaning it will not affect your PC if it is infected. If you do not have the suspicious app, you can use Sandbox as your secret house. Since it does not save any activities, it means no one will know you ran a particular application – directly translating to privacy.
Avast Internet Security comes with a virtual space that you can use to test suspicious program. Any program run on this space will not affect your PC even if it's infected with a virus. The Sandbox also does not keep program data. By clicking on the RUN APP IN SANDBOX button, you will be prompted to select the specific app on explorer.
Passwords. Feature works as your password manager as it takes all of the passwords and store them in a safe place and auto-fill them when needed to respective fields.
Game Mode. Avast Internet Security turns off notifications during your game time. The moment you launch your game, this feature kicks off and will silence Windows updates, therefore, allowing your game to run smoothly at its best.
Cleanup. Cleans up junk programs, browser data and removes toolbars, add-ons as well as extensions. It is available at an added cost though.
Driver Updater. Keeps essential drivers up-to-date which helps your PC to run smoothly. Keeping your drivers updated will reduce the risk of PC crashes as well as hardware glitches.
Behavior Shield. This feature performs real-time surveillance of your PC processes to detect any suspicious behaviour which may be a sign of a malicious code presence.
Sensitive Data Shield. Protects personal data, documents a user deems highly sensitive.
SecureLine VPN. A protection module for Internet connection, lets you select a country, browse anonymously without disclosing real IP-address.
Mobile Security. For Android and iPhone users, Avast in the form of a mobile app.
User Interface
As always, Avast presents a friendly UI. Internet Security, as well as the other sub-programs that come with it, have an easy to use interface. What impressed us most is the availability of information as well as tips for each feature.
Settings are presented with substantial icon-centric button, and the added "i" for more information makes it possible for one to make advanced choices even without programming skills. The software has got a modern display, and for that reason, we could not find anything to point out and criticize under this category.
Avast Internet Security presents an intuitive interface. The main window displays your protection status and at bottom gives you notifications on urgent issues that need to be resolved in your PC. By clicking the RUN SMART SCAN button, you will perform a quick PC scan.
Performance
We ran some tests against common and latest virus threats. Avast Internet Security performed well against the well-known threats, and by adapting the behavior of common threats, it managed to tackle some of the new ones. When it was not sure about the response of the program, it alerted us and gave us an option to either choose to allow the application or block it from running.
Although the software was pretty much impressive, we were not thrilled by the anti-phishing or browser protection which is lax. We felt like the developers are channeling less attention to these lapses and try to conceal these loopholes by anchoring on the technology of behavior blocking. Based on the test results made by AV-Comperatives, Avast Internet Security performed well managing to block 99.4% of the threats while reporting 6 false positives.
For the first and most basic test we used a typical 4GB RAM PC running on 64-bit Windows 10 Pro. It took 1.5 hour to conduct a full sScan. As there were no viruses on our PC, we downloaded EICAR test virus, designed to examine antivirus software effectiveness. We then tried to execute it but Avast successfully blocked it. Thumbs up. We also ran a Smart Scan that aims at finding performance issues, weak passwords, browser add-ons etc. Interestingly, that this process slowed down our PC quite substantially.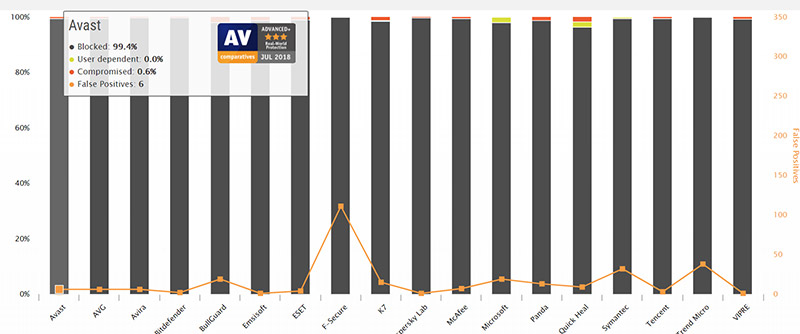 Unlike the heavy antivirus software like McAfee, Avast Internet Security is light and did not take much of the space. While playing games that are indicated under Avast Internet Security Game Mode feature, we experienced some lags. It also slowed down our internet browsing experience, and pages took time to open or load. Although it is expected to have such issues, Avast Internet Security seemed to overlap the industry's average parameters.
For further, and more precise tests, we used a a more powerful PC with the following parameters: Intel Core i5-9400 4.10 GHz, 16 GB RAM, Windows 10 Pro x64. To test the detection capabilities, we ran Eicar test files in different formats (com, txt, zip, zip inside another zip). All were successfully detected.
Eicar testing for Avast
real-time
eicar.com
eicar.com.txt
eicar_com.zip
eicarcom2.zip
✔️
✔️
✔️
✔️
✔️
What is really important, is the fact that Avast real-time protection actually works: the antivirus blocked the downloading of suspicious file.
Next, we ran both scan types in Avast (fast and full) against a test ZIP file with 3,700 viruses, mentioned in Kaspersky review. The goal was to measure the speed, detection, as well as load on CPU while scanning. Find the results below. 
| | | | | |
| --- | --- | --- | --- | --- |
| Scanning type | Time | Scanned files | Detection | Load CPU (avg) |
| Fast | 24 sec | 100,563 | 95% | ~12% |
| Full | 3 Min 52 sec | 398,474 | 95% | ~25% |
Avast Internet Security review: Pricing
Avast Internet Security price is pretty fair, but it can be deceiving. 1-year subscription for a single PC is $59.99. However, the tricky part is that you are not told that some of the programs advertised as part of the packages need to be bought as additions, i.e. CleanUp. The 2-year subscription plan costs $109.99 with the 3-year one going for $159.99.
Note that Avast at times has discount promotions on their products. Hence, it will be wise to take advantage of these promotions to get the product at a much-reduced price. For example, at the time of this review, 1-year subscription price was slashed to $29.99; a 50% discount on all of the subscription offers to celebrate their 30th anniversary.
Subscription prices slashed by 50% to celebrate the company's 30th anniversary.
Trial and limitations. A 60-days free trial, and 30-days money back guarantee. No real-time protection in trial.
N.B. There's also a nice little treat from Avast for social media users: a bonus program to get the antivirus for free. Share information about Avast and get a  free version for 6 months, get 5 recommendations and Avast Internet Security is yours, same for Avast Premium but you got to reach 10 proven personal recommendations.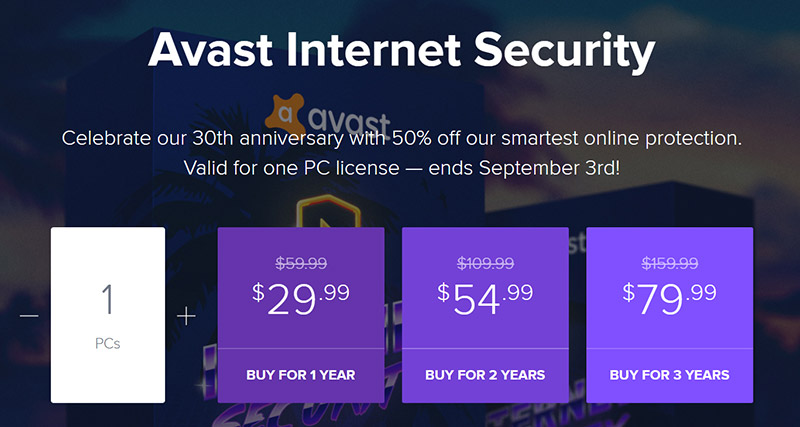 Internet Security also comes with an impressive 60-day trial. If you don't like it by then, you are free to cancel your subscription. We find it very generous of Avast to provide such a lengthy trial period. However, their cancellation procedure is somewhat complicated. We could not see the cancellation button on their supposedly simplified app, and we had to go through a process of sending a request for cancellation which takes some time.
Support
Avast has one of the largest forums in the computer security industry. This can be due to having the most market share in the antivirus software community. Their discussions are always active and cover almost any type of problem that you can come across.
We tested the panel and searched for a random issue; the results were impressive although most of them were obsolete. So, we decided to post a topic on a new thread and received a professional response within 12 hours. The search forum is also modern as it allows you to set some parameters to get the desired results.
Avast also has a hotline customer service. The Avast Total Care is a great feature as it is available 24/7. There is no dedicated page for this particular product; you have to select it from a list of Avast products. Their support service can be better. For a company as huge as they are, you would expect them to have a dedicated Live Chat support system.
Privacy & Protection
Avast Internet Security has got a range of tools to ensure your safety online as well as offline. The software checks for threats within your PC and also scans for loopholes within your network connections. It also manages your passwords and login credentials to protect your details from theft.
By implementing a DNS redirecting mechanism, the software ensures that you are funneled to authentic websites, therefore, avoiding fake sites that have the intention of stealing your personal data. There are various scans available in Avast Internet Security. You can run a smart scan, full virus scan, targeted scan or a boot-time scan.
Internet Security also gives you the liberty to perform a customized scan where you get to select areas that you need scanned:
Quick Scan – lightly scans the most or recently used folders and documents for threats. Does not require restarting the computer unless it finds serious threats. You can use your PC without any disturbances at most, and during our test, it competed in record time.
Smart Scan performs a quick scan for threats. This type of scan is light and may take between 2-5 minutes.
Full System Scan – when we performed a full system scan, it was very slow and took ages to complete. However, this should not be a downside as most AVs take forever to complete a full system scan.
Boot-time Scan – we found this tool very much essential and a key feature to Avast Internet security. It scans your PC when booting to detect those hard to find bootable malware.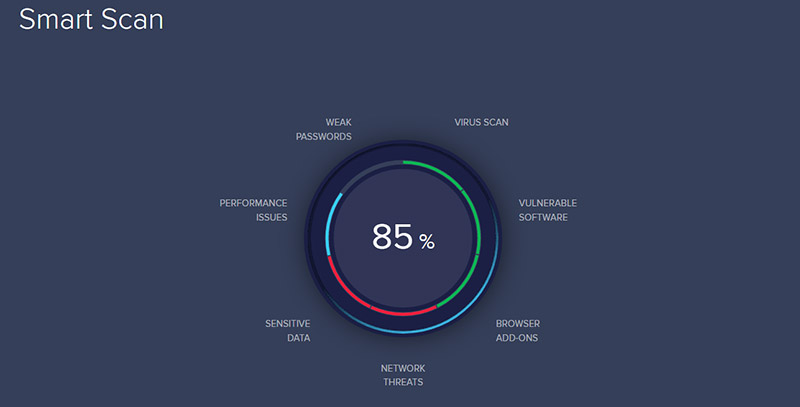 To stay as private as you can, the Sandbox provides an extra layer for that. We ran a program on Sandbox, and after completion, everything remained as if nothing had been done. There was no trace or any data about our session which is pretty great if you share your PC and do not want to leave any traces of what you do behind.
We also ran some threats on the Sandbox, and we were impressed they could not jump to the PC – they were boxed in the Sandbox until threats were detected and moved to the chest.
To protect your data, Avast Internet Security implements HTTPS scanning which comes incorporated in Web Shield. This feature defends your PC from malicious software carried by TLS as well as SSL encrypted traffic. You can enable or disable this feature. However, disabling it will make your PC more vulnerable to malware hidden by SSL or TLS encryption.
Avast Internet Security uses a DNS redirecting technology to make sure that you land on real website and avoid fake ones designs to steal your personal details.
Wi-Fi Protection
This is a great tool to use especially if you are to connect to a public network. This feature scans your Wi-Fi connectivity and other devices connected to it to detect any suspicious activities. In most cases, hackers use shared connectivity to gain access to your device.
However, with this feature, an added layer prevents other devices from having access to your PC via a Wi-Fi connection. It also detects weak passwords that can lead to an intruder managing gaining access to your private network.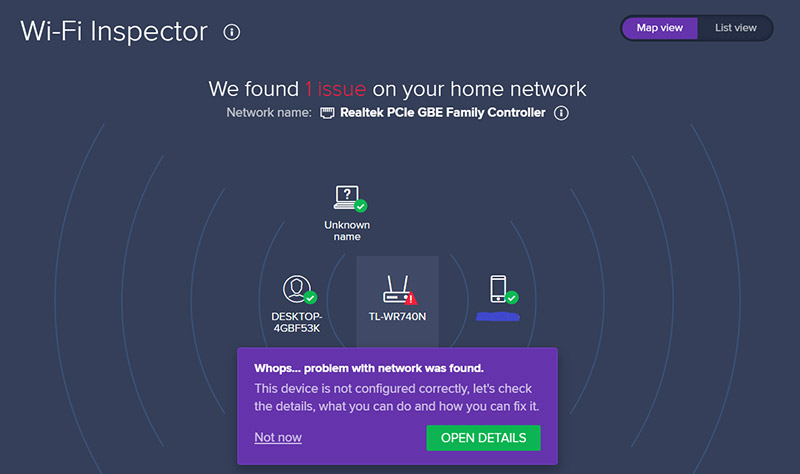 Wi-Fi Inspector screen gives you an interesting analysis of your network connection. The map view displays all devices connected to your network. It also shows you range in which devices connect, so that you are able to identify a stranger.
Avast Free vs. Avast Internet Security
| | | |
| --- | --- | --- |
| Features | Avast Free | Avast Internet Security |
| Fake Sites | No | Yes |
| Sandbox | No | Yes |
| Spam Blocker | No | Yes |
| Ransomware Security | No | Yes |
| Advanced Firewall | No |  Yes |
As indicated above, Avast Internet Security has a lot of features that the free version does not. Thus, although the price may seem ridiculously high for antivirus, the features that come with it do some damage control.
Avast antivirus pros & cons
Pros: Friendly user interface Powerful firewall Comes with Ransomware Shield Real-time protection Router scanner
Cons: May slow down a PC No parental control Expensive compared to competitors Frequent false positives No dedicated support service
FAQ
Q: What is Avast Internet Security?
A: It is an antivirus software that protects computers against local and online threats, such as viruses, malware, spyware, ransomware, phishing, spam.
Q: What does Avast do?
A: Avast Internet Security provides real-time protection, detecting and blocking suspicious behavior patterns, scripts, files.
Q: Avast Internet Security vs Avast Premier
A: Avast Premier contains all the features of AIS and adds several more: webcam protection, secure file removal, automatic updates, etc.
Q: How good is Avast?
A: AIS and other Avast products constantly rate high in test ratings and customer reviews. It is used by 450 million people.
Q: Is Avast compatible with other antiviruses?
A: Yes, in its Passive Mode it will not interfere with other antivirus apps.
Q: Is Avast good for online protection?
A: Tools such as firewall, DNS protection, block fake sites, block phishing emails, secure vault for passwords, wi-fi inspector ensure safe web browsing.
Q: Can Avast stop phishing emails?
A: Yes, there is the Anti-spam feature for this type of tasks.
Q: What is SandBox?
A: SandBox is a safe environment designed to test and closely investigate suspicious files.
Q: Can I get my money back from Avast?
A: Users have two options: free trial period and money-back guarantee during the first 30 days of use. So, yes.