Avast Premier is the second tier counterpart in the Avast suite of antivirus programs (above Avast Free and Internet Security, below Avast Ultimate). The application is available for a fee of $34.99 a year, up to $104.99 for three years. Although, users who wish to test it out first, may download a free trial version that lasts for 30 days.
Premier provides all of the same, excellent services provided in Avast Free antivirus and Internet Security and even more. Today we're going to take a look at features available specifically in Premier which Avast Free users are missing out on. In addition, for a look at the features available in Avast Free you can read our post on 16 Values You Get From Using Avast Free.
Like Avast Free, navigation for Premier's features is split among three main sections: Protection, Privacy and Performance. Of course, we will look at the Premier features available in each of these sections. The Protection tab contains the Premier-specific features Ransomware Shield, Firewall, Real Site and Sandbox.
Ransomware Shield
Ransomware is a relatively new but particularly malicious threat. The Ransomware Shield protects your files and your wallet by protecting your most important files from being hijacked and held to ransom. Any alteration, deletion or movement of these files is restricted by the Ransomware Shield. Hence, only allowing interaction with these files by specific trusted applications.

Firewall
Avast also provides an effective third party firewall with its Advanced Firewall. Avast's firewall monitors incoming and outgoing traffic to and from your computer, flagging and halting suspicious or unauthorized activity upon detection. This prevents the planting of trojans and worms, while also protecting from unauthorized data extraction.
Real Site
Routers are a common target for hackers, surely. Some hackers may exploit routers by modifying the target router's DNS (Domain Name Server) settings and redirecting the user to fake websites that, at a glance, look authentic enough.
With these fake sites hackers could possibly extract bank and other personal data from victims who don't realize that they're trying to log into a fake site. Real Site protects against such attacks by using Avast's own cloud-based settings to ensure that all sites visited are genuine and true.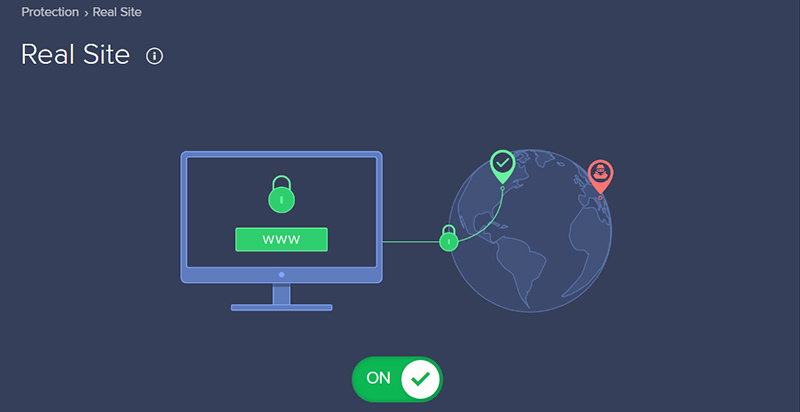 Sandbox
Sandbox is an isolated virtual environment that allows the user to safely visit unknown websites, download files from unknown or unverified sources, and/or run suspicious programs within it. The Sandbox virtual environment is separate from the rest of your computer, allowing you to experiment and test untrusted entities without risk of infection or hijack to your machine. This way you can see which sources are safe and which are not.
Trusted files may be moved to the computer while dangerous ones may be discarded within the temporary virtual environment. To test a program or file, simply right-click and select "Run in Sandbox", or open the Sanbox application within Premier and select the program of your choice.
The Privacy tab contains the Premier-specific features Webcam Shield, Anti-spam, Data Shredder and Sensitive Data Shield.
Webcam Shield
As much as you may doubt anyone would try to hack your webcam, the fact remains that it happens. Avast is aware of this increasingly prevalent threat and has responded by developing Webcam Shield.
Webcam Shield alerts users if their device camera is being hijacked by a system intruder, allowing them to take action to prevent the intrusion from progressing further. This also applies to suspicious applications that attempt to connect to the device's camera.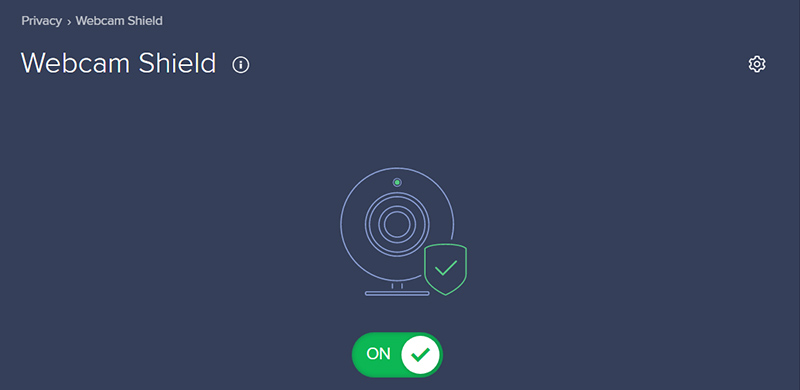 Webcam Shield can be set to varying levels of security, including the two highest security modes:
Strict mode requires all applications that attempt to access the camera to require authorisation from the user before being able to access the camera.
No Mercy mode allows you to completely disable your webcam by disabling the Windows driver which control it.
Anti-spam
Spam is annoying, it takes up space on your email server, and and it can be a vector for viruses and other malware. Avast's Anti-Spam feature filters and labels emails, marking those with malicious intent or that seem highly suspect, and protecting your from infection.
Like the Webcam Shield, Anti-spam also offers varying levels of restrictiveness, from Smart to No Mercy.
Data Shredder
There are a number of methods for retrieving files which have already been deleted, even if the Trash Bin was bypassed. This could result in data vulnerability in situations where your computer is in another person's possession or your computer has been remotely accessed by another.
To secure certain information which is no longer vital but still confidential, Avast has provided the Data Shredder feature. This feature ensures that private photos, videos and other documents may be deleted without any possibility of recovery or reconstitution. This provides peace of mind when considering giving, selling or lending your computer to someone else.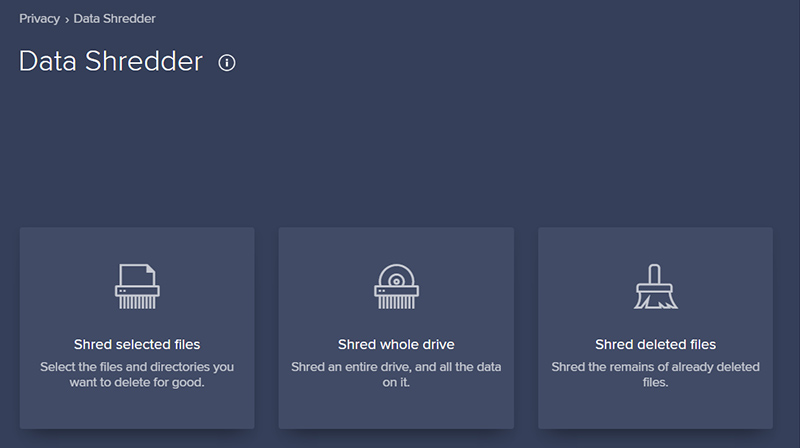 Sensitive Data Shield
Like the Ransomware Shield, the Sensitive Data Shield works to protect sensitive files and personal data from modification or hijacking by hackers. However, while the Ransomware Shield protects files in specific predetermined folders, the SDS allows scanning of the whole PC.
This serves for Premier to search and find sensitive documents outside of the predetermined vital folders that are still vital, nonetheless. And actually, those files will be covered by the same protection as files in sensitive folders.
The Performance tab contains only the features Cleanup Premium and Game Mode. Both of these features are already available in Avast Free. There are, however, additional features available in Premier which are accessible outside of the main navigation.
Offline Mode
There are many antivirus programs available, including Windows Defender which comes standard with Windows 10. Some users may have a preference for a certain antivirus program they like or trust. At the same time, they may want to benefit from the numerous features available in Avast Premier.
In such circumstances, Offline Mode allows it to run in the background, providing features at the request, without conflicting with other main antivirus. Offline Mode is activated via right-clicking the program icon in the system tray.
Avast Premier Account
When using an Avast product you may, eventually, also sign in with an Avast account. This account ties all of your Avast products together, regardless of location, operating system or platform. You can manage a variety of things through your account – product licenses, mobile security features, passwords, etc.
In-Product Support
Avast also offers 24/7 product support for the application. More interestingly though, this support may be accessed directly via the application itself. Users may send messages regarding their issue(s) directly to the Avast support team. No need to close the application, using a browser, email client, or making a phone call. In-Product Support is accessed via the Help menu and selecting Visit Support Centre at the bottom of the application window.
Browser extension
The Online Security Browser extension is installed into the browser(s) of your choice. Once Avast Premier is installed, the next time you open the browser you will be requested to install the extension. Once installed, the extension provides two specific protection services:
URL Correction. If you make a mistake typing the URL, it will auto-correct your entry to the proper site address of intention.
Malicious Site Warning. In exploring the internet you may unwittingly come across bad sites, sites that are rife with malware/phishing schemes. This extension links you to Avast's database of malicious sites, issuing a warning to stay away.
Layers
Avast Premier provides multiple layers of real time protection, protecting its users from infection at multiple entry points. Each layer may comprise a single or multiple features working in tandem to strengthen a PC against malevolent software.
Fake Site Protection. This layer's prime responsibilities are to keep the user safe while traversing different sites online. It will guide away from fake and malicious websites. The features at work on this layer are:
Online Security Browser extension
Real Site
Download Protection. This layer ensures that files obtained from safe sites present no danger to the user's computer. The features responsible for scanning downloaded files are:
Shields
File Shield. The File Shield is another Avast antivirus, except it is solely responsible for its layer of protection. The File Shield observes files that are used by the user, the operating system and other programs. The files are scanned before execution to ensure they won't harm your system. Scanned files that are found to be dangerous are immediately quarantined in the Virus Chest.
Behavior Shield – maintained by a single feature. Behavior Shield utilizes artificial intelligence to monitor and analyze the behavior of programs which are currently running. If any application is exhibiting suspicious behavior it is immediately stopped and the file quarantined.
CyberCapture. The CyberCapture layers uses the CyberCapture feature to analyse currently unknown files which the feature determines to be suspicious. These files are uploaded to Avast's Threat Lab and analysed. If the file does turn out to be malicious, a remedy is prepared and uploaded to all users. Each user acts as a data point to aid in the detection and nullification of threats.
Ransomware Shield.  If anything has managed to get past, the Ransomware Shield layer stops ransomware programs from modifying files in protected folders. Avast Premier offers robust protection and an array of features at a variety of price points. It all makes it a more-than-viable option for the security and health of your PC.