Avast Premier antivirus: Ultimate review
Avast Premier: Ultimate Review
One of the most well-established companies in the field of data security is Avast.  Avast has many products with different functionalities. For example, it has Avast Free Antivirus, Avast Internet Security, Avast SecureLine VPN, and Avast Premier. You can check other products here.
Avast Free Antivirus is considered one of the best free antiviruses you can install. Avast developed a premium version, Avast Premier, which is among the best-known antivirus packages available. It offers antivirus engines, as well as  a module for firewall and other security modules that are well designed to protect your device against possible threats. In this article, Avast Premier is reviewed, highlighting its advantages, disadvantages, specs, and installation process.
Avast Premier – Ease of Download and Installation
The download process of Avast Premier is easy. Simply visit their official website; the screenshot below shows a picture of the Avast Premier official website.
Next, click on the Download Trial icon, if you want to try it for free before purchasing. It will take you to a new page where your file will be automatically downloaded.
Some important notes regarding the installation process of Avast Premier are listed below:
The software will install Avast browser and will make it your default browser. If you do not want this to happen, you can simply uncheck the browser installation box before clicking INSTALL as shown in the screenshot below.
Installing the program requires around 65 MB of free space, but this depends on the modules you choose to be installed. One of the pros of Avast Premier is that it gives you full control over the modules to be installed.
After choosing the modules to be installed, double check if you want the extension of the SafePrice browser or not. It has nothing to do with your security, but it recommends alternatives to the product items you search for online on different shopping platforms.
When the installation process reaches an end, the installation wizard will ask you if you want  to install it on your Android mobile phone. If you are interested, simply enter your email address to receive a direct download link on your Android smartphone. If not, just proceed.
Once everything is installed and Avast Premier is running, you will be asked which networks your device is connected to. If a new network is detected by the firewall, it will automatically ask whether it is a public or a private network. Whatever the answer, the firewall provides the suitable protection level
The Avast Premier downloading and installation process is seamless. No sophisticated steps are required, no personal information is needed, and it is a small  file. Having the ability to control which modules are installed is one of the best pros of this security suite. On the other hand, it will install Avast Browser and  make it the device default browser automatically if the user does not uncheck this option; Avast Premier also automatically installs the SafePrice web browser extension that is not a security module at all.
Avast Premier Compatibility
Once installation process completes, Avast Premier automatically disables Windows Firewall and Windows Defender, which avoids interference or conflicts that may happen with multiple security programs running. Avast Premier is compatible with the networking features of Windows, as it is possible to join a homegroup, or even to create a new homegroup from scratch, if some files or folders are to be shared.
Once your device connects to a new network, the module of the firewall will ask you whether this network is private or public, and, based on your choice, it provides the required security level.
Using the web shield module, Avast Premier totally secures your online presence and provides you with a high level of security. It works by filtering  internet traffic through your computer and automatically blocking anything that seems dubious. Furthermore, Avast Premier provides a useful extension for your web browser called Avast Online Security which blocks access to any suspicious websites and notifies you about the threat you are facing.
Avast SafePrice Browser

Extension
Another extension for your web browser is Avast SafePrice, which has nothing to do with security, but provides you with better deals on products when you are shopping. It basically works by sending your browsing information to Avast which in turn sends you ads similar to your search. It is worth noting that if you have Windows 10 installed on your device, you do not need to add  Avast SafePrice as shopping guidance extensions are already installed on Mozilla Firefox and Google Chrome browsers.
Avast Premier's Effect on Device Performance
To test Avast Premier's effect on device performance, BootRacer was used to measure how much time the computer took to boot before and after installing Avast Premier software. Unfortunately, the effect on performance was considerable, as the booting time was increased by about 30%.  Moreover, upon inspecting RAM usage of Avast Premier, it was noted that, it uses about 65 MB of the allowed space in the RAM.
When inspecting the effect of Avast Premier software on internet speed using Speedtest, it showed that Avast Premier had no effect on uploading or downloading processes.
Avast Premier showed that it is compatible with Windows networking features. However, it needs some improvement to decrease its effect on booting time.
Including extensions such as SafePrice to Avast Premier does not make sense. SafePrice is not a security module and should not be part of a security software suite.
Avast Premier – Interface
The graphical user interface (GUI) is user-friendly with everything well-organized showing six main icons:
Status: Shows the device status and whether it is protected or not, giving you the option to run a smart scan through it.
Protection: Includes many options including scan, firewall, real site, software updater, and Wi-Fi inspector.
Privacy: Includes options for higher levels of security like VPN shielding, anti-tracking system, and webcam shielding.
Performance: Has options including cleanup premium to improve the performance.
BUY NOW: Allows you to purchase the full package.
Mobile: This is for installing the software on an Android smartphone.
Avast Premier Configuration
There is a status bar that includes notification and menu icons with information about settings, licenses, and  notifications. The settings scan be easily configured as shown in the screenshot below.
From the status icon, you can click on "Run Smart Scan" to check your device security. This will search for any viruses, browser add-ons, network threats, sensitive data, performance issues, weak passwords, and vulnerable software. The screenshot  below shows how the smart scan process takes place.
Once the scan is completed, a report with the issues on your computer is provided, giving you the option to resolve those issues.
In our case, the scan identified that we had some vulnerable software that needed  updates.
After resolving or skipping those updates, we were directed to the "resolving performance issues" section as shown in the screenshot below.
When all the reported issues are resolved, computer offline scanning is performed. Then it will ask you if you want to check the online security for your device, and you can either finish the smart scan or proceed to online scanning as shown in the screenshot below.
Avast Premier is helpful in giving information about the role of every tool and what every setting does. For example, on the right side of the settings, there is an icon you click that gives more details about the role of each setting . If you need more support, Avast Premier offers many options like detailed documentation and support via email or phone. Included phone support is only available for the configuration and installation processes of the Avast product. For an extra subscription, Avast's technical support team can help you with serious issues like harmful viruses threatening your data safety.
If you are interested in checking software statistics and logs, you will be disappointed with the service that Avast Premier presents as the logs are hard to find, and they include only basic information. Furthermore, the reports are generated as text files that you have to search file explorer on your PC to find. That seems unprofessional and inconvenient. The security suite should be configured to easily generate the reports needed.
Avast Premier is interactive with the user. From time to time, messages pop-up alerting the user that malware has been detected. Avast Premier also notifies the user about other matters related to security like detecting weak passwords.
Avast Premier's Firewall Module Protection
The firewall module included with Avast Premier detects when your PC is connected to a network, but it does not have the ability to automatically alter the level of protection depending on the state of the network. It acquires this ability by asking the user which network profile you prefer to apply—either public or private. After the user chooses, it applies changes for the protection level and changes to the profile of the network from Windows.
To test the strength of Avast Premier's firewall, two vulnerable scanners—Nessus and Nmap—were used to determine if any open ports exist or any important information about a network hacking attempts. The test was done two times, once while using a public profile for the network and once using  a private profile for the network:
Public Network Profile Trial: The two scanners could not detect any open ports.
Private Network Profile Trial:

Nessus was able to detect five ports that were open.
Nmap was able to detect Nine ports that were open.
Both scanners could identify the MAC address for the computer.
These tests show that the firewall module of Avast Premier is powerful when connecting to public networks, but it is standard when it comes to connecting using profiles of private networks.
Antispyware Module
A test was undertaken to see how well Avast Premier secures the user while online against any possible threats. Avast Premier includes a module called Web Shield . Its primary role is to keep track of internet traffic, blocking any attempt to download malignant files on the user's device and blocking the user from visiting any dangerous website. Unfortunately it was found, the module does not work consistently. When visiting some dangerous and not-secured websites, it sometimes blocked visiting and other times it did not detect that the site was dangerous and might harm the user.
One solution to this problem is to use Google Chrome or Mozilla Firefox with the Avast Online Security extension added. Avast Online Security extension was developed primarily for online security issues. Its primary role is to collect details about the visited websites reputations.
If you prefer to use Opera or Microsoft Edge browsers, then Avast Premier is not recommended at all as it does not provide any level of online security on those browsers.
To check how Avast Premier dealt with viruses from outer sources, an infected USB flash drive was connected to the PC and the corrupted files were copied from the USB flash drive to the device desktop. Surprisingly, Avast Premier did not detect any irregular activity upon plugging in the USB flash drive, opening the USB flash drive using file explorer, or even upon copying the files. It only detected irregular activity in  a trial of executing one of those infected files, where it stopped the operation. Such a slow performance in securing users is not acceptable with the constantly increasing threats on the internet. Avast Premier developers need to work on a way to detect infected files in removable disks once plugged into the user's device.
On the positive side Avast Premier successfully passed one of the most rigorous antivirus tests. The test is to infect a device using Windows 10 operating system, with a bunch of viruses, then ask Avast Premier to self-install and perform the virus cleaning process. Avast Premier went through this rigorous test very successfully, and we ended up with a virus-free device.
Avast Premier offers a fairly good antivirus engine despite the way it reacts to threats on USB drives. It was determined that Avast Premier's online security modules cannot be guaranteed for one-hundred percent protection.
Avast Premier's Additional Features
Avast Premier includes additional security features in its package. These features are listed below:
Cleanup Premium: Considered one of the strongest extra features of Avast Premier, it deletes junk files, cleans obsolete registry entries, and makes modifications to any inefficient system settings.
Data Shredder: Securely deletes folders and files.
Passwords: Manages passwords securely through an encryption process. It is recommended to make use of this feature if you do not already use a password manager extension like Zoho Vault or Dashlane.
Driver Updater: This service requires an extra subscription. It  downloads and installs official  drivers for any of your device components.
 SecureLine VPN: Responsible for securing your online presence by shielding your identity, location, and IP address. It is also an independent service for which you have to purchase an  extra subscription.
Software Updater: Constantly checks if all the apps installed on your device are up-to-date. If not, it lets you know and asks for permission to update them.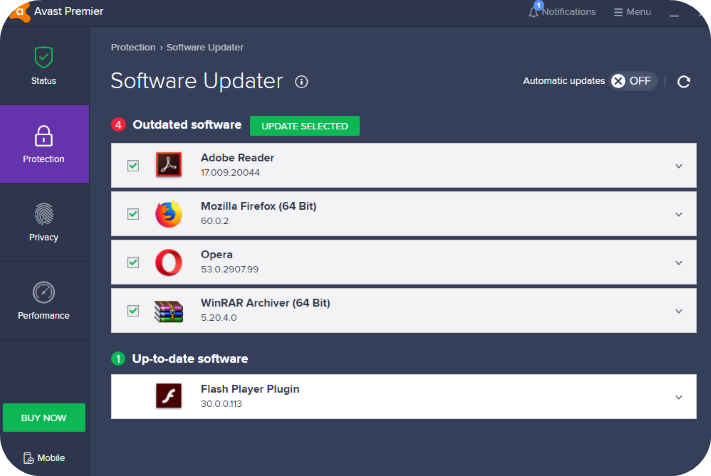 SandBox: If any software is dubious, this feature gives you the ability to run it in a sandboxed or shielded environment.
Webcam Shield: Prevents anyone or any malware from accessing your device webcam.
 Sensitive Data Shield: Secures sensitive and important documents on your device such as payroll information and tax documents. This feature secures these sensitive files against any unauthorized access or malware.
Wi-Fi Inspector: Scans your network to detect any issues that might harm your device. Moreover, it shows all the devices connected with you to the same network.
Avast Premier offers many extra useful tools. It is convenient to apply all security procedures using the products of only one company and the similarity of the graphical user interface (GUI) for all products makes using them much easier. On a side note, Avast needs to offer users more options for product package subscriptions.
Additional Notes About Settings
Some settings may require modifications to make the software run at its optimal condition. The list shown below contains the most significant settings that you may need to modify in Avast Premier.
By default, Avast Premier does not schedule virus scans on a regular basis. You can use scheduling to have your device checked for any virus or malware regularly to ensure the highest levels of security. It can be easily done by applying these simple steps:
Protection -> Scans -> Full Virus Scan -> Settings -> Scheduling 
Avast Premier is very talkative when it detects any suspicious activity—a voice loudly alerts the user that there is a threat. If you do not like this feature, you can easily disable it:
Settings -> Sounds 
Some unwanted programs are simply bothersome, and sometimes they are infected, so it is recommended to turn on automatic detection of unwanted software through:
Settings -> General
Avast Premier pops-ups can be annoying, so you can disable all types of pop-ups except alerts. This can be done through:
Settings -> Popups
By default, you share your data and information with Avast which may share it with third parties. You can disable sharing your data through:
Settings -> General -> Privacy 
One of the advantages of Avast Premier is that it gives the user control on how they want to use the software and its features, thus you can easily modify any setting to meet your needs.
Comparison between Avast Premier and Avast Internet Security
In comparing Avast Premier to Avast Internet Security, we have determined that they have many core features in common, but there are some differences between the programs. For example:
Avast Internet Security costs less than Avast Premier. (Pricing of both programs is shown below)
Avast Premier can shield your webcam from being accessed by hackers, but Avast Internet Security cannot.
Avast Premier can regularly check for software updates on your computer, but Avast Internet Security cannot.
Avast Premier can secure your sensitive files against unauthorized access, but Avast Internet Security cannot.
If money is not a consideration, then Avast Premier is strongly recommended. But if it is, you can depend on Avast Internet Security to a certain degree.
Pros and Cons
Understanding that nothing is perfect, we can say that Avast Premier has some distinct advantages. However, it also has some major disadvantages that need to be addressed as soon as possible. The advantages of Avast Premier are listed below:
Avast Premier firewall module is considered a superior module as it provides the user with a high level of security if connected to a public network.
Avast Premier's antivirus engine has good efficiency and speed in scanning, detecting, and deleting viruses.
 Avast Premier's graphical user interface (GUI) is user-friendly and easy for beginners.
Avast Premier gives high levels of advanced settings control—particularly for professional users.
 Avast Premier's extra features are also useful.
The disadvantages of Avast Premier are listed below:
There are no logs to give detailed reports about the activities taking place on the device.
Parents cannot control sites that their children visit through Avast Premier.
The program default does not perform automatic scanning; the user has to change the settings to schedule automatic scanning.
The web-shielding module does not work properly all the time. Sometimes it detects online threats, and other times it does not.
Phone support is offered but for extra fees.
Avast Premier slows down processes on the device and increases device booting time.
Avast Premier's extra features have separate subscriptions.
If not disabled before initiating the installation process, Avast Premier will add the Avast SafePrice extension to your browser, and this extension has nothing to do with security.
Conclusion
Avast Premier is a full security package, not just a traditional antivirus software as it offers many interesting features that meet the increasing demand for more vigorous security suites. Offering Cleanup Premium, data shredder, password management,  driver updating, and other modules makes it superior to other security suites available.
On the other hand, Avast needs to overcome the drawbacks in its package including the automatic installation of the Avast SafePrice extension and the limitations of the web shielding module. Knowing your own specific needs and understanding the pros and cons of Avast Premier, you can determine if it's a beneficial purchase for you.
Please, follow the  articles:
Avast SecureLine VPN: Ultimate Review
Read more about Antivirus