Contents:
General data table for 15 backup utilities

Key backup software features comparison (table)

Description, pros & cons, links for each utility

Performance tests table
The importance of backup software for any business entity could not be stressed enough. Especially in our turbulent times. A variety of data backup tools are there to safeguard data on computers, mobile devices, data centers. In short, these tools backup and store the data on laptop or phone in case it is deleted by accident or failure.
We took 15 tools and put them under the microscope. They include both free backup software for private use and enterprise data backup tools for entire cloud servers, virtual machines and databases.
All of them work on Windows of course, while some are also compatible with MacOS and/or Linux, and many of these tools are totally free as well. You'll see all the parameters and features compared, and then the table with performance test results. Let's get on with it.  
Backup software features
Backup management capabilities aren't limited to setting up data disaster recovery. Scheduled backups obviously make life easier for users, and of course, there should be a restore option. All 15 tools reviewed provide both local and external storage options, while few of those also have storage in cloud.
With best backup software users typically are also able to choose specific file types to save. Data encryption options for backups, that some tools provide, is a top-level stuff. Find summary below.
Best backup software tools
Now, a bit of information about file backup utilities – in alphabetical order, no preference. There are both proprietary tools with free trial and free tools among these fifteen. A standard for backup tools is to offer one or all of the following types:
Full backup – a repository of a complete system image;

Incremental backup – partial backups made periodically after a full backup;

Differential backup – partial backups, saving only post-full-backup data for faster restoration.
1/15 Ace Backup 3
Vendor: AceBit, Germany. User rating: 4 / 5.
Free version: yes, full. 1-year subscription: Free.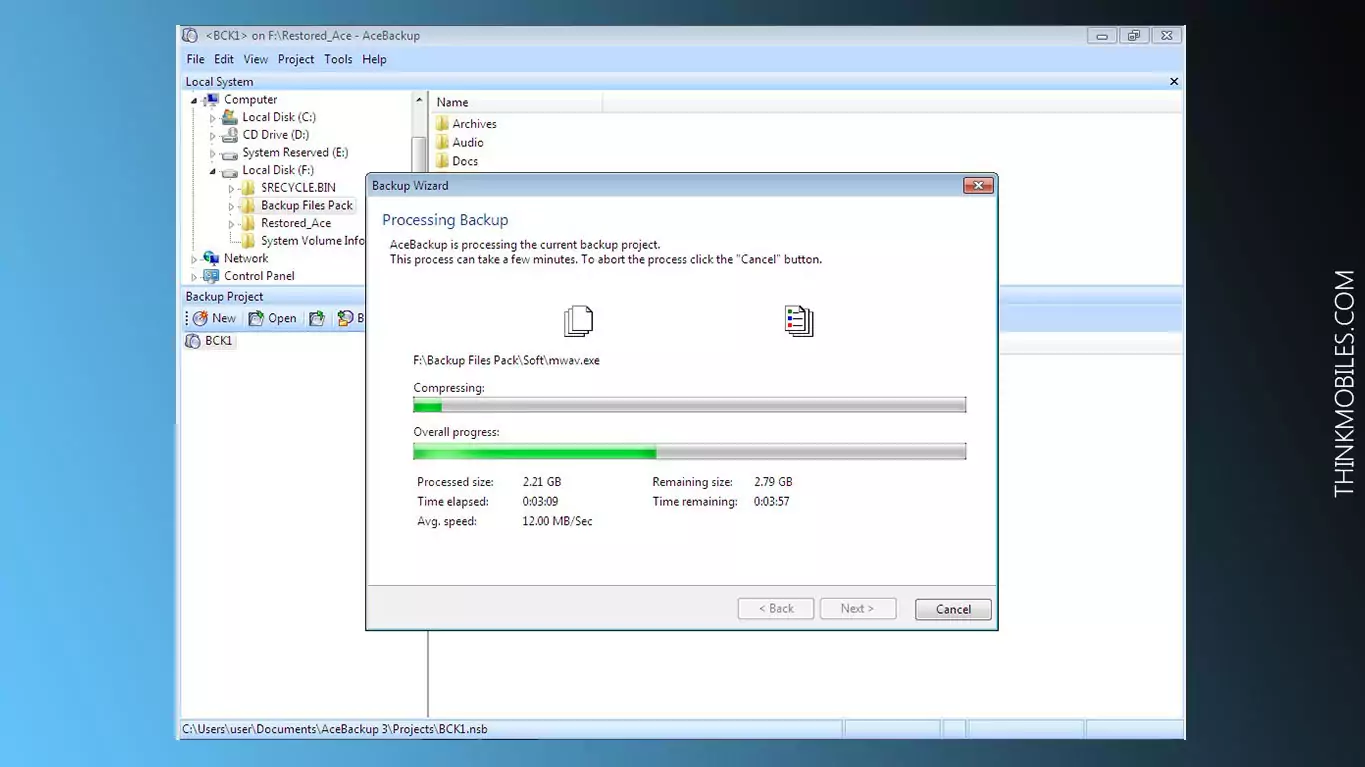 Features: freeware, 5 different encryption algorithms, store data on FTP servers, scheduling, CD/DVD backup, ZIP compression of data.
Recommended to those who are serious about data reliability and need a powerful utility. Whether one wants to store files on FTP servers, locally (HDD, FDD, ZIP, JAZZ, MO, USB) or just burn it onto CD/DVD, AceBackup has it all. It can also be done manually or set up for automatic backups. Filter for file extensions and file types might become very handy when there are gigabytes of data.
2/15 Acronis True Image 2019
Vendor: Acronis, Switzerland. User rating: 4.5 / 5.
Free version: 30-day trial. 1-year subscription: $50.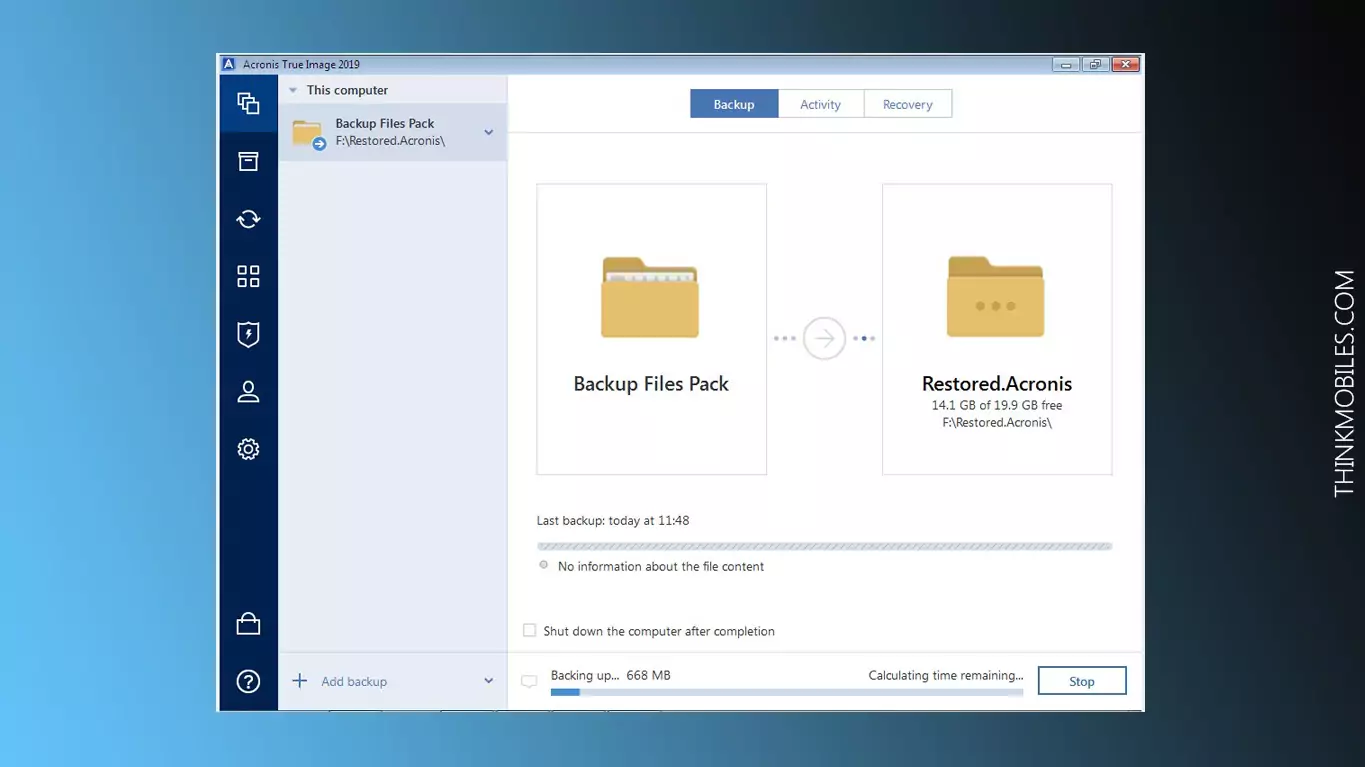 Features: scheduling, backup log, cloud storage option, data encryption, incremental and differential backups, restoration, detection of crypto mining malware.
In regards to setup and performance, the installer is large, the initial installer size of 545 MB might be troublesome, others may feel irritation over a long sign up process for trial. Though, we should focus on backup capabilities. For backups, first, a user has to specify the choice – a whole hard drive or specific files only. Then, a backup location (cloud, external drive, local folder). You may read lots of real user reviews at Amazon to learn more.
3/15 Aomei Backupper Standard 4.6.0
Vendor: AOMEI Technology, China. User rating: 4.3 / 5.
Free version: yes, full. 1-year subscription: $50.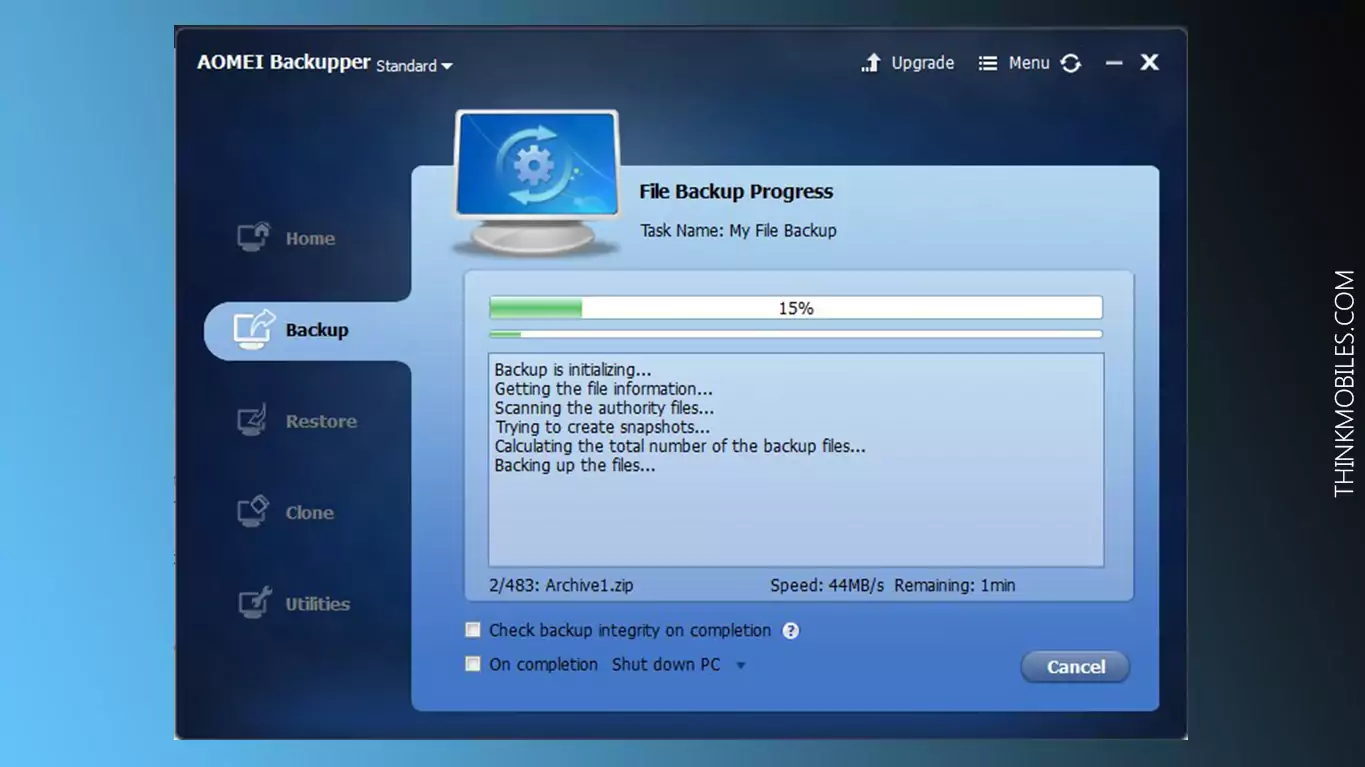 Features: recovery and disk cloning to HDD/SSD, Aomei Professional 30-day free, data partition / volume backup, incremental and differential backups, event triggering for automatic backup, save to external drive, USB flash, SD card.
Based on our performance tests (see the bottom of the article), we can say this tool is one of the fastest in backing  disks and partitions on one hand, and quite not that fast in backing packs of files, on the other hand. It is light on CPU, and initiates only three processes in the background.
Few more things that deserve mentioning: number of devices and installations is unlimited, encryption and protection by password for backups, date and method of each backup visible upon restoration. Also, there are email notifications, i.e. a user will get a message about backup completion or failure, when it started and ended, its destination, etc. A user may split a backup into smaller pieces, create a bootable disc for further restore or cloning beyond Windows.
4/15 Areca Backup 7.5
Vendor: Olivier Petrucci, France. User rating: 4.4 / 5.
Free version: yes, full. 1-year subscription: Free.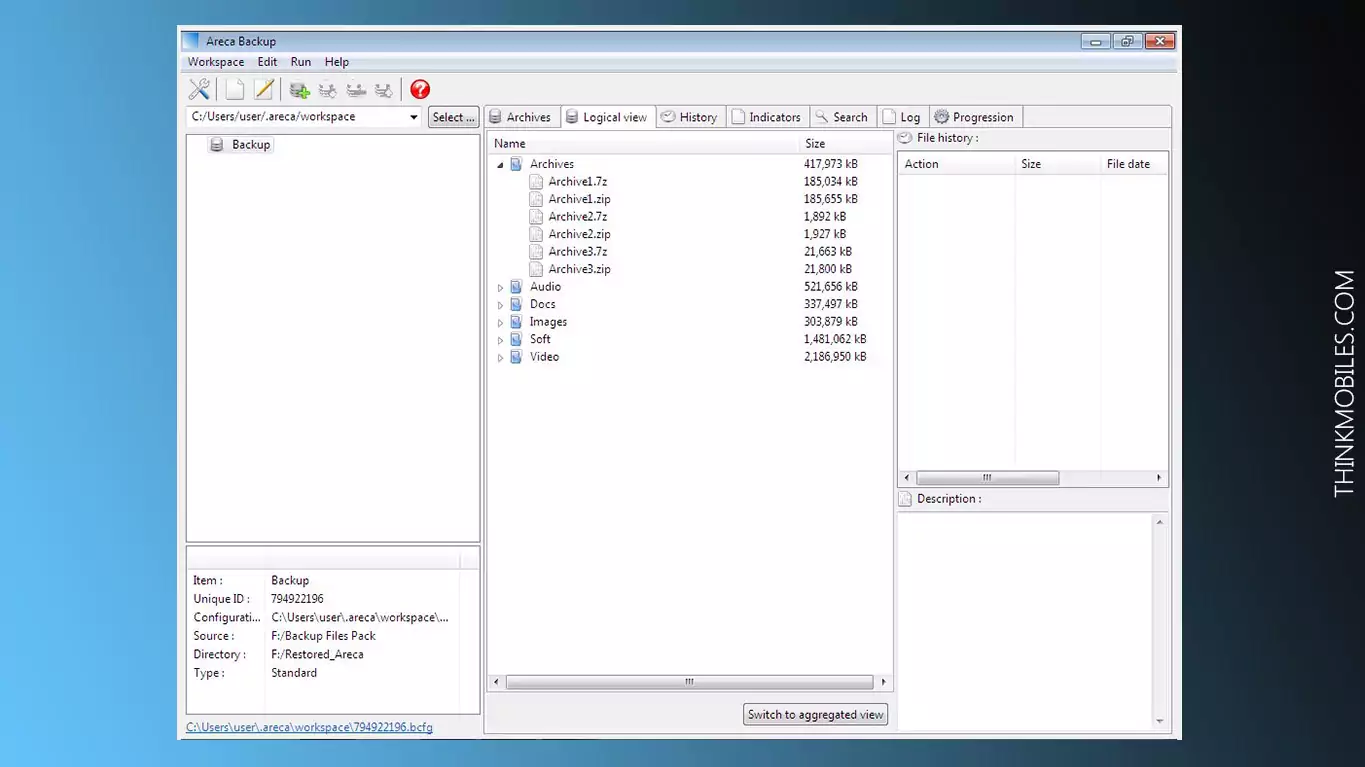 Features: store on local/network drive, USB, FTP, SFTP server, file filtering by extension, directory, size, date, status, etc., history of user's actions, file compression (ZIP), all 3 types of backups, archives merging.
This one is an open-source backup utility written in Java with the purpose of introducing a direct and easy free backup software tool. It supports all three types of backups, it is lightweight, and it also requires a Java runtime environment. Layout is plain: the left-hand sidebar with archives, the main window with tabs (archives, logical view, history, etc.), the command line on the right. Overall, a good package although not all features are properly working and sometimes the app crashes. So, we'd recommend Areca Backup for users with one PC and infrequent backup tasks.
5/15 Backup4All
Vendor: Softland, Romania. User rating: 5 / 5.
Free version: 30-day trial. 1-year subscription: $50.
Features: incremental backups, session logs and scheduling, cloud/local/remote storage options, compression, file encryption, multiple system support, version tracking, anti-ransomware tool, email notifications.
Backup4All comes in 4 versions: Lite, Standard, Professional and last but not least, Portable. Moreover, one can also save money by configuring specific feature of choice and paying for such soft of custom package, as well as try out a trial version of any of those editions before a purchase. In terms of backup destinations, this utility is pretty flexible – cloud options include Drive, OneDrive, Dropbox, Amazon S3, Azure, or local drives, FTP/SFTP, USB, etc.
6/15 BackUp Maker 7.3
Vendor: ASCOMP Software GmbH, Germany. User rating: 4.1 / 5.
Free version: yes, full. Professional edition: 25 Euro.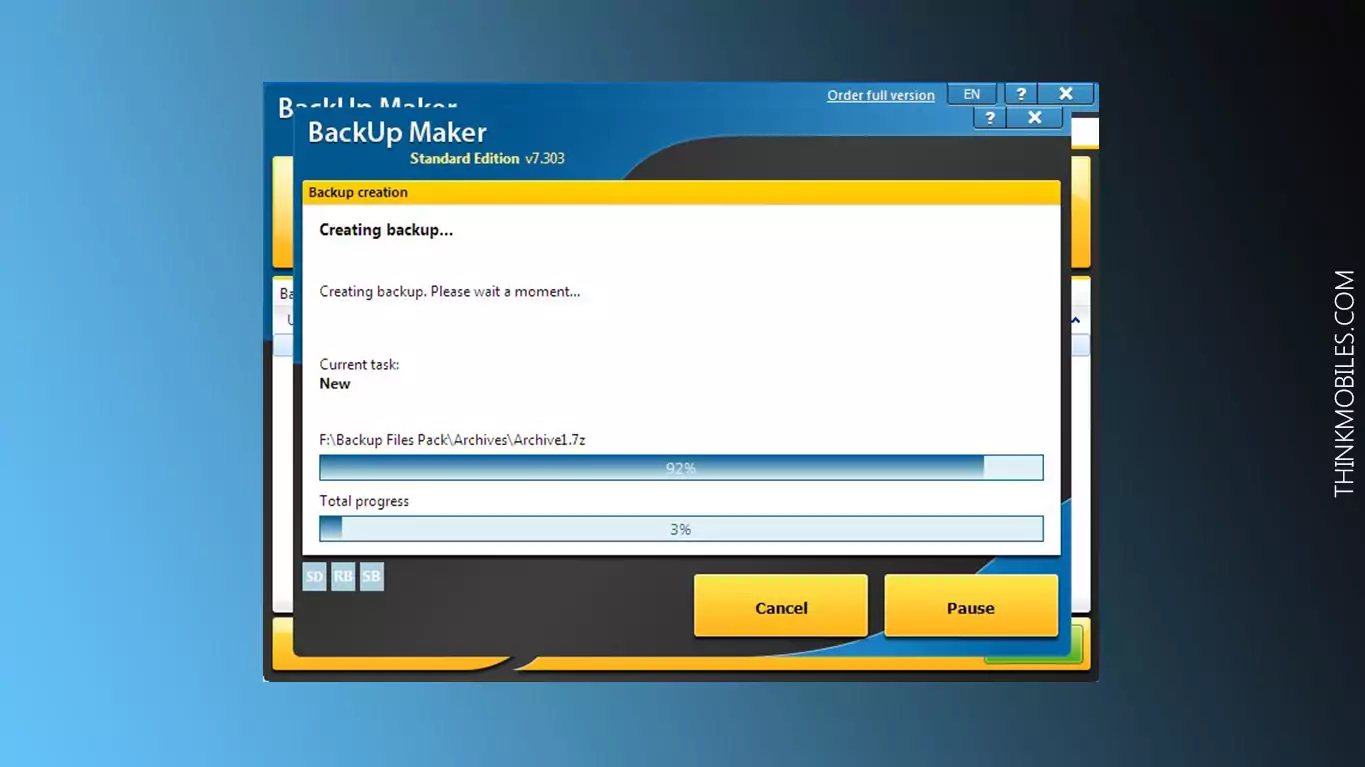 Features: compatible with Windows XP, Server, Vista, 7, 8, 10; ZIP compression of files, USB/CD/DVD/Web server storage, 256-bit AES encryption, splitting backups across different storage units, menu in 11 languages.
Worth noting, that Backup Maker does not copy and restore system images, it is only capable of backing up data and files, but it does it well. Standard version is a freeware with all features, it has 2 modes – a wizard mode (simpler one) and an expert mode. The latter mode offers more control, using 12-part sequence of actions, from data selection to destinations and scheduling settings. If one was to sum up this backup software in three facts, it would be: 1) Free for personal use, 2) German precision, 3) Intuitive step-by-step workflow.
7/15 Cobian Backup 11
Vendor: Luis Cobian, Sweden. User rating: 3.9 / 5.
Free version: yes, full. 1-year subscription: Free.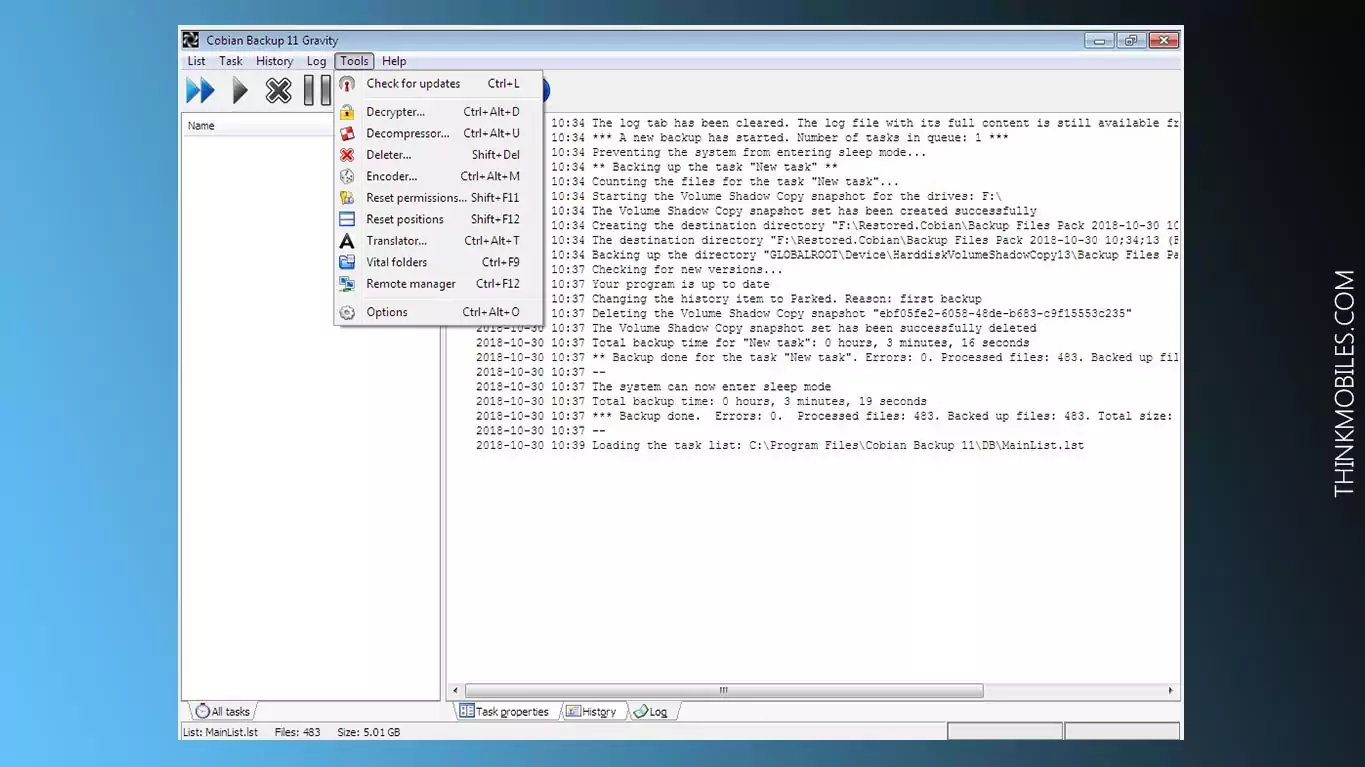 Features: acts only as a security copy, FTP backup to download/upload, 2 versions: app and service, several methods of compression, various types of scheduling, inclusions and exclusions.
Versatile, yet minimalist and easy, Cobian Backup is a free backup software for Windows written in Delphi. While installing it, a user select the language, installation type (probably needs additional explanation for median customers), adds a desktop icon and menu shortcut, or not.
In the app, left-hand menu contains main sections of settings for backup tasks. For example, in 'Files' one will see a source window and a destination window below it, to add or simply drag files from Windows Explorer. The main disadvantage to Cobian (not Cobain, incidentally) is lack of restore feature.
8/15 EaseUS ToDo Backup 11.5
Vendor: Yiwo, China. User rating: 4.5 / 5.
Free version: yes, full. 1-year subscription: $31.
Features: full, incremental, differential backups; ToDo Backup business edition, Mac edition, automated scheduling, real-time backup reports, disk cloning, system cloning.
EaseUS is quite easy to navigate, with just 4 steps: choosing data to copy, destination, compression type and, finally,  the encryption level, and it is all set. It is fast (2.5 minutes to back up a 5GB file, and about the same to restore it), while also being light on CPU usage, meaning that it should not slow down your PC. Restoring data with this app is quite slow, and users report that often it fails and it takes few attempts to perform this task. But overall, EaseUS ToDo is a decent backup utility for Windows for an average user jobs.
9/15 FBackup 7.4
Vendor: Softland, Romania. User rating: 4.4 / 5.
Free version: yes, full. 1-year subscription: Free.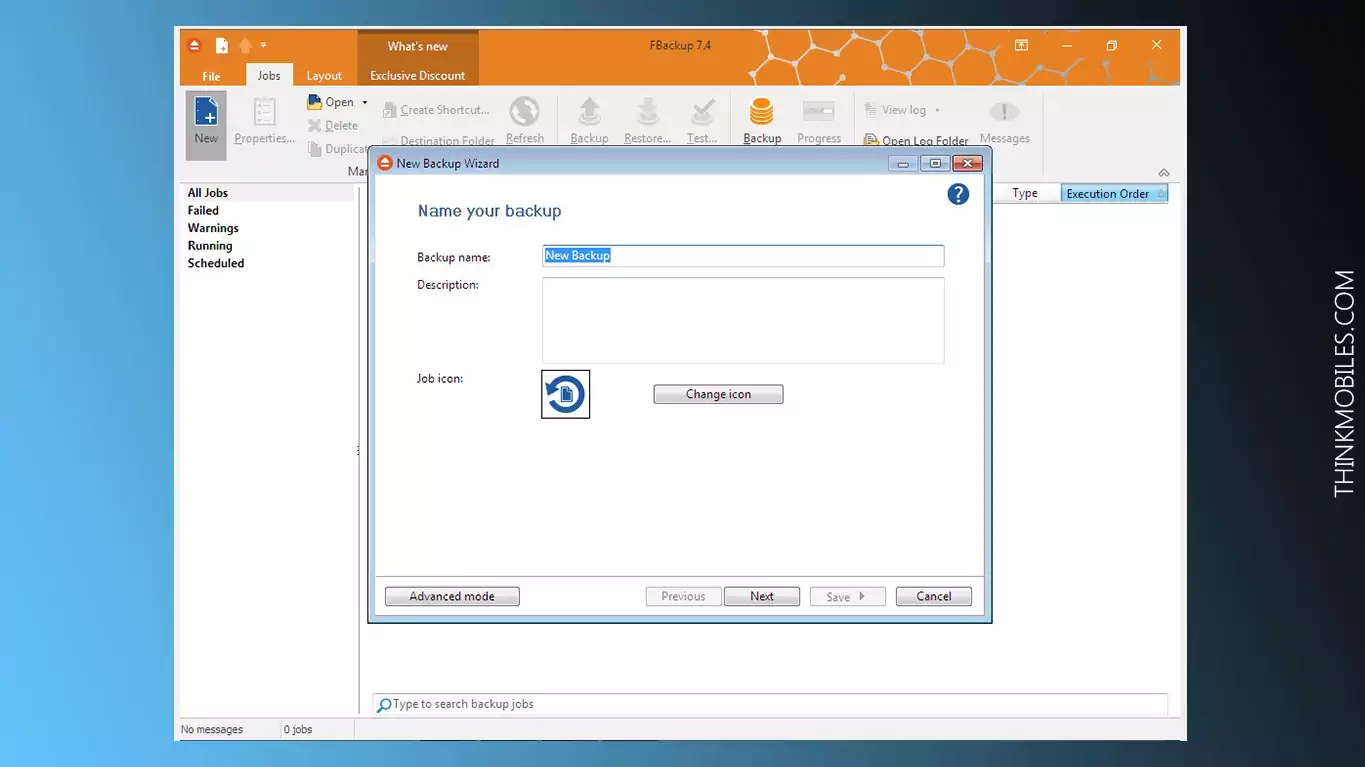 Features: simple user-friendly backup wizard, free version for personal and commercial use, Google Drive and Dropbox support, protection against malware, different backup destinations available, ZIP compression.
A second product from the same Romanian vendor in our list, after Backup4All. So, unsurprisingly, the set of features and app design are quite similar. Nevertheless, FBackup is a free backup utility, unlike Backup4All that only comes as a trial for a paid version. It is also lighter and has proved to be swifter in performance when we've put it to the test.
Also, in addition to standard backup and restore features, it provides protection from ransomware and viruses like WannyCry. Finally, FBackup scores high user ratings, although our own experience tells that the speed with which it creates backups is slower than of competitors.
10/15 FileFort Backup 3.31
Vendor: NCH Software, USA. User rating: 4.1 / 5.
Free version: yes, full. 1-year subscription: Free.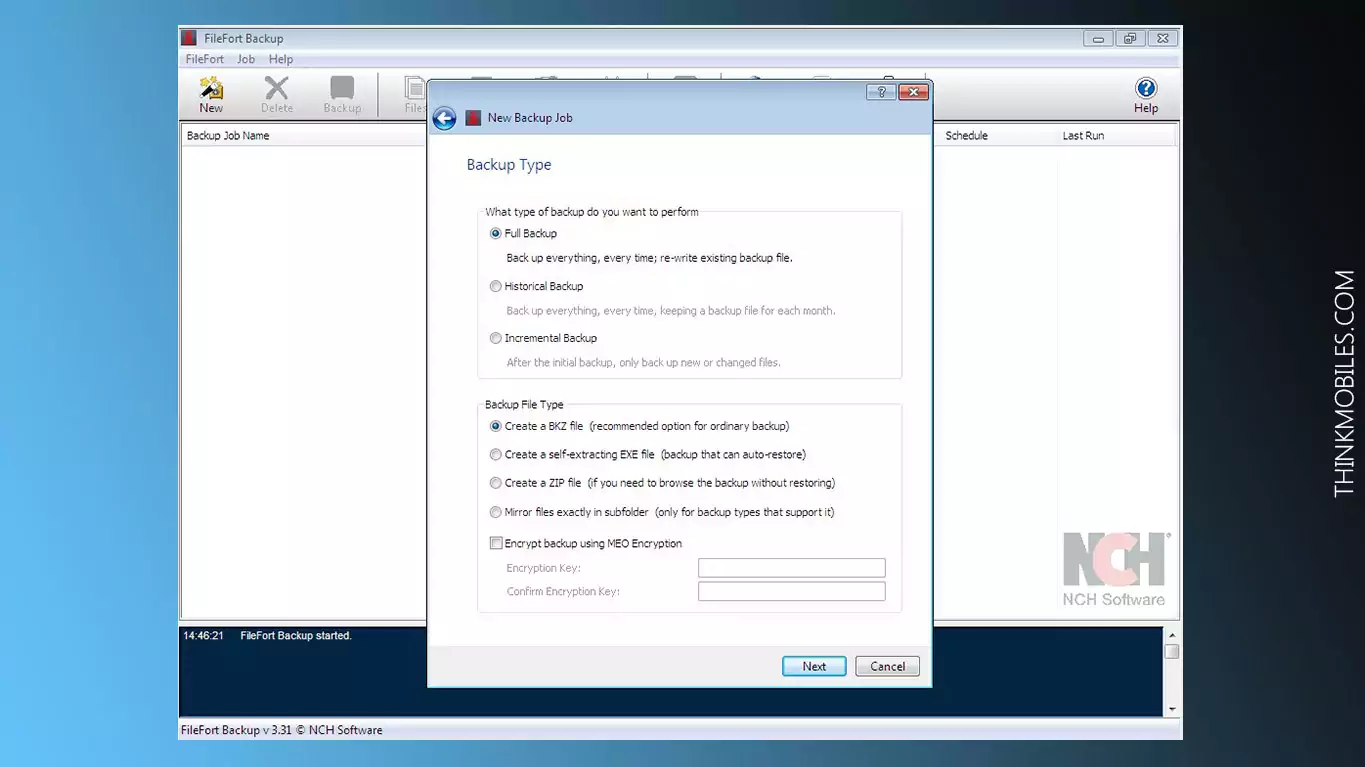 Features: wide storage options (Google Docs, Google Drive, Amazon S3, Dropbox, FTP, USB, CD, DVD, hard drive, network drive), simple menu and navigation, scheduling, option to start automatic backup to USB drive when it plugs in, manual and automatic backups.
For full backups and incremental backups with a free tool consider FileFort, that truly deserves to be among the best backup software. How so? Check again features in the paragraph above – already impressive. User interface is elegant, tasks to-do apprehensive, a progress toolbar is visually handy too. Of course, one can not create a system image or perform disk cloning, but a free utility can't do everything.
11/15 Freebyte Backup 3
Vendor: Freebytes, N/A. User rating: 3.9 / 5.
Free version: yes, full. 1-year subscription: Free.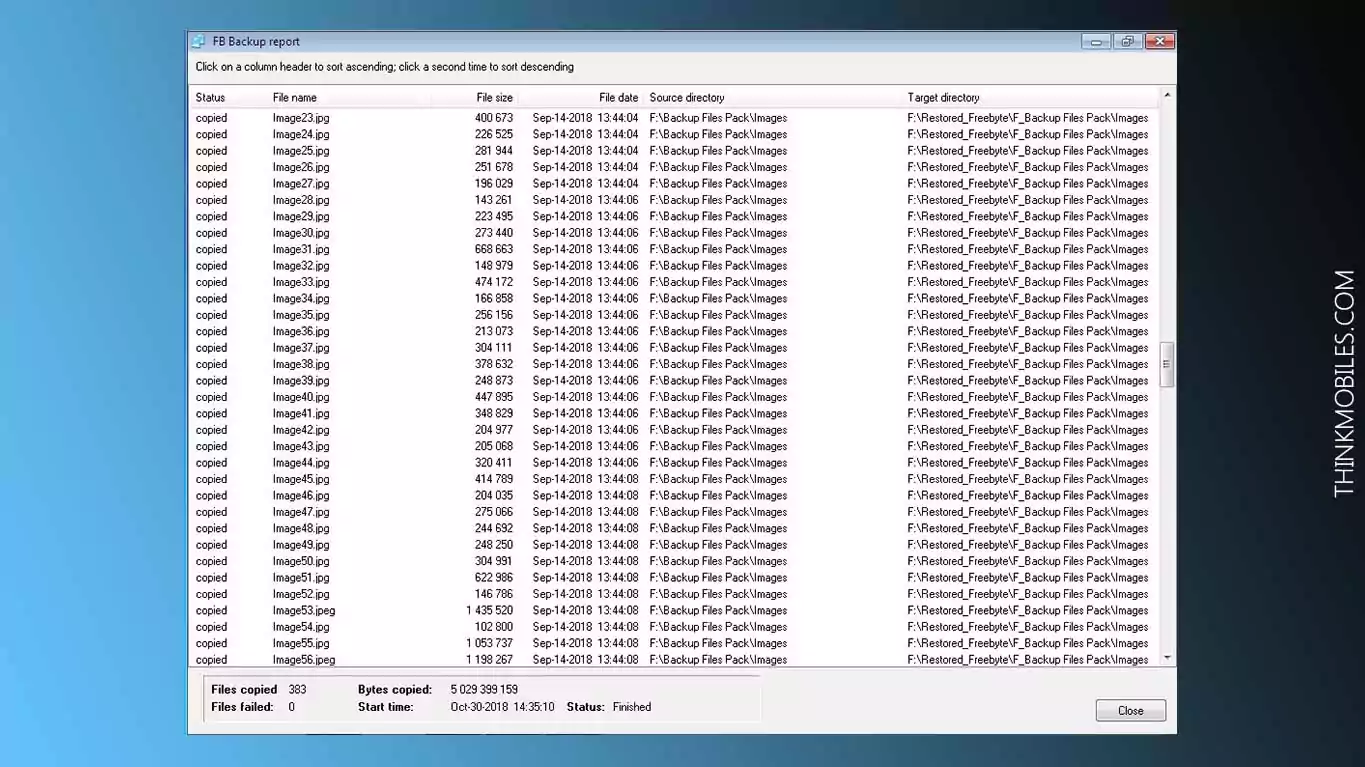 Features: incremental backup (only files not saved by the program), file type inclusions and exclusions, scheduling options, free for personal and corporate use, downloadable manual, works on Windows XP, Vista, 98.
Free but out-of-date backup tool introduced in 2012 and never upgraded afterwards. Honestly, we included Freebyte into the list as an exceptional case, and mostly for users seeking backup utilities that would work on Windows XP or Vista. Though it can only make backups, it showed good results in our test. It costs nothing, and now you're warned about what it is, so please, don't get all angry that someone on the Internet is wrong.
12/15 Iperius Backup 5.8 Free
Vendor: Enter Software, Italy. User rating: 4.5 / 5.
Free version: yes, full. 1-year subscription: Free.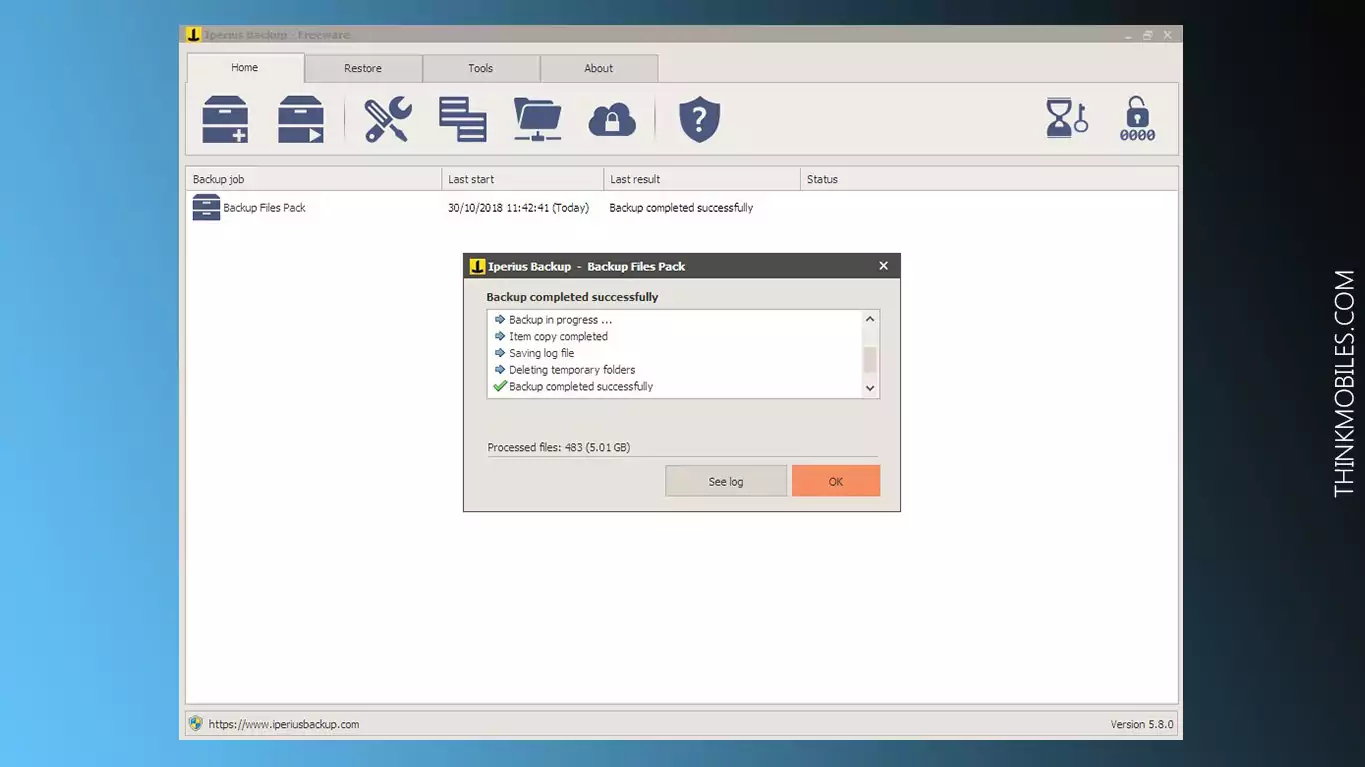 Features: incremental and differential backups, local and remote server options (+virtual machines), backup to NAS/RDX, Google Drive, Amazon S3, Azure Storage, OneDrive, Dropbox; data encryption, logs and scheduling, individual files restore option.
In addition to those multi-device storage options, this free Iperius Backup proves to be lightweight, portable and stable utility. Well-fit for home personal and professional use. Create whole drive images, transfer files via FTP, utilize VMware and unlimited ESXi hosts for networks, export Exchange Server mailboxes, safeguard files with AES encryption, copy locked files with 'volume shadow copy' (VSC) feature, etc. Such advanced editions range from 29 to 269 Euro, while basic backup tool is free. Thumbs up!
13/15 Macrium Reflect Home Edition 7
Vendor: Macrium Software, UK. User rating: 4.7 / 5.
Free version: 30-day trial. 1-year subscription: $70.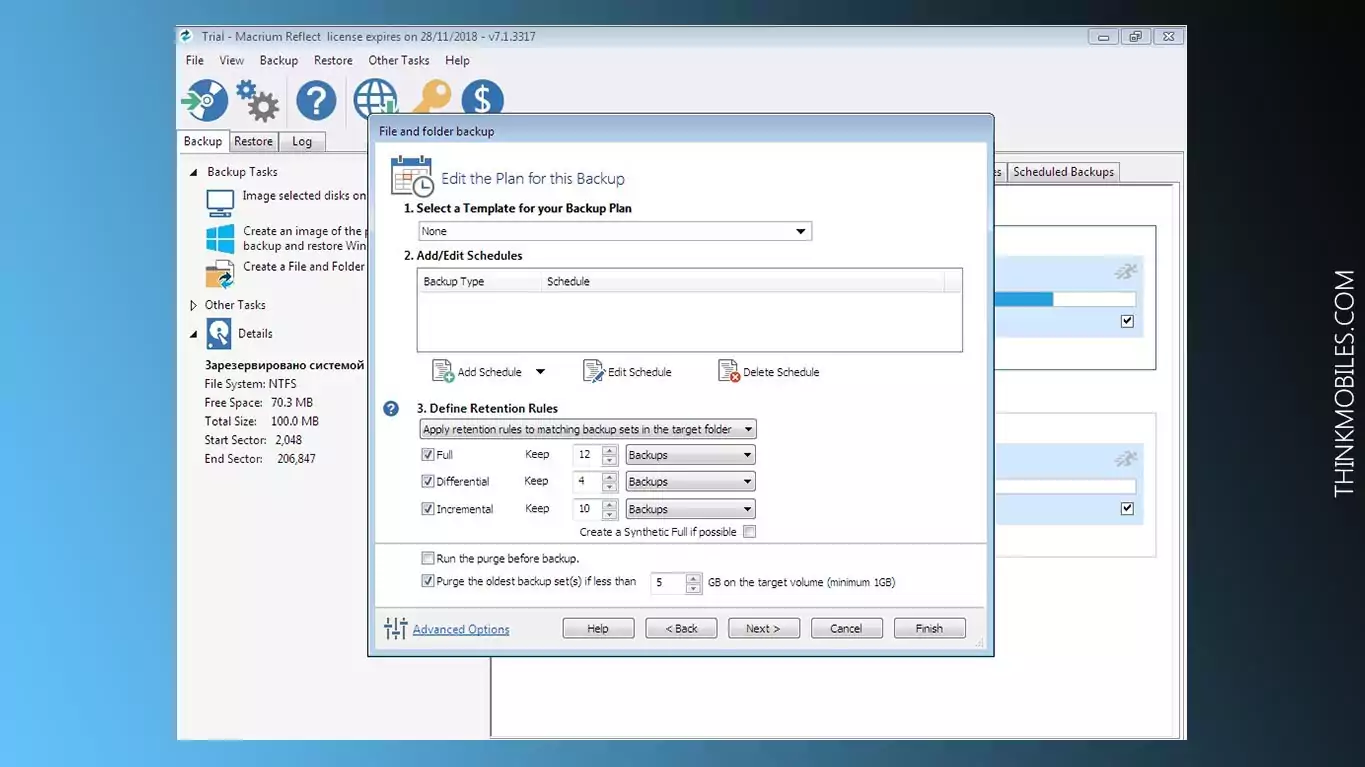 Features: live image of current Windows OS, direct disk cloning, encrypt backups, 'bare metal' restore option, ransomware protection, commercial use license.
Disk imaging software, cloning and backup solution – all in one utility for Windows. So Macrium Reflect offers users an option not only saving files/data, but an option to backup system image and, in case some bad things happen, to restore the system to a certain point back in time.
Interface will look like for advanced users at first, but as one performs few backup tasks, it won't be a problem. Basically, there are three tabs (backup, restore, log) with sub-tabs inside. 30-day trial, we assume, is enough to decide whether one likes the program or not. Home Edition is a one-year license to use.
14/15 NovaBackup 19.2
Vendor: NovaStor, Germany. User rating: 4.3 / 5.
Free version: 15-day trial. 1-year subscription: $40.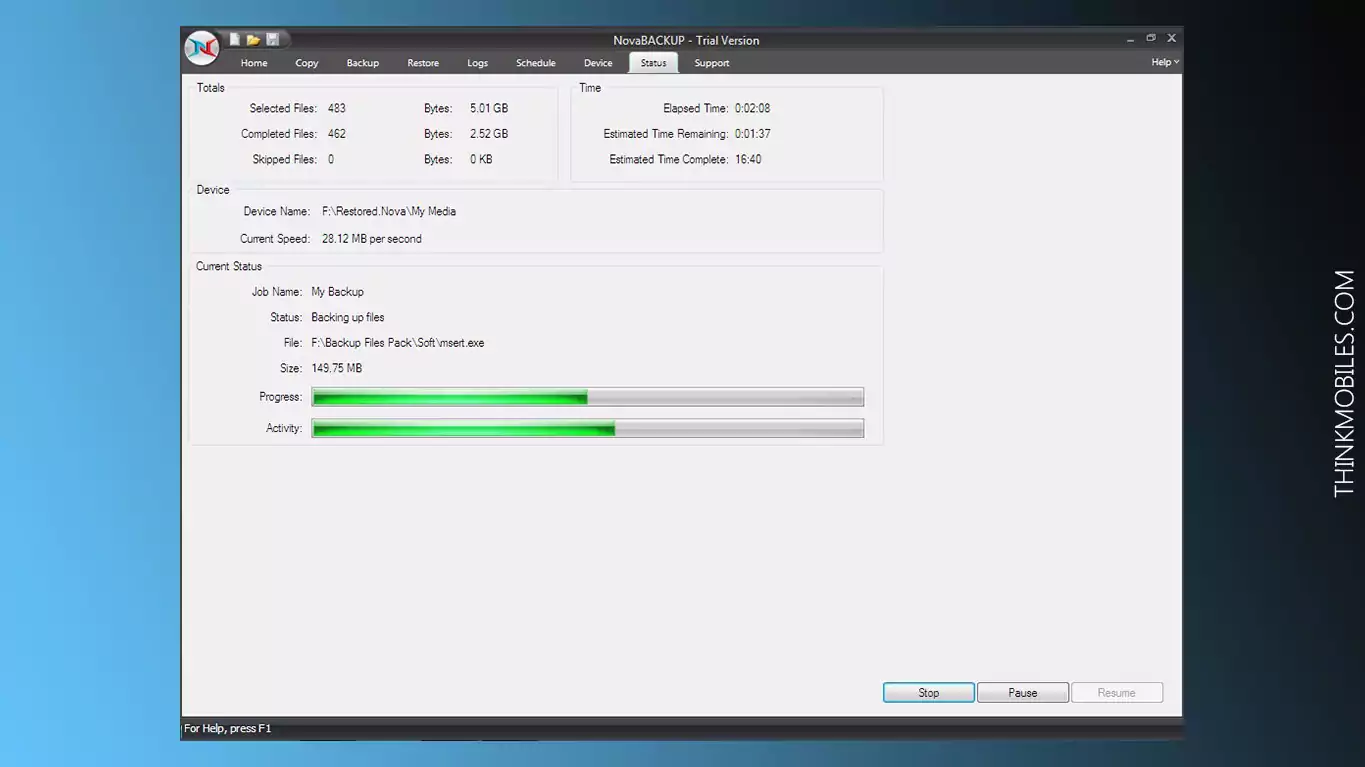 Features: backup software for PC, laptop, server, network, cloud; USA support team, store on Dropbox, OneDrive, Google Drive, iDriveSync, SkyDrive, SafeSync; automatic shutdown feature (after backup is complete), system image recovery, special offers and tools for business.
This tool by German vendor is a local backup software, meaning that it can create file backups and system images on user's local devices. Although it is only for Windows and interface most possibly will be hard to comprehend by a beginner, this app has enough aces up its sleeve. During our comparative tests NovaBackup proved to be one of the fastest in both aspects – copying files and retrieval. And it worked smoothly even on our 'special pal' test PC with 4GB RAM. All in all, the option it offers for backing up file, for verifying files, for scheduling, make it a solid contender.
15/15 Paragon Backup & Recovery 17
Vendor: Paragon Software Group, Germany. User rating: 4.8 / 5.
Free version: yes, full. 1-year subscription: $50.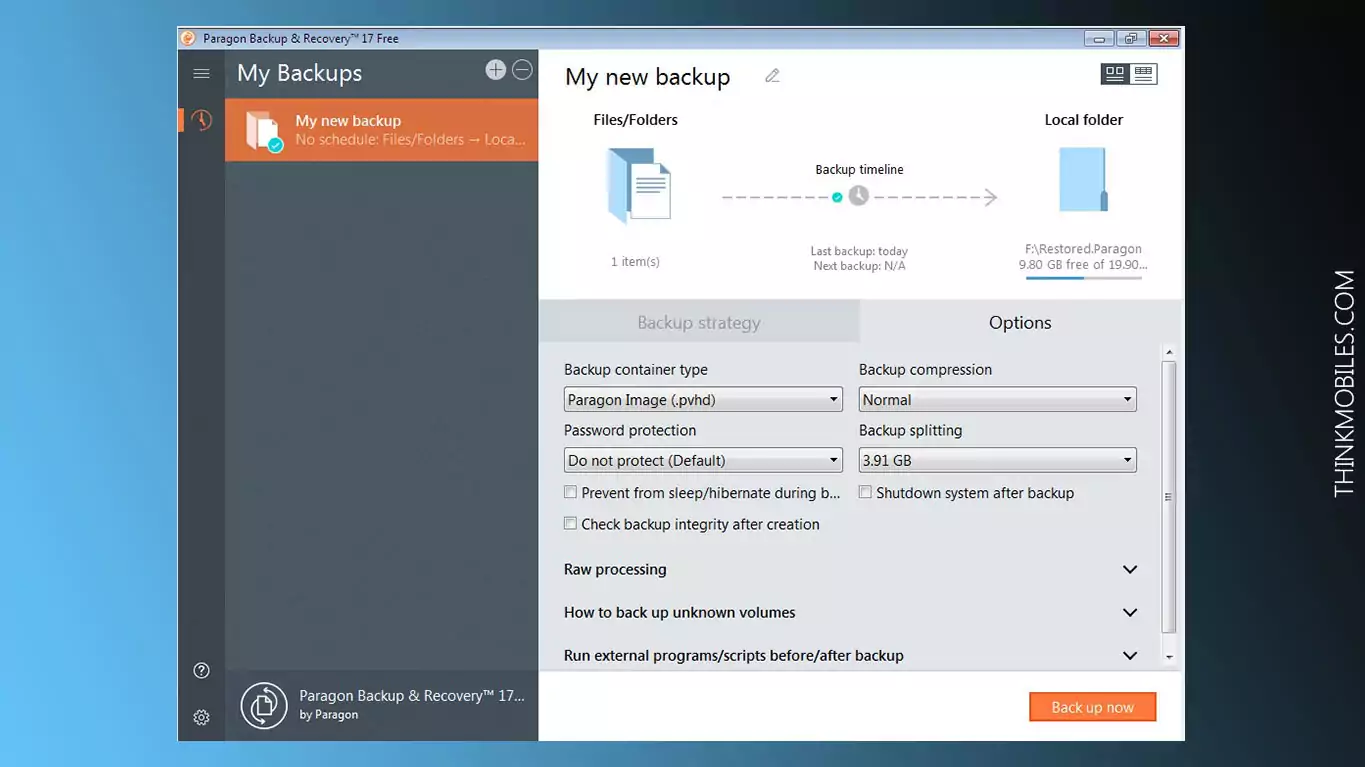 Features: disk backup types – incremental and differential, restore disk or partitions only in WinPE environment, 2.2 Terabytes hard disk drives, AFD, SSD, HDD, CD-R, DVD-R; compatible with multiple file systems, essential backup and restore features.
And we finish things up with yet another product of German high-quality engineering, Paragon Backup & Recovery, which has both free and paid editions. Free download version has all the basics, while the paid version delivers features like custom scheduling, choice of backup types, saving setting configurations, partitioning, etc. In terms of PC resources usage, it is light as it does not initiate additional background services like many other backup tools do. Overall, an above-decent product to consider.
Performance tests
For final and main comparison test of backup software we created a 5GB size archive with files. We measured two prime features times – time it took to create a 5Gb backup and time it took to restore that backup. In addition, we also measured time for backup validation in those programs that provide this feature.  
Iperius and Aomei ended up as the fastest for copying data, while FBackup and Acronis were the fastest to restore the entire archive. Find full comparison below. And of course, processing speed remains the matter of discussion in terms of relevance for backups as such.
P.S. Might be also useful to visit PC optimization software.