Surely everyone involved in mobile and web design is familiar with Adobe products. Photoshop, Adobe Illustrator, Indesign, Premiere, After Effects and others, 20+ in total, are available for $79 per month as a package, or each one separately. This is a great set of applications, no doubt. But say, you've had enough with it, and to move on you need to uninstall Adobe Creative Cloud. Maybe you seek another software, or maybe CC applications were installed incorrectly. To remove Creative Cloud from a  computer, we have three methods, basically or use one of the best uninstallers.
How to uninstall Adobe Creative Cloud manually
Step 1: Sign in to Adobe Creative Cloud desktop app.
Step 2: You can only uninstall the Creative Cloud desktop app if all Adobe applications such as Photoshop, Illustrator, Premiere Pro have been removed from the system. To uninstall Adobe apps,  tap the dotted icon next to the Open button, then click Uninstall.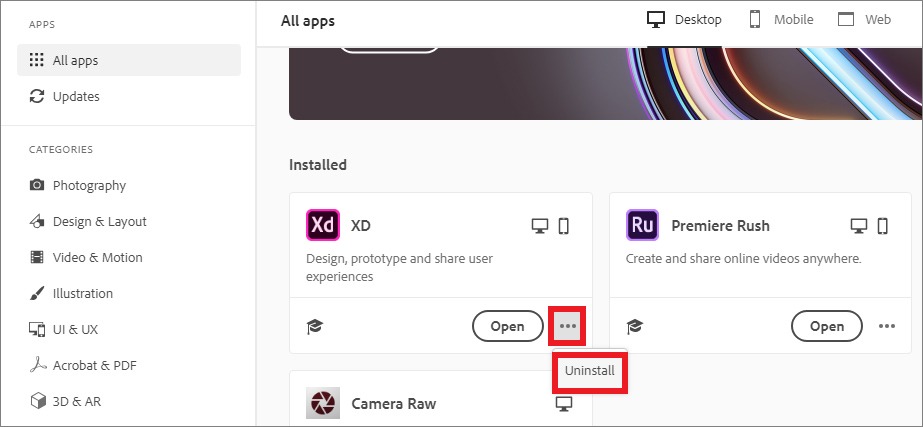 Step 3: When all Adobe apps are gone, remove CC desktop software. To do this, navigate to Settings in the Windows menu. After that, go to Apps and find Adobe Creative Cloud there.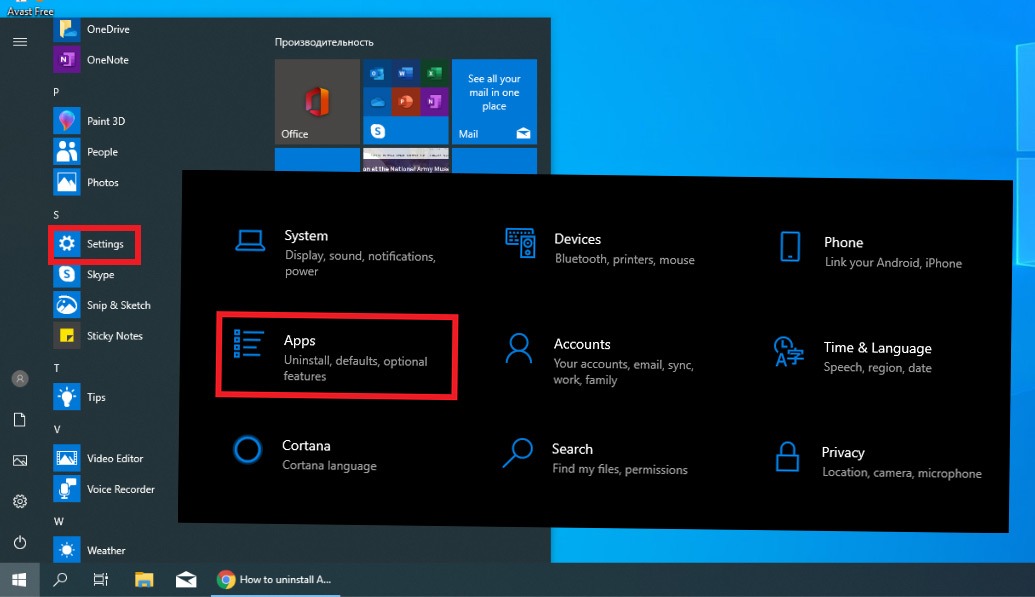 Step 4: Locate Creative Cloud and choose to uninstall.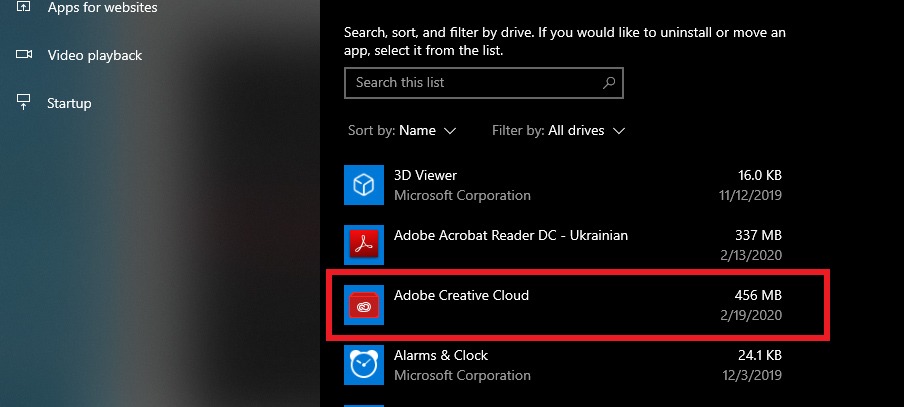 Step 5: Confirm the action in a warning pop up, and the process will start – you'll see a green progress bar.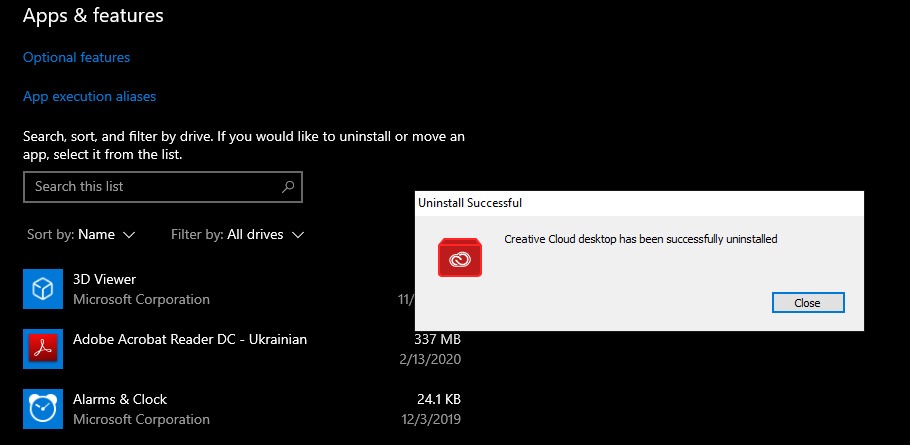 Step 6: When it is completed, click the Close button. If there are other program components or leftovers still, get rid of them by following the same instructions.
If you find this method difficult or you are not sure that the system has been thoroughly cleaned, there are several other ways to uninstall Adobe Creative Cloud. For example, by using a special
How to delete Creative Cloud with its uninstaller
Step 1: To use the uninstaller, download a ZIP file from the official Adobe website, and extract the content.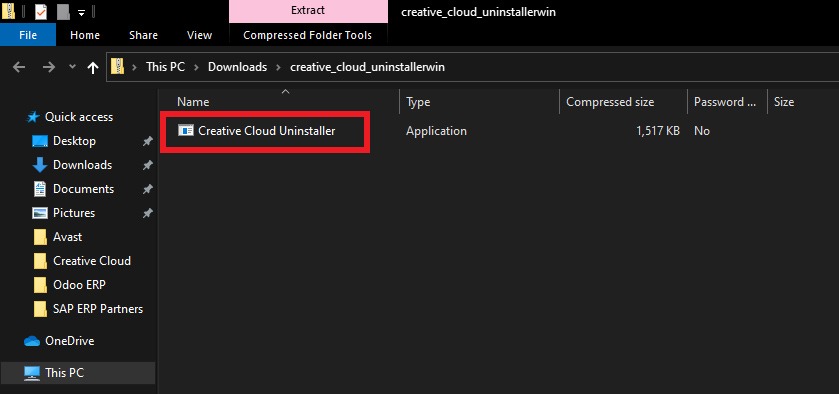 Step 2: Run the file to start things off. In the confirmation message click Uninstall.
Step 3: Wait for the process to finish. Click the Close button afterwards.

If you do not want to install anything to uninstall apps (sounds counter-intuitive, right?), there's another way. Third-party tools, specifically designed for proper uninstallation and/or PC optimization, a.k.a. cleanup. For example, a globally popular CCleaner utility.
Use CCleaner as uninstaller
It is a disk cleanup / uninstaller tool, suitable for cleaning cookies, disabling unnecessary startup programs, fixing the registry, cleaning the browser. CCleaner works on all versions of Windows, and is available in 57 languages.
Step 1: Sign in to CCleaner. Go to the Tools section of the main menu. Then select the Uninstall tab  and find Adobe desktop app there.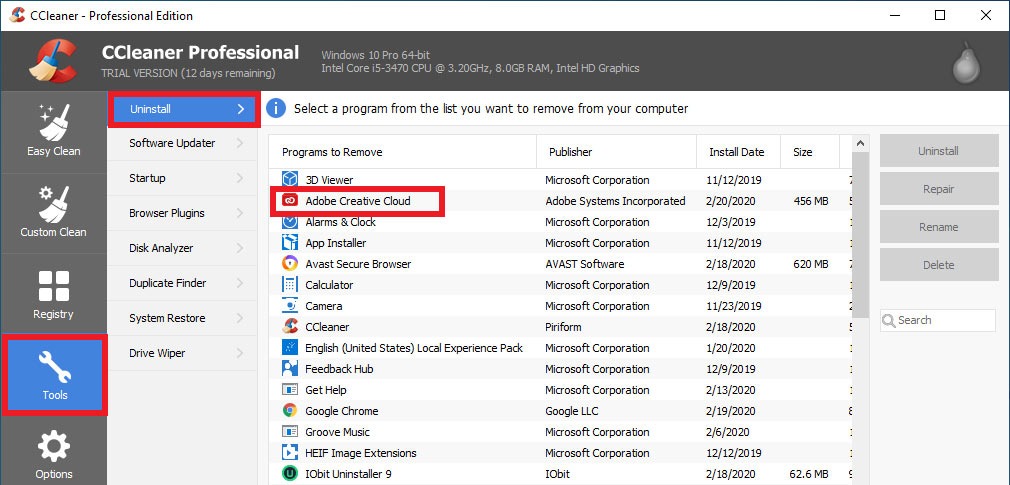 Step 2: To start the process, hit the Uninstall button in the upper right corner. The removal tool will ask you to confirm to uninstall Adobe Creative Cloud Desktop, so do it.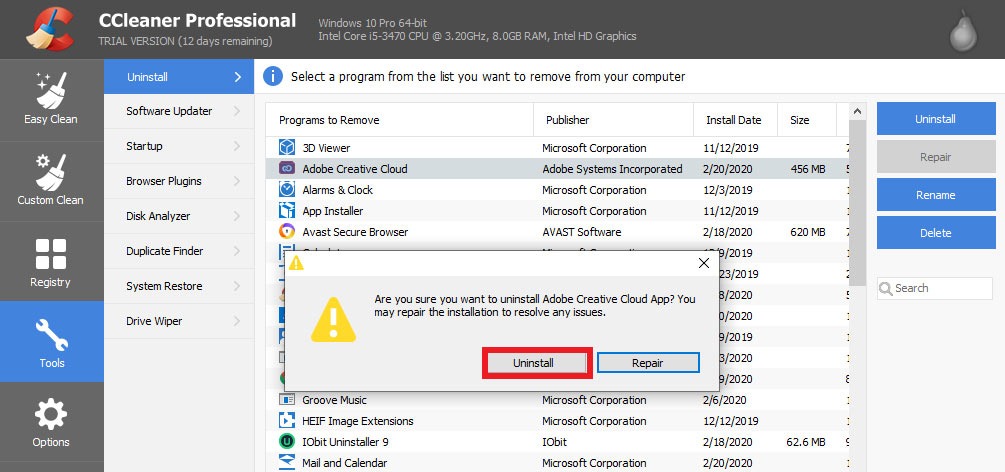 Step 3: Wait for the removal process to complete. It will take no more than 30 seconds. You will get a confirmation message, if all is OK, click Close.
Use IObit Uninstaller
CCleaner isn't the only utility for such tasks, of course. Consider another equally popular third-party tool – IObit Uninstaller, as an alternative. It has a free version, 37 interface languages, and more importantly, it is superfast – typically it takes 20-30 seconds to uninstall a program. 
Step 1: Sign in to IObit Uninstaller. You will see a list of all the programs installed on your PC, find Creative Cloud.
Step 2: Tick the checkbox next to Adobe Creative Cloud, and then press the green Uninstall button on the right.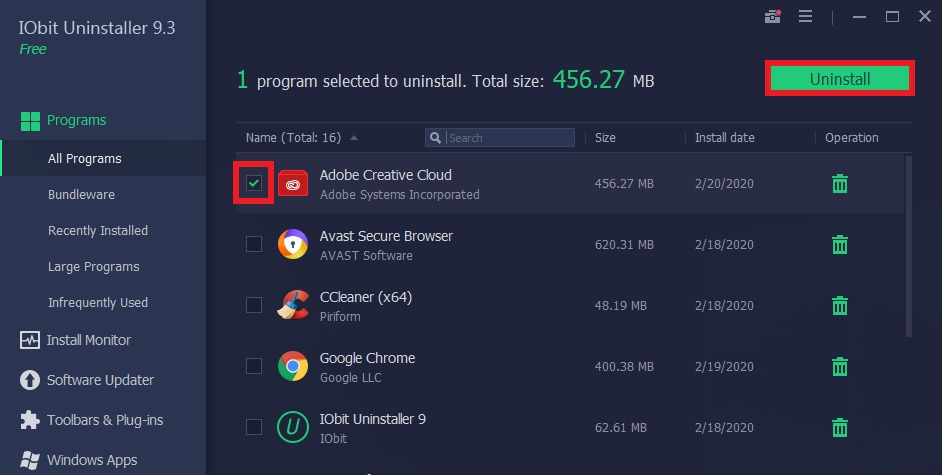 Step 3: IObit will ask to confirm the deletion. As the process starts, just wait several moments until it's over and done (but without the confusion by similar puns from the "Airplane" movie).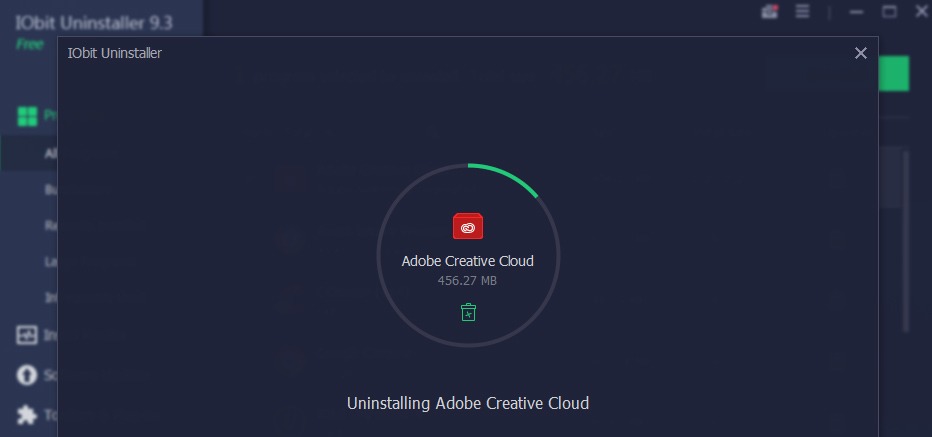 Read more about PC optimization and malware cleaning in our best pc optimization and best antimalware software articles.
Use Revo Uninstaller
Revo uninstaller is just another alternative third-party uninstaller that can help you to completely remove Adobe Cloud. Revo Uninstaller (Free/Pro/Portable) has a 30-day trial with the same functionality as the full version. As we've mentioned before, close all running Adobe apps before the uninstall process, otherwise, removal could be incorrect. 
Step 1: Open Revo, choose All Programs item on the left sidebar, find Adobe Creative Cloud in the programs list. Click the Uninstall button in the top-left corner.
Step 2: You will see the information about the software in the pop-up window. We recommend to tick both Make a System Restore point and Create a Full Registry Backup boxes. Then clicking Continue.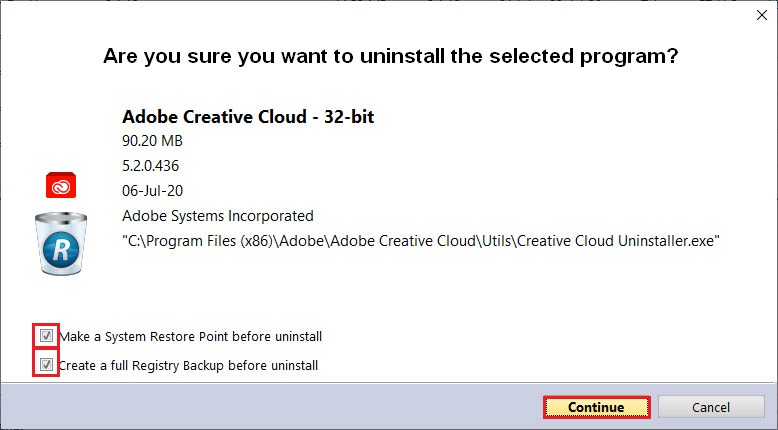 Step 3: Revo calls up Adobe uninstaller, though in our case, it did not launch correctly, so we continue an alternative route. Wait for a while, until 3 options appear: Safe, Moderate, Advanced. We recommend choosing the advanced scanning mode.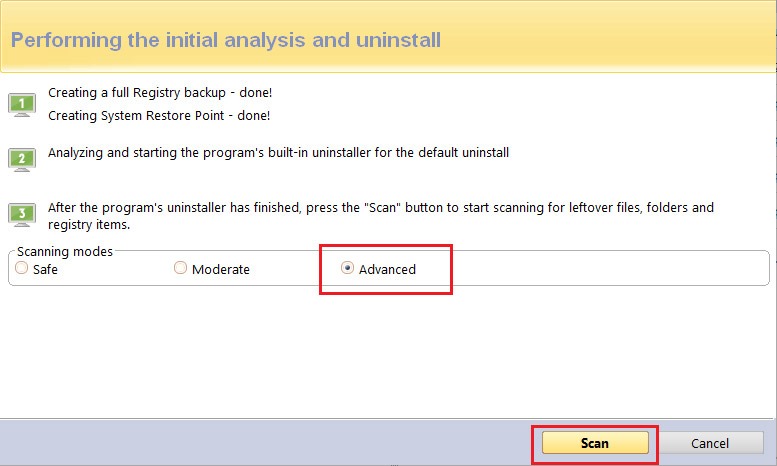 Step 4: Another pop-up displays leftover registry items. Click the Select All option and Delete items. Repeat this procedure several times until the list is empty.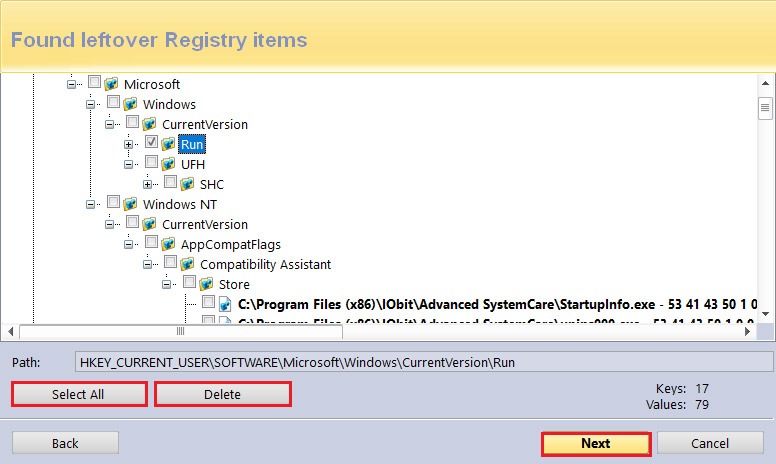 P.S. Each of these methods is not particularly difficult to apply and requires only a few steps to dispose of  Creative Cloud. Although, the fastest and the most effective one would be uninstaller software, we reckon. IObit Uninstaller, CCleaner, Revo, BCUninstaller and others have been analyzed and tested by us and you can read all about it in 7 best uninstallers.