Mailtrap Review: Interface, Features, Alternatives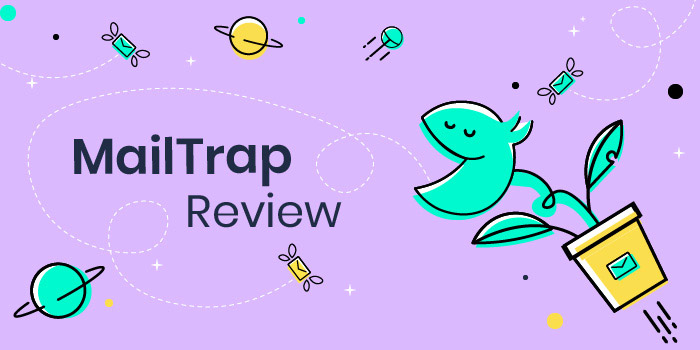 Mailtrap is a playground for email testing geared towards development teams. It's a reliable environment for deliverability, email preview, spam trigger, and other types of assessment. 
Mailtrap is a secure and multi-functional tool developed by Railsware. The tool helps tech teams ensure customers get only a sleek, well-performing version of an email. It gives devs confidence that users on the mailing list will never get a draft email by accident. 
Since the platform's testing environment is shareable, it is popular among SMEs and large-scale teams. Other than that, Mailtrap supports multiple inboxes, making it easier to send transactional emails for different applications at once.
What Mailtrap Does
At its core, Mailtrap is a fake SMTP server that separates your testing environment from production (real-life emails shared with subscribers). However, the platform offers more than a simulated playground. Teams use Mailtrap to:
Ensure email deliverability. Before launching a campaign, developers or marketing teams send a batch of test emails via the platform to make sure the message reaches recipients safely. 
Test responsiveness and display. Tech teams (including designers and marketers) use Mailtrap to make sure that the HTML email layout is not distorted on phones, tablets, and other screens. The tool gives senders confidence that recipients across all devices and email clients see the copy and the images in the same way. 
Monitor spam. Mailtrap checks the letters for all common spam triggers, helping to create engaging, friendly emails, and protecting email marketing campaigns from landing in Spam or Promotions. 
Organize email data. Your team can see detailed reports on campaigns sent from all inboxes and organize all test emails by folders. This speeds up testing and saves resources. 
Add personalization. Mailtrap guarantees that all dynamic and personalized content (reader's name, phone number, the company name, and others) are loaded with no errors, protecting your campaigns from data leaks and improving subscriber engagement.
Interface
In August 2020, Mailtrap received a new look. Except for redesign, the tool got an improved navigation. To know more about updates, feel free to check this article.
Although Mailtrap targets mostly developers and other techies, the interface of the platform is straightforward enough to be comfortable for people with no technical background. To get started with Mailtrap, you need to sign up. The platform is integrated with Google, Office 365, and GitHub.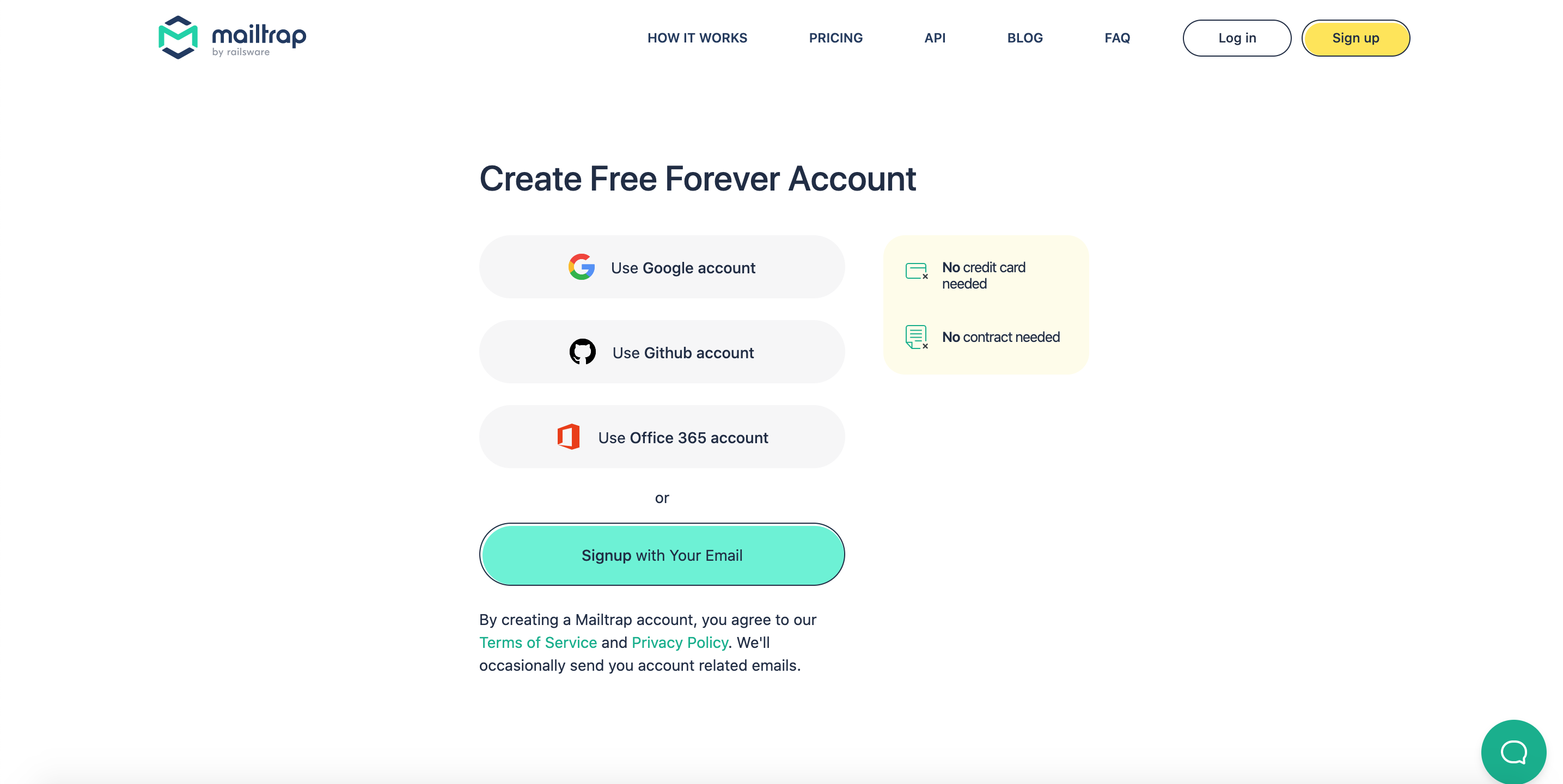 The free version of the platform offers all users a test inbox. Here, you can store up to 50 emails. Copying SMTP or POP3 credentials is all it takes to connect the virtual environment to a website or an application.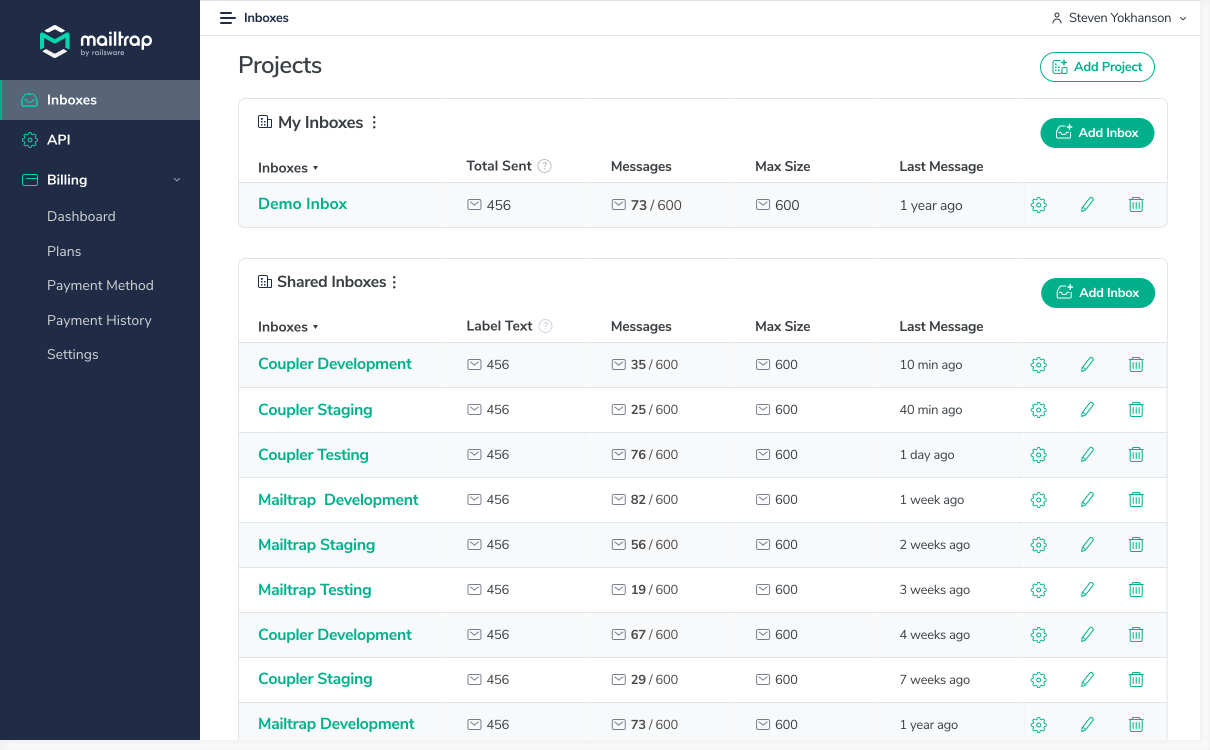 Depending on the application's stack, you can choose a convenient technology from the drop-down list in Integrations: from Ruby on Rails to Telnet.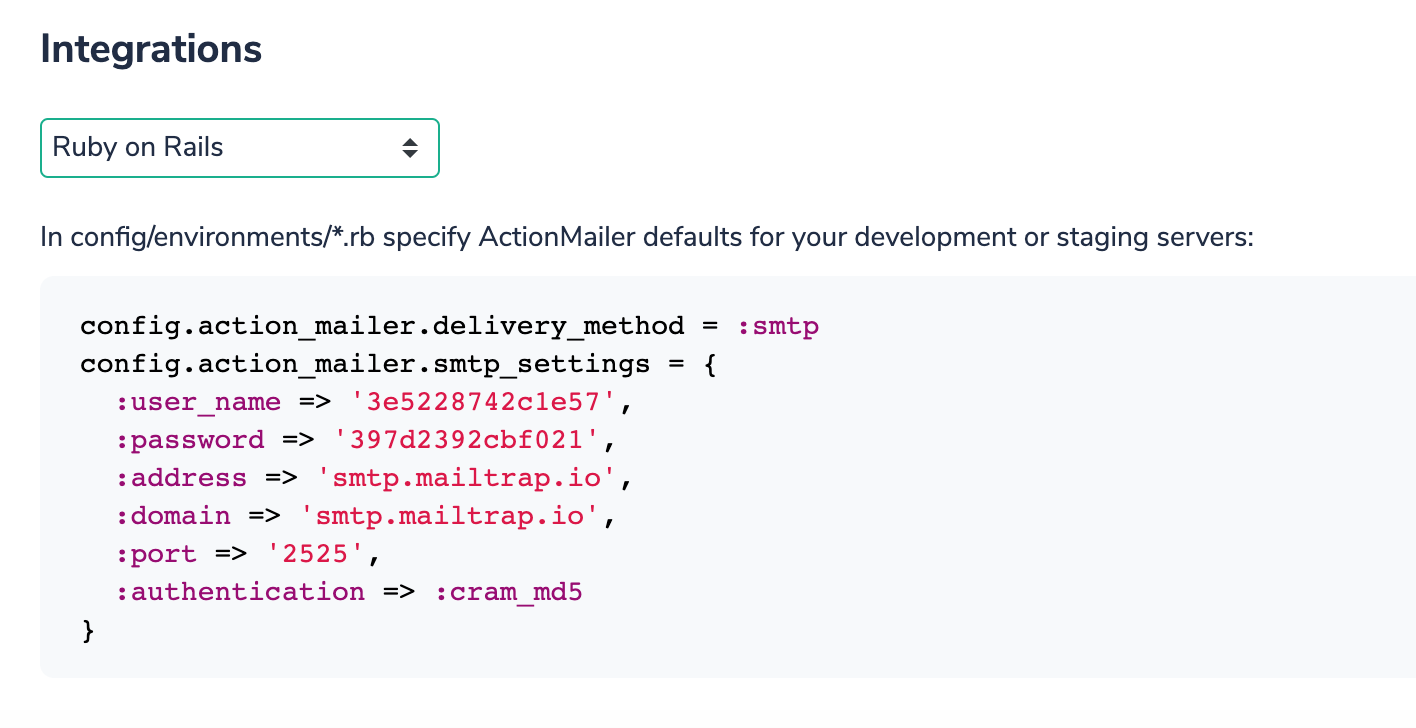 Mailtrap makes it easier to share a test email either manually or automatically using Auto Forward and Manual Forward tabs.
To let a team member into your testing environment, enter their email address in the tab "Team members". 
Viewing an email in Mailtrap is similar to seeing messages via your email client. After you send an email to the test inbox, the platform displays it automatically. You can see messages in HTML or access the HTML source and Raw view. 
Main Features
Mailtrap combines an easy-to-use interface with dozens of email testing and management features. Here's a quick rundown of the core tool's functionality.
Viewing and storing test emails
Mailtrap stores all the emails you send via an app to the test inbox. The platform is fully isolated from the production environment. There's no way for your test letters to accidentally reach a subscriber on the mailing list. Other than that, Mailtrap storage is encrypted and GDPR-compliant.  
Debugging of HTML templates
HTML templates are memorable and help brands improve awareness. However, from a technical standpoint, a lot of issues come along with sending HTML-rich emails, so development teams should test them carefully before hitting the "Send" button. 
Mailtrap offers tech teams a manageable environment for HTML debugging. To see the margin, width, and other specifications your layout should meet, choose "Check HTML" when viewing a test message: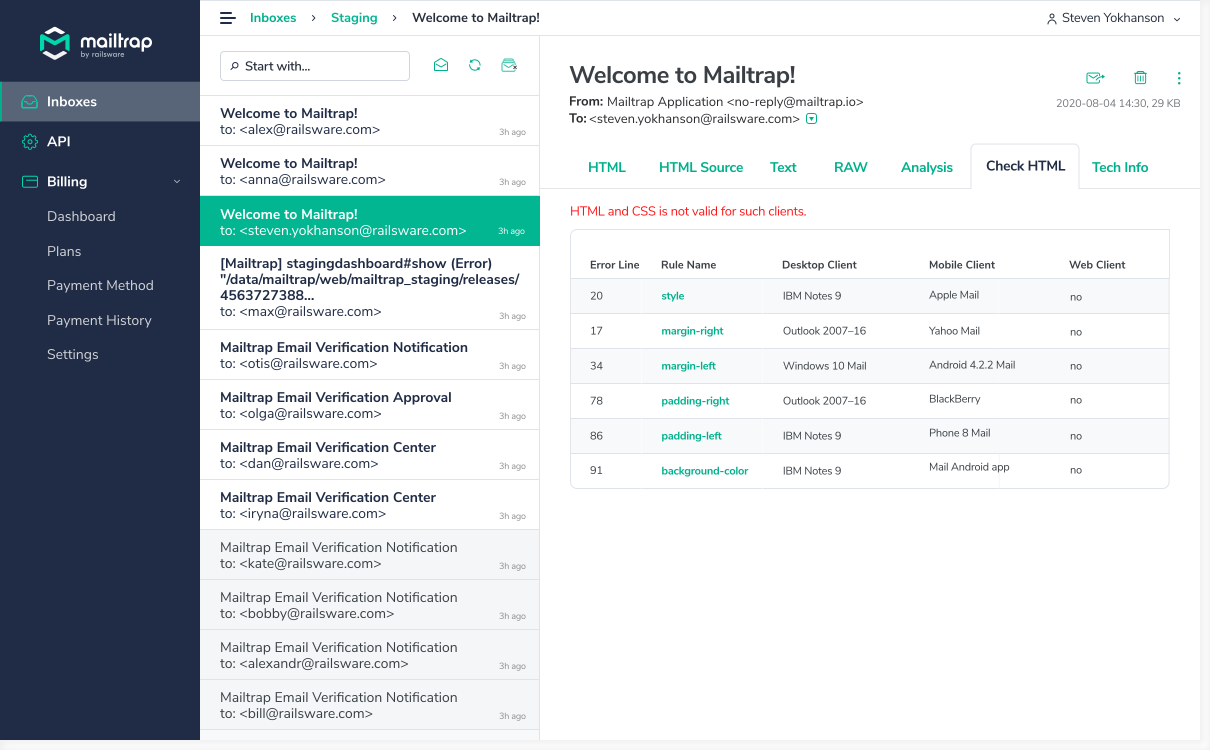 Spam and blacklist analysis
To make sure there are no spam triggers in email's copy, managers can run a Spam report via Mailtrap. 
In the "Analysis" tab next to the test email, you can see whether or not the address is added to the most common blacklists. Other than that, Mailtrap helps email designers catch easy-to-miss errors, such as empty headers.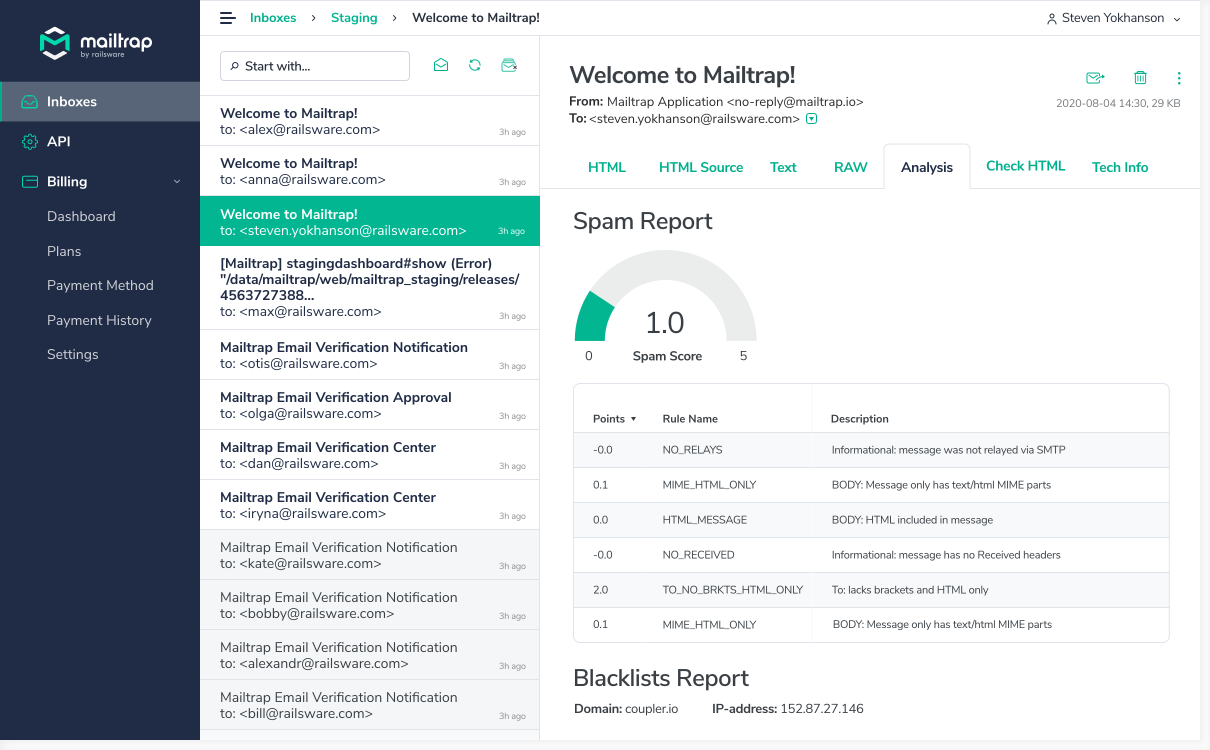 Email test reporting
Mailtrap is a convenient way to keep an eye on all email marketing campaigns you are running at once and share insights with teammates. Here's how the platform facilitates email test reporting:
Giving all project stakeholders access to test inbox. A Mailtrap user can either share a project via a link or add new teammates by entering their emails in a dedicated tab. 

Easy access and real-time updates for all inboxes. You can view dozens of projects without having to switch accounts. There are two tabs next to each inbox: these track sent and stored emails. 
Advanced Features
Except for core abilities, Mailtrap offers advanced functionality:
BCC testing. Mailtrap ensures that BCC email addresses are valid, checks SMTP commands, and allows tracking the activity of BCC recipients after they get an email. Although the BCC field is visible in the test playground, the recipient will not see the list of BCC addresses. 
Data organization. You can send emails from different addresses and store letters as different projects. Other than that, development and marketing teams can add several inboxes to a project (each corresponding to a new campaign). 
Collaboration. Mailtrap encourages collaboration between teams. You can invite teammates to view the inbox or debug test emails together. There are two sharing modes. You can allow a specific teammate in by entering her email address or generate a link. Anyone who has it will be able to access the inbox. 
Real inboxes view. If you want to send a test email to a manager for approval, Mailtrap can send test emails to real users as well. A test environment manager needs to enter the list of real addresses, and the platform will send test emails to these recipients immediately. 
API. Mailtrap fully supports REST API and allows teams to return XML and JSON calls.
Mailtrap VS Simulated SMTPs
If you are already using an email testing sandbox, you might be curious to find out whether switching to Mailtrap is worth your time. To make an informed decision, take a look at this feature-by-feature comparison of Mailtrap and its main competitors - Mailhog, Mailcatcher, Mailgun, and Sendgrid Sandbox.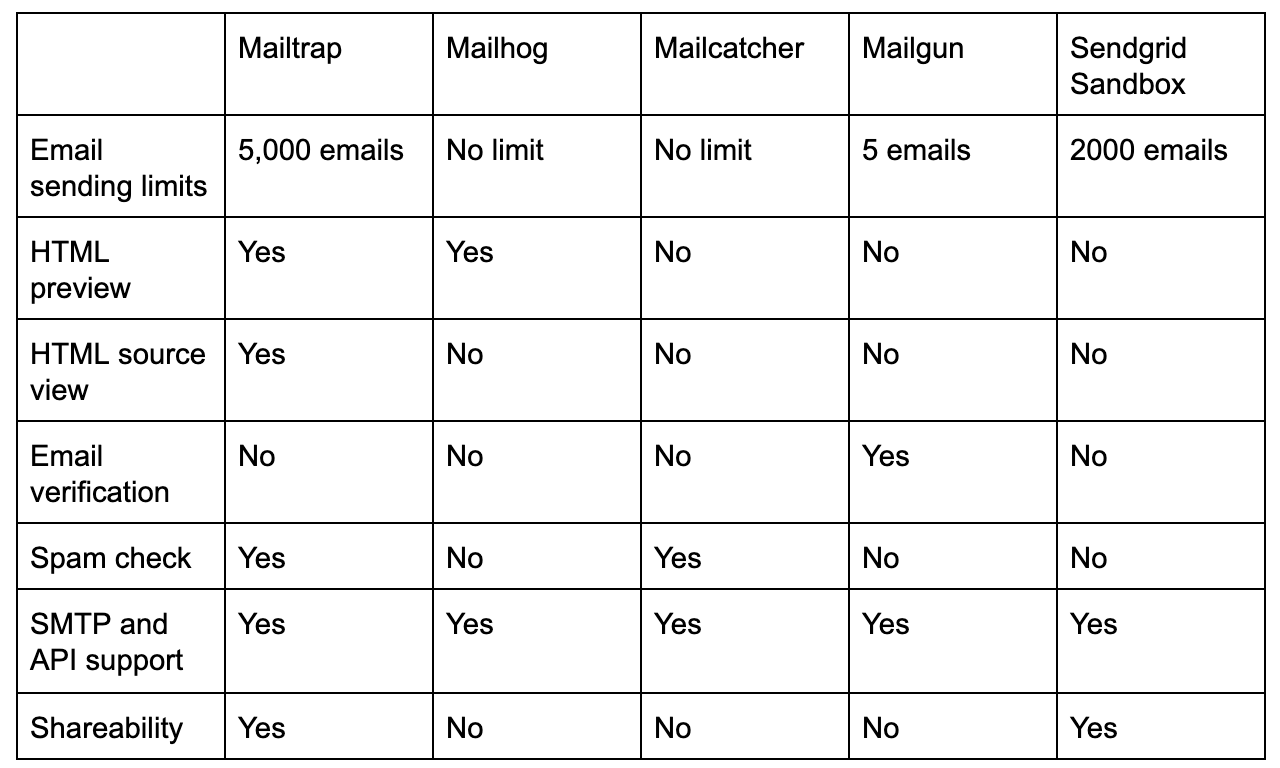 Where most email testing tools on the market meet the needs of small teams, Mailtrap is a large-scale platform that's convenient for both SMEs and teams running several campaigns simultaneously. Other than creating a fully controlled test inbox, the tool gives teams confidence in the email's stable performance and low spam score.
Mailtrap Pricing
Mailtrap has a forever-free plan for small teams. It offers business owners a single inbox and supports sending 500 emails per month. On the trial plan, you can send letters that are up to 5 MB large. A project's inbox can store up to 50 test emails. Both SMTP and API integrations are supported.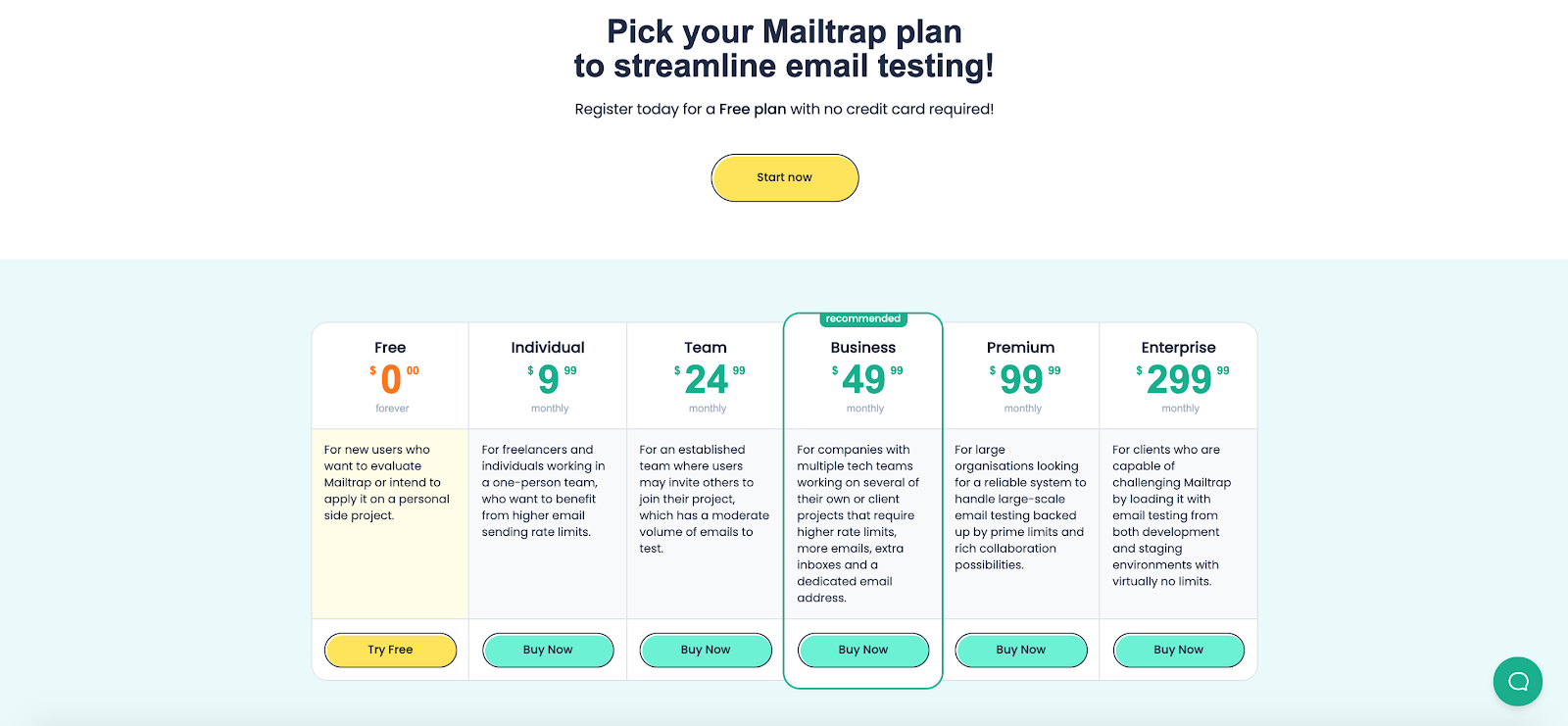 If teams or individuals want to test larger campaigns via Mailtrap or monitor several projects at once, they can choose a paid plan that fits their needs among the following options.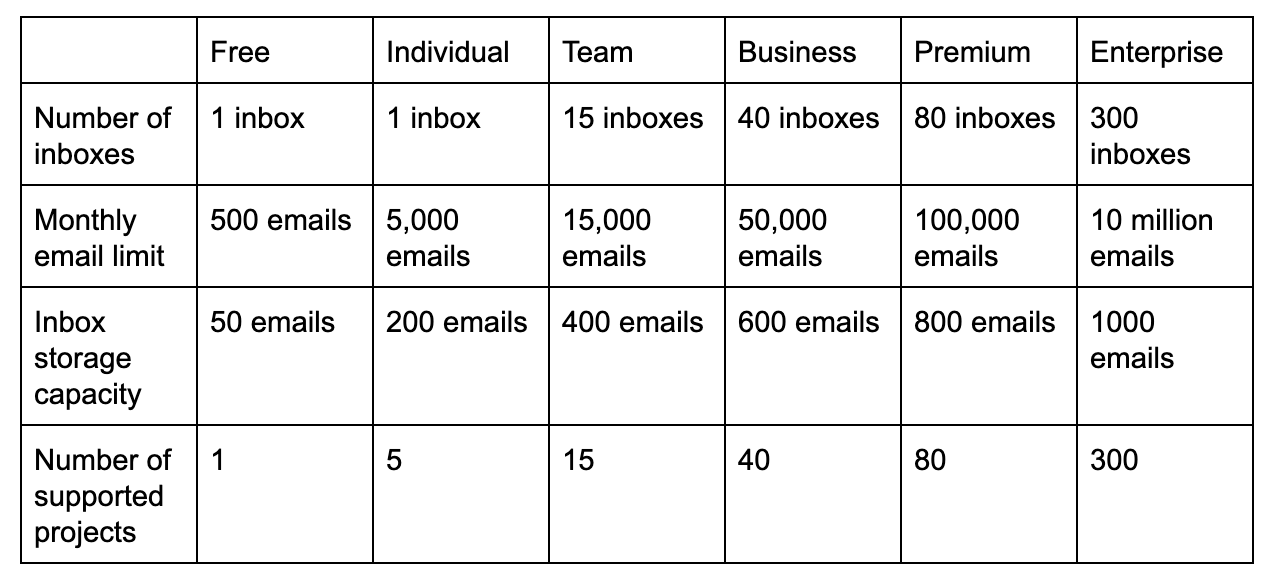 To sum up
Among all top-tier email testing tools, Mailtrap is one of the most robust email automation services out there. The platform's features are well-packed within the interface, making the tool easy to use. Mailtrap supports all common programming languages and offers business owners a playground for testing email performance and deliverability, monitoring spam rates, and keeping track of campaigns. 
Mailtrap's main downside is the need to upgrade the subscription to expand storage limits. Other than that, having to validate the addresses you want to forward emails to is a little time-consuming. All in all, Mailtrap is one of the easiest-to-use and most feature-rich email testing platforms out there.
Popular posts
Recent discussions