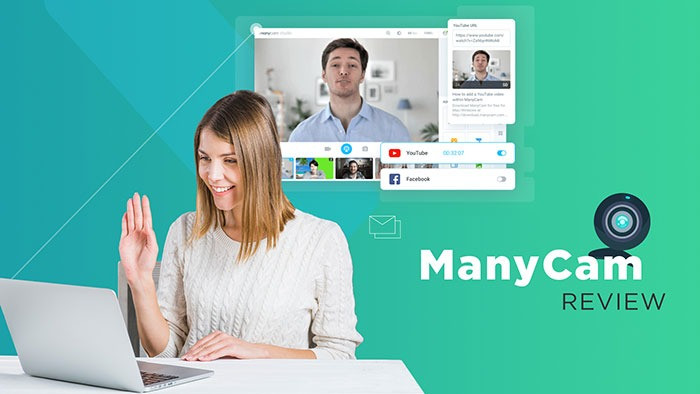 Preparing materials for recording a video tutorial or a stream always requires a lot of time. ManyCam takes video broadcasting to the next level. It doesn't require exclusive access to a webcam and audio devices on a computer. Filters and effects for any video sources allow you to create fun and exclusive video content. ManyCam has been downloaded over 80 million times, so let's check whether it is really that good in this ManyCam review. First up, a video introduction.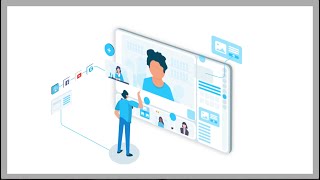 Interface
ManyCam can be installed just in three clicks, if going along with default settings. One can change the installation folder, interface language (12 available) and disable adding a shortcut. To change any of these settings, click the Options button on the start screen. After installing, ManyCam will automatically detect audio devices and webcams. You will see the new app in tray, it is there to speed up interaction between different devices and provide quick access to program options.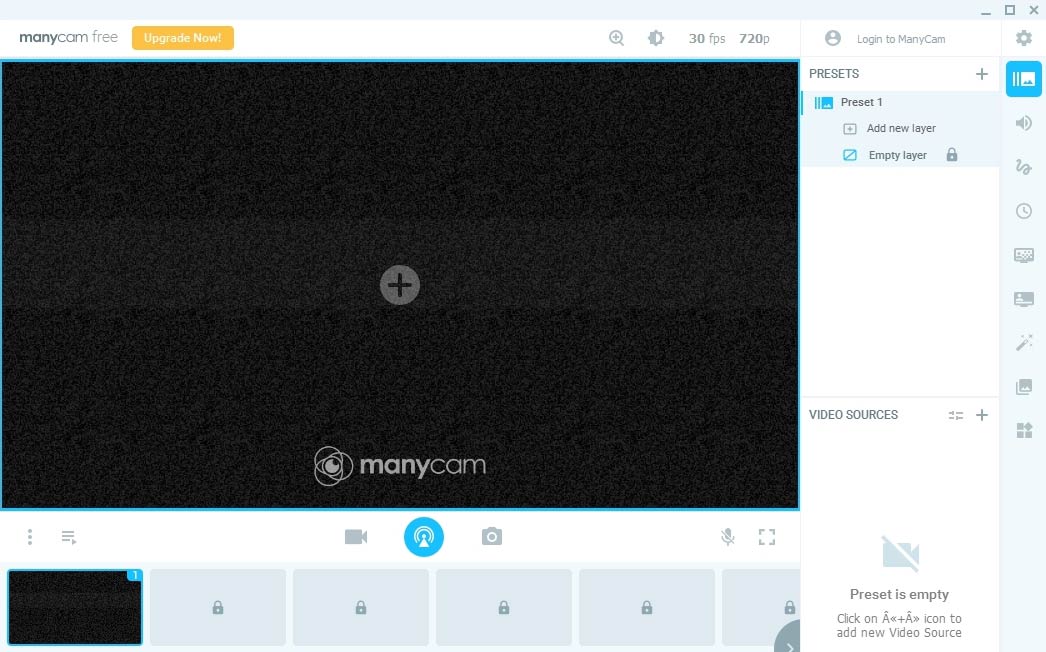 In the interface all options are visually accessible in a single workspace. The main area is occupied by the screen for video broadcasting. The broadcast screen displays in real-time and supports 35+ programs and services for streaming. Users producing video tutorials will definitely appreciate the Picture-in-picture tool, which is handy for virtual lessons.
Tip. If ManyCam can't find audio devices (or webcams) connected to the system, try to update corresponding drivers. This can be done manually or using driver updater software.
Video sources
To start using ManyCam just select a desired source. ManyCam has a huge (in comparison with similar apps) list of supported video sources for broadcasting. Typically video sources would be program screengrab, camera, desktop, web URL (e.g. YouTube), media files, etc. Users can create presets, whereas the maximum possible number depends on a purchased ManyCam license (2 presets in Free, and up to 24 presets in Premium).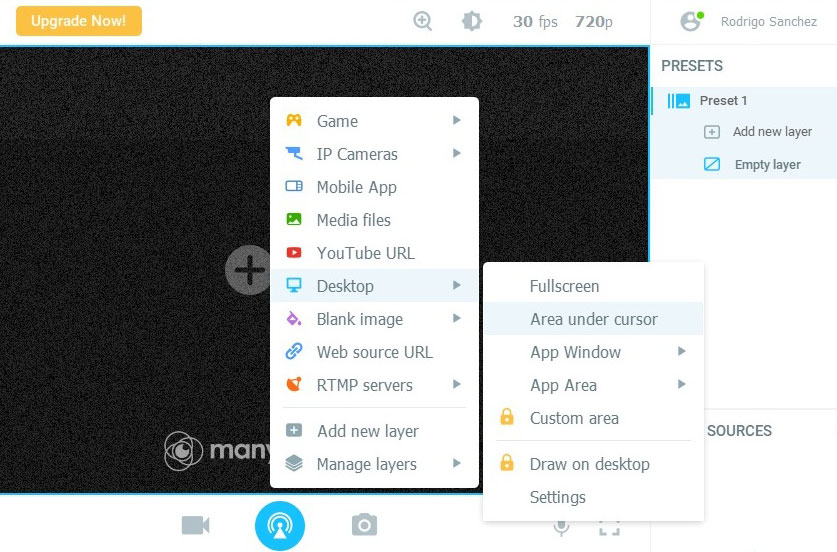 ManyCam desktop app offers the largest number of options, including video sources. First of all, it is worth noting there are 5 video recording modes:
Fullscreen - record the entire desktop;
Area under cursor - good for magnifying glass effect (ManyCam also supports video source changing during streaming);
App window - record a work window of any program (only programs in the taskbar, not background services or apps in tray); 
App area - captures a selected program area (it continues recording when a program has been closed or minimized);
Custom area - select any part of the desktop to record (unavailable in Free version).
Among the additional options it is worth noting the possibility of ignoring the cursor display and visualization of clicks. In the paid version of ManyCam there are extra tools such as drawing over the screen and advanced tools. To reduce the CPU load during recording, ManyCam provides a hardware acceleration feature. If it is turned on, ManyCam will utilize the video card to optimize computer resources consumption.
Tips for other video sources:
Webcam. If ManyCam won't work with a webcam, check for webcam drivers update. Also note that ManyCam will not be able to access a webcam if it is used by another program (for example Skype).
Game. This mode is optimized for full-screen view, which is often the case for gamers. Keep in mind that ManyCam can't start recording until a game is launched.
IP Camera. ManyCam supports HTTP and RTSP protocols to connect IP cameras, therefore it is capable of video streams in MJPEG and H264 formats.
RTMP. In short, this is one of the protocols for broadcasting video using TCP connections. To connect to the RTMP server, ManyCam requires a binding address, port and stream key. 
URL. ManyCam can't search the proper content on a web page, so one has to specify direct links to files. An error will appear when an incorrect URL or server requires authorization. 
YouTube. Don't use short links from YouTube (e.g. youtu.be), ManyCam will only connect to YouTube full URLS (youtube.com/something).
Local sources. Users can use any media files stored on the local disk, if their format is readable by ManyCam.
Tip. The lower right corner icon enables a performance panel, displaying FPS, CPU load and RAM in real-time.
Read next: 10 best video editing programs.
Recording settings
Through ManyCam one can control the settings and quality of a stream or video recording. For example, a color grading tool above the translation screen - to edit Saturation, Brightness and color balance (RGB color scheme). Top toolbar accommodates tools for adjusting FPS and video quality. It is very important to choose the right values ​​for these parameters. A low FPS value can cause freezing in the picture, which will be especially noticeable with Game as a source. ManyCam works with values ​​from 5 to 60 FPS.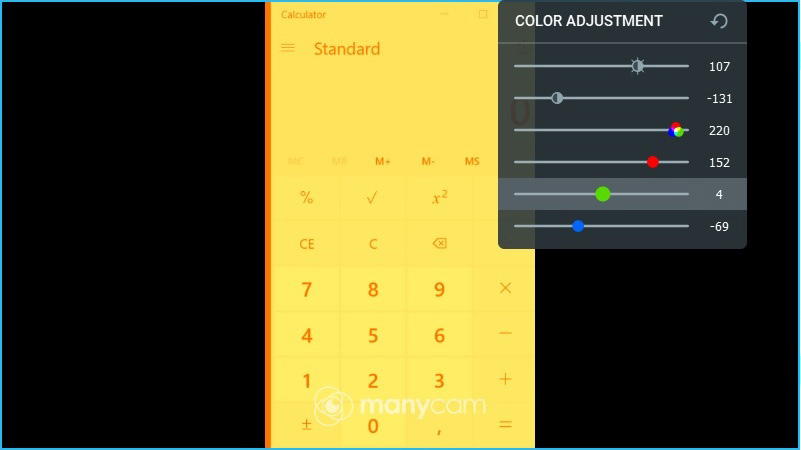 Changing the video quality involves resolution format. In total, 16 resolutions are available: 
| | | | |
| --- | --- | --- | --- |
| 160x120 | 352x288 | 800x600 | 1600x1200 |
| 176x144 | 512x384 | 1024x768 | 1920x1080 |
| 320x180 | 640x360 | 1280x720 | 1920x1440 |
| 320x240 | 640x480 | 1280x960 | 3840x2160 (4K) |
 - the last 5 resolutions are only in Studio or Enterprise versions. There's only Start / Stop recording options, and no Pause. Extra options are screenshots, sound off, full screen mode.
Tip. The zoom tool in the top panel can also rotate and mirror a video.
Features
The effects panel contains installed effects (in accordance to license), and it also allows you to download new ones from the official site. Effects are divided into several tabs for simple navigation between editing tools.
1. Presets. ManyCam divides various effects into layers, which makes it easy to manage. Layers include visual effects only, such as custom labels, overlay pictures and picture-in-picture sources.
For the latter, 5 PiP display modes are available: 
1 additional screen on the side;
2 additional screens on the side;
dividing the image into 2 screens vertically;
dividing the image into 2 screens horizontally;
dividing one screen into 4 different sources.
2. Audio. Users can manage devices for a sound source in videos. Options include automatic noise reduction, customization of microphone gain up to 50 dB, microphone activation by voice. In the automatic audio player sub-section one can create a custom playlist to play during video streams. As a bonus, it has a built-in equalizer with 18 presets for audio playback settings.
3. Draw & Text. Add text, pictures or handwriting onto videos. Typical drawing tools are color fill, pencil (adjustable thickness), eraser, blur (only in Pro). Blur is especially useful when you want to hide personal data or credentials on the screen.
4. Effects. The Effects tab offers a huge number of effects and elements that can make video streams much more interesting. There is almost everything you can think of, from background and borders to customized images and animated emojis. Also, there is a collection of filters with blur effects or color filters, such as Negative or Cartoon. Users who need more effects or items can independently install them in ManyCam, or even publish it on the official website.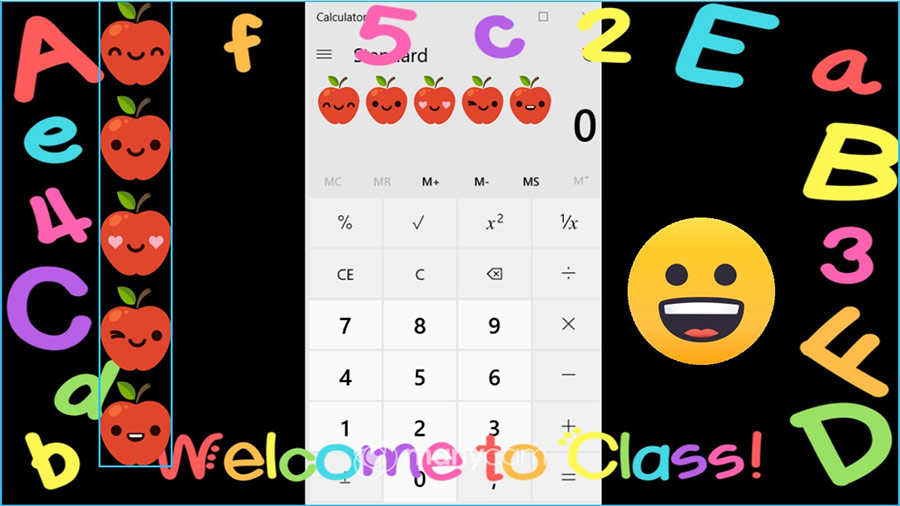 Tip. ManyCam has some Hollywood-level video effects, e.g. Chroma Key, however within paid subscriptions only.
Mobile app
Registered users may also use the official mobile app: ManyCam Android or ManyCam iOS. The app allows users to use a smartphone as a video source for the desktop version. Although, functionality is significantly reduced - only change the video resolution, 40 color filters/effects, 38 additional items (emoji, figures, etc.).
Tip. Connecting to a smartphone camera should be pre-approved every time, which excludes unauthorized access to the camera.
Testing
As for ManyCam review, we've conducted several small tests of core features to find out if it corresponds to the developer's description.
1. Mobile app. With each connection, the mobile app issued a request for permission to broadcast images from the camera. The broadcast was without visible lags, which indicates that ManyCam uses high-speed servers for broadcasts. Test result: Pass.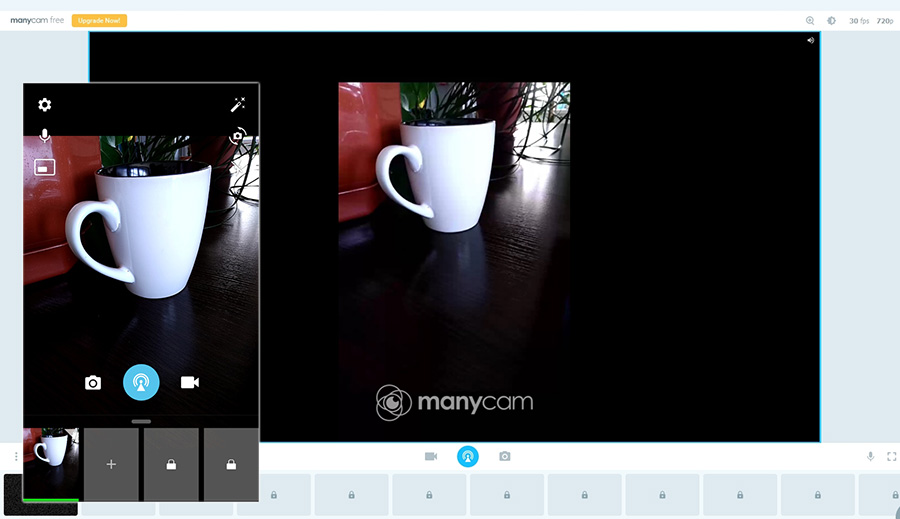 2. Drawing Tools. After fooling around for quite a while, we can say that all drawing elements and inserts in ManyCam work without failures. Resource consumption during this is low, thus drawing tools can be used in video streaming without worries. Test result: Pass.
3. Game source and PiP. In this test we've played and streamed the old fun little game - Bad Piggies. ManyCam successfully picked up a picture of the game both in Window and Full-screen modes. Also in this test we've checked how Picture-in-Picture (PiP) works with local media files via webcam. The average latency in switching between sources in PiP didn't exceed 1 second. Test result: Pass.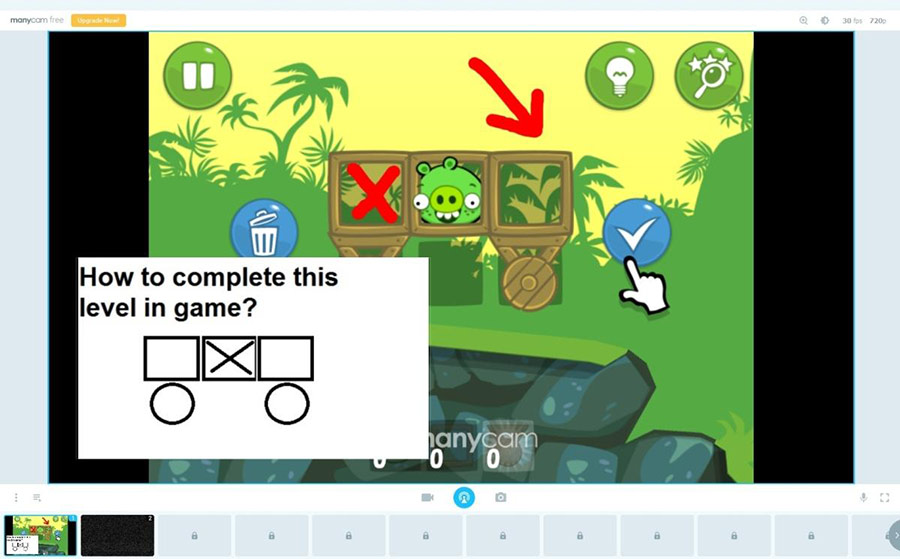 Read next: Video converter apps for Windows and Mac.
Pricing
ManyCam has 2 plans: for personal use and enterprise customers. One-year subscription or lifetime license are available for both. There is no trial, only a free version for personal (non-commercial) use with limited functionality. The refund policy is carried out in accordance with the rules of 2Checkout payment provider within the first 120 days.
License pricing for individual use:



Free

Standard

Studio

Premium

1 year

$0.00

$29.00

$59.00

$27.00

Lifetime

$0.00

$69.00

$119.00

$149.00

Presets

2

4

12

24

P-in-P

1 mode

All modes

All modes

All modes

Desktop capture

Limited

Full

Full

Full
Features in all Enterprise plans are equivalent to Premium subscription, with the only difference in the number of devices (3, 5, 10).
| | | | |
| --- | --- | --- | --- |
| | Enterprise / 3 | Enterprise / 5 | Enterprise / 10 |
| Businesses (1-year) | $119.00 | $189.00 | $279.00 |
| Businesses (Lifetime) | $298.00 | $475.00 | $798.00 |
Conclusion
ManyCam takes time to learn all the ins and outs, yet the more you dig into it, the more ideas for untrivial video streams emerge. Free version is quite sufficient for non-commercial use, despite certain limitations. ManyCam imposes no stream time limits and provides fast servers in all plans, which gives it an upper hand compared to similar software. 
The library of standard effects (items) to be placed in the picture contains only the simplest objects, while users may also create custom items. Overall, ManyCam suits well for streamers, tutorial creators, reviewers, youtubers, social media personalities, and video-chatters.