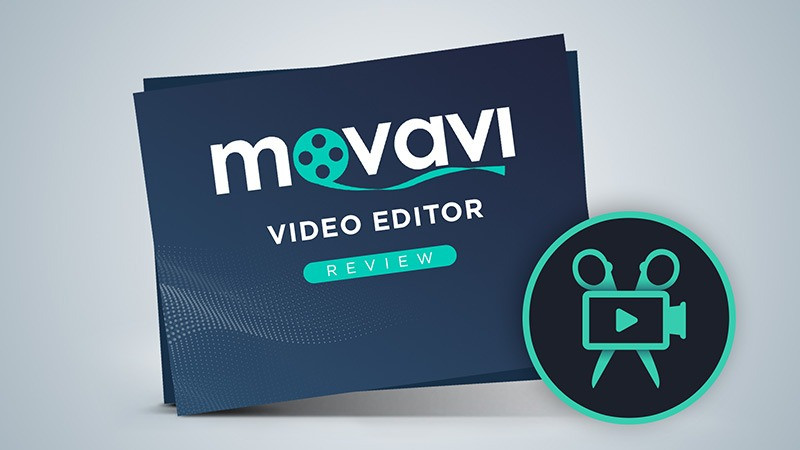 Every day we share our experiences on social networks, whether it's a new car, or camping with friends, or skydiving. More and more we need tools to create high-quality content. From a whole arsenal of apps for processing phone videos and professional video programs, we'd like to focus now on Movavi Video Editor. It is developed by a Russian company, with versions for Windows and MacOS.
There are 2 plans on the official website: Movavi Video Editor 2020 and Movavi Video Editor Plus 2020. Movavi Editor runs on Windows and macOS, and other devices - iPhone, iPad, Xbox, LG, Samsung, Sony, etc. It supports most popular video/audio/image formats, like .asf, .avi, .flv, .wmv, .mkv, .mpg, .mp4, .wmv, .mp3, .m4a, .bmp, .gif, .jpeg. Let's also name system requirements briefly:
Hard drive space: 800 MB for installation, 500 MB for operation;
RAM: 2 GB for Windows 7, Windows 8, Windows 10;
Display: 1280 × 768 screen resolution, 32-bit color;
Graphics card: Intel, GeForce, Quadro, Radeon;
Processor: dual-core, 1.5 GHz.
Video tools
As soon as we open the program, we see a welcoming screen with a link to tutorials. Although the interface is simple and accessible, most likely you will not have any difficulties. Right away, it is possible to record video directly from the web camera, which is convenient if, say, you upload content to a blog regularly. Then edit video in the program, apply effects, background, sticks, captions, etc.
As with any video editor, we can split, rotate, tilt, crop, adjust color etc., both to the entire video and fragments. Then, there is also a big choice of transitions, filters, stickers, titles, etc., as well as a set of tools to improve color, brightness, contrast. Most of it is automatic, just one click.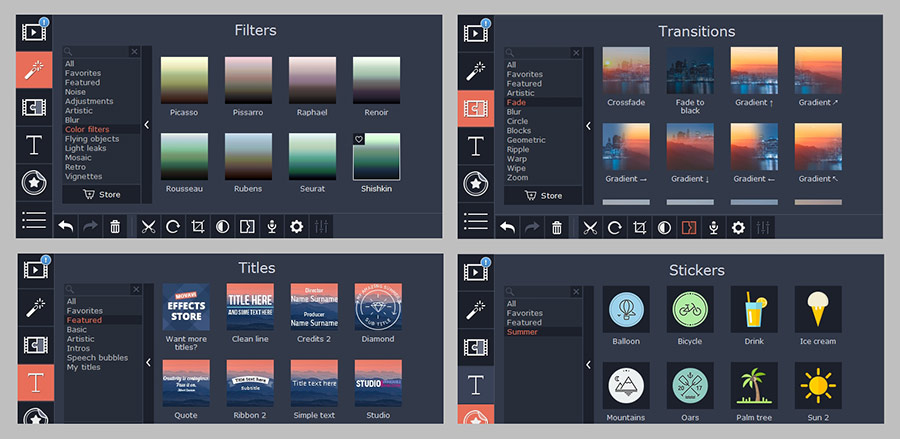 One of these tools is a stabilization tool, which is rare among video editing software. It is definitely useful, because phone cameras are shaky, and pro-cameras are too large to carry around. In other words, when you shoot how you ride a bike, run, or ski, you'd want that video to be as less jumpy as possible. At the same time, this tool in Movavi is quite burdensome. For example, a 12-minutes clip takes 2 hours to perform stabilization.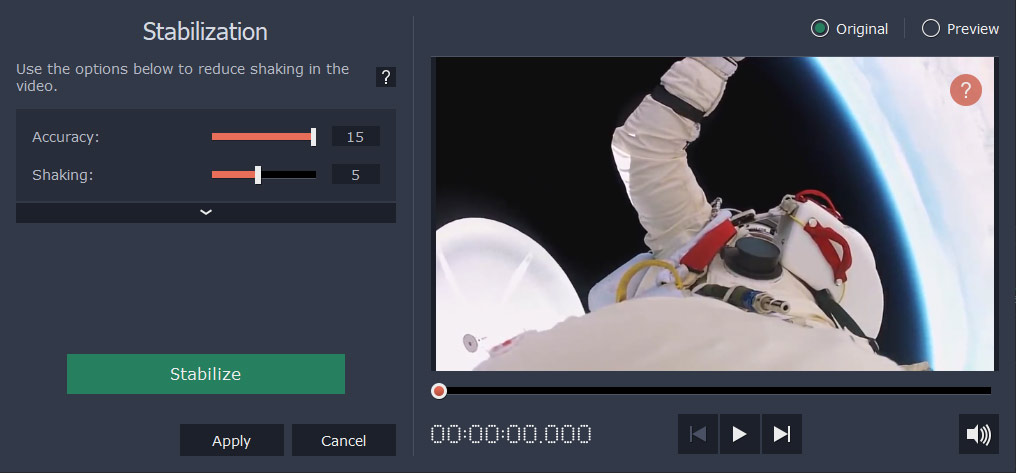 Another indispensable tool is Chroma Key, which is used to remove the background to replace it with anything else. Here's a video overview: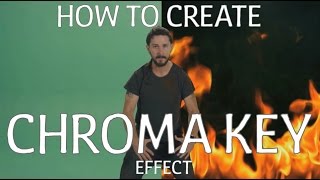 Audio tools
Movavi Video Editor also works with many audio formats. As with video, here you can record sound to the timeline. Also there is such a tool as a beat detector - it shows all the beats from an audio file on the timeline, thus helping to synchronize it with video. There is a noise removal tool, equalizer and sound effects… not much, bur probably enough. Equalizer settings can be saved as a preset.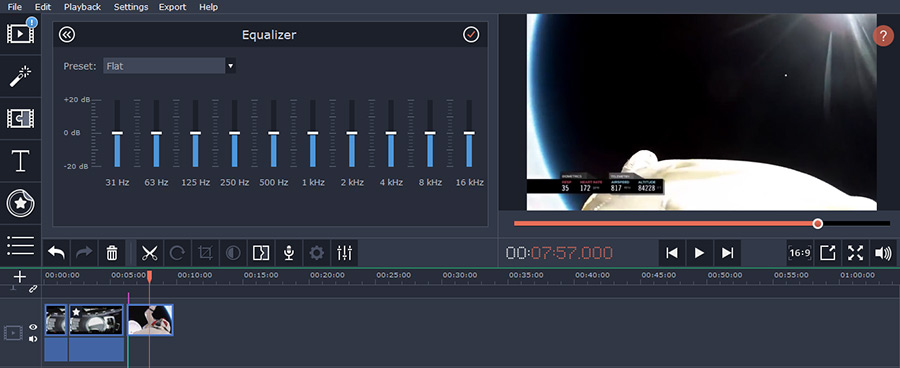 Export
Video can be saved in any of 15 formats including MP4, AVI, WMV, MKV, FLV or GIF. Video exporting includes settings for quality, codec, resolution, aspect ratio, frame rate and bitrate. There are 2 video codecs to choose: H.264 and MPEG 4. Resolution is fully customizable, as well as offering presets from 320x240 to 4096x2160 (4K).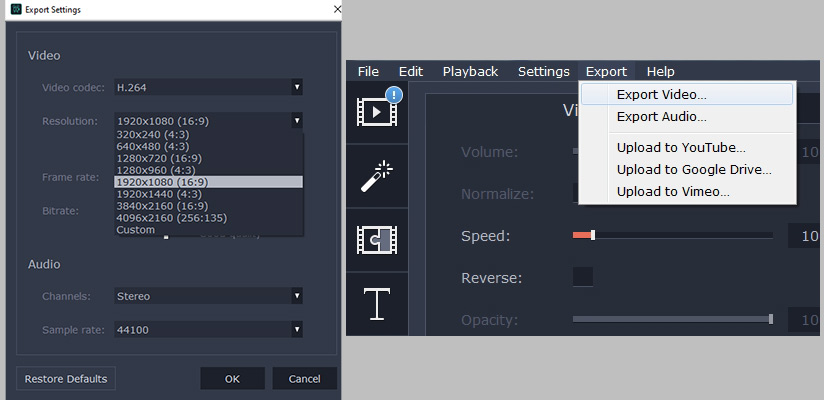 You can export video or audio separately, and upload a compiled video to Youtube, Vimeo or Google Drive and save time this way. By the way, a trial version will put a screen-wide watermark, so obviously you'd have to purchase a subscription for regular use. Audio export can be done in one of several formats – MP3, WAV, AAC, FLAC, OGG, WMA, as well as for Android, Apple or TV devices.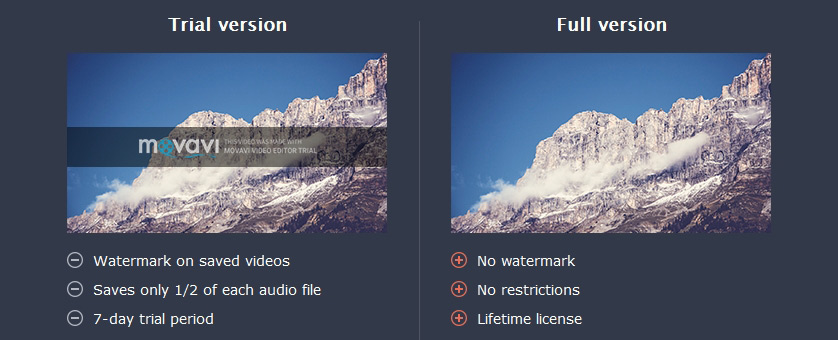 Processing
To test out Movavi Video Editor working capabilities, we've prepared 3 files and scenarios to see how long it will take and a size of output video. For example, an MKV file in 4K quality and 600 Mb in size + effects and transitions (color burn filter, split, cube transition, auto contrast, magic enhance, opening title credit, sticker, etc.). It took 40 minutes for Movavi to compile this file and it ended up 4.1 GB in size. 
| | | | |
| --- | --- | --- | --- |
| | MKV, 4K UHD | MKV, 4K UHD | MP4 file, 720p |
| Resolution | 3840x2160 | 3840x2160 | 1280x720 |
| Length / Size | 01:53 / 602 Mb | 01:53 / 602 Mb | 09:25 / 82 Mb |
| Applied edits | 10 | 0 | 10 |
| Export to | 4096x2160 MKV | 1920x1080 MP4 | 1920x1080 AVI |
| Export time | 40 min | 8 min | 57 min |
| Output file size | 4.1 GB | 0.85 GB | 2.7 GB |
Conclusion
Movavi Video Editor is a great choice for someone who is only starting in video creation. Easy interface, lots of tips and video tutorials, most tools work automatically. On the other hand, processing is pretty time-consuming, for example the aforementioned stabilization tool case or test files export. Generally, large videos will demand effort and patience.