Advertising… the engine of commerce, annoying or inspiring, has become a distinct requisite of modern world. Forms and techniques constantly change in search of new ideas, merging creativity and technical innovation. One of such new tools is interactive advertising - placing a person in an artificial environment, or Virtual Reality.
NEXT/NOW is an advertising agency from Chicago, founded in 2011, specializing in non-traditional advertising. Their work is always distinguished by a high-tech design style and involvement of customers.
Key facts
| | |
| --- | --- |
| Established | 2011 |
| Service lines | Virtual Reality, Augmented Reality, Projection Mapping, Marketing events |
| Employees | 35+ |
| Avg. hourly rate | $100-150 |
| Location | Chicago, Illinois, USA |
As we see, they focus on VR, AR, interactive marketing events. Many of their developers have solid experience in video games creation, which certainly helps to create realistic virtual reality environments.  
VR systems require special software able to calculate and respond to data from sensors/motion detectors. NEXT/NOW is also independently developing software for their projects, i.e. anything from virtual reality helmets to interactive displays. It lands them customers like Intel, LG, Mazda, Bosch.
Services
Virtual Reality
With VR technology, NEXT/NOW creates virtual prototypes of products and locations. This is especially useful when a prototype is a large-sized unit, thus real presentation would require special facilities or exhibition halls. 
VR allows customers to get acquainted with any system or device without physical prototype. For example, a virtual boiler prototype for Bosch allowed people to explore it and view the animations explaining how it works. This way, on the advertising tour Bosch did not carry a bunch of equipment.
At the same time, their exhibition stand attracted a lot of visitors. As a continuation of this project, virtual trainings about this device for technical support engineers were produced.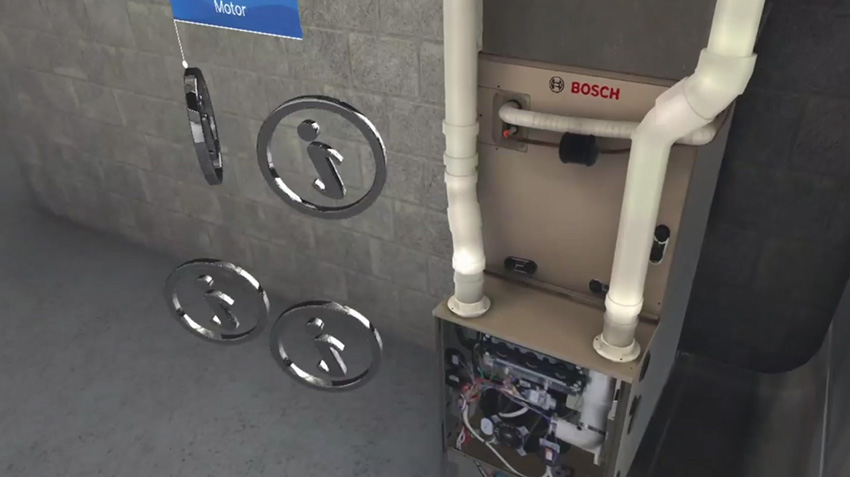 Using virtual reality for training has significant advantages. Air Force pilots in most countries need to pass tests on flight simulators before real flights. NEXT/NOW uses motion capture cameras, hand controllers and motion sensors for such purposes. Along with VR glasses, this enables them to create virtual tests of any difficulty. 
For example, in McDonald's marketing campaign for the NASCAR championship, customers got the opportunity to perform a virtual pit-stop and participate in various competitions.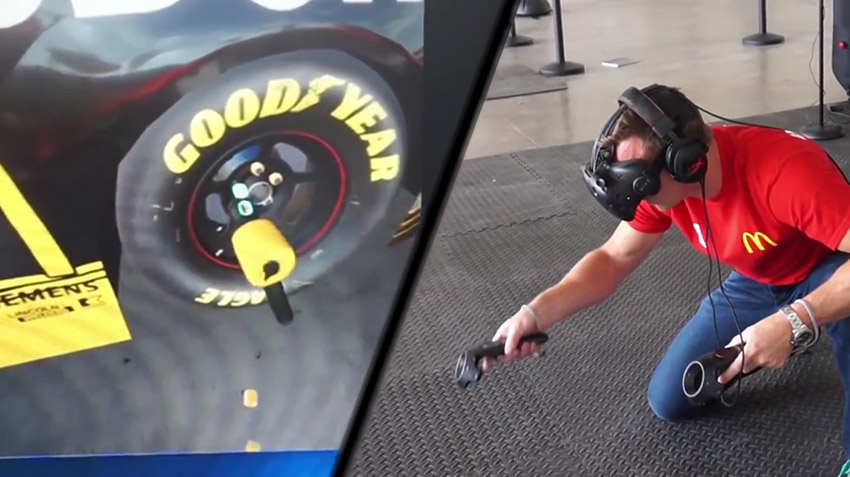 Augmented Reality
Unlike virtual reality, which immerses a person in the artificial world, Augmented Reality (AR) uses physical world as a canvas and adds virtual elements to it. AR is easier to realize, as in most cases a device with a camera and a screen, say smartphone, is enough.
A fine example of AR project by NEXT/NOW is the campaign for Chevron oil company. As real objects, models of engine details were located on exhibition stands. When a visitor  hovered a smartphone over the marker (picture), he got the moving image of an engine on the screen.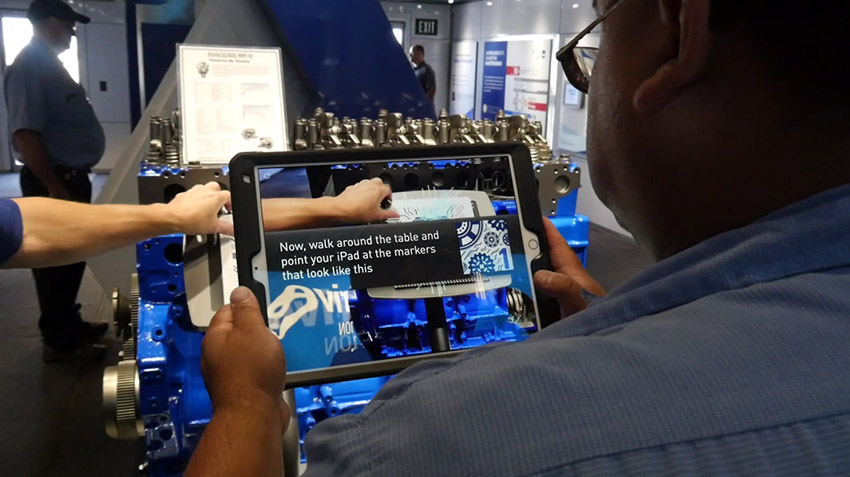 First, a visitor viewed how the engine works, the infographics, etc., then the interactive part -  how conditions change after adding the oil, how friction is reduced and engine damage decreases, and so on. As you'd move around the engine, point of view adjusted as well. Overall, this Chevron exhibition was quite popular in many US cities.
Another example was truck maker Cummins, who bet on Augmented reality for their first electric truck ad campaign. Customers at the American Commercial Vehicle Conference used tablets to look under the hood of a truck without opening it. Of course, this was a creative solution by NEXT/NOW.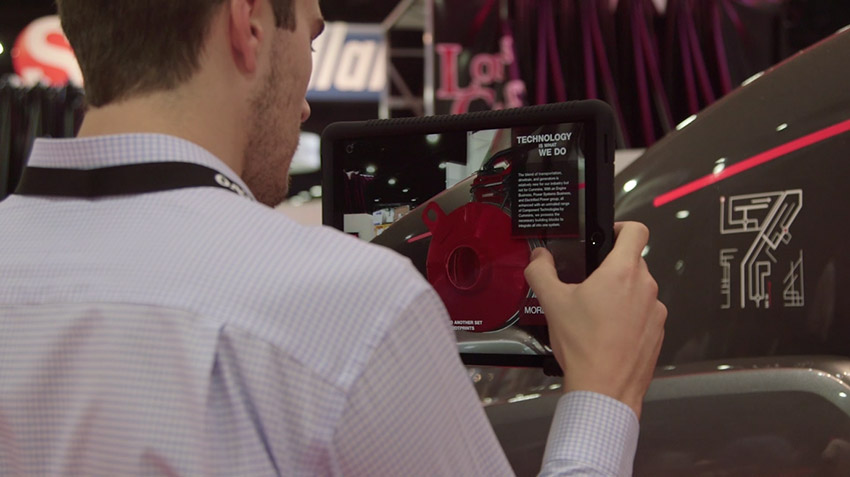 Projection Mapping
This is a technology for projecting pictures on a physical surface. The key benefit is that a  viewer needs no additional equipment, no glasses, no HMD, etc. The special software allows creating 3D imagery from light rays and project it over a surface, like a wall or a floor. Smaller projections can be projected on smaller surfaces, as well.
The picture above shows projections of John Deere tractor vehicle made by NEXT/NOW. The task was to get visitors' attention but not with VR or AR. Thus, the ideal solution was to use project mapping. With no real tractor on the floor, dozens of spectators filmed the image with smartphones.
Marketing Events
Organizing events is always a tough job, especially big ones like a conference or a trade show. NEXT/NOW offer creative solutions and experience based on real customer engagement and interactive tools. 
One of the most popular ways to catch attention is a multi-touch screen. These are huge interactive displays that contain a pre-configured marketing application. Modern displays can be divided into several independent parts or united into one big screen.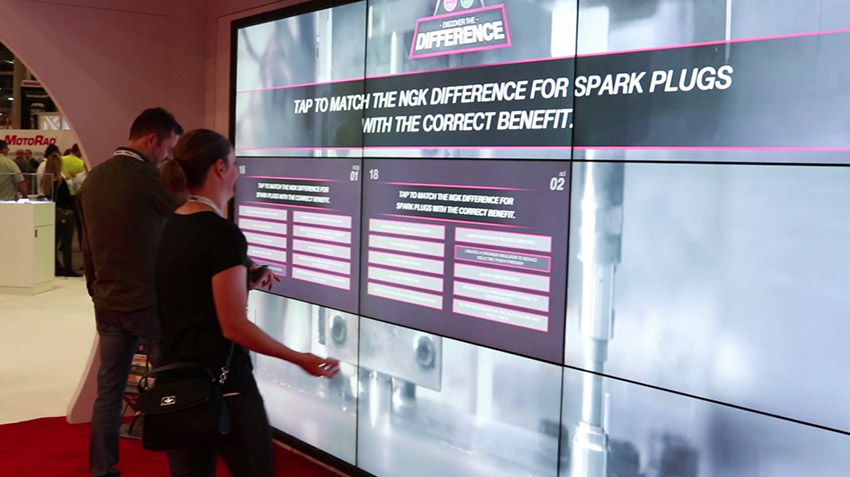 NEXT/NOW also works with "reactive" floors, composed of two parts. The first is a transparent surface on the floor which responds to touches (steps). The second part is placed underneath creating visualizations or simple games. 
For example, at the Ignite Tech conference, a Microsoft booth was built around interactive floor. It reacted to user steps and showed messages about new Microsoft product features. It was a success as people who were keen to visualize steps, also watched ads.
Case studies
Avo-Matic. At the famous SXSW festival in Austin, Texas, in the food section, the Mexican company South Bites decided to advertise their avocado cuisine. NEXT/NOW developed a creative ad campaign. For the Avo-matic food truck now had multi-touch screens for orders mounted on the side.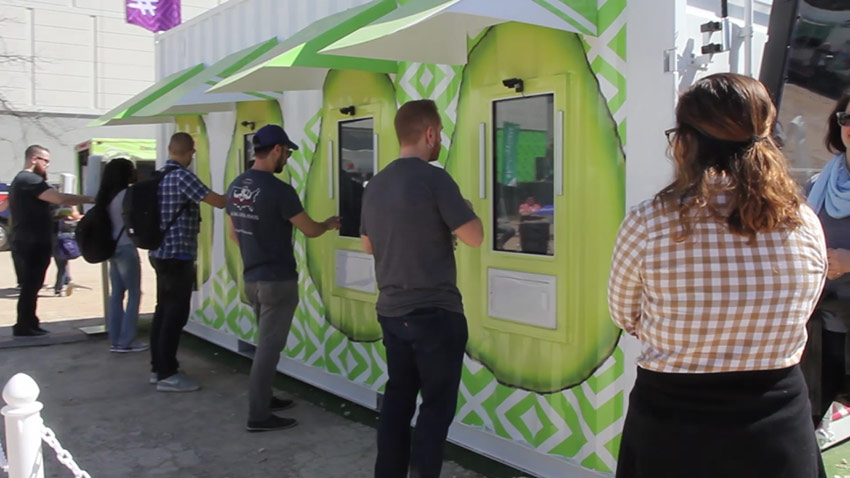 The main feature was face recognition system based on Kinect cameras. Customers received an order for free if they smiled into a camera. While the order was being prepared, customers could share a photo on social networks or watch an animated cartoon about their  order.
Big Ten Experience. The Big Ten is the oldest conference of the US student sport teams. Over a 100-year history, it accumulated thousands of artifacts stored in a local museum. NEXT/NOW used it to develop an interactive gaming complex.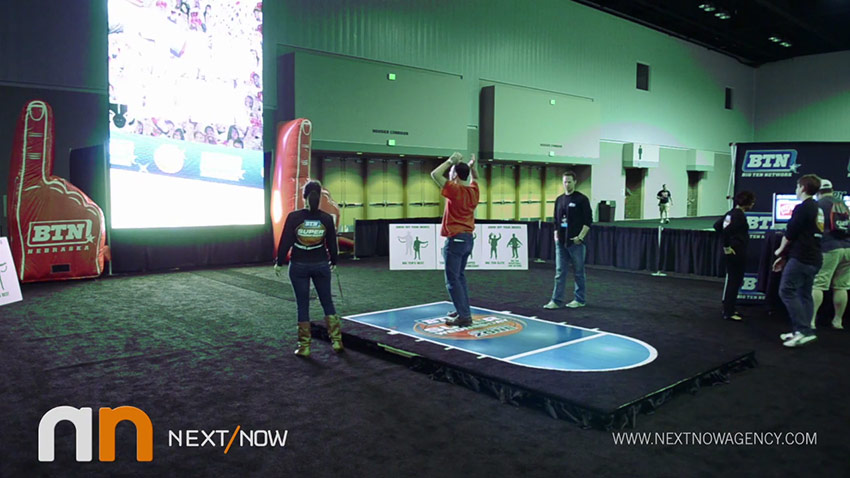 The first part was a big (10x12 ft) LED screen to display the games. Sensors were installed on the perimeter that tracked person's position so that visitors got an opportunity to play virtual basketball via the avatar. Both adults and kids were curious about it and consequently had interested about other exhibitions inside the museum.
Jeld-Wen. In an effort to emphasize commitment to new technologies, Jeld-Wen called on NEXT/NOW modernize the new HQ. The first object was a room with 2 walls were built from screens and connected to a single system.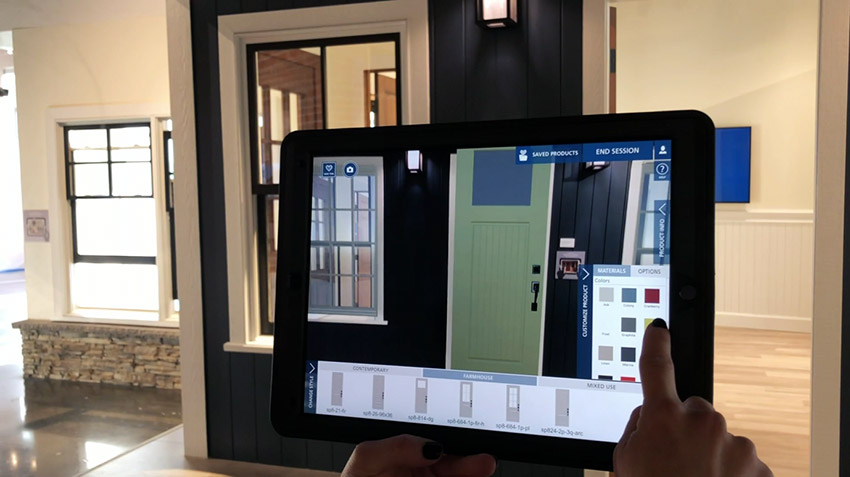 These screens displayed company information, recent market developments, training videos. In the next room visitors received a tablet with AR app that allowed them to change room design with items from Jeld-Wen product catalog.
Portfolio
Short list:
Full list: