A review of Avast Cleanup Premium for Windows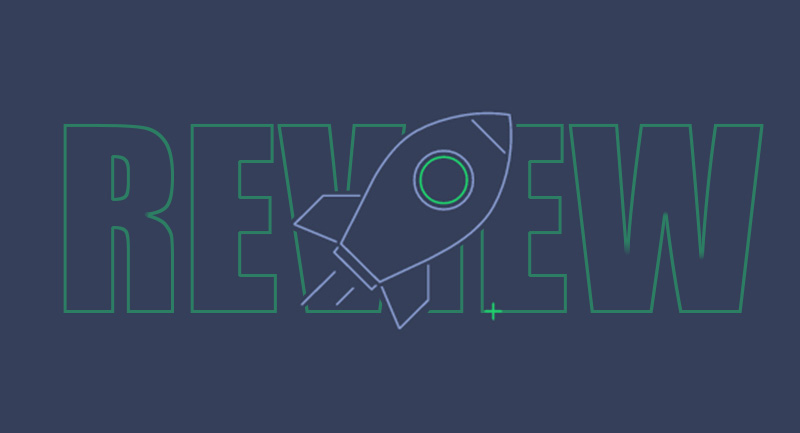 Avast Cleanup Premium is a PC optimization and performance booster tool built to make your computer run faster and perform more efficiently. It was released in July 2015 along with most Avast antivirus and anti-malware products. Cleanup Premium is a replacement for Avast's Grimefighter app, which has been discontinued. The most recent version, Avast Cleanup Premium 2018, was rewritten from the ground up and redesigned as a merger between the older Avast Cleanup and AVG TuneUp.
Avast Cleanup comes as a module of other Avast products including Avast Free Antivirus, Pro Antivirus, Internet Security, and Premier apps, but it may also be downloaded and installed as a single standalone application. This comes in handy, especially if you are already using another antivirus package that you are happy with.
User interface
Cleanup Premium's user interface is clean with an overall blue theme, accentuated with highlights of green, yellow, and the occasional red. The colors guide the user to relevant sections. The main screen is dominated by a Tune Up meter that shows the extent that the computer has been scanned and that problem issues have been resolved. There are large buttons for the most used features: Maintenance, Speed Up, Free Up Space, and Fix Problems.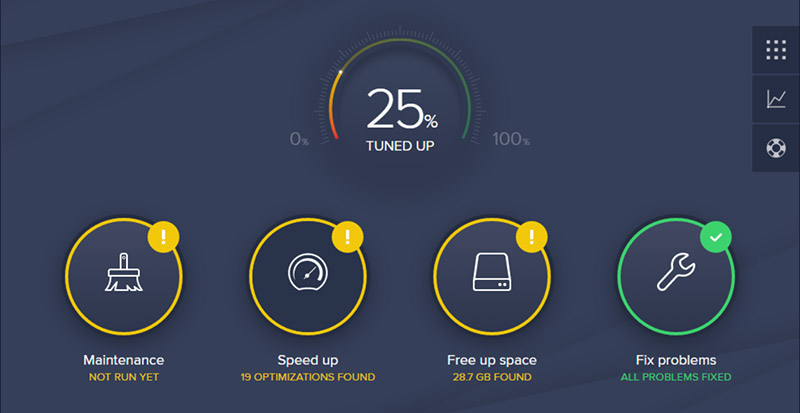 There are two sets of navigation panels. The top navigation button deals with more "under the hood" aspects of Cleanup Premium such as Settings and Licenses. The side navigation, on the right, contains access to other features, utilities, and usage statistics. A button in the top left corner allows the user to Unlock All Features. This takes you to a separate window that will guide you in choosing and purchasing an activation license.
The design and interface are very appealing in their presentation. All sub-screens are contained within the main Cleanup Premium Window (except for the purchase screen). Both sub-menus and sub-screens smoothly slide out from the sides of the main window or fade into view, resulting in a flowing, undisturbed designed.
Localization
Avast Cleanup Premium provides localization in over 40 different languages, in a variety of alphabets and writing systems. To access the localization settings, click Menu and select Settings. On the General tab of the Settings sub-screen is a field for Language. Clicking the field will present a drop-down list of all of the available languages.

If you include Localization packages with Avast Cleanup when you install it, then when you select a new language, all text in Avast Cleanup will be changed accordingly.
Popularity of Avast Cleanup Premium
Avast usually bundles their software packages (except for standalone, pre-acquisition products such as Piriform CCleaner and AVG TuneUp), so it's hard to determine the market share of Cleanup Premium specifically. However, as of January 2018, Avast had the largest market share of the cyber-security industry, estimated at around 19%, according to Statista.com.
The Avast brand is enjoying relatively substantial success for a brand of its kind in the social media space:
over 4 million followers on Facebook
nearly 200,000 followers on Twitter
almost 15,000 followers on LinkedIn
close to 200,000 followers on Google+
over 40,000 subscribers on Youtube
System requirements
Below are the minimum requirements to install and run Avast Cleanup Premium 2018:
Operating System: Windows 10/8.1/8/7 SP1 (or higher)/Vista/ XP SP3 (or higher). The app is available for both 32- and 64-bit versions.
Processor: Intel Pentium 4 (or higher)/ AMD Athlon 64 (or higher)
RAM: 256MB (minimum)
Hard disk space: 1.5GB (minimum)
Impact on resources (memory, CPU)
Avast products are famous for their light system impact and small resource footprint. Additionally, Avast Cleanup Premium now sports a new feature: Sleep Mode (listed as Background and Startup Programs).
Sleep Mode shows you which programs are causing a deterioration in system performance and allows you to "pause" or put those "to sleep" and to reactivate them. That temporarily frees up system resources. It does this without actually stopping the program altogether, allowing it to pick up exactly where it left off without any significant downtime.
List of features
Avast Cleanup Premium has always been a feature-rich application, complete with a list of independent functions. We've discussed the new feature, Sleep Mode.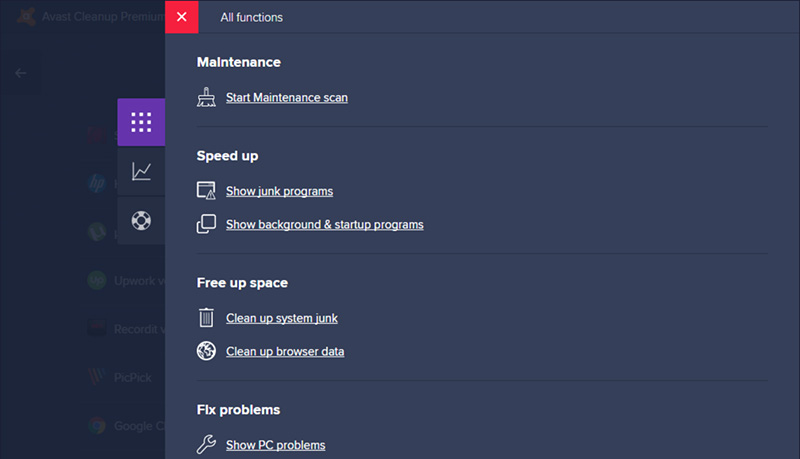 The other features available in Avast Cleanup Premium 2018 are:
Maintenance Scan: cleans up issues relating to temporary files like cookies, browser cache, temporary system files, etc., along with repairing broken registry entries.
Disk Cleaner: scans your hard drive and rids it of unnecessary files.
Junk File Remover: removes old files which are no longer being used or are leftovers from an uninstall. Also empties the trash bin.
Tuning Dashboard / Action Center: looks for common issues plaguing your system, like unsafe user accounts and settings, and fixes them.
Browser Cleaner: optimizes your browser by clearing cookies, cache, download history, and any other unnecessary bits of data.
Registry Cleaner: scans the Windows registry, removing redundant and broken entries.
Shortcut Cleaner: removes redundant and broken shortcuts and icons.
Bloatware Removal: removes expired trial software, adware, and toolbars that needlessly take up valuable hard drive space.
Avast Cleanup also offers real-time notifications. If Cleanup detects performance issues on your computer it will let you know with a popup notification. The pop-up includes information on issues with settings, applications, and/or disk space, and gives you the option of fixing the issues. Since not everyone is fond of this feature, Avast allows users to tweak the notification settings, including opting out of receiving notifications altogether.
Protection
Avast Cleanup claims to provide these benefits to your computer:
Improved efficiency
Faster performance
Improved boot times
Increase in available hard drive space
Removal of unnecessary applications
An optimized system registry
Longer battery life in laptops
According to their website, the application's malware engine has been tested in a number of environments. It appears to be very effective in both finding and removing various factors contributing to system inefficiency.
The Avast website claims performance gains such 25-51% increase in speed, 53-62% decrease in start up times, 6-9% higher fps (frames per second) rates in gaming systems, and 22-68 GB of safely cleared hard drive space. Independent benchmark tests support these claims. Cleanup Premium scans and fixes have resulted in similarly significant benefits as those reported by Avast.
Plans and pricing
Avast Cleanup is available for a fee; however, you can use the app indefinitely for free as long as it is in Scan Only Mode. If you want to try out all of the Cleanup Premium features, it is possible to activate it for a trial period. The trial period lasts for 60 days and allows you to take full advantage of all of the features and tools. You do, however, have to sign up for the trial period and will need to enter your personal information including your credit card.
Once you've signed up for the trial, you'll be able to use all of the Cleanup Premium features for 60 days. To activate the 1-year license at the end of the trial period, you have to pay. For those who do not wish to purchase the license, don't worry. Avast will send you a reminder email a few days before the trial ends so that you can opt out and not pay.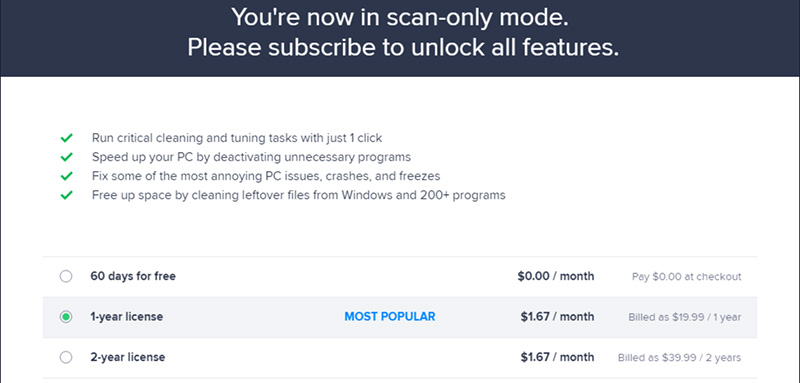 While you can use the free version indefinitely, it only scans your computer. It will not fix any of the issues it finds. If you want Cleanup Premium to actually resolve issues/threats, you will have to purchase the app.
You may purchase Avast Cleanup Premium through your Avast Antivirus program (or other Avast products) or from Avast.com directly. The activation license comes in three flavors: a 1-year license for $49.99, 2-year for $89.99 and a 3-year for $129.99.
A word of caution: Some people may attempt to unlock the full set of features by obtaining license keys from questionable websites. This is not a good idea. It is highly improbable that you will get a working license key for free or from a third party. Most often, unscrupulous webmasters will use a "free license" to attract visitors and install malware. It's a much better idea to pay the $49.99 license fee, valid for one year, to get and keep your PC running smoothly.
Support and customer service
Avast provides customer service assistance primarily via its website (support.avast.com). Users can visit the website to check out a number of Knowledge Base articles, guides, and tutorials. While Avast previously had a phone support service, they have replaced it with the automated online support system. Users can search or navigate to sections for specific Avast products and glance over the available material. Avast Support even offers an Online Threats Academy where visitors can learn more about cyber threats and how to protect themselves.
For Business clients, Avast offers the same support materials as well as a ticket system. That allows clients to have Avast support staff assist them directly by addressing the issues listed in their support tickets. Additionally, Avast now offers Avast Total Care which provides phone support for Avast cyber-security products and provides general tech support for other hardware and software problems. This is a subscription or pay-per-call service.
Additional notes
If Grimefighter is still available in your Avast antivirus package, it means you're using an obsolete version of Avast. It is advisable that you update the software package as soon as possible.
Avast also offers Avast Cleanup for Android. Unlike Avast Cleanup for Windows, Avast Cleanup for Android is completely free to use to optimize your phone.
Similar to, but different from Avast Cleanup, is Avast Browser Cleanup. This is another free utility, but for your PC. It removes malicious add-ons from your browser. Browser Cleanup also removes old files, cookies, and cache information, speeding up browser performance.
Read more about Antivirus
Let's Build Your Social Media App
I agree to share this request with 10 development companies and get more offers