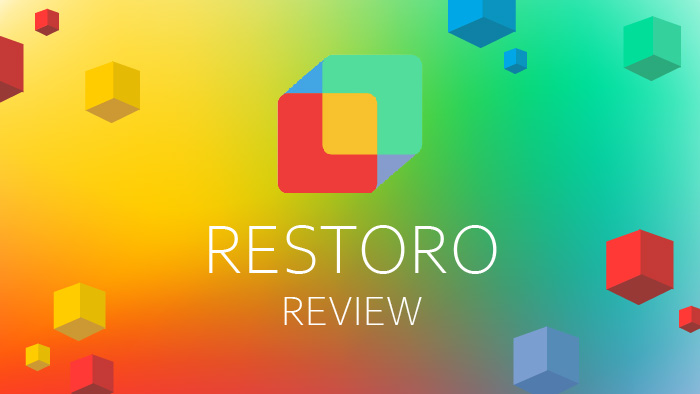 Over time, a decrease in PC performance is inevitable. Accumulation of unnecessary files and programs, the presence of viruses, and constant system errors could leave a negative impact on performance and reduce the longevity of your PC. To prevent this, one has to monitor its condition, and programs that can find and fix issues can be of huge help. One of those is Restoro.
Interface
The interface of Restoro is a simple window displaying features and all the actions taken. Right in the middle the window displays all current actions both during scanning and during repair.
On the left side in the Analyzing tab we see categories by which scanning and repair takes place: PC profile, Stability, Security, Summary. There is also a small menu (cog icon) with additional features and settings, such as terms of use, refund policy, uninstall instructions, etc.
The settings menu itself does not give control over the appearance of the program, but only allows you to change the notifications settings and access to real-time monitoring. In general, the interface is comprehensive and requires little effort on the user side.
Features
It is clear that the first function is to scan the PC for all possible problems related to Windows errors, finding corrupt or damaged files, the causes of problematic operation, and the presence of viruses or programs that threaten stable operation. It is free. To access the following functions (i.e. the process of repairing itself) you need to purchase a license:
Optimize registry. Corruption or malfunction of registry files can significantly reduce the performance of your PC. To prevent this, Restoro tries to fix (or delete if necessary) such files. As we will see in testing, when hovering over registry problems, you can view the number of faulty files.
Virus protection and removal. Restoro uses a number of different virus engines simultaneously and a custom virus protection engine. White lists are also used together with black lists for better detection of what should and should not reside in your operating system.
Repairing virus damage. Restoro compares system files with the Restoro repository files. Infected or damaged files are replaced with new ones that fit your system.
Fixing error messages. Restoro performs a deep scan of your Windows system, finds and automatically fixes system files and components that cause these Windows errors. It contains more than 25,000,000 faulty and missing Windows files.
Hardware repair. The scan collects your overall hardware profile - hard drive, RAM, CPU - and recommends parts that may need to be replaced to maximize your system performance. However, it should be understood that Restoro does not fix hardware problems, and repairs of this plan fall into a completely different category.
Replacing or restoring DLL files. DLL (Dynamic Link Library) files are a necessary component of the program. Restoro replaces missing or damaged DLL files with fresh, clean and up-to-date ones. Also, any other DLL files can be replaced with new ones in the same manner.
Junk cleaning. Cleans unnecessary system files, which interferes with PC stable operation. When the scan is complete, you will be able to see how much memory can be cleared.
Finding stability issues. Certain programs can threaten your PC and slow it down. To prevent performance degradation, Restoro scans for such programs (which can be viewed by clicking on Stability Issues at the end of scanning), and repairs or disposes of them.
Detecting privacy problems. Find unnecessary cookies and other files generated by browsers that threaten privacy. Restoro scans for such files and deletes them after the repair.
During the scan itself, there are 3 main categories in which Restoro looks for errors:
Hardware (CPU temperature, memory, hard disk speed);
Security (Scan for viruses, trojan, spyware, worms, rootkits, ect.);
Stability (Finding files and programs that most often give an error).
In addition, it should be clearly understood that the program can not fix 3rd party programs (programs that are not included with Windows OS, for example Mozilla Firefox, Adobe software, etc.). It is also not recommended to use the program as the main antivirus. Restoro is a tool to fix PC errors, not a means of protecting it.
Testing
For a more detailed and clear picture, we will test both scanning and repairs.
Scanning. The first thing the program will do at startup is to start the process of scanning your PC. The scanning process is divided into 5 stages:
Compiling data. Conducting a general collection of information about the PC;
Your PC profile. Scanning of the main part of the PC and its profile (configuration, total and free disk space, etc.);
PC stability. Finding problem areas that affect the performance of the PC.
PC security. Scanning for viruses, virus-infected files, and more.
Summary. Generalization of all found problems, and their derivation. After scanning, you can view any of the steps by clicking on it in the menu on the left.
As you can see, Restoro has found many errors in the system related to the registry, problematic programs, privacy settings and files to be deleted. The scan itself takes about 3 - 5 minutes.
Repair. As already mentioned, to repair you need to purchase Restoro and enter the license key. It is entered in the field in the form of a key at the top of the main window.
Immediately after entering the key, the program begins the repair process. Like the scanning process, it is divided into 4 key stages:
Clear faulty files. At this stage, files that have been marked as viruses or spyware are deleted. In addition, files that are corrupt, faulty or unrecognized by the system will also be deleted.
Install fresh files. During the second stage, Restoro installs all the necessary new files from its reserve, сonsisting of over 25 million updated components, to fill those that are missing in the system. This will allow it to work more stable. System files will be the main part of such changes (if necessary). They will be followed by other types of files that are necessary for the stable operation of the system (DLL, registry files, so on).
Repair damage. As the name implies, Restoro replaces all damaged, faulty or missing files with new ones that will fill the system with the required number. This primarily applies to DLL files, system files, and registry keys.
Stability and Security checks. Both of these categories can be actually perceived as one, because during repair they occur almost simultaneously. During stability check, Restoro checks the computer for stability, system programs and their operation, and security check removes cookies and other files that threaten its security.
The whole repair process took 24 minutes. It should be understood that the number may vary depending on the configuration of your system, the presence of a large number of viruses, corrupted files, and so on. After the entire repair process, Restoro asks you to restart your PC to install all the necessary files.
Results. So, let's compare the changes in the PC before and after the Restoro repair.
Freed memory. Given that the PC is cleaned at least once a month, Restoro was able to clean an additional 2.4 GB, as calculated during the scan.
PC startup speed. A bit of an unexpected result, but the PC startup speed increased by 1 second. Maybe it is not directly related to the program because the system was quite incomplete. It will be extremely difficult to notice such a change, and it does not greatly affect anything.
Browser speed. The speed of the browser, though not much, has increased. For example, opening YouTube was 2 seconds faster and opening platforms like SoundCloud and Reddit was 1 second faster. Given the regular cleaning, this is a pretty good result.
Application start speed. The speed of launching programs, as in the case of the speed of the browser, increased by an average of 1-2 seconds. Testing was done in Google Chrome, FL Studio, Wondershare Filmora 9 and Discord.
FPS change. FPS was tested on several games, including Civilization 6, Overwatch. The most noticeable change in FPS, between tested games, was in Civilization 6. The result was an average increase of 6-8 FPS, which is very good. In other games, the average increase was 3-6 FPS.
It is necessary to notice that the data presented in this exact testing will fluctuate depending on a configuration and a condition of your system. For some the result will be almost imperceptible, and for others much greater.
Pricing
Downloading and scanning your PC is free, but to repair the system you need to buy Restoro one of the available options:
1 License, One time repair - €28.95
Unlimited use and support for 1 Year - €37.95
3 Licenses and unlimited use for 1 Year - €56.95
In addition, there is a guarantee in the first 60 days of the ability to return the money.
Purchase is available both through a credit card (MasterCard, Visa, etc.) and through PayPal.
Restoro alternatives
Advanced SystemCare PRO - less functionality, lower price;
Ashampoo WinOptimizer - similar functionality, user-friendly interface, effective free version;
CCleaner is a focus on registry repair, mainly for cleaning, not repairing.
Find more information at: Best PC optimization software.
Conclusion
Restoro is an interesting software to optimize the entire operating system, increase performance, detect dangerous, unnecessary or broken files, replace them or destroy them. This set of functions in one program provides a wide range of opportunities to ensure the highest quality PC operation.