In this review, which is more of a quick tip or suggestion, we name just 5 best screen recording software that are free, completely or partially. Whether it is YouTube streaming, gaming, Twitch, online lessons, you might need to record and save it anytime. Options are plenty – screenshots,  screen capture, webcam recording, video editing, etc. 
Here are all 5 screen recording software presented side-by-side with all key parameters.
Bandicam
OBS
DVC
ShareX
ScreenRec

HD recording

✓

✓

✓

✓

✓

Streaming

–

✓

–
–
–

Cloud storage

–
–

✓

✓

✓

Webcam recording

✓

✓

✓

–
–

Presets

✓

✓

✓

–
–

Time limit

10 min

Unlimited

Unlimited

Unlimited

Unlimited

RAM, Mb
(in recording)

~ 120

~ 120

~ 140

~ 50

~ 126

Windows

✓

✓

✓

✓

✓

MacOS

–

✓

–
–

✓

Pricing

$39

Free

$50

Free

Free
Windows XP, Vista, 7, 8, 10
One of the most popular screen recorders due to rich functionality, support for multiple formats and ease of use. Just choose an area to record or capture the entire screen and click the REC button. Customize by adding a logo or animation for mouse actions.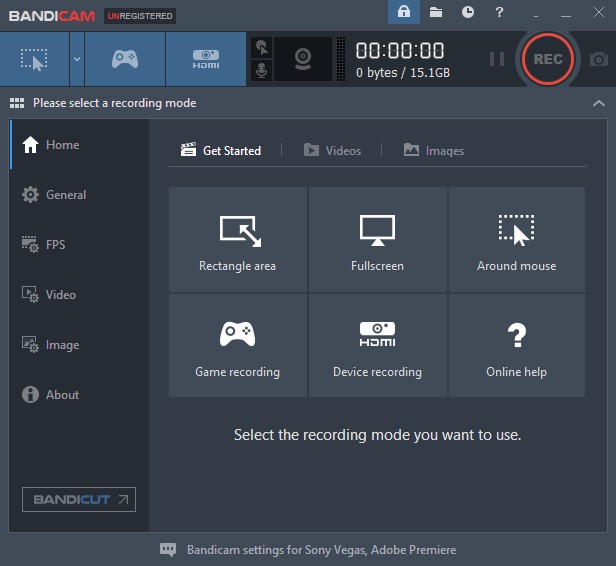 There is a game recording mode, which allows you to record gaming sessions in full-screen mode and without time restrictions (Pro version). Also, to save time Bandicam has a list of presets for resolution. A disadvantage is a vendor logo on videos, so it won't be good for professional use. For casual use Bandicam will be perfect.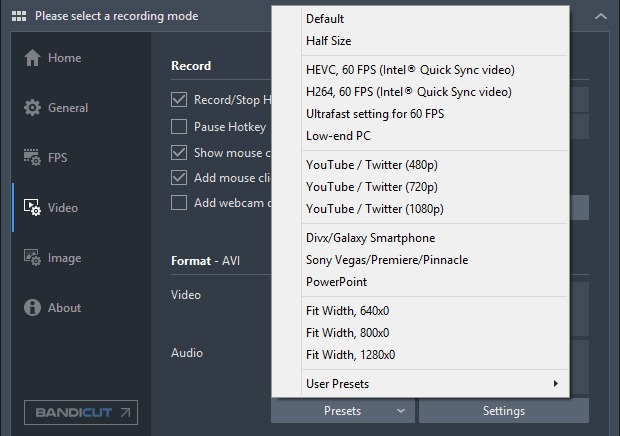 Pros
Fast and productive

Webcam and HDMI device recording

FPS configuration
Cons
Freemium model (not fully free)

Maximum of 10 min recording in Free
Windows, Mac, Linux
If you love to share gaming victories with the world, OBS Studio provides the ability to stream, instantly edit and save recordings. The program is open-source and completely free, supported by Twitch, Facebook and Nvidia. Note that initial settings may seem complex, and if you've got an integrated video card, reading this forum thread. Set up OBS Studio correctly and you will have a lot of tools for recording from screen, for example adding a layer with a webcam, going live on Youtube, Periscope, etc.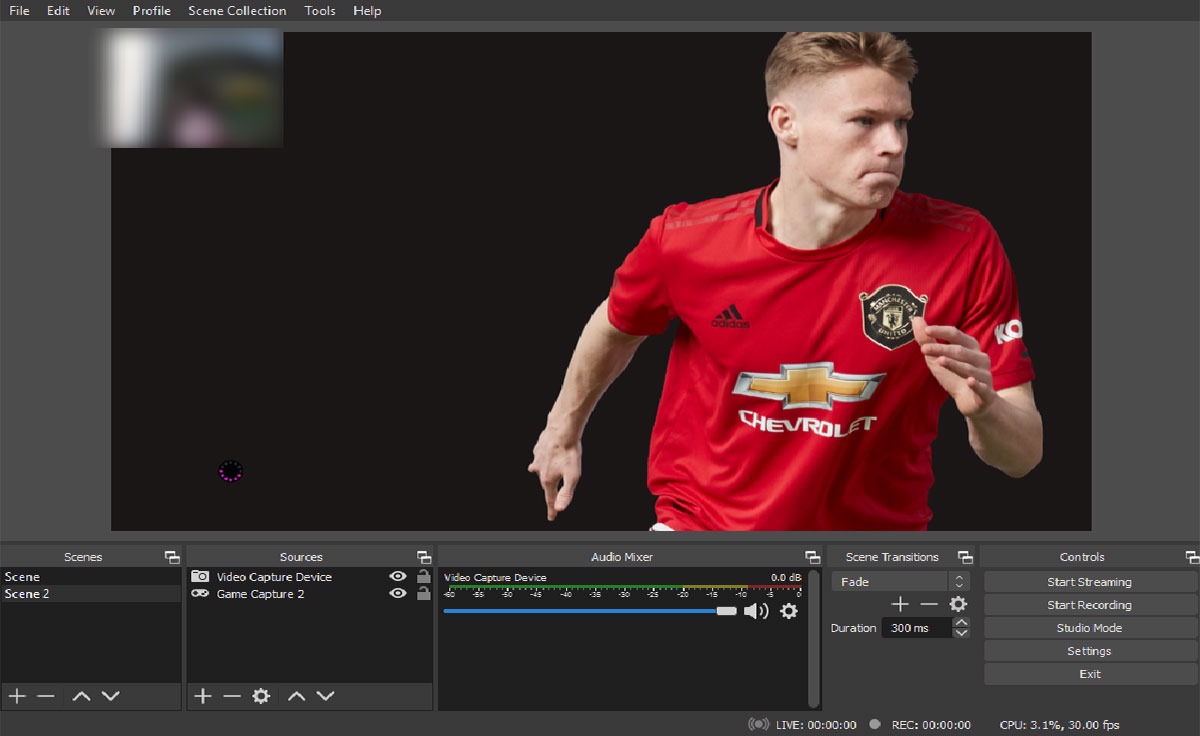 Add text, color, browser, input and output sound, a slide show. One of the best features is the ability to switch between screens and simultaneous recording of both, even with transition effects. Multiple popular video formats, hotkeys, 60 FPS or more – which is even more than by FRAPS.
Pros
Connection to streaming services

Capture multiple screens at the same time

No time restrictions
Cons
Initial settings can be quite difficult
Windows 8.1, XP, Vista, 7, 8, 10. Mac OS X 10.5 or above
Despite outdated design, Debut Video Capture (DVC) offers a wide range of tools as for screen  recording software. It is capable of capturing the entire screen, part of it, or recording from a webcam. There are a number of preset recording formats, filters, overlap text or watermark. On the other hand, refreshing it with new designs would be nice.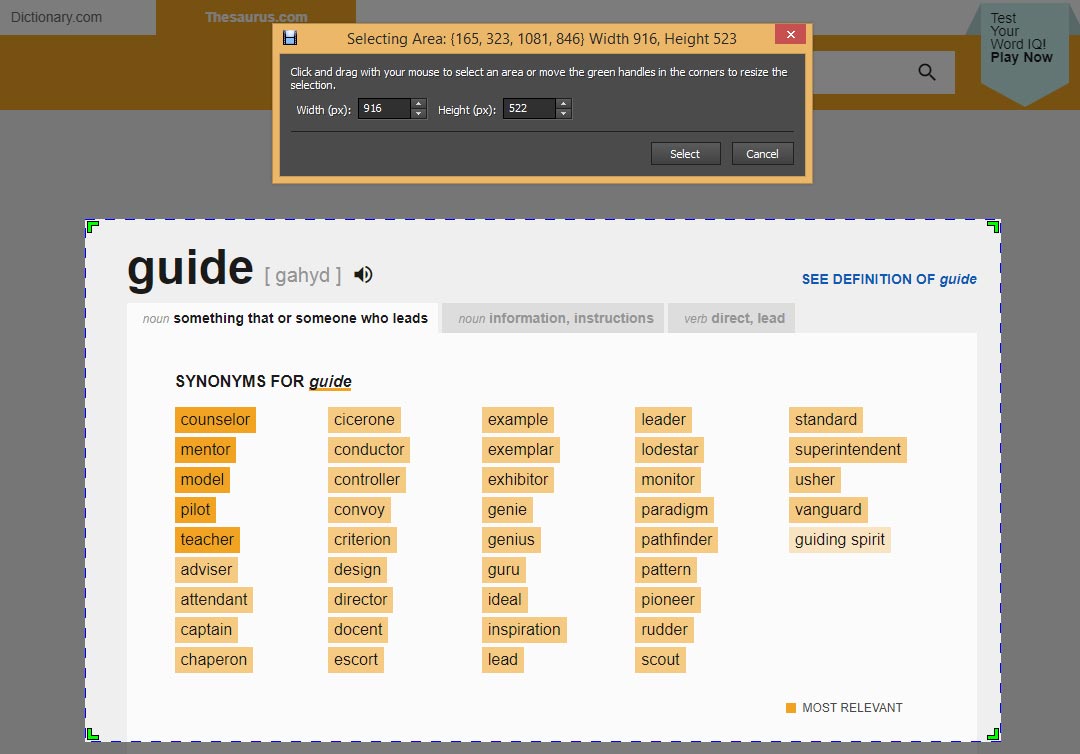 For tutorials or training videos DVC will do the job, it has no restrictions on recording time. You can record from a webcam, select audio input/output (microphone, speakers). On the other hand, the functionality is limited – for example, webcam and game recording are not available at the same time. A good feature is connecting to an IP camera – this is suitable for security systems with multiple cameras connected to a network.
Pros
Choice of video file formats

Recording from external devices

Up to 60 FPS

Free for non-commercial use
Cons
Outdated design

High CPU load
Windows 7, 8.1, 10
ShareX acts not just as a video recorder, but also a comprehensive screen recording software. With over 12 years of development and zero fee, ShareX is one of the top products in this category. A beautiful design is a clear advantage over other apps. It can also make screenshots of a specific size.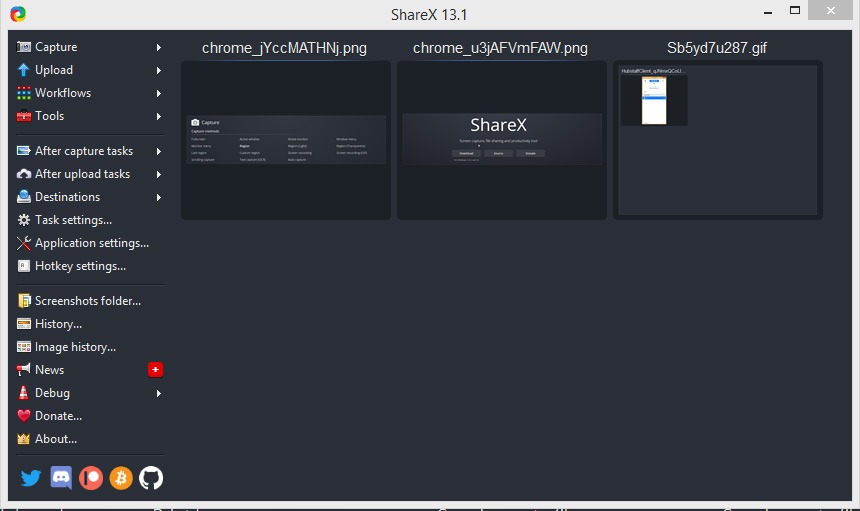 ShareX impresses with a number of useful tools. It can capture the entire web page when scrolled, identify text using OCR, take scheduled screenshots, record and convert to GIF format. Connection to cloud services is simple, e.g. connect to Dropbox in just a few clicks by logging into it from ShareX. This way, a recording will be automatically uploaded to a Dropbox account. 
Pros
Free and easy to use

Powerful functionality

GIF recording

No time restrictions

Upload and/or edit files
Cons
Not suitable for recording games
Windows, Mac, Linux
ScreenRec is a simple screen recorder that also helps to share results. Good for communication among company employees, screenshots and capturing videos from a PC screen. No extended functionality here, just basics. For example hotkeys – only Alt+S is to start recording. So it is only good as a way to quickly do the task without giving attention to detail.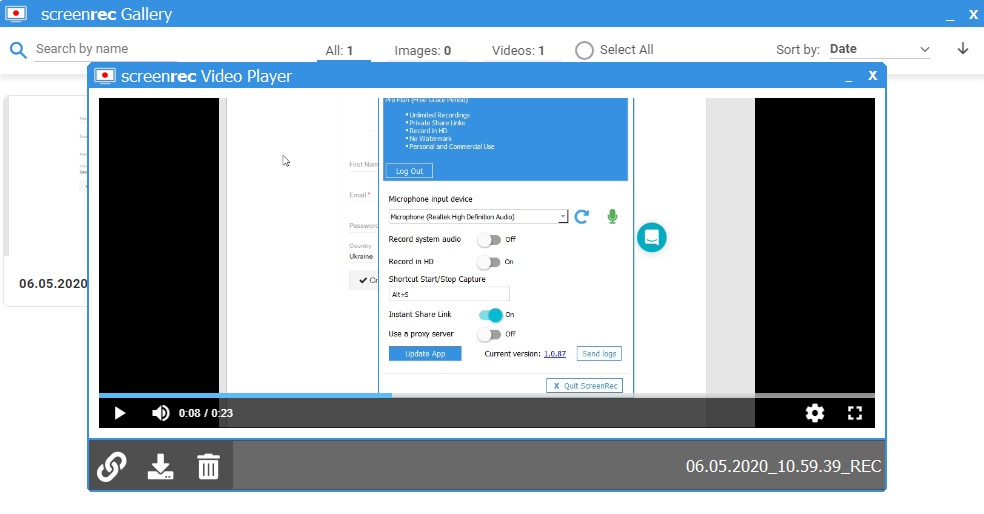 To unlock all features of ScreenRec, one has to create a free account, which will allow to record without time restrictions, create links, and grant 2 GB on the server. All clips are automatically uploaded to the cloud. To save locally, there's an option in the bottom left corner. Finally, a built-in basic editor to add notes.
Pros
Attractive design

Free cloud storage

Option to create shareable links
Cons
Basic functionality

Not suitable for games

No option to record from webcam
Read next: 10 video downloaders for Mac.
FAQ
Q: Are screen recorders safe?
A: Yes, provided you download it from the official website.
Q: How to remove the Bandicam logo from videos?
A: This option is only available in Bandicam Pro.
Q: What is the maximum screen recording time?
A: It can be unlimited (OBS Studio, ShareX, Debut Video Capture) or under certain conditions (registration in the ScreenRec system). For Bandicam Free, the recording limit is 10 minutes. You also need to consider the amount of available memory on a hard drive.
Q: Which program is best for recording video games?
A: It depends on user requirements. OBS Studio allows you to conduct quality streaming and recording at 60 FPS.
Q: After installing OBS Studio, I only see a black screen.
A: This problem occurs on laptops with 2 video cards. For information on how to solve this issue visit OBS forum.
Q: Can I make screenshots in screen recorders?
A: Yes. You can use hotkeys for this.
Q: Which program is best for streaming on Youtube or Twitch?
A: We recommend trying OBS Studio. The program records broadcasts without interruption and at 60 FPS.
Q: How to share screen recordings?
A: If you want to share information from your PC right away, then the best solution is ShareX.
Q: How to choose a screen recorder?
A: Determine your needs. To quickly record videos, use ShareX or ScreenRec. For more professional use, try Bandicam, DVC, or OBS Studio.
Q: How to record from a webcam?
A: Debut Video Capture app can do that.
Q: Do screen recorders slow down a computer?
A: From our own experience, we can say that all programs show low CPU load - no more than 140 MB of RAM.
Q: How to add annotations to a screen video?
A: Most screen recorders have a built-in editor to manipulate the output file in some way.
Q: Where are the records saved?
A: All programs have a button to open a location folder. You can set a folder.
Q: Is it possible to record multiple screens at the same time?
A: No. Screen recording apps listed above can capture one screen area only.
Q: How to change output video format?
A: Go through program settings to find it.