If content is king, then video content is emperor? Not sure how to phrase it, but in 2020 millions of people are creating and uploading content to popular video platforms. An important part of it is applications for capturing the device screen. Recently we've reviewed screen recording apps that are mostly for Windows, and now we'd like to take a look at screen capture software for Mac. 
Screen capturing programs, from applications for mobile phones to PC desktop versions, differ in capabilities, design, etc. Purposes may be different – recording tutorials, remote lessons, reviews, streams, gameplay, and so on. Today we're reviewing several screen capture applications for macOS. The priority is free software with positive user feedback.
| | | | | | | |
| --- | --- | --- | --- | --- | --- | --- |
| | Version | Size, Mb | RAM, Mb | Record formats | macOS | Watermark |
| QuickTime | 10.6.3 | 15.2 | 80-90 | .mov | default app | No |
| OBS | 25.0.8 | 284.3 | 120-130 | .mov, .flv, .mp4, .mkv, .ts, .m3u8 | 10.13+ | No |
| Monosnap | 3.6.7 | 12.3 | 140-150 | .mp4, .gif | 10.13+ | No |
| VLC | 3.0.10 | 136.3 | 100 | .avi | 10.7.5+ | No |
| MFSR | 6.8.8.8 | 80.7 | 140-150 | .mp4 | 10.6+ | No |
Developer: Apple | Version: 10.6.3 | RAM: 80-90 Mb
Apple is known for creating simple, functional and quality products. So no surprise that macOS native software has a screen capture function. QuickTime Player is Apple's proprietary software that is a multimedia framework, also utilized by applications such as iTunes, Final Cut Pro, iMovie, Adobe Photoshop, Corel VideoStudio.
To start recording, a user has to choose among three available options:
New Movie Recording – capturing from a web camera.

New Audio Recording – capturing sound from any connected microphone.

New Screen Recording – screen capture.
After that a recording window will appear. Unfortunately, system sounds recording is not available; only audio from the external microphone or without sound at all. Yet visual display of mouse movement is present, and it is really helpful for tutorial videos.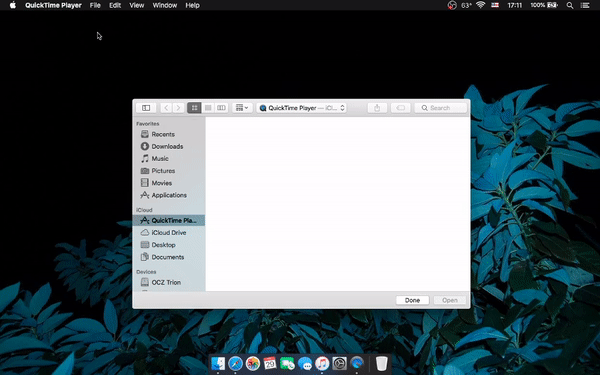 Press the record button and see a notification with advice on capture area: a particular part or the entire screen. A single click anywhere will start capturing the whole screen. Video resolution depends on monitor specs. Videos are saved by default in the highest available resolution, alternatively users have a few options in the Export As menu. 
Pros
User-friendly interface

High quality resolution

Webcam, microphone, screen capture

Mouse animation
Cons
No system sounds recording
Developer: OBS Studio | Version: 25.0.8 | macOS: 10.13+ | RAM: 120-130 Mb
OBS is a classic screen capture software for Mac that also contains streaming functions. It brings a massive set of tools and application settings. During the first launch the system will display security notification. You'll need to click the Open button (or go to System Preferences – Security & Privacy), such alert often comes up in applications from the App Store.
Auto-Configuration Wizard helps to choose the primary purpose – streaming or screen capture, FPS, etc. It will determine the optimal quality, resolution, recording format, and other settings. OBS offers a lot of presets, e.g. gaming, entire screen, application window, browser. Choose what to record and click the Start Recording button in the bottom.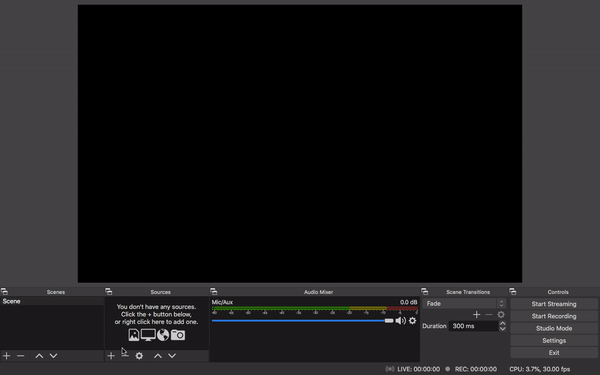 After recording, the video is automatically saved in the default directory. Available formats: .mov, .flv, .mp4, .mkv, .ts, .m3u8. Scrolling through the Application Settings, we found some interesting features beside localization, automatic update, hotkeys assignment. The first one is auto screen capture when streaming begins. Also, streaming to over 50 different services, as well as assigning a delay – to control unpredictable situations.
Pros
Auto-configuration wizard

Low learning curve

High quality capture
Developer: Farminers Ltd. | Version: 3.6.7 | macOS: 10.13+ | RAM: 140-150 Mb
Monosnap is a simple program to take screenshots, record a screen and make GIF images. Users can select a specific part of the screen, a separate window, or the entire screen. The program does not have a typical interface – only the icon appearing on the top to click and select the task.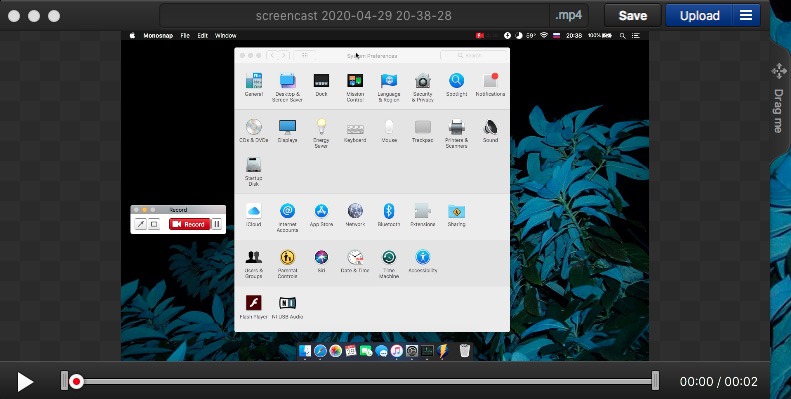 Useful features: webcam recording during screen capture, save and edit window, upload to YouTube, Twitter, Facebook,  Google Drive, Dropbox, or email. The default format is MP4. The Drag Me button is a way to move a file wherever you want without releasing the mouse. There is also assignment of hotkeys, though this is a familiar option for any screen capture software for Mac.
Pros
Free and easy to use

Social sharing options

Light on system resources
Developer: Video LAN Association | Version: 3.0.10 | macOS: X 10.7.5+ | RAM: 100 Mb
VLC is a popular media player, but few people know it has a screen capture function, as well as recording from a webcam, a microphone. So let's focus on this for now. First, enable it in the settings, choose a device to record, frame-per-second ratio, etc. To start, click the Record button in playback drop-down menu and the Stop button to finish.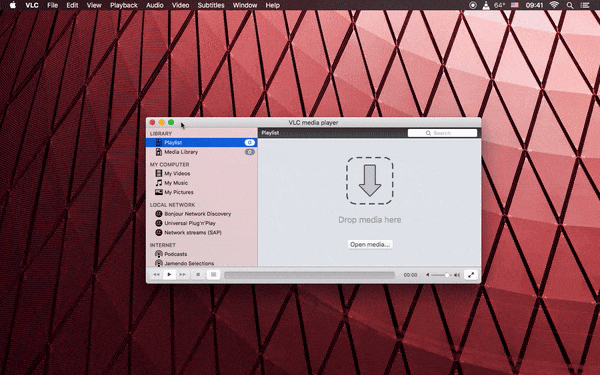 Files are saved by default to the Movies directory on Mac in AVI format and high quality. Consequently, file sizes will be quite large, for instance a 30-seconds video takes 600-700 MB. Unfortunately, we did not find options to change format or quality. Yet, RAM load remains acceptable (~100 Mb).
Pros
Powerful audio/video player

Quality screen capture

No watermark

Streaming options
Cons
No settings for resolution, format, quality
Developer: Amazing Share | Version: 6.8.8.8 | macOS: 10.6+ | RAM: 140-150 Mb
This app is not authorized by the App Store, therefore there may be difficulties in installing it, macOS may even block it. We can get around this protection and manually enable the installer in the Security & Privacy Settings. In the main window there are three functions: screen capture, merging videos and cropping. MFSR is notable because it does not have any settings – you can only change the folder and audio source.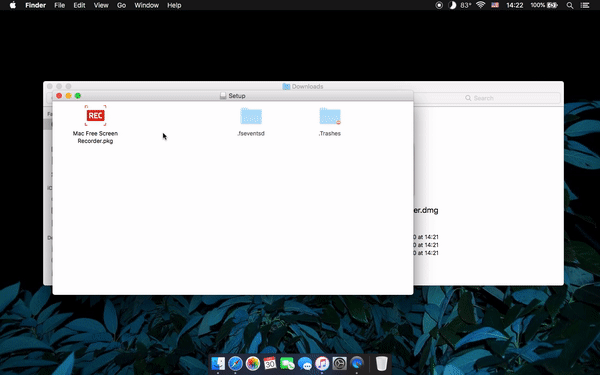 Users can see useful information during recording: duration, file size, etc., which is updated in real-time. After stopping the recording, a video file is automatically saved in the selected directory. Video files are in MP4 and a 3-minute clip is about 10 Mb in size. Since there are no settings it is not possible to configure video quality, but overall the app is quite suitable for simple tasks.
Pros
User-friendly interface

Good record quality

MP4 format with minimum file size
Conclusion
In our opinion, these applications turn out to be the best free screen capture software for Mac at the moment. There are no ads, no Pro or Premium versions, as well as recording time limits. All of them perfectly perform the main task, some offer extra features or settings. For casual use to capture screen once in a while, the default macOS app (QuickTime Player) will be enough.
Read next: Photo editing apps for Mac.