Once in a while we all find ourselves unable to open a video file of certain format. This is where a video converter software can be handy. Whether you need an AVI to MP4, FLV to MOV, etc., such programs, designed specifically to convert one video format into another (or even into audio format), are abundant. To help you out, we've selected 10 best free video converters, and tested them in action.
It is pretty easy task to convert video files with these programs. You just open/upload your video, select the output format, name it, and click Convert button. For our test we seeks out free video converter, no matter what form it comes in – a trial, a shareware, or a totally free versions. Trials, of course, are a bummer, limiting either a timeline to use a converter, or a video length.   
We didn't want to publish yet another "5 best tools" article with all the same information, so we cut lengthy vendor descriptions. Instead, we want to give you the analysis and comparison, based on our test runs. Only basic essential data. So, here is a first round-up.
| | | | | | | | |
| --- | --- | --- | --- | --- | --- | --- | --- |
| | License | Platforms | Languages | Installer | Disk space | Video presets | Effects |
| Freemake | Free, watermark | Windows | 18 | 38 Mb | 90 Mb | 20 | n/a |
| Xilisoft | Trial, 3 min.limit | Windows, MacOS | 9 | 37 Mb | 124 Mb | 60 | 14 |
| Wondershare | Trial | Windows, MacOS | 9 | 106 Mb | 321 Mb | 32 | 18 |
| Hamster | Free | Windows | 32 | 6.5 Mb | 17 Mb | 6 | n/a |
| Format Factory | Free | Windows | 64 | 64 Mb | 144 Mb | 55 | n/a |
| Any Video Converter | Trial, 3 min.limit | Windows | 26 | 47 Mb | 148 Mb | 32 | 3 |
| Free HD | Trial, 3 min.limit | Windows | 1 | 76 Mb | 212 Mb | 21 | n/a |
| Wise | Trial, 30 min.limit | Windows | 38 | 16 Mb | 50 Mb | 3 | 1 |
| Total Video Converter | 15-day trial | Windows, MacOS | 10 | 15 Mb | 52 Mb | 24 | 15 |
| Movavi | 7-day trial, watermark | Windows, MacOS | 15 | 33 Mb | 273 Mb | 22 | 11 |
As you may see, our top-10 free video converters include: Freemake Video Converter, Xilisoft Video Converter Ultimate, Wondershare Video Converter Ultimate, Hamster Free Video Converter, Format Factory, Any Video Converter Ultimate, Free HD Video Converter Factory, Wise Video Converter, Total Video Converter and Movavi Video Converter.
Best free video converters
Below, you'll get a feeling and basic facts, pros and cons to each program. Most of them are video converters for Windows, but there are few that work on MacOS too. To compare performance of these free video converters we've conducted the following tests: 1) conversion speed – 30 seconds file MP4 to AVI, 2) compression size – 3 minutes file MP4 to FLV, 3) GIF speed – 1 minute file  AVI to GIF, 4) speed of extracting audio – 3 minutes file MP4 to MP3, 4) speed of merging – AVI+WMV to MP4. Find the results in a table at the end of article.
A word regarding file formats. While the most popular video formats are AVI, WMV, MOV, MP4, MKV and AVCHD, these 10 media converters support much more formats out there. Not to repeat each time, all of ten video converters support the following input file formats: AVI, MOV, MP4, MPEG, MKV, WMV, 3GP, SWF, FLV, DiVX. Similarly, all support such output file formats: AVI, MOV, MP4, MPEG, MKV, WMV, 3GP, SWF, FLV, DiVX, MP3, WAV, M4V, WEBM, M2TS, WMV, 3GP, 3G2, OGV, M4A, FLAC, GIF.
Let's cut through the chase.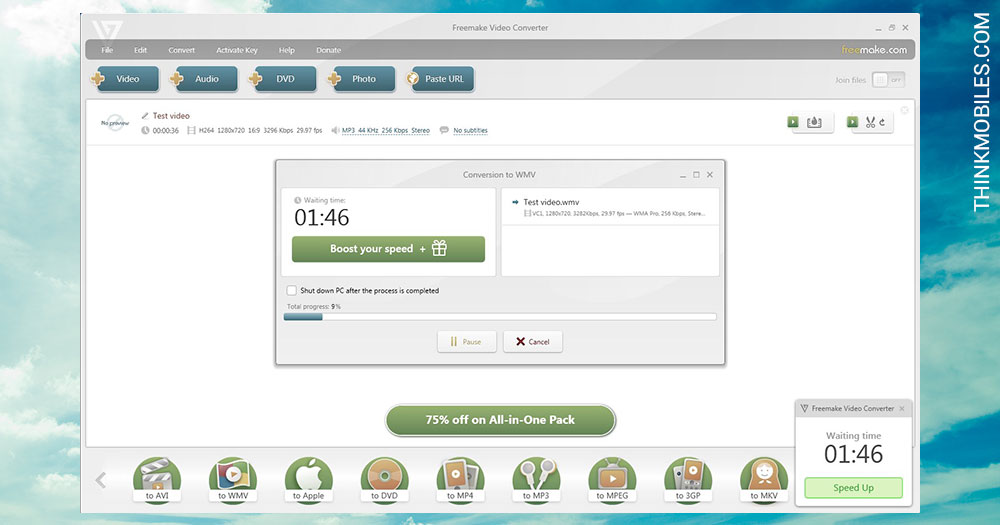 Freemake converter is free and supports 63 video formats, plus various audio and image formats. It can download videos from YouTube, Facebook, Vimeo, etc., and even extract audio from it. It can edit and trim videos before converting. Works on all Windows, has 18 menu languages, 20 video presets. Note: Freemake puts a watermark on output videos.
Pros:
Quick preset selection menu
Internet services integration
Working with DVD videos
Cons:
Low conversion speed
Watermark on videos
Gold Pack: $9 – $19, depending on duration, removes logo, unlocks Premium features (subtitles editor, HD video support, etc.).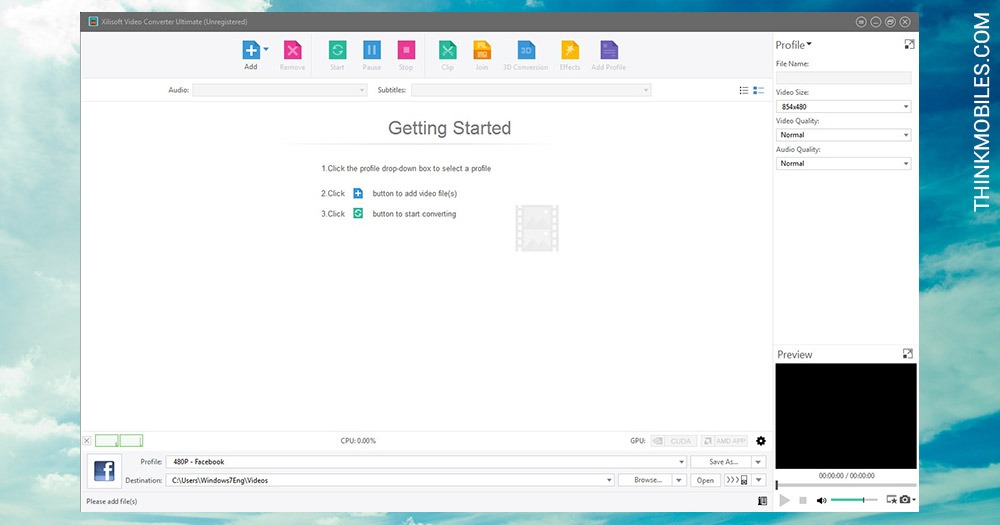 This video converter is free to try as trial, though you get 3-minute limit. On the plus side, it supports MacOS along with Windows OS. It also has 60 presets – the highest number of all paid video converter tools, as well as  a built-in video player for previews. More features if you purchase a subscription: adding subtitles, merge several files into one, clip/trim/edit options, HD encoding/decoding.
Pros:
Instant output size calculation
3D conversion
Good PC resources load
Cons:
Saving only in preset sizes
3-minutes video length limit
Frequent license reminders
Pro/Premium: $42. License offers: No time limit for conversions.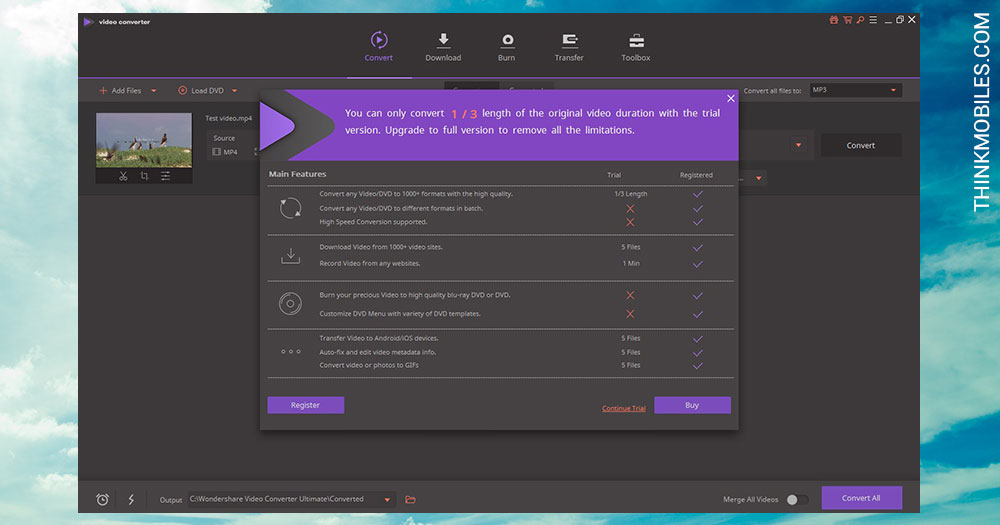 Convert, edit, download from URL, transfer, burn DVD and other options indicate we have no ordinary converter here. Nevertheless, it's a fine free video converter for all possible formats, and also for both Windows and Mac. Wondershare features certain VR devices, 4K video formats, as well as rare audio formats like ACC, OGG, AC3, M4R, AIFF, APE. Additionally, specific devices like Apple TV, Xbox, iPad, PSP, Insta360.
Pros:
Scheduler available
Built-in media server
Support of numerous devices
Cons:
Video length limit
Editing not available in free
Limited conversion speed
Pro/Premium: $50. License offers: Download and record video from sites, GIF convertor, no files length limit, metadata editor.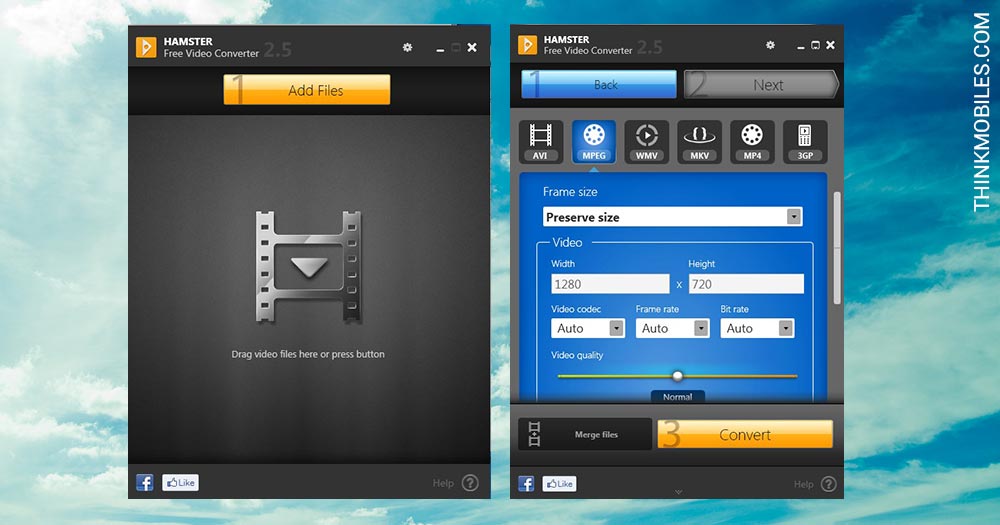 If you're looking for a universal video converter for Windows 10, or Windows 7 or 8, that is easy to use, Hamster free video converter is worth checking out. It has a preview player, supports DivX codecs, and converts any video format for over 200 devices, e.g. iPad, PS3, Blackberry, xBox, Zune, iRiver, etc. It's totally free, without limitations, here's a brief Vimeo tutorial.
Pros:
Little space on hard drive
No ads
Free software
Cons:
No scheduler
Few file formats supported
No progress display
Pro/Premium: $0 / free / full functionality available.
Another multifunctional media converter, that one can also use as a video converter to MP4, among other things. Process is simple: select the desired video format, upload a file, convert. Use advanced options to edit audio, aspect ratio, bitrate, size, etc. Note: when installing, pay attention not to get additional programs you might not want. 62 menu languages available.  
Pros:
Free video converter software
Supports popular image formats
No ads
Cons:
No custom size for videos
Intensive on PC resources
No effects for videos
Pro/Premium: $0 / free / full functionality available.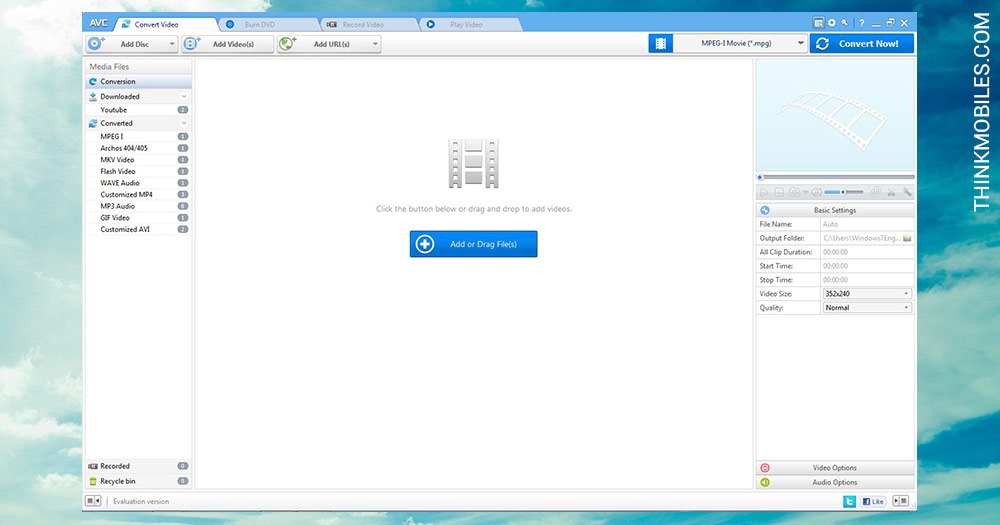 AVC – Any video converter, is a video converter for Mac and Windows, which is user-friendly and has a simple and functional design. It has lots of presets, including by device type, which is useful if a user also wants to edit a video. Although, be careful with suspicious additional software when installing the converter. Among positives: easy-to-use, batch video conversion, video merging, cropping.
Pros:
Built-in player
A library of mobile presets
Converting from URL
Cons:
Video time limit
Ads inside the program
Not saving video size
Pro/Premium: $70. License offers: Download and record video from sites, tech support, upgrades, no time limits.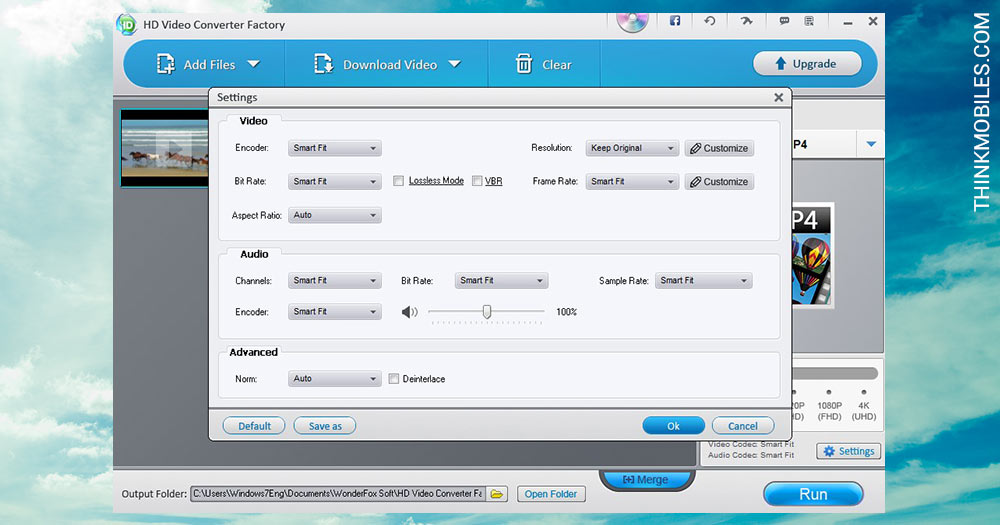 A free converter by WonderFox Soft Inc., that also offers a DVD video converter, a HD video converter, a video/image watermark tool. And especially we'd like to underscore a video to GIF converter. It works on all versions of Windows, supports about 200 formats and has a unique feature – HD (high definition) quality conversion. For more info and tools like MP4 video converter, AVI video converter factory, MPEG video converter, 3GP video converter, go to their website.
Pros:
No ads
Easy presets sorting
Affordable license price
Cons:
Only 1 menu language
No video effects
Conversion speed limited
Pro/Premium: $20. License offers: HD video support, 50x up speed conversion, free upgrades and tech support.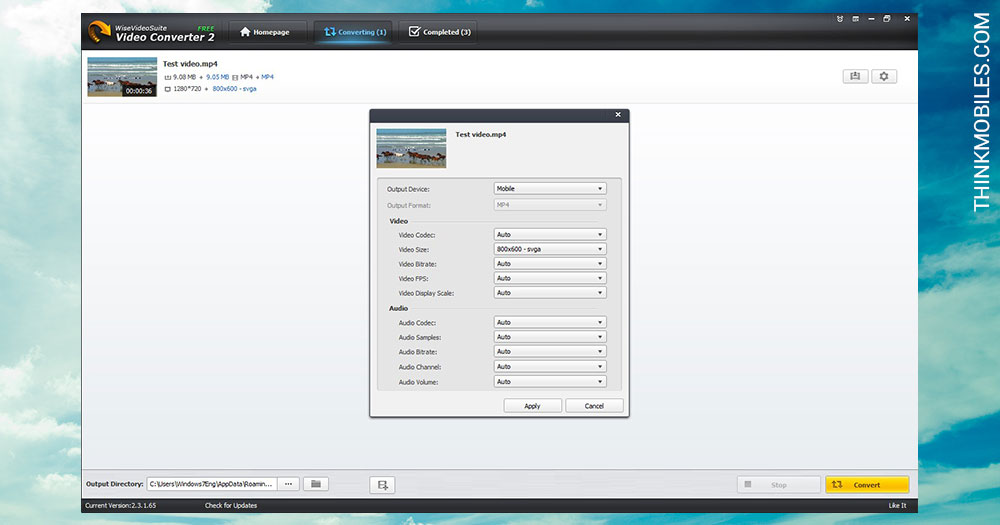 When you face the rarest formats like AVM, DAT, F4V, MPG, NSV, OGM, RMVB, TS, VOB, etc. Wise Video Converter is a way to go. Not much to say except it's a plain straightforward converter, that can also extract audio from video files – into MP3, supports bulk conversion. It has a portable version as well, and a separate program worth mentioning – Wise YouTube Downloader.
Pros:
A portable version
Simple and intuitive
Built-in video player
Cons:
Only few presets
Time limit in free version
No video effects
Pro/Premium: $20. License offers: No time limit, no watermark, integrated player, portable program version, subtitles.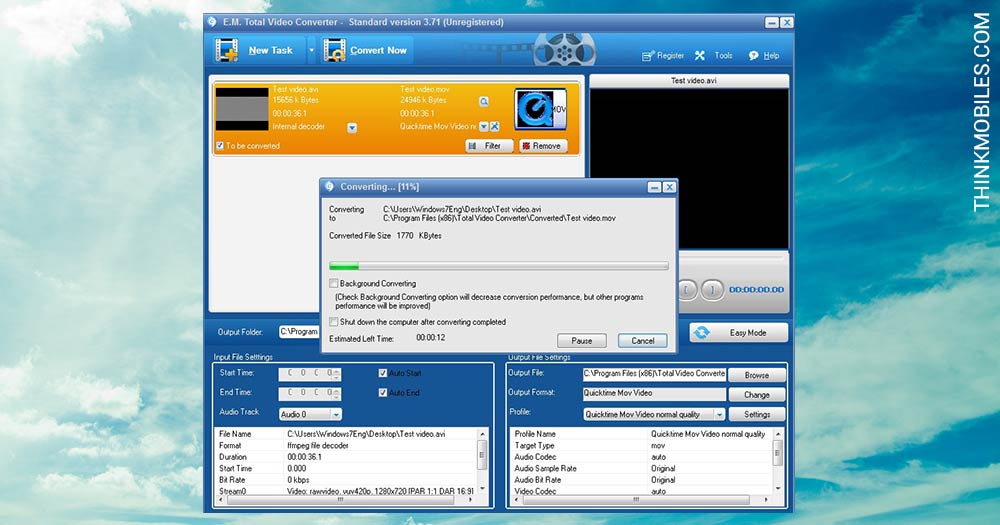 TVC is a powerful converter for Windows and MacOS that goes far beyond than convert from MP4, convert from 3GP, convert from DIVX, etc. Here's what one can do with it: convert all types of videos from one format to another, convert videos to mobile videos, create a video from photo slideshow, rip DVD to videos, merge several video file and audio files into one video file.
Pros:
Built-in video player
Large library of presets
Full functionality in trial
Cons:
Intensive on PC resources
Not saving video size
No conversion scheduler
Pro/Premium: $30. License offers: Lifetime license, regular upgrades, tech support.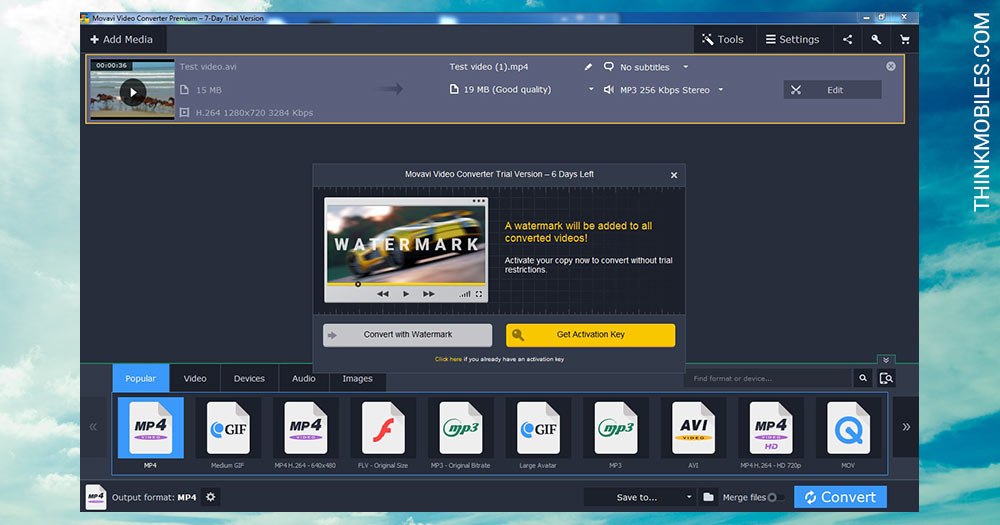 One more free video converter for Mac and Windows systems. It offers 180 media formats, including images and audio; lots of presets for popular devices, like iPhone, iPad, Samsung Galaxy. But the basic workflow it conventional: drag and drop your files, select the output and click the Convert button. Movavi VC Premium provides features to stabilize a video, to rotate, to insert a watermark, or even adjust the volume levels.
Pros:
Support for images/audio
Affordable license price
No ads
Cons:
Video editor blocked in trial
Video length limit
Free version with a watermark
Pro/Premium: $14. License offers: No limits for video, video editor, tech support.
Performance tests
And a cherry on top of it all – performance comparison. We conducted 5 basic tests on conversion speed (MP4 to AVI), compression size (MP4 to FLV), conversion to GIF, extracting audio, and file merging. See details in the table.
Speed,
30s MP4 to AVI
Compression,
3m MP4 to FLV
GIF,
1m AVI to GIF
Extract audio,
3m MP4 to MP3
Merging,
AVI+WMV to MP4
Freemake

02:52

17 Mb

n/a

n/a

03:02

Xilisoft

00:38

7.88 Mb

00:09

00:18

02:19

Wondershare

00:57

1/3 file length limit

n/a

1/3 file length limit

1/3 file length limit

Hamster

03:02

n/a

n/a

00:09

03:04

Format Factory

01:09

8,89 Mb

00:50

00:06

00:22

Any Video Converter

00:12

12,6 Mb

00:29

00:14

00:20

Free HD

00:34

n/a

n/a

00:14

n/a

Wise

01:10

13,9 Mb

n/a

n/a

n/a

Total Video Converter

02:53

10,6 Mb

00:17

00:06

n/a

Movavi

01:04

1/2 file length limit

00:31

1/2 file length limit

00:41
Download the extended full report from Github.
Finally, a couple of general summaries in relation to best free video converters:
Hamster and FormatFactory are totally free forever to use

Any Video Converter and Free HD factory demonstrated the fastest conversion performance

Movavi, Xilisoft and Wondershare have great extra functionality, as media converters

Total Video Converter, Movavi, Xilisoft and Wondershare have MacOS versions

Any Video Converter and FormatFactory offer the widest range of presets