SEMrush vs Ahrefs: Which SEO Tool Should You Use?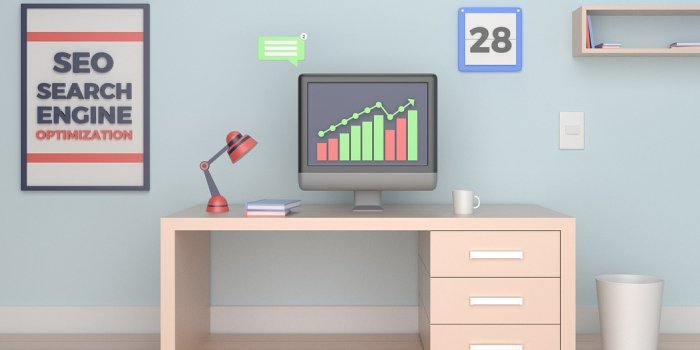 The web is full of different SEO tools that all promise to improve your website in one way or another. This can be overwhelming, we get it! That's why in this post we will compare two of the best SEO tools available–SEMrush and Ahrefs in terms of:
Pricing
Keyword Research
Backlink Analysis
Site Audit
What is SEMrush used for?
SEMrush is an SEO tool and provider for content marketers to do keyword research and make keyword comparisons based on competition. It also helps to analyze backlinking opportunities.
Recently SEMrush and Yoast (best SEO plugin available for WordPress users) announced their partnership to help publishers create even more relevant content by providing related keyword ideas within WordPress.
SEMrush was released back in 2007 under the name "SeoQuake."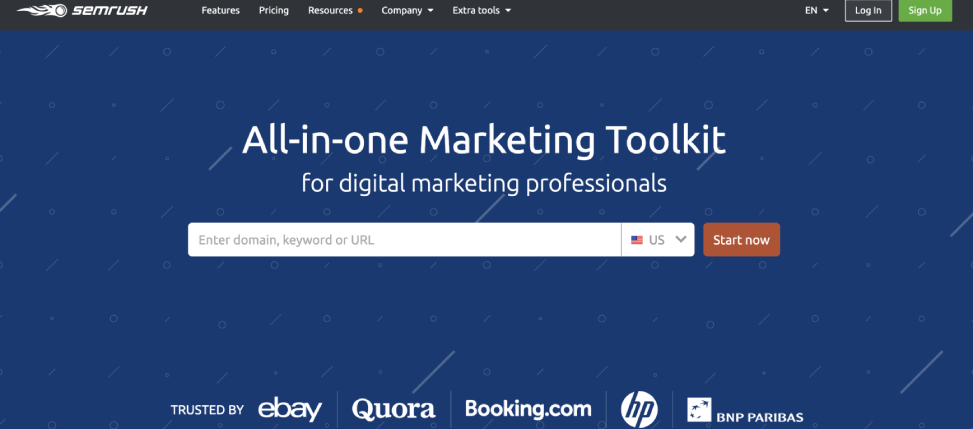 What is Ahrefs used for? 
Ahrefs is used not only for SEO but also for creating powerful backlink analysis, keyword research, and website audit. 
Their link database is one of the most accurate ones, so we would say it's worth paying for it if you want to smartly beat your competition. 
Ahrefs was released in 2011.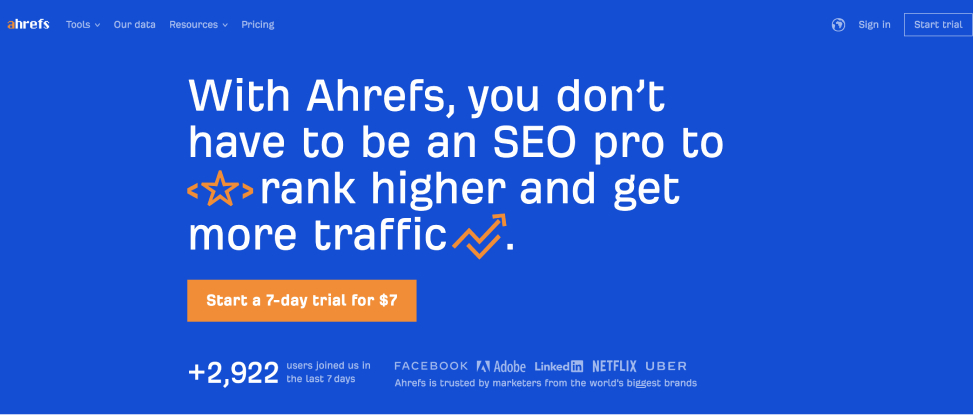 1.Pricing
We have compared SEMrush and Ahrefs pricing as well as major pros and cons in the table below.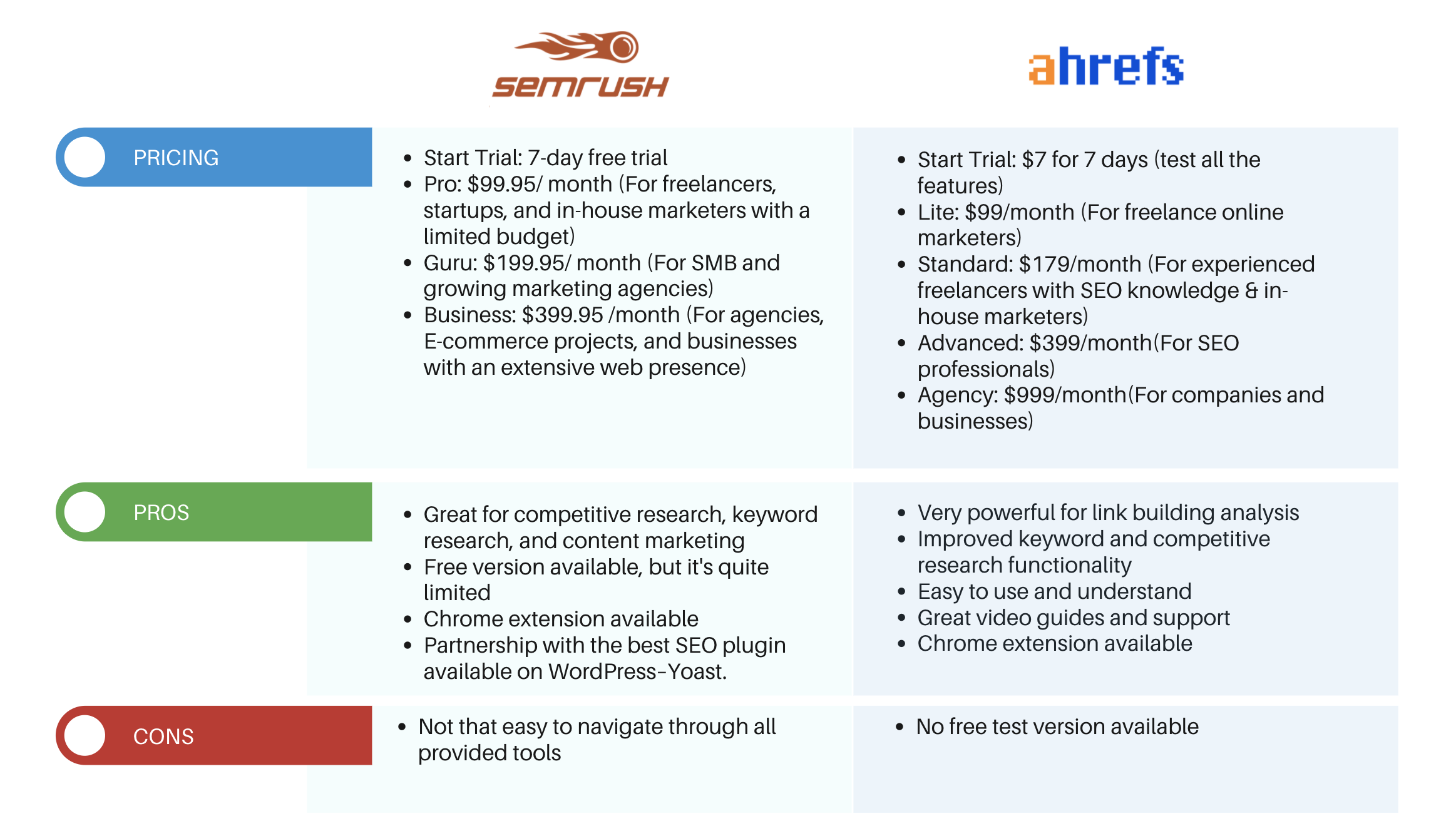 2.Keyword Research
SEMrush provides a Keyword Overview Tool for keyword research.
This tool includes:
Searched keyword's volume

Keyword's difficulty level

Metrics–CPC and the level of competition between advertisers bidding on the analyzed keyword

Global Search volume

Related keywords and their search volume

Shows top sites that are ranking on Google Search for a specific keyword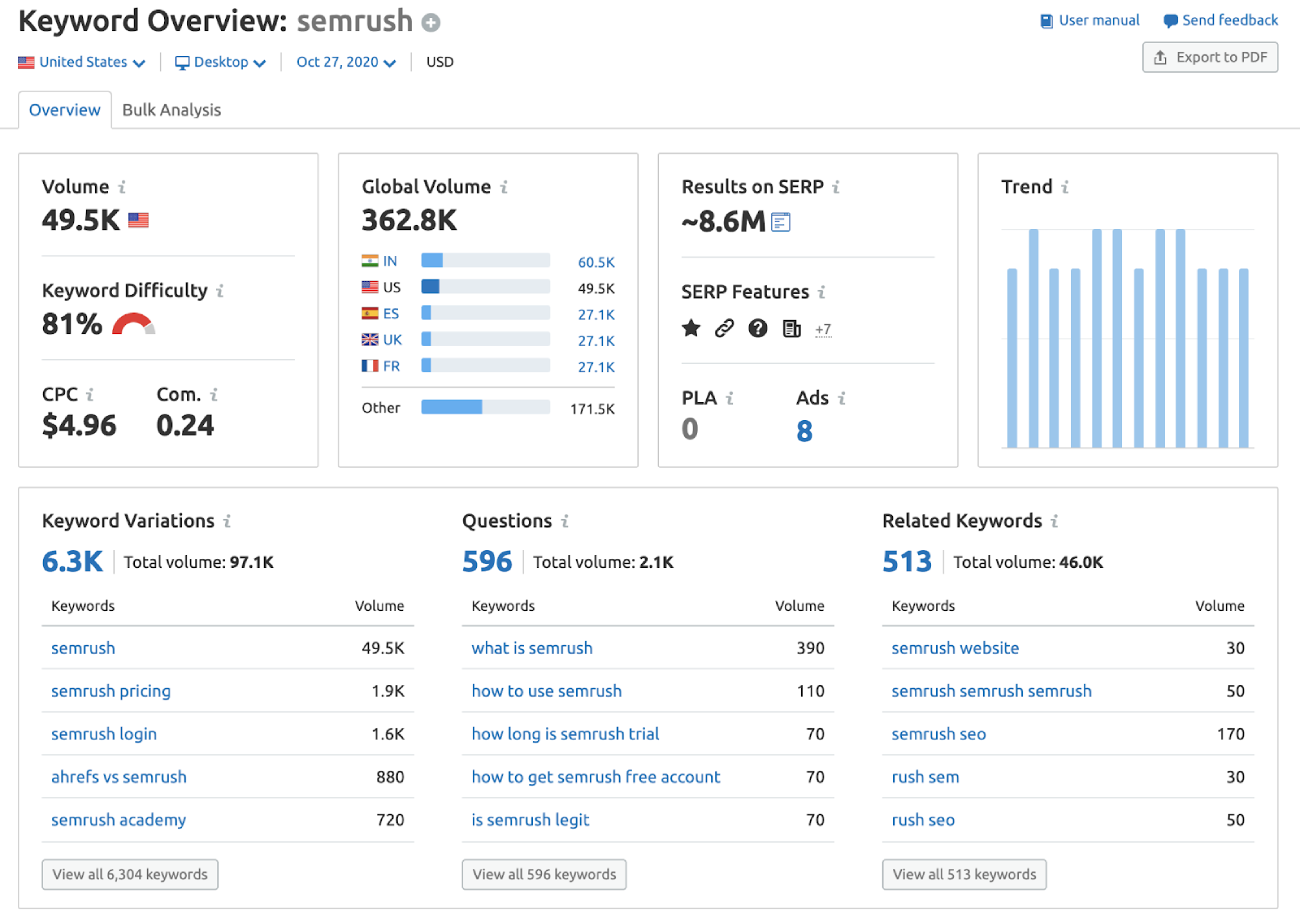 Ahrefs has a Keyword Explorer Tool for keyword research.
This tool provides:
Shows keyword difficulty level

The volume of the searched keyword

Metrics–Clicks, CPS (clicks per search) and RR (return rate), CPC (cost per clicks)

Global Search volume

Related keywords and search volume

SERP (Search Engine Results Pages) position history for a specific keyword

Shows top sites that rank on the first position on Google Search for a specific keyword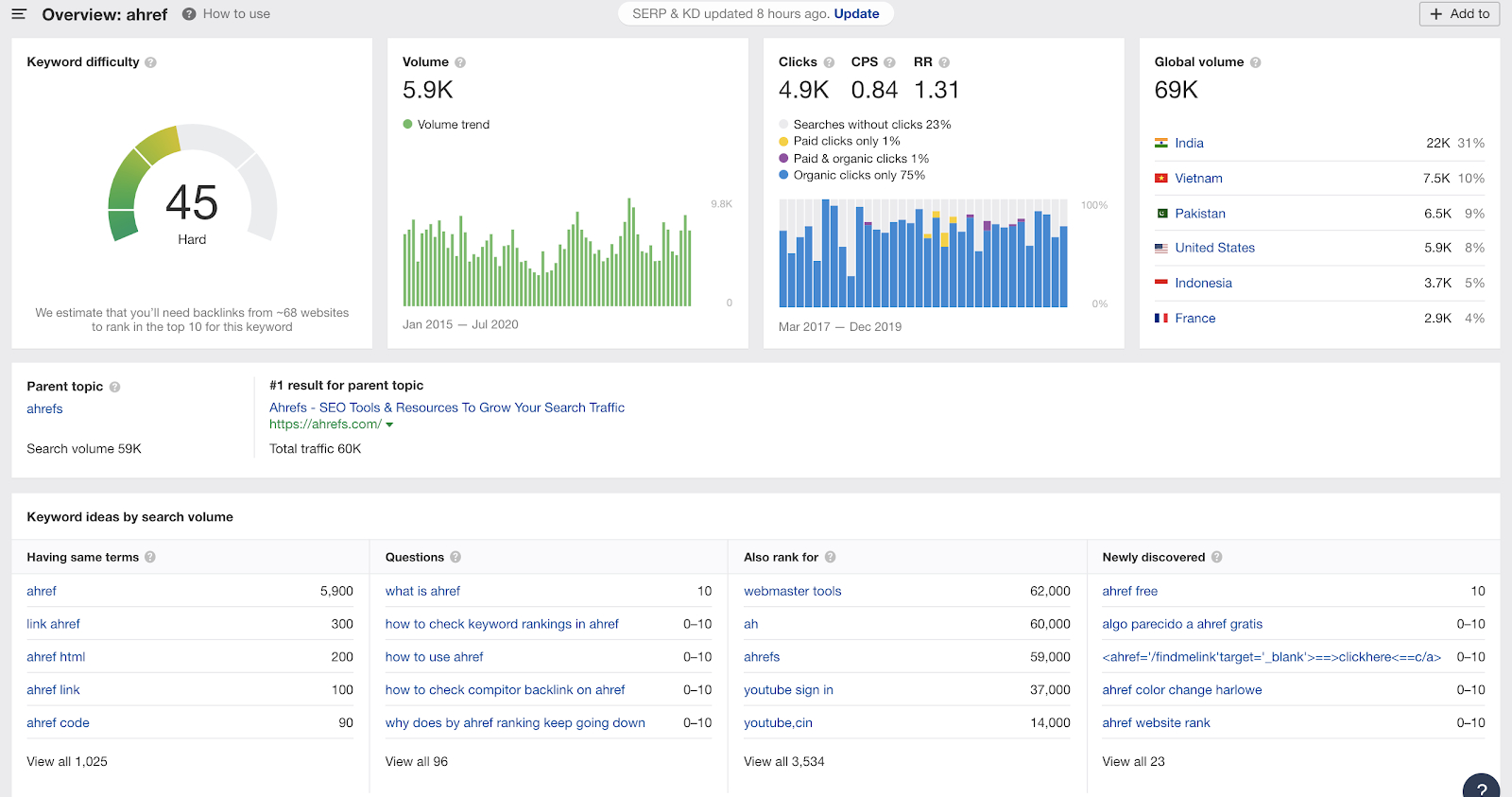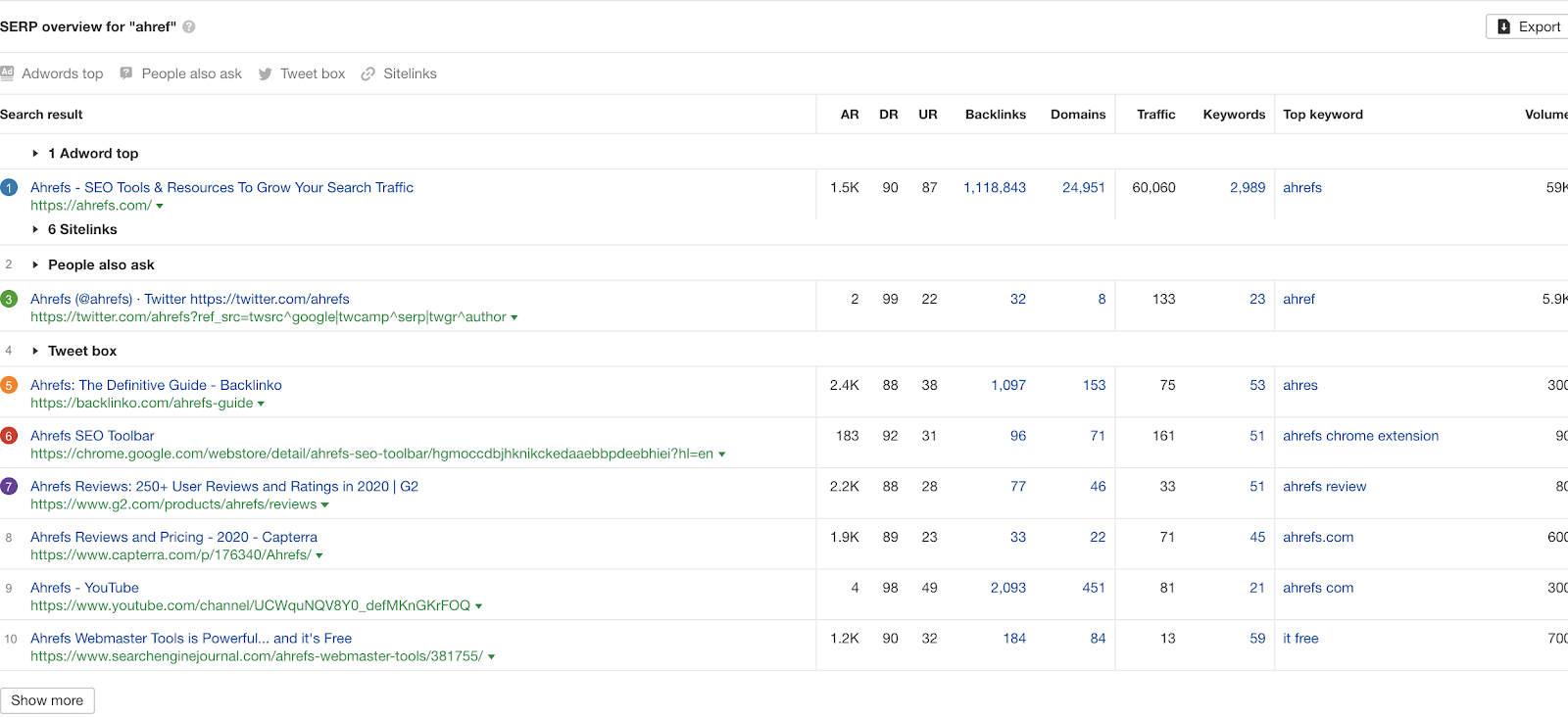 Which is better?
From a content marketer's perspective, both tools provide quite detailed information; however, we've found that Ahrefs can do more organized keyword research and competitive analysis than SEMrush.
Why? It's way easier to navigate through the Ahrefs' dashboard. By default, Ahrefs doesn't ask to choose the country for a specific keyword. It provides an overall analysis of one particular keyword. However, if you want to track a keyword's performance in a specific country, you can do it. While SEMrush, by default, asks to choose the country by making it impossible to see the overall keyword's performance.
3.Backlink Analysis
If you are thinking about what can affect your website's performance on the web–it's your backlink profile. This means understanding how many qualitative external sites are linking to your website.
Both SEMRush and Ahrefs provide a lot of useful information regarding the site's backlink profile:
'Do follow' links

'No follow' links

New, lost, and broken links

Domain types (blogs, e-commerce etc.)
Also, they provide tools for link building–link building opportunities (Ahrefs) and link building tool (SEMrush). These tools analyze your domain's URL and provide a report regarding the site's backlink profile. They show if there are any low quality or broken pages linked to your site, which obviously can affect your search ranking in Google.
How to know which one is better?
Well, we must admit both of these SEO providers do very decent analysis regarding backlinks; however, we have found that it's easier to navigate by using Ahrefs. Remember, you can always try the free version of SEMrush and start a trial with Ahrefs to see the difference.
4.Site Audit
For site audit analysis, we used the setupad.com domain.  
The results you can get by running a site audit on Ahrefs are:
Website's health score, which basically reflects pages that don't have any errors

Top issues–broken redirects (for example,301 redirects), broken links, tags on meta descriptions that are missing or are empty, and noindex tags

Content type distribution

HTTP status codes by depth level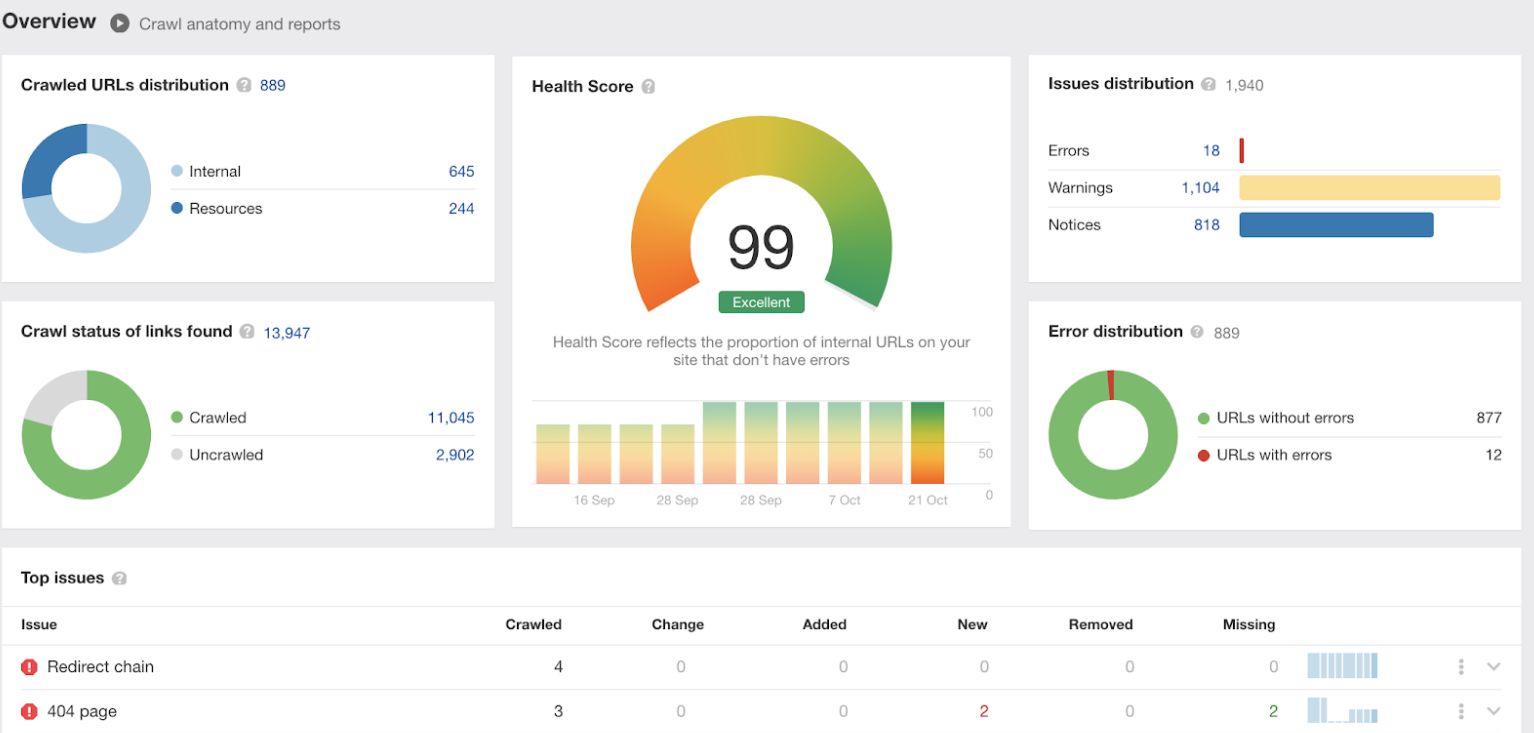 For SEMrush, we used a free version, and it still provided a very solid site audit, consisting of:
Website's health score

Report regarding crawled pages

Top issues regarding the website's technical issues like HTTP status code errors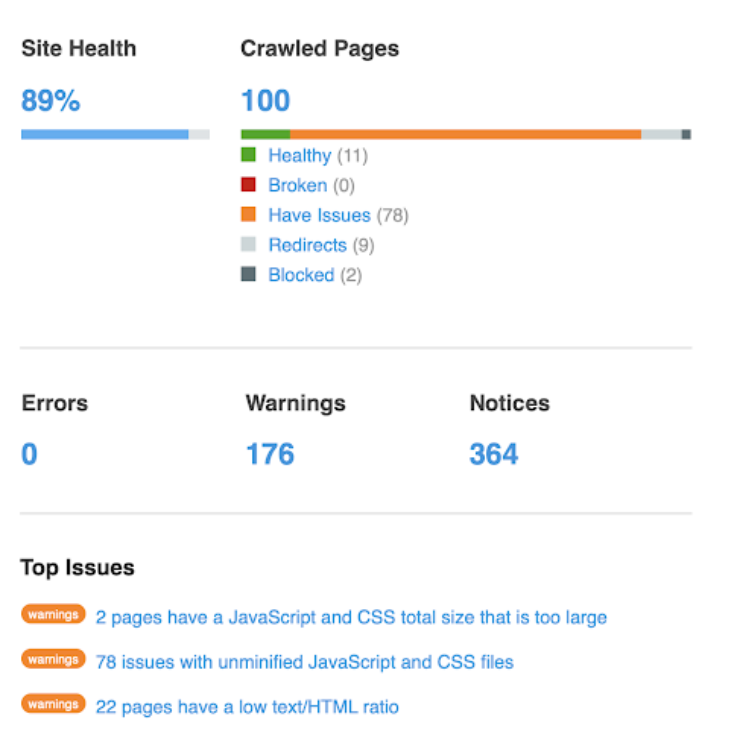 Both SEO tools provide useful suggestions on how to solve the issues from reports. SEMrush also includes information regarding keywords and steps on how to appear as a Google' featured snippet, and internal linking strategies. The internal linking strategies are also now available on Ahrefs.
Conclusion
One of the biggest pros for SEMrush is that it has a free version; however, it it has limited features compared to the paid versions. Even though Ahrefs trial isn't for free, it's worth trying. 
We have found the Ahrefs tool better structured than SEMrush regarding SEO analysis. Moreover, they provide very informative step-by-step video guides, such as creating a successful link building strategy that brings results. 
And now it's time to hear your thoughts. Which tool do you prefer–SEMrush or Ahrefs?  
Let us know in the comment section below.
Top comments
Develop your own cryptocurrency. We deliver the best cryptocurrency exchange software with latest features like Margin Trading, Le...

Pyramidion Solutions is one of the best mobile app development companies in Chennai, offering interactive and reliable apps with a

Best cleaned i've seen so far

@Jimscircularfile, Hi, this is Adam from Digiarty. May I have your order number so that we can investigate? Most of the time, the
Popular posts
Recent discussions