Top 10 AR Travel Apps You Should Try in 2020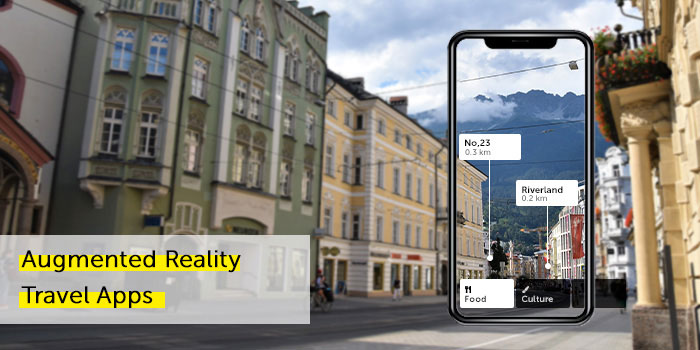 Augmented reality has the potential to transform every aspect of our lives. With innovation, it has moved past the drawing board, transforming diverse industries, including gaming, e-commerce, and travel. It enhances the experience of even the most mundane things like shopping.
AR has given rise to mobile applications that offer a revolutionary experience for travelers. From AR-enabled tour booking apps to restaurant locator apps and more, many apps exist, providing convenience and competitive advantage, for travelers and businesses, respectively.
The changing trend has increased the demand for travel apps. Most companies in the tourism industry already have a mobile presence, while others are quickly catching up with the trend.
That said, whether you are looking to travel or want to invest in the AR-enabled travel industry, here are some AR travel apps you should try in 2020:
Types of AR Travel Applications
If you're looking to develop AR travel apps, go for one of the following options:
Location-Based
Location-based applications are useful for tracking GPS positions and navigating new cityscapes. They use device features like GPS, accelerometer, or digital compass to pinpoint users' locations and help them find nearest hotels, tourist spots, events, or more.
Tour booking apps or restaurant and event locators are some examples of location-based apps in the travel industry.
Marker-Based
Marker-based AR tech or recognition software enables users to find information on an object using their smartphones' cameras. The technology senses the item in front of the camera and displays relevant details on-screen.
From codes to objects or printed images, markers can scan all types of items, offering diverse applications for the travel industry and others.
SLAM
SLAM stands for Simultaneous Localization and Mapping software. It follows an algorithm to identify objects around the user, including colors, patterns, or other characteristics that describe the items.
The technology is relatively new and requires high-end hardware to function optimally.
Top 10 AR Travel Apps to Try in 2020
AR is relatively new in the mobile app development industry. But with the applications of the technology in the travel and tourism sector, AR travel apps are the future of the industry.
Travel and tourism can be segregated into transportation, accommodation, local transit, and tourist destination, hospitality, and more. AR can transform each of these divisions.
Many examples of AR in travel and tourism are already in use, but still emerging every day. That said, check out some of the best AR-powered mobile apps in the travel category that you should try in 2020:

If you love history and art, then Smartify is a must-have for your next trip. For Android and iOS, the app uses AR to display the entire history behind any work of art.
Plan museum visits during your trip, check out art galleries, or other historic places, and point your phone camera towards the art. The app will display all information on the artifact, painting, and any other piece of art that you fancy.
Some of the museums that the app supports include:
· The San Donato Museum in Italy
· The Metropolitan Museum of Art (New York)
· J. Paul Getty Museum (LA)
· Reina Sofia Museum in Spain
For those who love stargazing and enjoy a peaceful night under the open sky, then Night Sky is an app you should have in your smartphones. Specially designed for iOS 11, the app allows users to enjoy the night sky from any corner of the world.
It is convenient and straightforward to use. All iOS users would need to do is hold the camera up against the night sky, and the AR technology will display a planetarium, highlighting stars, planets, constellations, and satellites.
If you are out camping or hiking up the mountains, the app will be a new way to enjoy the night sky, discover constellations, and more.
For the outdoor adventurer, View Ranger is a must-have AR travel app. For Android and iOS users, it is incredibly useful when going hiking, biking, or on any other off-road adventure.
The app is immensely useful for downloading offline road maps and discovering roads, routes, ski slopes, and more. Plus, with AR integration, Skyline, the app also allows users to identify different elements of the landscape.
Additionally, it works without phone data or data coverage, allowing you to navigate unknown terrains without an internet connection.
During travel, it can be challenging to enjoy a new city if you have to look at the map to navigate your way. AR City is an excellent solution to finding the best routes to your destination within a city.
Developed by the experts in AR technology, Blippar, the app is your guide, helping you traverse the unknown streets to find the best tourist spots, restaurants, or any events in the area.
Thus, if you're traveling to new places, forget trying to understand maps, just download the AR City!
Horizon Explorer offers a similar experience with AR technology as AR City. When touring new unknown cities, it can be useful in finding your way around the land, without a guide or map.
Using augmented reality, it displays the latitude, distance, and altitude of any location. By pointing your smartphone camera to the point of interest, you can look up what you need, find your destination, and more.
The app not only displays street names, rivers, and roads but also features a 3D map that helps with orientation.
World Around Me (WAM) is another app that works much like Horizon Explorer and AR City. It is a must-have, for travelers, if you want to manage your way around a new city conveniently. Using the power of AR, the app can tell all you need to know about the places you visit.
From banks and ATMs to museums, restaurants, and parks, the app can locate and indicate the best way to each spot. Travelers can also lookup gas stations, hospitals, temples, shops, and more.
Additionally, users can choose to view the results in List View or on a map and conveniently navigate the cityscape.
Trying out local delicacies and experiencing the culture is one of the joys of traveling to new places. That said, if you have a refined palate and enjoy new delights, then BuUuk is a must-have AR travel app for you.
It is a restaurant recommendation app that uses AR technology to locate the nearest restaurants in the direction where you point your camera. You can also lookup if any exclusive deals are available in the listed restaurants.
Additionally, the app displays reviews from previous patrons to recommend the best restaurants to dine and shows directions to your chosen place. It also has an active forum where travelers can discuss their favorite dishes with other app users.
Another must-have AR travel app is Wikitude World Browser. Using AR technology, travelers can discover all there is around them, regardless of where they are in the world.
It is incredibly convenient when traveling internationally to locations where a language barrier exists or even within the international border. Via the app, users can navigate their way around the city, find events, restaurants, or stores, and other tourist spots within the city limits.
The app offers several features that make it incredibly useful for users on the go.
Traveling within a new city can be challenging if you don't know the routes, bus schedules, and the nearest stops between your hotel and destination. That said, Bus Time London is one AR travel app that makes navigating the streets of London a breeze.
Integrated with AR, the app uses a smartphone's camera and GPS location to help tourists find the nearest bus stop from their spot.
Additionally, not only can you view bus timings, but also plan routes to one or multiple destinations. The AR technology also enables the app to show bus stops in the vicinity and display directions on top of real-world streets so that you never lose your way.
Have you ever bee curious to know what it would feel like to be Godzilla? HoloMaps not only helps you traverse new cities but also lets you find the answer to the question.
As an alternative to Apple Maps, HoloMaps is a 3D virtual map that users for travelers to look at a 3D model of the entire city landscape within the comforts of their hotel room.
The app was intended for site planning, management, and security. But travelers can use the 3D map view to find their way around new cities.
Future of AR in the Travel Industry
The mobile app development and travel industries are just beginning to explore the applications of augmented reality.
According to a Statista Report, the AR market is expected to grow from a current 5.91 billion revenue to 198 billion US dollars by 2025. That said, technology has the potential to revolutionize how we see the world.
So, invest in AR technology, and you are bound to take your business to new levels. 
Top comments
Best cleaned i've seen so far

Great Post! I am Really Enjoy to Visit In the Post. I have too been generated Clipping Path/Cutout image Service to a long time. K

@Jimscircularfile, Hi, this is Adam from Digiarty. May I have your order number so that we can investigate? Most of the time, the

Pyramidion Solutions is one of the best mobile app development companies in Chennai, offering interactive and reliable apps with a
Popular posts
Recent discussions