IObit Advanced SystemCare review
As many of us know, often with computers there is that frustrating issue when it slows down, lags, freezes or starts to hum louder, and giving us hard times with usual tasks. Especially with Windows devices. So then we go try to find a solution to fix it. In PC optimization software category there's no deficit of decent programs that could help us clean and optimize a PC or a laptop. Thus, Advanced Systemcare review is timely, as it is of the top tools in this category.
In this article we take a look at Advanced SystemCare from IObit. As it has been recently upgraded, we've decided to explore its main functionality, extra tools (e.g. web privacy protection), performance, settings and try to outline its benefits.
What is Advanced SystemCare?
Advanced SystemCare v.13 by IObit is a top PC optimization tool that helps to clean junk files, clean registry, free up space on disk and free up memory, speed up RAM and CPU, as well as to monitor the system and web browsing, and thus protect sensitive personal data, block malicious websites, etc.
With optimization being the main suit, the program is accompanied by other IObit products, e.g. Malware Fighter, Uninstaller, Macbooster, Driver Booster, to cover all practical aspects.
Specifications
| | |
| --- | --- |
| Vendor | IObit (visit website) |
| Newest version (for Windows) | Advanced SystemCare v.13.1.0 out September 2019 |
| Operating systems | Windows XP/Vista/7/8/8.1/10 |
| Installer file size | 45.1 MB |
| Menu languages | 41 |
| Optimization modes | 1-click, manual, scheduled |
| Extra features | Privacy protection, system state monitor, driver updater |
| License | Trial / Subscription |
| Pricing | $19.99 PRO (1 Year, 3 PCs) |
Well-organized and modern-looking interface makes sure that anyone can make use of and adjust the tool to individual needs. Free version is potent and has no time limitations, while fully-functional Pro version comes at reasonable cost.
Key features:
A complex utility to optimize, clean, speed up and safeguard a PC
User-friendly interface along with sophisticated design
Scanning, diagnostics, quarantine
Privacy and digital fingerprint protection
Anti-cryptocurrency mining, browser anti-tracking

Vendor description 
Advanced SystemCare 13 is a one-click solution for PC health, that works on Windows – 10 / 8 / 7/ Vista / XP, to be precise. It helps to clean useless, temporary and duplicate files; to free disk space, it manages startup items to boost startup time; and it monitors RAM and CPU use in real time. Pro version also provides deep registry clean, browser settings optimization, privacy security and digital fingerprint protection, as well as 24/7 technical support.
Advanced Systemcare review: Features
Newest version (as of September 2019): v.13.1.0.
Feature
Rating (0-5)
Pros / Cons
Clean & Optimize

5

+

12 tools and special options


+

scanning by categories


+

ignore list
Speed up

4

+

 4 tools and special options


+

3 modes (work/ game/ economy)


+

driver updater tool
Protection

4

+

6 special options


+

logs for 3-6-12 months


–

additional software to install
Interface

5

+

well-organized


+

user-friendly


+

functional
Scanning progress

5

+

pause & cancel options


+

items divided into groups


+

autofix option
Quarantine

4

+

informative


+

interactive
– accessible after scans
Reports
3
–  hard to find
– opens on website
– no export option
Support
4
+ 24/7 technical support
+ send Feedback option
– online support slow to load
OVERALL
5
In regards to popular "Advanced SystemCare free" search inquiry, we should note that yes, there are both Free and Pro versions available. Free is free (excuse the tautology) to download from the official IObit website, it isn't restricted in time but rather in capabilities – basic PC optimization tasks, system monitoring and anti-spyware protection.
For the sake of a proper Advanced SystemCare review, we should also mention pricing. Pro version costs 20 USD for 1 year use, and contains tools such as deep registry cleaning, scheduler, Internet speedup, virus/infection removal, RAM cleanup and more.
Installation, activation, updates
Right from the start we faced an unpleasant aspect – no access to updates due to the fact that the app had been initially ran and installed not as administrator. So we advise to pay attention and install it as administrator and thus avoid any hassle further on.
Also, don't forget to check updates from time to time, as they usually do not take long and may bring improvements you wait for. Product activation is simple and quick – use the button in the bottom part. First, click the orange "Activate now" button to receive activation code via email when purchasing a Pro license.
Then click a smaller "Enter code" link below the button and paste the code, hit "Register" and in few seconds you should get a notification popup and that's it. Note, that this activation window cannot be minimized, only closed after activation.
How it works?
It all starts with PC scanning that is aimed at detecting issues to clean or optimize. As it runs, the progress in percents for each section of items is displayed, yet no timer for the task. Anytime a user can pause the process and see the summary so far. Similarly, the scanning can be stopped, although it is impossible then to proceed from that point and one has to start over.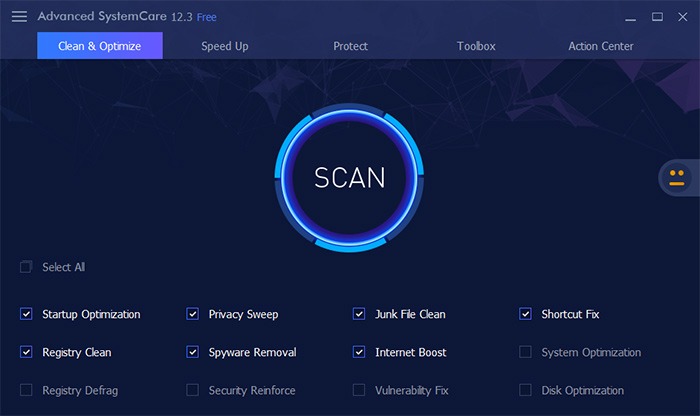 A great option is ability to scan by categories, e.g. startup items, junk files, privacy traces, invalid shortcuts, registry entries, etc. In addition, users can set up automatic fix (while scanning), ignore list, skip item categories. As scanning ends, the summary of issues is displayed: informative, grouped by type, optimization potential if fixed.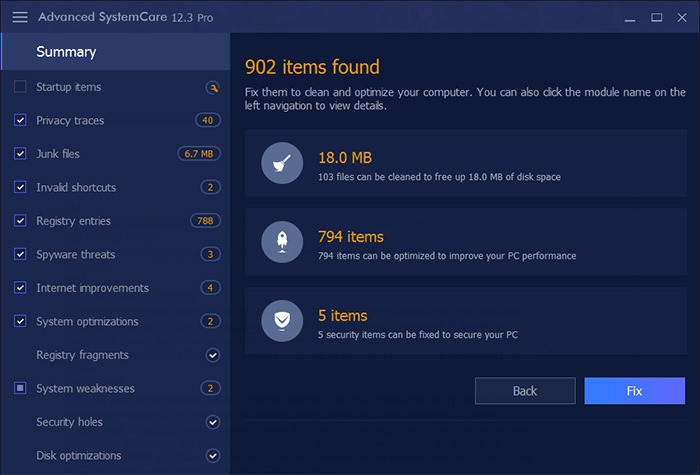 Additional settings include logs and backup, ignore list, rescue center. After Advanced SystemCare is done with optimization and cleanup, it carefully keeps reports and logs of every task performed. Ignore list, or exclusions list, helps to specify files/folders/areas that will be skipped during scanning and, thus, make the process faster. Rescue Centre is basically a backup tool – to revert any changes.
| | |
| --- | --- |
| + | Complex cleanup, optimization and protection |
| + | High speed, great performance overall |
| – | Scanning time not displayed |
| – | Frequent reminders to buy Pro version |
'Clean & optimize' features
As said, "Clean & Optimize" tab always starts with a system scan. It is quite interactive, showing every stage (initialize database, critical areas, processes, registry, rootkit) and progress in percents for each, although overall progress isn't visible, as well as scanning time.

An important notice as part of IOBit Advanced Systemcare review. You can stop scanning but not pause it, so mind that when you stop and then scan again it won't resume, it will start over from the beginning.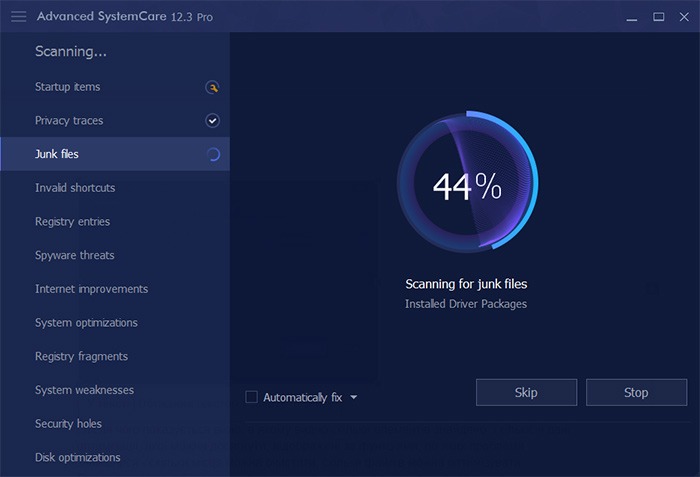 The utility also allows to scan specific areas only, by selecting issues from the left menu, e.g. startup items, privacy traces, junk files, invalid shortcuts, registry entries, spyware threats, Internet optimization, system optimization, etc.
In addition, there's the "Autofix" option – to set a default action for any (!) detected issues, so be careful here. IObit's Advanced SystemCare contains a wide range of special tools besides its core "clean & optimize" functionality.
They all target different areas, such as startup, registry, internet connection, as well as include options for privacy protection and web surfing safety. These 12 main features are as follows:
| | | |
| --- | --- | --- |
| Feature | Available | Description |
| Startup optimization | ✔ | Manage apps launched at PC startup |
| Privacy sweep | ✔ | Delete web surfing history |
| Junk file clean | ✔ | Remove obsolete files and free up disk space |
| Shortcut fix | ✔ | Repair broken file shortcuts |
| Registry clean | ✔ | Deep clean of registry objects to boost productivity |
| Spyware removal | ✔ | Detect and delete spy apps and other threats |
| Internet boost | ✔ | Check, optimize and speed up internet connection |
| System optimization | ✔ | Ultimate Windows optimization tool (Pro) |
| Registry defrag | ✔ | Optimize the registry and boost PC |
| Security reinforce | ✔ | Reduce risk of data theft or virus damage |
| Vulnerability fix | ✔ | Scan for system vulnerabilities to cover it up |
| Disk optimization | ✔ | Defrag hard drive or SSD for higher efficiency |
Extra features
There is also a set of complementary features that might come handy in various situations. They are located under "Speed Up" and "Protect" tabs. For instance, Turbo Boost configuration allows to select and set one of the following PC modes. Work mode – shut off unnecessary apps/services, Game mode – stop unnecessary non-Windows services, Economy mode – set minimal power/battery consumption.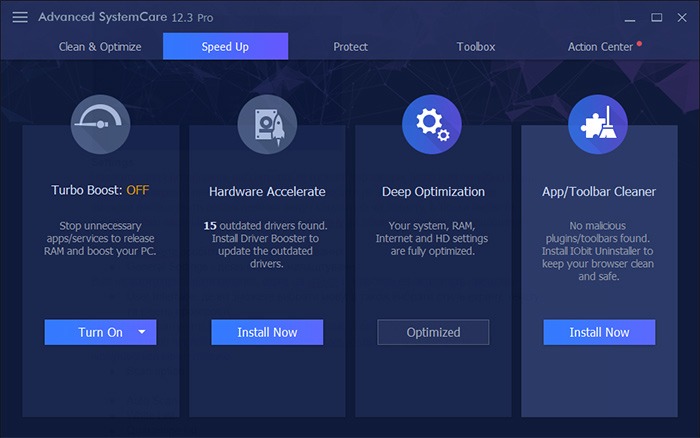 "Speed Up" tab also provides options like Hardware Accelerate, Deep Optimization, Toolbar Cleaner. Deep Optimization tool is especially useful, as it improves the hard drive, network and registry altogether.
| | |
| --- | --- |
| Turbo Boost | Shuts off unnecessary apps and services, 3 modes |
| Hardware Accelerate | Updates drivers (*requires Driver Booster to install) |
| Deep Optimization | Optimizes hard disk, registry and network settings |
| App/Toolbar Cleaner | Removes old browser extensions (*requires IObit Uninstaller to install) |
"Protect" tab offers various settings to secure personal or sensitive data while browsing on the web, which is an excellent addition to a PC optimization software that not all products have. Some of those are available in free version, others – only in Pro.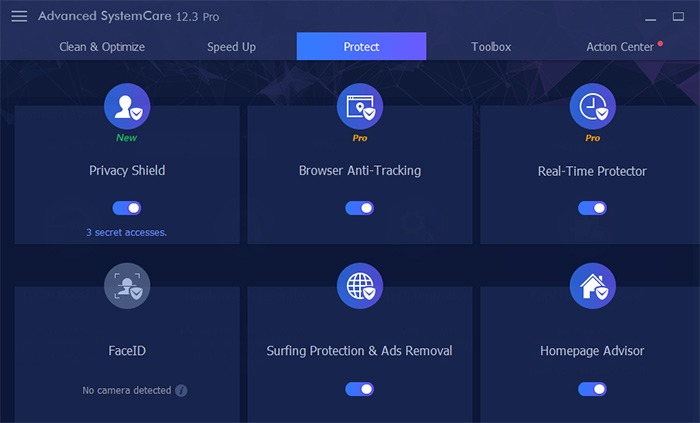 So, Privacy Shield (on/off) is aimed at protecting personal data by blocking unsafe or suspicious programs, and it has the exclusions list. Browser Anti-Tracking (Pro) erases web history data and support IE, Chrome, Firefox and Edge browsers.
Face ID acts to block attempts to gain access to a web camera via newest facial identification technology. Surfing Protection speaks for itself, and is a browser extension detecting malicious activities and blocking annoying ads. Real-time Protector (Pro) is a real-time antispyware tool. Now, let's compress all of it into little cheatsheet.
| | |
| --- | --- |
| Privacy shield | Detects and stop attempts to steal data |
| Browser anti-tracking | Cleans browsing history and digital fingerprints |
| Face ID | Identifies thiefs via webcam (*requires additional setup) |
| Surfing protection / Ads removal | Ad blocker and anti-spyware tool, 2 in 1 |
| Homepage advisor | Protects homepage and browser against adware |
| Real-time protection | Anti-spyware/Anti-malware in real-time |
Settings / Support
Advanced SystemCare is pretty flexible and adjustable. For example, in terms of interface, one can select font size, set program window transparency rate, choose the skin or even upload own image as background.
And don't forget 33 menu languages. For features and tools, go to Settings tab and select a chapter on the left to then customize how the app works in detail. Things like minimize to system tray, run at PC startup, add functions to context menu, etc.
Few of the most useful settings are ignore list and backup/logs. Although "useful" is debatable here, as users may only view elements that are skipped while scanning, but not add objects to it. In "Logs & Backups" we may access scanning reports for every instance, opened in a notepad. Again, not too informative, showing only general data and no detailed information.
A tip: if you wish to save all that's going on with Advanced SystemCare, set the maximum number of logs from 20 to 100.

There is also "Quick Settings" tab that basically is designed to assist in automation. For instance, if a user wants to set certain parameters for clean/optimization/protection features, or the general behavior of the program. However, this option is questionable in terms of practicality, and rather seems to be implemented as one additional way to nudge users to purchase Pro version.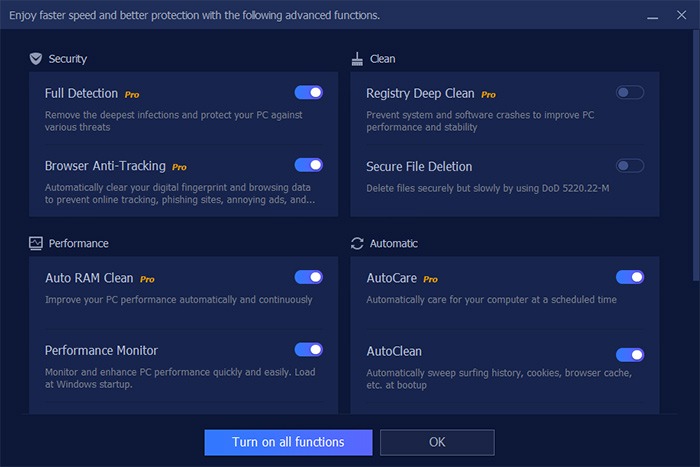 From the program you can go directly to technical support web page, although it seems strange that it opens in Internet Explorer rather than a default browser. Send Feedback option is good, though, as well as Facebook/Twitter sharing buttons.
Advanced SystemCare review: Summary
Due to all-encompassing and comprehensive approach, IObit Advanced SystemCare is easily one of the best PC optimization utilities on the market right now. Cleanup and optimization are its key functions, letting users perform tasks by given categories. And even in spite certain drawbacks (e.g. new window for every action, no direct access to quarantine), user-friendliness and affordable price prevail.
Pros: User-friendly, modern, adjustable interface Structured features Ignore list Backup / Restore Integration with other IObit software Send feedback option
Cons: Access to quarantine only after scanning No ability to scan external files Window with issues can't be minimized or switched Сomplicated Rescue Center
P.S. If you've found inconsistancies in this IOBit Advanced Systemcare review, or have your own thoughts on the product, please leave a comment.

FAQ
Q: What does Advanced SystemCare do?
A: It`s a PC tuneup utility designed to delete junk files, fix errors and optimize system stability.
Q: Is Advanced SystemCare free?
A: It has two versions, one of them is free. But notice that some features are limited in free version.
Q: Is Advanced SystemCare safe?
A: Yes. IObit, has a flawless 14 years reputation. If your antivirus has a false positive alert for certain ASC files, please contact the vendor.
Q: How to activate Advanced SystemCare Pro? Why Pro?
A: While Free edition is available, with it one cannot perform full scan, turn on browser anti-tracking, RAM cleaning, deep registry cleaning, etc. Buy full Pro edition and activation is quite simple - make a purchase, get a code emailed, click Activate button and enter it, get access to all features right away.
Q: How to use Advanced SystemCare optimizer?
A: Install the app (free or Pro), open it and start the scan. Wait for results, check the issues and optimization possibilities offered, decide and make a fix. Run the app periodically, when you feel a PC/laptop is slowing down, or detect suspicious behavior. Nothing complicated.
Q: How can I view a report on issues?
A: After scanning view the quarantine. Or go to Settings > Logs & backup to view past activities.
Q: Where can I get help about Advanced SystemCare?
A: Write a message to technical support (working 24/7 if you purchase Pro) by clicking a tab in the left menu.
Q: Can I cancel subscription?
A: Yes, but money-back guarantee is only eligible for first 60 days of use. You may want to try trial version first.
Q: Does Advanced SystemCare protect from viruses/malware?
A: Yes, but it does not protect from all types of threats like complex antiviruses. It is good as a second-line defense, thanks to built-in Bitdefender engine.
Q: How I can protect my privacy with Advanced SystemCare?
A: Go to Protect tab and enable all modules. They are automatized so just stick to recommendations from Advanced SystemCare, if shown further on.
IObit Advanced SystemCare reviews
22
Not compatible with Windows 8 and above
This software was successful on my Windows 7. I recently upgraded my system to Windows 8. After running this programs Registry Cleaner with deep scan on the upgraded system the windows 8 apps would not start. The windows 8 app store tried to start but would die. All the desktop apps ran fine, none of the Windows 8 Metro apps would run. I could not figure out what registry settings it changed of deleted but lucky for me I had a system backup and was able to load the backup. I still use this program but not the registry cleaning functions. This may be an issue with having upgraded from Windows 7 to Windows 8. I would give this product a very good rating on Windows 7. It now scares me on Windows 8.
Pros:
Improve Windows 7 pc performance
Cons:
Registry cleaning not compatible with Windows 8
Old Amazon Customer,
2019-10-13 07:01:21
I consider it to be the best
I have used System Mechanic and found it to be the kind of program that wants to take control of everything you do so I stopped using it. I used AVG once and it seemed to be nothing but spamware. I have been using IOBIT ASC for several years and find it to be a good easy to use program that does not hog up resources. The free version will ask you to upgrade to Pro, which I think is understandable. I use all the IOBIT products. They have their limitations but are still good programs that are easy to use. I installed Malwarebytes to get rid of a problem that was too much for IOBIT Malware Fighter. Had to use the Anti-Root kit, and now it won`t allow ASC to run no matter how many times I tell it to make an exception. So now I`m stuck with that until I uninstall Malwarebytes. I tried CCleaned and it seems to require more knowledge of what your system is doing than the average person is going to have. Overall I consider IOBIT products the best and easiest to use and I buy the Pro versions when they offer 80% discounts.
Work as expected
The software does what it said it will do. Improve the efficiency of the computer, eliminate spyware, etc. But, I`m very annoyed that their push other products with daily popups. How can I turn those off for good!!!!?
ASCPro,
2019-07-03 07:24:08
Worst product ever!
It seems that this program is designed to get passwords, found "thousands" of issues on my pc that were "critical, ran already installed anti-virus programs on my pc, no problems. Had to re-install Google Chrome. My wife is furious with me, for falling for this ad, said we were more secure buying the vehicle protection scam running rampant now.
Boots,
2019-07-02 05:01:31
Useless software that I do not recommend.
It does not seem that this program is from the category of assistants. Rather, on the contrary, there are more problems from it than good. Sometimes it seems that it is designed to get passwords. After scanning the PC, she discovered "thousands" of problems on my computer that were qualified as "critical", launched anti-virus programs already installed on the computer. After this "help" I had to reinstall Google Chrome. I am very sorry that I contacted this program.
Cons:
Simulates optimization help. After her so-called help, you have to re-configure your computer.
Boots,
2019-06-18 19:48:59
Better than I expected
This program does precisely what is required of it. It is essentially very easy, and the menus are straightforward to follow. The only advice that I have about this product, is to look the program over and take caution of what functions you select. For example, I haven`t downloaded any Windows` updates because it slows my pc. After I installed the optimizer, I noticed that the program downloaded and installed various Windows` updates.
Sterling N. Davis,
2019-06-10 15:37:42
IObit Advanced SystemCare is an optimal system maintenance toolkit for undemanding users.
I have been using Advanced SystemCare from IObit since 2011. My level of computer skills is professional. Based on my experience, I can recommend relatively undemanding users who need a simple, safe and reliable system maintenance utility to buy the current version of Advanced SystemCare. As far as I can tell from the comments, the users' opinions were divided approximately equally. I consider ASC to be quite safe for use by a utility designed not for intensive system recovery, but for correcting and fixing common problems arising during PC operation. I also want to note the responsiveness and constructive approach of the IObit support service. All my appeals were followed by a quick response. This approach to customers causes a desire to continue to use the products of this company.
Pros:
Proven time simplicity, safety and reliability. Quick response and customer support friendliness.
Mr. Wizard,
2019-06-07 07:13:05
The application is respected and trusted by users. As a result, a high percentage of loyalty.
Over the years, I have used Advanced SystemCare software on all of my family`s computers. The pleasant impression left after working with the application prompts me to continue using Advanced SystemCare. Here is a list of some of the useful features that I often use: 1. Junk file cleaner; 2. Privacy Sweep; 3. Shortcut fix; 4. Registry clean (especially after I have to uninstall any app.); 5. Deep optimization (to make my computer faster).
Pros:
A simple and effective solution for PC optimization.
divinenews,
2019-05-29 21:22:29
Totally avoid if you want to save your pc
I loaded the program on my pc and it crashed the whole system. Now my pc font is the size of half dollars and looks like it is in safe mode. Really? Why is this allowed on the market claiming to help issues with computers and not create them?
Lisa,
2019-05-24 12:00:56
Cause major pc problems
A friend of mine was suffering with a computer which was so slow that is was unusable. I tracked the problem down to the IObit Advanced System Care that he`s installed - it was using up an incredible amount of CPU resources. Once I uninstalled it, everything was as it should be. Afterward, I found plenty of other such complaints in various forums. It`s a crock of dodgy garbage.
Crankcase,
2019-05-08 22:00:22
Advanced SystemCare from IOBit is a useful and functional utility for any Windows PC. Definitely worthy of attention as a simpler free version, and an advanced version of Pro, able to 100% justify the money invested.
IObit Advanced SystemCare is a feature-rich cleaning and optimization software for Windows. The program is quite simple and intuitive. It has a clean, modern interface that allows the user to easily navigate and quickly select the desired tool or function. The utility is equipped with informative and easy to understand guide. With this utility, you can reliably protect your PC by eliminating security weaknesses, remove spyware threats, clear traces of privacy, delete unnecessary files, redundant registry entries, invalid shortcuts, increase Internet speed, manage startup items, optimize your PC.
Pros:
Extended functionality. Ease of installation. Convenience and informative wizard cleaning, optimization and acceleration. Security. Tangible increase in PC performance.
Derick Payne,
2019-04-25 21:00:08
IObit's first-class PC cleaning tool includes tools to deal with emerging threats, including cryptographers that affect PC performance and boot time.
A few words about the difference between the free version of the Advanced SystemCare software and the paid version of Pro. Basically, these differences lie in the broader functionality of the Pro version. For example, in the Pro version, a scheduled cleanup function, real-time system monitoring and Internet optimization were added. In addition, the Pro version detects more types of unwanted files than previous versions, and has an improved startup manager designed to reduce load times. It also includes a new Privacy Shield, created to prevent unauthorized access to your data, and the Anti-Tracking feature, so that advertisers cannot follow you online. IObit has also improved its ad blockers and pop-ups, which now offer effective protection against cryptographic checks. We can say with confidence that the latest updates help the user to confront modern security threats, while simultaneously increasing the speed and performance of the PC and reducing the launch time.
Pros:
Clean, intuitive customizable interface. Effective security tools for Internet threats. Automatic cleaning activated by one click.
Cons:
Individual files found during scanning cannot be deleted. Some icons in the menu are too small, they are difficult to see.
Catherine Ellis,
2019-04-21 00:04:56
Wish I never got it. It`s a scam
It doesn`t work as described and the activation Key was wrong and when I called for assistance staff wasn`t helpful and turn me over to a tech that wanted to charge me from $99.00 to $250.00 to fix my computer. After reading reviews wish I had never bough it was a waste of money
Ponygirl,
2019-03-30 22:47:50
The long-term successful experience of the IObit team in all its glory is demonstrated in the latest products of the company. Advanced SystemCare is no exception.
I already had previous experience using IObit products. Then I decided to try iolo System Mechanic 12 and iolo SM 17.5. After it turned out that the latest version is significantly inferior to the previous one, I again returned to the products from IObit. I use the old Dell Latitude XPS with Windows 10 64-bit (purchased in 2011). I will explain my motive for the transition from using IObit to iolo System Mechanic 12. The fact is that I regularly had problems with Advanced System Care and I began to look for an alternative. Friends and colleagues recommended iolo System Mechanic 12, and I also liked the positive reviews I read. As a result, I bought a package including Advanced System Care Pro, Smart Defrag Pro and IObit Uninstaller Pro. In my laptop, I reinstalled Windows 10, and then installed 3 products from IObit. Advanced System Care Pro and Smart Defrag pro have been able to optimize and configure my laptop. I was pleasantly surprised by the significant improvement in the performance of my laptop compared to the iolo System Mechanic.
Pros:
Really changes the computer for the better. IObit support is much better than iolo customer support.
Cons:
Using "deep registry cleaning" causes problems on some computers. Incorrect startup manager work.
Hector H. Barajas,
2019-03-30 18:54:22
Stay away from it!
This is crazy! I wish I had read Advanced System Care Pro reviews before I downloaded it. My spyware program detected 52 PUP threats! 52? There were 0 threats the day before I installed ASC Pro. I had planned to upgrade it, but now forget it!
Joan Patterson Garcia,
2019-02-13 07:19:22
Awesome quality work. Definitely recommend.
I admit honestly, I try to buy software for checking as little as possible. But I still bought IObit Advanced SystemCare. The quality of work just shook me. Now my Windows 10 computer has changed beyond recognition and is working at an incredible speed. It's nice that this software is updated automatically. Would definitely recommend.
Pros:
Quality, effective PC optimization.
ChuckLayton,
2019-02-05 17:35:18
Advanced SystemCare is an ambiguous product from an ambiguous manufacturer.
I do not trust the company IObit, which produces generally good software. As for the Advanced SystemCare software, in my opinion, it is well thought out and fairly safe. I was pleased with the function that scans and prompts the user to block some programs at startup. For the most part, these are programs that actually do not need to be run when the PC starts up. The user can mark the object that he wants to save and ignore it so that it is not selected in future scans. The algorithm of similar programs from other manufacturers is much less convenient. However, although this program is safe and works well, like any other PC cleaning and optimization software, it cannot make your computer run much faster. By the way, the paid Pro version is regularly available as free. This version has advanced features, and the difference between these two versions is palpable. It is fair to say that IObit really listens to the feedback from its customers. I reported problems with false positives in the registry cleaning and startup optimization modules in Advanced SystemCare, and they responded and corrected.
Pros:
The software is well thought out and safe enough. Good job scanner. Extended features of the paid Pro version. Adequate response to user requests.
Cons:
Controversial product features for faster performance and improved performance.
roger_m,
2019-01-16 21:35:19
High-quality software for maintaining normal PC operation from IOBit, including such sections as: spyware threats, registry errors, privacy problems, unwanted files, Internet problems and shortcuts errors.
Software to maintain the normal operation of a PC usually involves the use of various tools to solve typical problems with computer performance. Advanced SystemCare from IOBit is no exception. The maintenance and cleaning package for Windows fully automates the entire process, but leaves the user the option of manually refining certain aspects of the operating system. The software includes a manually activated PC scanner for problems in order to subsequently go to them and automatically repair them. The user has the possibility of more detailed selection of the aspect that he wants to view and then get a list of all errors detected by the program. The following sections are available to the user: spyware threats, registry errors, privacy issues, junk files, Internet problems, and shortcuts errors. The program provides full support for Windows 10 and most integrated applications. The program uses a new system to free up RAM, which closes unnecessary applications running in the background, as well as to protect DNS addresses and improve private browsing.
Pros:
Multitasking. Fully automated maintenance and cleaning process for Windows. The ability to manually select to improve some aspects of the operating system. Full support for Windows 10 and most integrated applications. Fast and high quality PC scanner.
Ra?l Rosso,
2019-01-10 09:49:36
The statements made by IOBit on the program`s website that the program speeds up the launch of a computer by 300% or 200%, alas, have nothing to do with reality.
Advanced SystemCare Free is a program designed to manage, optimize and protect your PC. The advantage of the program is that it is compatible with all versions of the Windows operating system. I will not dwell on the installation of the program, as it is simple and should not cause difficulties even for an unprepared user. I want to say a few words about the function that I often ask for help - this is a computer scanner. I periodically scan my computer for spyware, registry and unwanted files, traces, broken shortcuts, etc. As a rule, my scanning process does not take much time, but I think that the selected components and PC performance can significantly affect time scan. After the scan is complete, I view a report of the scan results and the problems found during the scan. I think that scanning and subsequent optimization have a positive effect on the performance of my computer.
Pros:
The program is easy to use. Tooltips are active for all parameters. This is especially convenient in the initial period of familiarization with the program. The possibility of personalizing the program by changing the theme and font size. The program automatically creates a rollback option when making changes. Options for turning on or off many automatic program tools.
Cons:
Some tools need to be downloaded before they become available.
Martin Brinkmann,
2018-12-29 00:46:24
Universal and versatile PC maintenance tool.
Advanced SystemCare is a universal PC maintenance tool. It easily and effectively solves the following tasks: fixes errors, optimizes the Internet and download speed, ensures data security, blocks spyware and malware, improves computer performance by cleaning unnecessary registry files and defragmenting the entire registry, finds and fixes registry errors, and tracks and blocks attempts unauthorized access, protects data viewing, email, contacts. This is not a complete list of IObit Advanced SystemCare features, but this is enough to understand that this is a worthwhile product. With this feature set, any user, from beginner to advanced, can be confident in the safe and comfortable use of their PC.
Pros:
Multitasking. The ability to effectively manage the basic functions of a PC by installing one software.
hakah,
2018-12-18 02:17:17
IObit Advanced SystemCare is a modern, reliable and efficient helper in optimizing and speeding up a slow computer.
First of all, it is worth noting that this is a multifunctional software. It has a great interface. There are almost no complaints about the work. With the tasks, the utility copes. IObit Advanced SystemCare performance is satisfactory. When I used it, I almost did not find any problems. It seemed to me that my Windows 10 computer really began to work faster. Sometimes it seems that its functionality is redundant. Sometimes, trying to use as many functions as possible for even better optimization turns out to be a problem. The situation is out of control. Therefore, it is necessary to approach meaningfully the question of optimizing.
Pros:
Really increases the speed of the computer, providing optimal optimization. Availability of security and data recovery functions.
Cons:
Some functionalities need several extensions to download.
HASIBUL KABIR,
2018-11-13 17:38:06
pc crash after use
I read the reviews of this software and then decided to purchase it. After activating, it detected thousands of issues which I allowed it to fix. After fixing the problems, my computer would not boot. It took me hours to finally get everything back to normal. I`m concerned that if I run the program again and it finds the same amount of issues, will the consequence be the same. I`m running Windows 8.1 and have purchased and used the full version of Wise Care 365, CCleaner, and Malwarebytes Anti-Malware. As a Charter customer, I use their Security Suite. Is there any reason why I experienced a system crash after running Advanced SystemCare Pro? Appreciate any comments
Peter Colby,
2018-11-12 21:02:26