Music videos are a humongous chunk of YouTube. We've already talked about how to download videos from it (10 free video downloaders for macOS). To extend it to audio as well, in this piece we inform you about how to get YouTube to MP3 conversion for your favorite songs you can't find elsewhere. Downloading audio from the Tube is pretty similar to saving videos: there are desktop applications, web services and browser extensions. We found a couple of options for each category.
Desktop YouTube to MP3 downloader apps
For this chapter we've selected apps whose main feature is to download YouTube to MP3. There are not that many apps like this, hence, we've decided to extend the list with our personal favorite media downloaders.
Version: 1.1.3.0 | Size: 90 Mb | Premium: $19.99

A peculiar little thing popped up as we tested this app – when you copy a video link, MP3Studio automatically detects the link in the clipboard adding a notification on the screen. But when pasting the link to a proper field, it won't work. Nevertheless, this app successfully downloads and converts any YouTube video to audio, typically in 1-2 minutes, depending on video length. Unfortunately, not playlists.
Version: 2.2.0 | Size: 83 Mb | Premium: $29.95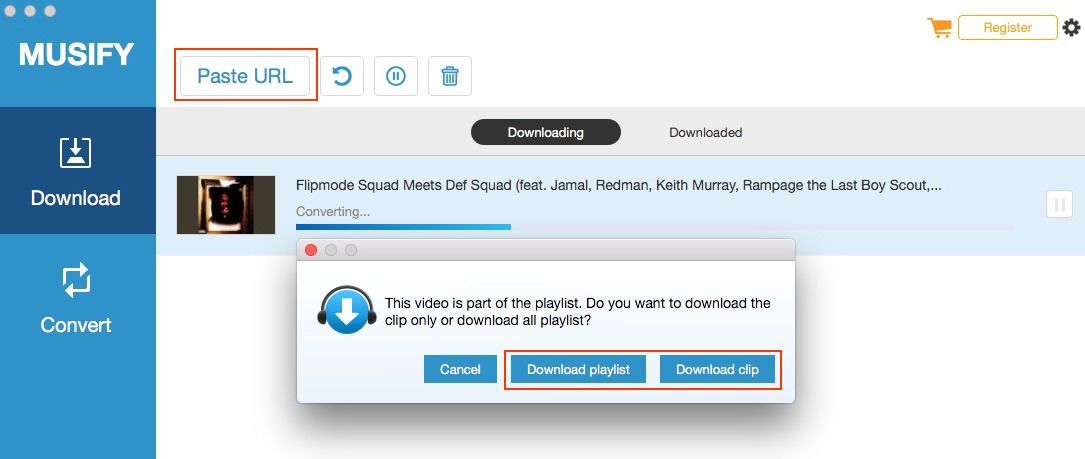 First of all, this app can download playlists, but only in the Premium version. There are three full downloads and conversions in Trial, afterwards the program cuts 2/3 of files out. Supported audio formats except MP3 are: WAV, M4A, FLAC, OGG, AAC, AIFF, MKA. In settings one can configure Proxy settings and a download path.
Version: 2.4.265 | Size: 62 Mb | Premium: $19.95
To download a video using Airy YouTube Downloader, you need to paste the link into its URL bar. After verifying the video, in Airy you can choose the format in which it will be downloaded. Depending on server options in a given situation, Airy can download video in MP4, FLV, 3GP and of course MP3 formats. Additional features include the ability to integrate Airy with a web browser and 6 interface languages. It doesn't have a Free version, but unlimited trial is available for 24 hours after installation.
Version: 3.9.9.42 | Size: 203 Mb | Free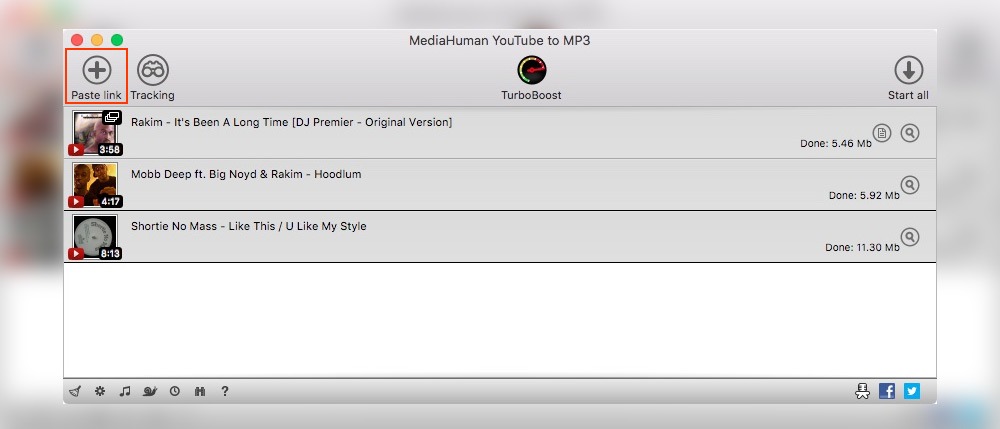 So far, Mediahuman's YouTube downloader app is the best out there and it is free. It has a simple design, easy to navigate. To get an MP3 file, copy a video link and click the Paste button, the app then automatically detects a file and downloads it. In program settings, one can find and adjust the output audio format (M4A, MP4, OGG) and audio bitrate from 64 kbps to 320.

Version: 4.3.21.706 | Size: 75 Mb | Premium: $29

It can download files in various formats, including popular MP3, FLAC, M4A, AAC, WAV. It can also save playlists and whole YouTube channel contents. Unfortunately, the trial version has strict limitations, including download speed. 
Version: 2.0 | Size: 348 Mb | Free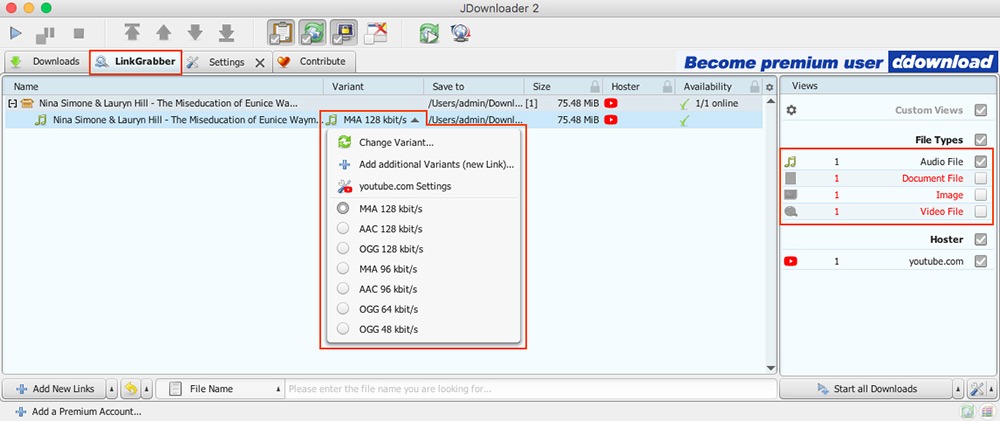 Both a video and audio downloader, it automatically saves audio, video, image preview, and text description of YouTube videos in one click. What about playlists? Yes, just paste the playlist link. Available audio formats are M4A, AAC, and OGG. Sadly, there is no MP3, but any modern device can play those other files. 
Version: 1.5.3 | Size: 177 Mb | Premium: $14.99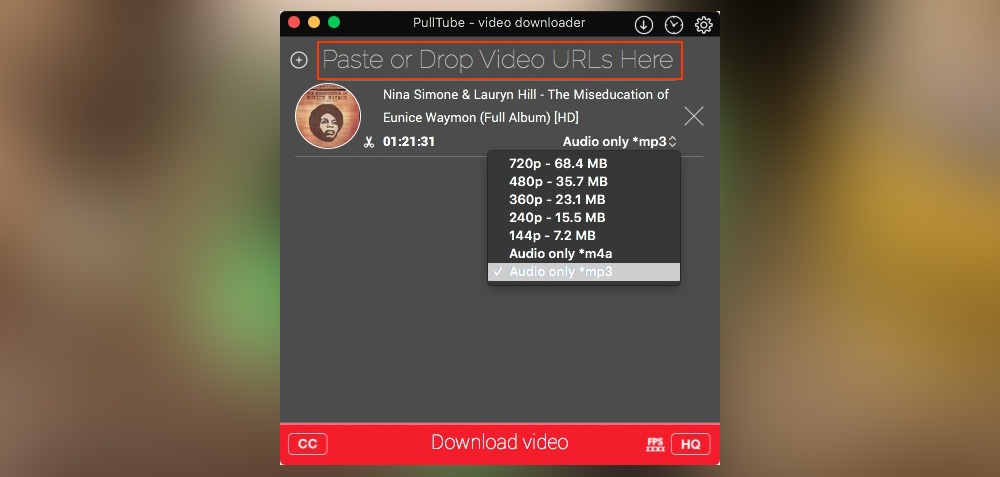 Pulltube will easily download any video in MP3 or M4A, as well as any video in MP4 or MOV. The main window displays the URL field to paste links into. In terms of other helpful features, there is a trim tool, activated by clicking on the Scissors icon by the preview. Thus, one can exact a part of a video before converting it. Click on the Download button in the top-right corner, and additional output options will appear. 


Version: 3.8.14 | Size: 250 Mb | Free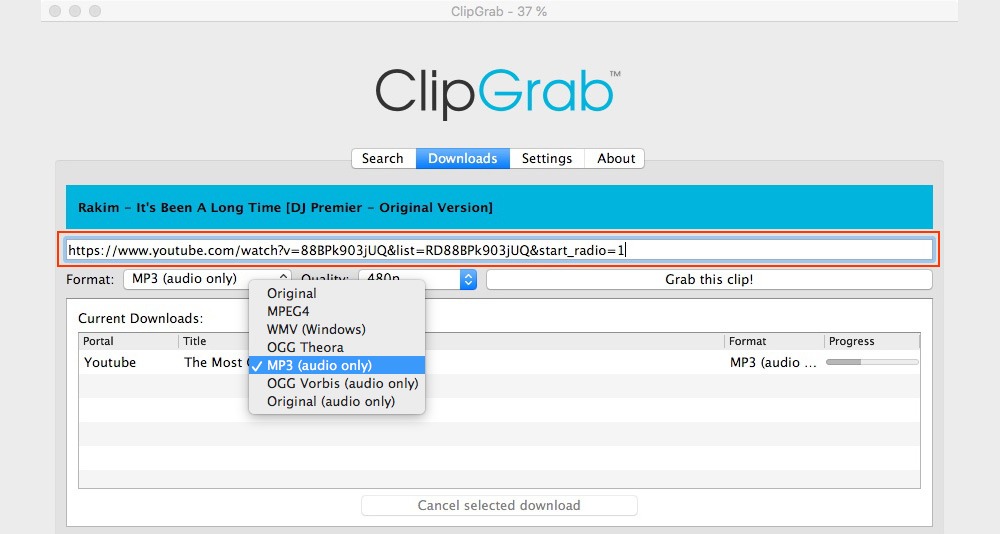 This desktop application has a few interesting features, for instance the Search tab. The idea is to search for a video from the app directly to save some time if you know exactly what to download. To get an MP3 file, one doesn't even need to paste the URL – the app does it automatically. Just select the output format and the quality. 
MP3 converter websites
As there are too many online YouTube to MP3 downloaders, we've decided to highlight a bunch of top-performing ones in a single table. We've also measured how long it takes to save a song from the moment you paste a link and press Download.
| | | | | |
| --- | --- | --- | --- | --- |
| | Kbps selection | Ads | Extra features | Processing time (mm:ss) |
| YTmp3 | 192 | ✓ | MP4 video download, save to Dropbox | 00:12 |
| BigConverter | 128, 256, 320 | ✓ | Volume control, video download | 00:16 |
| Freemake | 128 | ✓ | Video download | 00:16 |
| MP3 Youtube | 192 | ✓ | MP4 video download | 00:25 |
| FLVTO | 192 | ✓ | Video download | 00:21 |
| 320 Youtube | 320 | ✓ | None | 00:20 |
| Y2Mate | 64 – 320 | ✓ | MP4 video download | 00:13 |
| X2Convert | 128 | ✓ | Video download | 00:07 |
| noTube | 192 | ✓ | Video download | 00:29 |
| EasyMP3Convert | 64 – 320 | ✓ | None | 00:15 |
| YTBMP3 | 320 | – | Playlist download | 00:23 |
Personally, I'd like to draw attention to YTBMP3 web service, as it is the only without ads and can download full playlists.

YouTube downloader browser extensions
Similarly, we've selected browser extensions for Firefox and Opera that actually work. 
Summary
For casual downloads from time to time, it is obvious to go with online media downloaders. For regular use, select the app that suits your needs the most. As for me, an all-time favorite is Jdownloader, followed by Pulltube. Both support an impressive amount of websites to save media files from.
Read next: How to convert videos to MP4.