iolo System Mechanic review
When it seems that your PC runs slowly or key/mouse response is delayed, it is often a software-related issue that can be easily solved. One way is to use Windows system maintenance tools if you have time and skills, the alternative is various optimization tools. Those do the job getting rid of obsolete apps, bad registry entries, system errors etc. Generally, a set of PC system utilities, also known as PC optimization software, helps manage and maintain devices in good shape. So let's explore further in System Mechanic review.
Specifications
Vendor
iolo Technologies, LLC (visit website)
Newest version (for Windows)
Iolo System Mechanic Pro v.19.1.1.46 out September 2019
Operating systems
Windows 7/8/8.1/10
Installer file size
51.1 MB
Menu languages
10
Optimization modes
1-click, manual, scheduled
Extra features
Deep scan, Active Care, Programs Accelerator
License
Free / Pro / Home
Pricing
$55.96 Pro (1 Year, 1 PC)
Both versions, free and Pro, are available in 10 languages (including French, Dutch, German) for Windows 7, Windows 8, Windows 8.1 and Windows 10. However, when installing, the program does not suggest to choose the language, so it has to be done later in Settings. The suite was released by ioLo Technologies, a US-based company with 20 years market presence. There are three editions of System Mechanic:
Whole Home License: for use on all home PCs, it costs $39.96 annually.
System Mechanic Pro: the so called ultimate package for $55.96, as of March 2019.
System Mechanic Business: it costs $47.40 annually and is optimized for small teams/networks.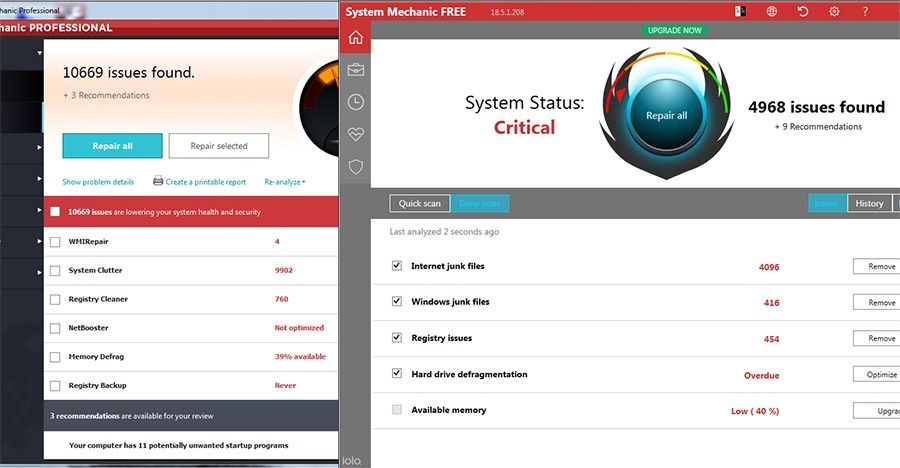 You can try all three editions for free – full-functionality trial lasts 60 days for Pro and 30 days for Business. Despite some confusion about free trial for standard edition, you will find Pro trial in the Downloads section. So before we move on to review, a brief summary of what System Mechanic is about.
| | | | | | | | | | |
| --- | --- | --- | --- | --- | --- | --- | --- | --- | --- |
| Version | Platforms | Installer | Pricing | Scheduler | App tray | Monitor tools | Optimization tools | Boost tools | Recovery tools |
| Standard | Win 7, 8, 8.1, 10 | 34 Mb | $40/year | ✔️ | No | ✔️ | ✔️ | ✔️ | No |
| Pro | Win 7, 8, 8.1, 10 | 99 Mb | $56/year | ✔️ | ✔️ | ✔️ | ✔️ | ✔️ | ✔️ |
Installation & Interface
For review we took the Pro version, downloaded from the official website, so this could be perceived as iolo System Mechanic Pro review. This is the most complete and effective package. It repairs issues, boosts PC speed, as well as cleans, protects and secures to speak generally. Additionally, it blocks malware and bloatware, it could recover lost data.
We should mention right away that System Mechanic might not be good friends with antivirus or antimalware program. In our case, System Mechanic Professional edition refused to proceed with installation until we had turned off Avast antivirus. Then, the process is typical: enter email address and get an activation key… no additional software, no other difficulties.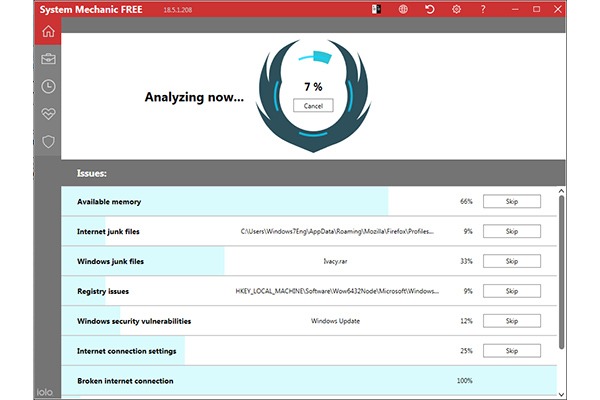 When you run the optimizer for the first time, you are prompted to analyze the system. On the left, there is a menu with the following entries: Dashboard, Issues, Toolbox, ActiveCare, LiveBoost, Internet Security, Reports. Dashboard tab contains Overview and Issues sections, and Overview is where you choose system analysis type – deep or quick. Service Status indicates trial time left in a free version, or available upgrades to install in Pro.
Issues tab is pretty self-explanatory. Toolbox contains 6 more sub-tabs: All-in-one (multiple functions arranged via wizards), Clean, Speed up, Protect, Recover, Manage. Each of them contains a set of proper tools for corresponding purpose. Active Care serves to configure automatic optimization, repair and maintenance of PC. RAMJet maximizes available memory, modes in PowerSence help to boost performance depending on what apps are running, and so on.
Internet security tab allows to adjust anti-malware features, enable/disable System Mechanic monitoring, as well as setting up firewall. Reports tab contain info on issues, energy efficiency, system reliability and PC status.
Overall, interface is convenient, features are laid out logically and easy to find. We did not encounter any advertisements, pop-ups etc., unlike in many other products. Regarding negative aspects, it is somewhat confusing when upon pressing a button we just get info-tips instead of action – it would be probably nicer to organize/display this in some other way.
Features
Now let's discuss the central point of System Mechanic: functionality, what is there to optimize PC work and how it actually works. There are several areas. Active system tune-up includes optimization, repair and security tools.
These are actions to optimize PC startup, registry, configure Internet connection, system drive, detect and fix errors/broken shortcuts, etc. Security actions include detecting vulnerabilities, backing up registry every 14 days, disabling Windows 10 telemetry, wiping all data from a drive and permanently remove files. Below is the summary.
| | | |
| --- | --- | --- |
| System Tune-up | Free | Pro |
| Optimize startup configuration | No | ✔️ |
| Optimize Internet configuration | No | ✔️ |
| Optimize system drive | No | ✔️ |
| Defragment and compact registry | No | ✔️ |
| Repair WMI conflicts | No | ✔️ |
| Repair registry problems | No | ✔️ |
| Repair broken shortcuts | No | ✔️ |
| Repair broken Internet connection | No | ✔️ |
| Repair security vulnerabilities | No | ✔️ |
| Back up registry every 14 days | No | ✔️ |
| Disable Wi-Fi Sense Services | No | ✔️ |
| Disable SmartScreen | No | ✔️ |
| Turn off Windows 10 telemetry | No | ✔️ |
| Clean up system clutter | No | ✔️ |
| Download and install updated Tune-up definitions | No | ✔️ |
Next up, is active system monitoring section. Basically, it constantly monitors CPU use, speed, responsiveness, Internet speed, startup and running programs.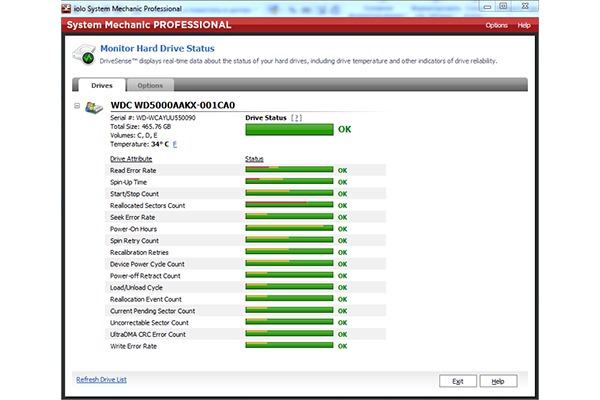 To improve performance, System Mechanic offers tools like Speed boost (hard drives, CPU, RAM), NetBooster (Internet settings), Program Accelerator (re-aligns programs on hard drive), SSD Accelerator (maximizes solid-state drive speed), Registry Compactor (defragments and compacts the registry).
| | | |
| --- | --- | --- |
| System state active monitoring | Free | Pro |
| CPU usage | No | ✔️ |
| Processor speed | No | ✔️ |
| Processor responsiveness | No | ✔️ |
| RAM usage | ✔️ | ✔️ |
| Drive fragmentation prevention | No | ✔️ |
| Startup programs | ✔️ | ✔️ |
| Running programs | ✔️ | ✔️ |
Cleaning options, a.k.a. Clutter Cleaning in System Mechanic, include taking care of junk files, securely erasing private sensitive data, repairing registry errors, removing software redundancies, finding duplicate files, etc.
| | | |
| --- | --- | --- |
| Cleaning tools | Free | Pro |
| PC Cleanup | ✔️ | ✔️ |
| Junk File Finder | ✔️ | ✔️ |
| Privacy Cleaner | ✔️ | ✔️ |
| Registry Cleaner | ✔️ | ✔️ |
| CRUDD Remover | No | ✔️ |
| Shortcut Repair | No | ✔️ |
| Advanced Unistaller | No | ✔️ |
| Duplicate File Inspector | No | ✔️ |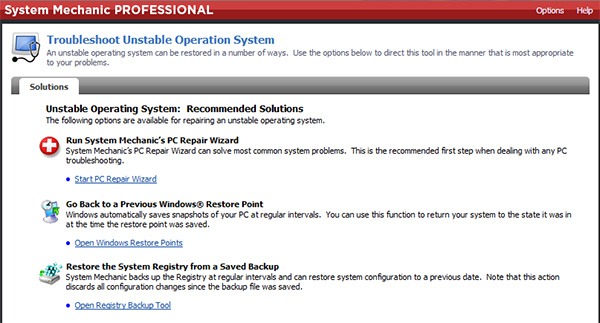 Speed up tools are the above-mentioned NetBooster, SSD Accelerator, Startup Optimizer, Startup Manager, Registry Compactor… but also Process Manager to organize running processes, and Memory Mechanic – to utilize free memory in the most efficient way possible.
| | | |
| --- | --- | --- |
| Speed up tools | Free | Pro |
| NetBooster | No | ✔️ |
| Program Accelerator | ✔️ | ✔️ |
| SSD Accelerator | No | ✔️ |
| Memory Mechanic | No | ✔️ |
| Startup Optimizer | No | ✔️ |
| Startup Manager | No | ✔️ |
| Registry Compactor | No | ✔️ |
| Process Manager | No | ✔️ |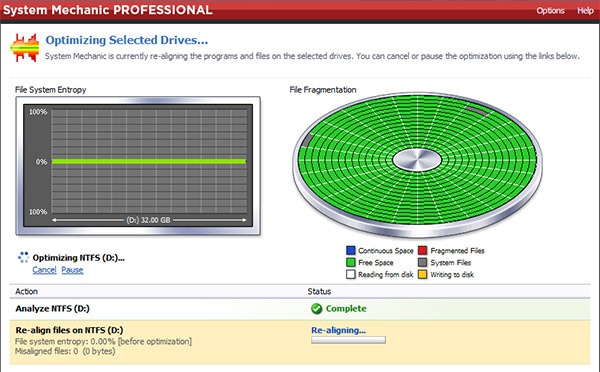 Protect, recover and manage set of tools are various actions to fix security vulnerabilities, track system changes, recover data from a drive/disk, find and install drivers, monitor hard drive status, and more. Find summary below.
| | | |
| --- | --- | --- |
| Recover & manage | Free | Pro |
| Security Optimizer | No | ✔️ |
| System Change Tracker | No | ✔️ |
| Search & Recover | No | ✔️ |
| System TroubleSooter | No | ✔️ |
| Designated Drivers | No | ✔️ |
| Advanced System Information | No | ✔️ |
| DriveSense | No | ✔️ |
| NetSpeed Analyzer | No | ✔️ |
| PC Health Status Gadget | No | ✔️ |
| LiveBooster | No | ✔️ |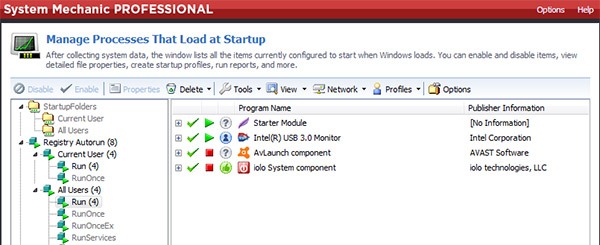 Exclusive features. As we said, in addition to basic optimization and PC health tools, there's malware blocking (only in Pro) and bloatware removal – to detect startup programs that launch without permission.
But System Mechanic claims to offer several more patented technologies, such as ActiveCare – that finds and fixes problems on PC when it is not in active use; Program Accelerator – a calibration technology to ensure the fastest possible access to files; Startup Optimizer – that uses research-based classifications to identify issues; LiveBoost – to find patterns and prioritize programs to clean RAM, and so on.
Testing and how it worked for us
Well, we could say the start was rocky. When we tried to perform system analysis, the app crashed. We reopened it and started the check once again, and it crashed again. So, instead, we opened the PC Cleanup tool and ran the Quick analysis from there – and luckily it worked. The process lasted about 17 minutes and freed up 3.8 GB on the hard drive.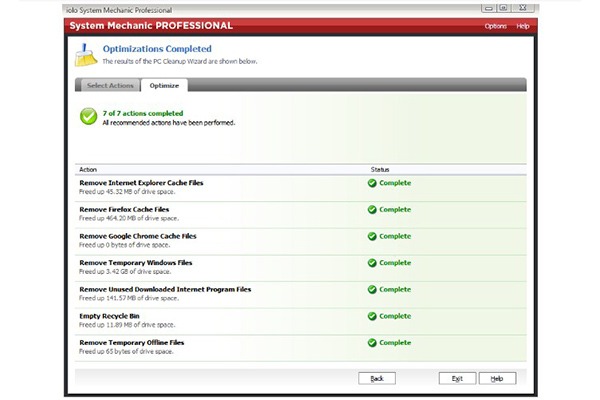 Unfortunately, we faced similar error with Deep Analysis and were not able to run it properly. Then, in System Mechanic Pro we used Junk File Finder and got additional free 100 Mb on our hard. After it was finished, we also ran Disk Analyzer and it pointed out another 193 Mb of junk files.
Management and Reports tab we find handy for average users. For example, to configure startup programs without the hassle of Win+R or MSCONFIG, to monitor download speed, running programs, hard drive space and memory. With Optimize feature in Reports, which initiated defragmentation process, we got 1% of RAM recovered – which is something but nothing outstanding.
System Mechanic review: Conclusion
To summarize, System Mechanic helped to free up to 4GB on the hard drive and about 1% of RAM. We did not notice a considerable improvement in PC performance or speed of tasks. And while design, interface and UX are convenient and offer a great single tool to monitor and manage everything on a PC, the main disadvantage of System Mechanic is unstable performance.
iolo System Mechanic does not always load upon first click of a desktop shortcut or even start menu – it is something the vendor really has to fix ASAP. Some features are listed and advertised but don't actually work in the program. Current bottom line: System Mechanic is perfect for removing junk files and freeing disk space, it isn't great in boosting PC speed or performance though.
FAQ
Q: What is iolo System Mechanic?
A: It is a PC optimization software that finds issues and errors, and repairs them all.
Q: How to activate System Mechanic?
A: Read the information in full on the official product page: https://www.iolo.com/install-and-activate-system-mechanic/
Q: How good is System Mechanic?
A: It's a good option for both casual and professional users. Improving a PC could be done in just one click, while tech savvy guys may dig deep into system settings.
Q: What is the latest version of System Mechanic?
A: The last update (as of August '19) was rolled out in July 2019, and it is v.19.0.1.
Q: How many computers can I install System Mechanic on?
A: You, your friends and family may use the same license on any number of devices.
Q: How much is System Mechanic?
A: Currently it is $40 for 1 year. You can check the latest pricing at: https://www.iolo.com/products/system-mechanic/
Q: How to get technical support for System Mechanic?
A: Help link is in the top right corner of the program. It leads to product manual with various topics and troubleshooting. "Contact iolo" gets you to the support team via email or phone. There's also System Mechanic Customer Care website at: https://support.iolo.com/support/home.
Q: What is a System Mechanic LiveCare?
A: It's a tool for PC regular maintenance according to preferred actions and time.
Q: What is a System Mechanic LiveBoost?
A: This is a technology for optimizing CPU and RAM parameters.
Q: How to revert changes after System Mechanic?
A: System Mechanic backup center is called SystemNet. You can open it by clicking on arrow in right upper angle in main window.
System Mechanic reviews
17
Looking for a useless program then System Mechanic this is your choice
System Mechanic installed quickly enough, but during the installation some subordinate windows popped and the whole installation was redirect to another one.
Immediately after installation, the program started the scan without my knowledge (a slight disadvantage). What was unexpected, the program quickly gave the results of the scan (1st screenshot), but hovered at a hundred percent bar stuck in a period of 20 sec (2d screenshot) (also a disadvantage). The scan results surprised me. There were nothing, but windows junk files. Even there were only 58 of them, unlike the alternatives (when they had 300 + -).
Functional. Nothing to say about functionality. It is complete zero. Even with the main purpose of the cleaners (to clean the PC from junk) it is not able to cope.
The main advantage of System Mechanic is the interface, it is quite modern and simple. That is the end of advantages.
In conclusion, I say that I strongly do not recommend this cleaner.
Pros:
Interface, modern installation, easy to uninstall
Cons:
Zero functionality, no normal settings, no customisation , paid version - is a waste of money
Vladyslav Tsimbota,
2019-10-12 11:48:44
Disappointment!
I have never used the programs for cleaning and system optimization. But somehow I have seen an advertisement of this program and have decided to try it, because my system began to work slower and slower and its launch proceed seemed like an eternity. On the official website, I found a trial version, I decided that I it will be enough to see its potential and perhaps acquire in the future If the results of its work will please me. It was easy to download and instal, easy to start the scan… And it has found a lot of the problems, but there is no way to resolve them!! The trial version does not have such capability! Why do they have a trial version for 30 days without the possibility of cleaning? How I can check its functionality? Strange…
Cons:
Trial version with locked resolving tools, only scan.
Max Konan,
2019-10-08 11:32:56
My first negative review of a product ever
This product is not new to me, I`ve never written a bad review.. clearly stay away from this product and company. I bought the CD because the people with the downloaded versions are having problems with Activation Key. I`m trying to install Mechanic PRO ... and it installs Premium version...never asks me for Activation code but asks me to PAY FOR IT. I`ve uninstalled and installed and repeated that numerious of times. I don`t know what`s happening with the internal working of this company but try another till they have things sorted out ! OH I have windows 10.
Cons:
dishonestcompany and product
Don`t waste your money
I`ve used System Mechanic before and liked it. But the last update includes PHOENIX 360 which deletes all browser passwords, even when the user unchecks the appropriate boxes to prevent this from happening. I emailed IOLO Dec 25, received a case number from them, then nothing. No response. Called them today, Jan 10. On hold, over 25 minutes later, the phone line was disconnected. Checked the LA BBB office and see they have many complaints about customer service and the product. Until PHOENIX is fixed, do not use this product. By the way, I can`t get anyone to authorize a refund, so I am out some money. Save yours. Don`t buy IOLO System Mechanic
Dave & Linda,
2019-08-31 17:53:39
Used to be a good software but no more
I have used System Mechanic for more than a decade. It USED to be good. Now System Mechanic Pro with Pheonix 360 option won`t remove/fix viruses on my system. Customer service will not answer the phone. The website won`t let me sign in to my account and won`t send me a link to change password. Ever since Advangate took over the financial dealings of Iolo Technologies a couple of years back, System Mechanic has taken a full dive into the toilet for effectiveness. Try Kaspersky Labs instead.
Cons:
Ineffective and bad customer service
Mud Dog,
2019-08-26 01:54:28
Functions are not completely reliable
There`s an option for TOTAL CARE, their name for the app, but I have some reservations about the reliability of some of the functions. For example, the Registry Cleaner and Registry compactor, It appears they may cause some issues over time, in my experience. I have used this for about five years, and recommended it to several others, w/ same caveats. It is worth the money and can be renewed on an annual basis for half the retail cost.
Pros:
Provides lots of system functions
Cons:
Functions doesn`t work as expected sometimes
J.d Mathis Sr,
2019-07-30 10:10:41
Great product for overall system needs except for Antivirus protection
I bought this product last year, albeit reluctantly. I had an Ailing Windows 7 box that had plenty of hardware power, but no more enthusiasm. That version of the product brought the system back to life, and it`s still running today. I bought this version of the product recently to help out an i7 core ultrabook with an SSD drive that all of a sudden became an absolute slug. I thought I had a hardware issue the system was so slow. I installed the latest version of System Mechanic Pro on it and ran the software. I was happy to discover that it was just system clutter in the way of temp files, registry issues, and "clogged" memory. I run the utilities every 1 to 2 weeks, and it does increase the overall system performance. I also really like the unlimited license! We have four Pc`s in the house, and it`s nice not to have to buy extra licenses. One thing that I do recommend NOT doing is don`t install or use the Antivirus or Antispyware product in this package. This product is a great utility but look at Kaspersky, Eset, or Norton for your Internet Security. I personally like Eset but have had good experiences with Kaspersky and Norton.
Cons:
Not very good as an antivirus
A great system tool. I have used it for years.
Used it for years, it is an excellent tool in all aspects. The only people who whinge about the program are those newbies who just can`t be troubled to understand how it works. Like stopping the process, removing junk, back up, reporting errors and making it all run smooth
Simon Jones,
2019-06-27 22:12:46
Misleading advertisement and this product is a rip-off
I ordered this product and once installed, it required a license key that should have come with the product, and it did not. I then had to download a license key that statement it was suitable for only 30 days. The advertisement if this product does not state that..my review for this product is a about a 1 for it stinks! I will never recommend this product to anyone..in fact, I would like a refund!!
Cons:
doesn`t come with a license key
We will Overcome,
2019-05-06 08:48:49
Unsure of what it actually does
I have been a long-time user of System Mechanic Pro and more recently their software management product ByePass. I have come to doubt the effectiveness of System Mechanic Pro. It just doesn`t seem to make any real difference in the performance of any of my computers though it reported problems fixed. Mostly what it "fixes" are simply discards of internet clutter. It also seems to repeat many of the tools already built into Windows 10. bypass is a convenient password manager that runs as an extension to the Chrome browser. But my real complaint with Iolo is with their product support. After upgrading their website with an account management page, I lost my System Mechanic Pro product registration. And when I wanted to install bypass on a new computer, the site would not download the product for installation. Product support was no help with that advising that I should wait for the next upgrade. Bottom line is maybe just a simple registry tool is all one needs to add to the Windows 10 toolset. Save your money.
Audrey Kathman,
2019-04-16 08:12:31
License information is misleading
They should clearly state that you are getting a one year license to use the product even if you buy a cd or DVD. After that, it will expire and stop working. It works as virus protection up to a point. The box says "One year of service" or something to that effect. Why don`t they say: one year license to use this product? It would be more clear that way. Somewhat misleading the way it was presented on the box and by the description in the listing for sale.
Pros:
Works as virus protection
Cons:
Stops working when license expires
John in the city,
2019-02-23 11:52:26
I highly recommend
Anyone running Windows pcs needs this program, this was a great bargain, it cost a whole lot more at other stores. Keeps you pc working smoothly and includes virus protection as well.
Pros:
Works smoothly with included antivirus
Betty,
2019-02-05 11:12:06
Didn`t work as expected
My pc was having some severe problems, and I hoped System Mechanic Pro would prove helpful. However, after installing it, my issues increased. I returned it for store credit, which Amazon added to my account the same day I mailed the software back to them. I had used System Mechanic four or five years ago without any problems, but have a different laptop now and different OS.
Pros:
Not really a good product
Jogo,
2019-01-24 21:32:56
The product is outdated
From the day I first received this product on July 2018, I had problems. Wouldn`t load then and still will not load now. I also noticed that the programs files on the disk are all dated in April, 2015., Yes 2015. So the data were not sound when I purchased it. I feel that this box must have been sitting around some warehouse for years before shipping to me. The files shouldn`t be outdated before I got it. Not happy with the product and feel that it should be replaced with the current updated data.
Stuart,
2018-12-09 13:44:35
A big waste of time
Hope you have plenty of time on your hands because you are going to need it to load and wait and reload and wait and reload and wait. But, have no fear, they`ll throw in a commercial for their PC cleanup package. Wait, isn`t that what this is supposed to do?
Phyllis Walker,
2018-11-08 20:44:46
Great system tool that works
Most poor reviews are from user error. You can mess up your pc if you don`t know what you are doing be careful. If you don`t know something, read the Help section or ask a professional for advice. Anyways, this product is excellent. I have it on my laptop and desktop. I run it along with the antivirus. I got adobe adware on my computer and was able to remove it by going back to my backup point and removing it. Besides, Keeps my laptop running up to speed and pretty much like brand new. Keeps all the system clutter away. The only sad thing is somehow my Itunes music got messed up, but I think that is something else because I checked the delete history tool this program has, and there is no music deleted. Other than the majors has so many different tools to use. I have used for several years and will continue. I have my money worth out of this product for sure.
Cons:
User needs to be tech savvy to use
SysDoc,
2018-11-08 05:22:03
It doesn`t work as described
It say`s it fixed 4000 issues and the computer is just as slow, it has a problem updating. I`m still working with it trying to resolve that problem, I just installed it a few days ago and have not noticed a big difference.
Cons:
Doesn`t makes much difference to system`s performance
Randall Logudice,
2018-11-04 13:03:51