For many countries, tourism is one of the largest industries in their domestic economies. The tourist business is always trying to keep pace with time and to step up the game with new technology. Especially now, when the dominant part of travelers are the millennials. Augmented reality in tourism has a great potential to enhance travelers' experiences. New AR mobile apps provide useful information, navigation, guides, and translations.
Tourism industry stands firmly on four whales: accommodation, transport, catering, and tourist attractions. Let's see how augmented reality can assist and improve each of these sectors.
Accommodation
Hospitality sector has been one of the first to implemented AR. You may wonder in which way hotels can use augmented reality and be surprised by the range of options. 
Advertising & information
Using AR to create all-around room tours with accommodation details, prices, etc. It is a good way to advertise your hotel and to engage guests to try out a full spectrum of hotel services. Also, turning one-time guests into regular guests, probably.
Let's Build Your AR app
Provide us with your contact details and we will contact you today
Say you are in your hotel room and need to find out about services, housekeeping, sights to see. So you just get your smartphone or tablet, open the hotel app, point to a certain marker and see the info. Plain and simple, that's augmented reality. For example, Hub Hotel has an interactive wall map in every room, that guests can point their phone to and check local tourist attractions nearby.
Today's tourists won't pay attention to simple pamphlets. AR makes it possible to discover information on a new level – getting 3D animations from printed flyers. Marriott Hotels had collaborated with Blippar to produce such interactive ads in their magazine. Furthermore, hotel app users can even scan the advertisement to unlock a presentation video.
Pokemon Go has inspired many other businesses to utilize AR, including the hospitality industry. Imagine how such gamification can encourage and interest people to stay in a particular hotel, especially the youngest ones. Check how PAI Hotels offer an app, that displays every site of their hotel with additional AR objects, and by collecting 7 of them guests can win awards.
Imagine your plane has just landed, or you step out of the bus/train/car in unfamiliar places, and you are wondering where to go from there. If you have a travel app with AR, you point at the transportation object to get direction, route, next stop and places of interest. 
For foreign travelers especially this could be quite enjoyable during their trips. With AR you can turn a metro map or other items alike into an interactive guide in multiple languages. For example, Tunnel Vision does this with the New-York subway.
In big cities, you can often see tourist buses moving around. What if we use AR to change the classic look of them. What if there could be a projection on windows or the previous versions of buildings and monuments. 
Keeping it brief, restaurants, bars, and other catering facilities can use AR solutions for their benefit in several ways:
Brand new restaurant menus with an interactive 360-view of each dish, correct portion size, and ingredients, as by AR application 

Kabaq

AR games/quests, as many restaurants are even using Pokémon Go to lure clients in

Navigation help with special mobile apps using AR to provide information about restaurants, cafes and bars nearby
Exploring tourist destinations and attraction with augmented reality transforms those classic city tours in something more extraordinary. We can travel back in time, seeing the evolution of landmarks in time perspective, enjoy 3D models of places, get fun tour guides. Great examples are theme parks and zoos. 
According to Walt Disney CEO Bob Iger, they prefer AR to VR headsets. And his argument is that augmented reality is more sociable, communicative and apprehensive. Also, L.I.V.E. Centre theme park is going to leverage AR/VR at full capacity in 2018, combining art, culture, architecture, design, and retail with projections, surround sound and special effects. 
Key advantages of AR to parks/zoos:
Navigation. Usually, theme parks are large in a territory with a map stand and direction signs. As an alternative, think of interactive navigation and cartoon/animal characters to play with.

Gamification. For instance, treasure hunts and games ("

The Battle for Cedar Point", "Kim Possible's World Showcase", etc.) or quest apps 

to find hidden 3D animals.

Education. Rich, useful and visual information about any animal, even now extinct.

Time-killer quiz. To entertain visitors waiting in lines, let them make pictures with AR objects.
During the last decade, museums all over the world witnessed a decrease in visitors, unfortunately. Augmented reality can help, as, in fact, every piece of art on display can become an augmented model. A nice example is The National Museum of Natural History. They have launched the Skin and Bones app, which allows people to see a full live representation of extinct animals based on their skeletons in the museum.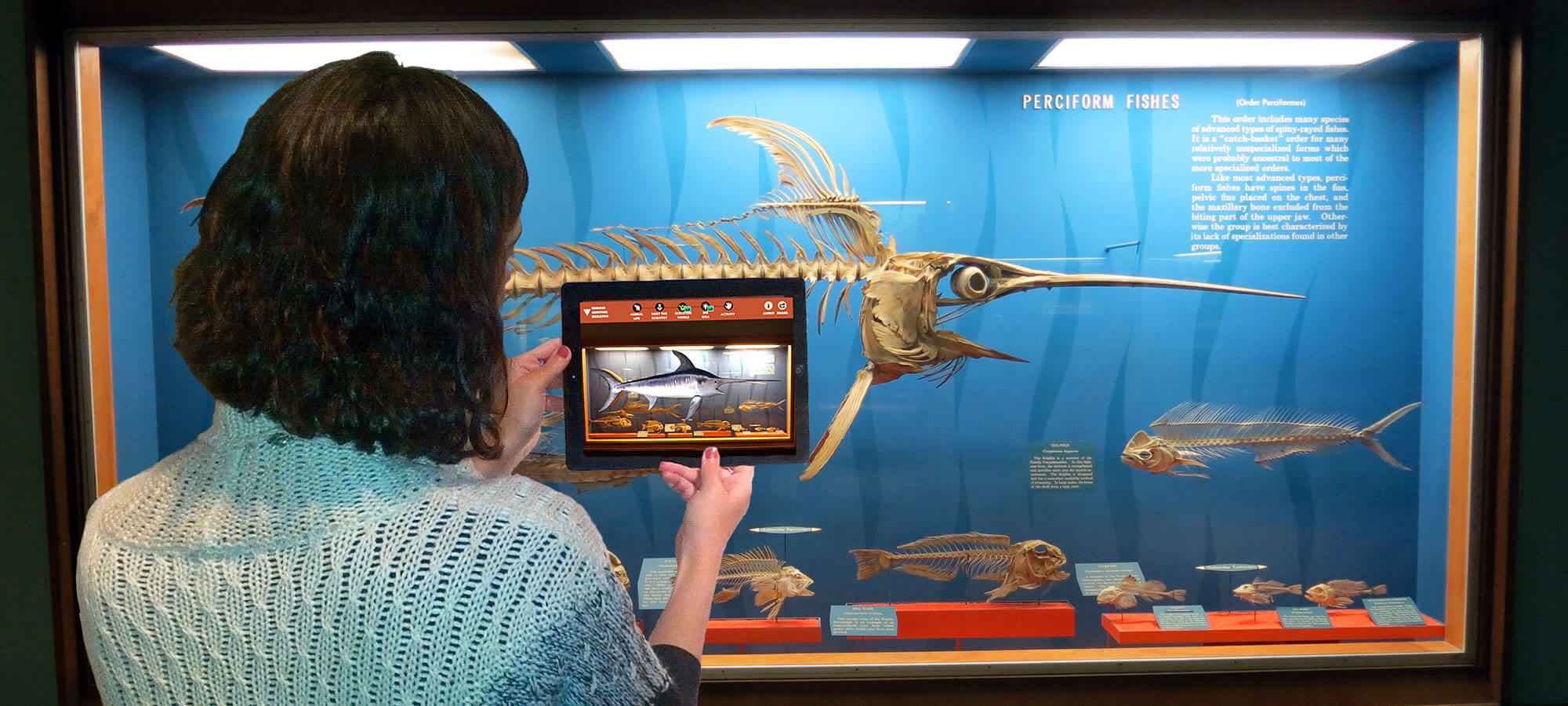 Thus, museums can create visual tour guides and exhibitions, bring non-existent objects to life, educate visitors in a  memorable way, and fascinating people in general. Augmented Reality in tourism also presents other beneficial options.
Other applications of Augmented Reality in tourism 
All of the tourist agencies have tons of paper brochures and travel catalogs. Possibilities of AR with print media are virtually endless, as we've already been saying. Getting animated visualization would interest your customers much better. With AR marketing you can provide valuable information and help make the final decision quicker.
The main purpose of any tourist trip is to discover new destinations and sights. And it can be quite challenging to travel through unfamiliar places. Maps with AR or AR apps for navigation make this much easier. 
When you travel abroad, surely, you might not know the local language and signs. AR apps or features (e.g. Google Translate) help to avoid misunderstandings by instantly translating info into your native language.
Summary
Traveling is always new experiences. With AR tools this is truer than ever, and what's more, augmented reality in tourism comes very handy for:
hotel tours, booking

accessible travel information

no language barriers

advanced navigation
And as professor Dimitrios Buhalis from Bournemouth University, UK has neatly put:
Augmented reality is where the real future lies!
Let's Build Your AR app
Provide us with your contact details and we will contact you today