Augmented reality in retail has huge potential to boost sales, while more than 50% of smartphone owners use it when shopping. Moreover, 33% of them use already AR benefits in stores.
IT giants invest millions of dollars into various projects and new startups rise from nowhere…
Google has already published

Tango project

and invested $1.4 billion into

Magic Leap

.

Apple Inc. has introduced the platform to develop augmented reality for iOS devices, called ARKit, and new products are being released already.

Snapchat estimated $30-$40 million to acquire Israeli augmented reality startup Cimagine Media.

Facebook paid $2 billion for

Oculus

.

Other software companies like Microsoft Corp., are developing their own solutions like Microsoft Hololens.

Startups are heavily funded and reach more than $650 million (

Augment

(1,8M),

VividWorks

(1,7M),

Sayduck

(1M) etc…)
Many analysts herald that AR market will grow to more than $100-130 billion by 2020.
Benefits of Augmented Reality in Retail
Augmented reality is the new trend technology that businesses should admit when planning their marketing. While production market grows more and more, customers become demanding and sophisticated. Anyone who is specializing in retail should admit those new challenges. Business should think not only how to engage consumers, but also how to lower their costs. Here are the main cases that AR may bring to any business, first of all in marketing, service and retail industries: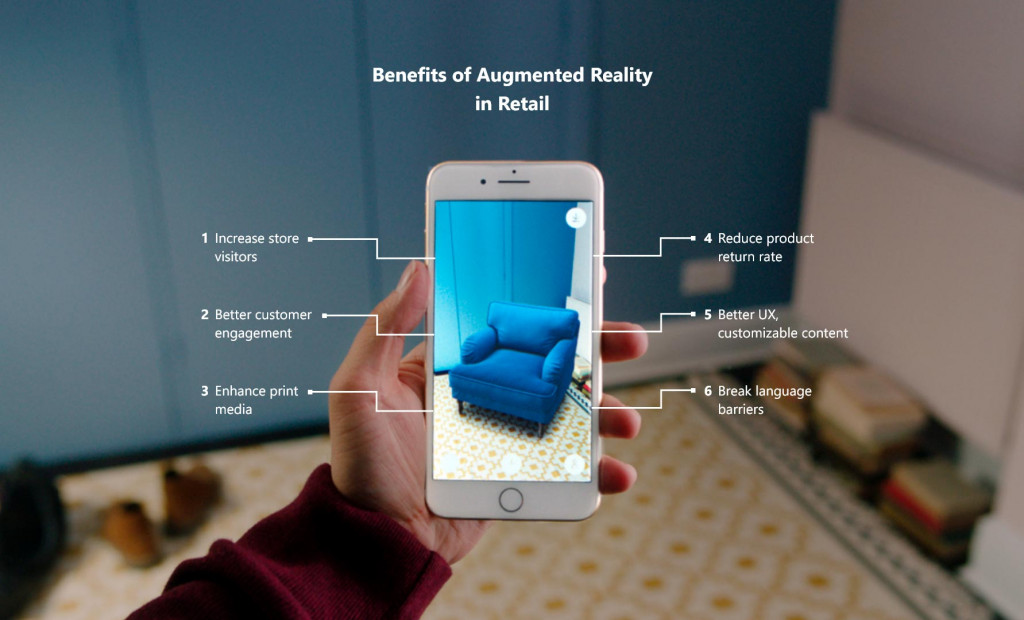 AR provides a good interactive user experience
Till one time marketers adhered to the next words "Content is the king". Lately, things changed, because with AR features customers may be both content consumers and content creators. AR allows users to make a personally interact to the offline, or online products that are available to scan with AR tech.
Let's Build Your AR app
Provide us with your contact details and we will contact you today
Using features of AR a user can change color, style etc of the chosen product. Meanwhile, users may get additional information about the products that they allowed to scan in store, about prices on sales or nearby stores around.
Content is customizable to match user needs
According to Michael DeGustar's and Nicholas Felton's research work, new innovation techs have lately adopted faster than before. That has taken almost 20 years to electrify more than 50% of U.S. citizens in 1900- years. Meantime internet hit 50% point during almost 7 years.
There is a strong estimate that AR, as well as VR, would become the major platform in marketing. They probably take place between PC, web and mobile devices. After some time CEOs and marketers will find how to use new AR techs to hit the best advantages in business.
According to Digi-capital research,  80% of AR/VR revenue by 2020 will become from sales, ad  expenses and mobile data/voice. And AR would take 75% of $120 billion markets, while VR stays on 25%.
AR connects readers with printed content
In close future electronic technologies, print products will not disappear. They will adapt to the needs of AR to create a new storytelling medium and streams of profit.
Users gain various benefits from an enriched experience, while companies are able to bridge the gap between their printed and digital media. It also allows the companies to better understand how readers get engaged with their content (data is not typically available to print media) and continually improve how that content is delivered.
The New Yorker: 

Journal allows a user to see animated AR models of the front and back covers of their magazines. They come to life on the mobile device camera.

Vespa: 

The famous Italian scooter retailer, also links up its own printed magazine pages using AR. Customers with the help of AR app may scan the ad and create their own custom scooter from all the available options, including colors, styles, and accessories.

Volkswagen: 

Famous and popular German car brand, has recently used AR features for their print marketing in a new interesting way: billboards. If a customer uses the AR app, they point it at the billboard and would see how the new Beetle burst out of the billboard on their phone screen.

Manor: 

Retailer in Switzerland, has lately integrated AR into its application. By using it customers may scan their printed catalog pages and would receive video footage of cover shoots, extra info about products and various additional content.

Moosejaw: 

Outdoor apparel brand magazine, to be noticed by customers developed Moosejaw X-Ray app. It provides a user with the ability to see through clothes and 'leave' models just in underwear.

LEGO and IKEA: 

Both companies make their printed catalogs support AR. After scanning a page reader may see how it would look in the real world. In the meantime, while content becomes life it may be also boosted with some extras from additional information and tips to insta-buy option.
AR removes language barriers
International companies that have branches around the world meet new challenges as soon as they try to take new markets. There is no doubt that language challenges take some time and cost to be taken. 
But AR provides wide options to avoid most language problems. Nowadays Google translate AR mode allows users to see any text of 40 foreign languages as the native one. AR content in the most printed catalog has options to choose the language of information and tips. A theater in Paris in connection with Atos and Optinvent creates AR solution that allows supporting subtitles of the theater show.
AR helps purchase decisions & reduces returns
As we admitted before, according to statistics, AR options in marketing provide a higher chance that customers will buy stuff. People spend more time in shops, as well as their interaction with each product increases too. Near half of them are ready to pay more, if they would be allowed to preview with AR the product they want to buy. In meantime, customers say that AR saves their time while helps make decisions.
Virtual fitting room by J.C. Penney in stores allows companies to significantly increase online conversion rate and reduce returns rate of products. Most of AR options provide extra information and personal customization that does not only preview product but also help customers ensure that they like it.
That option helps not only reduce return back statistics but also increase the impulse purchase of customers. So AR helps achieve two main targets of any business: make sales and help customers get satisfied. Most of them enjoy using AR to shopping and prefer visiting stores with AR support over those without it.
Simmons Simulator: 

It gives customers an informative breakdown of their two most advanced mattresses and how they give you the best night's sleep.

Burberry Beauty Box: 

The store in Covent Garden got enhanced with AR technology. In nail bar, visitors can select skin tone and add various polishes to the bar. Meantime bar in real-time shows how it looks for real.

The Board Shop: 

The sport store in Salzburg, provides a wide variety of AR options via their application. Users are allowed to scan physical items to receive data from products, details, and prices to change sizes and accesses to AR sales associate.

Ford: 

The company helps discover features in their vehicles in Malaysia. Users are allowed to scan dashboard, steering wheel, center console etc, to take a tour of a car. Plus users may get information about their models, specification manuals and accesses to video tutorials.
Statistics
According to statistics augmented reality in retail makes already money and will make even more in the near future. All surveys that research integration of AR in the retail sector say that interests of consumers in using Augmented Reality are high already and will only grow in course of time.
Here is simple and telling statistics:
The number of AR apps downloaded in 2012:

118 million

The number of AR apps expected to be downloaded in 2017:

3.5 billion
And it doesn't only matter marketing cases. That number would only grow proportionally to the number of smartphone users grown, as well as AR technologies are becoming cheaper and better.
USA AR retail study. The study was based on the survey of 1,100 U.S. adult shoppers conducted by Interactions Consumer Experience Marketing. Those surveyed included female and male (58% to 42%). 40% of them between at the age of 18 to 34 and 18% between the ages of 55 to 64.
To find which AR benefits shoppers prefer more, the conclusion was like this: "Unlike virtual reality, which creates an entirely artificial environment, augmented reality allows users to integrate digital images into their view of the real world, in real time."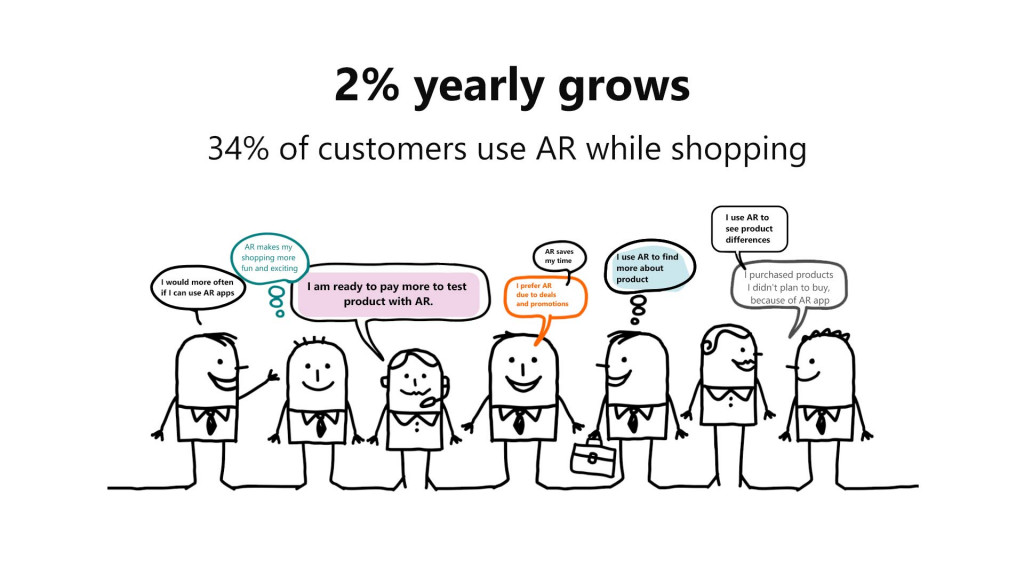 The study 'The Impact of Augmented Reality on Retail" provided the next results:
Augmented Reality is trending among shoppers: 

34% of customers already use some form of AR while shopping. And 47% of them use it both in a store and online shopping.

Most preferable AR uses: 

77% of AR users said they exploit it to see product differences, such as possible variations of colors and styles. 

65% of AR users often use it to find more about product information.

Influence of AR: 

71% of shoppers consider that they would shop more often if they used AR apps. 

61% said they preferably choose stores with AR over those without it. 

55% admitted AR makes shopping more fun and exciting. 

40% of shoppers consider that they are ready to pay more for a product if they were allowed to test it through AR.

Augmented Reality drives impulse purchasing: 

72% of AR users said they purchased stuff they didn't plan to buy, because of AR.

AR increases interest and time spent by customers: 

45% said it saves their time, while 68% admitted that they would rather spend more time at the shop if they could use augmented reality.

The overall impact on purchasing: 

41% of AR users admitted that they prefer using it due to deals and special promotions. 

So retailers got one more powerful instrument to entrap customers to store, connect them and communicate with them, while customers may use AR to provide more wise decisions and buff their own shopping experiences.
In conclusion, research shows the most popular sectors of AR retail:
60% – Furniture

55% – Clothes

39% – Foods and beverages

35% – Footwears

25% – Cosmetics

25% – Jewelry

22% – Toys
Other researches
Other surveys provide us with some new information, as well as confirm the others: 82% of shoppers say they use their phones to get known more about the products they are about to purchase in a store. So people want to make faster and wiser decisions when looking for something. That is why Augmented Reality features find wide places of usage in retailers' mobile apps to cater to these needs.
62% of surveyed prefer to scan an item with their mobile device before making a decision whether buy it or not. They look for reviews and recommendations. 68% prefer to spend more time at a retailer's augmented reality store contrary to traditional stores.
Research, by mobile app developer Apadmi, based on the surveyed up to 2,000 consumers who use retail apps shows us trends. The survey explored the main expectations from Augmented Reality apps and their further popularity.
29% of surveyed expecting retailers would invest more into both AR and VR platforms.

33% of them are ready to use improved AR benefits to preview the size of an item in real before buying it.

29% of them want to check how they can use stuff before purchasing it.

25% of them would use AR features to see all differences of variations of product colors or designs, before choosing one.
In conclusion of the research Nick Black, CEO of Apadmi, said: "While consumers are more willing to shop via a retail app than ever before, retailers need to do more to offer the kind of personalized and interactive experience they expect"
In the middle of 2016, International Data Corporation published a report according to which global revenues from both Augmented and Virtual Reality will rise from $5.2 billion to more than $162 billion by 2020. According to Zion Market Research, the global AR market would rise up to $133 billion by 2021. Meantime that growth will mostly be driven by demand for AR applications in the retail and automotive industries.
Challenges of AR apps
So, we highlighted benefits for a retailer. But there is no chance that customers would use something there not appreciated. So what about customers' perspectives? What do they wait from AR retailers?
Advertising. If users download a retail AR app it's interesting to receive information from the company about its new products. Customers will seek for anything from newly added products and information about them to discounts and other deals.
In this case, various marketing strategies may be used for some products in a catalog, on a Display screen or on a printed poster. It may be found even on the top of a specific product box directly in a retail shop. In this latter case, customers may try the augmented reality view to check what content is inside the shell (for example Lego's Digital box).
Localization. It's up to 90% of all sales done offline. People still prefer to see with their own eyes for what they suppose to pay money. With time AR and VR things may change, but nowadays it's better to support users about close stores to them. By using customer's devices GPS retailer may easily lead users to find things (the nearest retailer, product, delivery points etc.) or advertise current offers for places.
Incentives and discounts. There is no secret that special deals may entrap a potential customer and lead him to the store. Sending gifts or discounts motivates new users and may increase in-store traffic.
Personal approach. As any other application, any retail augmented reality app should allow users to be personalized for his needs. Filters and history of purchase analyze allow to meet those requirements and support a user with content that he or she is interested in.
Interaction.  It's better to give customers as many options as it is possible (sizes, colors, styles, accessories, similar products etc). It rises up interest to products as well as allows users to ensure the purchase. Interaction with the AR model of the product to see how it will look like in the real world, how it will work and how to use it right provides the good user experience.
Discoverability. Not every app-user knows that he or she may interact with retailer products or services by using their own smartphone or tablet. As time shows putting a physical mark on the top of a product shell is not enough. Most of the customers even have not any idea about it. Others don't know that they need a retailer application support to get extra content.
Safety and privacy. Retailer AR application should consider various ethics cases, privacy laws as well as provide the ability for the user to manage what or how much information about them is broadcast in a social context.
Simple interface. Most new users will not know how they can interact with product or service with their mobile device or smartphone. There are many little moments that should be solved from language localization till comfort of UX capabilities.
Examples of some retailer AR apps
IKEA AR App. According to IKEA survey, 14% of their clients bought the wrong size furniture in past. According to that research, IKEA has created the AR app that includes inside 90 of their products.
By using AR benefits users are allowed to scan a good old-fashioned printed page of the catalog and see a 3D model of selected furniture. The model will be in real size and help customers to find where it fits best. Any user can design whatever he wants from augmented reality kitchen to living room, by using IKEA AR app.
Clothes retailer Topshop created an innovative feature for its own fitting room with AR support. Standing in front of augmented reality kiosk, shoppers may see a digital reflection of themselves exactly like in a simple mirror. Meantime AR kiosk has virtual buttons which can be pressed by hands of a customer to take new or change virtual clothes onto their reflection.
Placing such kind of augmented reality room right out allows to entrap not just one customer alone, but groups of friends and family to enjoy the process together. A customer can without any problems try anything he likes staying in clothes he is. The main advantage that technology works is intuitive and easy to master, without any special tips or help.
British grocery and common merchandise company, Tesco PLC is the 3rd largest retail company worldwide. It holds a large amount of market in 12 countries from Europe to Asia. As customers of the company started using smartphones for shopping Tesco announced its own app. It saves best features of most grocery apps while adding AR mode.
Tesco Discover app allows a customer to scan Tesco product labels, magazines and in-store POS to get extra information about the Tesco products, as well as interact with customized features, buy products and engage with in-store experiences.
By using the Converse shop application "Shoe Sampler", now any customer may easily look for the suitable shoe even without leaving the comfortable chair in his or her living room. It also helps to avoid the try-on experience. Simply by pointing the camera of a smartphone at their foot, the app provides a wide range of shoes and superimposes.
On display of the camera, users may see how exactly the footwear will look like on their foot. Converse Shoe Sampler application allows using social platforms to get know about friends and family thoughts about the purchase.
Cosmetic brand from Japan Shiseido developed touchscreen monitor which is available in their retail stores. By using easy and intuitive interface customers take a photo of themselves. After that, they manually apply various styles and makeup colors to the photo.
By analyzing of user's choice in cosmetics and styles Shiseido's software is able to recommend suitable products of a retailer. Augmented reality retail experience supports tips and streamlines that make the process easier and more fun. As shoppers enjoy and come to shop 'just for fun' sales in store increase.
Popular diamonds jewelry retailer, De Beers, started using AR technology to marketing. Official De Beers "My Foremark Fitting" site provides visitors with a chance to try AR model of their production. Print cut-outs of jewelry, that are available on site, and hold it in front of webcam near the face to see De Beers' jewelry stuff.
Famous Danish toys retailer brand LEGO also engaged to use AR in marketing strategies. Lego uses both experiences for own customers. There is a stationary AR stand in stores, that provides a visual 3D animated model of what contents inside the box. As well as there is an application for smartphones and tablets to visualize printed catalog pages.
Final words
As we see today, we have a strong trend of interest among the customers as well as optimistic statistics and prognosis from analytics. Some of the retailers already start including AR technologies into their own marketing strategies and seem to have profited from it. For those companies which avoid using AR, it may be time to reconsider their marketing.
The inclusion of AR to the marketing plans for today may prepare basis and give unique experience for a time when usage of augmented reality can't be avoided.  With proper action, companies may get past their competitors and reach the target audience in a much better way.
Do you think AR suited for retailer marketing strategies? Will this technology help attract new customers?
Let's Build Your AR app
Provide us with your contact details and we will contact you today