Updated: April 2018
Augmented reality is still somewhat exotic within the world of IT, though there are already many products with AR. No wonder, the list of best augmented reality companies has to be short, when you have a short list to select from. On the other hand, irrefutable success of entities like Pokemon Go and Ikea apps proves high potential of AR for commercial use. Our list includes 20 top augmented reality companies that have succeeded in AR development with apps, games, gear and software.
TL;DR
Types of augmented reality companies covered in this post:
Augmented Reality platforms. These companies develop the software to create AR products, as well as own end-user products. Such platforms include frameworks, engines, SDKs, tools. Top AR platforms: Vuforia, Apple, Invisible Toys.
AR companies for custom development/AR tools. Providing customers the tools for creating AR experiences. Commonly working in spheres of publishing (AR effects to printed media), education and entertainment. Top companies: Wikitude and Layar.
Augmented Reality development companies. Also often operating and developing solutions for marketing agencies – mobile apps, interactive advertising campaigns, show effects, live events, exhibitions, etc. Top AR apps developers: WeAR, Augment, Program-Ace, 8ninth and more.
Vuforia software development kit is the most widely used SDK for augmented reality development. It supports all the newest trends in AR technology, like Google Tango Project. Vuforia SDK enables vision technology to track a variety of 2D and simple 3D targets in real time. Additionally, developers also may create so called 'markerless' and location-based AR experiences. It provides APIs to work in .Net, C++/Objective C and Java. Vuforia projects may include native Android or iOS applications, or adapted for any other platform when developed on Unity.
Website: https://www.vuforia.com/
Invisible Toys is passionate about development of Unity3D-based AR, VR, and visualization apps. While following the focus on custom software development and maintenance services, Invisible Toys team delivers smooth apps to engage users with interactive digital experiences. The team enjoys the mixture of technological flexibility and wide experience needed to create mass-market apps within the budget, timeline and requirements.
Website: https://invisible.toys
Apple, as the worldwide leader in electronic products, mobile devices and online services, however lately, started developing new augmented reality technology. ARKit for iOS 11 devices and above is introduced to help developers create AR solutions for iOS apps. This SDK provides:
TrueDepth Camera

–

enables face tracking option in AR apps. Using this feature the camera is able to detect  position, topology, and even the expression on a user's face.

Visual Inertial Odometry (VIO)

allows a device to sense self-movements in the real world with a high degree of accuracy.

Scene Understanding and Lighting Estimation

give iOS apps ability to analyze the scene and place virtual objects on a horizontal place. 
Website: https://developer.apple.com/arkit/
AR services/custom development
Originally entering the market in 2008 with the AR browser, Wikitude started focusing on SDK for augmented reality and tools for developers later on. The latest version of all-in-one SDK 7 provides image recognition, tracking technology, geolocation. And all this works for smartphones, tablets and smart glasses, Wikitude engine supports cross-platform AR: native and JavaScript for iOS/Android, Unity/Cordova/Xamarin extensions. Another service, Wikitude Studio, gives a possibility to publish AR projects to your own app. More than 20,000 apps have been developed with Wikitude, as company claims.
Website: https://www.wikitude.com/
Specialty: AR Browser development and AR SDK development.
From 2009 on this Dutch enterprise's focus is on custom AR solutions and tools/kits to develop AR apps. But their true passion is bringing life to print objects around. Layar app (iOS/Android) lets users scan magazines, posters etc. and enjoy additional digital content in form of videos or animations. Another feature is Layar Creator – to build AR items, flyers, landing pages by simple drag-n-drop. Lots of developer tools and assets, so it is always useful to follow the updates.
Website: https://www.layar.com/
Specialty: AR browser development and support.
Augmented Reality development companies
A great service too look into for those who plan to drive the sales of their e-commerce efforts. Augment specializes in B2B solutions that connect connect retailers and online shoppers, and display products in 3D augmented reality. This targets more sales and engagement. Great AR platform with separate tools tailored for manufacturers, retailers, marketing agencies, educational entities and other businesses. 
Website: http://www.augment.com/
One of the well-established digital agencies in the USA, producing mobile apps, AR/VR solutions, 360-degree videos, computer vision, websites. The company has multiple awards and patents in AR, and has released 2 major products: an augmented reality SDK and a mobile content management system (CMS) platform. They are now working restlessly on a new AdroitAR project, a marker-less real-world object detection for significant industries like robotics, production lines.
Website: https://gravityjack.com/
WeAR studio is specializing in development of Augmented Reality apps for smartphones on both Android and iOS platforms. As they claim, their goal is changing the world for better with using AR/VR products to travel, educate, train and entertain. The company also works on creating 3D animations and content, 360 video animations and has launched few projects for Virtual and Mixed Reality. Such giants like Skoda and Danone are using the WeAR services.
Website: http://wear-studio.com/
Founded back in 1992, Program-Ace software development company now is in the top three AR/VR developers in 2017 according to Clutch. The company is oriented on creating custom-tailored interactive AR apps, using ARKit, ARCore, Vuforia, OpenCV, Unity, Unreal Engine. The main industries they work for, are agriculture, education, manufacturing, insurance, gaming and entertainment, marketing, healthcare, architecture. One of the latest project Wheel Replacement Training, adopted for AR and MR, available in App Store, Google Play and Windows Store.
Website: https://program-ace.com/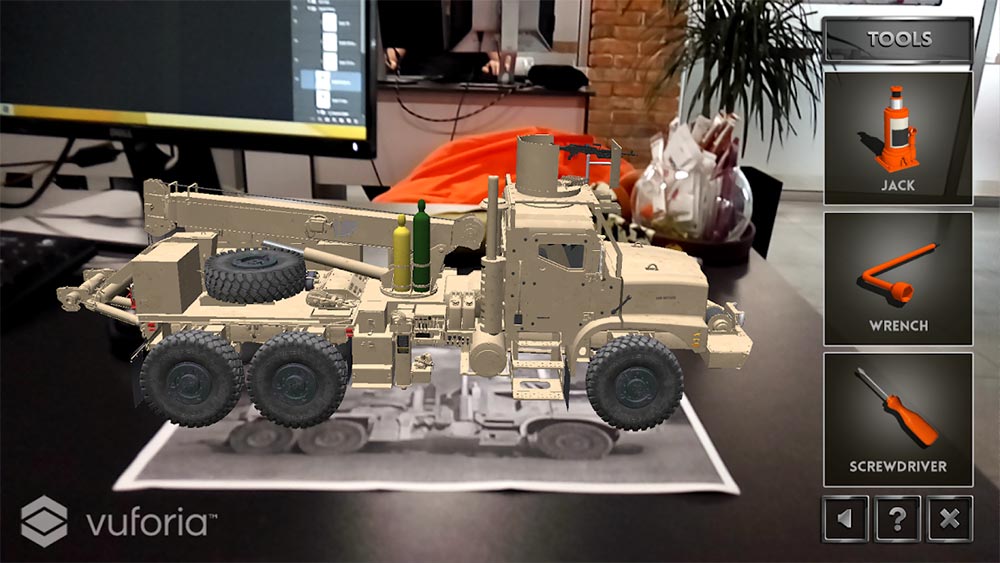 The company builds AR and VR products using ARKit, Tango, Vuforia, Unreal Engine and Unity. With only 3 years experience, 8ninth has already partnered with Apple, Samsung, Oculus, Facebook, HTC Vive, and others. They have also developed the Reality Management System – cloud platform, created for assembly of VR / AR / MR solutions and in future may even make it possible to build for one reality and reuse for each one. Last year 8ninth was one of the first to launch AR app on iOS 11, The BOX AR, using new ARKit. The app recreates the receiving and opening of box with the daily updated virtual content: 3D cartoon characters, pets, entertaining arts, environmental transformations, etc.
Website: http://8ninths.com/
Since 1991, Transition Technologies PSC is developing Internet of Things (IoT) and Augmented Reality (AR) software for the manufacturing industry, especially connected product lifecycle management software and industrial exploitation. Partnered with the Atlassian, the company has developed projects for Fujitsu, L'Oréal, Cadence Design Systems, Raiffeisen Polbank. Given example is a spare parts assembly instructions created by TTPSC for one of its manufacturing clients. The AR application besides 3D model provides additional information, documentation, manuals and animations.
Website: http://ttpsc.co/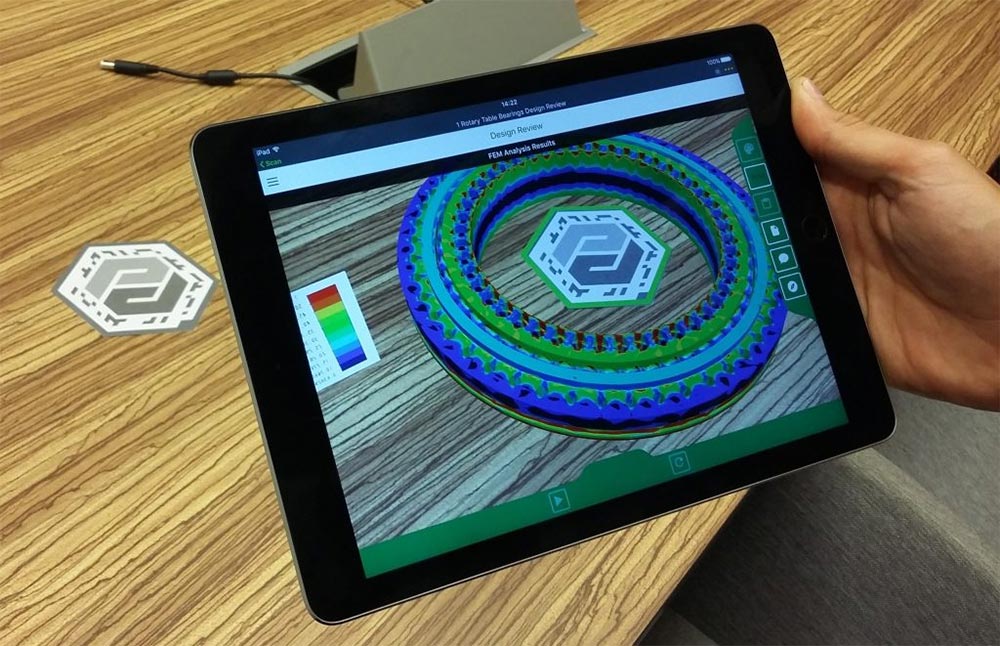 The company works since 2010 and is specialized on Augmented/Virtual Reality, development iPhone and Android applications, cross-platform app and enterprise mobility solutions. To build AR products, Quytech uses such technologies like OpenCV, Unity, Vuforia, Tango, RealSense, ARKit, Wikitude, Kudan, Hololens and Meta. Quytech creates mobile applications for every Augmented Reality type: location-based, image tracking, real-time character, face and object recognition.  
Website: http://www.quytech.com/
Craftars, while continuing its work on mobile and web development, recently started to focused its forces on Augmented Reality app development, after the growth of its popularity. The latest AR app, built by the company, complements another app from SPH and provides scanning printed advertisement to perform interactive AR graphics.
Website: http://www.craftars.com/
Taking its start from 2001, the company now can boast such clients like  HTC, Canon, Sega, Honda, BBC, Skoda and others. They provide full-cycle custom software development with the focus on AR, VR, IoT, and E-learning solutions. Launching about 16 games per year, in their work for AR projects they use Unity, Vuforia, Wikitude, Kudan, and other SDK. Given example is a result of complement its existing Android application enabling users to draw and make comments on the real-time pictures while making VoIP calls.
Website: https://hqsoftwarelab.com/

Established in 2009, Mofables software studio is 40% oriented on Augmented Reality app development, mainly interactive games. The company using such advanced technologies like Vuforia, Wikitude, Unity framework, ARKit and ARCore. Mofables has launched several AR apps and games, but the most recognizable is ROAR! The first AR board game even was the game of the year in Belgium in 2016.
Website: http://mofables.com/
The company is oriented on AR/VR  and mobile app development. Being the No.1 in 2018 among the AR/VR developer's of Canada, the agency is working on creating AR apps on Unity 3D, and is also able to implement immersive experiences into web browser by using WebGL-based technologies.
Website: https://cortexstudio.com/
The development studio is specialized in creating immersive Augmented/ Virtual/ Mixed Reality software. While working on AR products, they also built their own AR platform – GrooveTech AR Object Toolkit 2.0. This tech helps to create dynamic virtual objects, control its lightning and color calibration and depth, manage the object position and rotation, change the texture. All these features ensure the maximum realism of the object.
Website: https://www.groovejones.com/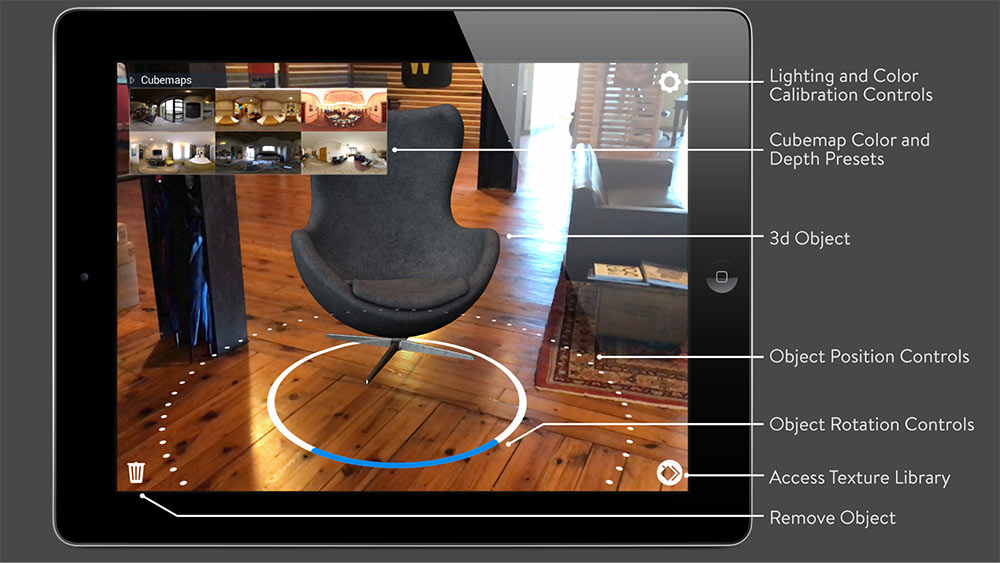 The main goal of the company is creating the customized product using Augmented and Virtual Reality, 2D/3D graphic and the elements of the game. Starting its journey in 2012, now BidOn Games Studio is ranked as one of the best AR/ VR development companies. The AR apps are built with using ARKit, ARCore, Vuforia 7, and Unity 3D SDK. One of the latest projects is Helmet, the app which allows overlaying the real object with AR images to promote the client production.  
Website: https://www.bidon-gs.com/
If you are using Snapchat, you can be familiar with the work of this development studio, the CKE's lenses. The primary company goal is creating a fascinating design for every product, either AR and VR development or mobile and web product. Due to its working approach, they have grown from small agency back in 2014 to one of the 30 best AR/ VR development companies in 2018. They have already developed solutions for HTC, Sony, NFL, Lenovo, United Nation, FOX and others. On average, their every second client is an enterprise with more than $1B, which says about a great trust to Fishermen labs studio.
Website: https://fishermenlabs.com/
Feel free to contact us via info@thinkmobiles.com or go to presskit if you want to place your company here.
P.S. Quiz about Augmented Reality
"All work and no play makes Jack a dull boy", right? Are you a total newcomer to augmented reality technology, or do you know a thing or two? Let's find out.
Read more about Augmented Reality